2018 Azalea Belle Application Deadline Approaching
High School Girls can Apply to be an Azalea & Spring Flower Trail Representative
The application deadline to apply to be an Azalea Belle at the 59th Annual Azalea & Spring Flower Trail is quickly approaching. Applications are due by 5pm January 23, 2018 and can be found online at www.visittyler.com/azaleatrail, at the Tyler Area Chamber of Commerce, or at local high school counselor's offices.
This year's Azalea & Spring Flower Trail will take place in the Downtown Azalea district, March 16th–April 1st.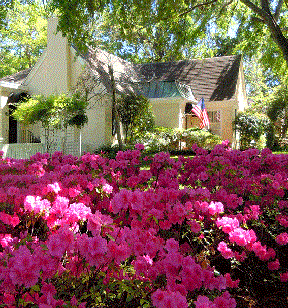 Azalea Belles are the ambassadors of the Trail, who wear antebellum dresses throughout this three-weekend event, and are needed to promote Tyler, greet tourists, and pose for photographs.
The opportunity is open to freshman and sophomore high school girls residing in Smith County who will be available for the event times and enjoy working with people. The girls must be academically eligible and are required to attend certain events and trainings.
Visit Tyler will provide the dresses. A typical schedule involves working 3 ½ hours on Saturday mornings or afternoons as well as Sunday afternoons, and there will be at least two Belles at each location.
Throughout the three weekends of the Trail, the Belles will be outside of houses, wearing beautiful antebellum gowns. They are always happy to welcome and visit with guests, showing the hospitality of Tyler.
The Belles have been a part of the Trail since 1964, when the Chamber decided guests needed to be welcomed in true southern style. Since then, the Belles have been a much loved and anticipated tradition of the Trail.
If you or someone you know would like to be part of this long standing Tyler tradition, applications can be returned to:
Azalea Trail Committee/Azalea Belles
Tyler Chamber of Commerce
315 N. Broadway
Tyler, TX  75702
Attn: Susan Travis
For more info, contact Susan Travis at stravis@tylertexas.com or call (903)592-6978.