SportsZone Bar and Grill: A Cornucopia Culture of Downtown

The SportsZone Bar and Grill:
A Cornucopia Culture of Downtown
By Barbara Greenbauer
The SportsZone Bar and Grill on the Square in Downtown Tyler is now a go-to spot to eat, hangout and get your fill of sports- themed fun and entertainment.
Josh Collins, local owner and operator, wants everyone to know that "Downtown has a new lunch spot" and it's a great local bar and grill that is all about community with a "Cheers-type mentality, where everyone is welcome."
The place is light, bright, and filled with sports memorabilia, with a great-looking bar and high tabletops galore. With a brand new revamped menu, the SportsZone is ready to bring you great food in a space with a different vibe than your regular sports scene. It's never a loud, in-your face crowd, there's plenty of parking Downtown, and plenty to do inside.
While you try your hand at the pool or foosball tables, you can chow down on a great burger with a side of waffle fries. You will really get your fill of sports, as the restaurant is lined with 10 big screen TV's. The view from any seat in the house is stellar. There is always a Texas team on the screen somewhere in the restaurant. There's even TV's in the restrooms because they don't want you to miss a second!
Dart aficionados can try their luck at the dart boards or try your hand at a game of beer pong.
"We really support the Downtown culture," says Collins. "We can be the spot to go to before or after a show at Liberty Theater. I don't think folks in Tyler realize how many people live and work Downtown and the community continues to grow."
The Bar and Grill supports local events like Red Dirt BBQ and Music Festival, Hit the Bricks 2nd Saturdays, and the Rose City Farmer's Market, "to support and spread the word about the great things happening Downtown," said Collins.
Step inside the bar and grill and you will want to hang out, use the free Wi-Fi, watch some TV, and taste what the kitchen has to offer.
The edible options at the SportsZone are fast and healthy too. Lunch variables include an out of this world chipotle black bean veggie burger, seared tuna salad, and a grilled chicken salad. Lunch is served Monday-Friday 11am-2pm.
The bar and grill, open 7 days a week, features a great mixture of fare, from "Beginners" like onion rings, pickle fries, frito chili pie, chili cheese waffle fries, "Not your Mamas's Churros," humus and naan bread, and battered corn bites.
For more hearty appetites, try the ultimate BLT, fried chicken sandwich, chicken fingers, or their spectacular wings. Their wings are uniquely double-baked with choice of BBQ, lemon pepper, flaming hot or special Zone sauce. The new chickenless wings are so good that you won't even realize that they are vegetarian! They can also handle to-go orders, but guarantee fast and efficient service during the peak lunch hours. "We want to be known as the new Tyler lunch destination," said Collins.
The "Out of the Oven" pizzas include margarita, Hawaiian, or the much requested, "Build your own" with toppings including pepperoni, sausage, hamburger, Canadian bacon, black olives, mushrooms, jalapenos, and roasted tomatoes. You can get a super lunch special with a slice of pizza, side salad and a drink for just $8.
The bar is a fully-stocked cornucopia of Texas liquors and beers and the bartenders are super friendly and accommodating. From Lone Star, Shiner, Deep Ellum and ET Brewery, and True Vine – you'll find it at SportsZone. Every Tuesday, if it's made in Texas, it's on special. And if you are looking for something more exotic, the bar can handle almost any drink imaginable, all you have to do is ask!
There are always specials and giveaways going on – from Happy Hours to buckets of beer. Check their website and Facebook regularly to see what's happening. "A lot of our patrons are regular customers, but by word of mouth and social media, we've begun attracting a new group of folks who love being Downtown and taking advantage of all we have to offer," said Collins.
Come grab a drink, see a game and have a great meal at The SportsZone Bar and Grill, located at 115 E. Erwin, Downtown Tyler on the Square. Like them on Facebook at SportsZoneTyler, or Sportzonetyler.com. You can contact them at (903)266-9132. They are open Sundays 12pm-12am, Monday-Friday 11am-12am, Saturday 12pm-1am.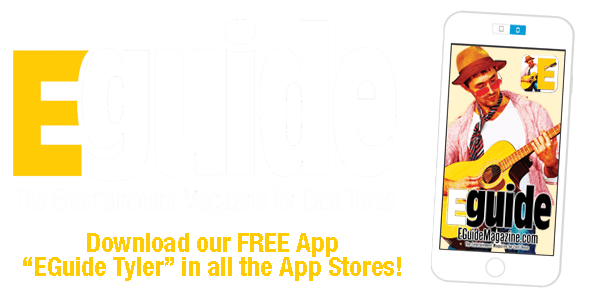 New Cocktails inline for "A Toast to CORE" at Razzoo's this Summer!
Razzoo's Cajun Café Partners To Support Restaurant Families
For over 25 years, guests have flocked to Razzoo's Cajun Café expecting exceptional Cajun food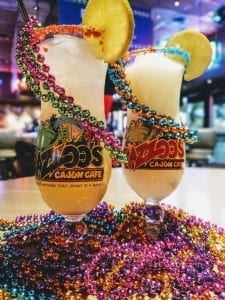 in a fun and relaxed atmosphere. However, many may not know that Razzoo's has a fantastic array of craft cocktails featuring fine spirits and fresh fruits and juices. On June 11th, Razzoo's launched two new specialty cocktails in a promotion titled "A Toast to CORE."
For every sale of these new drinks, Razzoo's will donate $1 to "CORE, Children of Restaurant Employees." Tito's Handmade Vodka will match that donation, up to $5,000.
The tasty new cocktails include: Tito's Peach Thyme Smash (Tito's vodka, Fresh Peaches, Sweet & Sour and Thyme), and Tito's Twizted Strawberry (Tito's vodka, Fresh Strawberries, Lemons, a splash of Sprite with a Twizzler straw).
CORE grants support to children of food and beverage service navigating life-altering circumstances. In times of extreme strain brought on by family death, injury or diagnosed medical condition, loss of home, or other sudden or extreme circumstances, food and beverage families can become overwhelmed financially and emotionally. CORE is the nationally recognized community of support for all food and beverage service families in need by ensuring they feel cared for and valued. Since 2004, CORE has raised more than $3 million and granted support to more than 350 families from across the industry and the country. Contributions from our COREporate Members and individual donors allows CORE to provide grants that keep our families safe, healthy, and happy.
"A Toast to CORE" will be celebrated through August 30th at all twenty Razzoo's Cajun Café locations in Texas and North Carolina.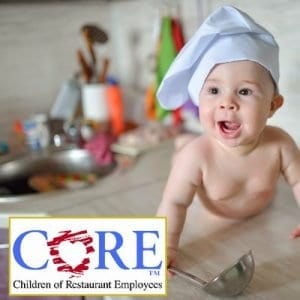 "At Razzoo's we try not to take ourselves too seriously. What we do take seriously is our food and our service. To us, nothing is more fun than treating our guests to great food and a great time in one of our restaurants. That's why we're here. Our food is authentic, it's made from scratch every day in each restaurant and it's darn good. Some of it sounds a little weird, like Rat Toes (really, they aren't) or the Grilled Gator Tail (really, it is). Some of it is hard to pronounce, like the Shrimp Piquant or Chicken Tchoupitoulas – feel free to point when you order (that happens a lot). We've been at this for over 26 years and we've made a lot of friends along the way. We'd like to think that didn't happen by accident. So check out our menu, find the nearest location and hop in the car. We'll be at the door when you get here."
Razzo's is located at 7011 S. Broadway in Tyler, 903)534-2922, razzoos.com/tyler. They feature live music every Thursday evening starting at 6pm. July and August line up is:
July 5th: Chris Colston Acoustic

July 12th: The Haggertys

July 19th: Blue Louie Acoustic

July 26th: The Mansion Family

August 2nd: The Leftovers

August 9th: Riley Redding

August 16th: Tyler Dudley

August 23rd: Ally Venable

August 30th: Al and the Longshots
July 14th: Hit The Bricks Auto & Cycle Show Downtown Tyler


---
There will be a FREE hop on/hop off shuttle sponsored by
Tyler Innovation Pipeline that will take you around Downtown.
PARKING IS FREE in the parking garage and on the square.
Visit Tyler in conjunction with Discovery Science Place and R.G. Car Show Productions is set to host the "Hit the Bricks Auto and Cycle Show" in Downtown Tyler July 14th, 10am-2pm.
There are expected to be 100-120 cars parked around the square in Downtown Tyler. The event is free and open to the public. Those wishing to enter their classic car or other vehicles in the show should register online at rgcarshows.com.
Attendees can also participate in games and prize drawings throughout the day. Sponsors for the prizes include: Visit Tyler, City of Tyler, ETX Brewing Co., Moss: Where Flowers are Fair, Don Juan's Mexican Restaurant, SportsZone, Ye Olde City Antique Mall and Olde City Market, Gallery Main Street, EGuide Magazine, Liberty Hall, and Goodman-LeGrand House & Museum.
Several other events will be happening that day hosted by Downtown businesses including art events, live music, shopping, and more.
Download the FREE app "EGuide Tyler" and select "Hit the Bricks" for events that will be going on July 14th Downtown Tyler.
All Day: Half Mile of History – This self-guided walking tour is an outdoor, half-mile loop around the square that commemorates significant people, places, or events in Tyler. A digital brochure for the self-guided tour is at ow.ly/s8iD30czlpb.
8-11am: Breakfast is served at ETX Brewing! Come dine on the best breakfast around with waffles, pancakes, breakfast sandwiches, tacos, and more.
8am-12 noon: The Rose City Farmers Market will be open with homegrown fruits, vegetables, herbs, pasture-raised beef, lamb, pork, chicken and turkey, free-range/non GMO eggs, goat cheeses, fresh bread, flowers, coffee, jams and jellies, baked goods, Texas olive oil, handcrafted art, and Texas fruit wines.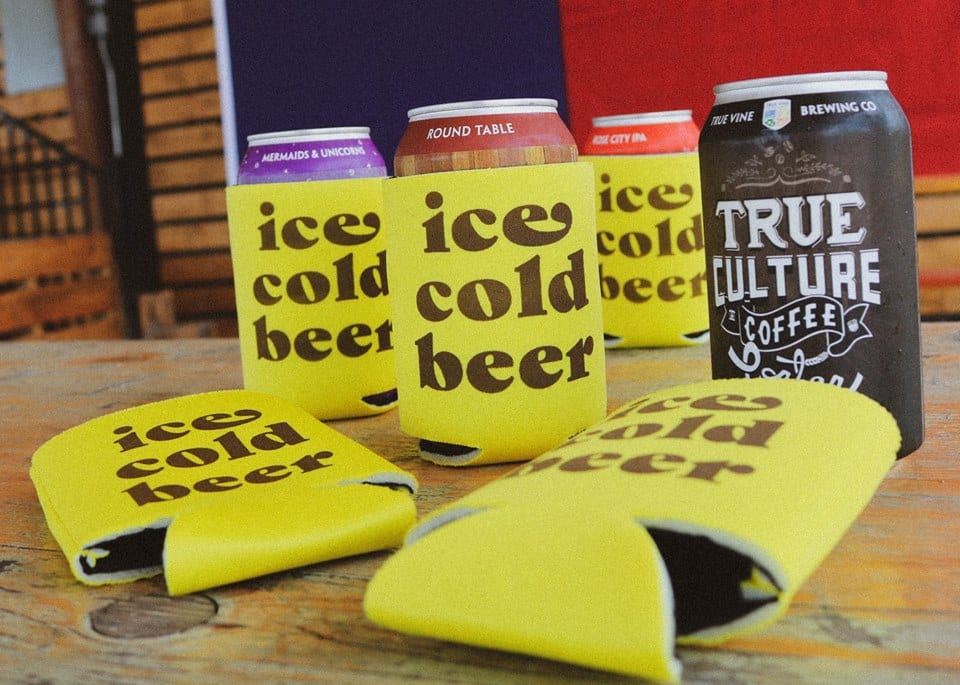 9am-9pm: Brands & Threads Grand Opening of Ridiculously Good Branding, located at 257 S. Broadway. Come celebrate with live screen printing, "Ridiculously Good" t-shirt sales, drinks, giveaways, 80's pop music, and all the high fives you can handle! Oh, and cool koozies too! The first 25 purchases get a free retro ice cold beer koozie.
10am-2pm: R.G. Car Show will present the Auto & Cycle Show downtown on the square. The public is welcome to view all of the cool cars and cycles for free! There will be vendors, music, and food trucks. Stop by the DJ booth and pick up a People's Choice ballot to vote on your favorite vehicle.
10am-4pm: "Paint a Car, Take It Home" will take place at Goodman Museum. This is free for the kiddos!
10am-4pm: Free Self-Guided Scavenger Hunt will be set up for families at the Smith County Historical Society Museum. A list of items to find will be provided. Children 18 and under who participate can receive a complimentary one-year Junior Membership.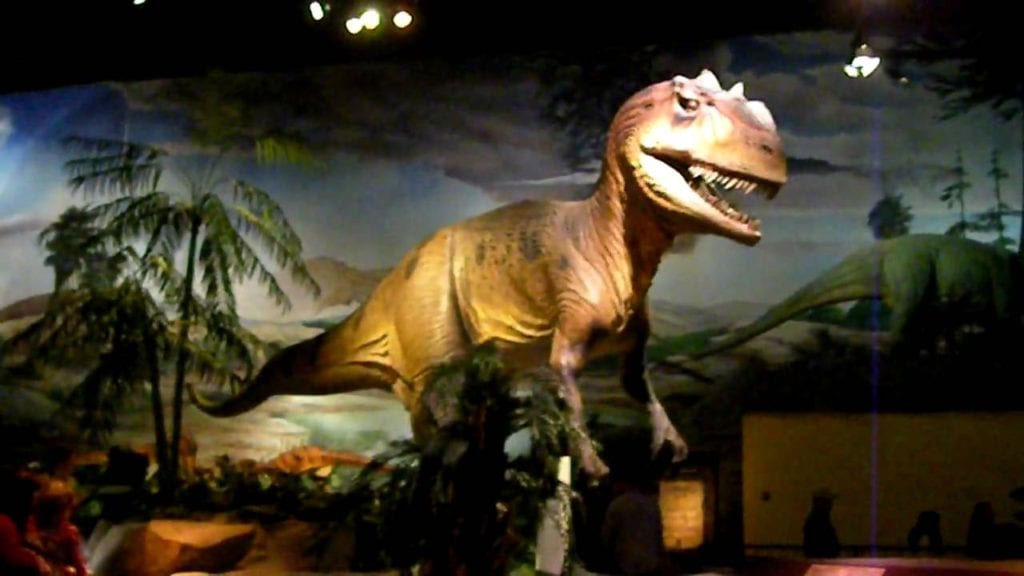 10am-5pm: "The Return of the Dinosaurs" exhibit will be shown starting at 10am at Discovery Science Place. Take your picture riding a Triceratops or braving the jaws of a T-Rex! See two Protoceratops guarding their nest or view the long-necked Apatosaurus. View actual fossils along with animatronic models of the "terrible lizards" of long ago. "Return of the Dinosaurs" is featured in the DSP Annex building next door to the main museum building.
10am-5pm: Ye Olde City Antique Mall Treasure Hunt will again host "Summer Fun" at the Ye Olde City Complex where there are three great places to shop plus "cold" drinks, "cold" snacks, and free "cold" items in the monthly Treasure Hunt!
10am-8pm: The Artist Market will be open inside the HoT office located at 108 S. Broadway. Music will be provided by Michael Morse. Many artists will be exhibited in the air-conditioned office of Heart of Tyler including Sylvia Morse – Smooch-A-Licious Jewelry Designs.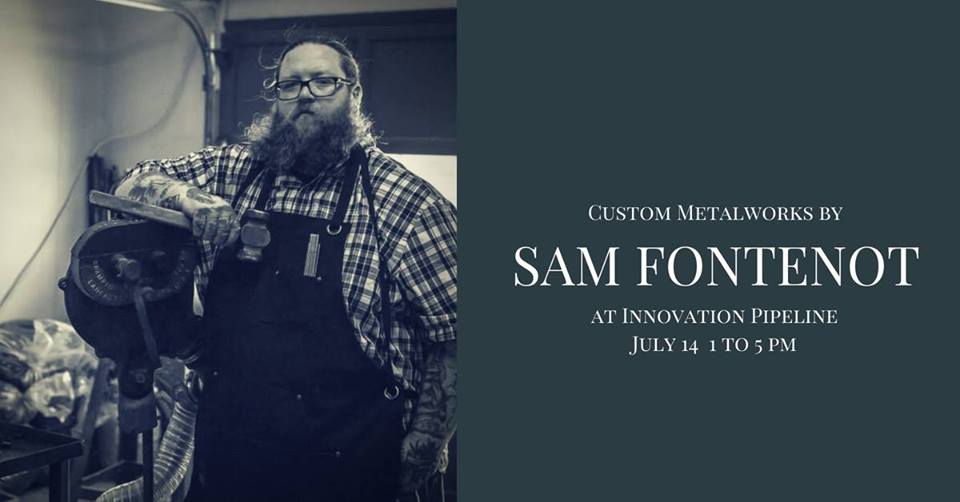 1pm: Art Show with Blacksmith Sam Fontenot – Sam will be featuring and selling his custom unique metalwork designs at the Innovation Pipeline! These one-of-a-kind creations are sure to be objects of envy when friends and family visit your home. Don't miss this chance to purchase a truly unique and functional piece of art and shake hands with its creator.
2pm: Tyler Public Library Makerspace Workshop will be held. No reservations are needed and this is free to attend.
2-3:30pm: The Foundry presents Cheesecake & Coffee Pairing! The cost is $15 per ticket. Walk-ins welcome. Five Bryan's Cheesecakes will be paired with five Porch Culture offerings. Tickets can be purchased at the door.
2-4pm: Free Painting Party at Strada Caffe will be held, lead by Dace Kidd. No reservations are required. This is free to attend and there is no cost for painting or materials. All ages are welcome.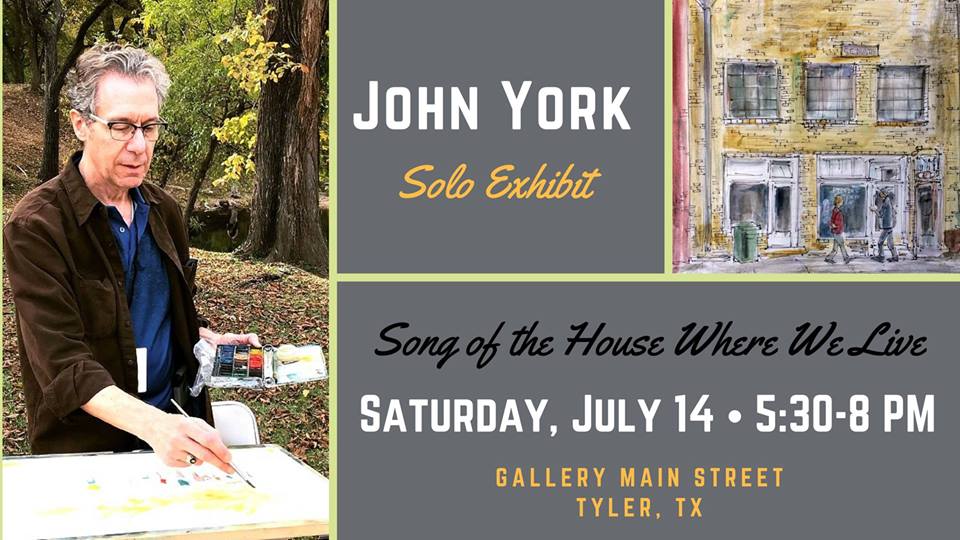 5:30-8pm: Opening of John Randall York Solo Show will be held at Gallery Main Street. The "Song of the House Where We Live" solo show by John York will have a free opening reception for the public. John Randall York was born in Tyler and has lived here most of his life. His grandfather, Henry York, was a photographer in Smith County in the early 1900's, traveling by horse and buggy. York was educated in Tyler public schools, attended TJC and received a BFA from The University of Texas at Tyler. He has also designed giftware for Fitz & Floy, Lenox, The Hamilton Collection, and S & D Fine Collectibles sold in Neiman Marcus, Nordstrom, Walt Disney World, and Bloomingdale's, and has illustrated five books for Gregory Miller, an author/teacher from Pittsburgh, PA.
8-10pm: Jordan Tydings Acoustic will be performing at Strada Caffe. There will be craft beer, wine, desserts, and small plate creations.
8-10pm: Card 53 will bring their unique style of improv "makemups" and will create for you an experience like no other in Tyler, made up entirely on the spot based off your suggestions! Card 53 strives each show to be what they consider "clean-ish." This is sponsored by True Vine Brewery. Tickets are available at the door for $15 but this show usually sells out fast.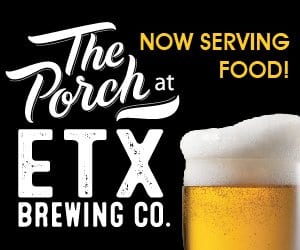 8-10pm: Dubb & The Luv Machine in Concert will perform at ETX Brewing Co. There is no cover and this is a family and pet-friendly event.
8:30pm: The Haunted WALKING Tour of Downtown will be held. Tickets are $8 and available at toursoftyler.com. You must register in advance. Weather permitting.
9pm-1am: Post Profit will perform at Garage Bar. There is a cover charge and no one under 21 is admitted after 9pm.
9pm-1am: Trajikly White will be on stage at Rick's on the Square. There is a cover charge at the door and no one under 21 is admitted after 9pm.
9:30pm: The Haunted RIDING Tour of Downtown – Tickets are $15/person and available at toursoftyler.com. You must register in advance.
For a full list of events go VisitTyler.com/SecondSaturday or find the event on Facebook.
Restaurants
For dinner, sink your teeth into one of the local Downtown eateries. Find anything from cheap tacos and bar food to fine dining and everything in between.
Jack Ryan's Steak & Chophouse, located at 102 N. College Ave., features fine dining, wonderful food, and good drinks in the beautiful People's Petroleum building. They are open 5-10pm.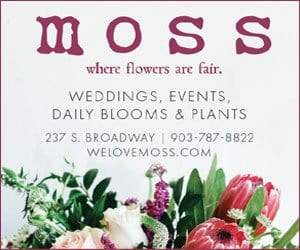 Black Pearl, located at 106 W. Erwin St., features a very classy atmosphere, delicious cocktails, and a nice menu of oysters that are prepared right in front of you. They are open 4pm-12 midnight.
Rick's on the Square, located at 104 W. Erwin St., features a lively crowd on Saturday evenings, a full menu and a live band outside on the patio. If you just want to eat, you can sit inside in the dining room. They are open 4pm-1am.
Don Juan's Mexican Restaurant, located at 113 E. Erwin, is a locals' favorite and features Mexican food and heavenly margaritas. They are open 12 noon-10pm.
SportsZone, located at 115 E. Erwin St., features TV's everywhere you look and a great menu of yummy food: onion rings, chili cheese waffle fries, green chili churro bites, create-your-own burgers, sandwiches, wings, and a few salads. They are open at 12 noon-1am.
Garage Bar, located at 418 E. Erwin St., has burgers, hot dogs, daily specials, and wings. They are open 4pm-1am.
The Foundry Coffee House, located at 202 S. Broadway, has coffee creations, teas, pastries, and quiche. They have several seating options like couches, comfy chairs, tables, a bar, as well as free wifi. They are open at 7am-11pm.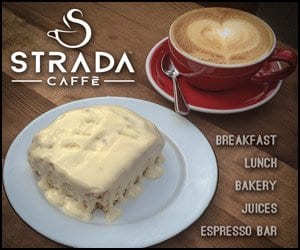 The Porch at ETX Brewery, located at 221 S. Broadway, offers breakfast every Saturday 7:30-11am, tables inside and outside, and classics for lunch and dinner like burgers, Mac 'n Cheese Fries, Fried Cheese Curds, and The Kitchen Sink Sandwich, and of course, brewed on site craft beers. They are open 7:30am-12 midnight. It is pet friendly outside on the patio.
Strada Caffè, located at 302 E. Front St., is just a little off the downtown area. They feature coffee and espresso, teas, breakfast sandwiches, salads and "Strada Evenings" with craft beer and wine.
There's no excuse to leave hungry with all of the dining options Downtown.
More Info
Hit the Bricks: Second Saturday is an event you won't want to miss! Rain or shine, cold or hot, there will always be something to do in Downtown on the second Saturday of every month. Grab your friends and family and "Hit the Bricks!" For a full list of activities each month go to VisitTyler.com/SecondSaturday or find the event on Facebook.
ETX Brewing Company: Good Times Are Brewing Downtown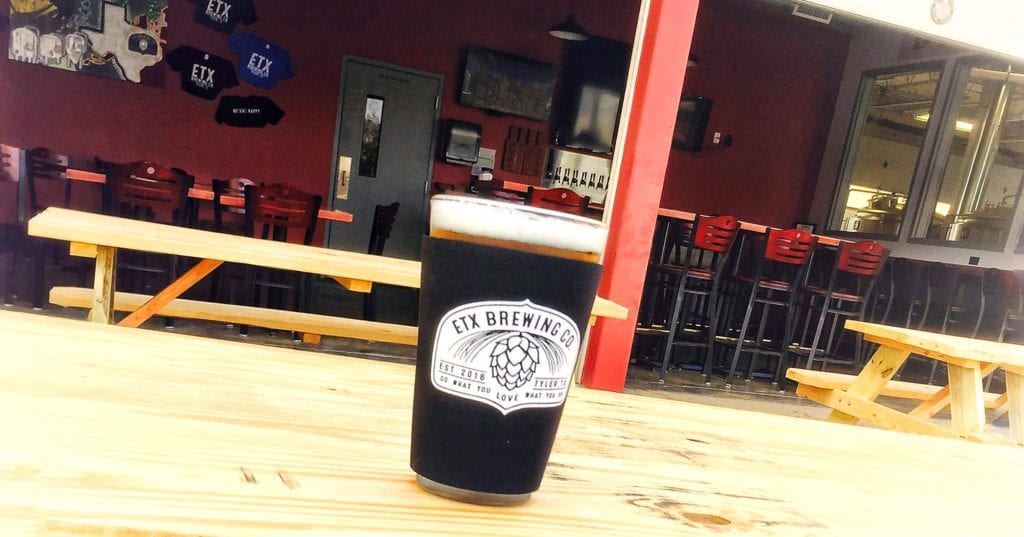 By Johnny Griffith
If you ask ten different people on the street what comes to mind when they hear the word "beer," odds are you'll get ten distinctly different answers. Ask the same question of Brian and Matt Gilstrap and you'll get one answer: family.
Brian and Matt, along with Brian's wife Annie, are the founders and operators of ETX Brewing Company, Tyler's second brewery to open and the newest addition to the growing downtown rebirth here in the Rose City.
Originally born in Arlington, both the brothers Gilstrap moved around Texas over the years after attending Texas State University in San Marcos. Brian and Annie met in college where he majored in Business Finance, and Matt majored in Computer Science. Following a move by Brian and Annie to Tyler in 2005 due to a promotion and now living in different parts of the state, Matt and Brian would come together to hang out for the weekend and began brewing beer as a hobby. Twelve years later, they realized their longtime vision of transforming the hobby into a business and now genuinely live their motto for ETX Brewing, "Do What You Love, Love What You Do."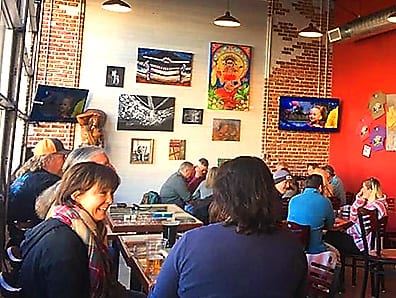 When the vision became a reality, Matt sold his house in Austin, left his job, and moved to Tyler to help with the task of taking the brewery from the garage to the masses. After considering several different locations, the Gilstrap's finally settled on a former tire service center just off downtown on S. Broadway. After several months of hard work, the vast majority of which was done themselves, the crew at ETX Brewing Company opened their brewery and taproom in January of this year to rave reviews and thirsty crowds.
With art from local artists hanging on the walls and beer brewed on site in the facility visible from the bar, flowing through the taps, ETX Brewing Company has the feel of something you'd find on either South Congress in Austin or downtown Ft. Worth. There is a decidedly modern feel, but not so much that the character of the owners doesn't show through. Brian and Matt kept the roll-up doors of the former service center in place, which allows the bar area to have a more open feel and beckons passersby on South Broadway to stop in and take a break from their hectic schedules.
I recently sat down with Matt and Brian to talk with them about the Brewery and sample some of their libations.
Johnny: Of all the things you could be doing in life, why a brewery?
ETX Brewery: Brewing quality beer has been a hobby and a passion for the brothers for many years now. Four and a half years ago Brian and Annie had twins born prematurely at 25 weeks gestation weighing in at 11 oz. and 9 oz. They were immediately care-flighted to a higher level NICU in Dallas, where they spent the next 4.5 months. Matt made the drive every other weekend to spend time with them in the hospital. At that point, perspective on life, in general, changed forever. Life is far too precious and short to not be spending it doing what you love.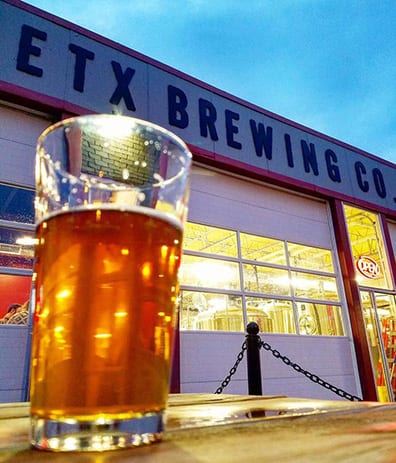 Johnny: What was THE beer that hooked you into the craft scene?
ETX Brewery: Unanimously, Dogfish Head 60min IPA was the beer we all shared together and loved.
Johnny: How did you get from your first batch of homebrew to a full blown brewery?
ETX Brewery: A lot of reading and educating ourselves on new techniques. We were constantly striving to make better beer each time. Practice! Practice! Practice! And of course, sampling the product and asking others for feedback.
Johnny: What have been some of the biggest challenges to get to this point?
ETX Brewery: With any new business, there are challenges of finances and construction, but the nature of opening a brewery brings additional legal hurdles, deciding on the size of equipment, and what beers to commit to brewing. Add to that the fact that we pretty much did all of the work on the brewery ourselves, it gives us a deep appreciation of where we are now.
Johnny: How much of a foothold does craft beer have in east Texas at this point?
ETX Brewery: Craft beer is just on the cusp of becoming big here in east Texas. For a large majority of east Texans, they are new to experiencing craft beer and especially to visiting a brewery. Our goal is really to provide an education to help people understand more about craft beer and what to look for when choosing a brew.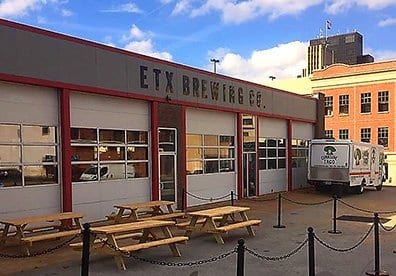 Johnny: How important was the location in the downtown area?
ETX Brewery: We were thrilled to have found a location in the downtown area. We love being a part of the revitalization that is happening Downtown! With all of the amazing businesses going in on and around the square, Downtown Tyler is turning into a "must see" for locals and visitors alike.
Johnny: What will customers be able to do at the brick and mortar location? Buy beer? Drink beer? Fill growlers? Hear live music?
ETX Brewery: Our tap room will have a variety of beers available at all times, which will be changing on a regular basis. Customers will be able to come in and sample or purchase these varieties by the pint. We will have live music on a regular basis, too. Our goal is to be a fun, laid back atmosphere to relax and enjoy a good brew with good company. We are also currently in the works to plan monthly events where a majority of the proceeds will go back to local charities here in east Texas.

Johnny: What is the beer lineup currently?
ETX Brewery: We currently have 6 beers on tap:
Test Batch 1 – An American Pale Ale, a bright filtered Golden Ale
Red House Wheat – An American Wheat unfiltered with slight notes of orange
1846 IPA – Easy drinking and flavorful from the heavy dry hopping with El Dorado hops
Test Batch 2 – Blonde Ale, unfiltered and dry-hopped after fermentation to add a floral aroma
Coffee City Stout – A Stout made with coffee, chocolate, and oatmeal (made with Belgian chocolate and locally roasted coffee from Coffee City USA)
Hitching Post – Amber Ale, a perfect balance of malt and hops producing caramel notes and a malty sweetness
Coming soon: Black IPA – A Mexican Lager, American pale ale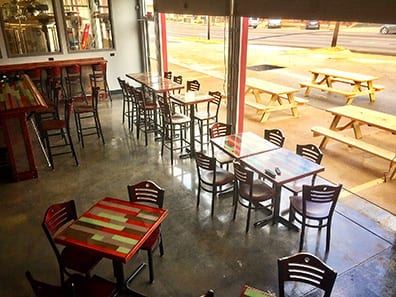 We also have a non-alcoholic Root Beer which we make in house.
Johnny: I know you just opened, but what's next on your agenda for ETX Brewing?
ETX Brewery: We'd like to improve the site and make a friendly space for food trucks, so we have something in the works for that as well as an area out back for live music and more seating. The response has been fantastic so far, and the atmosphere downtown is bringing more traffic back to the area, so we want to make sure we're in a position to take care of the people who decide to spend their time hanging out with us.
Johnny: What kind of experience are you hoping new customers will take away from ETX Brewing?
ETX Brewery: We hope they will walk away with a better understanding of craft beer. A lot of people are afraid to try a craft beer when they see it on a menu at a restaurant. We want to take that fear away and empower the customer to know what they are looking for in craft beers.
ETX Brewing Company is located at 221 S. Broadway in Downtown Tyler. For more info call (903)630-7720, find them on www.facebook.com/ETXBrew or go to etxbrew.com.