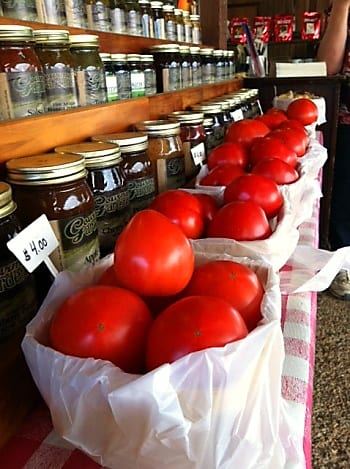 Welcome to Jacksonville – where the World's Largest Bowl was made – all 2,672 lbs. in one day by the best-tasting fruit – tomatoes!
Local farmers are busy getting ready by planting acres of the best tastin' tomatoes for the upcoming 33rd Annual Tomato Fest in Jacksonville, Texas.  Come join the celebration in downtown Jacksonville on Saturday, June 10th as that's the BIG day of activities are happening all day long.  Over 200+ vendors and all kinds of festival food including the famous fried green tomatoes, Farmers Market,  $500 Got Talent Contest, $1000 Photo Contest, Car Show, Motorcycle Show, Tennis Tournament, Art, Exhibit, Entertainment, Kidz Zone and so much more will cover 5 blocks downtown. Tomato events include Salsa Contest, Tomato Eating and Peeling Contest, Tomato Archery, Tomato Shoot, Best Home-Grown Tomato Contest, Tomato Packing Contest and tour the Tomato Shed. Saturday evening Chili's Street Dance will take place featuring Brian Chance Band and Lady Chazz and the Tramps. Inside the famous Tomato Bowl (football stadium) over 100 teams compete in the 4 on 4 Soccer Tournament which kicks off the Friday, June 9th.  New activities include 5k Run, Baseball Tournament, Volleyball Tournament and SpikeBall at Lake Jacksonville.
Activities kick off on Monday, June 5th with a corporate challenge Dodgeball Tournament with the finals happening on Tuesday, June 6th.  On Wednesday, June 7th, a Gospel Concert featuring Chordsmith and on Thursday, June 8th a local restaurant, Sadler's will hold a farmers market.
A 4 Man Scramble takes place at the Cherokee Ranch Golf Club.  The final Tomato Fest week celebration ends at Lake Jacksonville with a Ski Show and for the first time ever SpikeBall.
Come join us and taste for yourself the best tomatoes and fun festival packed with lots to do for everyone.  For additional information, contact Jacksonville Chamber of Commerce at 903-586-2217 or visit www.JacksonvilleTexas.com/Tomato-Fest.  Follow us on Facebook, www.Facebook.com/JacksonvilleChamber.