A Little Bit of This and A Little Bit of That: Some Really Cool New Restaurants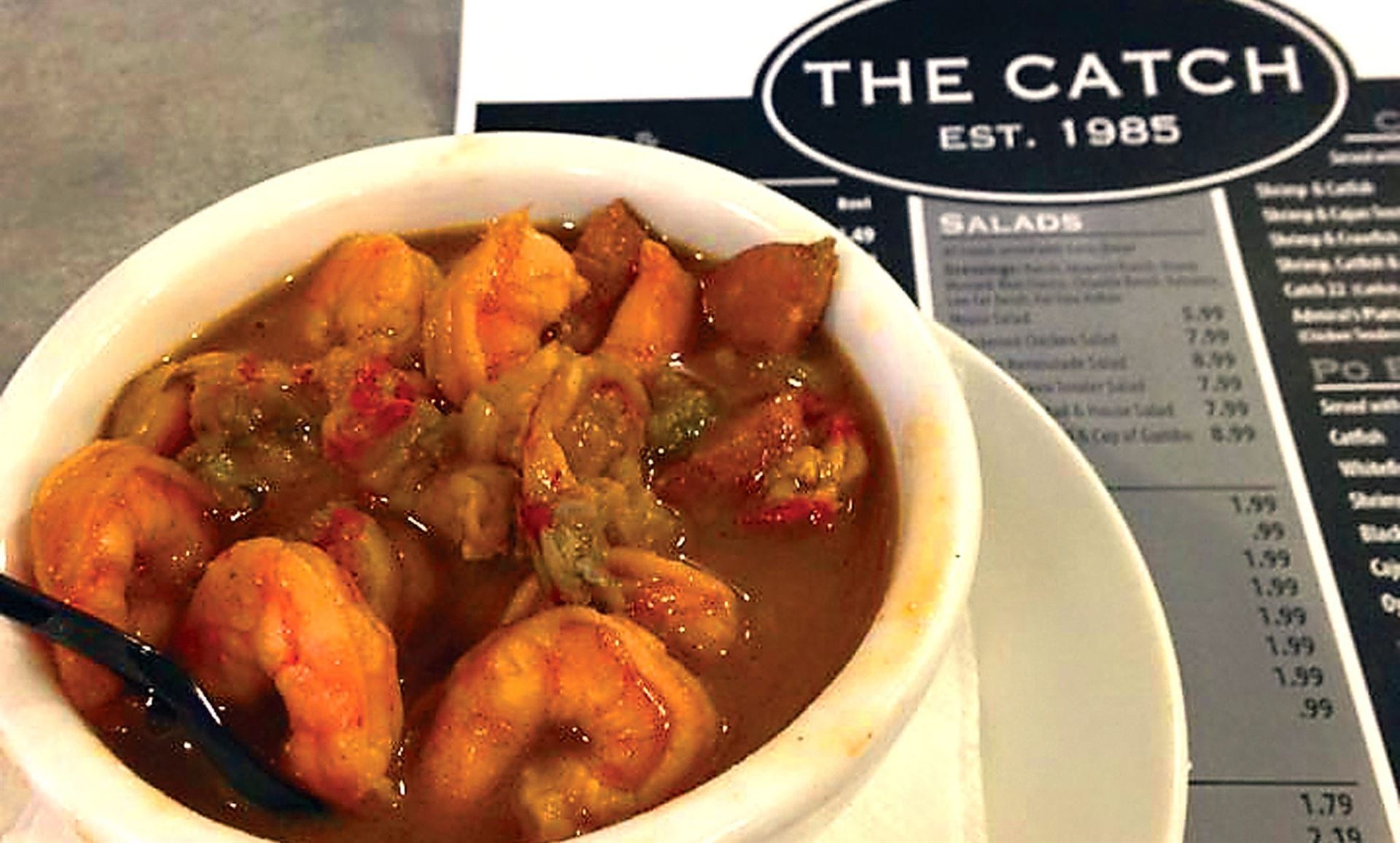 By William Burge
In the past few months, Tyler has had an abundance of new restaurants opening. Here are a few that we think you need to know about.
The Catch
The Catch is a unique concept – local high school culinary students are a major part of the restaurant, offering recipes, cooking, and working the crowds serving and running the restaurant.
Under the watchful eye of Scott Norden, chef, and chef instructor Deidra Stewart, Whitehouse High School students in the Wildcat Bistro culinary arts program are given the opportunity to train under Norden at Tyler's new restaurant, The Catch. The restaurant's concept is all about the students; they help in all aspects and learn the restaurant business first hand – from budget and menu design, to sanitation and service through a cooperative program Norden designed with the high school. Students in the class earn credit as they learn about the restaurant business first hand.
"I have a child that wants to be a chef, and I think this concept is a great opportunity to see students in action. I will return during the day to meet the students and to see more of their creativity on a plate," stated local Joe Calhourne.
Not only are the daily special dishes designed by Whitehouse High School students, but the menu as well. The menu is full of variety, offering Shrimp, Crawfish and Sausage Gumbo, and fried baskets with your choice of shrimp, catfish, whitefish, chicken, oysters, and crawfish. Combo baskets are a favorite but the Catch 22 is the best. You can try it all this way with fried, hand battered catfish, whitefish, shrimp, and oysters, served with a big portion of hand-cut fries, and hush puppies.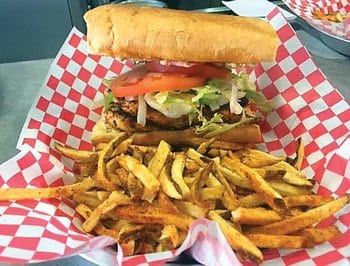 If you want a salad, The Catch has a couple. Shrimp Remoulade Salad and Blackened Chicken Salad are among them. You can also get a Shrimp Cocktail and House Salad or a cup of Gumbo.
PoBoys and Fish and Shrimp Tacos round out the menu, as well as grilled shrimp, Shrimp & Grits, Pappardelle Pasta (tossed with spinach, zucchini, mushrooms, herb butter, and Asiago cheese).
The Catch now has crawfish on weekends: Fridays after 4pm, and Saturday-Sunday 10:30am-close.
The Catch offers happy hour seven days a week. If you're a drinker, they have frozen margaritas in various flavors and also offer buckets of beer at special prices. "Happy hour is the bomb for surrounding college kids and the food is so good," says Cory Schmoker.
This casual restaurant is open and airy with lots of windows and garage doors. A nice size patio will be a hit when the weather starts to get warm too.
Chef Norden has just stepped down from 13 years with the Posado's restaurant chain, where he served as chief operating officer, with more than 1,500 employees. He said, "It's time to give something back." The Catch not only trains future chefs but also donates a portion of their profits to Whitehouse ISD. A second location is in the works for Longview.
The Catch is located at 1714 S. Beckham Ave. (at Fifth Street, formerly Rowdy Taco) in Tyler, (903)596-8226. They are open seven days a week, 10:30am-10pm (9pm on Sunday).
Students are usually on hand from 12:30-2:30pm weekdays and on special occasions which are listed at www.facebook.com/The-Catch-Tyler-TX and on the chalkboard in the restaurant.
Dakota's
Dakota's certainly is not new, but they have recently moved to a new, really cool location, and let us say, it is divine. Decked out in their all new digs, Dakota's is shining bright these days. From their website, "Dakotas is ranked one of America's best steak and seafood restaurants, and for good reason. Our steaks are USDA prime, our portions are big and our drinks are perfect. We've been serving Tyler since 2002. Our servers are experienced and professional. Our wine list is carefully designed, and the drinks are well prepared."
Dakota's extensive lunch and dinner menu offers a nice variety. Our favorite, which was extremely hard to narrow down, is the Bone-In Prime Ribeye, Cowboy Cut. The Prime Colorado Lamb Chops are the best we have ever tried and the Alaskan Salmon with Lobster Sauce is lovely.
Dakota's offers Pecan Crusted Chilean Sea Bass, red fish, lobster, flounder, shrimp, scallops, crab claws, soft shell crab, and several different oyster dishes like Rockefeller, raw and LG (baked oysters topped with cheddar, jalapenos and bacon).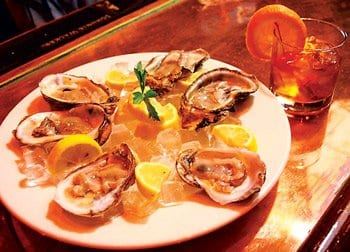 If you are in the mood for something different, try the Venison Dumplings, Tumbleweed Scallops served with a bleu cheese sauce, or the Fisherman's Salad with lump crab, shrimp, remoulade, avocado and almonds. Also, Dakota's is one of the only restaurants in town serving Steak Tartare.
In the bar, most weekend evenings there is live music and Ladies' Night is every Wednesday when ladies can enjoy half-priced cocktails all night long.
The Godiva Chocolate Cake is a chocolate soufflé with a molten center made with Godiva Liqueur, served with vanilla ice cream – a Dakota's specialty.
Dakota's offers an extensive wine list and specialty cocktails.
"Dakotas has always been consistent in their amazing food, wonderful service, and cozy atmosphere. It is the perfect place to bring a date for a romantic night out, lunch with co-workers, or to bring your friends for happy hour. If you haven't tried Dakotas, you are missing out," says Eva Long.
Dakota's is located at 4803 Old Bullard Rd., Tyler, (903)581-6700, dakotasintyler.com. Dakota's is open Monday-Friday 11am-10pm, and Saturday 10am-10pm. The bar is open till 11pm Monday-Thursday and until 12 midnight on Fridays and Saturdays. Dakota's is closed Sundays.
Saturday brunch is offered 10am-2pm. Reservations can be made through Open Table.
New York Pizza & Pasta Italian Kitchen
Located at 1621 S. Broadway, next to Bergfeld Park, in Tyler, New York Pizza & Pasta opened this fall. They offer an extensive traditional Italian menu, and the best part – everything is cooked from scratch and the portions are huge and served piping hot. They offer traditional Italian dishes such as chicken, seafood, and veal with standards like Parmigiana, Piccata, Cacciatore, lasagna, spaghetti, ravioli and more, as well as pizza, stuffed Italian rolls and classic desserts like cannoli, Tiramisu, and cheesecake.
We love the Margarita Pizza and their house pizza, the New York Pizza, served with sausage, pepperoni, Canadian bacon, hamburger, mushrooms, green peppers, black olives, cheese, and jalapenos if you desire. New York Pizza & Pasta also offers a very comforting stuffed pizza in a meat version, as well as a vegetarian version.
Lunch specials range from $6.95 and up.
Pizza by the Slice is available with three options – cheese, supreme, and stuffed slice. They are generous in size and a perfect lunch with a side salad. The house dressing is a tomato, basil, vinaigrette combination.
"Since we lived half the year in New Jersey and eat pizza in New York frequently, I feel qualified to comment on any restaurant claiming to have 'New York' pizza," smiles Catherine H. "To my surprise, they got the crust perfect. It was thin and crispy on the bottom, which makes the crust a good foundation for a tasty pizza slice. Finally! An authentic slice of 'pie' served south of the Mason Dixon line."
Kanpai Japanese Grill & More
If you are thinking Kanpai is just another Asian themed restaurant, then you are very wrong. Kanpai has been described as "similar to Japanese BBQ with a Korean flair." But, you cook your own food at your table on built in grills and it is super fun!
It is a yakiniku style restaurant, which means, according to their website, "The present style of yakiniku restaurants are derived from the Korean restaurants in Osaka and Tokyo which were opened around 1945. In a yakiniku restaurant, diners order several types of prepared raw ingredients (either individually or as a set) which are brought to the table. The ingredients are cooked by the diners on a grill built into the table throughout the duration of the meal, several pieces at a time. The ingredients are then dipped in sauces known as 'tare' before being eaten. The most common sauce is made of Japanese soy sauce mixed with sake, mirin, sugar, garlic, fruit juice, and sesame. Garlic-and-shallot or miso-based dips are sometimes used. Different kinds of side dishes like kimchi and bibimbap are also served alongside."
Start your meal with the unique Tokyo Nachos – fried wonton chips served with kimchi (a traditional fermented Korean side dish made of vegetables with a variety of seasonings) and beef, cheddar, and sriracha, served with a bowl of spicy mayo for dipping.
"Yakiniku" comes with a choice of Kalbi Short Ribs, New York Strip Steak, marinated pork belly, Asian sausage, Cumin Dusted Lamb, shrimp, scallops, as well as a few others.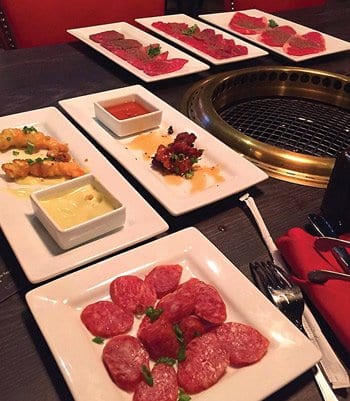 We ordered the Family Meal, which had a little bit of everything. The menu says it serves 2-3 but it really should say two. These meals come with Kanpai salad and miso soup for two, steamed rice, and a choice of one dessert. You can select from the "BBQ:" Angus boneless beef ribs, scallops, marinated pork belly, bistro hanger steak, and corn; the "Meat Lover's Course:" ribeye, filet mignon, sirloin, Asian sausage, and pork belly; or the "Premium Course:" ribeye, Miso marinated skirt steak, Asian sausage, shrimp, scallops, mushroom melody, and buttered corn.
"Hot Pot Courses" are a freshly-made-at-the-table soup. There are several varieties to choose from, including Kanpai Hot Pot and a vegetarian option.
Rice Bowls are available at lunch – the Curried Chicken Stew is lovely. All bowls come with Kanpai salad, choice of soup, and any choice of rice bowls. Lunch is offered 11am-3pm.
"After living in Japan for a few years, my wife and I have looked for somewhere that has good ramen. We finally found it – right here in Tyler. We ordered cucumber kimchi, edamame, and two bowls of ramen. It was all amazing. If you have never had ramen, I definitely suggest coming in and trying it out," said Heath R. "This is truly a unique experience." This is a great place for date night or special parties.
"We had the absolute best time at Kanpai! This is an entirely new concept for east Texas and one that is not only great fun, but a great dining experience. You have to try the Mead-mimosa – it is simply decadent. There are plenty of options for vegans and vegetarians, not to mention the extraordinary selection of meats for the carnivores. Your meal is highly customized to your taste, and cooked to your exact standards (since you cook your own). Don't be intimidated about the idea of cooking your own food at the table. The wait staff is eager to help. We love this place and will most definitely return!" said Jonna Fitzgerald.
Kanpai offers a bar with Happy Hour 3-6pm daily. They have unique drink creations, local favorite True Vine beers, and a large selections of wines. Beer flights are available.
Kanpai Japanese Grill & More is located at 109 E. Grande, Tyler, (903)617-6042, www.kanpaityler.com. They are open 11am-9:30pm Monday-Thursday, 11am-10:30pm Friday-Saturday, and 11am-9:30pm Sunday.
Jack Ryan Steak & Chophouse
Recently opened in beautiful downtown Tyler, Jack Ryan Steak & Chophouse is now offering Tyler what locals have been driving to Kilgore for years to feast on. Jack Ryan in Tyler is owned by the same owners as the Kilgore location.
Brothers Brad and Wes Ebey both graduated from Culinary School at Le Cordon Bleu in Minneapolis, Minnesota in 2001. They have worked in various fine dining restaurants and prestigious hotels, including The Adolphus Hotel, The Four Seasons, and Cru Wine Bar for the past 12 years. The restaurant is named after Brad's son, Jack Ryan, who turned 1 year old in April 2013.
Jack Ryan offers delicious dining in a beautiful setting on the mezzanine level of the People's Petroleum Building, located at 102 N. College in downtown Tyler. It has been completely remodeled in an exquisite, absolutely gorgeous Art Deco architecture style.
The People's Petroleum Building has a rich history. Built in 1932, it was named for its anchor tenant People's National Bank and was constructed in response to the office needs of financial and businessmen during the East Texas Oil Boom of the 1930's. The 15-floor building opened November 5th, 1932 and was the largest construction project west of the Mississippi. It was added to the National Register of Historic Places in 2002, and was recognized as a Tyler Historic Landmark in 2012.
From their website, Jack Ryan Steak & Chophouse is, "Where everything is hand-crafted and made fresh daily using the finest ingredients available. From our delicious jumbo lump crab cakes to our mouth watering steaks cooked to perfection, you can taste the freshness and quality in every bite."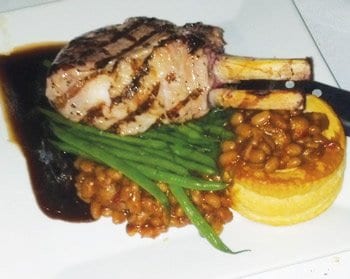 Jack Ryan offers both a Lunch and a Dinner menu.
The Lunch menu offers delicious sandwiches and a Build Your Own Burger option with cheese, bacon, grilled onions, jalapenos, and guacamole available. The Meatloaf Sandwich is perfect comfort food, as well as several other options on the Texas Platters section such as chicken fried steak, hamburger steak, fried catfish, Jack's Philly, and the Beef Tenderloin, served with creamy mashed potatoes and grilled asparagus. Salads are available as well. Average lunch dishes are from $10-20.
On the Dinner menu, we have tried a few items, including our favorite, Lobster Mac 'n' Cheese, which is on the Appetizer section of the menu. It is a creamy blend of boursin, mozzarella, and parmesan cheeses with roasted lobster and truffle oil.
Tuna Tartar salad is very unique and served with what is described as "compressed watermelon, preserved lemon, soy caramel." The raw tuna combined with the sweet sour combination is exquisite.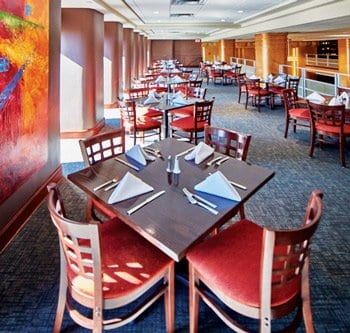 "Pork and Beans" is a manly-style meal, which is a roasted pork chop served with housemade baked beans on a puff pastry, served with a side of sauteed green beans.
The Kobe Flatiron steak is a must-try, as well as the Horseradish Crusted Salmon. The legendary Jack Ryan Beef Tenderloin steak is available at both lunch and dinner. You have never had a steak this good, we promise.
Jack Ryan offers a lounge and bar area with a very cool cocktail drink menu, as well as a nice beer and wine menu.
"The drinks were impeccable and the food was beyond fantastic! The Kobe steak and ahi tuna dishes were perfectly cooked and tasted wonderful. The best cocktail was the French 75 – and we know, our party tried five different ones," said Justin Bass.
Jack Ryan Steak and Chop House is open Tuesday-Thursday 11am-2pm and 5-9pm, Friday 11am-2pm and 5-10pm, Saturday 5-10pm, and closed Sunday.
For dinner, reservations are recommended by calling (903)630-7651.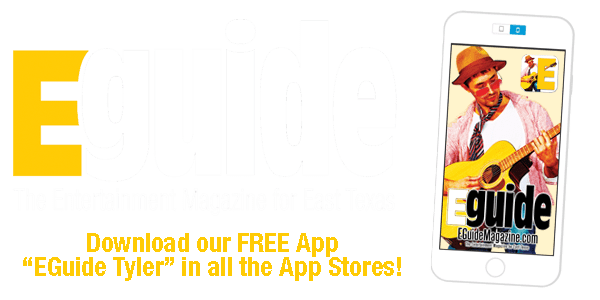 Announcing…Dogtoberfest 2018
Dogtoberfest 2018:
Craft Beer and Cute Puppies Join For a Great Cause
Join the fun with your four-legged best friend October 27th (11am-7pm) at Dogtoberfest 2018!
Held at Juls Event Center, 7212 Old Jacksonville Hwy., Tyler, Dogtoberfest is the culmination of adoptable pets from local animal rescue groups, pet-related vendors, local live bands, restaurants and food trucks and craft breweries.
The Craft Beer tasting will take place indoors in the newly remodeled Juls Event Center!
The ultimate goal of the day is finding forever homes for as many homeless pets as possible.
They are currently seeking vendors, breweries, and more; applications are available online. For more info go to spcaeasttx.com/events/dogtoberfest-2018. If you have questions about the event, contact: marketing@spcaeasttx.com.
7th Annual Butterfly Hope Luncheon, November 1st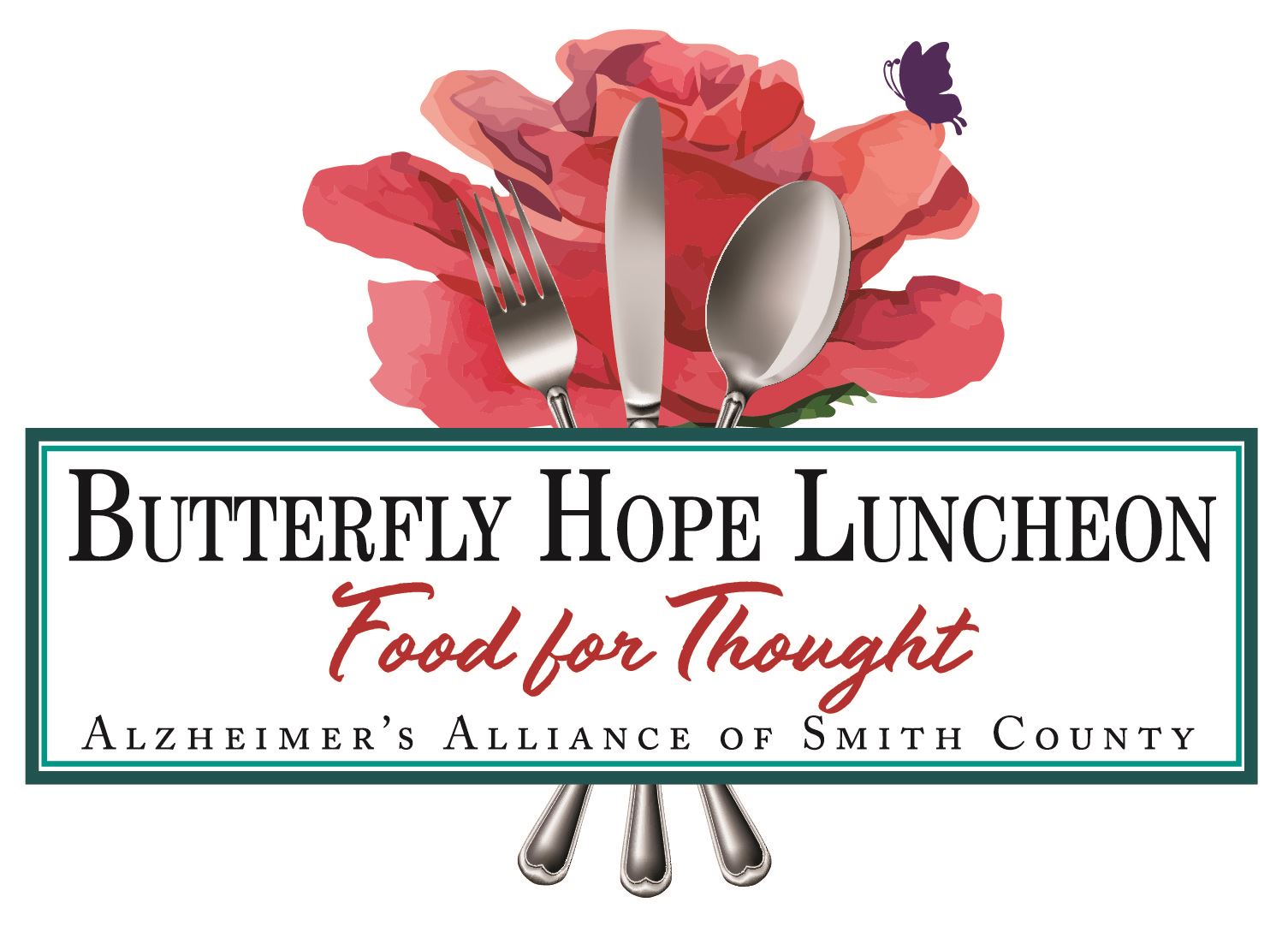 7th Annual Butterfly Hope Luncheon features Madison Cowan, First Winner of the Food Network Series "Chopped"
Thursday, November 1st  at 11:30 am at the Rose Garden Center (420 Rose Park Drive, Tyler), the Alzheimer's Alliance of Smith County will hold it's 7th annual Butterfly Hope Luncheon featuring Madison Cowan, an Alzheimer's Advocate and first winner of the Food Network series Chopped. This annual event benefits the Alzheimer's Alliance of Smith County.
Tickets for the 7th annual Butterfly Hope Luncheon go on sale September 10th for $75 per person. For more info call (903)509-8323 to reserve a seat or visit alzalliance.org.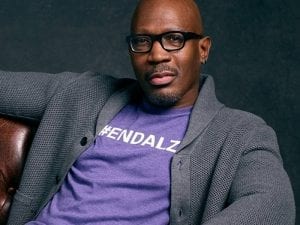 Madison is a hands-on family man, cook, producer and storyteller with roots in London, Jamaica and Detroit. In 2004, after being awarded a four-star rating from The Times as executive chef of Ashbells in London's West End, he established Madison Cowan LLC, a global culinary production company that oversees operations in licensing and consulting, television production and private dining that has reached throughout Africa, Europe, Japan and South America.
Madison has catered to jazz legend Lionel Hampton, singer and human rights activist Odetta, actors Halle Berry, Scarlett Johansson and Anthony Anderson, rapper and poet Mos Def, fashion icon Donna Karan, playwright Lanford Wilson, former NYC Mayor David Dinkins and former President Bill Clinton.
He credits his mother's influence as the springboard to his culinary experience: "She made certain I knew my way round the kitchen and would never depend on anyone for a meal. Sage advice I now impart to my own child."
In 2010 Food Network selected him as a contestant for their hit Primetime series Chopped where he competed and won three consecutive episodes to become the first ever Grand Champion. Following appearances on NBC's Today Show and CBS This Morning, in April of 2012 he was victorious on Iron Chef America's epic Battle Kale and co-starred in BBC America's exciting travel series No Kitchen Required. Madison returned to television in late 2013 as a recurring judge in Food Network's delectable series of chance, Kitchen Casino and currently features on multiple series such as Beat Bobby Flay, Guilty Pleasures, Worst Cooks in America, Chopped Junior and Guy's Grocery Games.
Most notably, Madison's charitable endeavors include advocating on behalf of both the Alzheimer's Association and Alzheimer's NYC in its quest to cure the dementia related disease, serving as culinary council member for Food Bank For New York City, a leader in the movement to end hunger and poverty and signing on with First Lady Michelle Obama's Chefs Move To Schools initiative, which creates partnerships for professional chefs and public schools nationwide with the goal of solving childhood obesity within their communities by collaboratively educating children about food and healthy eating.
At the luncheon, Bishop Strickland will be honored with the Butterfly Hope Award for his steadfast leadership within the Alzheimer's Alliance of Smith County for many years and his passion and commitment to the Alliance. Bishop Strickland has served on the Alliance Board and is now on the Alliance Advisory Council.
Sponsorships are available, please contact the Alliance office for more information. For more information regarding Alzheimer's disease, Alliance programs & services or for volunteer opportunities please visit alzalliance.org.
About the Alzheimer's Alliance of Smith County
Founded in 1982, the Alzheimer's Alliance of Smith County is a local nonprofit organization committed to walking alongside all of those affected by Alzheimer's disease and related dementias. Our services include personal consultations, education and awareness, caregiver support and resources, and brain health advocacy in Smith County.
Fit City Tyler's "Fit Bite Program" Grows
Do you want to eat healthier when you are eating out? Fit City Tyler's "Fit Bite Program" offers a current list of restaurants and their healthy menu options.
Participating restaurants are:
You can go online at fitcitytyler.com/fitbite and click each restaurant to view their menu items that qualify for placement into the "Fit Bite" Menu Recognition Program.
Look for the "Fit Bite" logo on window stickers, menu labels and informational posters. These will highlight the meats, fruits, vegetables and beverage options are prepared using any of these healthier cooking methods: grilled, broiled, baked, steamed, poached, roasted, sautéed or stewed.
​Any restaurant in the Tyler area can join the free "Fit Bite Program." To enroll, go to fitcitytyler.com. For more info email Terrence Ates at TAtes@NETPHD.org.
Fit City Tyler is a community wellness coalition that supports individuals, families, and businesses to create action toward adopting healthy lifestyles. The Fit City Tyler coalition consists of more than 100 local organizations: the media, hospitals, gyms, public and private schools, city and county government, community clinics, public health organizations, non-profits, restaurants, churches, health clubs, fitness gyms, CrossFit boxes, non-profit agencies and numerous community volunteers.