A Spiritual Journey of a Great Artist and Peacemaker: Ruth Drayer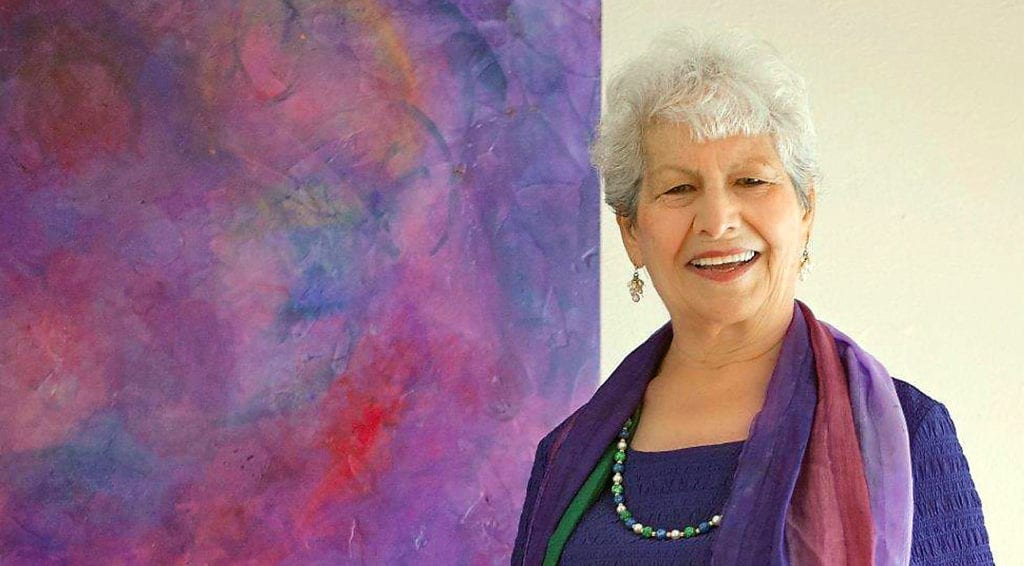 "There is only one corner of the universe you can be certain of improving, and that's your own self." – Aldous Huxley author of "Brave New World"
By Derrick White
"Where there is peace, there is culture; where there is culture, there is peace." – Nicholas Roerich.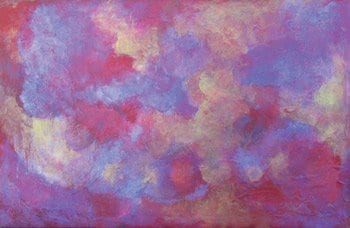 I believe people come into your life for a reason and one of the biggest blessings of being an educator is how many lives cross paths with my own. I was privileged enough to meet and befriend a Tyler Junior College student a few years ago and I have to say, if more people on this seemingly imploding planet were more like Ruth, things would be a lot better. Take my word for it. Local east Texas artist, author, numerologist and peace advocate Ruth Drayer has a warm, positive personality, an inner glow, and an eclectic background built from life experiences not formal education. She always knew she was an artist even though her early home life was, in her words, a battlefield and wasn't conducive to creativity. She says she spent most of her early childhood hiding. When Ruth began college in Washington, DC, where she had grown up, she intended to teach art but instead she quit school and married a sailor whose life happen to cross her path. By the time her husband was discharged from the Navy and enrolled in medical school, Ruth was working full-time and was the mother of two children. Still she continued artistic pursuits and worked to brighten their home with color.
Years later, with four kids and a husband starting his private medical practice, Ruth took a local Continuing Education ceramics class and learned to work in clay. Ruth enrolled at the University of Texas at El Paso and took several art classes, and that's when the magic happened. Unfortunately, then came turmoil. Ruth's family experienced divorce. "I had to go to work in a florist shop and was trained to do weddings, and I learned the rules of design and discovered I had a natural gift for color," states Ruth. She remembers, "My life became very hectic after my divorce."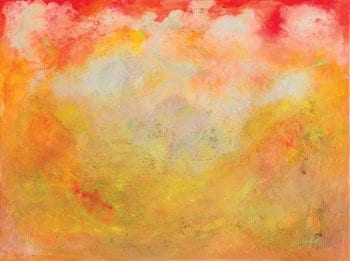 "As you simplify your life, the laws of the universe will be simpler; solitude will not be solitude, poverty will not be poverty, nor weakness, weakness." – Henry David Thoreau.
Later, living in Santa Fe, New Mexico, Ruth owned an art gallery, managed another gallery, wood-burned designs on sheepskin coats, studied interior design, created rock gardens, and then traveled to Europe. "In Italy, I saw the great value of knowing art history as I recognized so many things I'd studied. I went to many museums, churches, and galleries throughout Europe, and by the time I got to see some of the work of the French Impressionists, I understood the controversy they had created with their brush strokes visible all over their canvases instead of the exact, precise, smooth brush strokes of earlier painters. I then studied color healing, color theory, and read everything I could find on color," says Drayer.
It was in Italy Ruth realized she could put up with any inconvenience if there was beauty around. "This idea drew me to the work of the Russian visionary artist Nicholas Roerich, who believed beauty speaks an international, global language. If people were educated to the importance of art, we could all live in a world of peace. He was called a master of color and during the next 15 years I researched and wrote his biography, 'Nicholas & Helena Roerich, the Spiritual Journey of Two Great Artists & Peacemakers.' I saw many of his 7,000 pieces. It was his use of color that fascinated and inspired me most," asserts Ruth. Nicholas Roerich established the peace pact, an international agreement allowing any nation to protect its cultural or artistic heritage with a symbolic banner, the Banner of Peace. The pact states, "Educational, artistic, and scientific institutions shall be protected and respected by belligerents without any discrimination. Thus, any site of cultural activity around the world can fly the Banner of Peace to declare neutrality, independent of combatant forces, and protected by international treaty."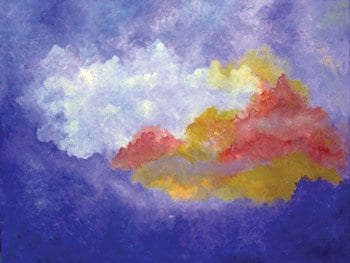 After writing and publishing a book on the Roerichs, Ruth began to find peace and tranquility in painting. She was drawn to non-representational art. "I wanted permission to paint without knowing what I was doing," she says. Ruth adds, "It's all a voyage of discovery, just like life."
Ruth Drayer works in acrylics and builds up layers on the surface of the canvas. She uses texture to add extra elements then paints a spiritual symbol or word like love, peace, harmony, etc. which then gets masked and hidden. "Painting has opened another world for me. My art allows me into dimensions I'd never reach in any other way. I'm still fascinated with color, and I get very involved with each brush stroke and how it interacts with the one next to it. It has been so fascinating to see how much my work grows with a life of its own. I see my earlier work and wonder how I did it and wish I could do more, but I've never been able to reproduce anything I've already completed," states the artist.
Artists who influence Drayer include Stanton McDonald Wright (American, early abstract painter), Nicholas Roerich (the aforementioned Russian painter, writer, archaeologist, theosophist), Wassily Kandinsky (Russian painter, art theorist and groundbreaker in purely non-representational painting), and Marc Chagall (Russian-French artist and modernist known for his color and dreamlike images).
"I'd say the most important advice I could give is to paint and create for you. When I began, I called my works 'no thing' (no object) paintings and I was embarrassed about what people would say when they saw them, and I shared them with very few. But when I had 12 completed, I had my first art show. My favorite compliment was from an artist friend who said I painted 'nothing' better than anyone she'd ever seen," beams Ruth Drayer, artist and peacemaker.
Check out this artist of visions and dreams at www.ruthdrayer.com or find her on Facebook while you still can before she moves back to New Mexico to paint, live, dream, and receive love and support from her community.
"He who lives in harmony with himself lives in harmony with the universe." – Marcus Aurelius.
* Obviously a borrowed title.
Peace out!
.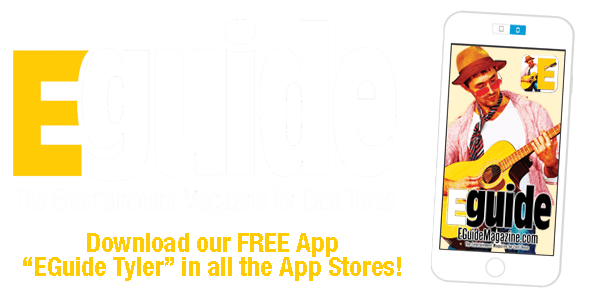 Art in the Garden April 28th at the Rose Garden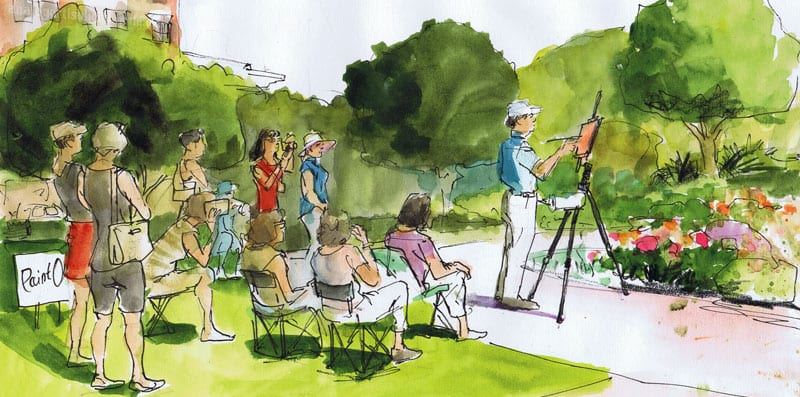 April 28th (11am-2pm) – 12th Annual Art in the Garde
n
The Tyler Parks and Recreation Department invites you to come paint or draw with us in the Tyler Rose Garden, 420 Rose Park Dr., Tyler.
Join local artists of all ages to paint. Bring your paints, any medium (paper or canvas) and an easel and create a masterpiece. Non-painters are welcome to view the garden and the artists at work.
A display of artwork will be shown in the exhibit area.
This is free to the public. Light refreshments will be served in the Rose Garden Center.
Art instructors are welcome to bring their students of any age.
For more info call (903)531-1214.
TJC Art Fest: This Week, Bell Tower Arts Journal" Launch Party, International Day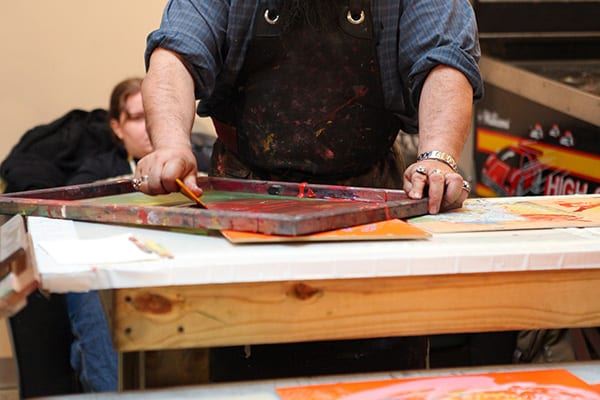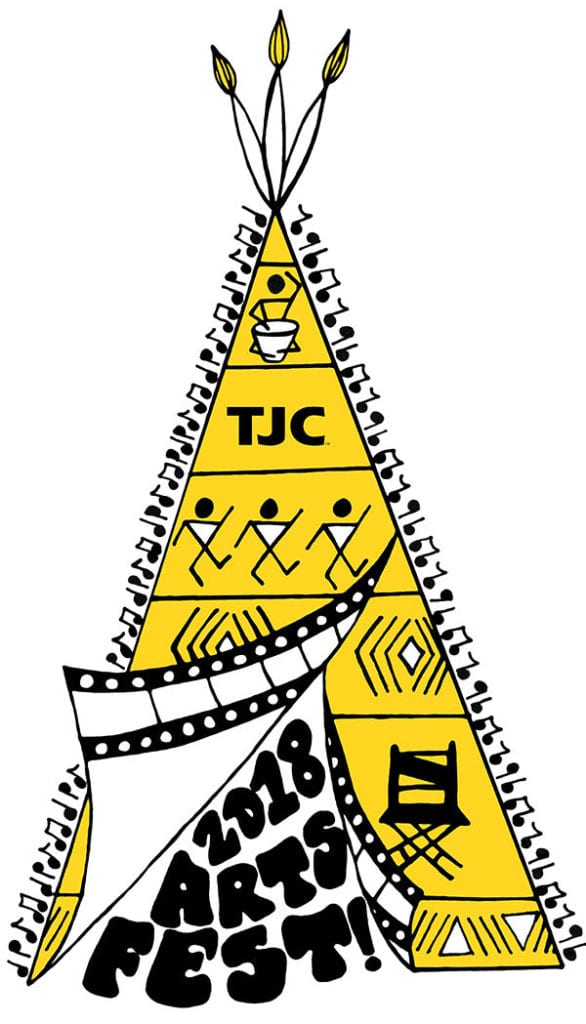 Tyler Junior College, the Tyler Museum of Art and others, are once again offering a spring arts festival packed with tons of events and performances. The TJC April Arts Festival will be collaborating with the Tyler Museum of Art the entire month of April.
The festival is a celebration of the dynamic arts programs at Tyler Junior College. These programs provide rich learning experiences. This event is a collaboration of The Bell Tower Arts Journal, International Day, the Tyler Museum of Art, and the Art, Music, Theater, Speech, Dance, and Visual Communications departments. Back again, the local CBS 19 will be supporting media underwriting.
The Annual Arts Festival germinated from the notion of Dr. Linda Gary (TJC Dean of Humanities, Communications and Fine Arts) a few years ago. Dr. Gary's original thoughts of the festival bloomed from her idea of outstretching the outstanding activities that the multiple departments at the college conduct and coordinate. Why not share the greatness? There are some entertaining, cultural, enlightening events taking place at the upcoming festival. Find the ones you are interested in, check them all out, and reconnect to one of Tyler's trademarks and come celebrate the arts.
2018 April Art Festival events include:
On view all of April – "Sticks and Stones: Works by Helen Altman" and the 14th Annual High School Art Exhibits will be at the Tyler Museum of Art all month. For more info, go to

tylermuseum.org

.

April 2nd-27th – A Visual Communications Exhibition will be displayed in the Pirtle Technology Building, Pirtle Phase 4.

Through April 25th – The Amazing Hancock Brothers will be on exhibit at the TJC Wise Auditorium Art Gallery.

Through April 27th – East Texas CARES Food Pantry is hosting a Food Drive, sponsored by The Art Club. Donations may be dropped off in the Jenkins Hall Art Department Lobby.
---
April 16th (2pm) – "The Bell Tower Arts Journal" Launch Party will be held in the TJC Jenkins Hall Art Department Lobby. The unveiling of the latest edition of "The Bell Tower Arts Journal" includes selected artwork, poetry and prose from students.

April 17th (9am-5pm) – TJC's Annual International Day celebrates diversity and worldwide cultures with an amazing lineup of events and activities in the Apache Rooms of the Rogers Student Center.

April 17th (10am) – Distinguished Lecture Series: Hearing Each Other: Tolerance & Interfaith Dialogue will be held in the Wise Auditorium.

April 17th (7:30pm) – Wind Ensembles and Symphonic Band will be in concert in Wise Auditorium. Come enjoy an evening of great music performed by students in the TJC Percussion Ensembles and Symphonic Band. Free admission.

April 18th (12 noon) – Coffee House: Chamber Singers will perform at Tyler Museum of Art in the lobby.

April 18th (5:30pm) – Forensics (Speech and Debate) Team Showcase will be held in the Jean Browne Theatre.

April 20th (1pm) – Student Recital Series will be held in the TJC Jean Browne Theatre.

April 23rd (3pm) – The Student Film Festival be be held in the TJC Apache Rooms. a

April 23rd (3pm) – "Be An Anchor" will be held in the Newsroom, Potter 203.

April 24th (10am) – Rock the Garden games and activities will be held in the TJC Genecov Garden area.

April 24th (3pm) – Azerbaijani Music Concert & Workshop will be held in the TJC Apache Rooms.

April 24th (7:30pm) – Spring Choral Concert will be presented in the TJC Wise Auditorium.

April 25th (12 noon) – THUNDERDOME Art Competition will take place where there is only one winner – all the other entries will be destroyed by the annihilator. BYOT (Bring your own tears) to Jenkins Courtyard. Special guests will be the Amazing Hancock Brothers!

April 25th (2pm) – Amazing Hancock Brothers Printmaking demonstration will be held in the TJC Jenkins Hall Art Department Lobby.

April 25th (12 noon) – Coffee House: Faculty Recital will be performed in the Tyler Museum of Art Lobby. Concert and museum admission is free.

April 25th-28th (7:30pm) and April 28th (2pm) – "Hamlet" will be presented in the TJC Jean Browne Theatre.

April 25th (7:30pm) – TJC Jazz Ensembles will perform in the Wise Auditorium.

April 27th – The Performance Grant Student Showcase Art Exhibition will on display in the Wise Auditorium Art Gallery.
Most events are free to attend and everyone is welcome. There is something for everyone offered during this month-long festival. Find the events, exhibits and performances you are interested in and come enjoy. It really is the best ticket in town!
Tyler Junior College is located at 1400 E. Fifth St., Tyler. The Tyler Junior College Wise Auditorium Fine Arts Building and TJC's Jean Browne Theatre in the Wise Cultural Arts Building are located near South Mahon Ave. across from the Tyler Museum of Art. More info can be found at tjc.edu/artsfestival or call (903)510-2200.
14th Annual High School Art Exhibit at Tyler Art Museum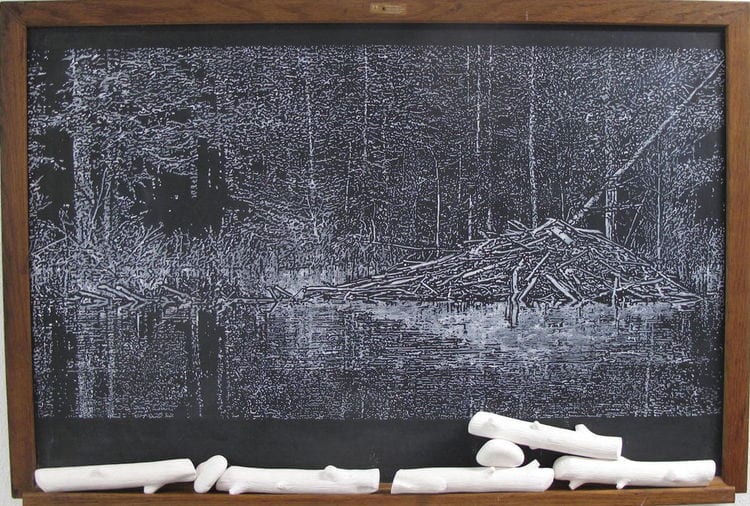 This Month at Tyler Museum of Art:
14th Annual High School Art Exhibition and "Sticks & Stones: Works by Helen Altman" on Exhibit
The Tyler Museum of Art (TMA) is located at 1300 S. Mahon Ave. on the Tyler Junior College main campus. Regular TMA hours are 10am-5pm Tuesday-Saturday, and 1-5pm Sunday. The Museum is closed Mondays and most major holidays. The Museum is supported by its members, Tyler Junior College, and the City of Tyler. For more info call the museum at (903)595-1001, tylermuseum.org, or email info@tylermuseum.org.
TMA's 14th Annual High School Art Exhibition on Exhibit April 8th-May 6th
An unprecedented number of aspiring artists from local schools will have their first opportunity for a full museum exhibition with the Tyler Museum of Art's "14th Annual High School Art Exhibition," opening Sunday, April 8th and continuing through May 6th at the Museum. The museum is located Tyler Junior main Campus is located at 1300 S. Mahon Ave. Admission is free.
What began in 2005 as a small showcase for 23 students from four area high schools has blossomed into a major exhibition and community event. This year's juried competition, tops the previous record of 2016, spotlighting for the first time the work of more than 100 students from a best-ever 14 high-school campuses in Tyler and nearby cities.
Five outstanding works as selected by the jurors will be presented with "Merit of Honor" awards during the Opening Reception and Awards Ceremony from 2:30-4pm, Sunday, April 8th at the Museum.
The community is invited to meet the participating artists, enjoy light refreshments – and cast their votes for the annual Viewers' Choice Award to be presented at the exhibition's conclusion. Ballots are available at the Visitor Services desk in the TMA lobby.
"Merit of Honor" winners will receive gift certificates from Dick Blick Art Materials. All participating artists will receive Certificates of Participation and one-year student memberships to the TMA. To RSVP for the April 8th opening reception, call (903)595-1001.
Participating schools in the "14th Annual High School Art Exhibition" include All-Saints Episcopal School, Bishop T.K. Gorman Regional Catholic School, Cumberland Academy, Grace Community School, John Tyler High School and Robert E. Lee High School, all of Tyler; The Brook Hill School, Brownsboro High School, Bullard High School, Chapel Hill High School, Elkhart High School, Frankston High School, Whitehouse High School and Winona High School.
Support for the exhibition is provided by Collectors' Circle-Platinum Sponsor The Rogers Foundation; and Collectors' Circle-Gold Sponsors Martha and Randy Key, McElfatrick Charitable Foundation and Myrtis D. Smith.
"Sticks and Stones: Works by Helen Altman"
Tyler Museum of Art celebrates the arrival of springtime with a quarter-century survey in the career of one of the most diverse and prolific contemporary Texas artists. "Sticks and Stones: Works by Helen Altman" continues through June 3rd in the museum's Bell Gallery. Admission is free.
The exhibition, organized by the TMA and curated by Caleb Bell, features more than 40 pieces spanning a dynamic body of work by Altman, a Fort Worth-based artist noted for her ability to move between various series across an eclectic array of media.
"Sticks and Stones" focuses on her fascination with flora and fauna, which "have been a much-appreciated constant in my life," the artist said. "They have been a constant source of joy and also a source of coping."
Altman's specific choices of media throughout her career – blankets, wire birds, egg editions, and torch drawings, to name just a few – also reflect a pronounced emphasis on exploring the unique in the everyday.
"Many of my works use commonplace materials and objects. I respond to ready-made objects that are often discards or flawed in some obvious way," she said. "Alterations in these familiar things elevate them and draw parallels to our own human predicament."
Altman received both her bachelor of fine arts and master of arts degrees from the University of Alabama, as well as her master of fine arts from the University of North Texas. Her work has been widely exhibited and is featured in numerous public collections, including the Art Museum of South East Texas, The Grace Museum, and Museum of Contemporary Art in San Diego.
Support for "Sticks and Stones" is provided by Collectors' Circle Platinum Sponsor The Byars Foundation.
Special events in connection with the exhibition include: Free First Friday tours at 11am April 6th, May 4th and June 1st; and Family Days from 2-4pm Saturday, April 14th and May 12th.