April in Edom Festival April 21st-22nd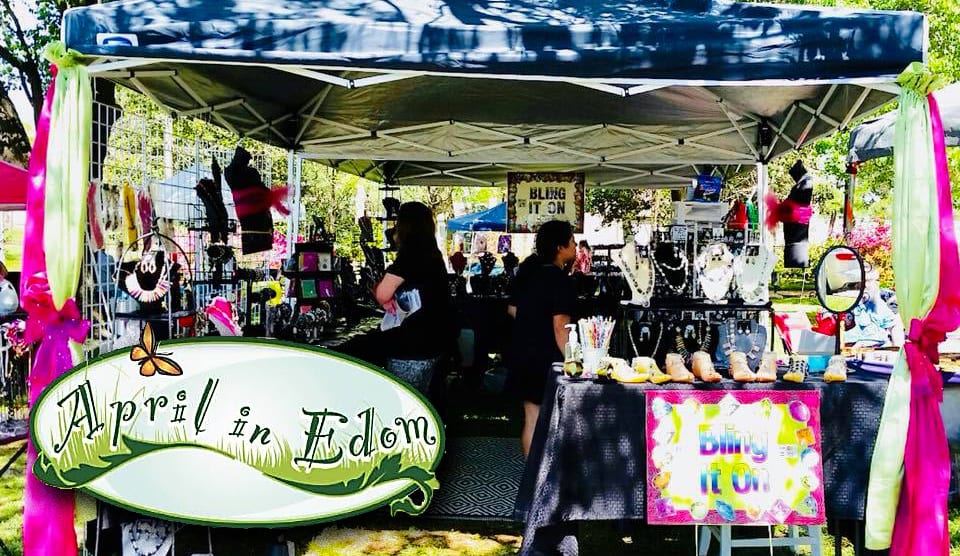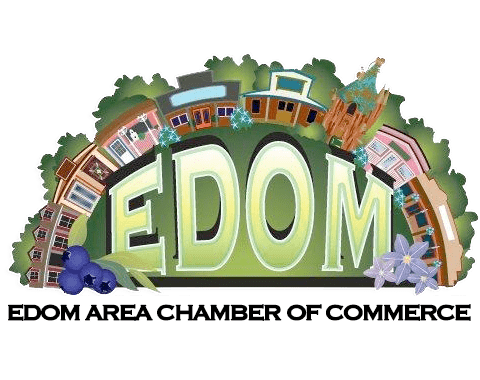 April In Edom is April 21st-22nd and is an old-fashioned folk, street fair for adults, kids and pets. It is free to attend!
Walk back in time to the 14th Annual April in Edom Folk/Street Fair for adults, kids & pets. Find 125+ Vendors with handmade & folk crafts, demonstrations, vintage items, great foods, awesome Kids' Zone with arts and activities, 2pm Pet Parades & Contests, 40 Performers on 3 Stages and Saturday 8am Fire 5K Run.
Saturday and Sunday, April 21st-22nd there will be a PAWS PARADE & CONTEST at 2pm. Sign up by 1pm the day of the event – everyone welcome! There will be $1,000 in prizes. This year Pet can get a bigger spotlight as his/her Krewe builds a Paws Parade Float, competes & wins $1,000 in prizes. The $250 cash & prizes go to the Pet, of course. Fun Family or Group of 2-10 people laughing & playing together to build a Float to complete in the Paws Parade. Supplies available for purchase or bring your own. A Pet can also walk in the Parade with his Person, Family or Group of Admirers. Each Walker gets a Ribbon & the Pet can win prizes for Best dressed, Look-Alike or Best Float. Register & pay entry fee online by April 18th or by noon at the Festival. Krewes can decorate Floats between 10am & 1:15 pm each day or bring the Float decorated. The Paws Parade line-up is 1:30 pm, with Paws Parade at 2 pm both days.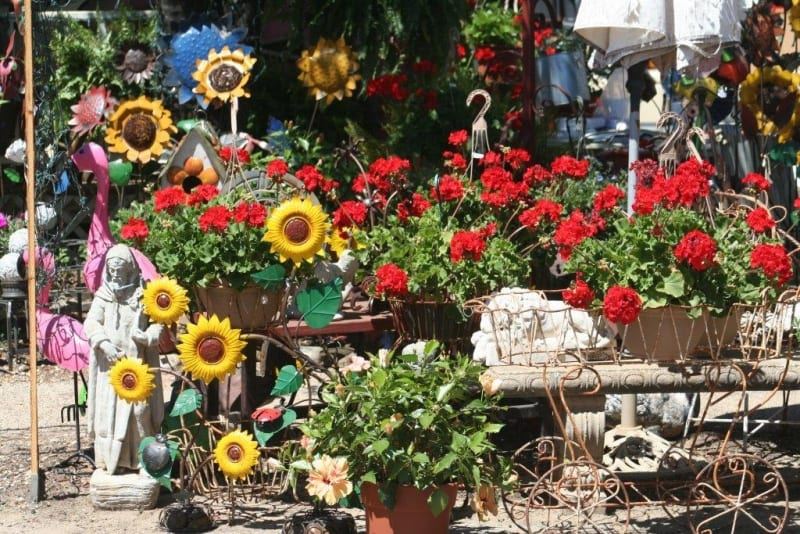 Also going on is a 5K! Runners, People with or without Pets, can race Sat 8am, at a 5K Fire Run to benefit the Edom Fire Department.
Festival hours are 10 am to 5 pm each day. Sniff out 125+ Vendors with pet items & gourmet foods, handmade folk & vintage items, festival foods for people and an awesome Kids' Zone with crafts and activities.
Perk up your ears listening to Performers on 2 Stages.
Just 11 miles south of I-20, exit 540, off Hwy 64 between Tyler & Canton, at Hwy 279 & FM 314. Get to Edom, where Art comes to life. Among the tree-lined roads and rolling hills of East Texas, lies a quaint little town filled with honest-to-goodness country cooking, fine arts, antiques and southern hospitality. This one-stoplight town has a personality like no other. Edom is a true "Artist Community." With local artists who have called Edom "home" for over forty years. They put Edom on the map!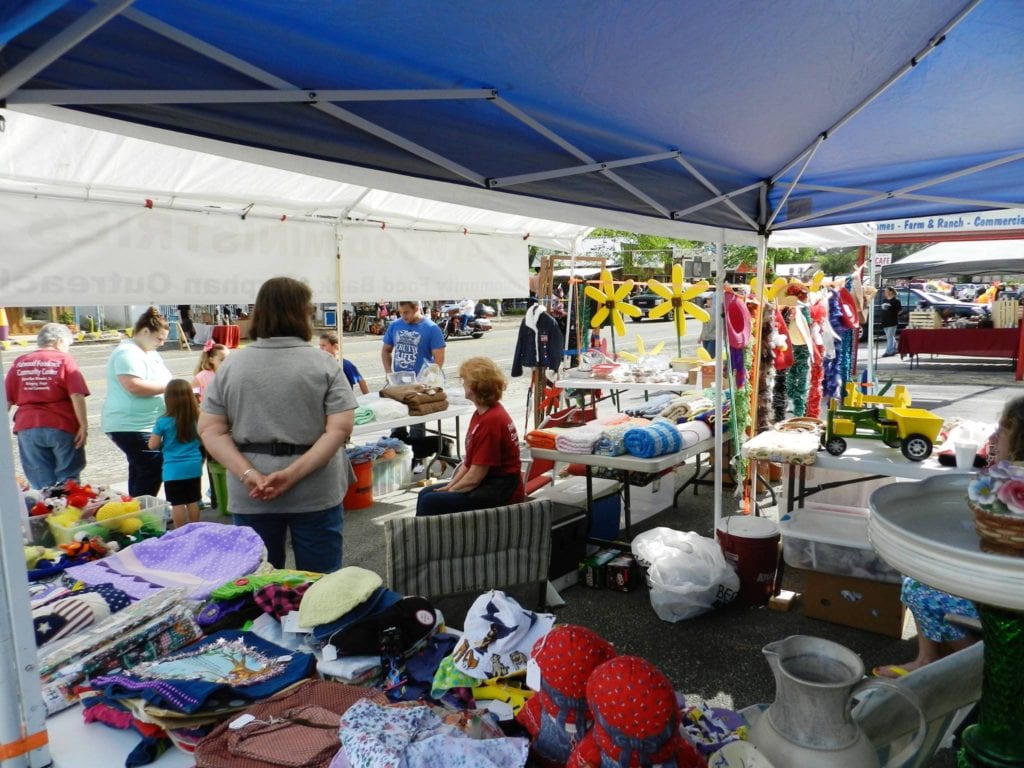 The events that happen here span the seasons; from a Folk Fair in April to the Fine Arts Festival in October. Gardens and nurseries start blooming early Spring, with farm fresh vegetables rip in April at market stands. Blueberries are ready for you to pick in June and July. Independence Day Fireworks, Thanksgiving turkey and ham dinner, shopping and a Christmas tree lighting round out the year.
Musicians meet on local porches, pickin' and grinnin' just for fun.  There are also live concerts featuring very talented singer/songwriters on weekends. Vintage car enthusiasts drive in once a month for Saturday Cruise Night.  Stop by, enjoy a chicken fried steak and homemade pie, peruse the eclectic mix of shops. Come for a day or stay in a local Retreat for the weekend. "Experience Edom" first hand. Once you do, you'll find every reason to keep coming back.
For more info, go to visitedom.com, email April@VisitEdom.com, or call (844)633-6689.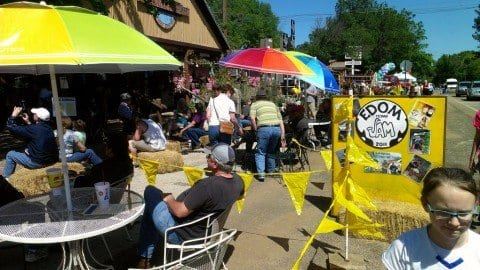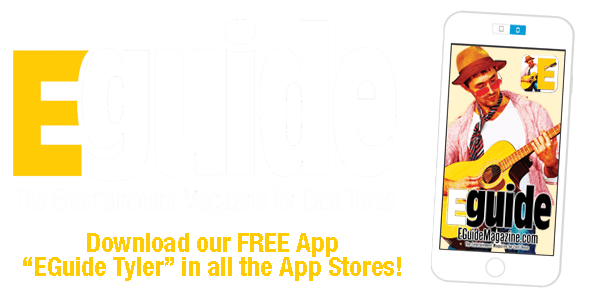 April 25th-28th: "Hamlet" on Stage at TJC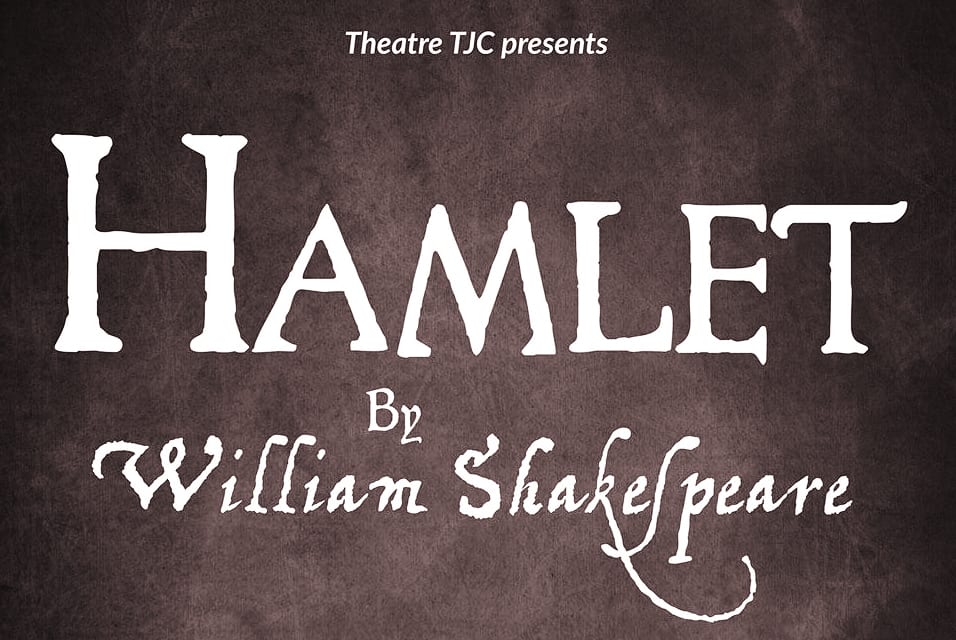 'Hamlet' to be Theatre TJC's final production of the season
Theatre TJC will close its 2017-18 season with William Shakespeare's searing story of murder and revenge, "Hamlet."
Show times are 7:30 p.m. Wednesday-Saturday, April 25-28, with a 2 p.m. matinee on Saturday, April 28, in Jean Browne Theatre.
Tickets go on sale Wednesday, April 18. Admission is $10 for adults, $5 for seniors and students, and free with a valid TJC ID. Box office hours are noon-6 p.m. weekdays through the run on the show. For reservations, call 903-510-2212.
The production is under the direction of Denise Weatherly-Green.
Long considered one of The Bard's best plays, "Hamlet" is the tale of a Danish prince tormented by despair, insanity and a drive for vengeance. The play has been inspiring the minds and exhausting the hearts of theater-goers and readers alike for centuries.
Cast includes: Hamlet – Sean-Riley Cunningham, Tyler; King Claudius – Bryce Neel, Troup; Queen Gertrude – Nicki Dempsey, Tyler; Old Hamlet's Ghost – Stone French, Whitehouse; Polonius – J.W. McFarland, Bullard; Ophelia – Bailey Patton, Mansfield; Laertes – Gerardo Carreon, Matamoros, Mexico; Horatio – Walker Delk, Tyler; Rosencrantz – Bryson Chalk, Big Sandy; Guildenstern – Iliana Herrera, Tyler; Marcellus – Mar'Quise Johnson, Oceanside, California; Barnardo – Colin Thomas, Frisco; Francisco – William Clark, Whitehouse; First Player – King, Levi Hawkins, Hughes Springs; Second Player – Queen, Savannah Williams, Tyler; Third Player – Trey Frosch, Kaufman; Clown 1 – Joey Herrera, Katy; and Clown 2 – Rita Roman, Quitman.
Crew includes: stage manager – Tate Bivens, Paris; assistant stage manager – Grace Luttrell, New Diana; director's assistant – Ellie Hudson, Tyler; and sound design – Katlyn Lamar – Canton.
The production is part of TJC's fourth annual Arts Festival, a month-long celebration of exhibits and performances by TJC students, faculty and staff. For a complete list of events, go to www.tjc.edu/ArtsFestival.
Kane Brown at TJC in Concert April 25th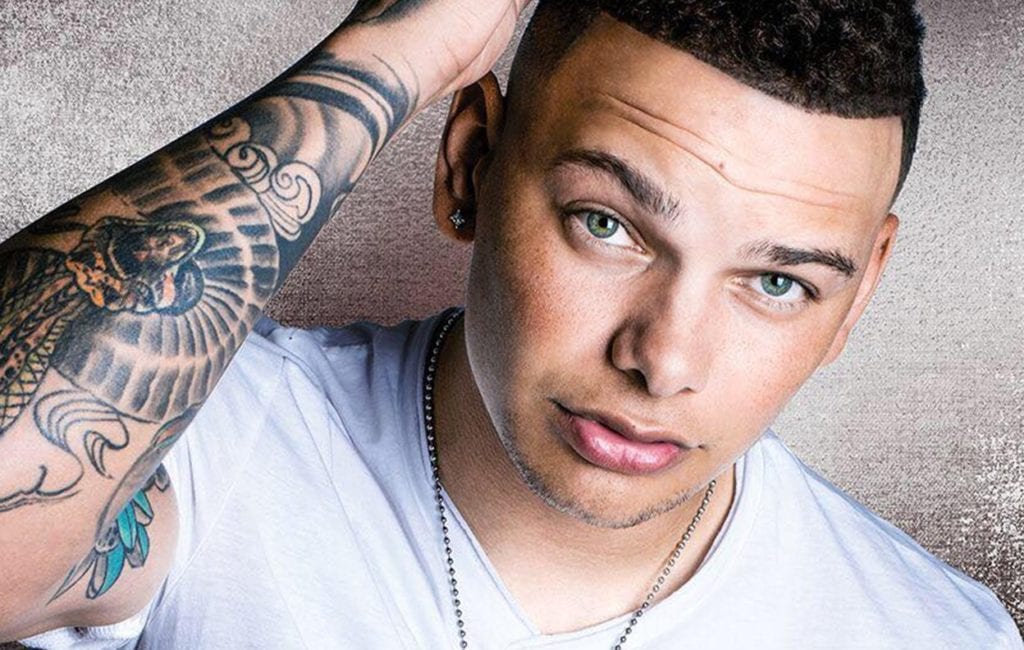 Rising country star Kane Brown will headline TJC's annual Spring Fling on Wednesday, April 25, on the Intramural Field on the TJC main campus.
Gates open at 6 p.m., and Lindale artist Chris Colston will open the show at 7 p.m., followed by Brown.
Admission is $30 for community general admission and $10 for TJC students. Seating is lawn-style, so lawn chairs and blankets are recommended. Tickets can be purchased by going to www.tjc.edu/events and clicking the April 25 Spring Fling link.
In case of inclement weather, the event will be held in Wagstaff Gymnasium.
About Kane Brown
Breakthrough artist Kane Brown is climbing the charts with the RIAA Gold-certified "Heaven," the newest single from his self-titled Gold debut, which stands as country's #1 best-selling new-artist album debut since 2014.
With a robust, devoted fan base of over 3.5 million social subscribers, the RCA Records/Zone 4 recording artist has garnered over 320 million on-demand streams and over 100 million YouTube and Vevo views. Released in December 2016, Kane Brown debuted at #1 on Billboard's Top Country Albums and Top 10 on the Billboard 200 all-genre chart and became the #4 best-selling new-artist album debut of 2016, in any genre. Kane Brown Deluxe Edition—a 15-song edition of his self-titled album—released in October of 2017, debuting at #1 on Billboard's Top Country Albums and Top 5 on the Billboard 200.
Brown became the first artist ever to be #1 on Billboard's five main country charts simultaneously, including Top Country Albums; Country Digital Song Sales (with the #1 debuting "Heaven"); and Country Airplay, Hot Country Songs, and Country Streaming Songs (with the Double-Platinum smash "What Ifs" featuring Lauren Alaina, which also ranks as the #1 most-streamed country song of 2018). Brown earlier made chart history with the highest-debuting country EP of the Nielsen SoundScan era—2016's Chapter 1—which featured the Platinum-certified "Used to Love You Sober," the video for which earned a CMT Music Awards Breakthrough Video nomination. A past ACM Awards nominee as New Male Vocalist of the Year, the 24-year-old singer/songwriter has been the subject of press features in such outlets as The New York Times, The Washington Post, USA Today, Billboard, People, US Weekly, Seventeen, Cosmopolitan, HITS, and Rolling Stone. Among his extensive TV appearances are NBC's "Today" and "Late Night with Seth Meyers," the nationally syndicated "Ellen" and "Entertainment Tonight," CBS' "Academy of Country Music Awards," "Conan" (TBS), a 2017 "CMA Awards" (ABC) performance of "Heaven South" with Brad Paisley, the national debut of "Heaven" on ABC's "Good Morning America" (December 6 and a New Year's Day encore), performances of "What Ifs" on "Dick Clark's New Year's Rockin' Eve with Ryan Seacrest 2018" (ABC) and the December CBS special "A Home for the Holidays," and a musical guest appearance on ABC's "Jimmy Kimmel Live!" on February 12.
On tour with Jason Aldean in 2017, Brown sold out 92 headline shows of his own with over 141,000 tickets purchased and is currently opening for Chris Young's Losing Sleep tour. Beyond his flourishing music career—and inspired by his personal experiences and a desire to lend his voice as a platform—Brown has partnered with Make Room, the nation's leading organization addressing the rental housing crisis in the United States. Brown has also teamed up with State Farm® as part of the Neighborhood of Good® discussion, encouraging people to make a positive impact in their own neighborhood by finding a volunteer opportunity that's right for them. www.kanebrownmusic.com
Gate opens for The TJC Spring Fling at 6 p.m. on Wednesday, April, 25th. East Texas' own Chris Colston kicks things off, so get there early. Tickets are $10 for TJC students and include free crawfish and $30 for community general admission. There will be food trucks there as well for purchase. Tickets can be purchased here.
And heads up, it's lawn-style seating, so bring a blanket or chair.
For complete details, call 903-510-2797 or email studentlife@tjc.edu.
"Secure Your ID Day" April 21st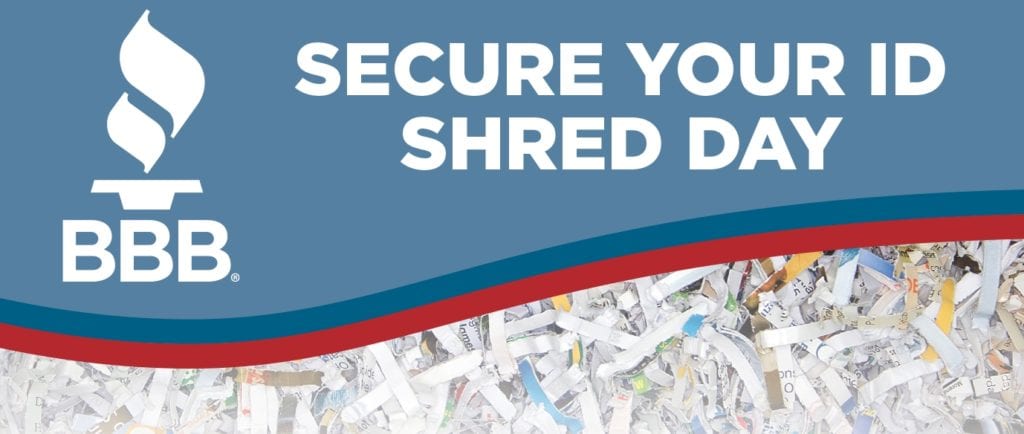 BBB to Host "Secure Your ID Day" in Tyler
On Saturday, April 21st at 8am-12 noon at the Better Business Bureau (BBB) Tyler offices, 3600 Old Bullard Rd., Tyler, companies and individuals can shred up to three bags maximum per vehicle at no charge.
The BBB, serving Central East Texas, is part of an expansive network of local BBB's across North America. Nationally, BBB collaborates to produce this bi-annual shred day event. The program is a BBB-branded identity theft, fraud prevention, and educational initiative that features on-site document destruction and distribution of identity protection tips and resources to local communities. 
Documents to consider shredding are: cancelled and voided checks, pay stubs, credit card and bank statements, credit reports and history, tax forms, used airline tickets, medical and dental records, and anything with your Social Security number, pin numbers, or account information.
For more information contact (903)581-5704 or cswierc@easttexas.bbb.org.
Special thanks to Ark La Tex Shredding and Goodwill Industries of East Texas for generously donating their services for document shredding and electronic equipment recycling.