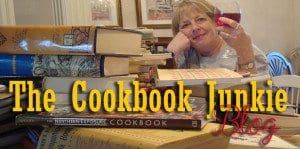 By Gini Rainey
Okay, I'm going to tell you a family story that you really must swear not to share with my mother-in-law that you read it here on the internet.  You see, I feel relatively safe posting it here, because she doesn't have access to the internet and doesn't own a computer.  So, here's how it all came down.  My M-I-L was no light-weight in the kitchen.  In fact, she's still a pretty darn cook, even though today she celebrates her 94th birthday.  However, many, many moons ago, when our kids were little, she asked how I cooked my turkeys, because they were always so tasty and moist.  Well, it was no secret that I probably got my directions from the good ol' boys at Butterball – right off the turkey wrapper.
She got her pencil and a piece of paper and was all set to copy down my secret recipe – after all, she thought my turkeys were better than hers!  I told her to just wrap the turkey in foil, put it in a roasting pan and bake at 350° – 20 minutes for each pound.  Then during the last hour, uncover and baste with the pan drippings, and there ya go!  "That's it," she asked?  Yup, that's all there is to it!  Simple enough!
So, we were all gathered for lunch about noon on Thanksgiving Day and the turkey was sitting all nice and brown and proper on the platter – just waiting for someone to carve it.  My M-I-L handed me the knife and asked me to carve – because I do such a great job of it – and she scurried away to get the rest of the food to the table.  With my F-I-L watching, I pushed the meat fork into the breast and poised my knife over the golden beauty of a bird.  When I brought the knife down, I heard a distinctive clink, like maybe this was a porcelain bird? Then I tapped the knife on the breast, it made a resounding clunk.  I could tell this wasn't going to be an easy carve, so I put some pressure on the knife, at which time the entire rib cage collapsed, and I think my F-I-L swallowed his tongue.  My thought? "Oh,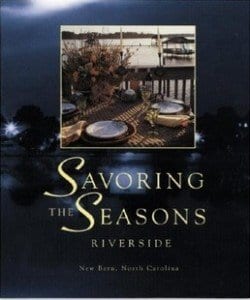 crap!"   This was definitely a Chevy Chase-worthy moment!  About that time my M-I-L came around the corner, took one look at Tom Turkey and asked "What did you do to my turkey?"  When I asked her if she had followed my directions, she said "well, I didn't think that 20 minutes a pound was long enough, so I put it in the oven last night at 200° and I took it out right before you got here."  Our family likes to refer to this as the year of the turkey jerky.  There ya go!  That's is my story and I'm stickin' to it!
I would imagine that we've all got similar stories in our families, after all that's what makes family histories so much fun and so interesting.  As we come into this time of family holidays, here's a cookbook guaranteed to get you through looking like a pro in the kitchen.  It's "Savoring the Seasons – Riverside," a lovely book put together in 2000 by The Craven Regional Medical Center Foundation in New Bern, North Carolina.  It's broken down into the four seasons of the year and has lovely regional photographs heading up each section.  With 207 pages of wonderful recipes that are suitable for each season, this book would make a great contribution to your culinary crafts.
Since I've already rambled on longer than I normally do, I'd like to share with you a recipe from this book that has become a traditional dish at our family's holiday meals.  There are many variations on "Southern-Style Sweet Potatoes," but this one is relatively easy and is great to make ahead, ready to pop in the oven in time for dinner.  First mash or puree 2 40-ounce cans of sweet potatoes that have been drained.  Now, beat the potatoes, with 1 cup sugar, 2 eggs, 1/2 cup of melted butter, 1/2 cup milk, 1 teaspoon vanilla, and 1/2 teaspoon cinnamon until well blended.  Spoon into a greased 2-quart baking dish.  Now combine 1/2 cup packed brown sugar, 1/2 cup chopped pecans, 1/4 cup flour and 2 tablespoons melted butter in a bowl and mix well.  Sprinkle over the sweet potatoes and bake at 350° for 25 minutes.  This is soooooo good – you might not even need to make any dessert!  Nah!
Blessings and have a wonderful Thanksgiving!