Athena Greek and American Family Restaurant
All About Good Food and Family
By Barbara King
The kitchen at Athena is full of activity, and like everything else about this unique restaurant, it's all about family, all the time.
The Sklavenitis family, sister co-owners Vicky and Effie run an authentic dining experience like no other. Recipes handed down from generation to generation remain the mainstays on the menu, infused with Greek flavors and love for good food.
Athena opened in 2013 and is growing strong thanks to their good friends and customers that keep coming back according to Vicky. The clientele started out with folks who had visited Greece and were familiar with the food but has grown by word of mouth to regulars who can't get enough of the atmosphere and homemade delicacies.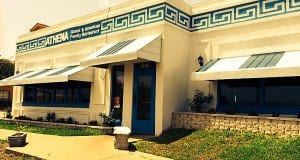 Vicky and her daughter-in-law Mariam are running the show in the kitchen tonight, but the entire family is involved and makes the place the labor of love that is quite evident as you are greeted warmly at the door.
"You have to be passionate about food, people, and service," Vicky said, explaining that the 90 hour weeks are not for the faint of heart. "We get in early, get the prep work done, which includes three different Greek homemade soups, salads, and of course, our specialty Greek desserts," she explained.
Vicky and her family make sure you are made right at home and make it a point to visit with customers at their tables. Vicky said, "If you order something and it is not to your liking, we make sure that we make it right every time, and will bring you something else to try from the menu. Our goal is to make sure no one goes home hungry, and everybody leaves happy."
The family hails from the Greek island of Lekas, and moved to North Carolina to begin their restaurant business, then on to Tyler. Every family member pitches in, and the kitchen is a whirlwind of activity, from chopping the fresh vegetables to slicing the gyro off the roasting spit.
The menu is a cornucopia of delights; appetizers including traditional hummus, dolmas (imported grape leaves stuffed with rice, served with tzatziki and pita bread) rotisserie gyro, spanakopita (fresh spinach pie) are all served with exquisite presentation and attention to detail.
Salads are perfection, including Aphrodite's salad, served with fresh spinach leaves and strawberries, with feta cheese, tossed in their own balsamic vinaigrette dressing.
Traditional Greek favorites are a taste sensation, including chicken or pork souvlaki, lamb shish kabob, pastistio (layers of pasta and ground beef sautéed in herbs and spices, topped with bechamel sauce, and served with warm pita bread), and mousaka (layers of roasted potato, eggplant, parmesan cheese, and ground beef). Drunk pork chops are marinated in Greek wine and grilled with Greek spices.
Greek food isn't complete without traditional pitas, and there are a lot to choose from: famous gyro pita, pork, chicken, lamb, vegetarian, philly, or kefte (Greek meatballs wrapped in a pita topped with diced cucumbers, tomatoes, red onions, tzatziki, and parsley).
Athena literally has something for everyone. For those craving more traditional items there is Grecian spaghetti, lasagna, chicken parmesan, manicotti, and spaghetti kima (homemade meat sauce).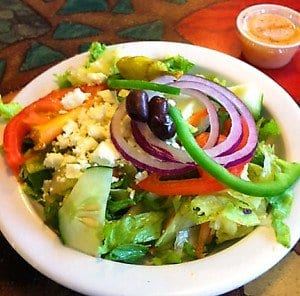 Craving something from the sea? Athena also has tilapia. They offer a variety of platters that will fill 
everyone up including the Gyro Plate (lamb and beef served with tzatziki sauce, French fries, Greek salad, and warm pita bread), Athena's Combo (beef and chicken, onions and peppers, tzatziki , pita, and Greek potatoes), or Athena's trio (pastitso, moussaka, spanakopita, and warm pita bread).
Drop by during lunch for soup and salad, lamb souvlaki, gyro and Greek salad, and pork or chicken souvlaki, with lunch items ranging from $5.95 to $9.95.
You can't leave Athena without trying some of their homemade baklavas, layers of filo pastry, filled with chopped nuts, syrup, and honey. It will leave you wanting more and more! Other items on the dessert menu are Galaktoboureko (Semolina custard in filo dough) tiramisu, chocolate, or cheesecake.
You can enjoy beer and wine with your meal, including authentic Greek wines. In the future, the sisters hope to bring a nephew from Greece for a few months to entertain customers with great music while they dine.
Athena's also caters and has handled weddings, corporate lunches, and events in the Tyler area.
When your dinner arrives, garnished with feta, olives, and warm pita bread, it looks almost too good to eat! Vicky said, "You have to love to cook and serve the best food you can prepare to your guests. Our motto is, 'When you're here, you're family,' and we truly believe that."
Athena is open Monday-Thursday, 11am-9pm, Friday and Saturday, 11am-9:30pm, and Sunday, 11am-9pm. Athena is located at 1593 WSW Loop 323 in Tyler.
For more info call (903)561-8065, go to athenagreekrestaurant.com, or find them on Facebook at Athena Greek and American Family Restaurant.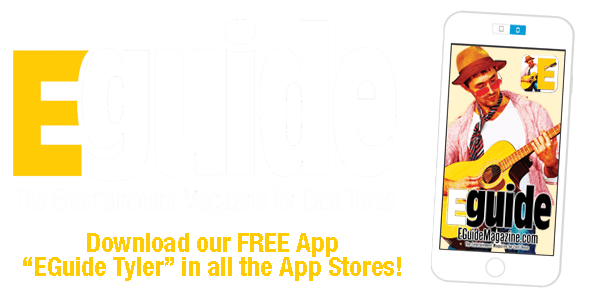 It's Time for Ice Cream: Move Over Summer Heat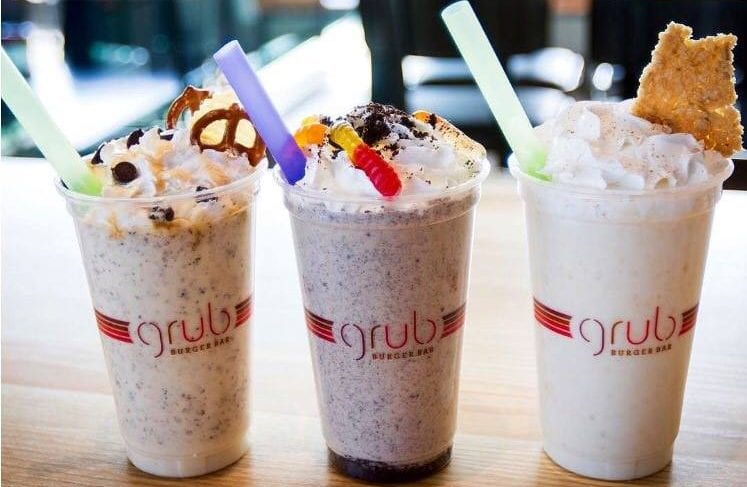 Summer is a wonderful thing. When the weather warms up, people head outdoors. Days are long and hot and it's perfect conditions for swimming, canoeing, biking, and picnics.
And best of all, a sweaty brow is a great excuse to gather your friends and go out for a drippy cone of ice cream. It's cold. It's sweet. It's creamy. And that burst of fruit-filled, nutty, or chocolate-chunky flavor can be incredibly refreshing when the steamy heat of summer starts to weigh you down.
As far as we're concerned, ice cream is summer's most delightful treat. Here are a few of our favorite sweet treats – from ice cream and froyo to shakes and custards.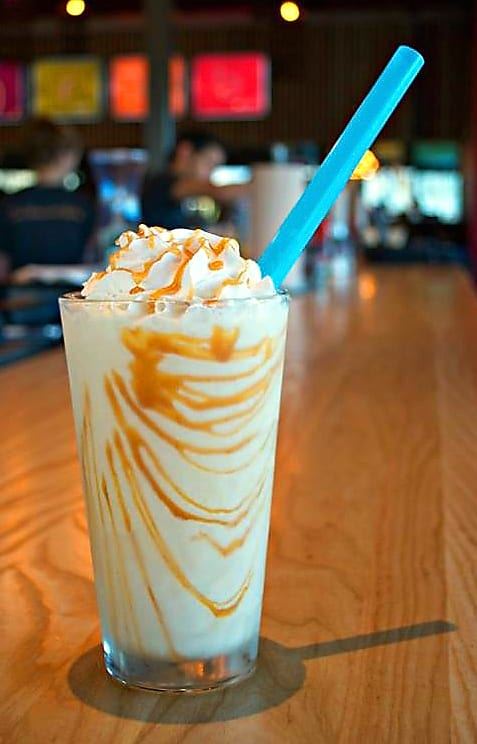 Grub Burger Bar
Grub Burger Bar (6421 S. Broadway Ave., Tyler, grubburgerbar.com) features some simply wonderful shakes in traditional flavors: strawberry, vanilla bean, and chocolate, plus Nutella, salted caramel, Root Beer float, and a monthly special.
Several hand spun specialities of the house are the "Kitchen Sink," featuring pretzels, peanut butter, salt, butterscotch sauce, caramel sauce, chocolate chips, coffee grounds, and potato chips (yes, potato chips). It is unique and heavenly and has a wonderful salty-sweet combo with a slight surprise crunch. Another favorite, the Worms & Dirt shake, has a ton of crushed Oreos and gummy worms.
If you are a chocolate lover, these two are for you. The ET Shake is like getting the entire candy aisle all in one glass with Reeses pieces, peanut butter, chocolate, and a peanut butter cookie. The Mint Chocolate Chip will hit the spot too with homemade crushed brownies, Andes mints, and a ton of chocolate.
For adults, Grub Burger Bar offers spiked shakes too. They have Bourbon & Caramel, Boozy Mint Chocolate Chip (vodka, crème de cacao, creme de mènthe, and Andes mints), the Tipsy Worms & Dirt (chocolate vodka, crushed Oreos, and gummy worms), and the ET Drunk Dial (chocolate vodka, Reeses pieces, peanut butter, chocolate, and a peanut butter cookie). Our favorite is the Spiked Dirty Kitchen Sink (chocolate vodka, pretzels, peanut butter, salt, butterscotch sauce, caramel sauce, chocolate chips, coffee grounds, and Grub's signature topping – potato chips).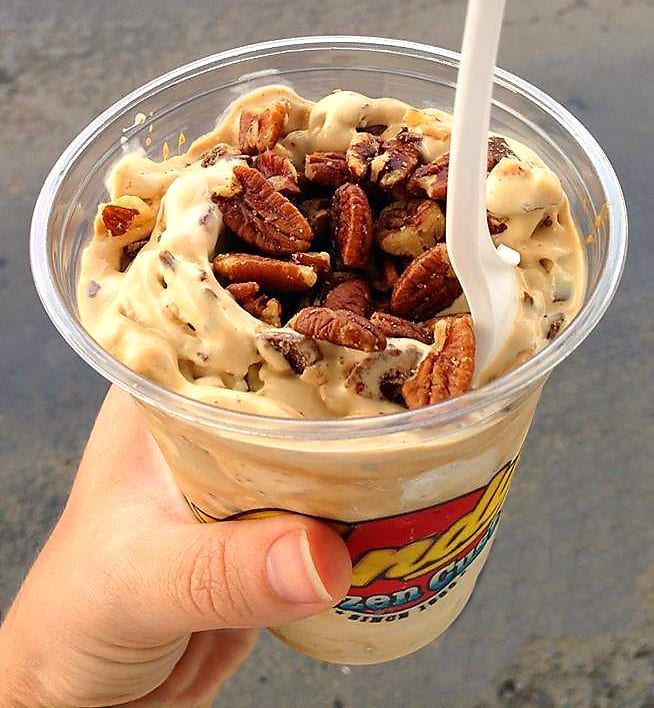 Andy's Frozen Custard
Andy's Frozen Custard (6106 S. Broadway Ave., Tyler, eatandys.com) has always been fanatical about custard and has served it with pride since March 19, 1986. For more than three decades, only the freshest ingredients have been used for a frozen custard experience you can't get anywhere else.
The difference? Ice cream is made from milk, cream, or a combination of the two. Andy's Frozen Custard is made from milk, cream, and egg yolks. Also, while the machine used to make ice cream churns air into it to make it light, frozen custard is produced in a machine that barely incorporates air into it at all, which means it comes out way more dense.
Andy's Frozen Custard has mastered custard and they offer a lot of creations that will cool you off this hot summer. A few of our favorites are Andy's Ozark Turtle (custard covered with hot fudge, crème caramel, roasted pecans, and topped with a cherry), The Original Straw-Ana (frozen custard covered with delicious strawberries and sliced bananas – think banana split ala custard), and Butter Pecan Concrete which is Andy's frozen custard blended with butterscotch and roasted pecans.

For chocolate lovers, you will think you have found heaven with Andy's Triple Chocolate Concrete (chocolate frozen custard blended with chocolate chip cookie dough and melted chocolate chips).
The Snowmonster Concrete has frozen custard blended with strawberries and melted chocolate chip. And the customer favorite, Andy's Turtle Split has custard, a whole banana covered with hot fudge, crème caramel, roasted pecans, and topped with a cherry…Andy's own version of a banana split.
Andy's has a convenient drive-thru and picnic tables out front that can accommodate a large group.
Mercado's Cafe & Posado's Cafe
In the mood for something a little different? How about ice cream in a fried tortilla! Mercado's (2214 WSW Loop 323, Tyler) and their sister company Posado's Cafe (2500 E. Fifth St., Tyler) has a unique menu item – the Bunuelo – a large golden-fried tortilla dusted with cinnamon and sugar and filled with big scoops of vanilla ice cream. It is served with your choice of syrup topping, whipped cream, and their specially-made praline pecans. This is a great treat after any meal and certainly a nice way to cool off on a hot summer day.
SweetFrog Frozen Yogurt
SweetFrog Premium Frozen Yogurt (2467 Crow Rd., Tyler, sweetfrog.com) is new to the fro-yo scene in Tyler but they are certainly not new to creating a great product. They feature a "create your own" bar where you can combo delicious, soft-serve premium frozen yogurt and a ton of toppings. The combinations are endless! You can create everything from a light snack, a decadent dessert, and everything in between. You pick the flavors, then add the toppings, and you can make it any way you want!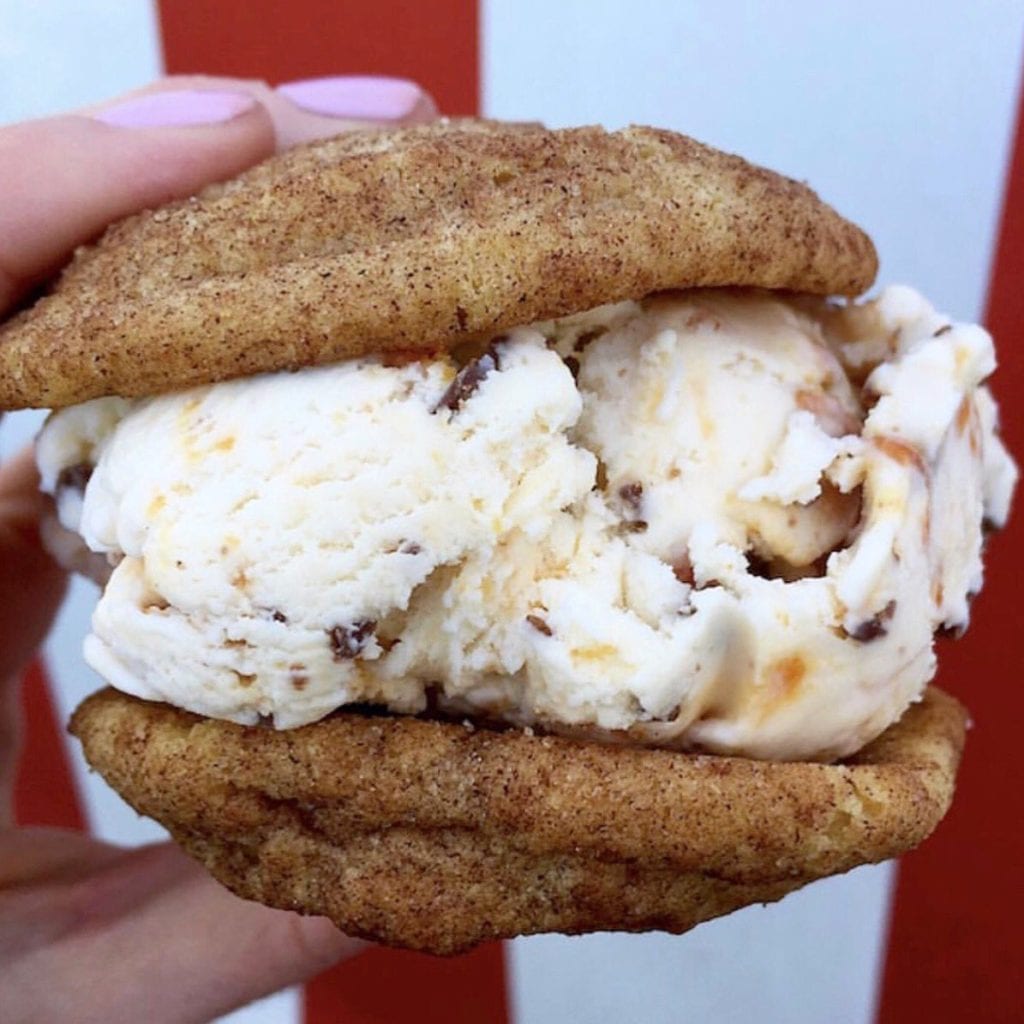 From SweetFrog's lovable mascots, Scoop and Cookie, to the meaning of the store's name of F.R.O.G. in SweetFrog which stands for 'Fully Rely On God,' SweetFrog is a great place to quench your fro-yo cravings.
Pokey O's Tyler
Pokey O's Tyler (facebook.com/pokeyostyler) What exactly is a Pokey O's? Well, it is a made-to-order ice cream sandwich individually customized for you from the Pokey O's dessert food truck. You can create any combo you can dream up – customizing the yummy fresh cookies and Blue Bell® ice cream – into a Pokey O's!
A favorite is the not highly creative but totally heavenly combo of chocolate chip cookies and chocolate ice cream – a chocolate lover's dream! 
The menu changes daily but standards are chocolate chip, snickerdoodle, fudge nut brownie, white chocolate, macadamia nut, sugar cookie, cappuccino chocolate chip, maple pecan, and more.
Blue Bell® Ice cream flavors include traditional vanilla, chocolate, mint chocolate, sea salt and caramel, cookies 'n cream, coffee, cake batter, rocky road, pecan pralines and cream, mocha almond, cotton candy, peachy peach and peppermint.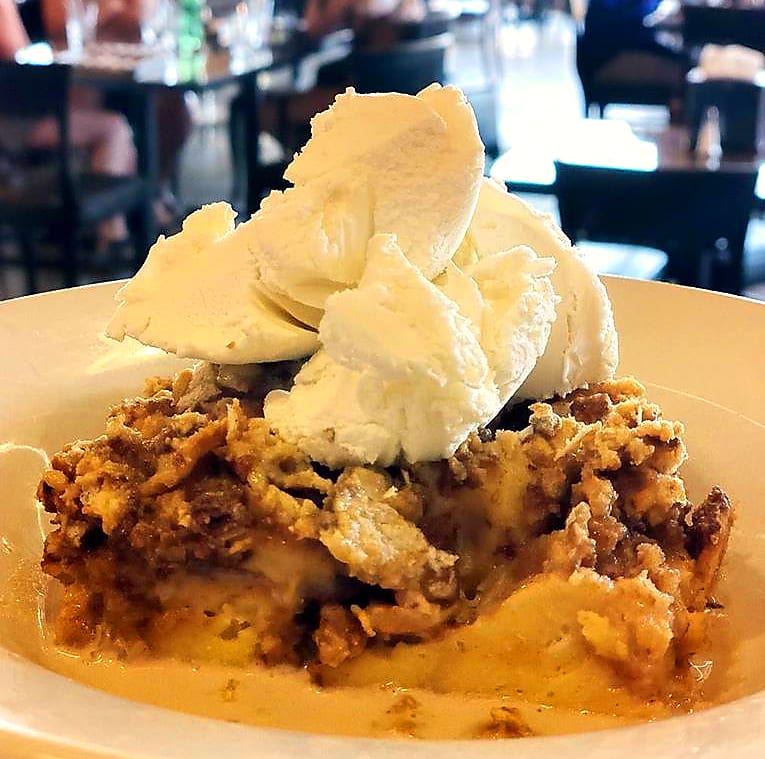 The Porch @ ETX Brewing Co.
The Porch @ ETX Brewing Co. (221 S. Broadway Ave., Tyler, etxbrew.com) serves Henry's Homemade Ice Cream, a Mom & Pop shop in Plano, Texas. You can get a cone or get it on top of their handmade Bread Pudding. The Porch offers a new creative kind of bread pudding every week. Recently, The Porch has had Grilled Peach with Cinnamon Stout Sauce topped with pecans and Henry's Cinnamon Ice Cream! They always have four different flavors of ice cream and keep them rotating.
Twisted Root Burger Co.
Twisted Root Burger Co. (4601 S. Broadway Ave., Tyler, twistedrootburgerco.com) is known for their burgers but did you know they specialize in shakes too? They have a great selection (some with alcohol) like the Fat Elvis (custard with peanut butter with bacon on top), Banana Pudding & Vanilla Wafer, Banana & Baileys, Creme De Menthe & Chocolate Chips. Our favorite is the Banana Foster which comes with custard mixed with bananas, caramel and sliced almonds, topped with whip cream and more caramel. It is truly drool-worthy!

New Cocktails inline for "A Toast to CORE" at Razzoo's this Summer!
Razzoo's Cajun Café Partners To Support Restaurant Families
For over 25 years, guests have flocked to Razzoo's Cajun Café expecting exceptional Cajun food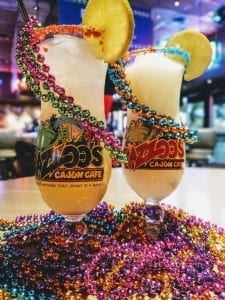 in a fun and relaxed atmosphere. However, many may not know that Razzoo's has a fantastic array of craft cocktails featuring fine spirits and fresh fruits and juices. On June 11th, Razzoo's launched two new specialty cocktails in a promotion titled "A Toast to CORE."
For every sale of these new drinks, Razzoo's will donate $1 to "CORE, Children of Restaurant Employees." Tito's Handmade Vodka will match that donation, up to $5,000.
The tasty new cocktails include: Tito's Peach Thyme Smash (Tito's vodka, Fresh Peaches, Sweet & Sour and Thyme), and Tito's Twizted Strawberry (Tito's vodka, Fresh Strawberries, Lemons, a splash of Sprite with a Twizzler straw).
CORE grants support to children of food and beverage service navigating life-altering circumstances. In times of extreme strain brought on by family death, injury or diagnosed medical condition, loss of home, or other sudden or extreme circumstances, food and beverage families can become overwhelmed financially and emotionally. CORE is the nationally recognized community of support for all food and beverage service families in need by ensuring they feel cared for and valued. Since 2004, CORE has raised more than $3 million and granted support to more than 350 families from across the industry and the country. Contributions from our COREporate Members and individual donors allows CORE to provide grants that keep our families safe, healthy, and happy.
"A Toast to CORE" will be celebrated through August 30th at all twenty Razzoo's Cajun Café locations in Texas and North Carolina.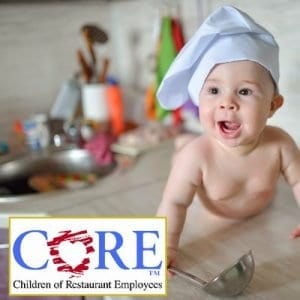 "At Razzoo's we try not to take ourselves too seriously. What we do take seriously is our food and our service. To us, nothing is more fun than treating our guests to great food and a great time in one of our restaurants. That's why we're here. Our food is authentic, it's made from scratch every day in each restaurant and it's darn good. Some of it sounds a little weird, like Rat Toes (really, they aren't) or the Grilled Gator Tail (really, it is). Some of it is hard to pronounce, like the Shrimp Piquant or Chicken Tchoupitoulas – feel free to point when you order (that happens a lot). We've been at this for over 26 years and we've made a lot of friends along the way. We'd like to think that didn't happen by accident. So check out our menu, find the nearest location and hop in the car. We'll be at the door when you get here."
Razzo's is located at 7011 S. Broadway in Tyler, 903)534-2922, razzoos.com/tyler. They feature live music every Thursday evening starting at 6pm. July and August line up is:
July 5th: Chris Colston Acoustic

July 12th: The Haggertys

July 19th: Blue Louie Acoustic

July 26th: The Mansion Family

August 2nd: The Leftovers

August 9th: Riley Redding

August 16th: Tyler Dudley

August 23rd: Ally Venable

August 30th: Al and the Longshots
July 14th: Hit The Bricks Auto & Cycle Show Downtown Tyler


---
There will be a FREE hop on/hop off shuttle sponsored by
Tyler Innovation Pipeline that will take you around Downtown.
PARKING IS FREE in the parking garage and on the square.
Visit Tyler in conjunction with Discovery Science Place and R.G. Car Show Productions is set to host the "Hit the Bricks Auto and Cycle Show" in Downtown Tyler July 14th, 10am-2pm.
There are expected to be 100-120 cars parked around the square in Downtown Tyler. The event is free and open to the public. Those wishing to enter their classic car or other vehicles in the show should register online at rgcarshows.com.
Attendees can also participate in games and prize drawings throughout the day. Sponsors for the prizes include: Visit Tyler, City of Tyler, ETX Brewing Co., Moss: Where Flowers are Fair, Don Juan's Mexican Restaurant, SportsZone, Ye Olde City Antique Mall and Olde City Market, Gallery Main Street, EGuide Magazine, Liberty Hall, and Goodman-LeGrand House & Museum.
Several other events will be happening that day hosted by Downtown businesses including art events, live music, shopping, and more.
Download the FREE app "EGuide Tyler" and select "Hit the Bricks" for events that will be going on July 14th Downtown Tyler.
All Day: Half Mile of History – This self-guided walking tour is an outdoor, half-mile loop around the square that commemorates significant people, places, or events in Tyler. A digital brochure for the self-guided tour is at ow.ly/s8iD30czlpb.
8-11am: Breakfast is served at ETX Brewing! Come dine on the best breakfast around with waffles, pancakes, breakfast sandwiches, tacos, and more.
8am-12 noon: The Rose City Farmers Market will be open with homegrown fruits, vegetables, herbs, pasture-raised beef, lamb, pork, chicken and turkey, free-range/non GMO eggs, goat cheeses, fresh bread, flowers, coffee, jams and jellies, baked goods, Texas olive oil, handcrafted art, and Texas fruit wines.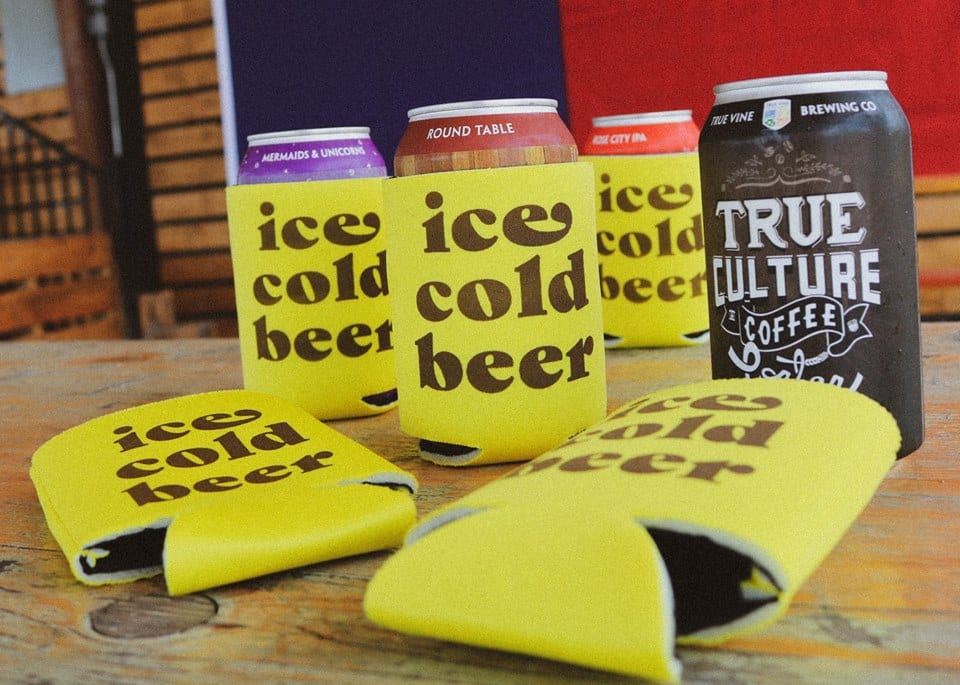 9am-9pm: Brands & Threads Grand Opening of Ridiculously Good Branding, located at 257 S. Broadway. Come celebrate with live screen printing, "Ridiculously Good" t-shirt sales, drinks, giveaways, 80's pop music, and all the high fives you can handle! Oh, and cool koozies too! The first 25 purchases get a free retro ice cold beer koozie.
10am-2pm: R.G. Car Show will present the Auto & Cycle Show downtown on the square. The public is welcome to view all of the cool cars and cycles for free! There will be vendors, music, and food trucks. Stop by the DJ booth and pick up a People's Choice ballot to vote on your favorite vehicle.
10am-4pm: "Paint a Car, Take It Home" will take place at Goodman Museum. This is free for the kiddos!
10am-4pm: Free Self-Guided Scavenger Hunt will be set up for families at the Smith County Historical Society Museum. A list of items to find will be provided. Children 18 and under who participate can receive a complimentary one-year Junior Membership.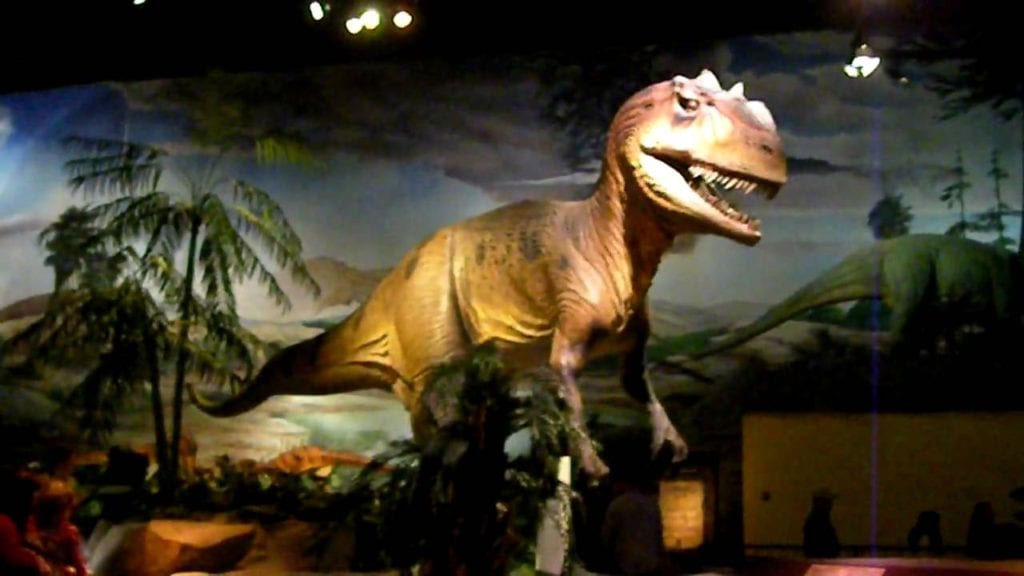 10am-5pm: "The Return of the Dinosaurs" exhibit will be shown starting at 10am at Discovery Science Place. Take your picture riding a Triceratops or braving the jaws of a T-Rex! See two Protoceratops guarding their nest or view the long-necked Apatosaurus. View actual fossils along with animatronic models of the "terrible lizards" of long ago. "Return of the Dinosaurs" is featured in the DSP Annex building next door to the main museum building.
10am-5pm: Ye Olde City Antique Mall Treasure Hunt will again host "Summer Fun" at the Ye Olde City Complex where there are three great places to shop plus "cold" drinks, "cold" snacks, and free "cold" items in the monthly Treasure Hunt!
10am-8pm: The Artist Market will be open inside the HoT office located at 108 S. Broadway. Music will be provided by Michael Morse. Many artists will be exhibited in the air-conditioned office of Heart of Tyler including Sylvia Morse – Smooch-A-Licious Jewelry Designs.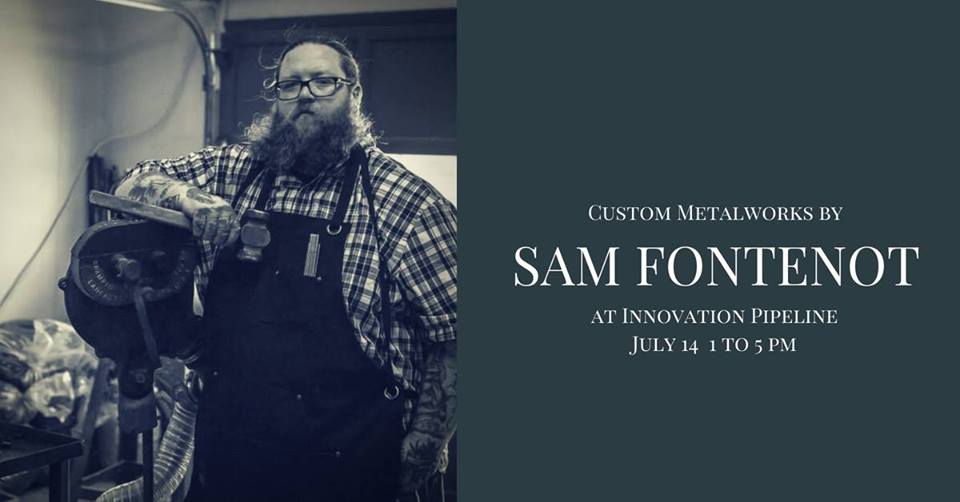 1pm: Art Show with Blacksmith Sam Fontenot – Sam will be featuring and selling his custom unique metalwork designs at the Innovation Pipeline! These one-of-a-kind creations are sure to be objects of envy when friends and family visit your home. Don't miss this chance to purchase a truly unique and functional piece of art and shake hands with its creator.
2pm: Tyler Public Library Makerspace Workshop will be held. No reservations are needed and this is free to attend.
2-3:30pm: The Foundry presents Cheesecake & Coffee Pairing! The cost is $15 per ticket. Walk-ins welcome. Five Bryan's Cheesecakes will be paired with five Porch Culture offerings. Tickets can be purchased at the door.
2-4pm: Free Painting Party at Strada Caffe will be held, lead by Dace Kidd. No reservations are required. This is free to attend and there is no cost for painting or materials. All ages are welcome.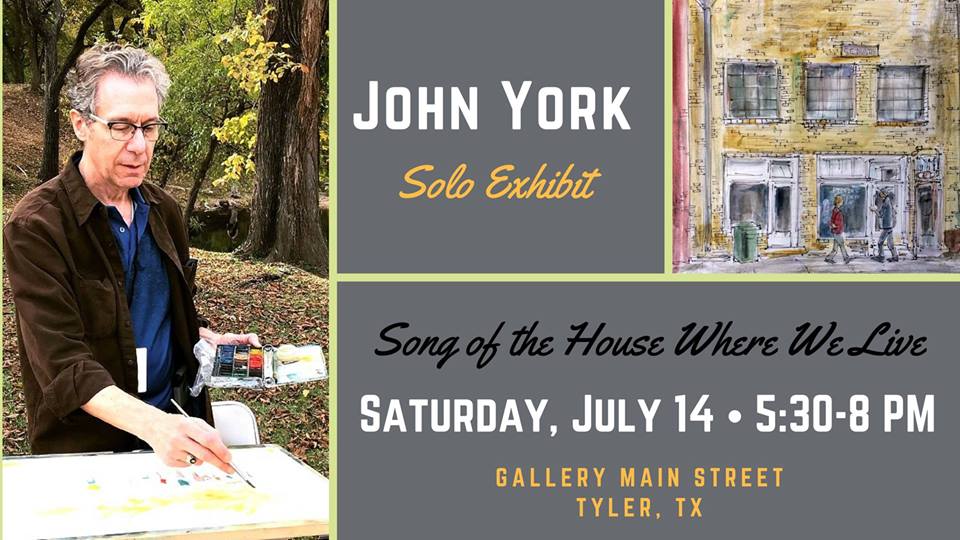 5:30-8pm: Opening of John Randall York Solo Show will be held at Gallery Main Street. The "Song of the House Where We Live" solo show by John York will have a free opening reception for the public. John Randall York was born in Tyler and has lived here most of his life. His grandfather, Henry York, was a photographer in Smith County in the early 1900's, traveling by horse and buggy. York was educated in Tyler public schools, attended TJC and received a BFA from The University of Texas at Tyler. He has also designed giftware for Fitz & Floy, Lenox, The Hamilton Collection, and S & D Fine Collectibles sold in Neiman Marcus, Nordstrom, Walt Disney World, and Bloomingdale's, and has illustrated five books for Gregory Miller, an author/teacher from Pittsburgh, PA.
8-10pm: Jordan Tydings Acoustic will be performing at Strada Caffe. There will be craft beer, wine, desserts, and small plate creations.
8-10pm: Card 53 will bring their unique style of improv "makemups" and will create for you an experience like no other in Tyler, made up entirely on the spot based off your suggestions! Card 53 strives each show to be what they consider "clean-ish." This is sponsored by True Vine Brewery. Tickets are available at the door for $15 but this show usually sells out fast.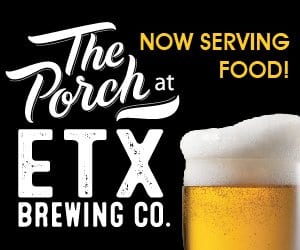 8-10pm: Dubb & The Luv Machine in Concert will perform at ETX Brewing Co. There is no cover and this is a family and pet-friendly event.
8:30pm: The Haunted WALKING Tour of Downtown will be held. Tickets are $8 and available at toursoftyler.com. You must register in advance. Weather permitting.
9pm-1am: Post Profit will perform at Garage Bar. There is a cover charge and no one under 21 is admitted after 9pm.
9pm-1am: Trajikly White will be on stage at Rick's on the Square. There is a cover charge at the door and no one under 21 is admitted after 9pm.
9:30pm: The Haunted RIDING Tour of Downtown – Tickets are $15/person and available at toursoftyler.com. You must register in advance.
For a full list of events go VisitTyler.com/SecondSaturday or find the event on Facebook.
Restaurants
For dinner, sink your teeth into one of the local Downtown eateries. Find anything from cheap tacos and bar food to fine dining and everything in between.
Jack Ryan's Steak & Chophouse, located at 102 N. College Ave., features fine dining, wonderful food, and good drinks in the beautiful People's Petroleum building. They are open 5-10pm.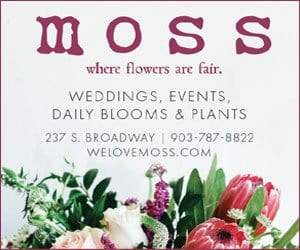 Black Pearl, located at 106 W. Erwin St., features a very classy atmosphere, delicious cocktails, and a nice menu of oysters that are prepared right in front of you. They are open 4pm-12 midnight.
Rick's on the Square, located at 104 W. Erwin St., features a lively crowd on Saturday evenings, a full menu and a live band outside on the patio. If you just want to eat, you can sit inside in the dining room. They are open 4pm-1am.
Don Juan's Mexican Restaurant, located at 113 E. Erwin, is a locals' favorite and features Mexican food and heavenly margaritas. They are open 12 noon-10pm.
SportsZone, located at 115 E. Erwin St., features TV's everywhere you look and a great menu of yummy food: onion rings, chili cheese waffle fries, green chili churro bites, create-your-own burgers, sandwiches, wings, and a few salads. They are open at 12 noon-1am.
Garage Bar, located at 418 E. Erwin St., has burgers, hot dogs, daily specials, and wings. They are open 4pm-1am.
The Foundry Coffee House, located at 202 S. Broadway, has coffee creations, teas, pastries, and quiche. They have several seating options like couches, comfy chairs, tables, a bar, as well as free wifi. They are open at 7am-11pm.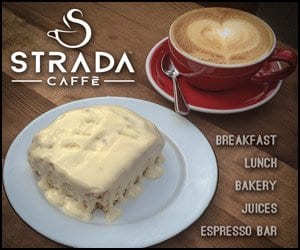 The Porch at ETX Brewery, located at 221 S. Broadway, offers breakfast every Saturday 7:30-11am, tables inside and outside, and classics for lunch and dinner like burgers, Mac 'n Cheese Fries, Fried Cheese Curds, and The Kitchen Sink Sandwich, and of course, brewed on site craft beers. They are open 7:30am-12 midnight. It is pet friendly outside on the patio.
Strada Caffè, located at 302 E. Front St., is just a little off the downtown area. They feature coffee and espresso, teas, breakfast sandwiches, salads and "Strada Evenings" with craft beer and wine.
There's no excuse to leave hungry with all of the dining options Downtown.
More Info
Hit the Bricks: Second Saturday is an event you won't want to miss! Rain or shine, cold or hot, there will always be something to do in Downtown on the second Saturday of every month. Grab your friends and family and "Hit the Bricks!" For a full list of activities each month go to VisitTyler.com/SecondSaturday or find the event on Facebook.