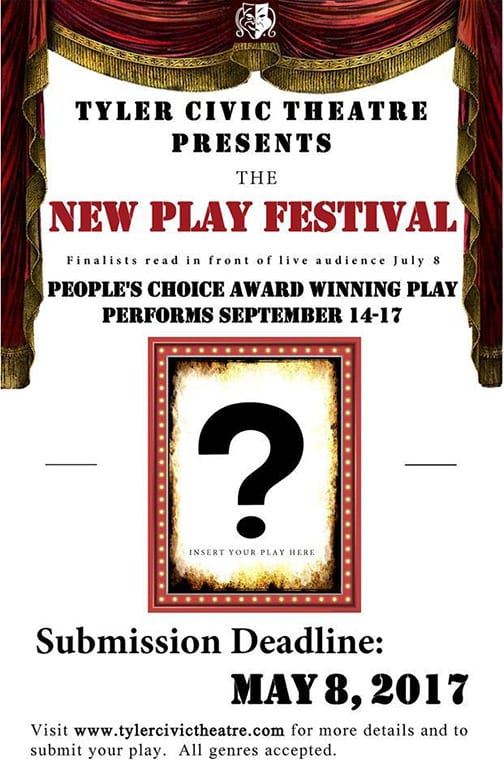 Tyler Civic Theatre Center is pleased to announce its 10th New Play Festival!
For plays selected, a Readers Theatre will be held in the Rogers Theatre, located at 400 Rose Park Dr. in Tyler, Saturday, July 8th. Adult playwrights (over 18) are invited to submit plays for general/adult audiences or children/teen audiences. Again this year, the festival encourages junior playwrights (ages 12-18) to submit plays for children's theatre or for older teen audiences.
Of the plays chosen to be read at the TCTC New Play Festival, one will be chosen that day to have a full production the following month on September 14th-17th in the Rogers Theatre. After the play readings on July 8th, the audience members that have enjoyed all the play readings will have the opportunity to vote on which play they would most like to see produced. Voting will be done by secret paper ballot. Votes will be tabulated immediately after all ballots are submitted by the New Play Festival Coordinator. Only those audience members that have seen all plays in the reading will be eligible to vote. An honor system will be used to qualify the voters.
Scripts for consideration must be emailed to newplays@tylercivictheatre.com no later than May 8th.
Scripts should be emailed as an attachment in an accessible format (MS Word or pdf). They may also be mailed or delivered to 400 Rose Park Drive, Tyler TX 75702, on or before the deadline.
For more info and to register go to tylercivictheatre.com/education/new-play-festival.