Bored? Find something FUN to do…download our App!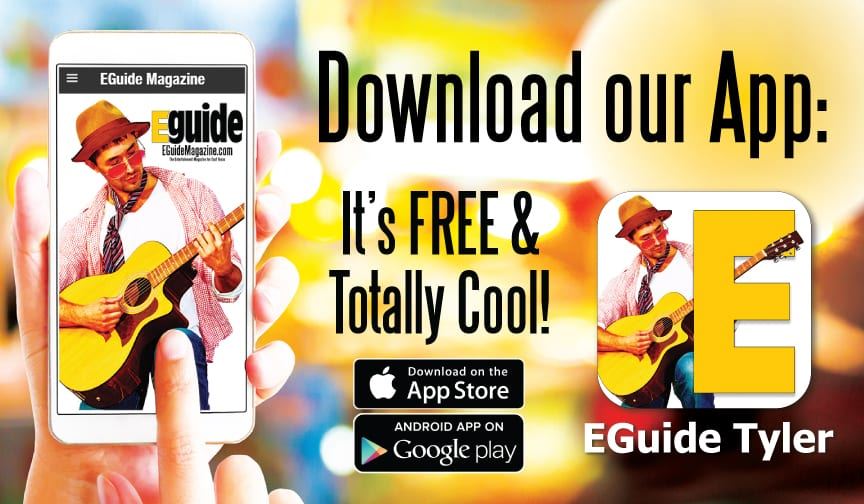 Bored? Looking for something to do?
Want to know who is playing live music around town?
EGuide Magazine's free app is the #1 entertainment guide for Tyler, Texas and the north east Texas region. EGuide connects people to things to do in the area including live music, events, festivals, restaurants, theatre productions, art galleries, concerts, and more.
The easy-to-use menu helps you find out what to do this weekend…all at your fingertips….and it is FREE!
Download our free app here: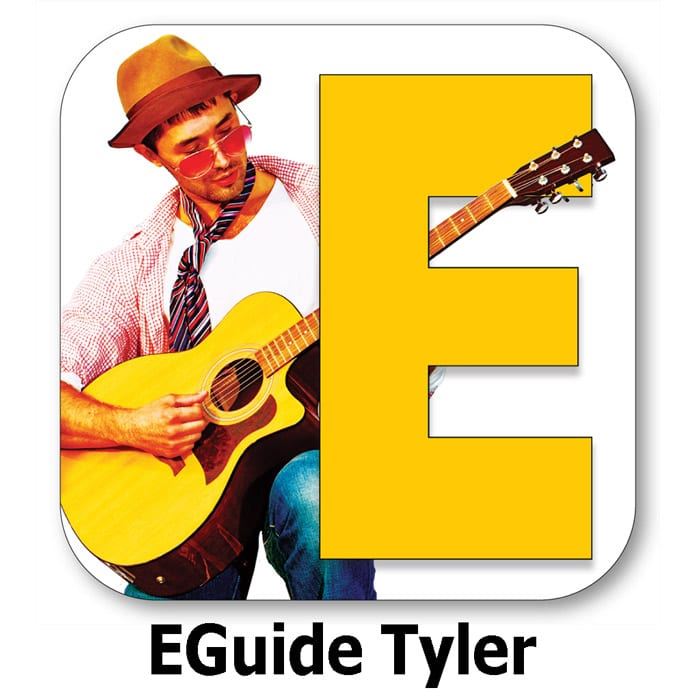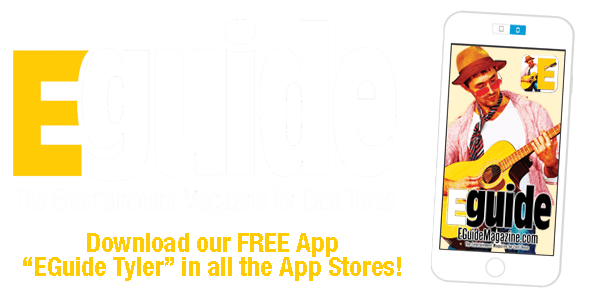 Festival of Fruit: 34th Annual Tomato Fest Saturday, June 9th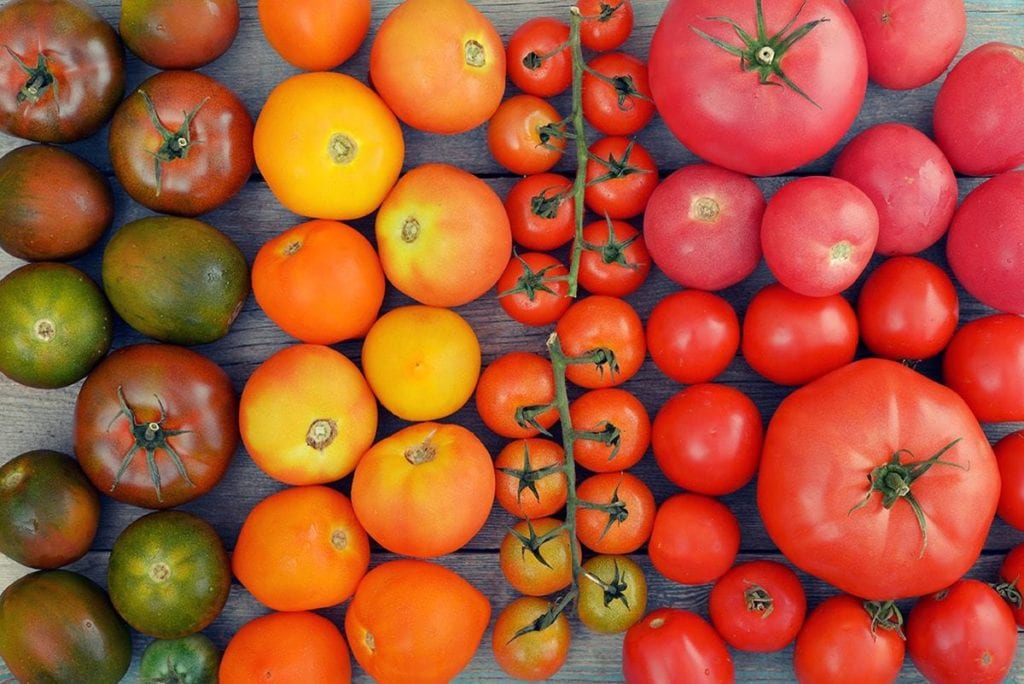 34th Annual Tomato Fest Saturday, June 9
th
Welcome to Jacksonville – home of the best tasting fruit – tomatoes!
Local farmers are busy getting ready for the upcoming 34th Annual Tomato Fest in Jacksonville, Texas by planting acres of the best tastin' tomatoes. Join the celebration Saturday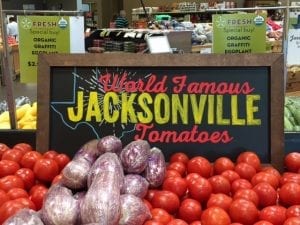 , June 9th in downtown Jacksonville for a BIG day of activities that will be happening all day long. Over 200+ vendors and all kinds of festival food, including the famous fried green tomatoes, Farmers Market, $500 Got Talent Contest, Car Show, Motorcycle Show, Tennis Tournament, Soccer Tournament, Softball Tournament, Entertainment, Kidz Zone, and so much more will cover 5 blocks downtown. Tomato events include Salsa Contest, Tomato Eating and Peeling Contest, Tomato Archery, Tomato Shoot, Best Home Grown Tomato Contest, Tomato Packing Contest and tour the Tomato Shed. Saturday evening, Chili's Street Dance will take place featuring Brian Chance Band and Lady Chazz and the Tramps. 
Activities kick off on Saturday, June 2nd with a 5k run sponsored by All Smiles. Monday, June 4th and Tuesday, June 5th is Family First Clinic's corporate challenge Dodgeball Tournament.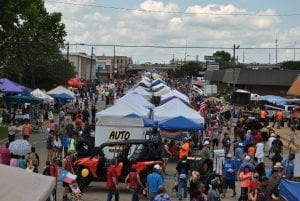 On Wednesday, June 6th, a Gospel Concert sponsored by Whataburger featuring, The Group, will perform at Central Baptist Church. New this year on Thursday, June 8th  is the Farm to Table dinner event that will take place at Castle on the Lake on beautiful Lake Jacksonville and will be catered by Rob Gowin, Sadler's Kitchen & Catering. A 4 Man Scramble takes place at the Cherokee Ranch Golf Club on Friday, June 8th. The final Tomato Fest week celebration ends at Lake Jacksonville with a Ski Show on Sunday, June 10th.
Taste for yourself the best tomatoes and fun festival packed with lots to do for everyone.  For additional information, contact Jacksonville Chamber of Commerce at (903)586-2217, or go to  JacksonvilleTexas.com/Tomato-Fest or Facebook.com/JacksonvilleChamber.
M6 Winery:
Celebrating Life & Good Things
Written and Photographed by Barbara Greenbauer
Take some time to wind down, breathe, and enjoy a superb glass of wine at M6 Winery & Tasting Room and Gift Shop in downtown Bullard. Owners Joe and Anne Moody set the pace as the charming and affable owners who greet you at the door and welcome you inside.
The atmosphere is palatable the minute you arrive, inside the front door is a Texas trove of
hand-made one of a kind wood pieces that can either house your own wine collection or accent it. Move along into the inner room and you will feel right at home as you order wine, food, and listen to live music.
Joe Moody is in his element and passionate about his foray into the wine business. Relying on his business background and his interest in the wine-making industry, he has developed an inventory of his own, a grand selection of whites and reds that will be taste bud treats to either the wine connoisseur or novice.
"Wine is about celebrating life and the good things," explains Moody. "Anne and I have traveled from California to Italy and experienced multitudes of vineyards and tasting rooms.  We were ready to bring all of our experiences to East Texas." M6 derives its name from the Moody's family of six, including the four grown children who were a piece of the business from its infancy. M6 Winery & Tasting Room is nestled on a corner of downtown Bullard, a piece of property Joe Moody has owned for over 20 years that has served as his office for both an oil/gas and real estate business over the years.
"Creating a good wine is an act of love and patience," explains Moody. "Grapes cannot be rushed and in the process, you have to be aware of what you are looking for in a flavor profile. It takes a lot of planning and preparation; blending is like art with different aromas, colors, and flavors."
The tasting room is an experience in itself, from the beautiful front and center bar fashioned from the ribs of wine barrels to the tin roof and rough cedar ceiling accents. Choose your wine and sit back while local musicians entertain.
There's another great space outside that the Moody's affectionately call The Vinery, a vine-covered patio with plenty of room and great furniture to sit on while you  enjoy the Texas weather.
Your palette will applaud you when you sample an M6 original wine. White wines include the Blue Norther, an aromatic semi-sweet Riesling with hints of apples and stone fruit. The Bluebonnet is an off-dry white blend, perfect for poultry, fish, and pasta dishes. Or try the Sweet TexAnne, named for Mrs. Moody, with sweet honeysuckle and strawberry overtones. This wine is perfect for summer salads and cheeses and is sweet enough to serve as a light dessert wine.
The Texas Viognier is an unoaked, medium to full-bodied dry wine, with notes of pears, honeysuckle, and tangerine. It pairs well with roasted poultry, orange chicken, seafood, apricots, fennel, capers, or pumpkin.
M6's Rosé wines include the Blushing Texan, a semi-sweet Rosé wine blend with a light pink color. The appropriately monikered Tyler Rosé is a dry blend with a touch of High Plains Zinfandel. This blend was created especially for our local Tyler market and its famous association with roses.
If red is more your thing, there are lots to choose from. Friendship Red is made with the hearty Ruby Cabernet grape. It is a great compliment to all things pasta, as it goes great with all sauces, from marinara to Alfredo.
The Moodys very first Signature Blend is Vintner's Touch, a bold red blend that pairs well with roasted meats. This blend is made from grapes grown both in Texas and California.
Red Texana is great with Texas BBQ or Tex-Mex dishes. It is full-bodied and made from the Ruby Cabernet grape. It has a spicy finish.
Feel free to pair your wine with meat, cheese, or combo plates, olive oil with bread and spices, or a slider plate. Paired flights include a chocolate or cheese, and of course, you can do a Tasting Flight of five different wines and keep the signature M6 tasting glass. M6 wines range from an affordable $18 to $28 a bottle.
Be part of the family and join the M6 Wine Club to experience the best of their offerings with
five special wine shipments annually. When it's time to get your selections, M6 offers a complimentary glass of wine and hors d'oeuvres to members at pickup parties.
M6 can host your private party and create personalized wine labels to commemorate any event from birthdays to anniversaries.
Joe has nothing but compliments for the wine-growing community in East Texas, saying "We are all very supportive of each other and share resources and information."
Mark your calendars for the Piney Woods Wine Festival, running May 11th-12th and join M6 and the other 18 wineries on the trail for a spectacular weekend of music, art, and of course, lots of wine to taste.
Lauren and Bobby Grounds from Tyler wanted a new destination and searched the internet for wine and live music and found M6. "We love this venue," said Lauren. "It's very different and
fun, and the wine is fantastic." They were trying the Blue Norther and the Blushing Texan with a cheese plate and Billy said "We will definitely be back. We like the atmosphere here.  It's very welcoming."
Joe is thrilled that M6 wines are featured at favorite Tyler restaurants, including Rotolo's, Dakotas, and the Grove. "Mention that you would like to try an M6 wine and you won't be disappointed," he said.
The Moodys welcome you to experience M6 Winery & Tasting Room. "We want everyone who visits us to feel like they are our honored guest," said Joe Moody.
M6 is open Saturdays from 1-6:30pm and is located at 201 W. Main St., Bullard. They can be reached at (903)360-0369, by email at info@m6winery.com, or on Facebook at M6Winery.
Max McRuiz: No Labels Please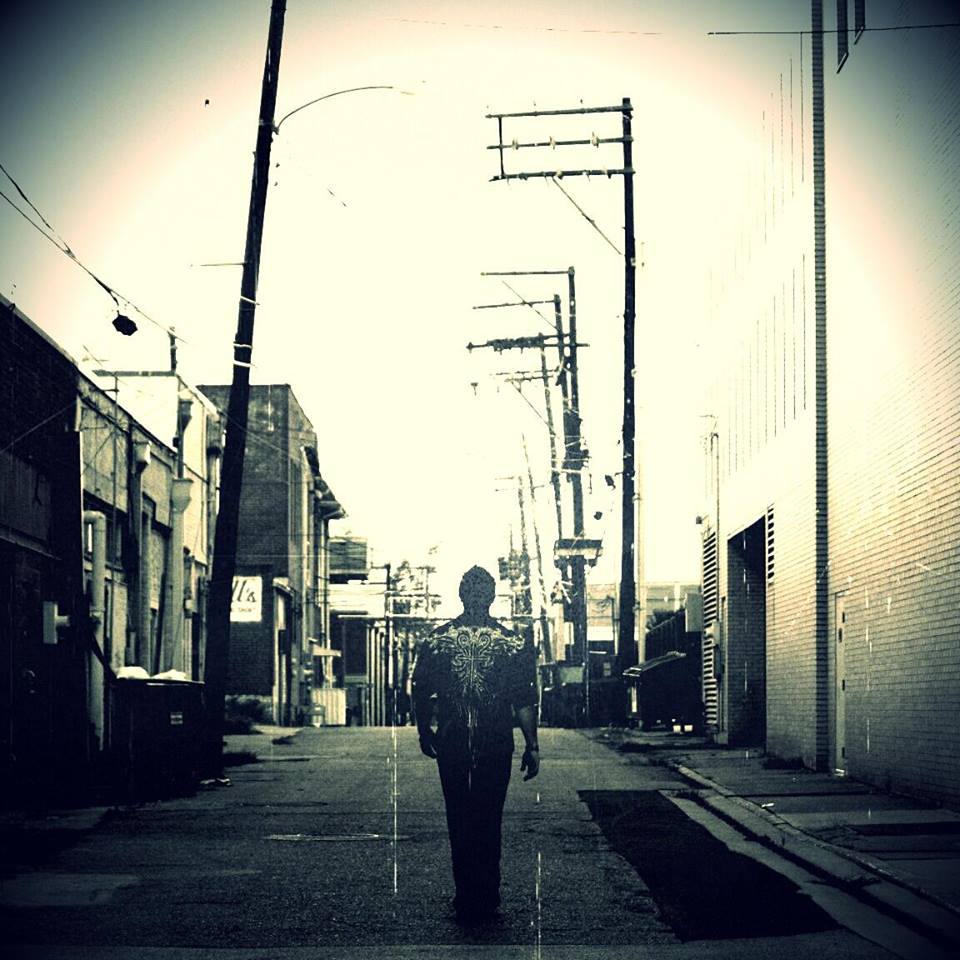 By Johnny Griffith
In the music world there are all sorts of labels for musicians: guitarist, drummer, keyboardist, country artist, pop artist, R&B artist, etc. Then there are those people who transcend any attempt to be put into a box and are constantly evolving their skill and style as they grow.
Allow me to introduce you to Max McRuiz.
Born in Lindale, and raised in Longview, Max inherited a musical past from his grandparents on both sides of his family. Max attended Spring Hill high school where he excelled in the music program. A four-time All Area 1st Chair, and three-time State 1st Chair winner in drums, his passion for music translated into several scholarships and the opportunity to continue his education in music at the collegiate level where he continued to develop skills on several instruments. After studying music education/performance at Kilgore College as well as SFA, Max was a student teacher at Kilgore High School. It was during this time that he realized he probably wasn't destined to be a band director so he started teaching music on the side as a hobby to keep his skills sharp and fresh on his mind.
A veteran of several successful musical projects in the area, Max has recently devoted more time to solo projects and building a new trio for local gigs across the area. I sat down with Max recently for a chat.
Johnny: When did you first start to develop an interest in music?
Max: I developed a love for music at a very young age. My parents would place my crib next to the TV when I was only 8 months old so I could stand up and dance to The California Raisins as they would sing old Motown hits like "Heard it Through The Grapevine" and "Sign Sealed Delivered." My love for music has only grown stronger as the years progressed.
Johnny: You're a multi-instrumentalist. What were you first drawn to, and what do you consider your best instrument at this point in your life?
Max: I started playing drums and guitar around 1999 when my brother bought an old Samick electric guitar and Laney amp and it came pretty easy to me. As the years went on, I picked up the piano and played by ear until college where I had proper instruction on theory and reading sheet music. Although I would admit that the piano is my favorite instrument to play and compose with, I think drums are my forte. I pride myself in the fact that I am a 'Jack of All Trades,' so I try not to become too unbalanced as far as which instrument I am better on.
Johnny: What was your first public performance?
Max: I first took the stage when I was 7 years old for a talent show. I continued doing talent shows throughout school but it wasn't until 2006 when I started a country cover band named Pocket Aces and I started gigging and playing shows. Once in college at SFA, I started my most successful band, Westbound 21, with friends Cody Wayne, Lyndsey Torrez, and Jason Skidmore.
Johnny: You've been involved in several successful local music projects. When did you decide to do more solo work?
Max: In September 2013, I decided to leave Westbound 21 and the big country music scene to play music at my local church. I just started playing solo gigs by myself and with my trio about a year ago. This time around I have the freedom to play exactly what I want without having to stay within the confines of a specific genre or style. My shows have a very wide variety from MoTown to John Mayer to Michael Jackson to Goo Goo Dolls and many more. There is something for everyone.
Johnny: How would you describe your current style?
Max: I would say my current style is easy-listening/Adult contemporary. I play with a loop station so obviously Ed Sheeran has had a big influence on my music.
Johnny: Are you creating much original content or is it primarily covers at this point?
Max: With my last band, we focused a lot on original content but now I just play what moves me. I pick songs for my set that have meaning and are fun to listen to. I play a lot of covers but tend to play them with my own style.
Johnny: About how many gigs a month are you playing at this point?
Max: Between private events, charity gigs, coffee house shows, and big shows with my trio, I play around 3-4 times a month.
Johnny: Is this still in the hobby stage for your or are you looking at a more serious push for a musical career? And if so, what direction would you like to see that path take if up to you?
Max: I have "been there and done that!" My last band played four gigs a week for five years and it burned me out. Now that I am older and have a wife, I enjoy picking and choosing the gigs that I take. Music is an avenue that allows me to express myself but I don't want to ever make it into a "job" again. It takes most of the fun out when you start to try and make a living while attempting to make it big.
Johnny: Anything noteworthy coming up in February or March the readers might catch you at to enjoy your talents?
Max: I've got a couple of gigs coming up in February that will be fun nights.
February 16th (7-9pm) – Bridge 281 Coffee Shop in Longview
February 17th (7:30-10:30pm) –  Central Station in Gladewater
Stay tuned to my Facebook page for other specific dates and times.
Johnny: What has been your best memory so far in your musical career?
Max: December 30, 2013, I got to play at The Dallas Cowboys Stadium for a 30-minute pre-game show. That was a great experience and memory that I will never forget. More recently I got to share the stage with my childhood hero Bryan White a few months ago at The Central Station in Gladewater. That was very surreal and great experience.
Johnny: Besides your own music, what do you listen to currently that gets you excited?
Max: I am a huge fan of Marc Broussard, Ed Sheeran, John Mayer, Dave Barnes, Earth Wind and Fire, Michael Jackson, and Journey to name a few.
Fine Mac McRuiz on the web: