Roast Social Kitchen & Stanley's Famous BBQ present
The 1st annual Blue Santa Crawl
Eat, Drink, Be Merry, Have Fun & Make A Difference in a Child's Christmas
Turns out you don't have to wear red to be Santa Claus this Christmas!
Because 100% of the proceeds go to children, you can make Christmas extra special for a child – plus, you can have some fun in the process.
Saturday, December 9th, come to Downtown Tyler, Texas to the Blue Santa Pub Crawl, 2-10pm.
Here's how it works:
First, purchase a ticket for $25 per person.

Available at eguidemagazine.com/bluesanta.
Tyler Area Chamber of Commerce (315 N. Broadway, Downtown Tyler)
Firestation Auto Center (1008 W. 4th St., Tyler)
Stanley's Famous BBQ (525 S. Beckham St.)
Roast Social Kitchen (1125 E. 5th St.).

Check in at ETX Brewing Company anytime after 2pm on December 9th to get your Blue Santa t-shirt and lanyard.
Then visit our sponsor tables to collect cool & fun costume pieces. These businesses are:

Jack Ryan's
SportsZone
Don Juan Mexican Restaurant
Garage Bar
There is no set time, no schedule – just wander around, have fun, and make a difference.
There will be a Group Photo at 8pm at Roast Social Kitchen.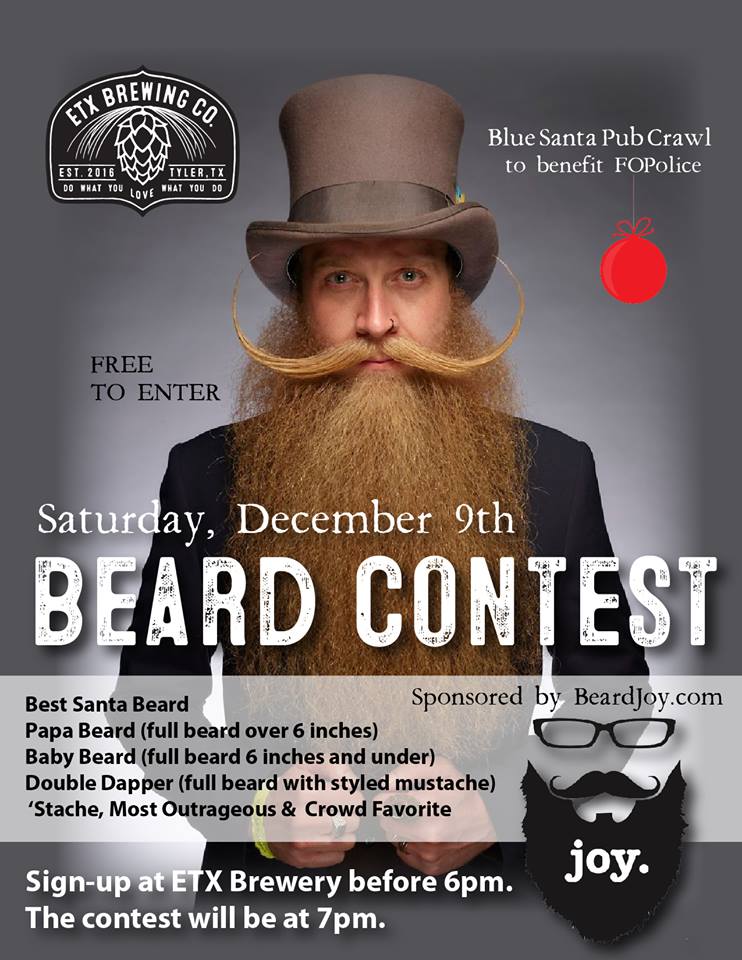 A free hop on/hop off shuttle sponsored by Baymont Inn & Suites and Ye Olde City Antique Mall will be provided to help you get around, 12 noon-5pm. Parking is free in the parking garage and on the square. Valet parking is available after 5pm.
VIP tickets ($50) are sold out.
Other activities include:
Beard Contest – It is free to enter and open to everyone! Categories include Best Santa Beard, Papa Beard (full beard over 6 inches), Baby Beard (full beard 6 inches and under), Double Dapper (full beard with styled mustache), 'Stache and Most Outrageous. If you want to compete (it's free), sign-up at ETX Brewery before 6pm. The contest will be held at 7pm. There will be judges, a Crowd Favorite, and lots of prizes. This is sponsored by Beard Joy Beard Oil.
Blue Santa Cocktail Contest will take place at participating restaurants and bars with special holiday cocktails created in honor of the ETFOPolice Blue Santa. ETX Brewery will donate $1 per purchased drink. Don Juan's is turning their margaritas BLUE for the occasion. Roast Social Kitchen, Stanley's Famous BBQ, SportsZone, Jack Ryan's, and Garage Bar have promised very cool concoctions, too!
Christmas Trivia – A fun and lively trivia contest will be held sponsored by the Tyler Public Library staff. This will cover Christmas movies, history, little-known facts, and more. The winning team will get bragging rights and the title of Christmas Know-It-All. This will be held at SportsZone starting at 6:30pm. Come early to sign up your team and get set-up to show off your knowledge.
Vibré Handbell Quartet will perform a special holiday concert at Jack Ryan's at 6pm.
"Deck the Halls with Buddy Holly – A Rockin' Blue Christmas" with Johnny Rogers, aka Buddy Holly will be at Liberty Hall. Come for a holiday show perfect for the whole family. Johnny will pay tribute to such artists as Buddy Holly, Elvis, Roy Orbison, Jerry Lee Lewis, Ricky Nelson, Chuck Berry, Johnny Cash, and many more! Tickets are $20 at libertytyler.com.
Fun for the Family During the Day
There will be food trucks and family friendly activities happening on and off the square starting at 12 noon. Elves can enjoy the holiday fun.
Have your photo taken for FREE with Santa in the Santa House! He will be on the Square to take your Christmas Wish list 1-3pm.
Mrs. Claus will host Storytime and Cookies on the Square sponsored by the Tyler Library, 1-4pm.
Carolling on the Square – open to everyone of all ages to join in the fun, 12 noon-5pm.
The Blue Knights TX XXXIV will have a tent on the square for "Letters to Santa!" The Blue Knights will help families write letters and then mail them to the North Pole! They will have their motorcycles and be dressed in their Blue Knights vests!
"A Kiss Under the Mistletoe" Photo Booth will be available, sponsored by Allstate Insurance Sharie Withers.
Tyler Innovation Pipeline is hosting a Gift Personalization Clinic. They will be waiving the $12 sign-up fee 1-5pm. This workshop is geared toward 16 years old and up.
The Goodman Museum continues to invite you to stop by and tell them what you are grateful for. The colorful "grateful" notes are being hung on ropes to create a literal trail of gratitude.
Join Bethel Downtown and The Foundry (6-9pm) for "The Nativity Live." This free event will bring the Bible to life for people of all ages as they experience the narrative of the birth of Christ.
Enjoy watching AND learning swing dancing on the square 2-4pm by Tyler Swing Thing Syndicate.
Art
Gallery Main Street is hosting a unique Downtown Tyler Artist and Maker Market featuring everything artist- and maker-made at this one-of-a-kind gift market.
Artist Dace Kidd will be doing a Live Painting in honor of the Blue Santa program, then we will auction it and donate 100% of the proceeds to the Blue Santa program! This will take place on the square, starting around 3pm. The silent auction will be held at ETX Brewery starting at 6pm.
Live Window Painting will take place in front of Liberty Hall starting at 1pm.
Food & Drinks
For dinner, sink your teeth into one of the local Downtown eateries. Find anything from cheap tacos and bar food to fine dining and everything in between.
Ted Kamel will be serving holiday favorites on the square 12 noon-5pm.
Various food trucks will be all over downtown serving your favorites.
Which Wich will have FREE samples at SportsZone starting at 2pm. "Opening in December, come get your wich on!"
Tours
Several tours will take place Downtown.
Azalea Trail of Lights – enjoy an open-air shuttle ride through the lights, 5:30-8:30pm. Board the shuttle at the Goodman Museum, then ride through the Downtown square, and continue to the Azalea Trail to enjoy the holiday sights.
Goodman Museum is hosting a unique opportunity to tour the Goodman Museum at night while the Christmas lights shine brightly throughout this beautiful historic home, 6-9pm. There is free admission to the museum with a suggested donation of $2 per person.
At 8:30pm, a WALKING Tour of Downtown ($8/person) will be held. Get tickets at toursoftyler.com.
At 9:30pm, RIDING Tour of Downtown ($15/person) will be held. Get tickets at toursoftyler.com.
Music
There will be music all around Downtown. Those promising a festive night of live music are:
ETX Brewing Co. will have Sam Balltzglier.
Rick's on the Square will have Big Daddy starting around 9pm.
Garage Bar will have Lee Mathis and The Brutally Handsome. Country/Outlaw country/blues/and southern rock starting at 9pm.
"All Your Local Favorites" will be on stage at Stanley's 2-10pm.
There will be caroling on the Square all afternoon.
Strada Caffe will host live Christmas music with Meredith Crawford starting at 11am. They will also have espresso, pastries, mimosas, and a delicious brunch.
Shopping
While you're in Downtown enjoying one of the special events, be sure to check a few more gifts off your list at some of Downtown's shops. These stores offer unique items that can only be found in Downtown Tyler.
El Guapo Records sells vintage and new vinyl records covering all genrés of music.
Come to 903 Handmade to take a selfie with Santa (12 noon-2pm) and get some gifts and stocking stuffers. Enjoy some Christmas music and drinks (From Coffee Tea & Me). 903 Handmade features collections from quality handmade makers local, around Texas, and around the country. Bring your appetite too because Delightful Baking Company will be serving up Philly cheese steak sandwiches with homemade hoagie rolls, hot chocolate with house-made marshmallow Whip and an optional matcha ganache, and Sea Salt Butter Cookies.
Ye Olde City Antique Mall will join the Blue Santa fun. Come search for "Free" Blue Treasures – Blue Tags will say "Free for the Blue." Please only one per family so others can enjoy the hunt. Also, grab a delicious cookie and ice cold drink while you are there as well as those last minute Christmas gifts.
Of course, gift certificates are available from all the area restaurants including Rick's on the Square, Black Pearl, Jack Ryan's, Don Juan's Mexican Restaurant, Moochoo Burrito, and El Lugar.
More Holiday Cheer
A special emphasis for Hit the Bricks this month is the Blue Santa Program, benefitting the East Texas Regional Fraternal Order of Police Lodge #51 (ETFOPolice). The Blue Santa program is a non-profit outreach program that focuses on giving gift cards to needy children each year during the holidays. Each year ETFOPolice provide children that might not have Christmas with gift cards to WalMart.
"It's amazing to watch the children's excitement as they pick out Christmas presents. It's extremely humbling to see that some select presents for their family and sometimes food and other necessities," said Chuck Boyce, Community Resource Officer with Tyler's Police Department. "The Blue Santa shopping trip is truly the highlight of my Christmas every year."
"Our service to children began back in 2009, serving families in need during the holiday season. With our Blue Santa program, area police officers nominate children that are underprivileged, child victims, and/or are witnesses to crimes that they meet in the community to take Christmas shopping with police officers."
"We are very excited to support the 1st Annual Blue Santa Crawl. We feel that it will benefit the citizens of Tyler by offering them a fun day that also supports Tyler's Fraternal Order of Police Blue Santa Program and Hit the Bricks – 2nd Saturday. This is the perfect opportunity to have fun in Downtown Tyler while also making a difference in a child's life this holiday season," said Shari Lee, Visit Tyler General Manager/Vice President – Conventions.
Even if you can't attend the events, you can still donate at EGuideMagazine.com/bluesanta.
Also, helping to make a difference this holiday season are Stanley's Famous BBQ and Roast Social Kitchen as Kris Kringle Title Sponsors.
Rudolf Sponsors are ASCO Equipment, The Hamptons Senior Living, Allstate Insurance Sharie Withers, Altra Credit Union, Impressive Image Works & T-shirts, and United Country Bobo Realty and Land Company.
Santa's Little Helpers Sponsors are Gregory Real Estate, SportsZone, Susan Robinson Jewelry, Dunn Transmissions, Genesis Group, Ye Olde City Antiques, Rosevine Inn, Heaton Dental, and Yamato Japanese Restaurant.
For questions, call EGuide Magazine at (903)630-3030 or email eguidemagazine@gmail.com.
East Texas Regional Fraternal Order of Police Lodge #51 is a 501(c)(8) program. By purchasing a ticket, you are making a donation to the ETFOPolice. Tickets are non-refundable. This is a rain, snow or shine event.