Baby, It's Cold Outside, So Snuggle Up With A Good Book!

By Gini Rainey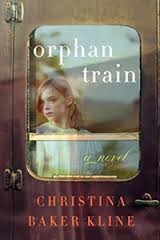 "The Orphan Train" By Christina Baker Kline
This is one of those books I didn't want to end. Rich in themes centered on families and parenting, "Orphan Train" is a short and very readable novel. Kline narrates the story of a practice meant to be kind that was often cruel. Due to the waves of immigration, epidemics of illnesses and the difficulty of living in poverty, many children were left as orphans. Many families had multiple children who were set adrift when their parents died or disappeared. Organizations sprang up to help with the problem and the orphan trains were created. Large numbers of children from the big Eastern cities were shipped to the Midwest where couples looking for children could adopt them.
The book has two orphaned women as heroines, 17 year old Molly and 91 year old Vivian. Molly's father, a Native American, was killed when she was a young child and her mother, who could not cope, retreated to a life of drug abuse. Molly has been placed in a foster home with people who do not respect her intelligence or belief system. Vivian came to New York City from Ireland with her parents as a child. After most of her family was killed in a tenement fire, Vivian was placed on an orphan train going west with the hope of finding an adoptive family. Her first two placements in the state of Minnesota were disastrous, but she eventually found a stable home that helped launch her life as a productive adult.
Now, fate has once again intervened in the lives of both women as, at age 91, Vivian meets Molly, who has to complete a community service assignment. Molly begins to assist Vivian in cleaning out her attic, slowly sorting through the mementos that represent the pieces of Vivian's life she has kept hidden for all these years. As they discover the unexpected correlation in their life experiences, Molly and Vivian develop a true affection for each other.
As the story moves back and forth in time between the late 1920's and present day Maine, author Christina Baker Kline's novel explores the subjects of love, adversity, resilience, providence, the workings of the child welfare system, deep and hidden secrets, and how the choices we make can resonate through generations.
As you discover more and more about these characters and their lives, you may certainly question some of their behavior and the decisions they made. While you may not agree with, nor understand their actions, they remain endearing folks who stick to your heart like glue so that find yourself accepting their flaws and wishing them well.
This is a very well-written historical fiction. It moves between 1920 and present day revealing more of the characters backgrounds with each chapter. It is very easy to fall in love with this book and the characters. I highly recommend it to anyone who likes more modern historical fiction as well as those who like stories about overcoming the odds.
Rating: 5 of 5
Copyright 2013 – William Morrow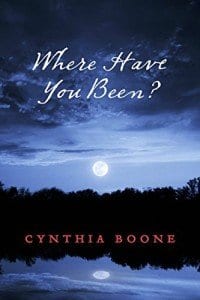 "Where Have You Been?" By Cynthia Boone
One of the great things about reviewing books is that sooner or later you begin to have people contact you to review their books! I love this part of the job, because when I receive these books, I'm always eager to dig in and start reading. I love a good read and was hoping that "Where Have You Been?" would prove to be one, and I was left with very mixed feelings about this book.
The storyline focuses on Carly and Beau, a couple of star-crossed lovers that have one heck of a time trying to get together. Because of time and distance, their budding romance, which began in high school, didn't stand much of a chance of survival. It took me a while to get into the heart of this book because I almost needed a magic slate to try to keep up with the characters and the different plots that Ms. Boone was presenting. The short chapters (some only a page and a half long) made for a choppy read and I found myself wondering what terrible misfortune would happen to them with the next turn of the page.
I was left with the feeling that Ms. Boone tried much too hard to give the histories for all of the characters in order to tie the story line into a neat package. This resulted in my suffering from "plot whiplash" due to all the territory she attempted to cover. Although that in itself isn't necessarily a bad thing, the constant introduction of subplots left me with a feeling that the development of her main characters was lacking.
In my opinion, her writing is very good and the story lines are intriguing, but by jumping around as much as she did, parts of the book suffered from too little fleshing out. I'm wondering if perhaps she might have done her characters (and plots) a favor by presenting them in a multiple book format, thus allowing for more in depth details to have been devoted to some of the key issues.
That being said, I do have to admit that I had trouble putting down "Where Have You Been?" once I got into the thick of the plot. Cynthia's characters are very likable and what's not to like about a book that is set on a ranch in central Texas? If you would like to read a fast-paced, intriguing book filled with angst, drama and misfortunes, then "Where Have You Been?" is the one for you.
Rating: 3 of 5
Copyright 2014 – BookBaby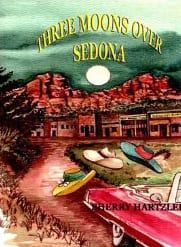 "Three Moons Over Sedona" By Sherry Hatzler
Sherry Hatzler, a gifted mainstream women's fiction novelist, brings us this tale of a middle-aged woman whose husband dies under embarrassing circumstances and leaves her to question her own life. One day she gets in the car and just drives, all the way to a new town called Sedona. It's here that she starts her life over, basically from scratch, with the help of two younger very different women that she learns to call her friends.
In this very touching heartfelt story, the reader learns that all three women are holding on too tightly to past hurts thus making it difficult to move towards love in their future. This book is the story of how the three get to know each other and themselves and let go of the hurts together. Hatzler has created very realistic flawed characters and relationships and the resolutions, for the most part, avoid the typically cliché solutions.
Although initially "Three Moons…" might appear to be chic-lit on the surface, it most definitely changes its appearance by virtue of its smartly written, warm and endearing story line. While perhaps a novel written to appeal to an older reader, the truths and lessons learned by the three women of Sedona are applicable to the lives of old and young alike.
Hartzler's incredible story-telling skills and imaginative details that surround even the simplest moments help to bring a nearly visual experience to the reader. Her dry sense of humor fills the pages with a warm wit, further bringing the story line even more realistically to life.
This book is a wonderful adult coming of age story about three very complex and interesting women whose challenges bind them together in ways that few young people have the experience to understand. From sharing their own personal tragedies they are all able to grow and blossom in ways they never expected.
For those who choose to read this book, don't expect a book about Sedona. It's definitely not a travelogue. The beautiful town of Sedona is simply the setting for most of what takes place in the story and it could just as easily have been any other town about 2,000 miles west of Ohio. It is what it is – a very touching, yet very fun story about the challenges that many of us will face as we mature in life.
Rating: 5 of 5
Copyright 2009 – Rock House Publishing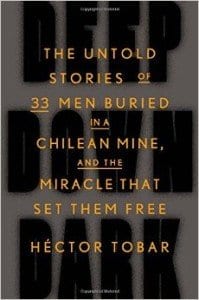 "Deep Down Dark: The Untold Stories of 33 Men Buried in a Chilean Mine, and the Miracle that Set Them Free" By Hector Tobar
Pulitzer Prize–winning journalist and novelist Tobar ("The Barbarian Nurseries") presents the riveting story of the 33 men who spent 69 days trapped more than 2,000 feet underground in Chile's San José Mine in 2010. Noting that the abundance of minerals under the hills of the Atacama desert drew workers from all corners of Chile, Tobar—who was granted exclusive access to the miners and their families—compassionately recounts the miners' personal histories, experiences during the 17 days they were without outside contact, extended rescue, and the drama above ground with the families living near the mine in their makeshift "Camp Esperanza," mingling with government ministers, NASA advisors, engineers, mechanics, and drillers.
Particularly moving is the reenactment of the first 17 days when the "33" banded together, drinking dirty water used to cool off the mine's drilling systems and sharing their meager food supplies.
Feeling as though "they are living inside a Bible parable," the men keep their hopes up through prayer, and some gravitate toward particular roles: the pastor, the chronicler, the unofficial spokesman.
Tobar vividly narrates the miners' lives post-rescue as they come to terms with their life-changing experience and the media frenzy surrounding it. Rich in local color, this is a sensitive, suspenseful rendering of a legendary story.
Rating: 5 of 5
Copyright 2014 – Farrar, Straus and Giroux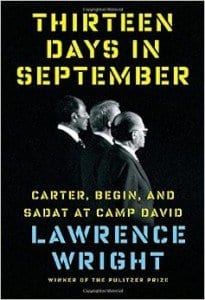 "Thirteen Days in September: Carter, Begin, and Sadat at Camp David" By Lawrence Wright
Wright ("Going Clear"), Pulitzer Prize winner and staff writer for the "New Yorker," offers a thorough study of the Camp David Accords of 1978 in this meticulously researched affair, which goes beyond the core events to address a multitude of historical factors. On the surface, this is about U.S. President Jimmy Carter, Egyptian President Anwar Sadat, and Israeli Prime Minister Menachem Begin and the 13 days the men and their respective staffs spent trying to hammer out a peace treaty. Wright takes the conference day by day, detailing the clashes and compromises that marked the final results. He also delves into Biblical events and the numerous conflicts following Israel's creation in 1948. As Wright puts it, "This book is an account of how these three flawed men, strengthened but also encumbered by their faiths, managed to forge a partial and incomplete peace, an achievement that nonetheless stands as one of the great diplomatic triumphs of the twentieth century." Alternating between biographical studies of the people involved, sociopolitical histories of the countries and faiths represented, and an almost nail-bitingly tense unfolding of the conference itself, Wright delivers an authoritative, fascinating, and relatively unbiased exploration of a pivotal period and a complicated subject. This book also, helpfully, includes maps and photos as well.
Rating: 4 of 5
Copyright 2014 – Knopf; First Edition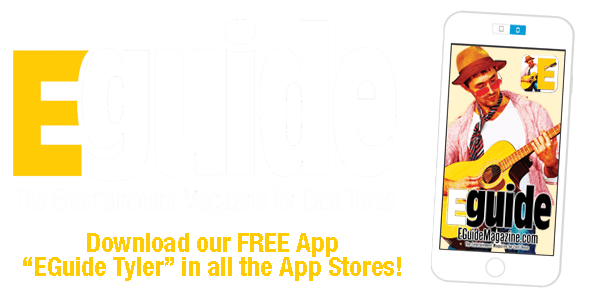 May 19th: Book Signing for Patricia Taylor Wells at Tyler Public Library

Book Signing for Patricia Taylor Wells & Makerspace
At The Library
The Tyler Public Library is located at 201 S. College Ave., Tyler. For more info call (903)593-7323 or go to tylerlibrary.com.
Children
All storytimes will be in Taylor Auditorium.
Leeme un Cuento/Read to Me Storytime (children 3-6 years old), Mondays at 10:30am

Lap & Play Time (babies up to 18 months) features stories, songs, and playtime with developmental toys at 9:30am every Wednesday

Toddler Explore Storytime (children under age 3) is on Wednesdays at 10:30am

Read Aloud Crowd Storytime (children 3-6 years old), Thursdays at 10:30am
May 5th (2-4pm) – LEGO® Block Party –
Children ages 3 and up, bring your imagination for an afternoon of building and playing! LEGO
®
and Duplo Blocks are provided.
May 26th (2-4pm) – Makerspace –
This continuing STEM education for children and teens will feature May 12th: Drawing with Finch™ Robots and May 26th: Maze Challenge with Finch™ Robots.
May 19th (10:30am) – Family Movie Matinees –
Families are invited to watch fun feature-length films in the library's auditorium. A different movie will be shown each day. Pillows, blankets, and carpet friendly snacks welcome.
Teens
Every Tuesday (4:30-5:30pm) – Teen Tuesdays –
If you are in Middle School or High School you're in! The Library will have games, activities, and fun just for teens. Earn volunteer hours completing special projects. Descriptions for weekly activities can be found at library.cityoftyler.org/Programs/Teens. Events are:
May 1st: Free Play with Finch™ Robots

May 8th: Dancing with Finch™ Robots

May 15th: Battle Bots with Finch™ Robots

May 22nd: Scavenger Hunt
Adults
May 5th (10am-12 noon) – EastSide Fiber Artists –
An open gathering of all things fiber. Whether you quilt, knit, crochet, weave, spin, needle felt, etc. Bring your current or completed project and make some new friends.
May 11th (11:30am) – "Sex in the Garden, All About Propagation"
with Debbie Watkins will be presented as part of the Smith County Master Gardener Series.
May 17th (5pm) – Reel Talk –
This event is like a book-club, but for movies! Free to attend.
May 18th (1-3pm) – Veteran's Movie –
Join this biweekly screening of movies presented especially for veterans. This free event is held the first and third Friday every month.
May 19th (10am-3pm) – Book Signing for Patricia Taylor Wells – Local Author Patricia Taylor Wells will be selling copies of her new memoir, "Mademoíselle Renoír à París."
May 29th (10am) – Club Read –
Join the Club Read group in discussing this month's read, "News of the World" by Paulette Jiles.
Every Tuesday (10am-1pm) – Quilting Class –
Learn the art of quilting at the Library. Fabric and quilt patterns will be provided. Participants are asked to provide their own sewing machines, if you have them, plus scissors, and neutral or white thread. For details and a complete list of supplies please contact the Library's information desk.
Every Tuesday (5:30-6:30pm) – Evening Meditation –
Learn the practice of Heartfulness Meditation with Gayathri Kambhampati.
Every Wednesday (5:30pm) – Gentle Yoga –
This gentle yoga class will be taught by Meagan Vrba who is certified in yoga, CPR, and first aid.
Every Saturday (11am-12 noon) – Crochet Classes will be held in the 3rd floor Internet Center Workroom. These are free classes. Learn to crochet with Library staff and volunteers. All materials are provided. All experience levels are welcome.
Get Prepared for Summer! Here's Your 2018 Summer Reading List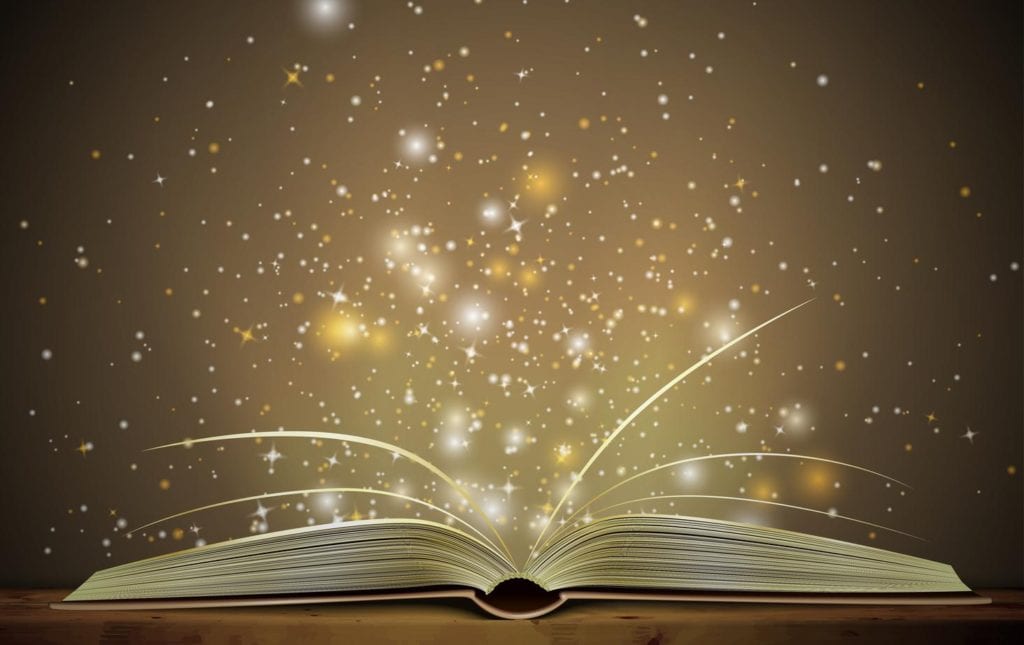 What's on Your Reading List for Summer?
By Gini Rainey
"Little Fires Everywhere" by Celeste Ng
If you are interested in reading a book that has won nearly every award out there, then this is a must-read for you. Scheduled to be a series next season on Hulu, this page-turner follows the perfect-on-the-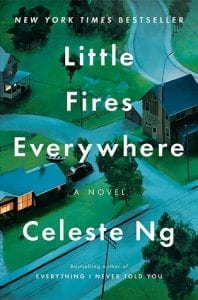 outside family as their life is shattered by a nomadic artist and her daughter who land in their neighborhood.
Written by the same author of Everything I Never Told You, Ng doesn't disappoint in the building of three-dimensional characters who can hold their own in the real world. With opposing family values creating social conflict after social conflict, this book is simply a book of contrasting human characteristics. While the topics of conflict were introduced gently, there is nothing gentle about the impact of they had on both families.
Although this book started out slow, it wasn't long before it turned into a can't-put-down page-turner. I found that I couldn't read this book without feeling anger, sympathy, joy, worry, hope, and loss. Little Fires Everywhere might be a fast read, but it is definitely an emotional roller coaster, so get ready for an excellent literary ride.
Rating: 5 of 5, Copyright 2017 – Penguin Books
"The Book of God: The Bible as a Novel" by Walter Wangerin, Jr.
If you're anything like me, reading the Bible straight through is nearly impossible. Studying individual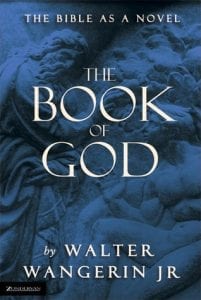 verses on my own time is easier, but leaves a lot to be desired as far as any kind of continuity. The Book of God was recommended to me by one of my pastors a few years ago as a means to provide me with a greater understanding of the Bible. Written in novel form, Wangerin helps to make the ancient men, women, and events come alive with vivid detail and dialogue.
I will admit that even though I love the language used in the King James Version, there are times when the lilting phrases make it difficult to comprehend and focus on the core messages. One of the greater bonuses gained by reading this version is the flow of the stories, especially when reading the Old Testament.
With this book, Wangerin has provided Christians and non-believers a better understanding of the history of the Bible in addition to the many translations and paraphrases of the Bible that are already available. He has taken what historians know about the lives of people in Biblical times and woven it with the historical books of the Bible and provided us with a new and intrinsic way to view the people of the Old and New Testaments.
Rating: 5 of 5, Copyright 1998 – Zondervan
"The Unmasking of Dr. Harrison Miller Moseley" by Stella Brooks
Are you a WWII history buff? How 'bout a Texas high school football fan? Are you interested in an aspect of Ft. Worth's Depression-era history?
If any or all of those topics catch your eye, you will get your money's worth of stories from the book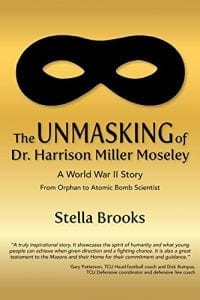 "The Unmasking of Dr. Harrison Miller Moseley" by Stella Brooks. It offers such unique nuggets of Texas and WWII history that has yet to be addressed.
Author Stella Brooks, in her first published work, achieves an informing and warm balance between biographical facts and connecting the reader to the characters.Similar to non-fiction biographies, this book is written in third person. The author does a great job connecting the reader with Miller's thoughts and emotions allowing the reader to watch the story unfold before their eyes.
It is obvious to any reader that this book was well researched and that much of the information was provided to the author through her first hand interviews with Dr. Moseley and his "brothers" from the Masonic Home. By the time the last page is read, it is clear this story was told not only with paper, pen and ink, but also with heart. It is a true account of Miller's life that could not be told in any other way.
From the author Stella Brooks, "His wife forewarned me that he had never discussed his life. He had given small morsels of information, but nothing more. But it was one of those small morsels that had me intrigued. I knew there had to be more to this man. Something was missing Expecting the same resistance, I knocked on his door. He must have felt instant trust because he spilled everything. Miller's wife said 'Stella, You have the magic key. Miller has never told anyone about his past, not even me.' Those close to Miller echoed the same. It was a miracle indeed. This book is a lifetime of silence unmasked. I will always cherish our friendship."
"The Unmasking of Dr. Harrison Miller Moseley" is a gripping story of faith, dedication, perseverance, and overcoming adversities in order to achieve greatness.
Rating: 5 of 5, Self Published
Barnes & Noble Booksellers, Story Times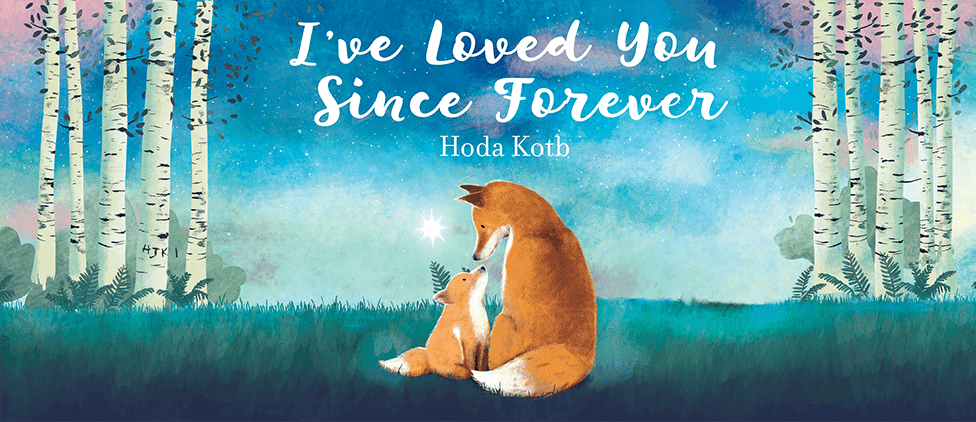 [dfads params='groups=110&limit=1&orderby=random&container_html=center'
Barnes & Noble Booksellers Story Times
Every month Barnes & Noble (B&N) has a variety of events. All events are free to attend. B&N Booksellers is located at 4916 S. Broadway, Tyler. For more info on this and other events call (903)534-3996 or go to barnesandnoble.com.
April 28th (11am) – "Scientist, Scientist, Who Do You See?" Storytime – Full of rhyming fun, "Scientist, Scientist, Who Do You See?" features appearances by some of the world's greatest scientists. Young readers will enjoy learning about scientists and how they changed the world.

May 5th (11am) – "Llama Llama Loves to Read" Storytime – Llama Llama is becoming a reader and can't wait to show his mother everything he's learned. Join this storytime and activities featuring this beloved character.

May 12th (11am) – Mother's Day Storytime featuring "I've Loved You Since Forever" and "Everything Is Mama" – Join this special Mother's Day storytime featuring books by bestselling authors Hoda Kotb and Jimmy Fallon. Activities to follow.

May 19th (11am) – "Fancy Nancy and the Wedding of the Century" Storytime – Join this storytime and activities in celebration of the Royal Wedding. In this wonderful book about weddings big and small, Fancy Nancy helps out the bride and attends a fabulous party.

May 26th (11am) – "An Elephant & Piggie Biggie!" Storytime – Elephant & Piggie are back to celebrate 10 years of friendship in this special collection featuring five classic Elephant & Piggie stories. Join this storytime with activities to follow.