Brookshire's World of Wildlife Museum and Country Store

By Barbara King
Here's everything you could imagine for a perfect day out with the family: animals, playground, exhibits, and to top it all off, it's free!
Brookshire's World of Wildlife Museum has been providing an entertaining and educational experience for East Texans since 1975 when the museum was first established as a result of the Brookshire family's visits to Africa and North America. Brookshire Grocery founders, the late T. Wood and Louise Brookshire, made it their mission to share their love of wildlife and nature with the children and families of East Texas.
The Brookshire's embarked on African wildlife safaris in 1967, 1969, and 1971, and obtained special permits in order to display the animals in an educational environment for all to enjoy. The purpose was to provide children exposure to the wild animals of the earth. The museum is a testimony to their greatest joys in life, the grocery business, and the great outdoors.
Originally opened in 1975 in the lobby of the Brookshire Grocery Company's office complex, the museum was expanded in 1976, then moved to its current location in 1990. The museum was remodeled in 2004 to include the donations of animals by Wayne Scoggins of Marshall and Carolyn Eames of Tyler, on behalf of her late husband, Dr. Dan Eames.
You will be warmly greeted and treated like family as you are instructed to " leave food and drinks behind and make sure not to touch the animals with your hands, just your eyes." Museum Supervisor Tina Saxon, a genuine and enthusiastic face at the Museum, loves the fact that visitors come to the Museum from all across the States, and even the world.
"It's a privilege to work here and see the faces light up when they see the huge animals we have on display," she says as a group of young children point in awe at a huge white polar bear with a ferociously wide, gaping mouth.
More than 450 different mammals, reptiles, fowl, and aquatic species from Africa and North America are on display, each in a colorful diorama depicting their life in the wild. Each diorama has a detailed description of the animals displayed, along with information about their habitat and fun facts.
Every single nook and cranny of the Museum is full of animals, from a huge brown bear, to foxes, leopards, lions, and ostriches. Each corner you turn has walls mounted with everything from a giraffe to a rhino and bison, to a humorous display of monkeys playing a very serious game of Monopoly.
Take a seat and listen to the story of how the Museum began, with old footage from the very beginning of the idea from Louise Brookshire, herself, to the construction and expansion to the current facility.
When you sign in the visitor's book, you can see the draw the Museum has from all over the States, with guests coming from all over and as far away as China, Japan, and Halifax, Nova Scotia – and that was just for the month of September!
"Each year we welcome more than 60,000 visitors from all over the world," said Saxon. Thousands of school children visit every year, and it's also a popular spot for high school art students to sketch pictures of the animals.
As a thank you for visiting, each group also receives a free store coupon for a pint of ice cream that can be redeemed at any Brookshire's, Super1 Foods, Spring Market, or FRESH by Brookshire's.
Elissa Douglas was busy laughing with her friends as she celebrated her 4th birthday with a walk through of the museum, followed by a birthday party outside on the playground. Her mother, Nicki Douglas, said, "the girls are having a great time, and it's such a different and great place to have a party." Elissa said, "My favorite thing to see is the ostrich and the eggs that are her babies…I think!"
Tucked around the corner from all the wild beasts is the replica of an old 1920's country store, which is a delight for folks of all ages. It's a true trek back in time, encapsulating a rare look back at a past era in the supermarket industry. The structure is complete with wooden floors and antique display cases, showcasing everything from hard rock candy to shaving implements and all kinds of grocery-related artifacts. You can view old-fashioned cameras and dried goods, alongside hair tonics, scales, and tintypes.
Sarah Carter was in the museum with her 3-year-old twin sons Levi and Landry, younger brother Layton, and their aunt Kate. The twins were in awe over the polar bear and the chance to open the door to the country store. "It's our 3rd time here," said mom Sarah, "and the boys just love to get up close to the animals. I think their very favorite is the huge polar bear."
There are artifacts galore on every wall of the building, including personal safari pictures of the Brookshire family, pictures of the grocery industry, and a tribute to Brookshire's most famous employee, Earl Campbell.
Right down the hall is the gift store, where you can buy anything from stuffed animals reminiscent of your visit to candles to compasses.
Outside is the newly renovated enormous playground, with three age-appropriate play areas from 2-5 years, 5-8 years, and 8-12 years. Most of the areas are shaded with canopies or trees and is the perfect spot for a birthday party. Reservations are required in advance for a designated birthday area on the playground where you can bring in your own decorations and food for $50 for two hours of fun. The only restriction for parties are no grills or bounce houses are allowed on the playground.
The playground features some really neat flashes from the past: a 1952 model LaFrance fire truck (which the kids will just love to climb), a restored railroad caboose, and a 1926 McCormick Deering farm tractor.
Come out and see what all the fun is about and learn about the wild kingdom in the process. Brookshire's Wildlife Museum and Country store is located at 1600 WSW Loop 323 and Old Jacksonville Highway (south of Brookshire's distribution complex) in Tyler. The Museum is open Tuesday through Saturday from 10am-4pm. The Museum is closed Sunday and Monday. Admission is free.
For more info or to make reservations go to brookshiresmuseum.com or call (903)534-2169.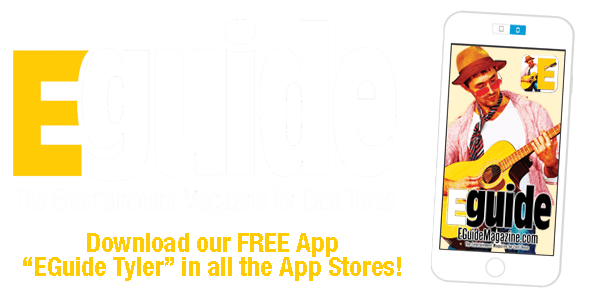 May 19th: "Nut Job 2, Nutty by Nature" Movie Nights at Bergfeld Park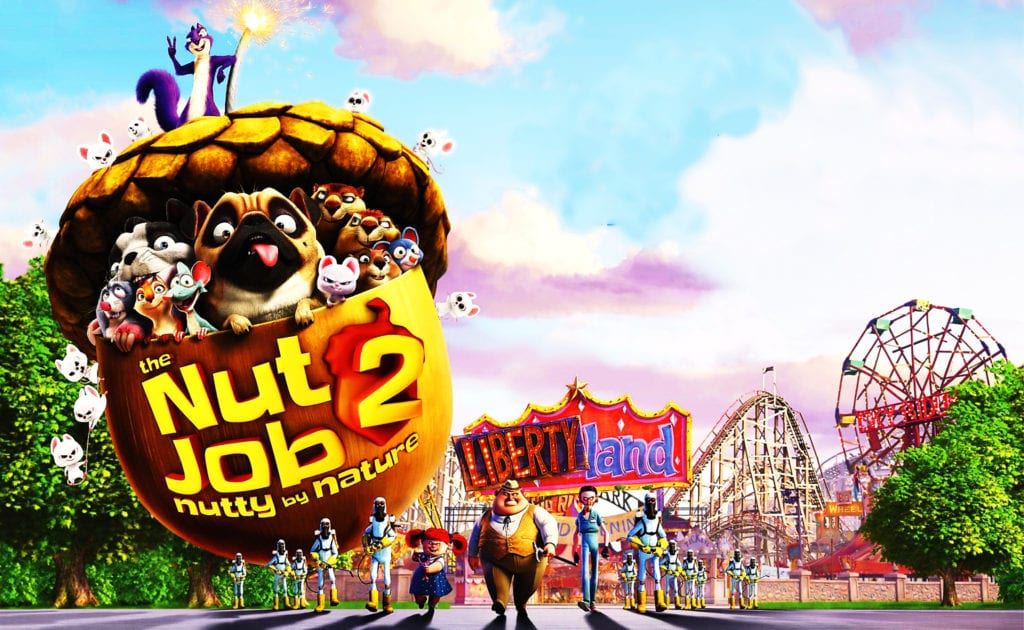 Free Family Movies in the Park
Free family movies kick off this month at the recently remodeled Bergfeld Amphitheater, 1501 S. Broadway, Tyler. Bring a lawn chair if you want or blanket for an evening under the stars. All movies are on Saturdays at 8pm. Admission is free and open to the public.
May 5th – "LaLa Land" Date Night Movie

May 12th – "Emoji Movie"

May 19th – "Nut Job 2, Nutty by Nature"
In case of inclement weather, movies will be rescheduled. For more info call (903)595-7271 or go to cityoftyler.org.
Festival of Fruit: 34th Annual Tomato Fest Saturday, June 9th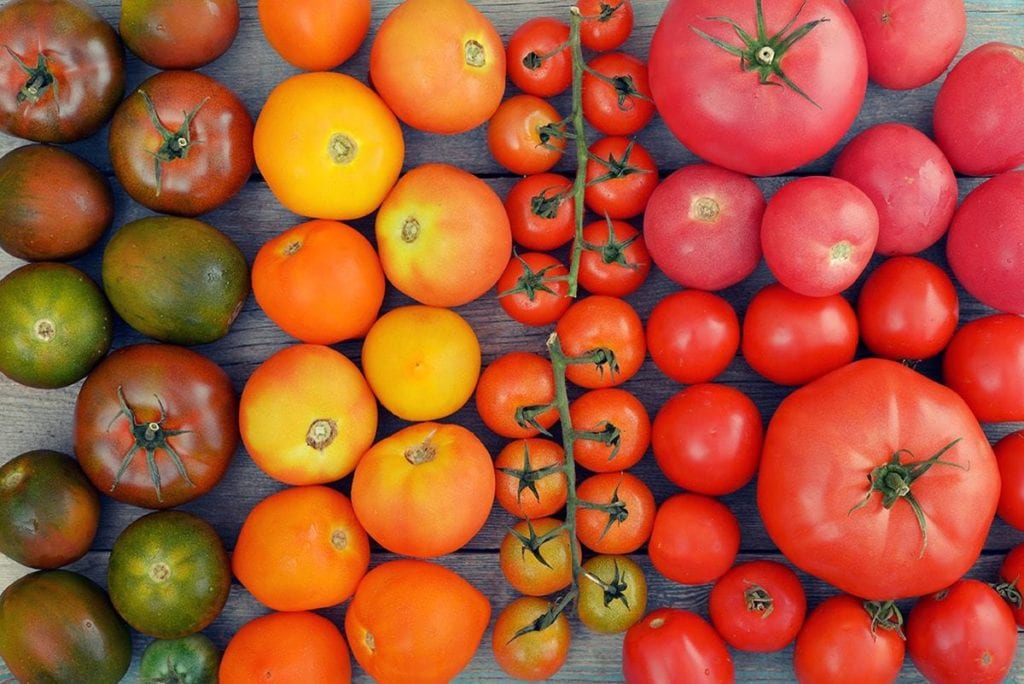 34th Annual Tomato Fest Saturday, June 9
th
Welcome to Jacksonville – home of the best tasting fruit – tomatoes!
Local farmers are busy getting ready for the upcoming 34th Annual Tomato Fest in Jacksonville, Texas by planting acres of the best tastin' tomatoes. Join the celebration Saturday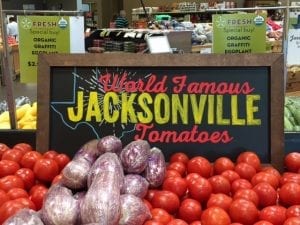 , June 9th in downtown Jacksonville for a BIG day of activities that will be happening all day long. Over 200+ vendors and all kinds of festival food, including the famous fried green tomatoes, Farmers Market, $500 Got Talent Contest, Car Show, Motorcycle Show, Tennis Tournament, Soccer Tournament, Softball Tournament, Entertainment, Kidz Zone, and so much more will cover 5 blocks downtown. Tomato events include Salsa Contest, Tomato Eating and Peeling Contest, Tomato Archery, Tomato Shoot, Best Home Grown Tomato Contest, Tomato Packing Contest and tour the Tomato Shed. Saturday evening, Chili's Street Dance will take place featuring Brian Chance Band and Lady Chazz and the Tramps. 
Activities kick off on Saturday, June 2nd with a 5k run sponsored by All Smiles. Monday, June 4th and Tuesday, June 5th is Family First Clinic's corporate challenge Dodgeball Tournament.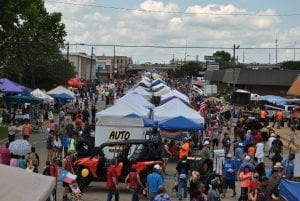 On Wednesday, June 6th, a Gospel Concert sponsored by Whataburger featuring, The Group, will perform at Central Baptist Church. New this year on Thursday, June 8th  is the Farm to Table dinner event that will take place at Castle on the Lake on beautiful Lake Jacksonville and will be catered by Rob Gowin, Sadler's Kitchen & Catering. A 4 Man Scramble takes place at the Cherokee Ranch Golf Club on Friday, June 8th. The final Tomato Fest week celebration ends at Lake Jacksonville with a Ski Show on Sunday, June 10th.
Taste for yourself the best tomatoes and fun festival packed with lots to do for everyone.  For additional information, contact Jacksonville Chamber of Commerce at (903)586-2217, or go to  JacksonvilleTexas.com/Tomato-Fest or Facebook.com/JacksonvilleChamber.
May 19th: Book Signing for Patricia Taylor Wells at Tyler Public Library

Book Signing for Patricia Taylor Wells & Makerspace
At The Library
The Tyler Public Library is located at 201 S. College Ave., Tyler. For more info call (903)593-7323 or go to tylerlibrary.com.
Children
All storytimes will be in Taylor Auditorium.
Leeme un Cuento/Read to Me Storytime (children 3-6 years old), Mondays at 10:30am

Lap & Play Time (babies up to 18 months) features stories, songs, and playtime with developmental toys at 9:30am every Wednesday

Toddler Explore Storytime (children under age 3) is on Wednesdays at 10:30am

Read Aloud Crowd Storytime (children 3-6 years old), Thursdays at 10:30am
May 5th (2-4pm) – LEGO® Block Party –
Children ages 3 and up, bring your imagination for an afternoon of building and playing! LEGO
®
and Duplo Blocks are provided.
May 26th (2-4pm) – Makerspace –
This continuing STEM education for children and teens will feature May 12th: Drawing with Finch™ Robots and May 26th: Maze Challenge with Finch™ Robots.
May 19th (10:30am) – Family Movie Matinees –
Families are invited to watch fun feature-length films in the library's auditorium. A different movie will be shown each day. Pillows, blankets, and carpet friendly snacks welcome.
Teens
Every Tuesday (4:30-5:30pm) – Teen Tuesdays –
If you are in Middle School or High School you're in! The Library will have games, activities, and fun just for teens. Earn volunteer hours completing special projects. Descriptions for weekly activities can be found at library.cityoftyler.org/Programs/Teens. Events are:
May 1st: Free Play with Finch™ Robots

May 8th: Dancing with Finch™ Robots

May 15th: Battle Bots with Finch™ Robots

May 22nd: Scavenger Hunt
Adults
May 5th (10am-12 noon) – EastSide Fiber Artists –
An open gathering of all things fiber. Whether you quilt, knit, crochet, weave, spin, needle felt, etc. Bring your current or completed project and make some new friends.
May 11th (11:30am) – "Sex in the Garden, All About Propagation"
with Debbie Watkins will be presented as part of the Smith County Master Gardener Series.
May 17th (5pm) – Reel Talk –
This event is like a book-club, but for movies! Free to attend.
May 18th (1-3pm) – Veteran's Movie –
Join this biweekly screening of movies presented especially for veterans. This free event is held the first and third Friday every month.
May 19th (10am-3pm) – Book Signing for Patricia Taylor Wells – Local Author Patricia Taylor Wells will be selling copies of her new memoir, "Mademoíselle Renoír à París."
May 29th (10am) – Club Read –
Join the Club Read group in discussing this month's read, "News of the World" by Paulette Jiles.
Every Tuesday (10am-1pm) – Quilting Class –
Learn the art of quilting at the Library. Fabric and quilt patterns will be provided. Participants are asked to provide their own sewing machines, if you have them, plus scissors, and neutral or white thread. For details and a complete list of supplies please contact the Library's information desk.
Every Tuesday (5:30-6:30pm) – Evening Meditation –
Learn the practice of Heartfulness Meditation with Gayathri Kambhampati.
Every Wednesday (5:30pm) – Gentle Yoga –
This gentle yoga class will be taught by Meagan Vrba who is certified in yoga, CPR, and first aid.
Every Saturday (11am-12 noon) – Crochet Classes will be held in the 3rd floor Internet Center Workroom. These are free classes. Learn to crochet with Library staff and volunteers. All materials are provided. All experience levels are welcome.