Children's Park of Tyler: An Expansion Is Underway
---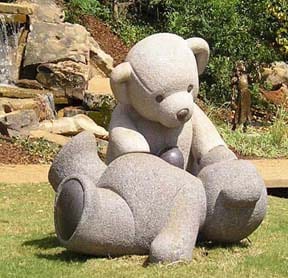 By Lynn Dark
Spring is coming. Maybe not soon enough, but it is coming. I promise. Do you think you might find yourself looking for an affordable outdoor outing when the weather gets nice? If so, please allow me to make a suggestion.
We are lucky in Tyler to have so many beautiful locations, but I would like to draw your attention to the Children's Park of Tyler. It is located at the intersection of S. Broadway and Dobbs St. I have driven past it many times, but after being asked to write about its upcoming expansion, I spent some time there.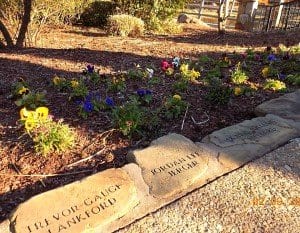 The park is owned by the City of Tyler, so it is a public facility, and maintained by the city. Its peaceful beauty is infectious, and it is a perfect setting for engagement and graduation photos. In fact, students have been known to use the space for their photography projects. People come here for weddings, birthdays, picnics, quiet time, reading, and most importantly, to celebrate the lives of all children.
If you do not know the story behind the park, you might be surprised to find out that a story which starts out so unbelievably sad could turn into something so beautiful and inspirational. Jennifer Carson lost her son Braden only hours before he should have been born. She sensed that something was wrong, but by the time she got to the hospital, it was too late.
Her tragic loss and healing process inspired her to found the Children Are a Gift Foundation (CAGF), which is responsible for building the park. Jennifer was kind enough to invite me into her home to discuss the park's expansion, as well as the foundation's mission.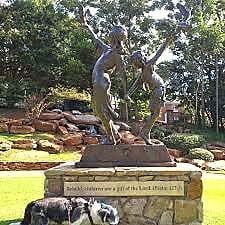 The landscaping of the original park is stunning. It includes several statues, flower gardens, a butterfly garden, two waterfalls, a pond, rocked paths, and many other features. You may remember the story of Megan Leann Holden, who was abducted from a Wal-Mart parking lot in 2005. An anonymous donor funded one of the waterfalls in her honor. It is called Megan's Falls.
The CAGF purchased the land after making sure that the city would receive it as a gift. When the original park was completed in 2004, the foundation donated it to the City of Tyler.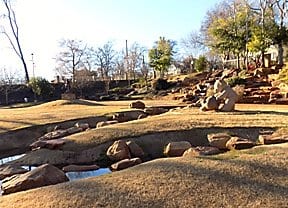 After the original park was completed, the people involved in the foundation realized that they had not anticipated all of the reasons that people would use the park. Many people wanted to have weddings and other large events at the park, but there was no indoor facility to accommodate large groups, nor was there a large, flat surface on which to place chairs.
When Carson's mother-in-law was in the hospital, she visited the park, and realized that there was no secluded section of the park for a more intimate experience. She envisioned a space for meeting the needs of someone seeking a quiet place to spend their time.
The planned expansion includes a prayer and meditation garden, as well as facilities for large groups. There will be an additional bridge over the water flowing through the park, and more rock paths.
The house on the property is called Alison's House in memory of Alison Joy Baker, the daughter of C.C. and Brenda Baker. The foundation has used it for office space in the past, but it has been remodeled to accommodate groups. A deck is being built behind the house for outdoor events, and there will also be a large lawn space leading down to the water. Bathroom facilities are also being constructed.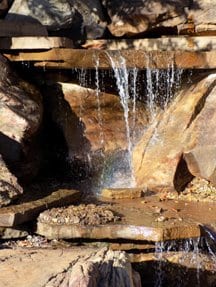 The lawn space will be able to accommodate 300 people, and roughly 25 people can be seated inside Alison's House, although the deck extends that number to about 80. This should meet the needs of anyone looking to host a wedding, birthday party, business lunch, and more.
The CAGF has also partnered with the Women's Building, located on the other side of S. Broadway, to allow for outdoor weddings and an additional venue for large receptions. If the weather does not cooperate for outdoor weddings, they can be moved across the street as well.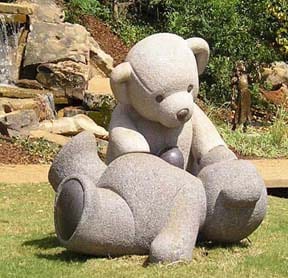 It should be noted that the spaces can be rented, but the remaining details are the responsibility of those hosting each event. Beer and wine will be allowed at event spaces, but not in the main park area. If beer and wine are served, the host will be required to provide a security guard. The main park is, after all, primarily a place devoted to children.
The house, deck, and lawn areas must be rented for events. While the main park area is free to the public, if you want priority for your function, you should go ahead and rent the space. Once the expansion project is completed, several renting options will be available.
The CAFG has raised $800,000 to cover the cost of the expansion. The City of Tyler has donated $127,500 to the project, and will maintain the property upon completion. The foundation will retain ownership of Alison's House, and the city will own everything else. In other words, the CAGF will maintain the inside of the house, and the City of Tyler will maintain everything on the outside.
The CAGF hosts three annual events in the park. The Teddy Bear picnic is held in April (April 19th this year). Families are encouraged to bring a picnic lunch. Children are invited to bring their favorite teddy bears to the event. Several booths are set up for things like face painting, and flower planting. There is no playground equipment, but children have the opportunity to explore and discover the joy of playing in nature. There is no cost to attend the picnic, but $1 donations are appreciated.
The Day of Remembrance is held in October. This event is for anyone who has lost a child. There are usually about 100 children represented with approximately 300-350 people in attendance. The foundation also hosts a Christmas event.
Another integral part of the foundation is Glory Babies, which is a support group for those who have lost an infant during pregnancy, or within the first year of its life. The group provides an opportunity for people to share their stories, and express their feelings. The group meets monthly at Alison's House. The CAGF provides Glory Babies brochures to doctors and funeral homes in the area.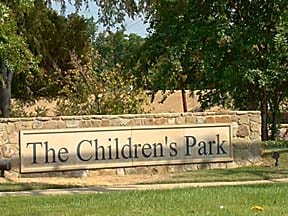 There are many opportunities to support the park and help fund the maintenance and expansion.. Wherever you see a name in the park, a donation has been made. In addition to being engraved into larger items, stones located along the rock paths are also etched with names. There are over 500 names located throughout the park, but not all of the names represent children who have died. The park celebrates the lives of all children, too. You can have a child's name put on a stone for a $250 donation.
Other opportunities include a tree planting with a bronze plaque for a $2500 donation, or you can become a Friend of the Park ($100 – $999), a Major Donor ($1000 or above), or a Founding Father ($100, $200, or $300). This echoes the donation drive for Phase 1 of the park, which included Founding Mothers instead of Founding Fathers.
Donor's names will be listed on new plaques in the park, and Founding Fathers' names will be listed as individuals. A Friend of the Park could be listed as an individual, a couple, a business, or anything the donor wants it to be, and Major Donors can be listed as they wish.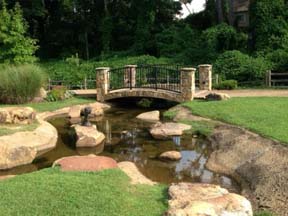 The CAGF is a non-profit organization that does business as the Children's Park of Tyler. The reason for this is to avoid confusion. The foundation has no connection to the Children Are a Gift segment on CBS 19 (KYTX).
MHS Planning and Design, owned by Mark Spencer, has done all of the landscaping for the park. Spencer has been involved in the project from the beginning. After learning what the space was to be used for, he hit the ground running, and the foundation could not be more pleased with the results. Among other things, the park was designed as a place for taking portraits. CAGF receives Christmas cards from people who had their photos taken in the park, and they see business pictures with the park as a backdrop in magazines.
The Children Are a Gift Foundation is a faith-based, non-profit organization, though it is not affiliated with any particular church. For more information, please visit their website at www.childrensparktyler.com.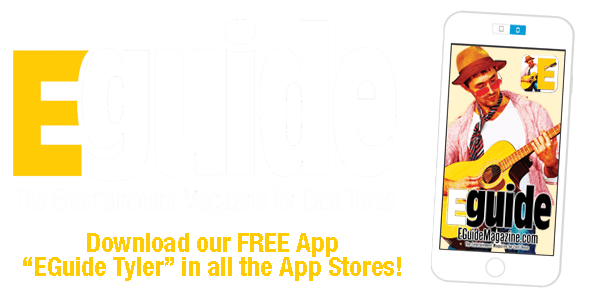 Art in the Garden April 28th at the Rose Garden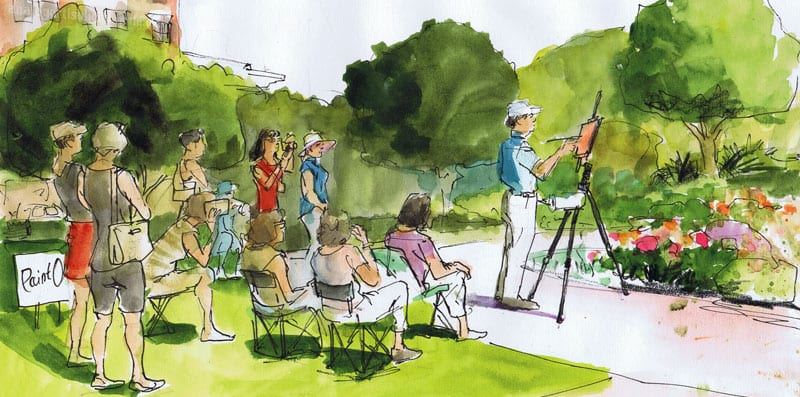 April 28th (11am-2pm) – 12th Annual Art in the Garde
n
The Tyler Parks and Recreation Department invites you to come paint or draw with us in the Tyler Rose Garden, 420 Rose Park Dr., Tyler.
Join local artists of all ages to paint. Bring your paints, any medium (paper or canvas) and an easel and create a masterpiece. Non-painters are welcome to view the garden and the artists at work.
A display of artwork will be shown in the exhibit area.
This is free to the public. Light refreshments will be served in the Rose Garden Center.
Art instructors are welcome to bring their students of any age.
For more info call (903)531-1214.
April 21st: Lead the Way 5K and more Upcoming Races

To be listed here is free! Send us info for your event go HERE.
To add a walk, run, or biking event, please send to, eguidemagazine@gmail.com. It is always free to list any event.
April 21st – Lead the Way 5K – Bring the whole family and come out and support our area schools. Register at tylerisd.org. This will begin at 8am and be held at Dr. Bryan C Jack Elementary, 1900 Balsam Gap Rd., Tyler.
April 28th – Diva Du will be held in Tyler. This beginner-friendly race now has an added distance for those seeking more of a challenge as well as a 5K option for those who still want to enjoy the Diva treatment without the full duathlon commitment. For more info go to facebook.com/thedivadu.
April 28th – Tyler Rose City Miracle Run – Run for the kids who can't. Run for the kids in your life. Run to make miracles. Simply lacing up your shoes and participating in the 2018 Tyler Rose City Miracle Run can help make miracles for the sick and injured kids of Northeast Texas. This will be held at Rose Rudman Park, Tyler starting at 8am. Register at localraces.com.
May 12th – 2018 Komen Tyler Race for the Cure® – Save the date for the 20th Anniversary of the Susan G. Komen Tyler Race for the Cure. At 7am, the Survivor Celebration opens. 8am, the Kids Dash begins. 9am, the 5k starts. This annual event raises funds for the breast cancer movement, thanks to supporters and survivors who step up and take action by fundraising for the cause. This will start at Bergfeld Park, 1501 S. Broadway, Tyler. To register go to komenectx.org.
July 4th – Freedom Fighter 5K will be held at Bergfeld Park. Registration is currently open at secure.getmeregistered.com/get_information.php?event_id=128684.
September 22nd – Pineywoods Ultra – Run through deep East Texas pine forests on a scenic course underneath towering pines. This diverse, single track course, almost entirely underneath a canopy of 100-foot tall pine timber, will keep you captivated as you navigate rolling hills through rooty and pine needle conditioned trails. Enjoy a post race refreshing swim in the 64-acre spring-fed lake while you rest and recover. As home to the forest race in our eco series, you won't want to miss this unique chance to run with deer through the deep piney wood forests of Eastern Texas. This is a 5k, 10k, 25k, 50k, and 100k. Wind through deep green pine forests on rooty single track while chasing deer and other wildlife. Enjoy the dizzying and majestic pine canopy above as you are shaded on your adventure. Register at ultraexpeditions.com/thepineywoodsultra 
September 29th – ZERO Prostate Cancer Run/Walk features a 5K run/walk, 1 mile walk, Kids' Superhero Dash for Dad, and virtual Snooze for Dudes program. ZERO is proud to partner with Urology Tyler, PA to end prostate cancer. Stick around for the family-friendly post-race celebration. Run/walk participants will receive tech shirts, free food and prizes, and the opportunity to connect with others who are impacted by prostate cancer. To register, go to support.zerocancer.org.
October 13th – 2018 Corkscrew Half will be held at Kiepersol Winery, 3933 FM 344 in Bullard. Register by e-mailing itri365meredith@gmail.com.
December 2nd – 2018 Tyler Half Marathon & 5K – This event will give athletes a tour unlike any other through the Rose City of Tyler, Texas. The event will start and finish from TB Butler Fountain Square in the center of downtown Tyler, Texas. More information can be found at tylerhalf.events and be sure to follow The Tyler Half Marathon & 5K on facebook.com/events/1565352873583566/
TJC Art Fest: This Week, Bell Tower Arts Journal" Launch Party, International Day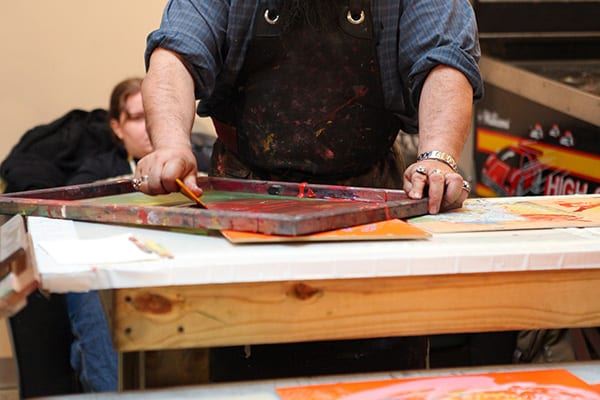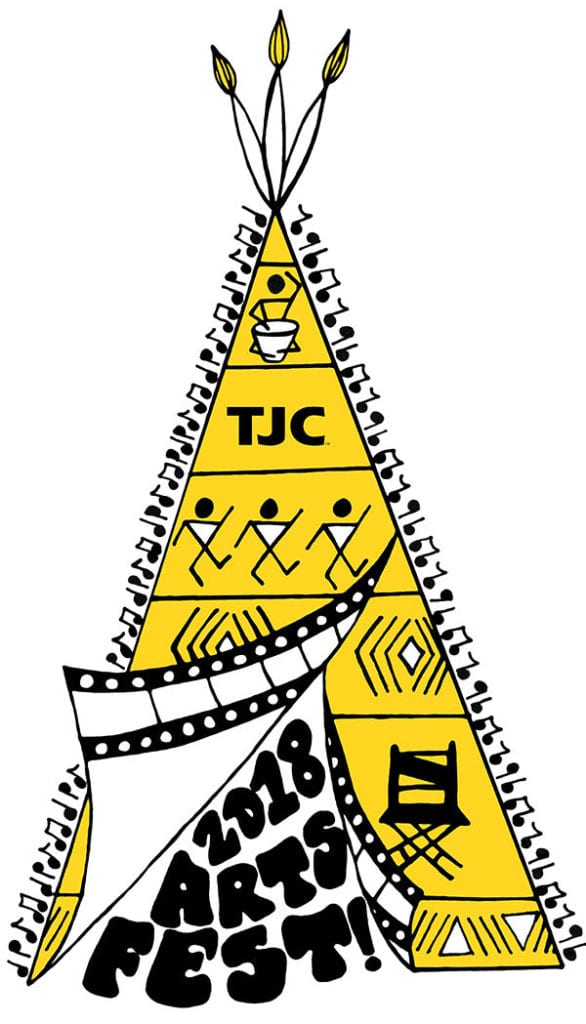 Tyler Junior College, the Tyler Museum of Art and others, are once again offering a spring arts festival packed with tons of events and performances. The TJC April Arts Festival will be collaborating with the Tyler Museum of Art the entire month of April.
The festival is a celebration of the dynamic arts programs at Tyler Junior College. These programs provide rich learning experiences. This event is a collaboration of The Bell Tower Arts Journal, International Day, the Tyler Museum of Art, and the Art, Music, Theater, Speech, Dance, and Visual Communications departments. Back again, the local CBS 19 will be supporting media underwriting.
The Annual Arts Festival germinated from the notion of Dr. Linda Gary (TJC Dean of Humanities, Communications and Fine Arts) a few years ago. Dr. Gary's original thoughts of the festival bloomed from her idea of outstretching the outstanding activities that the multiple departments at the college conduct and coordinate. Why not share the greatness? There are some entertaining, cultural, enlightening events taking place at the upcoming festival. Find the ones you are interested in, check them all out, and reconnect to one of Tyler's trademarks and come celebrate the arts.
2018 April Art Festival events include:
On view all of April – "Sticks and Stones: Works by Helen Altman" and the 14th Annual High School Art Exhibits will be at the Tyler Museum of Art all month. For more info, go to

tylermuseum.org

.

April 2nd-27th – A Visual Communications Exhibition will be displayed in the Pirtle Technology Building, Pirtle Phase 4.

Through April 25th – The Amazing Hancock Brothers will be on exhibit at the TJC Wise Auditorium Art Gallery.

Through April 27th – East Texas CARES Food Pantry is hosting a Food Drive, sponsored by The Art Club. Donations may be dropped off in the Jenkins Hall Art Department Lobby.
---
April 16th (2pm) – "The Bell Tower Arts Journal" Launch Party will be held in the TJC Jenkins Hall Art Department Lobby. The unveiling of the latest edition of "The Bell Tower Arts Journal" includes selected artwork, poetry and prose from students.

April 17th (9am-5pm) – TJC's Annual International Day celebrates diversity and worldwide cultures with an amazing lineup of events and activities in the Apache Rooms of the Rogers Student Center.

April 17th (10am) – Distinguished Lecture Series: Hearing Each Other: Tolerance & Interfaith Dialogue will be held in the Wise Auditorium.

April 17th (7:30pm) – Wind Ensembles and Symphonic Band will be in concert in Wise Auditorium. Come enjoy an evening of great music performed by students in the TJC Percussion Ensembles and Symphonic Band. Free admission.

April 18th (12 noon) – Coffee House: Chamber Singers will perform at Tyler Museum of Art in the lobby.

April 18th (5:30pm) – Forensics (Speech and Debate) Team Showcase will be held in the Jean Browne Theatre.

April 20th (1pm) – Student Recital Series will be held in the TJC Jean Browne Theatre.

April 23rd (3pm) – The Student Film Festival be be held in the TJC Apache Rooms. a

April 23rd (3pm) – "Be An Anchor" will be held in the Newsroom, Potter 203.

April 24th (10am) – Rock the Garden games and activities will be held in the TJC Genecov Garden area.

April 24th (3pm) – Azerbaijani Music Concert & Workshop will be held in the TJC Apache Rooms.

April 24th (7:30pm) – Spring Choral Concert will be presented in the TJC Wise Auditorium.

April 25th (12 noon) – THUNDERDOME Art Competition will take place where there is only one winner – all the other entries will be destroyed by the annihilator. BYOT (Bring your own tears) to Jenkins Courtyard. Special guests will be the Amazing Hancock Brothers!

April 25th (2pm) – Amazing Hancock Brothers Printmaking demonstration will be held in the TJC Jenkins Hall Art Department Lobby.

April 25th (12 noon) – Coffee House: Faculty Recital will be performed in the Tyler Museum of Art Lobby. Concert and museum admission is free.

April 25th-28th (7:30pm) and April 28th (2pm) – "Hamlet" will be presented in the TJC Jean Browne Theatre.

April 25th (7:30pm) – TJC Jazz Ensembles will perform in the Wise Auditorium.

April 27th – The Performance Grant Student Showcase Art Exhibition will on display in the Wise Auditorium Art Gallery.
Most events are free to attend and everyone is welcome. There is something for everyone offered during this month-long festival. Find the events, exhibits and performances you are interested in and come enjoy. It really is the best ticket in town!
Tyler Junior College is located at 1400 E. Fifth St., Tyler. The Tyler Junior College Wise Auditorium Fine Arts Building and TJC's Jean Browne Theatre in the Wise Cultural Arts Building are located near South Mahon Ave. across from the Tyler Museum of Art. More info can be found at tjc.edu/artsfestival or call (903)510-2200.