By Gini Rainey
This is that day in June that is set aside to honor the paternal influence in our lives.  While I honestly feel we should honor and respect our parents every day of the year, it really is nice to set aside a special time to show them our love.  Whether you've had a good or not so good relationship with your father, it sure doesn't hurt to take the time to reflect on that relationship, and if your dad is still living you have the time to improve that bond.  If your dad is no longer with you, take a few moments – or even longer – to sort out your feelings and
remember the good times and try to move past the not so good ones.
My father died when I was eleven, and while the time together was painfully short, I am blessed with so many good thoughts of him that my sister says I've made a saint out of him.  When I remember my dad, I think about an incredibly musically gifted guy, who tended to do some pretty goofy things that would make me laugh.  Maybe that was his job – to help me find the humor in life and living – because I try to find humor in just about everything.
My Dad owned a tavern in Moorhead, Minnesota, and while he might not have been
around the house a whole lot in the evenings and on Sundays, he made up for it in so many ways.  He love to fish, and on his days off in the summer, we would load up the old '49 Ford and head to a lake where he could wet his line, his whistle, and spend time with his girls – my mom, my sister, and me.  Dad was a gagster, and he was always looking for a way to make people laugh, while embarrassing my mother along the way.  He loved to sit at the piano, play a little boogie woogie or jazz and fill the house up with music.  There wasn't an instrument he couldn't play. He was kind, gentle, and loving and took care of his family the best he knew how.  Even though we didn't have much money, we never went without.  And yes, I probably have made a saint out of him, but what a blessing it is to reflect on the good and forget the bad.
Another thing that Dad loved to do was crank up the old barbeque grill and cook outside.  Although he didn't explore much more than hot dogs and hamburgers, there was nothing
better than sitting out in the back yard and watching dad flip those patties.  So, in honor of my Dad, I am taking a look at the Better Homes and Gardens All-Time Favorite Barbecue Recipes, and while the art of BBQ has advanced considerably since Dad was around, this book can give you the low-down on some good, old fashioned outdoor cooking.  What is it about dads and BBQing?  As I write this, my husband is smacking down some ground chuck into patties that he will flip on the grill later today!
Part of a series created by Better Homes and Gardens Books and published in 1977, this skinny little book has a bunch of great grilling and smoking recipes.  Complete with a chart
of grilling temperatures and times, if you've not tried outdoor grilling, this book would definitely be an asset to your collection if you are looking for the basics.  It covers everything from beef, ham, pork, poultry, fish and seafood to recipes for sides to go along with your meat.  If you like to marinade your meat before grilling, there are several recipes that will make you a star in the backyard!  If your standard fair for the grill has been hamburgers and hotdogs, you might want to branch out and try your luck with a Lemon-Marinated Chuck Roast, an Onion-Stuffed Steak, or a Steak and Shrimp Kabob Dinner.  I'm telling you, why heat up your kitchen this summer when you can get dad to fire up the grill!
One of my favorite recipes happens to be Chicken Teriyaki.  It's delicious and easy – win – win!  Start out with 4 skinless chicken breast halves and cut in half again, then put them in a 9×12 glass pan.  Then mix together ½ cup brown sugar, ½ cup soy sauce (I use Kikkoman because it isn't as salty as other brands), and 1 teaspoon of garlic powder and pour it over the chicken breasts.  Cover the dish with plastic wrap and put in the refrigerator for a couple of hours, turning the breasts every half hour or so.  Reserve the marinade and then grill them over medium heat for 20-25 minutes, basting frequently with the reserved marinade.  Served with grilled corn on the cob and summer squash, you've got one heck of good summer time meal that's incredibly easy and yummy.  Oh, and by the way, if you still can, invite your dad over to enjoy it with you.  You won't regret it.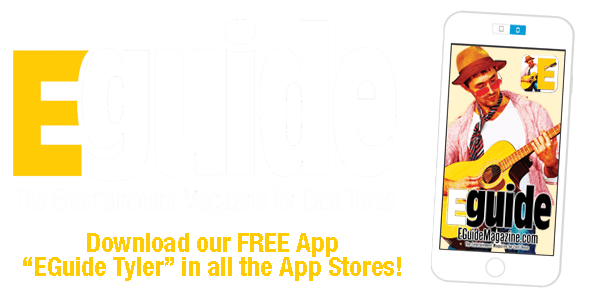 May 19th: Book Signing for Patricia Taylor Wells at Tyler Public Library

Book Signing for Patricia Taylor Wells & Makerspace
At The Library
The Tyler Public Library is located at 201 S. College Ave., Tyler. For more info call (903)593-7323 or go to tylerlibrary.com.
Children
All storytimes will be in Taylor Auditorium.
Leeme un Cuento/Read to Me Storytime (children 3-6 years old), Mondays at 10:30am

Lap & Play Time (babies up to 18 months) features stories, songs, and playtime with developmental toys at 9:30am every Wednesday

Toddler Explore Storytime (children under age 3) is on Wednesdays at 10:30am

Read Aloud Crowd Storytime (children 3-6 years old), Thursdays at 10:30am
May 5th (2-4pm) – LEGO® Block Party –
Children ages 3 and up, bring your imagination for an afternoon of building and playing! LEGO
®
and Duplo Blocks are provided.
May 26th (2-4pm) – Makerspace –
This continuing STEM education for children and teens will feature May 12th: Drawing with Finch™ Robots and May 26th: Maze Challenge with Finch™ Robots.
May 19th (10:30am) – Family Movie Matinees –
Families are invited to watch fun feature-length films in the library's auditorium. A different movie will be shown each day. Pillows, blankets, and carpet friendly snacks welcome.
Teens
Every Tuesday (4:30-5:30pm) – Teen Tuesdays –
If you are in Middle School or High School you're in! The Library will have games, activities, and fun just for teens. Earn volunteer hours completing special projects. Descriptions for weekly activities can be found at library.cityoftyler.org/Programs/Teens. Events are:
May 1st: Free Play with Finch™ Robots

May 8th: Dancing with Finch™ Robots

May 15th: Battle Bots with Finch™ Robots

May 22nd: Scavenger Hunt
Adults
May 5th (10am-12 noon) – EastSide Fiber Artists –
An open gathering of all things fiber. Whether you quilt, knit, crochet, weave, spin, needle felt, etc. Bring your current or completed project and make some new friends.
May 11th (11:30am) – "Sex in the Garden, All About Propagation"
with Debbie Watkins will be presented as part of the Smith County Master Gardener Series.
May 17th (5pm) – Reel Talk –
This event is like a book-club, but for movies! Free to attend.
May 18th (1-3pm) – Veteran's Movie –
Join this biweekly screening of movies presented especially for veterans. This free event is held the first and third Friday every month.
May 19th (10am-3pm) – Book Signing for Patricia Taylor Wells – Local Author Patricia Taylor Wells will be selling copies of her new memoir, "Mademoíselle Renoír à París."
May 29th (10am) – Club Read –
Join the Club Read group in discussing this month's read, "News of the World" by Paulette Jiles.
Every Tuesday (10am-1pm) – Quilting Class –
Learn the art of quilting at the Library. Fabric and quilt patterns will be provided. Participants are asked to provide their own sewing machines, if you have them, plus scissors, and neutral or white thread. For details and a complete list of supplies please contact the Library's information desk.
Every Tuesday (5:30-6:30pm) – Evening Meditation –
Learn the practice of Heartfulness Meditation with Gayathri Kambhampati.
Every Wednesday (5:30pm) – Gentle Yoga –
This gentle yoga class will be taught by Meagan Vrba who is certified in yoga, CPR, and first aid.
Every Saturday (11am-12 noon) – Crochet Classes will be held in the 3rd floor Internet Center Workroom. These are free classes. Learn to crochet with Library staff and volunteers. All materials are provided. All experience levels are welcome.
Get Prepared for Summer! Here's Your 2018 Summer Reading List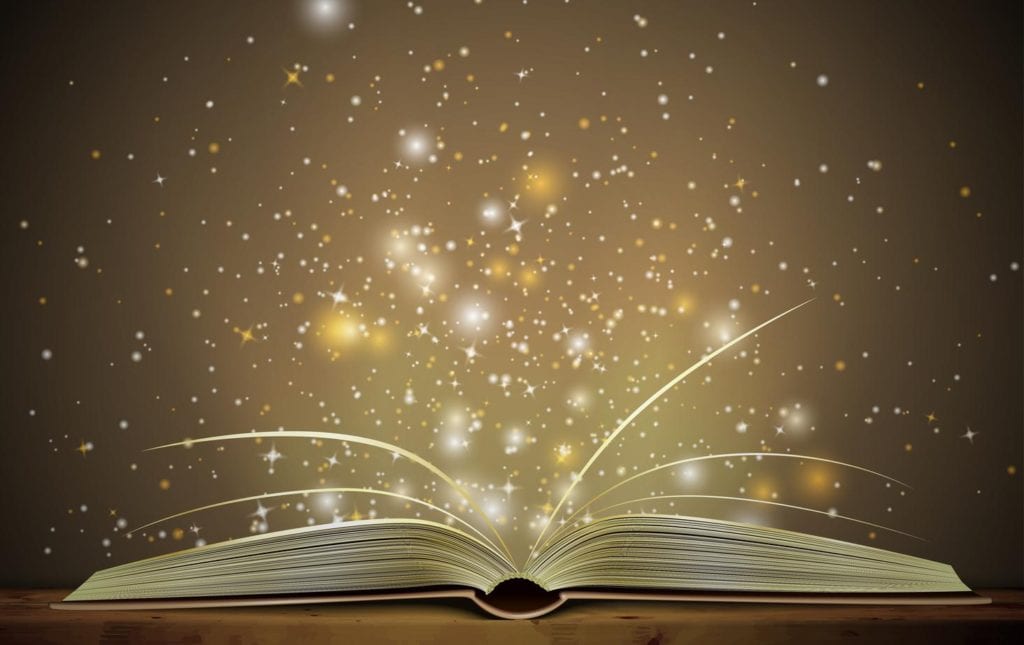 What's on Your Reading List for Summer?
By Gini Rainey
"Little Fires Everywhere" by Celeste Ng
If you are interested in reading a book that has won nearly every award out there, then this is a must-read for you. Scheduled to be a series next season on Hulu, this page-turner follows the perfect-on-the-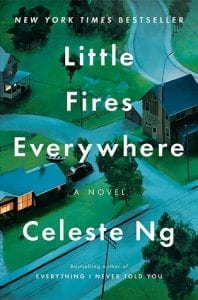 outside family as their life is shattered by a nomadic artist and her daughter who land in their neighborhood.
Written by the same author of Everything I Never Told You, Ng doesn't disappoint in the building of three-dimensional characters who can hold their own in the real world. With opposing family values creating social conflict after social conflict, this book is simply a book of contrasting human characteristics. While the topics of conflict were introduced gently, there is nothing gentle about the impact of they had on both families.
Although this book started out slow, it wasn't long before it turned into a can't-put-down page-turner. I found that I couldn't read this book without feeling anger, sympathy, joy, worry, hope, and loss. Little Fires Everywhere might be a fast read, but it is definitely an emotional roller coaster, so get ready for an excellent literary ride.
Rating: 5 of 5, Copyright 2017 – Penguin Books
"The Book of God: The Bible as a Novel" by Walter Wangerin, Jr.
If you're anything like me, reading the Bible straight through is nearly impossible. Studying individual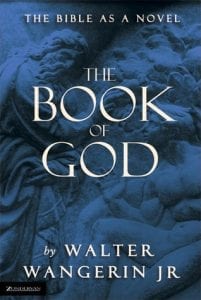 verses on my own time is easier, but leaves a lot to be desired as far as any kind of continuity. The Book of God was recommended to me by one of my pastors a few years ago as a means to provide me with a greater understanding of the Bible. Written in novel form, Wangerin helps to make the ancient men, women, and events come alive with vivid detail and dialogue.
I will admit that even though I love the language used in the King James Version, there are times when the lilting phrases make it difficult to comprehend and focus on the core messages. One of the greater bonuses gained by reading this version is the flow of the stories, especially when reading the Old Testament.
With this book, Wangerin has provided Christians and non-believers a better understanding of the history of the Bible in addition to the many translations and paraphrases of the Bible that are already available. He has taken what historians know about the lives of people in Biblical times and woven it with the historical books of the Bible and provided us with a new and intrinsic way to view the people of the Old and New Testaments.
Rating: 5 of 5, Copyright 1998 – Zondervan
"The Unmasking of Dr. Harrison Miller Moseley" by Stella Brooks
Are you a WWII history buff? How 'bout a Texas high school football fan? Are you interested in an aspect of Ft. Worth's Depression-era history?
If any or all of those topics catch your eye, you will get your money's worth of stories from the book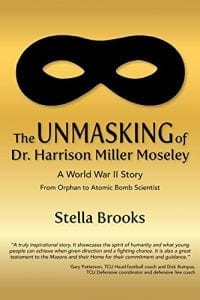 "The Unmasking of Dr. Harrison Miller Moseley" by Stella Brooks. It offers such unique nuggets of Texas and WWII history that has yet to be addressed.
Author Stella Brooks, in her first published work, achieves an informing and warm balance between biographical facts and connecting the reader to the characters.Similar to non-fiction biographies, this book is written in third person. The author does a great job connecting the reader with Miller's thoughts and emotions allowing the reader to watch the story unfold before their eyes.
It is obvious to any reader that this book was well researched and that much of the information was provided to the author through her first hand interviews with Dr. Moseley and his "brothers" from the Masonic Home. By the time the last page is read, it is clear this story was told not only with paper, pen and ink, but also with heart. It is a true account of Miller's life that could not be told in any other way.
From the author Stella Brooks, "His wife forewarned me that he had never discussed his life. He had given small morsels of information, but nothing more. But it was one of those small morsels that had me intrigued. I knew there had to be more to this man. Something was missing Expecting the same resistance, I knocked on his door. He must have felt instant trust because he spilled everything. Miller's wife said 'Stella, You have the magic key. Miller has never told anyone about his past, not even me.' Those close to Miller echoed the same. It was a miracle indeed. This book is a lifetime of silence unmasked. I will always cherish our friendship."
"The Unmasking of Dr. Harrison Miller Moseley" is a gripping story of faith, dedication, perseverance, and overcoming adversities in order to achieve greatness.
Rating: 5 of 5, Self Published

Barnes & Noble Booksellers, Story Times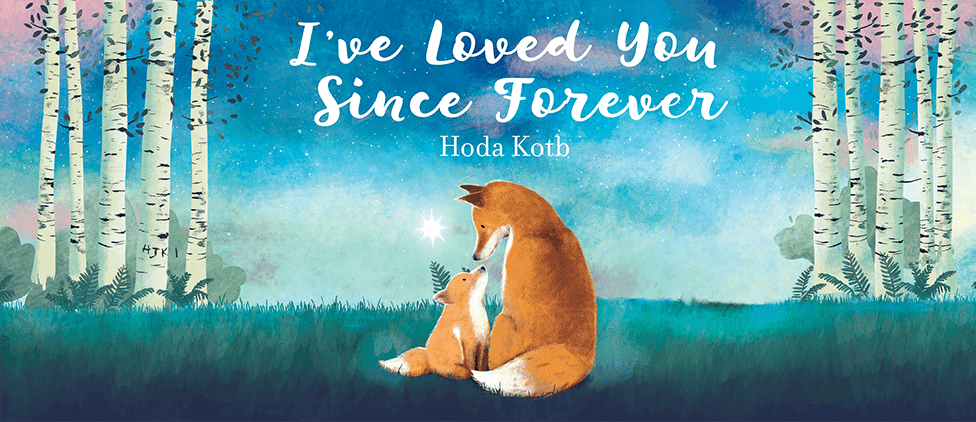 [dfads params='groups=110&limit=1&orderby=random&container_html=center'
Barnes & Noble Booksellers Story Times
Every month Barnes & Noble (B&N) has a variety of events. All events are free to attend. B&N Booksellers is located at 4916 S. Broadway, Tyler. For more info on this and other events call (903)534-3996 or go to barnesandnoble.com.
April 28th (11am) – "Scientist, Scientist, Who Do You See?" Storytime – Full of rhyming fun, "Scientist, Scientist, Who Do You See?" features appearances by some of the world's greatest scientists. Young readers will enjoy learning about scientists and how they changed the world.

May 5th (11am) – "Llama Llama Loves to Read" Storytime – Llama Llama is becoming a reader and can't wait to show his mother everything he's learned. Join this storytime and activities featuring this beloved character.

May 12th (11am) – Mother's Day Storytime featuring "I've Loved You Since Forever" and "Everything Is Mama" – Join this special Mother's Day storytime featuring books by bestselling authors Hoda Kotb and Jimmy Fallon. Activities to follow.

May 19th (11am) – "Fancy Nancy and the Wedding of the Century" Storytime – Join this storytime and activities in celebration of the Royal Wedding. In this wonderful book about weddings big and small, Fancy Nancy helps out the bride and attends a fabulous party.

May 26th (11am) – "An Elephant & Piggie Biggie!" Storytime – Elephant & Piggie are back to celebrate 10 years of friendship in this special collection featuring five classic Elephant & Piggie stories. Join this storytime with activities to follow.