By Gini Rainey
Many, many years ago – almost in a land before time – I was blessed with a god son who faced a lifetime of challenges.  My god son, Jason, was born with multiple birth defects and it was then that the March of Dimes became a significant part of all of our lives.

This spunky little guy was named the State Poster Child of Texas, and as a result, I was fortunate enough to meet so many great people that were all united in one common cause – the prevention of birth defects.  Not only did his mother, my cousin Mara, and I join ranks with MOD, but Mara also fought the school system to insure that Jason was main-streamed into public school so that his incredible intelligence would be given every opportunity to thrive and grow.
Not only did Jason succeed at the high school level (with a huge amount of help from mom), but he also went on to obtain two bachelor's degrees (one in radio-television and one in mathematics) from Stephen F. Austin in Nacogdoches. Oh, and also a masters degree in mathematics.  This to me was an absolutely incredible accomplishment.  You see Jason was born with a condition that caused him to become blind by the time he finished elementary school.  Jason had just begun teaching at the Colorado School for the Blind, when a sudden illness caused his life to be cut short way too soon.
One of the things that I have from my time with March of Dimes, in addition to some incredible memories, is a cookbook that was put together by the Dallas Chapter of the March of Dimes in 1972.  "Cooking for Dimes" is a 265 page cookbook that not only has recipes that were contributed by volunteers of that chapter, but also from celebrities such as Mrs. Spiro Agnew, Mrs. Ben Barnes, Phyllis George, Mrs. Billy Graham, Helen Hayes, Mrs. Lyndon B. Johnson, Beverly Sills, Mrs. Barefoot Sanders, and Johnny Mathis, among others.
With all of the typical sections you'll find in just about any other cookbook, the recipes in this cookbook for appetizers, soups, breads, seafood, vegetables, desserts and casseroles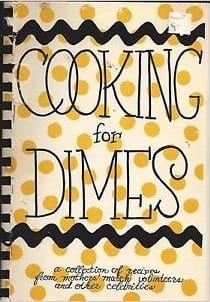 served more than the usual purpose of providing the purchaser with great recipes.  The funds that were raised by the sale of the book went towards research for helping to prevent low birth-weight babies and birth defects.
The March of Dimes will always hold a very special place in my heart, and I am still so grateful for the opportunity to work with them on their mission.  I'm also grateful that during the time that I was affiliated with MOD, my children were able to meet and love children their age that were learning to live with an intense joy despite having to overcome the stumbling blocks that life had placed in their way.  I like to think that perhaps my girls learned a whole lot of compassion and respect through their experiences, so that in their adult life, the people they meet who have had a more difficult time in life than they did, will be able to receive more compassion and understanding from them.
So, did you know that Mrs. Roger Staubach had a great recipe for Chicken in Wine?  What she did was skin and halve 4 chicken breasts.  Then she melted 2 sticks of butter and added 2 cups of room temperature white wine to the butter and stirred.  She then placed the chicken in a baking dish and poured the wine sauce over the chicken and baked for 1 to 1 1/2 hours at 350 degrees.  She then served the chicken over noodles or rice and poured the wine sauce reduction over all.  I would also add capers to the sauce reduction for an extra kick of flavor!  Note from me: always, always, always use a wine that you would drink to cook with – that way, the remainder of that bottle, after you pour out the 2 cups to cook with, will be lovely to drink while you are waiting for the dish to finish!