Edwin Holt & The Red Clay Roadhouse Band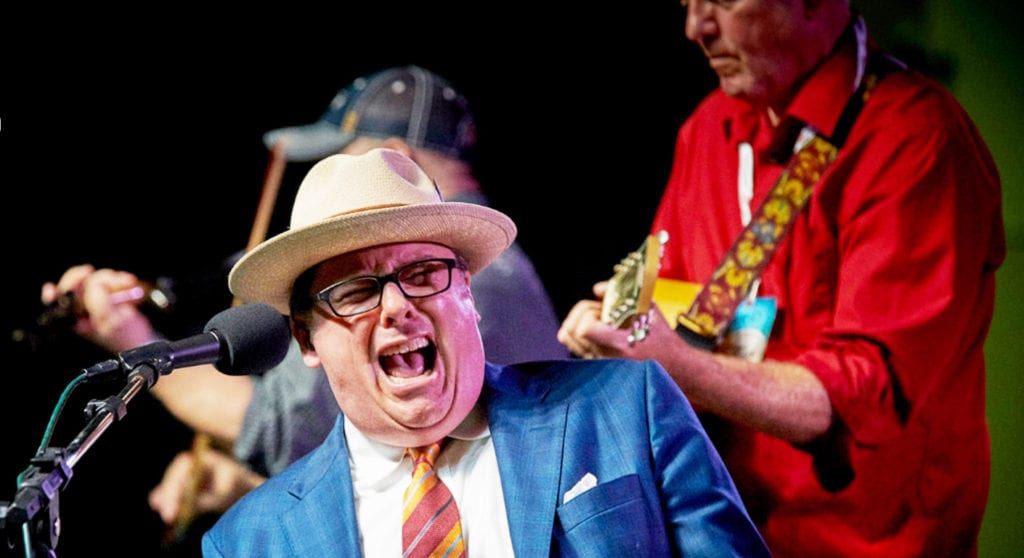 Still Feeling Blue After All These Years
By Johnny Griffith
Edwin Holt caught a mad case of the blues about 30 years ago, and it hasn't let go yet.
The East Texas native was a graduate of West Rusk where he spent most of his time around the band hall when he wasn't at home listening to his father's collection of 45's to the tune of Sam Cooke, Little Milton, and the like.
After high school, Holt sought to spread his wings and ended up at The University of Mississippi in Oxford, Mississippi. Here, he was exposed to music in a way he never had been before. Eventually finding his way to Dallas, Edwin would make his mark on the Blues Scene over the next several years playing with established acts.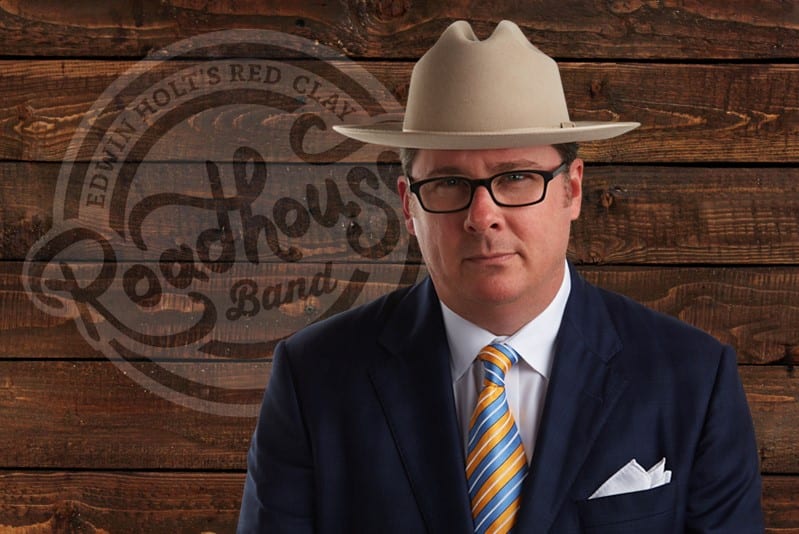 After earning the respect of his peers through years of gigs, Holt was eventually asked to take over Johnnie Winters' backing band after his death. Eventually Holt stepped away from touring to spend more time with family and focus more on his design firm right here in Tyler.
Fast forward to present day and Holt once again finds himself at the helm of a new group, The Red Clay Roadhouse, and this time the sound is probably the most unique blend he's every been a part of. We caught up to the blues man recently to get to know him better and get the scoop on his latest project.
Johnny: You've been in music for a long time, at last count I've got you more than 30 years in the business, but let's go back to the beginning. When did you first get the itch for music?
Edwin: The big "aha" moment for me was when two guys from Greenville, Mississippi would take me to see James Son Thomas perform in Oxford. James was the real deal, which would then turn into an introduction to the Mississippi Delta Blues Festival, an event that I attended for 13 years in a row and would finally headline three years in a row later on in life.
Johnny: East Texas has a deep, rich, musical history, but the blues has often taken a backseat to other genres. Mississippi, on the other hand, has the ghosts of blues legends around every corner. What was it that drew you into the blues when you went to Ole Miss and then later when you came back to TCU?
Edwin: I couldn't get out of the music scene long enough to actually attend class, which dented my grades. Frustrated with my lack of academic progress, my parents would pull me out of Oxford (Mississippi) and place me at Kilgore Junior College until I could get my grades up to attend TCU, but Mississippi was the turning point for me in blues music. I think East Texas has nurtured a number of great musicians, but historically they left for bigger and better things. Freddie King, George Jones, etc…
As far as drawing me into the blues at TCU, I missed Mississippi, and so I went looking for what I missed and found it deep in the depths of South Dallas. An entire subculture of music that exists underneath all the glitz and glamor of Dallas. This is the real turning point where I decided to take the plunge and begin establishing myself as a musician and performer. I would soon join an all black blues band and tour every juke joint within Texas and even Oklahoma.
Johnny: Who were some of your early influences as you were getting your start in and around Oxford, Mississippi?
Edwin: Again, the main figure would be James Son Thomas, but that all changed as I began to progress within the urban areas of Dallas. There's a transformation that the black blues world made from rural blues to soul blues. From the delta of Mississippi, I would soon evolve into the sounds of Johnnie Taylor, a much more soulful sound or slick blues as some folks refer to it.
Johnny: As you split time at TCU between class and a burgeoning musical career, how did your family react and were there ever any doubts in the early days that you'd made the wrong choice?
Edwin: I actually graduated from TCU with a degree in liberal arts, and I would go on splitting my time between a day job and a musical career; something that I still struggle with today. I tell people all the time that I don't know if music is a temptation, a distraction, or an opportunity. I've done well with my career as a designer, but I've struggled all my life between two loves.
Johnny: Obviously history proved you made the right choice, finding success while becoming a regular in the blues scene and playing with some of the legends in the business. With so many memorable gigs with legends in the genre, are you able to pick one show that just stands above the rest?
Edwin: The best moments never happen on stage. Shows are calculated and rehearsed. There are moments that happen on stage that are special, but a true moment happens unrehearsed and by the seat of your pants. That moment for me was during a funeral. Mary Collier, or Lady Princess as she was known, passed away when I was in my thirties or so. She was a mainstay in the south Dallas blues scene and the greatest unknown vocalist you've never heard. We performed together for 10 years or so before she would finally pass away. Every well known south Dallas blues artist attended the funeral. We all sat on the back row. Ernie Johnson, R.L. Griffin, Tutu Jones, Big Charles Young, and myself. During the service, Johnnie Taylor entered from the side carrying a folding chair then placing it in the center aisle in front of God and everyone, unfolded it, and sat down. While whispers and gasps of surprise riddled through the crowd, the preacher asked if Mr. Taylor would like to come up and say a few words. Johnnie then stood up, took the mic and began to sing, requesting a male chorus from the back row. We all stood up, went to the front, and backed him up while he sang gospel. One of the most amazing moments of my life and completely unplanned. I'll never forget it.
Johnny: Your career has had several twists and turns over the years, a major one of which was when the backing band for that very same Johnnie Taylor asked you to be the band leader after his death in 2000. Was that a call you were expecting and how did it feel to have to take on that mantle?
Edwin: It was a huge undertaking and meant a lot of rehearsals. I hate rehearsals. Horns, charts, timing had to be right on for all numbers. It's a ton of work for a big band due to the number of moving parts, but the impact is over the top. Some of the best little moments of absolute bliss happen during solo horn parts with a powerhouse of players pushing sound forward.
Johnny: Musicians aren't exactly famous for knowing when to walk away from a gig, especially a particularly sweet one, but you were able to successfully step away and focus that creative drive on your business for the sake of your family. When was the moment you knew it was time to come home?
Edwin: Like I said, the battle has never ended. I've been stepping back and forth over the line for thirty years. It's a struggle I'm sure I'll be dealing with until they put me in the ground.
Johnny: So as it turns out, music wasn't done with you, and a few years later you find yourself once again at the head of another band. This time, however, the big band sound has been traded in for something completely different. How did the idea for the Red Clay Roadhouse Band come about, and who are the members?
Edwin: What's interesting about this sound is that it showed up every year on a fishing trip. Each year, thirty close friends would leave the world behind and head to Uncertain, Texas for an annual fishing trip. I always had pickers show up, and we would jam around the campfire at night.
One year, my pickers out of Austin couldn't make it so I pulled in Cadillac Sky out of Fort Worth. I became close to two of their members. Ross Holmes on fiddle and Matt Menefee on banjo. Ross would soon hit the big time touring with Mumford and Sons. Between gigs with Bruce Hornsby, he called me and wanted to know if we could do something between shows. I really didn't know what we could do on stage, so I literally threw some songs on the table. Before we knew what was happening, a new sound was born in Tyler, Texas.
Johnny: The sound seems to me to be a unique blend of blues, bluegrass, roots, and Americana, thrown into a blender, mixed-up, and poured out on stage. How would you describe it?
Edwin: Yeah, that's it all right. Hard to define whatever is coming out of that blender, but it sure tastes good.
Johnny: With genres like Rock and Country dominating the gig landscape in this area, how has the reception been to what the Red Clay Roadhouse Band brings to a show?
Edwin: That has been the most interesting piece to this new sound. Most, if not all, of my followers are from the ages of 45-75. They are people that grew up listening to real music and long for something that's not made in a machine. I would like to think that we represent what's right in the music world. Real music that pulls from the soul.
Johnny: What is on the horizon for Edwin Holt and the Red Clay Roadhouse Band for 2017?
Edwin: Ha! Who knows. I'm taking this whole thing one day at a time. I've been doing it for so long that I've given up the idea of becoming famous. I just do what I do because I love making music. And if I can make someone happy with what I do on stage, then I'm all the better for it.
Johnny: If I'm a new fan looking to go to my first Red Clay Roadhouse Band concert, what can I expect?
Edwin: Food for the soul, my brother. So I hope you're hungry!
Upcoming Shows:
May 27th: Bright Star Theater, Texarkana, Texas
June 10th: Liberty Hall, Tyler, Texas
September 23rd: Big Truck Theatre, Taylor, Mississippi
For more info about Edwin Holt and Red Clay Roadhouse go to redclayroadhouse.com or find them on Facebook.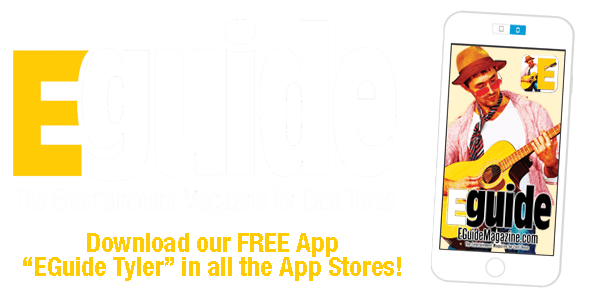 EGuide Magazine's Gig Guide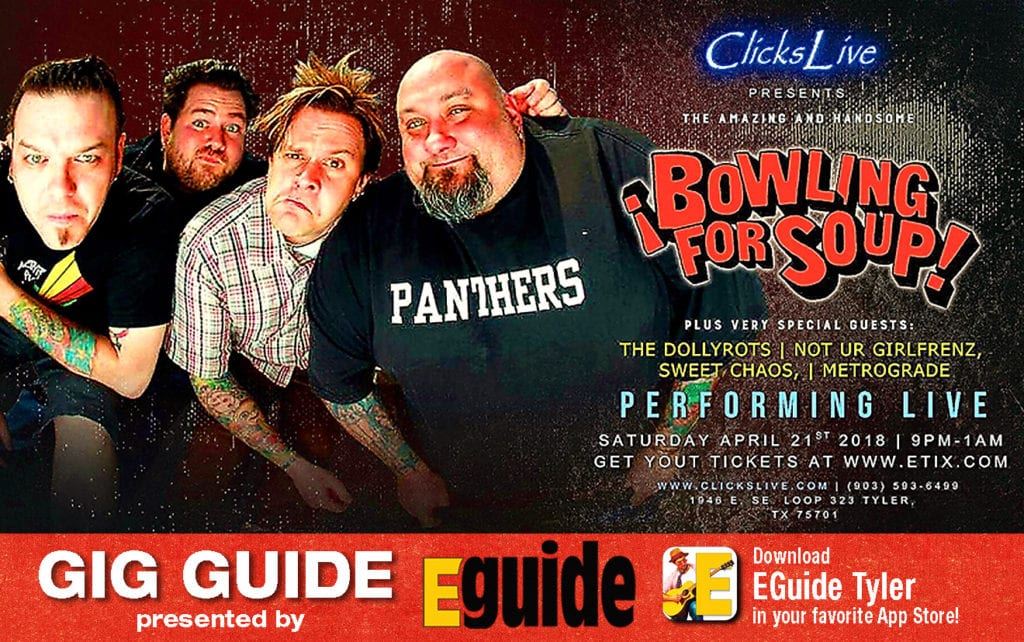 April 21st: Mouse and the Traps and Bowling for Soup
Upcoming Concerts
April 21st (8pm) – Mouse & The Traps – After more than 50 years together, Mouse & the Traps continue to be one of the best examples of "Texas Rock & Roll." Formed in Tyler, Texas in 1965, Mouse, Nardo, Dave & Larry continue to give the public just what they want – great rock and roll. Whether you remember "Public Execution," "Hit the Bricks," or not, Mouse & The Traps has something for everyone. Tickets are $20-$25.
April 21st – Bowling For Soup at Clicks Live (8pm) – American pop-punk band Bowling For Soup emerged in Wichita Falls, Texas in 1994, but have since relocated to Denton Texas. Tickets are on sale at the door for $19, and may be purchased in advance online for $15 at etix.com.

Blind Pursuit: Chasing Dreams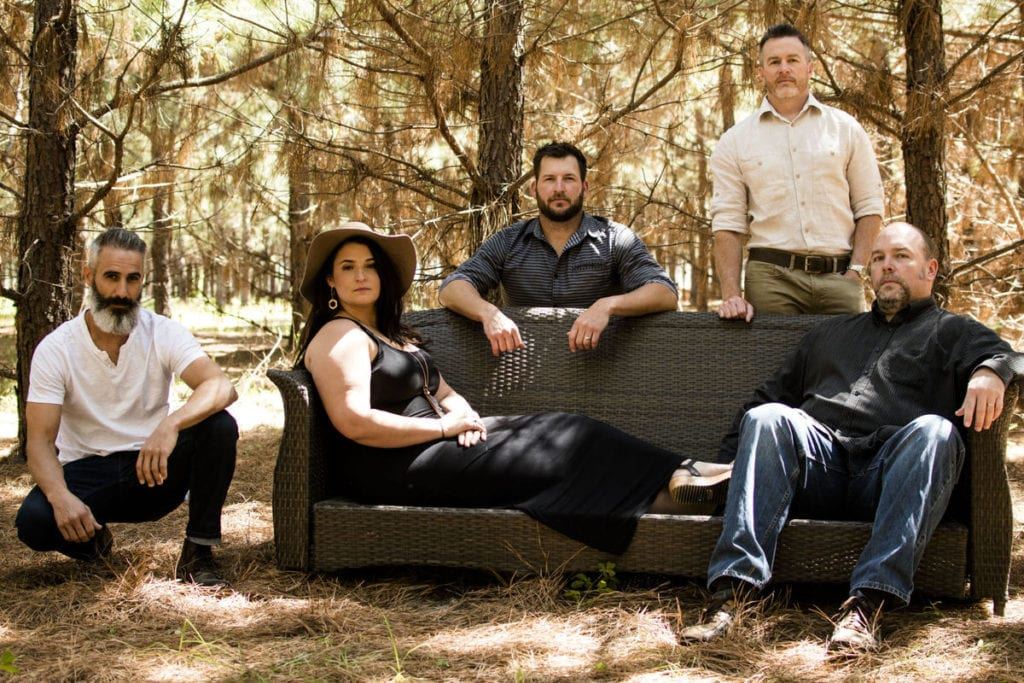 By Johnny Griffith
In science, there is a phenomenon known as the Butterfly Effect which states, that in a complex system, small changes in one place can have a larger effect elsewhere. This is best illustrated in the hypothetical example of a butterfly flapping its wings in Mexico and causing a hurricane in China.
A more practical example of this would be the formation of the band Blind Pursuit, based out of Palestine, Texas. An amalgamation of sound and styles brought to the table by each individual member, Blind Pursuit is the end result of five people from different backgrounds and geographical origins ending up in a small town in East Texas and magic happening.
Hailing from Southeast Louisiana, Maine, Cayuga, and Harmony, the odds of these five people interacting were astronomical, but small changes had large effects and Blind Pursuit has been a staple in the east Texas music scene for three years now. We recently tracked them down to get to know them just a little better.
Johnny: Blind Pursuit has been playing gigs around East Texas since 2015. What was the genesis of the band and what is the current line up?
Blind Pursuit: Our first show was February 28th, 2015 opening for our good friends Blacktop Mojo at Click's Live in Tyler.
Our current lineup includes Marc Mitchell on drums, Craig Jones on bass guitar, John Reed on lead guitar, Katie Reed with lead vocals, and Michael Jones on lead vocals and acoustic guitar.
Craig and Katie hail from Cayuga, Texas. John was raised right down the road in the Harmony Community just outside of Palestine. Marc migrated from the great state of Maine; and Mike spent most of his time about 45 minutes southwest of New Orleans, Louisiana. He has been in Texas since 1998 and spends his time filling in behind the bar at Pint & Barrel Drafthouse in Palestine, and working construction. He met John and Katie again in 2013. John and Katie own Reed Construction where John builds custom homes and Katie does interior design. Craig owns Oak Floor Supply in Tyler, Texas and Marc is in marketing and communications and sometimes moonlights at the Appleton Coffee House.
Johnny: How about the name – there's a lot to be said in that name. What does it mean to the band and where did the idea come from?
Blind Pursuit: The name Blind Pursuit stems from the belief that we are all pursuing something, whether it be chasing dreams, running after love, or following your passions; at some point, it takes a blind leap of faith to achieve something truly great. In all actuality, we started with the word 'Pursuit' and since we had no idea of how or where we were going or how to get there, 'Blind' seemed like the obvious choice.
Johnny: Blind Pursuit has a pretty eclectic mix of sounds in your catalog but how would you describe 'your' sound?
Blind Pursuit: Wow! That's a great question, one that we've been asking for quite some time. We play what we love. We are a varied group of musicians with different musical backgrounds and tastes, and we play what we would like to hear if we were sitting in the audience. Our own sound stems from songwriting, which is mainly done by our lead singer Michael, and so it definitely has a soulful, emotional style to it, and has a layered Indie rock feel. You can hear a little bit of our southern influences layered in as well as the obvious differences of having two lead vocalists. So if you wanted to pigeonhole us into a specific genre, I would say we fall into the Indie Rock genre, just because it encompasses such a wide variety of sounds and musical stylings.
Johnny: How much of your show is covers versus originals these days?
Blind Pursuit: After the release of our debut album "Offramp," we do about ¾ covers and the rest originals. New material is constantly being added and we hope to shift the number of originals to a larger segment of the show.
Johnny: About how many shows does the band try to play a month?
Blind Pursuit: We're currently averaging five shows a month but we are always looking to add to that.
Johnny: Are most of the gigs in the east Texas area or do you travel out of the area?
Blind Pursuit: The majority of our shows are in East Texas. We do travel to north and central Texas on occasion and we are hoping to broaden our travel radius this year.
Johnny: What are you most proud of as a band?
Blind Pursuit: Our album, without a doubt. We feel like it is such an outpouring of who we are and our evolution over the past couple years. It's like we have given birth to our own child. So much love, nurturing and hard work has gone into this project. Our resources and time have been singularly focused towards this and we could not be prouder of how it has turned out. We worked with so many great musicians and our Producer, Phillip Moseley was a great asset. They have been invaluable in helping us birth this album.
Johnny: What has been your favorite moment, on stage or off, as a group so far?
Blind Pursuit: I think it has been a thousand small moments of connection with our fans. We've heard stories where our songs touched someone going through a divorce, or something we sang really resonated with someone going through a tough time, and you just stop for a second after the mad rush and adrenaline goes away, and you think about how you're affecting people and the connections you're making. When we see people singing along with our songs, grabbing their person and dancing, when you see an emotional reaction – that's the good stuff, the reason we do what we do.
Johnny: What is in the works for the year?
Blind Pursuit: We've got another handful of songs and hopefully, that will translate into a new project as well. Whether the next step is an EP or a full-length album is yet to be determined.
Johnny: What's in the water down in Palestine, between Blind Pursuit, Blacktop Mojo, Kolby Cooper, and others… seems like Palestine has become a serious music town. What's your take on it?
Blind Pursuit: Every once in awhile, "magic" happens in the most unlikely of places. If you've seen the documentary on Muscle Shoals and the music that came out of that small studio in Alabama, then you kind of have insight into the madness behind the magic.
All these acts from Palestine are backed by the most awesome community of people who rally behind us and get the word out, grassroots style. The people here truly love music and they believe in us, or we wouldn't be able to do what we love. We have a connection, not only through the town we're from but through our producer and the studio we've all recorded at, Audioworx.
Johnny: What experience do you hope first timers will have at a Blind Pursuit show?
Blind Pursuit: Someone recently left a review on our Facebook page that sums it up perfectly: "Bet you will leave their concert feeling like your soul is a little more free than when you walked in." We hope that everyone will leave feeling a little lighter and a little more connected to their fellow man. In a world where we are bombarded with distractions, we hope people can come and reconnect and feel more human than when they came in. We hope the love and passion that we have for life and music can be felt and translates well to concert goers.
Blind Pursuit can be found at facebook.com/Blindpursuit and blindpursuit.com.