El Guapo Records and the Vinyl Revival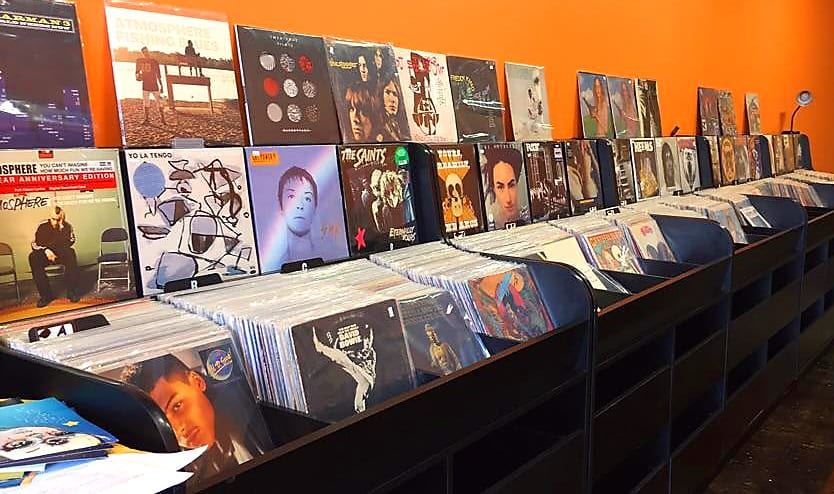 How Music Got Its Groove Back
By Daniel Poe
"Saturday you'd hop on your bike and meet up with your buds, or we'd hop in the car once we could drive and spend all day between the guitar shop and the record store. You pick up the newest wax from whatever band you're into lately and wear it out learning new licks from Page or Billy (Gibbons) or Jeff Beck. That was it, man. If you could manage that, it was a good day."
This was the sort of trip my Dad would take me on when I asked him about growing up in Abilene, Texas. Born in '56, he was "there" for the hallowed era of what we now call Classic Rock. Discussing it has always been a communion between us for as long as I could remember, usually stemming from something coming on the radio or whoever was on the cover of the latest "Guitar World" magazine he was poring over. Sometimes I'd wander into his room to see him with his giant can headphones plugged into the receiver, spinning records to unwind from a long day. These occasions were perhaps my favorite and the most special. His eyes would brighten, and he'd flash a smile or a silly face to acknowledge me, and I would sit patiently while he finished his song. I would soak in every detail and can still remember each sensation – the light shimmering off of the shiny, rotating vinyl, the unamplified whisper of the needle riding the groove, the sweet, musty smell of the old record sleeves, the big, bright album art – orchestrating to tell just as much as the songs we were playing. It was visceral.
This experience is altogether unique and yet not uncommon. Many music lovers could write their own such ode to vinyl. One could expect to hear several of the same tropes from one account to the next and just as many interpretations: ("What do you mean 'analog is warmer?"), and in the end, if anything, they would convince you that people are passionate about records.
Aristeo Rodriguez is one such romantic, and the recently opened El Guapo Records in Downtown Tyler is his love letter. Situated unassumingly between Moon Rivers Naturals and Lightbox Collective, El Guapo popped up seemingly overnight, but in many ways feels like it has been there all along. Within the narrow, vibrantly colored space is the perfect marriage of something old and something new. Black record shelves line the green and orange walls, packed full of fresh and used stock from nearly every music genre imaginable, organized alphabetically.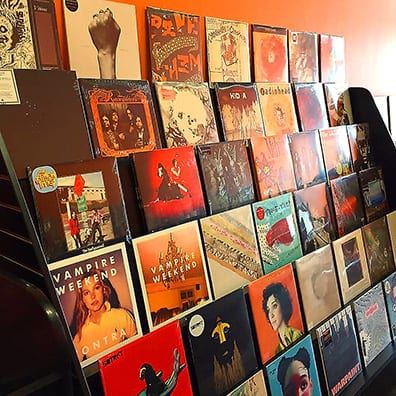 One section showcases some of the most popular recent releases and reissues, bolstered by a strong showing from Third Man Records and Matador, for all your White Stripes and Radiohead needs, respectively. A couple of steps to the left will put you in front of the popular $2 bin, boasting an eclectic selection of well-worn but playable titles. Plucking almost any album from the lot and showing it to him, Aristeo will likely tell you exactly where he picked it and what he loves about it.
Occasionally you'll see him grab a new item off the shelf and say, "You know what? I've gotta keep a copy of this for myself!"
The stock is as much a personal collection as it is inventory. And much like the records and sleeves, he is a storyteller. You will typically find him standing at the counter, handsome as his store's name suggests, carefully cleaning new additions with a felt brush in deliberate, circular motions, ready to recount his latest bike trek or his favorite concert memories. He will rattle off his wishlist for new releases, give you recommendations, share his favorite recipes, or talk about growing up in south Texas.
Much like myself, music was a sacred thing for Aristeo from very early on. A rich cultural background and a handful of moves did their part to expose him to a wide variety of genres. His father is a self-taught engineer, so it's no surprise that he took a shine to vinyl – the raw mechanics of placing a needle in a groove to draw out something he could not only hear but feel. This exchange became even more a part of his life as he began DJing clubs and parties under the moniker DJ Aris. Striving to stay inspired and keep a fresh sound, his record collection grew, and with it, the desire to connect with people and share music in a much more practical, meaningful way. This ultimately meant a lot of waiting.
The state of physical media was changing. And shrinking. The '80's and '90's saw everyone putting their LPs in the closet or the garage, trading quality and size for quick and compact in the form of cassettes and CDs. Media became digital, and the Internet made it easier than ever to distribute and acquire music without ever leaving the house. MP3 players allowed for one to carry thousands of songs with them anywhere. Music lovers had more access and control than ever, and it was hard to imagine anything better. But despite everything gained, we lost something. Album sleeves became thumbnails, liner notes fell by the wayside, and any song could be found by scrolling through a body of text. People stopped touching their music. Record stores everywhere went dark.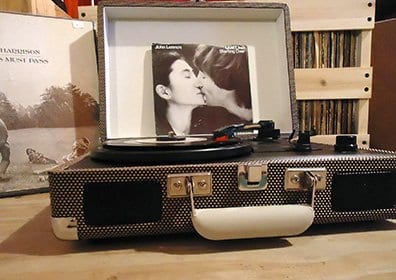 Flip to side B. In 2006, vinyl sales began to increase for the first time in what seemed like forever, hitting a steady stride by 2010 and increasing 30-40% year-over-year, according to Forbes. Thanks to a growing interest in retro style and movements like Record Store Day, vinyl was back on our minds and went into heavy rotation. Many artists embraced the opportunity to be in listeners' hands again and catered to the format, releasing special editions and color variants of old and new albums. Jack White's "Lazaretto" sold 40,000 vinyl copies in the first week alone, and soon became the best-selling vinyl album since Pearl Jam's "Vitalogy" in 1994. By 2015, records were outselling digital downloads in many markets and sales reached $416 million, the highest figure since 1988, the RIAA reported, and these figures did not account for the sales in the used market. Vinyl was telling stories again, and people were listening. Aristeo's wait was over.
El Guapo Records opened in style on November 19th, 2016, throwing a big block party with live music, food, and the support of neighboring businesses. The turnout was huge.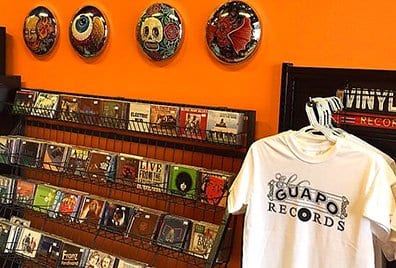 "I sold over half of my stock that first day, dude. It was crazy!" Aristeo said. "I knew this thing wouldn't work unless I was all in."
The bet paid off. El Guapo has since enjoyed a steady clientele of seasoned vinyl enthusiasts and newcomers alike. "I've sold several kids their first ever turntable. How cool is that? Now they've got the bug and keep coming in," he grins.
Along with vinyl, there is a solid selection of used CDs, cassettes, record cleaning supplies, shirts, and more. Hang out long enough and you will meet Strawberry, the record store kitty, playing amid the crates.
As the saying goes, "analog is warmer," and a visit to Tyler's newest record shop will reveal the community is as well. It's just the sort of place I can call Dad about and say I hopped on my bike to go hang out all Saturday, thumbing through records with my friends.
For more info about El Guapo Records call (903)630-7606 or go to elguaporecords.com.
El Guapo Records is located at 257 S. Broadway in Downtown Tyler.