FLY & LOVE Yoga Lounge: Soar and Explore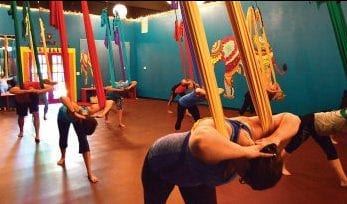 By Zairah Wooten
I am not an avid yogi but have taken my fair share of yoga classes. Needless to say, I was ecstatic to finally try aerial yoga at FLY & LOVE Yoga Lounge (www.flyandlove.yoga), and I was even more excited to hear that the new lounge is located around my neck of the woods, in Gresham, Texas.
This concept was first introduced to me by one of my boot camp instructors. I have seen her post pictures of herself hanging upside down and thought to myself, "Wow! That looks like a lot of fun, but will I be able to hold myself like that and not fall flat on my face?" She kept reassuring me that it's not as bad as I think and I should give it a shot. Finally, I mustered up the courage and decided to try it for the first time.
Beth Pearson, owner, and instructor at FLY & LOVE Yoga, welcomed me to the lounge, and as soon as I stepped in, the vibrant colors and decorations put me into instant calm and relaxation. Beth has over thirteen years of teaching yoga under her belt, so immediately, I knew I was in good hands. With a bit of time before class, I was able to wander around and visit with Beth.
Zairah: So, is aerial yoga a fairly new concept?
Beth: Aerial yoga has emerged fairly recently from the surge in popularity during the 1990's and early 2000's, of both Western yoga and Cirque du Soleil-style aerial arts. Combining the ancient practice of yoga with aerial acrobatics dance is a new concept within the last decade.
Zairah: Can you briefly explain how aerial yoga works?
Beth: Aerial yoga uses a fabric hammock as a prop to support the body in traditional yoga poses, as well as variations on poses influenced by Pilates, dance, and aerial acrobatics. The hammock provides opportunities to suspend the body, creating space and decompression which are beneficial for the spine and other joints. The support provided by the hammock allows deep, controlled stretching without strain and also creates resistance which builds upper body and core strength.
Zairah: Do you have to be in good, physical shape to be able to take a class?
Beth: I would say, "Do you need to be in good, physical shape to go to a gym?" Our aerial yoga classes will hopefully help you get into better physical shape, so there is really no expectation that you start off anywhere other than exactly where you are. The comments I most often hear at the end of class are, first, "That was really fun!" usually followed by "It was harder than I expected!" But that comes from all sorts of people – total beginners, cross-fitters, runners, and yogis. Aerial yoga is a different kind of physical exercise, and so it presents a learning curve and a new sort of challenge for anyone who comes in for the first time, or the fifteenth time (Beth grins). In yoga, we really emphasize starting where you are, listening to your body, doing what feels right for you. There is a lot of permission to have fun and plenty of modifications and variations to allow you to go easier or go harder in most poses. (Aerial yoga is not recommended during pregnancy or for those with high blood pressure, heart disease, or glaucoma.)
Zairah: What is the demographic of FLY & LOVE Yoga?
Beth: Anyone and everyone are welcome! We have had yogis from ages 3 to late 70s, and everyone seems to enjoy it. Even though most of our attendance is female, men are always welcome, too.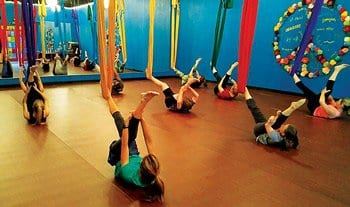 Zairah: What made you decide to bring aerial yoga to Tyler?
Beth: At the end of last summer, I had the opportunity to work with Anna Carsons, owner of Mangos Dancesport on East Erwin St., and Megan Hutchings, founder of Tyler Sky Dance, as they were preparing to bring aerial acrobatics arts to Tyler. We felt that an aerial yoga program would be a good complement to the Sky Dance program, both as a preparatory practice for building up to the more challenging work of aerial arts and as an accessible alternative for those who might not be as comfortable working high off the ground. The aerial yoga classes at Mangos began October 1st, 2015, and were so well-received that it quickly became obvious we needed a designated studio to meet the demand for these unique classes.
Zairah: What is the main goal you hope to achieve when teaching aerial yoga?
Beth: Our aerial yoga classes offer a safe approach for anyone to build strength, increase flexibility, improve balance, and relieve stress. Additionally, because the aerial aspect is a lot of fun, we value the chance to spread joy and encourage people to lighten up and connect with their child-like spirits. Through the traditional yoga approach, we also become more aware of our bodies, minds, and emotional states of being more sensitive to our experiences, hopefully, more compassionate to ourselves, as well as more compassionate about the world around us.
Zairah: What are some differences between regular yoga and aerial yoga? Some similarities?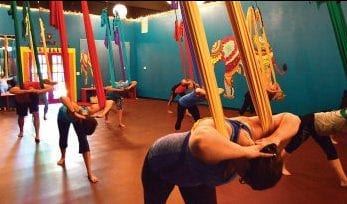 Beth: The original purpose of traditional yoga, as practiced by the ancient yogis, is to quiet the mind and become aware of our deepest nature. While modern, western yoga doesn't always look like that, many of us try, in our various styles – be it vinyasa, restorative, hot yoga, aerial yoga – to bring some of that listening, some of that consciousness, to the "yoga" we share.
From a physical standpoint, aerial yoga is similar to regular yoga in many of its postures and terminologies. Obvious differences would be in the use of the hammock as a unique prop for supporting familiar poses and introducing certain variations like inversions that are not accessible otherwise.
It is worth mentioning too, that not all styles of aerial yoga are the same. Some styles tend more toward the acrobatic, dance, and aerial arts side, while some styles stay more closely connected to traditional yoga asana and philosophy. I chose to study with and become certified through Unnata Aerial Yoga, because of their credibility within the discipline as being very much rooted in "authentic yoga," with a holistic, mind/body/spirit approach. Unnata Aerial Yoga teacher training is an intense and comprehensive program that is only available to teachers who are already certified as traditional yoga teachers.
Zairah: Some of the poses were quite intimidating. How do you encourage people to step out of their comfort zone?
Beth: Humor. Permission to not do it. Baby steps. Emphasis on safety. Developing trust. Providing opportunities for success. Keeping it light-hearted. Encouraging camaraderie among the participants.
Zairah: I see that FLY & LOVE Yoga isn't just a yoga studio. What all do you offer?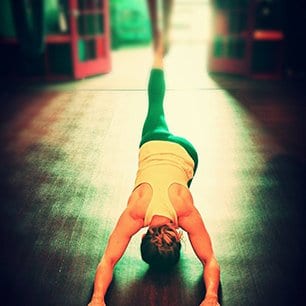 Beth: We are loosely a three-part venue. One part is our classes – primarily aerial yoga, but we also offer other styles of yoga, and we hope to add classes like hooping, Tai Chi, and belly dance to our schedule if the interest is there. Another aspect of FLY & LOVE Yoga is our lounge space. We are a simple coffee shop with free Wi-Fi and a one-wall version of the Come Together fair trade store. We sell locally pressed, organic juice and Kombucha from Balance Juicery out of Mabank. We have a massage therapist, an esthetician and a holistic wellness practitioner on-site. And, finally, we are an event center. Not only do we offer private aerial yoga classes and parties, but we also host workshops and events for elevating the body, mind, and creative spirit. In the past month, we have presented mindfulness meditation, an introduction to hooping, kirtan (chanting), and an open mic night for music and spoken word. Coming up in the next few weeks, we will host a belly dancing class, a workshop using yoga techniques to address PTSD and trauma, and a BYOB craft night. FLY & LOVE Yoga is an eclectic space, created with the intention to foster wellness, inspiration and a deeper sense of community among like-spirited individuals.
My overall experience with aerial yoga at FLY & LOVE Yoga was terrific. I was able to find my Zen all the while getting a good core workout in. I am a personal witness to aerial yoga accommodating to people of all ages and sizes, so I highly encourage those who are hesitant to give it a shot and know that you will be in good hands with Beth and the rest of the staff.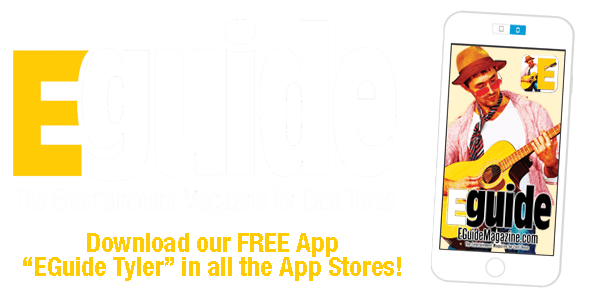 TJC offers Summer Activity, Athletic Camps for ages 3 and up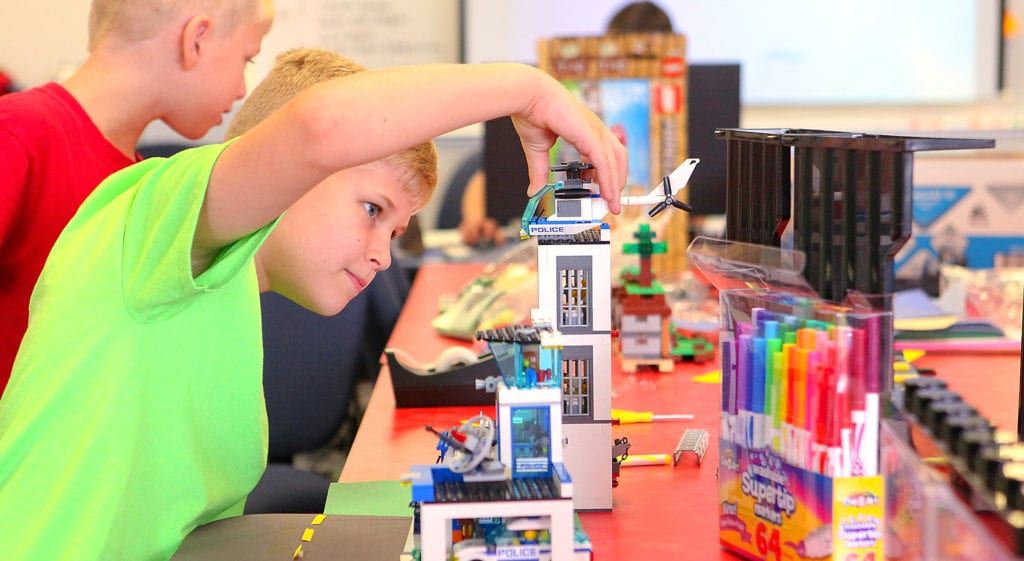 From animation to athletics, horsemanship to robotics, and scuba to improv comedy, TJC has a summer camp to spark the imagination of any young explorer.
Registration is open for TJC Summer Camps for kids ages 3 and up. Camps begin Monday, June 4, and continue through mid-August.
"We've put together a great lineup of activity and athletic summer camps," said Heath Stoner, director of TJC's Ornelas Health & Physical Education Center. Stoner also oversees the college's summer camps.
"TJC camps offer great opportunities for kids to gain skills to succeed in sports and learn about other cultures through art, science and technology," he said, "but they're also often a kid's first opportunity to spend time on a college campus. Ultimately, we hope our campers are inspired to pursue a college career someday."
The camps are operated at several locations on the TJC campus, including the Center for Earth & Space Science Education at TJC, Wagstaff and Gentry gyms, the Ornelas HPE Center, art department, science labs, swimming pool and gymnasiums.
TJC offers more than 60 activity camps, including: App Attack; Aquatic Camp; Babysitting Basic Training Bootcamp; Broadway Camp; Camp Illusion; Chess Camp; Code Breakers; Cookie, Cupcakes & Games; Comic Book Creation; CSI; Cultural Arts from Around the World; Dance Intensive for Beginners; Digital Storytellers; Disc Golf; English/Western Horsemanship; Explorers of the Kingdoms of East Texas; Exploring our World of Chemistry; Family Astronomy Camp; French Foil Fencing; Frozen Dance Camp; Game Labs; Improv Comedy; Incredible Stuff; Introduction to High Tech Health Careers; Jazz/Hip Hop Dance Camp; Jewelry Camp; LEGO Comics: Design Your Own Adventure; LEGO WeDo: Robotics for Younger Kids; Little Pony Express; Make Your First 3D Video Game; Make Your First Video Game; Minecraft Animators; Minecraft Designers; Minecraft Modders; Open Water Scuba; Pencil, Ink and Charcoal; Petite Picassos Art Camp; Printmaking Workshop; Robotics Camp; Scratch Jr.: Coding & Games for Kids; Space Camp; Slime Kaboom; Star Wars Stop Animation; Surveying & Mapping; Table Tennis; The Finishing Touch; Video Game Animation; Video Game History; Virtual Reality; Watercolor & Acrylic Painting; and Wood Works.
Athletic camps, run entirely by TJC coaching staff and players, include: baseball, basketball, football, soccer, softball, tennis and volleyball.
For details, or to register online, go to tjcsummercamps.com.
East Texans Learn to "Live Healthy"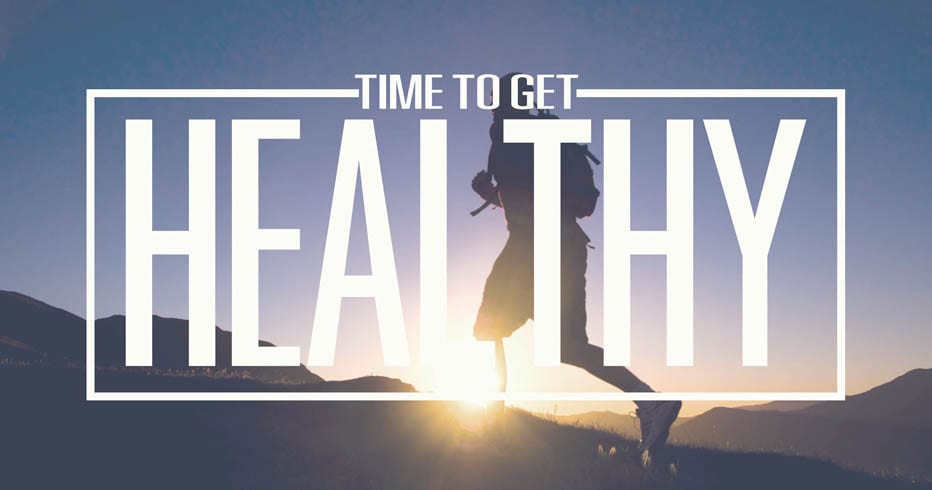 This Month at Integrative Health Matters:
Integrative Health Matters offers a healthy alternative to losing weight. The public has opportunities to visit Integrative Health Matters at any of these classes:
Every Wednesday (12:15-1:15pm) – Mindful Movements; (5:15-6:15pm) – "Just Breathe" Meditation

June 1st (10-11am) – Functional Food Friday: Eating Healthy on a Budget

June 12th (6-7:30pm) – Kitchen Talk: Mediterranean Diet Lifestyle

June 15th (10-11am) – Functional Food Friday: Meal Prepping

June 22nd (10-11am) – Functional Food Friday: Acid, Alkaline & Food Combining

June 26th (6-7:30pm) – Kitchen Talk: Plant Based Eating

June 29th (10-11am) – Functional Food Friday: Bone Broth
Cooking classes offered twice monthly are in-depth health and cooking presentations. These "Kitchen Talks" invite the public into the IHM instructional kitchen to learn to cook tasty and nutritious meals and create a healthy home environment.
Integrative Health Matters is located at 419 WSW Loop 323 #400 in Tyler, next to La Madeleine. For information about Integrative Health Matters, contact (903)595-8077 or visit ihm.life.
July 4th: Freedom Fighters 5K Race and more races!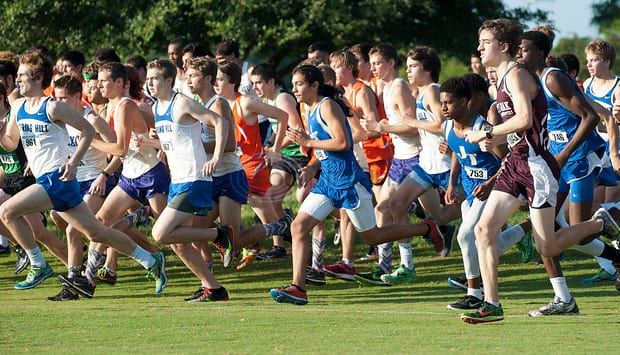 To be listed here is free! Send us info for your event go HERE.
To add a walk, run, or biking event, please send to, eguidemagazine@gmail.com. It is always free to list any event.
July 4th – Freedom Fighter 5K will be held at Bergfeld Park. Registration is currently open at secure.getmeregistered.com/get_information.php?event_id=128684.
September 22nd – Pineywoods Ultra – Run through deep East Texas pine forests on a scenic course underneath towering pines. This diverse, single track course, almost entirely underneath a canopy of 100-foot tall pine timber, will keep you captivated as you navigate rolling hills through rooty and pine needle conditioned trails. Enjoy a post race refreshing swim in the 64-acre spring-fed lake while you rest and recover. As home to the forest race in our eco series, you won't want to miss this unique chance to run with deer through the deep piney wood forests of Eastern Texas. This is a 5k, 10k, 25k, 50k, and 100k. Wind through deep green pine forests on rooty single track while chasing deer and other wildlife. Enjoy the dizzying and majestic pine canopy above as you are shaded on your adventure. Register at ultraexpeditions.com/thepineywoodsultra 
September 29th – ZERO Prostate Cancer Run/Walk features a 5K run/walk, 1 mile walk, Kids' Superhero Dash for Dad, and virtual Snooze for Dudes program. ZERO is proud to partner with Urology Tyler, PA to end prostate cancer. Stick around for the family-friendly post-race celebration. Run/walk participants will receive tech shirts, free food and prizes, and the opportunity to connect with others who are impacted by prostate cancer. To register, go to support.zerocancer.org.
October 13th – 2018 Corkscrew Half will be held at Kiepersol Winery, 3933 FM 344 in Bullard. Register by e-mailing itri365meredith@gmail.com.
November 10th – Salute to Service 5K
will be held in Whitehouse. More details to come.
December 2nd – 2018 Tyler Half Marathon & 5K – This event will give athletes a tour unlike any other through the Rose City of Tyler, Texas. The event will start and finish from TB Butler Fountain Square in the center of downtown Tyler, Texas. More information can be found at tylerhalf.events and be sure to follow The Tyler Half Marathon & 5K on facebook.com/events/1565352873583566/