FLY & LOVE Yoga Lounge: Soar and Explore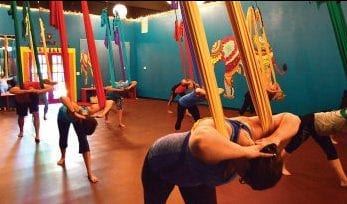 By Zairah Wooten
I am not an avid yogi but have taken my fair share of yoga classes. Needless to say, I was ecstatic to finally try aerial yoga at FLY & LOVE Yoga Lounge (www.flyandlove.yoga), and I was even more excited to hear that the new lounge is located around my neck of the woods, in Gresham, Texas.
This concept was first introduced to me by one of my boot camp instructors. I have seen her post pictures of herself hanging upside down and thought to myself, "Wow! That looks like a lot of fun, but will I be able to hold myself like that and not fall flat on my face?" She kept reassuring me that it's not as bad as I think and I should give it a shot. Finally, I mustered up the courage and decided to try it for the first time.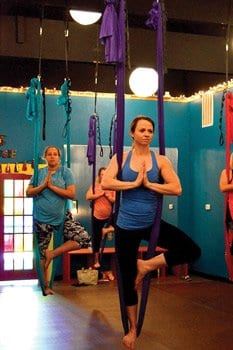 Beth Pearson, owner, and instructor at FLY & LOVE Yoga, welcomed me to the lounge, and as soon as I stepped in, the vibrant colors and decorations put me into instant calm and relaxation. Beth has over thirteen years of teaching yoga under her belt, so immediately, I knew I was in good hands. With a bit of time before class, I was able to wander around and visit with Beth.
Zairah: So, is aerial yoga a fairly new concept?
Beth: Aerial yoga has emerged fairly recently from the surge in popularity during the 1990's and early 2000's, of both Western yoga and Cirque du Soleil-style aerial arts. Combining the ancient practice of yoga with aerial acrobatics dance is a new concept within the last decade.
Zairah: Can you briefly explain how aerial yoga works?
Beth: Aerial yoga uses a fabric hammock as a prop to support the body in traditional yoga poses, as well as variations on poses influenced by Pilates, dance, and aerial acrobatics. The hammock provides opportunities to suspend the body, creating space and decompression which are beneficial for the spine and other joints. The support provided by the hammock allows deep, controlled stretching without strain and also creates resistance which builds upper body and core strength.
Zairah: Do you have to be in good, physical shape to be able to take a class?
Beth: I would say, "Do you need to be in good, physical shape to go to a gym?" Our aerial yoga classes will hopefully help you get into better physical shape, so there is really no expectation that you start off anywhere other than exactly where you are. The comments I most often hear at the end of class are, first, "That was really fun!" usually followed by "It was harder than I expected!" But that comes from all sorts of people – total beginners, cross-fitters, runners, and yogis. Aerial yoga is a different kind of physical exercise, and so it presents a learning curve and a new sort of challenge for anyone who comes in for the first time, or the fifteenth time (Beth grins). In yoga, we really emphasize starting where you are, listening to your body, doing what feels right for you. There is a lot of permission to have fun and plenty of modifications and variations to allow you to go easier or go harder in most poses. (Aerial yoga is not recommended during pregnancy or for those with high blood pressure, heart disease, or glaucoma.)
Zairah: What is the demographic of FLY & LOVE Yoga?
Beth: Anyone and everyone are welcome! We have had yogis from ages 3 to late 70s, and everyone seems to enjoy it. Even though most of our attendance is female, men are always welcome, too.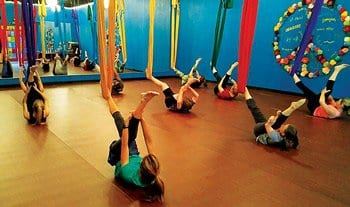 Zairah: What made you decide to bring aerial yoga to Tyler?
Beth: At the end of last summer, I had the opportunity to work with Anna Carsons, owner of Mangos Dancesport on East Erwin St., and Megan Hutchings, founder of Tyler Sky Dance, as they were preparing to bring aerial acrobatics arts to Tyler. We felt that an aerial yoga program would be a good complement to the Sky Dance program, both as a preparatory practice for building up to the more challenging work of aerial arts and as an accessible alternative for those who might not be as comfortable working high off the ground. The aerial yoga classes at Mangos began October 1st, 2015, and were so well-received that it quickly became obvious we needed a designated studio to meet the demand for these unique classes.
Zairah: What is the main goal you hope to achieve when teaching aerial yoga?
Beth: Our aerial yoga classes offer a safe approach for anyone to build strength, increase flexibility, improve balance, and relieve stress. Additionally, because the aerial aspect is a lot of fun, we value the chance to spread joy and encourage people to lighten up and connect with their child-like spirits. Through the traditional yoga approach, we also become more aware of our bodies, minds, and emotional states of being more sensitive to our experiences, hopefully, more compassionate to ourselves, as well as more compassionate about the world around us.
Zairah: What are some differences between regular yoga and aerial yoga? Some similarities?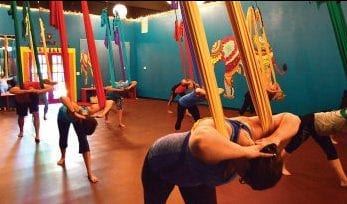 Beth: The original purpose of traditional yoga, as practiced by the ancient yogis, is to quiet the mind and become aware of our deepest nature. While modern, western yoga doesn't always look like that, many of us try, in our various styles – be it vinyasa, restorative, hot yoga, aerial yoga – to bring some of that listening, some of that consciousness, to the "yoga" we share.
From a physical standpoint, aerial yoga is similar to regular yoga in many of its postures and terminologies. Obvious differences would be in the use of the hammock as a unique prop for supporting familiar poses and introducing certain variations like inversions that are not accessible otherwise.
It is worth mentioning too, that not all styles of aerial yoga are the same. Some styles tend more toward the acrobatic, dance, and aerial arts side, while some styles stay more closely connected to traditional yoga asana and philosophy. I chose to study with and become certified through Unnata Aerial Yoga, because of their credibility within the discipline as being very much rooted in "authentic yoga," with a holistic, mind/body/spirit approach. Unnata Aerial Yoga teacher training is an intense and comprehensive program that is only available to teachers who are already certified as traditional yoga teachers.
Zairah: Some of the poses were quite intimidating. How do you encourage people to step out of their comfort zone?
Beth: Humor. Permission to not do it. Baby steps. Emphasis on safety. Developing trust. Providing opportunities for success. Keeping it light-hearted. Encouraging camaraderie among the participants.
Zairah: I see that FLY & LOVE Yoga isn't just a yoga studio. What all do you offer?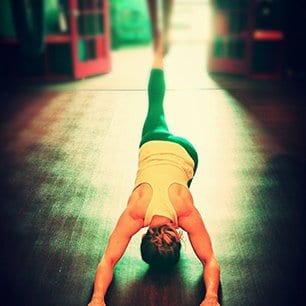 Beth: We are loosely a three-part venue. One part is our classes – primarily aerial yoga, but we also offer other styles of yoga, and we hope to add classes like hooping, Tai Chi, and belly dance to our schedule if the interest is there. Another aspect of FLY & LOVE Yoga is our lounge space. We are a simple coffee shop with free Wi-Fi and a one-wall version of the Come Together fair trade store. We sell locally pressed, organic juice and Kombucha from Balance Juicery out of Mabank. We have a massage therapist, an esthetician and a holistic wellness practitioner on-site. And, finally, we are an event center. Not only do we offer private aerial yoga classes and parties, but we also host workshops and events for elevating the body, mind, and creative spirit. In the past month, we have presented mindfulness meditation, an introduction to hooping, kirtan (chanting), and an open mic night for music and spoken word. Coming up in the next few weeks, we will host a belly dancing class, a workshop using yoga techniques to address PTSD and trauma, and a BYOB craft night. FLY & LOVE Yoga is an eclectic space, created with the intention to foster wellness, inspiration and a deeper sense of community among like-spirited individuals.
My overall experience with aerial yoga at FLY & LOVE Yoga was terrific. I was able to find my Zen all the while getting a good core workout in. I am a personal witness to aerial yoga accommodating to people of all ages and sizes, so I highly encourage those who are hesitant to give it a shot and know that you will be in good hands with Beth and the rest of the staff.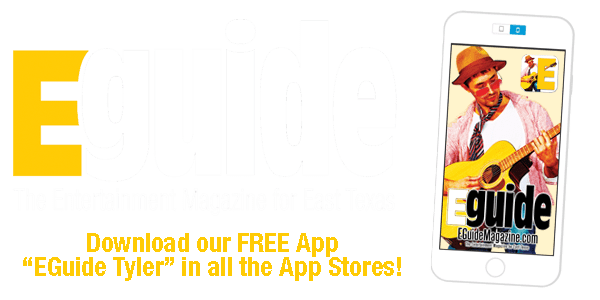 "I Got Healthy" Superheroes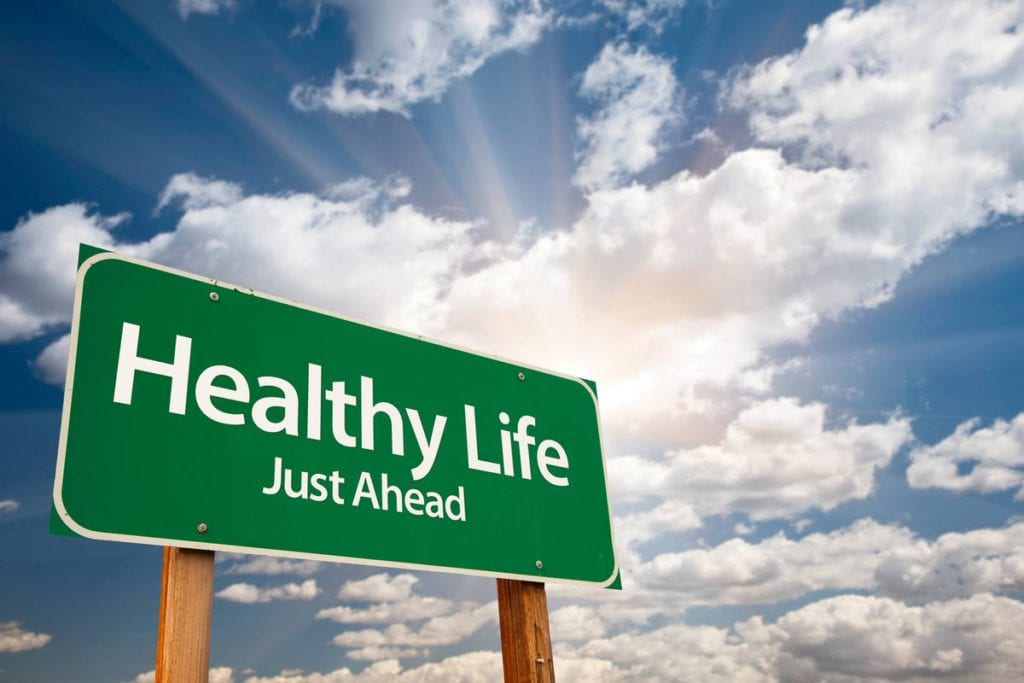 Tell Your "I Got Healthy" Story
Do you know someone who has altered their daily habits to become a healthier person? Is that person you?
Lighten Up East Texas wants to hear your stories about how local healthy heroes changed their own daily habits and can use their story to help others who also want to make a healthy change.
Send an email to LightenUpEastTexas@gmail.com by Friday, August 31st, and tell them your story about your local healthy hero; whether it be a friend, family member, co-worker, or yourself.
Lighten Up East Texas is a program run through Fit City Tyler. The program is a regional weight loss and community challenge that strives to build healthier lives in the East Texas community. People who have lost at least 5% of their starting weight at their "Weigh-Out" will be entered into the Grand Prize Drawing. The next Lighten Up East Texas Challenge will take place in 2019. For more information visit: fitcitytyler.com/lightenupeasttex
Fit City Tyler's "Fit Bite Program" Grows
Do you want to eat healthier when you are eating out? Fit City Tyler's "Fit Bite Program" offers a current list of restaurants and their healthy menu options.
Participating restaurants are:
You can go online at fitcitytyler.com/fitbite and click each restaurant to view their menu items that qualify for placement into the "Fit Bite" Menu Recognition Program.
Look for the "Fit Bite" logo on window stickers, menu labels and informational posters. These will highlight the meats, fruits, vegetables and beverage options are prepared using any of these healthier cooking methods: grilled, broiled, baked, steamed, poached, roasted, sautéed or stewed.
​Any restaurant in the Tyler area can join the free "Fit Bite Program." To enroll, go to fitcitytyler.com. For more info email Terrence Ates at TAtes@NETPHD.org.
Fit City Tyler is a community wellness coalition that supports individuals, families, and businesses to create action toward adopting healthy lifestyles. The Fit City Tyler coalition consists of more than 100 local organizations: the media, hospitals, gyms, public and private schools, city and county government, community clinics, public health organizations, non-profits, restaurants, churches, health clubs, fitness gyms, CrossFit boxes, non-profit agencies and numerous community volunteers.
It's SUP to you to try PaddleBoard Yoga
Paddle Yoga Held In August
Are you looking to challenge yourself or simply wanting to try something new?
Stand up paddle board yoga combines traditional yoga moves with balancing on water. SUP
yoga is a unique fitness experience that will engage your core and improve your posture. Plus, there is nothing like relaxing along the water on a summer Saturday morning.
Tyler Paddle is offering two Paddle Yoga classes at 8:30am and 10am on August 4th and 18th. No experience is necessary.
Register now at tylerpaddle.com. Each class is $20. Space is limited and all ages are welcome.
Full Moon Paddles will be held August 25th and 26th starting at 7:30pm.
Also, 1-, 2-, and 3-hour paddles, Full Moon Paddles, and Sunset Paddles are available. Check tylerpaddle.com for times and to make reservations.
This will be held waterfront at The Cascades, 3363 Cascades Blvd., Tyler, at the marina and boathouse.