Grub Burger Bar: Get Your Grub On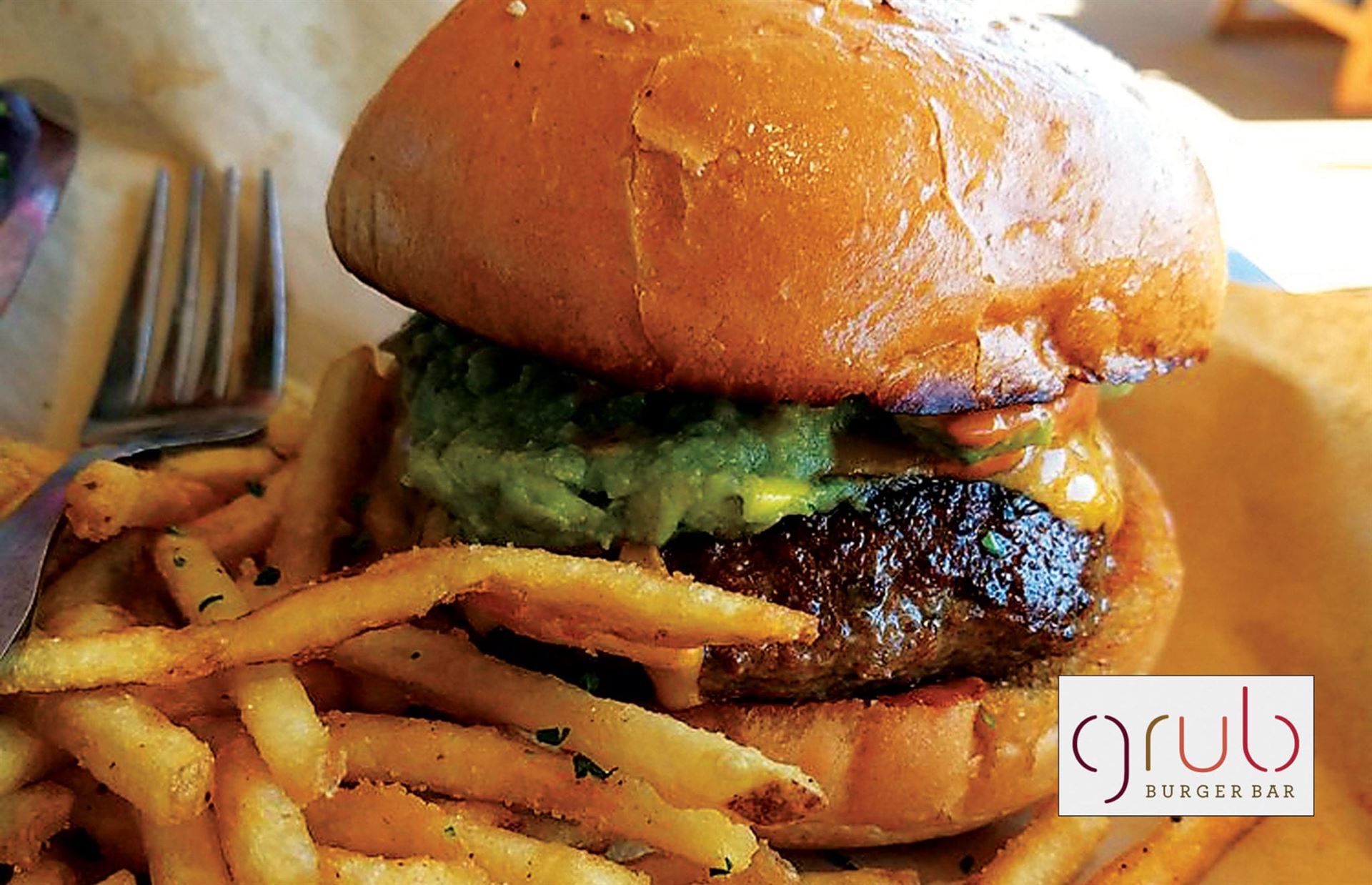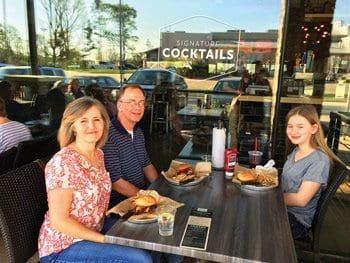 Written and Photographed by Barbara King
Looking for good people, real food, a unique vibe, and big flavors? Head on over to the newly opened Grub Burger Bar on S. Broadway in Tyler, and be prepared to be impressed.
First off, the atmosphere is large…a big open bar with high seating in front, spacious tables, and music. The inside design is polished but casual with lots of natural wood, steel, and glass. If you feel like fresh air, place your order, and move outside to the spacious patio that has lots of room to spread out and do some people watching.
Manager Jordan Delk says, "After five weeks open, we are extremely busy with regular customers that are enjoying the variety, intriguing flavor combinations, and the great atmosphere." The original Grub chain started in 2012 in College Station and now has locations all over Texas, Atlanta, Louisiana, Pennsylvania, and Delaware.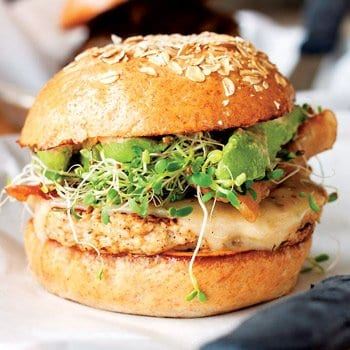 Judging by the crowds at 5pm on a weekday, word of mouth has spread the message that the Grub is the new place to check out. Delk says, "One of the things that makes us different is that we bake our buns from scratch throughout the day, and grind our signature brisket and chuck blend meat every morning. Our guacamole is made by hand every day, all of our sauces are homemade, and we serve local products whenever possible."
The menu is full of surprises and mixes of flavors that you probably haven't come across before. Their signature burgers include favorites like the Lockhart Legend (Applewood smoked bacon, cheddar cheese, housemade Dr. Pepper BBQ sauce, topped with onion rings and pickles), the Texas Luau (topped with braised pulled pork, a grilled pineapple slice, grilled jalapeños, teriyaki, and bbq sauce), and the OMG (Texas chili made from scratch, fries, cheddar cheese, chopped onions, and mustard). They proudly offer gluten free buns, and you can also top your burger with a fried egg for a buck.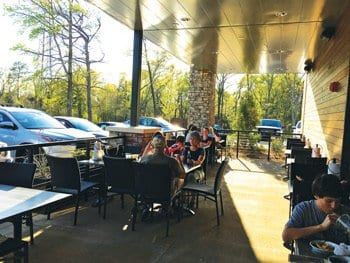 For those needing a healthier alternative, look at the menu section featuring "Burgers That Don't Moo" including a Jive Turkey (100% turkey breast, with bacon, swiss, sprouts, avocado, and chipotle), and Hippie Chickpea (a meatless burger made with a neat mix of roasted red pepper, arugula, red onions, goat cheese, chopped cucumbers, and pickles)
Salads are extensive, including Napa (mixed greens with arugula, goat cheese, fresh strawberries, black mission figs, toasted almonds, and hazelnut vinaigrette), Pesto Turkey Cobb, Greek, and Ahi Tuna, (spiced, rubbed, seared ahi tuna steak on mixed greens with rice sticks, arugula, carrots, avocado, cilantro, sprouts, pickled ginger, and wasabi-teriyaki vinaigrette. All salads are served with a side of fresh-baked bread, and dressings are made from scratch.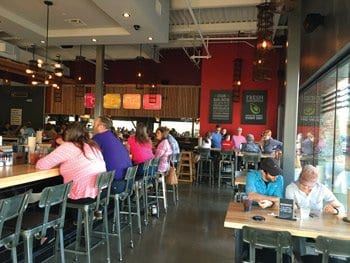 It's all about the savory sides at Grub, including waffle cut sweet potatoes sprinkled with Grub's own magic dust, skinny fries, or the incredible onion rings – Shiner Bock-hand battered and deep fried, served with chipotle ketchup. Or start off with a black bean and charred corn medley or a Texas Chili Bowl.
The handspun shakes are definitely worth talking about, including the Kitchen Sink (pretzels, peanut butter, salt, butterscotch sauce, caramel sauce, chocolate chips, coffee grounds, and potato chips), Worms & Dirt (crushed Oreos topped with gummy worms), ET Shake (Reeses pieces, peanut butter, and chocolate garnished with a peanut butter cookie) or the Market Shake, a chef-inspired creations. Of course, the traditional shakes are available too; strawberry, mint chocolate chip, vanilla bean, chocolate, Nutella, salted caramel, and root beer floats.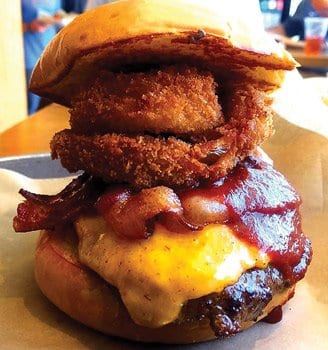 The Grub is family-friendly and encourages you to bring the entire crew. The "Munchkins" portion of the menu for children 12 and under features a kid burger, grilled cheese or chicken tenders, served with a choice of Grub skinny fries or fresh apple slices, and a drink.
Sue and Al Olsson from Tyler were relaxing and enjoying "You're my Boy Bleu" cheeseburgers. Mrs. Olsson raved about "the flavor and the huge portions." Mr. Olsson added, "The patty is very large, the service was great; we were greeted at the door and everything was explained about ordering and what specials were available."
The fully-stocked bar is front and center with inviting high top chairs that will put your workday worries on the backburner for a bit. Grub 'Ritas are made with Sauza Silver Tequila, Patron Citronge Orange and fresh lime juice. Signature cocktails include the Bacon Infused Bloody Mary, Stubborn Mule, Grand Old Fashioned, and Sangria. White wine selections include La Marca, Villa Pozzi, Cupcake, and Josh Cellars, with Reds including Lyric by Etude, Sini Zin, and Educated Guess. Craft beers are abundant, with local True Vine Brewery seasonal offerings, Shiner Seasonals, and Deep Ellum Dallas Blonde, to name but a few.
T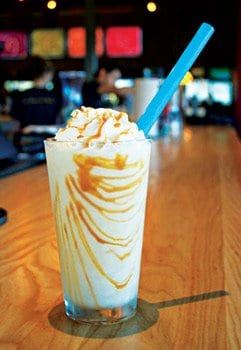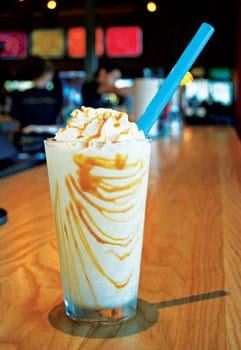 here are even "spiked" shakes, bourbon and caramel, Birthday Cakefetti (cake vodka), Dirty Kitchen Sink (with chocolate vodka) and ET Drunk Dial (chocolate vodka again). "Happier Hours" are everyday from 3-6pm, with $3 domestic pints, $4 for all craft pints, and $5 for all spikes shakes (among other selections).
The Williams family (John, Deadria and Grace) visited for the first time and decided to take advantage of the warm weather and join the patio crowd. "We live close by and have driven by and noticed the new sign," explained John. Deadria said, "We love the interesting combinations of flavors and the homemade sauces on the burgers."
You can place your order online for pickup at tyler@grubburgerbar.com or call (903)508-4714. Grub Burger Bar is located at 6421 S. Broadway in Tyler. Grub Burgers hours are Sunday-Thursday 11am-10pm, and Friday-Saturday 11am-11pm. You can find them online at grubburgerbar.com.
"Drop in, get saucy, and eat the Grub way!"
[wdi_feed id="1″]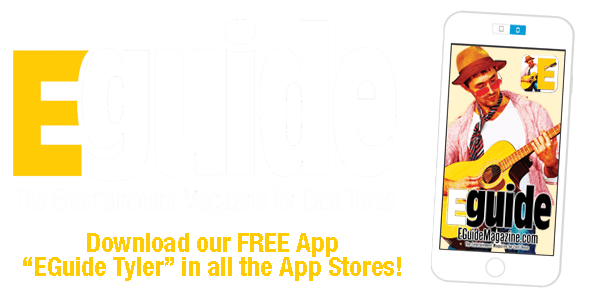 Festival of Fruit: 34th Annual Tomato Fest Saturday, June 9th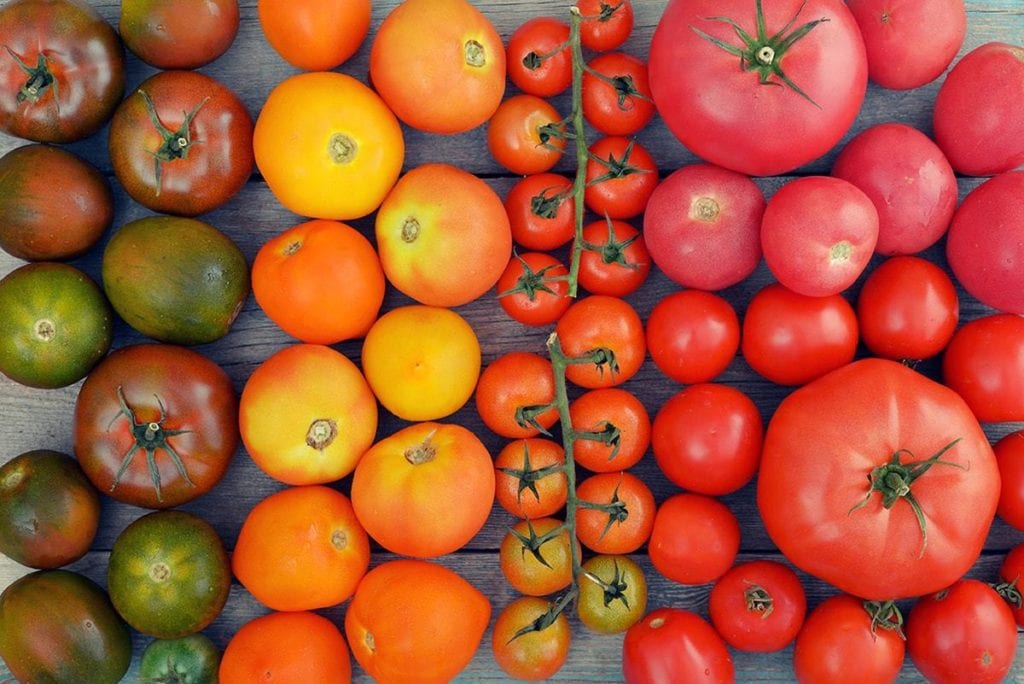 34th Annual Tomato Fest Saturday, June 9
th
Welcome to Jacksonville – home of the best tasting fruit – tomatoes!
Local farmers are busy getting ready for the upcoming 34th Annual Tomato Fest in Jacksonville, Texas by planting acres of the best tastin' tomatoes. Join the celebration Saturday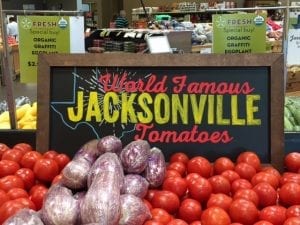 , June 9th in downtown Jacksonville for a BIG day of activities that will be happening all day long. Over 200+ vendors and all kinds of festival food, including the famous fried green tomatoes, Farmers Market, $500 Got Talent Contest, Car Show, Motorcycle Show, Tennis Tournament, Soccer Tournament, Softball Tournament, Entertainment, Kidz Zone, and so much more will cover 5 blocks downtown. Tomato events include Salsa Contest, Tomato Eating and Peeling Contest, Tomato Archery, Tomato Shoot, Best Home Grown Tomato Contest, Tomato Packing Contest and tour the Tomato Shed. Saturday evening, Chili's Street Dance will take place featuring Brian Chance Band and Lady Chazz and the Tramps. 
Activities kick off on Saturday, June 2nd with a 5k run sponsored by All Smiles. Monday, June 4th and Tuesday, June 5th is Family First Clinic's corporate challenge Dodgeball Tournament.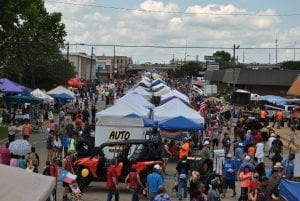 On Wednesday, June 6th, a Gospel Concert sponsored by Whataburger featuring, The Group, will perform at Central Baptist Church. New this year on Thursday, June 8th  is the Farm to Table dinner event that will take place at Castle on the Lake on beautiful Lake Jacksonville and will be catered by Rob Gowin, Sadler's Kitchen & Catering. A 4 Man Scramble takes place at the Cherokee Ranch Golf Club on Friday, June 8th. The final Tomato Fest week celebration ends at Lake Jacksonville with a Ski Show on Sunday, June 10th.
Taste for yourself the best tomatoes and fun festival packed with lots to do for everyone.  For additional information, contact Jacksonville Chamber of Commerce at (903)586-2217, or go to  JacksonvilleTexas.com/Tomato-Fest or Facebook.com/JacksonvilleChamber.
East Texans Learn to "Live Healthy"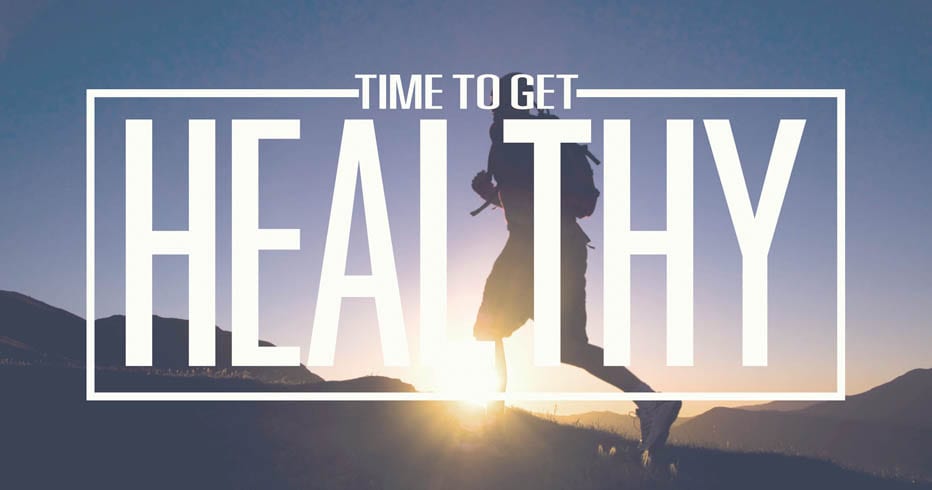 This Month at Integrative Health Matters:
Integrative Health Matters offers a healthy alternative to losing weight. The public has opportunities to visit Integrative Health Matters at any of these classes:
Every Wednesday (12:15-1:15pm) – Mindful Movements; (5:15-6:15pm) – "Just Breathe" Meditation

June 1st (10-11am) – Functional Food Friday: Eating Healthy on a Budget

June 12th (6-7:30pm) – Kitchen Talk: Mediterranean Diet Lifestyle

June 15th (10-11am) – Functional Food Friday: Meal Prepping

June 22nd (10-11am) – Functional Food Friday: Acid, Alkaline & Food Combining

June 26th (6-7:30pm) – Kitchen Talk: Plant Based Eating

June 29th (10-11am) – Functional Food Friday: Bone Broth
Cooking classes offered twice monthly are in-depth health and cooking presentations. These "Kitchen Talks" invite the public into the IHM instructional kitchen to learn to cook tasty and nutritious meals and create a healthy home environment.
Integrative Health Matters is located at 419 WSW Loop 323 #400 in Tyler, next to La Madeleine. For information about Integrative Health Matters, contact (903)595-8077 or visit ihm.life.
Rose City Farmers Market Downtown This Weekend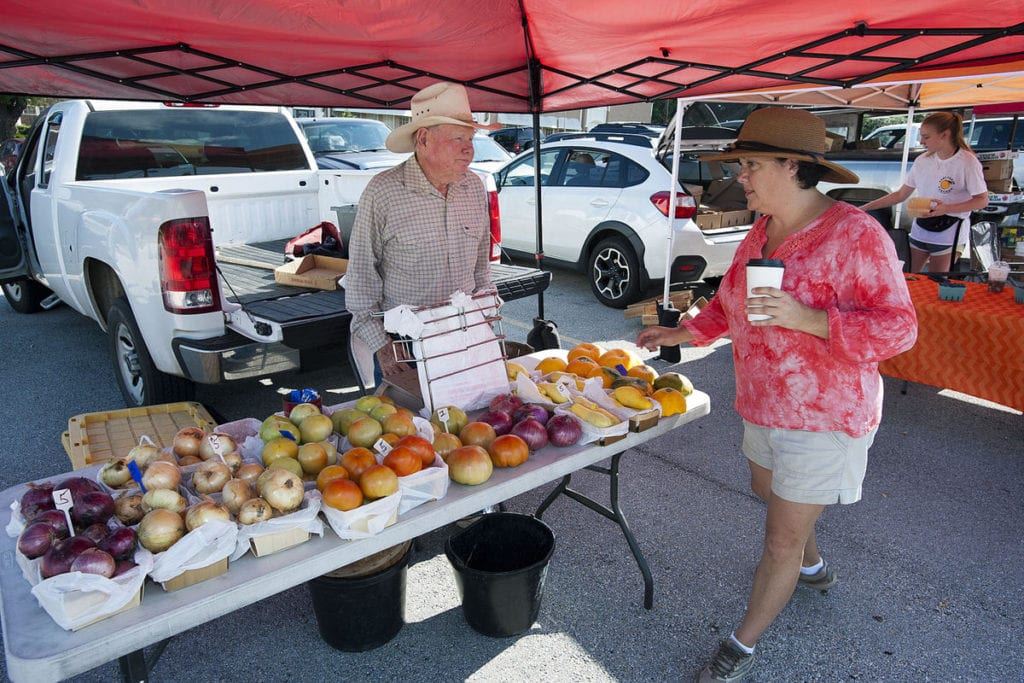 By Barbara Greenbauer
Everything is blooming, growing, and flourishing in East Texas and it's time to head back to the market!
Your Saturday mornings can be stupendous with by stopping downtown at the new Rose City Farmers Market location. Opening April 7th and running through the first weekend in November, the market is a neat, unique experience for the whole family.
Located just a block from the Square – in the Unclaimed Furniture parking lot in Tyler (236 S. Broadway),  the market is the place to be bright and early Saturday mornings from 8am-12 noon. Your senses will go wild with the atmosphere of the Rose City Farmers Market.
As part of the Food and Farm Coalition, their goal is to work toward a sustainable food system that meets the needs of both producers and consumers.
The market brings all that's fresh straight to you: fruits, vegetables, and herbs all grown within 75 miles of Tyler. That includes pasture-raised beef, lamb, pork, chicken, and turkey, free-range/non GMO eggs, and goat cheeses.
Jessica Bullock, Director of the Farmers Market, says "We are excited about the opportunity to connect people with locally grown food in a great community gathering place Downtown."
The move to downtown makes the market "easily accessible to everyone, which is extremely important to our mission," explained Jessica. All items sold at market are 100% produced or grown by the vendors. "Everything you'll see at the market has been grown, baked, or made by the vendors themselves, which may be a surprise to some," said Jessica.
Eating seasonally is what the market is all about, and when you eat food grown locally, it's is always harvested at the peak of its season. Local food is also not stored in shipping containers, so it doesn't spoil or lose health benefits on its way.
Buying food at its peak season also benefits our local farmers because it costs less for producers to harvest and transport and those savings get passed down to you…it's a huge win/win for everybody!
With the Market opening in April 7th and running through November 17th, every week will be a brand new adventure as the seasons change and different produce are featured. In April, a trip to the market will fill your senses with treasures from East Texas fields like arugula, carrots, kohlrabi, radishes, beets, turnips, strawberries, new potatoes, mustard greens, kale, lettuce, cilantro, onions, swiss chard and parsley.
The market is all about community, so you'll find something for everyone from fresh bread to flowers, coffee, jams and jellies, and baked goods. Vendors also showcase Texas olive oil, handcrafted art, and Texas fruit wines.
And that's not all you'll get to see at the Market. Local musicians will be showcased every Saturday, plus a new exciting addition of rotating food trucks. "We are proud to serve as a venue to some of Tyler's most talented musicians," said Jessica. Bring a lawn chair and enjoy the perfect blend of food and music and great weather.
Vendors or members must meet certain goals including being located within 75 miles of the market, providing safe and fair working conditions for all farm workers, organic or natural methods, humanely raised animal products, beef and other grass-eating animals are grass fed, and dairy is rGHB-free. Find out more about becoming a member/vendor at foodcoalition.org.
The market depends on volunteers to set up and break down, help with displays, banners, and lots of behind the scenes work. What a great way to give back to the community! People interested in helping can contact rosecityfarmersmarket@gmail.com.
"We are thrilled to be part of the Downtown scene and to be able to partner with the great small businesses that are part of this growing culture," said Jessica. "The new location is a perfect fit for the Market and the thriving downtown community." "We would like to thank Bill & Cecilia Bush of Unclaimed Furniture for the space and the support."
Bring the family and spend Saturday mornings at the Rose City Farmers Market, located at 302 S. Broadway in Downtown Tyler.
Visit them on Facebook at rosecityfamersmarket.com and foodcoalition.org.