Heart of Art in Downtown Tyler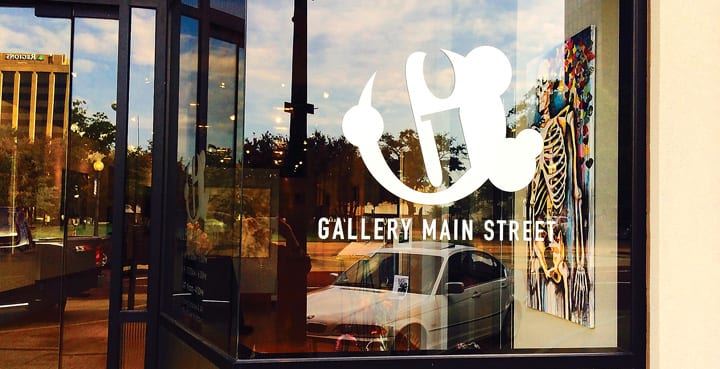 Written and Photographed By Barbara King
There's a lot going on in downtown Tyler these days, especially in the arts community. Gallery Main Street is part of the exciting revitalization of downtown that showcases the talented and creativity of local artists.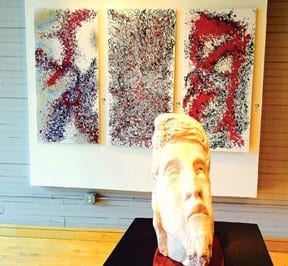 The gallery, on the downtown square at 110 West Erwin is operated by the City of Tyler and is the cornerstone of the downtown business, arts and culture district. The renovated space, which opened in August 2009, is home to specialized, juried fine art exhibits featuring mainly local artists.
Exhibitions of original works rotate approximately every eight weeks, so the pieces and themes are ever changing. The current exhibition, "Movements of the Mind" runs through November 3rd and is free of charge for the public to view. This diverse exhibit is comprised of thirty unique pieces, representing seventeen individual artists. Some of the works include collage, multi-media and even a carved alabaster sculpture, entitled "Philosopher." Featured titles also include "Into the "Deep," "Snazzy," "Transcendence of Memory" and "Survival of the Meek."
The Gallery is extending a very special invitation to Veterans who are also artists to take part in the next exhibit, entitled "Against All Odds." This exhibit will have its kickoff public reception, Saturday November 8th in conjunction with a Veteran's Day commemorative ceremony on the square.
Beverly Abell, Main Street Department Leader, says the "juried selection process levels the playing field for artists, with every exhibition featuring a variety of different mediums." Every entry is judged anonymously by a panel of accomplished artists and art instructors who choose final pieces for display. "This ensures each exhibit is as inclusive as possible," explains Abell. "This also makes for an exciting mix of talent. You could conceivably view a piece of art submitted by a novice next to an established artist who has sold numerous pieces." Each artist can submit up to three pieces digitally, with a standard entry fee of $20.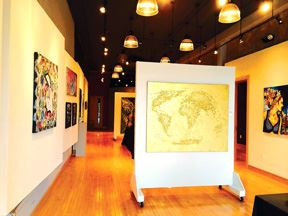 Top scoring pieces are selected for exhibition, with the highest scoring winning Best of Show. Approximately 30-40% of the entered pieces are chosen to be part of an exhibit. Artwork is priced by the artist and available for purchase at the exhibit, with the artist receiving 80% of the sale and 20% going back to the Gallery. Artists interested in entering pieces can find prospectus rules on the website at www.downtowntylerarts.com.
"Most people don't realize that even though the Gallery is operated by the City of Tyler, we raise the majority of the operating budget," explains Abell. Every piece that is purchased at an exhibit helps to support and promote our local arts community."
Every new exhibit is an event, with an opening night reception featuring live music, food and an opportunity to meet the artists. "The evening reflects the growth of the art scene in Tyler, and attracts a very eclectic group of folks that embrace creativity and expression," says Abell.
The Gallery is also home to the very successful 6×6@110 exhibit, featuring small canvases full of color and motion that line the walls of the gallery. The Tyler community embraced the idea, and garnered the Gallery the prestigious Texas Downtown Association's Best Promotional Event award. The mini canvases are distributed to local artists who return their works back to the gallery for sale to patrons at $20 each. This fun and creative exhibit will return to the Gallery in 2015, beginning June 6th.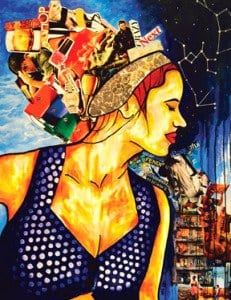 Driving around downtown you might spot some unusual sculptures, part of the OPAL project (Outdoor Public Art on Loan). Five pieces were selected for display for a year, chosen by artists, architects and landscape architects. The pieces were chosen for their artistic excellence as well as their compatibility with the landscape and architecture of the downtown area. These unusual pieces can be seen at locations including the Tyler Public Library and the T.B. Butler Plaza.
True art lovers can even rent the space for special events. The Gallery has hosted corporate meetings, parties, and even weddings. It is a perfect space for small to medium sized receptions and ceremonies for those looking for a truly unique venue. The space includes a conference room, kitchen and the actual gallery.
Gallery Main Street is free to the public and operating hours are Monday –Wednesday 10am-5pm, Thursday and Friday 10am-6pm, and Saturday 12-4pm. If those times don't fit your schedule Abell says "call us at the Gallery at (903)593-6905 and we will open by appointment."
To find out more about upcoming exhibits and special workshops go to downtowntylerarts.com, on Facebook at Heart O. Tyler and Twitter and Instagram at downtowntyler.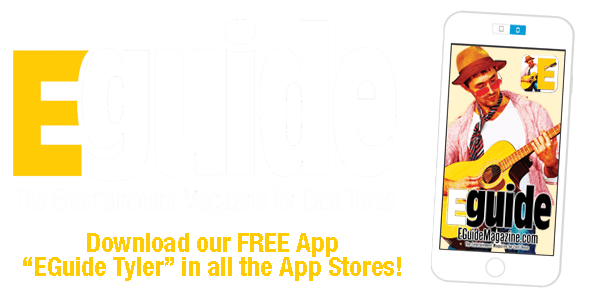 On Exhibit at The University of Texas at Tyler Art Galleries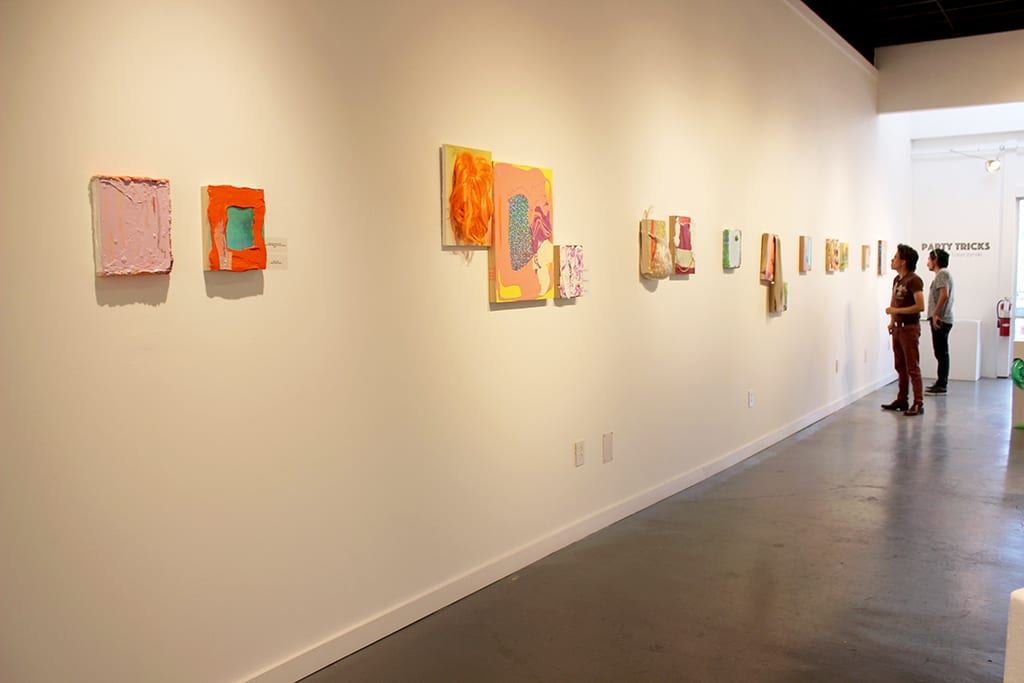 UT Tyler hosts several galleries with a variety of art on exhibit. For more info, call (903)566-7237 or email mtaff@uttyler.edu. On exhibit this month:
There are several galleries. The Meadows Gallery is located within the R. Don Cowan Fine and Performing Arts Center on the campus of UT Tyler and features rotating exhibitions. The Meadows Gallery exhibition schedule includes nationally known guest artist exhibitions, the Annual International Exhibition, faculty curated exhibitions, MFA thesis exhibitions, and a student juried exhibition each summer.
The UC Gallery is located on the second floor of the University Center. This gallery is dedicated to exhibiting student work.
The Fine Arts Complex (FAC/ARC) Gallery is located in the new Fine Arts Complex. The FAC Gallery provides a place for invited artists, undergraduates, and graduate students to display their works. In conjunction with art history courses, students have curated exhibitions from the Tyler Museum of Art's permanent collection, given talks on the work, and hosted opening receptions in the gallery.
Exhibits scheduled are:
Thru March 9th – 33rd Annual International Exhibition

March 22nd (6pm) – MFA Thesis Exhibition Reception: Daniel Jake Arnold (Meadows Gallery)

March 29th (6pm) – MA Thesis Exhibition Reception: Kirsti Smith (FAC Gallery)

April 7th – 4th Annual Art History Symposium (ARC 112)

April 10th (5:30pm) – MA Thesis Presentation by JoBeth Cox (ARC 112)

April 12th (6pm) – MFA Thesis Exhibition Reception: Brandon Witschi (Meadows Gallery)

April 19th (5:30pm) – BA Thesis Presentation by Cree Summerfield (ARC 112)

April 19th (6pm) – 1st BFA Thesis Exhibition Reception (FAC Gallery)

April 26th (6pm) – 2nd BFA Thesis Exhibition Reception (FAC Gallery)

May 3rd (6pm) Annual Juried Student Exhibition Reception and Juror Talk (Meadows Gallery)
Call for Artist: "Unfettered" Exhibit April 7th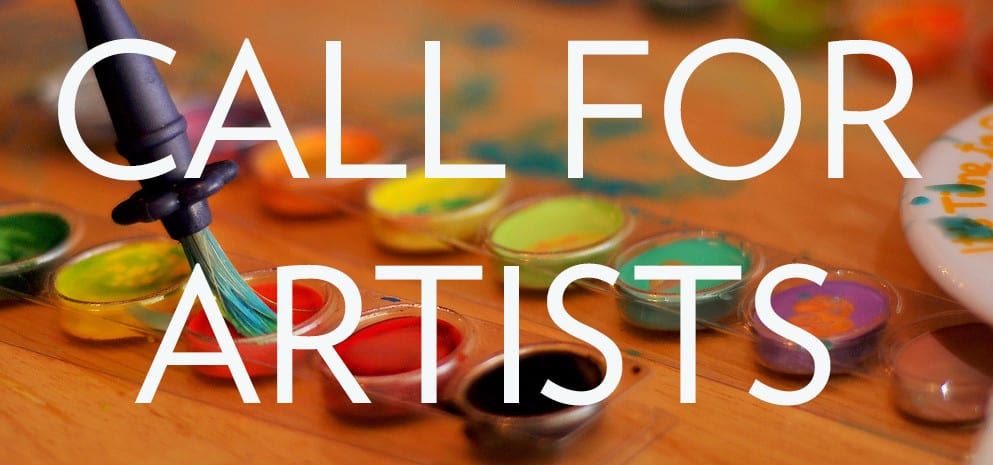 Call for Artist:
"Unfettered" Exhibit April 7th at Wagner Auto Group, Tyler
Attention artists: submission for the Art Show "Unfettered" to be held Saturday, April 7th (7-11pm), Wagner Auto Group, Tyler. This one night curated art show will have a scene like no other. "This will be an extremely exciting evening out to peruse original art, watch live art demos, and check out some extremely talented art vendors," said Kerian Massey, curator of the show.
"We are looking for a variety of art with the theme of 'Unfettered.' To be unfettered is to come undone, to let go or to become free, without ties. Any artwork that carries this theme in any loose fashion will be considered."
For more info contact Kerian Massey at keriansartshows@gmail.com or call (903)714-7414
All art will be juried in by a panel of judges. Notice of Acceptance will be given Monday, March 26th.
For those who want to be a part of the show but would like to sell more, there will be an area for select fine art for sale. All artwork is subject to review for quality and content. Absolutely no resale items with the exception of canvas prints and fine art prints.
Art Events SPRING-ing Up For The Season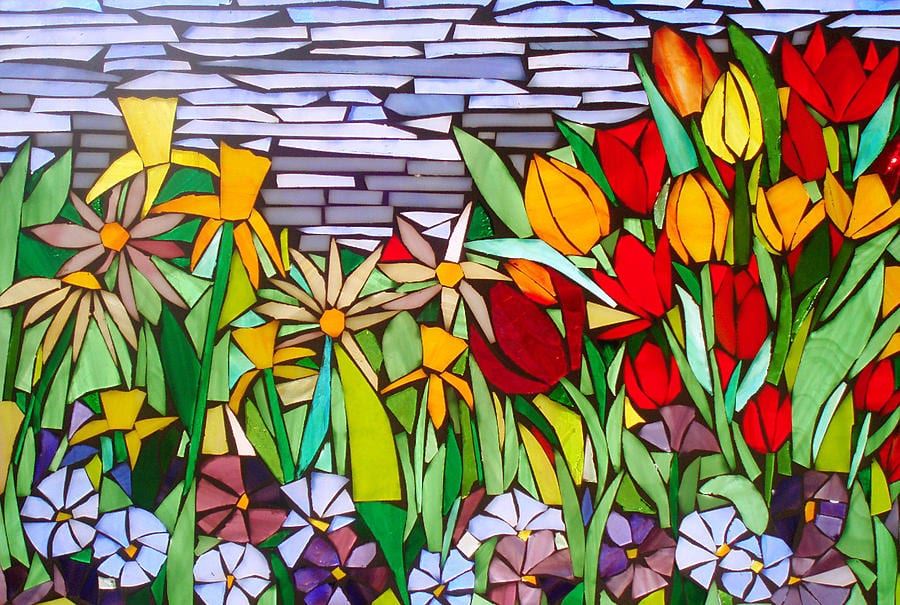 Events & Classes
Call for Artists & Vendors – April In Edom is April 21st-22nd and is an old fashioned folk, street fair for adults, kids and pets. There is free admission.  At April in Edom, you can find 125 plus vendors with handmade and folk crafts, demonstrations, vintage items, great foods, awesome kids' zone with arts and activities, pet parades and  contests, 40 Performers on 3 Stages, and a Fire 5K Run. To apply, go to visitedom.com/participant-vendors, email April@VisitEdom.com, or call (844)633-6689.
March 15th (6-8pm) – Watercolor Painting Class – M6's first Watercolor Painting Class cost is $40 and includes all of your materials and a complimentary glass of M6 Wine. Reserve your seat at m6winery.com/events. Feel free to bring snacks to enjoy while you paint. M6 Winery is located at 201 W. Main St., Bullard. This class is taught by Chelsea Presley.
March 24th (12 noon – 5pm) – Azalea Trails Art Show – Join during the Azalea Trails season as Smith County Historical Society hosts local artist John Randall York upstairs in the Payne Auditorium at SCHS building, 125 S. College Ave., Downtown Tyler. "We are so excited to see the wonderful showcase John will have available to the public. The Society is working with John to provide supplemental histories of his subjects and for the works he will have available for sale. Please join us for a viewing and history of multiple local landmarks." If you would like more information please feel free to contact the Smith County Historical Society at facebook.com/smithcountyhistoricalsocietytx.
May 12th (4-10pm) – TJC Art Club 15 Year Reunion – Have you ever been in Art Club? Have you ever taken an art class at TJC? Has Chris Stewart ever intimidated you? Do think Paul Jones is weird? Do you want to see old friends or make new ones? Come hang out, reminisce, reconnect and have a beer at True Vine Brewing Company, 2453 Earl Campbell Parkway, Tyler. This will be a great for old and new friends alike.