Historical Recipes Are The Best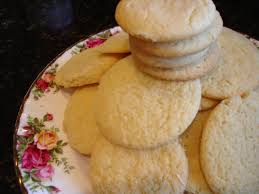 By Gini Rainey
One of the side benefits of having a husband who suffers from wanderlust is that a lot of times he will bring a cookbook back to me from the places he visits.  One such cookbook that I have in the "library" is from a trip he took a while back to the Golden Triangle of southeast Texas.  The cities of Beaumont, Port Arthur, and Orange earned this title because of the wealth that came from the Spindletop oil strike in Beaumont in 1901.  More recently it refers to the many gas flares that are located at all of the local oil refineries which create a rough triangular shape around the area when viewed from nighttime aircraft.
My husband's trips usually include visits to local historical sites, and one such place he went to was the McFaddin-Ward House in Beaumont.  Built 1905 by Perry McFaddin's sister and brother-in-law, Perry and his wife, Ida, moved into it and made it into the grand house that it is today.  The home, with its spacious rooms and elegant decor, was ideally suited for entertaining and became the perfect setting for Ida McFaddin's busy social life.  Mamie McFaddin, one of Ida and Perry's children, inherited the home, and when she died in 1982, she left her home as an enduring legacy for others to enjoy.
The "Perfectly Splendid – One Family's Repasts" cookbook is a charming little book with 126 pages that was published in 1992 by Wimmer Brothers and is filled with recipes from the archives of the McFaddin-Ward House.  The recipes were collected by Ida Caldwell McFaddin and her daughter, Mamie McFaddin Ward and are interspersed with anecdotes and family history, making this book much more than a cookbook, as it provides an interesting glimpse into the daily lives of a prominent Southeast Texas family.
Along with recipes for Perfect Rice, Chicken and Dumplings, Brunswick Stew, Sour Milk Biscuits, Rebecca's Boiled Cabbage, Pecan Pie and so much more, you'll also find a Cure for Lockjaw.  All you do is "take strong leaf tobacco (if you can still find it) and steep it in scalding hot water for a few minutes and bind it to the front of the stomach.  The application relaxes the muscles from the stomach to the brain and death from lockjaw is impossible."  The book also has a cure for burns "some 8-10 applications of the white of an egg will take or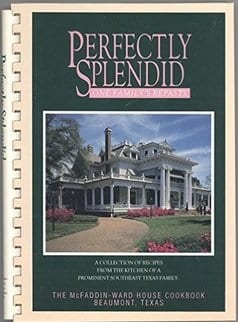 remove the pain and is of a very soothing nature.  This simple remedy is preferable to callodium or even cotton."  I think I would rather put my egg whites to a better use by following their recipe for Angel Food Cake.
One our favorite jellies here at the Junkie House is made from Mayhaw berries, and this cookbook has a recipe for that.  Now, if we could also score some Mayhaw berries, life would be good! A good, old fashioned recipe here in the south is for Tea Cakes.  These "cakes" are like sugar cookies on hormones.  My mother-in-law used to make them all the time, and they are really great with hot coffee or cold milk.  You start out by creaming 1/2 pound of butter with 3 cups of sugar and then adding 3 well-beaten eggs and 1 teaspoon of soda that has been
dissolved in 1 tablespoon of milk.  Add the rind and juice of 1 lemon and stir well.  Drop by teaspoons – fairly far apart on a cookie sheet and sprinkle granulated sugar on top.  Bake at 325 degrees for 8 to 10 minutes.  These are pretty good eating – and not all that difficult to make.
I love the closing note that Ida Caldwell McFaddin Pyle shares in her Introduction "…As we could hardly print a cookbook today calling for a "teacup" of cream or "butter the size of a walnut…"  Can you imagine what an adventure cooking like that would have been?  I think we owe a wave of the whisk to whoever came up with the standards for measures in cooking.  But, then again, adventures like that in the kitchen might just turn out to be a real blast!