by Gini Rainey
I was thinking this morning about all the incredible advances in technology that I have seen in my lifetime, and how much my dad would have loved all the gadgets we seem to have surrounded ourselves with the past 50 years. For example, just in my lifetime, I've seen telephones go from shared party lines with rotary dials to the incredible iPhone (virtually a computer in your hand) that not only can be used for staying connected, but takes a whole lot better photograph than my once treasured Canon SLR.
So, then I got to thinking about all the advances in the kitchen that have helped make the home maker's life infinitely easier and how many of the old gadgets that I grew up with are now items of speculation in antique shops and vintage stores.  Sometimes just standing back and listening to people trying to determine their use is half the fun of spotting one "just like we used to have!"
Just for fun – can you name these gadgets?
So speaking of vintage, today I'm looking at The Martha Washington Cook Book and is the product of historian Marie Kimball who received special permission from The Historical Society of Pennsylvania to study the original manuscript that was used by Martha Washington for 50 years and then was passed down mother to daughter for nearly 100 years.  The original cookbook was published in 1940 by Coward-McCann, Inc., and the copy that I have was published in 2005.
With nearly 50 pages of historical background regarding the state dinners at the White House and the meals hosted at Mt. Vernon,
Kimball has succeeded to paint a rather lovely picture of Martha Washington, who was the over-seer of all of meals prepared for family and dignitaries.  While we might not find many of the recipes included in the book to be something we might consider preparing, such as Marrow Pie, Lettuce Tart, Roasted Hare, or Stewed Calves' Feet, Mrs. Kimball has fully adapted Martha's cookbook for practical, modern use.  All the recipes have been proportioned to the current practice of a formula for serving six people, and she says that all of the recipes have been tested and taste great!
One of Martha's recipes that jumped out at me was for apple fritters sounds absolutely yummy: Heat 1 cup ale and add ¼ cup white wine and the yolks of 4 eggs, the white of 1 egg, well beaten.  Mix together 1 cup flour, ¼ teaspoon salt, ¼ teaspoon nutmeg, ¼ teaspoon cloves, and ¼ teaspoon mace and combine the two mixtures.  According to Martha Washington "Your batter must be no thicker than will just hang on the apples."  A little more or less flour may be needed.  Cut the apples into rounds – or what ever shape you please – and deep in the batter.  Drop in deep fat and fry a golden brown.  Drain on a piece of clean linen, (I bet you can use paper towels!) sprinkle with sugar and cinnamon, and serve.  Oh, my, nom-nom!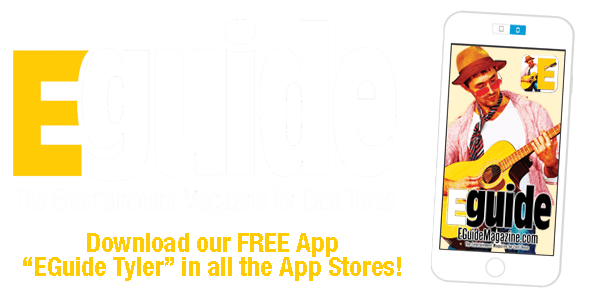 By Gini Rainey
For those of you who have been paying attention to the general theme of my cookbook collection, you may have noticed a trend towards those written by or about celebrities and or famous people.  That was one of my initial criteria when I started picking them up and mostly still is, unless I come across one that's weird, unusual, or cheap!  Every so often I'll go to my favorite eBay store, thriftbooks, just to see if they have anything new that fits the bill.  The cookbook I have in front of me today is one of those.  It's "Miss Kay's Duck Commander Kitchen" by Kay Robertson with Chrys Howard and was published in 2013 by Howard Books and was written by a celebrity and was cheap!  Score!
So, then I got to thinking "whatever happened to Duck Dynasty."  I was never a viewer of the series – but I have the T-Shirt that my husband picked up for me in West Monroe, Louisiana on one of his many treks to Florida. I did watch a portion of one episode at one of my daughter's following a family gathering.  About all I can remember about it was her family never missed an episode and were really into it.  I think that particular episode had some bird-hunting/killing/plucking/slicing/ dicing/cooking involved in it.  My other daughter and her family (who just happen to be vegans) had a hard time sitting there watching all of the carnage and eventually turned to other 
things to do and talk about.
The Robertson's have pretty some strong family values and have actually built quite a financial empire over the past 30 plus years with their clothing line – Duck Commander.  Even though she spent a great deal of her time working along side her husband, Miss Kay raised a family and filled them, not only with good food, but also a stern hand nicely blended with warmth and love.
Her cookbook is filled, not only with great, rib-sticking recipes, but also with quite a few biblical references, anecdotes, and family photos.  Sharing that she uses a cast iron skillet or dutch oven to cook most of her recipes, she explains it's because they can either be used on the stove top or in the oven and they heat up quickly. It's also not terribly surprising that several of her recipes call for Duck Commander seasoning!
Well, if you're lucky enough to own a cast-iron skillet or Dutch oven, here's a fairly easy recipe to try out on your family.  First, heat your oven to 275° and season about 1 pound of tenderized round steak (tenderized round steak usually comes 4 to a package and I generally cut those in half to make 8 pieces) with salt and pepper and lightly sprinkle both sides with flour.  Heat a small amount of vegetable oil in your cast-iron Dutch oven (or cast-iron skillet, or ovenproof casserole dish) and brown the steaks on both sides and drain off the excess oil.  Add 2 celery stalks chopped in large chunks, 1 onion chopped in large chunks, 1 chopped garlic clove, 1 bell pepper chopped in large chunks, 1 14.5 ounce can diced tomatoes and 1 8 ounce can tomato sauce to Dutch oven along with the browned steaks.  Cover and bake for 1 ½ hours and serve with steamed potatoes or egg noodles.  You may not be a Duck Commander, but this meal will have you eating like one!

Programs Blooming at the Library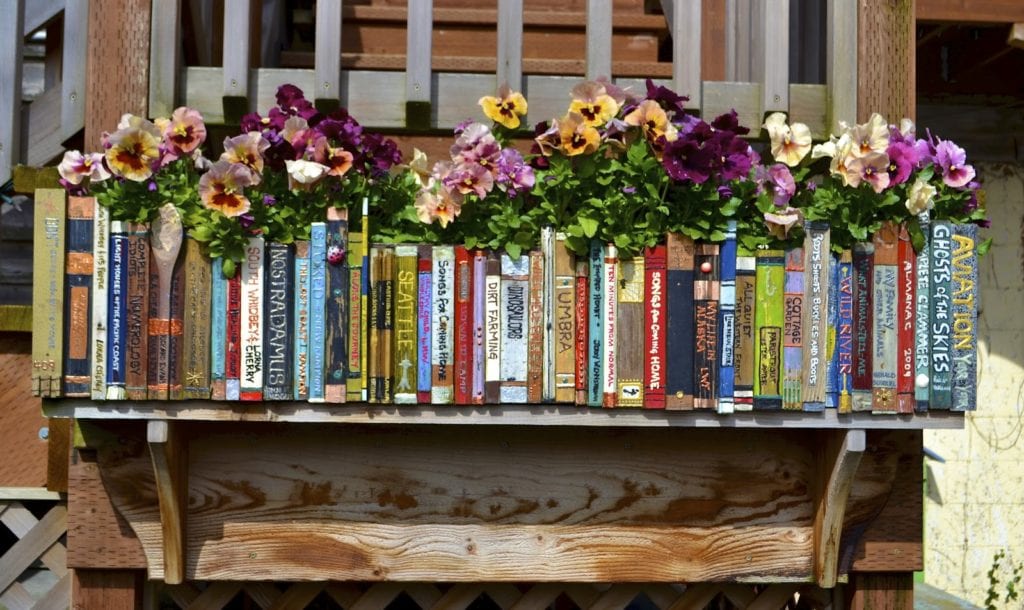 New April Programs for All Ages at the Library:
Introduction to Finch Robots & Book Signing for "MOM LIFE: Perfection Pending"
The Tyler Public Library is located at 201 S. College Ave., Tyler. Most events are free. For more info call (903)593-7323 or go to tylerlibrary.com.
Children
All storytimes will be in Taylor Auditorium.
Leeme un Cuento/Read to Me Storytime (children 3-6 years old), Mondays at 10:30am

Lap & Play Time (babies up to 18 months) features stories, songs, and playtime with developmental toys at 9:30am every Wednesday

Toddler Explore Storytime (children under age 3) is on Wednesdays at 10:30am

Read Aloud Crowd Storytime (children 3-6 years old), Thursdays at 10:30am
April 7th (2-4pm) – LEGO® Block Party – Children ages 3 and up, bring your imagination for an afternoon of building and playing! LEGO® and Duplo Blocks are provided.
April 14th and 28th (2-4pm) – Makerspace – This continuing STEM education for children and teens will feature April 14th: Introduction to Finch Robots and April 28th: We're at the Maker Faire. This will be held in the Library Treehouse.
April 21st (10:30am) – Movie Matinees – Families are invited to watch a fun feature length films in the library's auditorium. A different movie will be shown each day. Pillows, blankets, and carpet friendly snacks welcome.
Teens
Every Tuesday (4:30-5:30pm) – Teen Tuesdays – If you are in Middle School or High School you're in! The Library will have games, activities, and fun just for teens. Earn volunteer hours completing special projects. Descriptions for weekly activities can be found at library.cityoftyler.org/Programs/Teens. Events are:
April 3rd: DIY Calming Glitter Jars

April 10th: Intro to Coding with Finch Robots

April 17th: Robots cont. – Navigate a Maze

April 24th: Robots cont. – Draw with a Robot
Adults
April 7th (10am-12 noon) – EastSide Fiber Artists – An open gathering of all things fiber. Whether you quilt, knit, crochet, weave, spin, needle felt, etc. Bring your current or completed project and make some new friends.
April 13th (11:30am) – "Pass Along Plants" with Andie Rathbone will be presented as part of the Smith County Master Gardener Series.
April 14th (11am-12:30pm) – "MOM LIFE: Perfection Pending" Book Launch & Signing – Along with selling and signing copies of her new book during her stop at Tyler, Ethington will be discussing various parenting topics and opening up for a Q&A.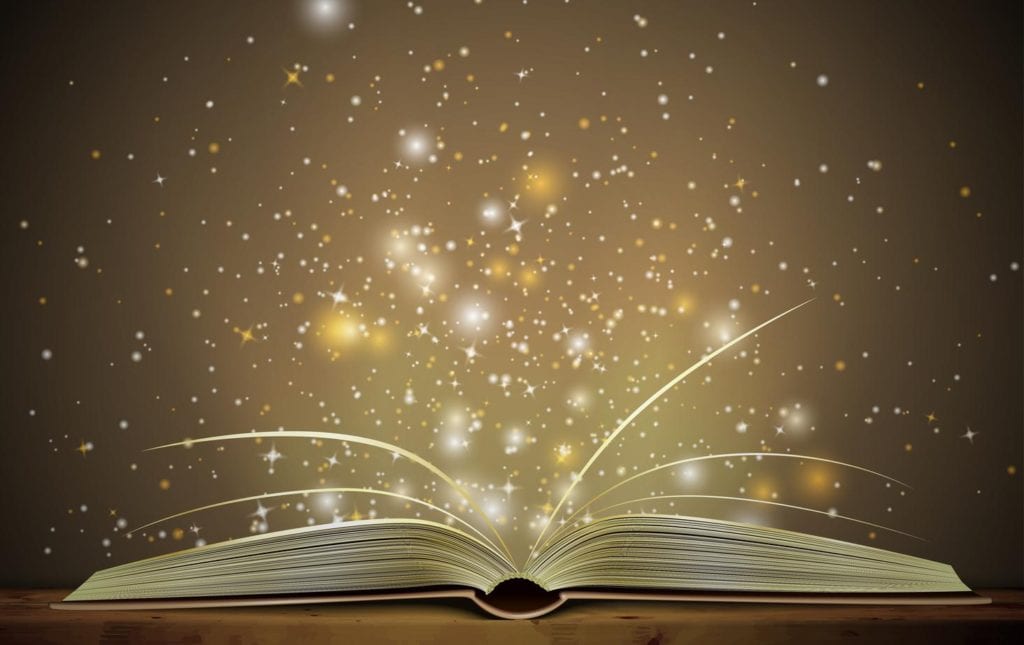 by Gini Rainey
There's a whole new world waiting for you between the covers of your next book. It's no secret that I love to read, and that I've been doing so for most of my life.  Back in the day, when there wasn't a myriad of electronic devices vying for everyone's attention, reading was the best way to escape reality.  Even though e-readers have become a way of life for most people, including me, there's nothing I like better than to hold the physical book in my hands, open it up to the first page, and dig into a world created by someone who has a story to tell.
I wish that more parents would encourage their children to read because it helps to develop their imaginations and creativity more than any other method.  Just think about all the books you've read and how you have pictured the heroes and heroines in your own mind.  That's why character development is one of the most important skills for writers to possess, because without well-developed characters, the reader will have a difficult time wrapping his brain around and immersing himself in even the most intriguing story line.
I would like to issue a challenge to anyone who loves to read.  Do you find yourself reading nothing but one genre of books, i.e. romance?  I do and then I realize that there are so many other types of books available, and I pick something totally opposite of what I really enjoy – just to broaden my horizons.  I would suggest that you try this.  You never know what is waiting to be discovered in the next book.  You might find out a new reading passion you didn't even know you had.
Before We Were Yours: A Novel
By Lisa Wingate
Lisa Wingate, a journalist, inspirational speaker, and the author of a host of literary works, has brought to life a family scandal that spans a couple of generations from the 1930s to present day and is based on the true-life story of Georgia Tann and the Tennessee Children's Homes Society orphan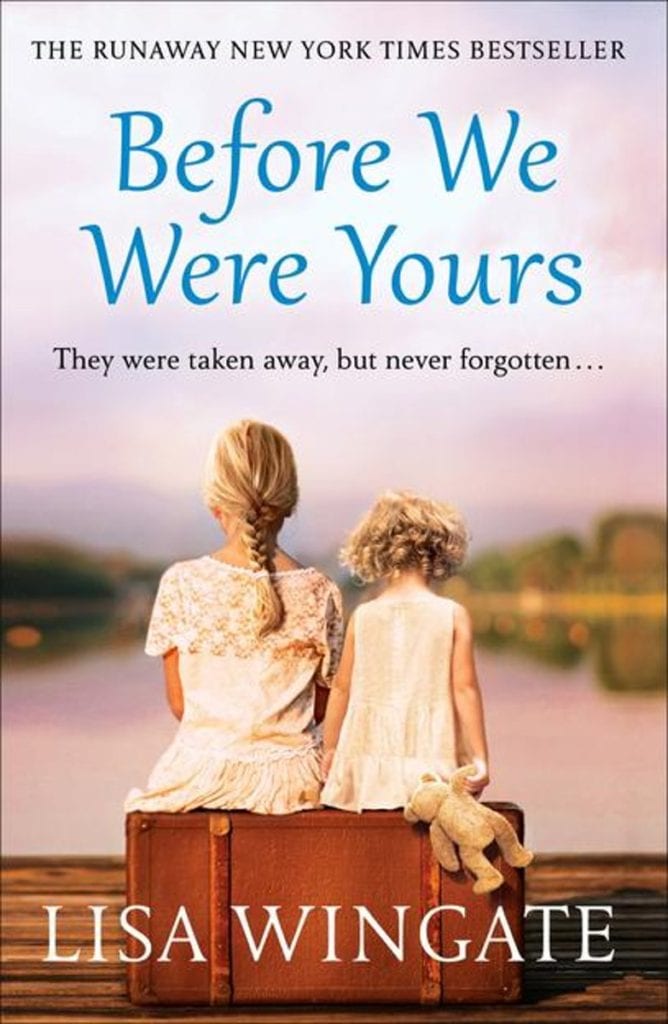 scam that she ran.
This was a mesmerizing tale of a family ripped apart by horrible, unfair, and illegal tactics and what mad this book even more chilling is that is was inspired by a real-life, decades long scandal that destroyed countless families and in turn, forever altered the victims' entire beings.
While there are several plotlines, and the switches back and forth from the '30s to present day at times became a bit confusing, Wingate's character development makes for a very interesting and compelling read.  While this is a terrifying story (mostly because it actually happened) Wingate places the reader in the position of a horrified spectator learning about this forgotten bit of history and the frightened but brave children to whom it happened.  Wingate has built the perfect tension between two stories and through it all has given the reader something to cheer about, as well as something to fear, as the main character, Avery, uncovers her family's history.   Wingate leads you to the edge of discovery and somehow manages to pulls you back again.  This book is definitely a page turner and well worth the read.
5 of 5 – Copyright 2017 – Ballentine Books