Inside the Artist's Studio: Diane Ditzler Frossard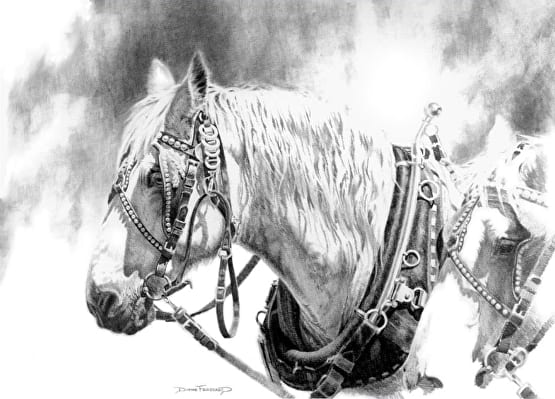 "The Searchers"
By Derrick White
John Ford's "The Searchers" (1956) was my dad's favorite film. It is a milestone Hollywood western, a Technicolor marvel with shades of emotional melancholy, tackling the myth of manifest destiny with a man's horseback quest to find and recover his remaining family. I will always associate this western and horses with my dad. He raised horses throughout his life more often than not. One of my earliest memories is my dad giving me a horse drawing lesson starting with two circles and simple shapes.
So, there is an instantaneous wistfulness when I see the exceptional work of local artist Diane Ditzler Frossard. This artist works in a variety of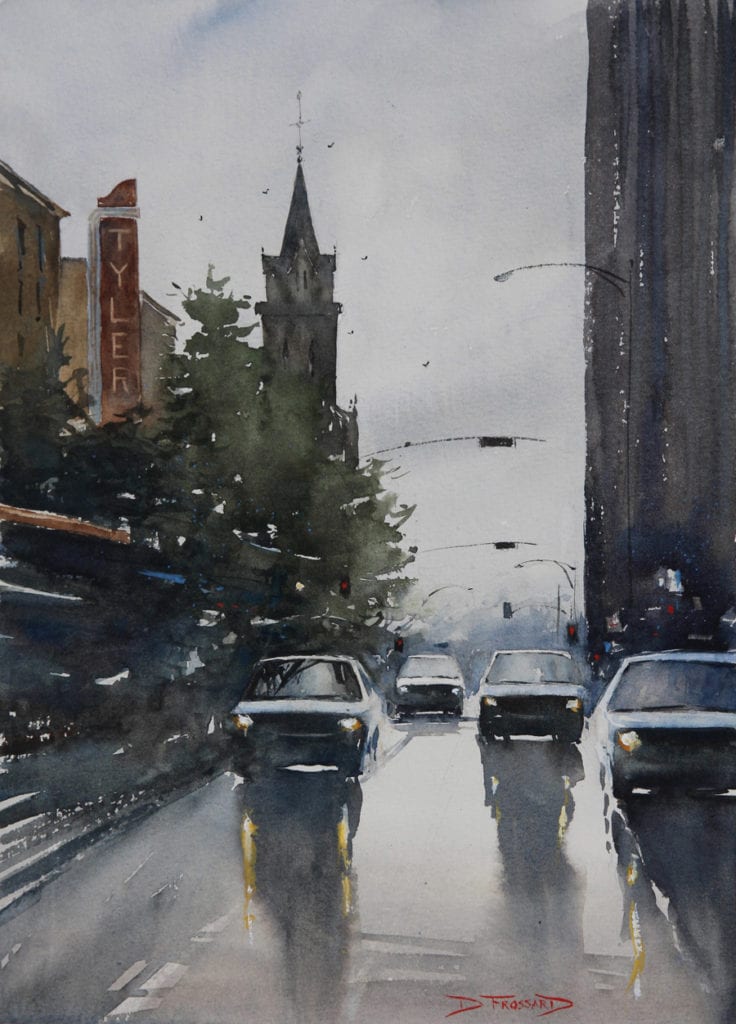 media including oils, watercolor, graphite, and charcoal. She has an extraordinary capacity to capture the essence of natural light on her realistic subjects and allows quick expressive marks and brushstrokes to build and become greater than the sum of their parts. A captured realism created from magically expressive movements leaves the viewer to become the searcher and reap the rewards of taking a double take and examining with a closer eye Frossard's amazing artwork.
"It is gratifying when someone is drawn to one of these paintings, saying it reminds them of something familiar to them," the artist stated. "As early as I can remember, I have had a passion for two things: art and horses. My father, an avid horseman, introduced me to horses at an early age, and they have always been a part of my life. I also loved drawing or doing anything related to art in my spare time. My mother briefly took an oil painting class. I thought her painting was wonderful, but she felt otherwise and didn't continue. I asked if I could use her leftover paints and canvas. Although I had no idea what I was doing I had fun creating my first oil painting (of my paint horse) when I was about 10 years old."
Diane Frossard has a degree in geology, not the typical path for an aspiring full-time artist. She knew she wanted to pursue art, but only painting what interested her and not have the pressure of having to support herself financially so she, and her husband, both worked as geologists. They moved their family to Tyler and established a ranch. Their horses are like family members, pampered, occasionally ridden, and often the subjects in her paintings.
"I still have the offspring of one of my childhood horses. He is now 33, and we have grown up together," Frossard said.
Frossard is a Master Signature Member of the Outdoor Painter's Society, a national plein air (painting outdoor subjects in the open air) group featuring the annual exhibition, Plein Air Southwest. Many of her landscapes are produced specifically for this exhibition. These landscapes are fairly small because they were created on location and had to be executed within a specific time frame before the light changed too much.
She says her inspiration usually comes when she is not looking for it: while feeding horses, doing chores, or taking walks. The lighting and time of day are
crucial to making a seemingly mundane subject come alive. Thirteen of Frossard's landscape paintings were featured at the Tyler Museum of Art in 2015 in the "Reflections of East Texas" exhibition.
Artists search for guidance. With the support of her husband, Diane has attended and learned from many different workshops.
"Bruce Peil was my mentor and introduced me to plein air painting. Paintings from life are bold, fresh, and immediate small works of art. I highly recommend Bruce Peil who works and teaches out of his renovated barn/studio, in Athens, to anyone looking for a good foundation in landscape painting," the artist suggested.
Artists search for the sublime. "The older I get, the stronger my desire is to take the ordinary things I see in my life and bring forth something unique and poetic from it. The reference is a jumping off point. The challenge is being able to tap into your muse and bring out unique, mystical, and sometimes fleeting images from your mind. For me, it is most often done through the use of light," Frossard said.
Artists search for development. Solitary practice is important and experiencing frustrating failures helps one grow as an artist.
"My breakthroughs and improvements most often come during those independent, alone times. I actually learn the most just from closely studying the work of master artists and staring at paintings in museums and online, how they solved problems, their compositions, brushwork, etc," Frossard said.
Frossard is searching to give back to her community in a variety of ways. "In gratitude for all who have shared their insight and expertise with me, I like to share what I have learned," she said. Frossard has been volunteering for a couple of art classes at St. Gregory School for 15 years.
Other projects include the "Hope" column for the "Pillars of Hope" mural project under the Gentry St. Bridge where homeless and others gather for church. She is currently working on a painting of the Tyler Square, which will be offered through auction at "The Art of Transformation" fundraiser on November 16th. All proceeds from the sale of this painting will benefit the Highway 80 Rescue Mission's Triumph Village, a new housing project and recovery program for the homeless.
Artists search for satisfaction. Diane stated, "Non-artists often don't realize, unless you are married to one, a lot of hard work, frustration, planning, and years of experience go into a good painting that looks simple and easily executed. It is hard to make it look effortless. It is not all fun, requires problem solving, and can be stressful at times, but tremendously worth it. It never gets any easier, because you are constantly working at a higher level; the more you learn and improve, the more your critical eye is ahead of your current ability. It can be frustrating at times when people don't understand the value of original art: the expense of materials, canvas, paints, brushes, etc., the time involved, plus the years of experience."

For more info about Diane Frossard go to DianeFrossard.com. Her work can currently be seen at Artist Showplace in Dallas and Valerosa in Tyler.
For anyone interested in figure drawing, Tyler has a life drawing group on Thursday evenings 6-9pm for $20 at Brick Street Studios, 1000 Augusta hosted by Russell Belue. For more info email beluesky2015@gmail.com.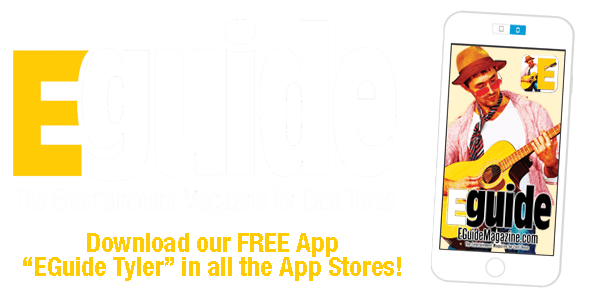 Art in the Garden April 28th at the Rose Garden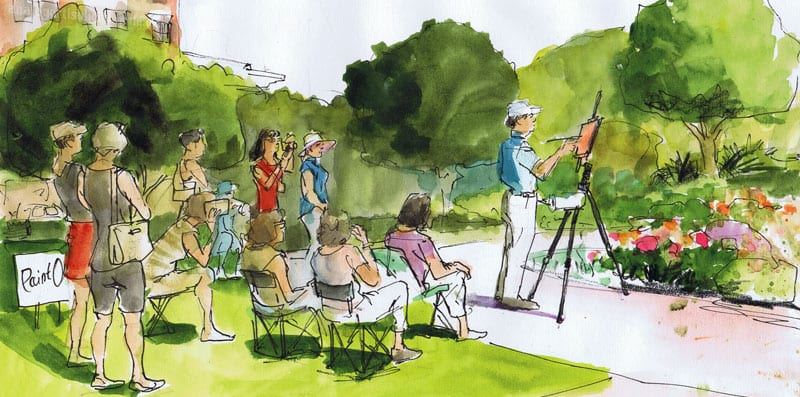 April 28th (11am-2pm) – 12th Annual Art in the Garde
n
The Tyler Parks and Recreation Department invites you to come paint or draw with us in the Tyler Rose Garden, 420 Rose Park Dr., Tyler.
Join local artists of all ages to paint. Bring your paints, any medium (paper or canvas) and an easel and create a masterpiece. Non-painters are welcome to view the garden and the artists at work.
A display of artwork will be shown in the exhibit area.
This is free to the public. Light refreshments will be served in the Rose Garden Center.
Art instructors are welcome to bring their students of any age.
For more info call (903)531-1214.
TJC Art Fest: This Week, Bell Tower Arts Journal" Launch Party, International Day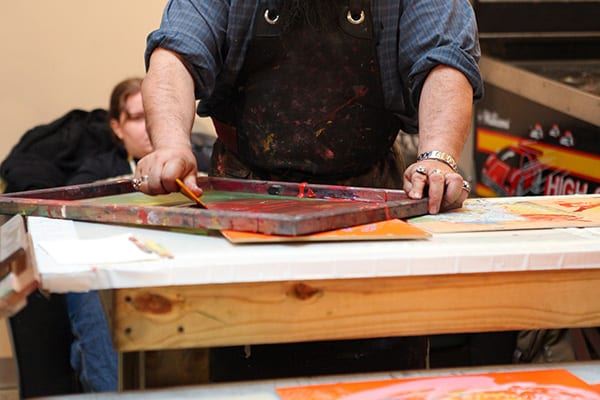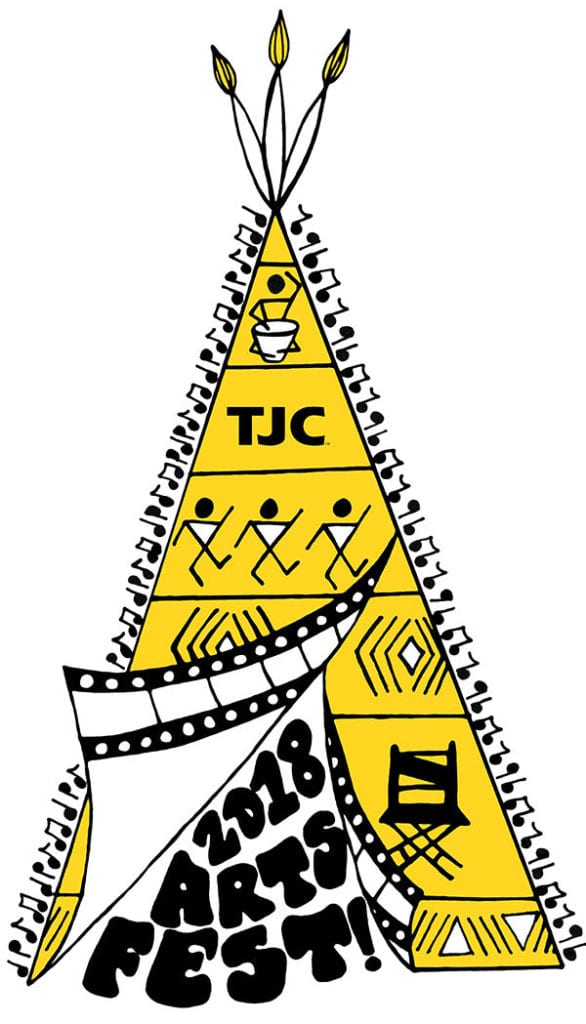 Tyler Junior College, the Tyler Museum of Art and others, are once again offering a spring arts festival packed with tons of events and performances. The TJC April Arts Festival will be collaborating with the Tyler Museum of Art the entire month of April.
The festival is a celebration of the dynamic arts programs at Tyler Junior College. These programs provide rich learning experiences. This event is a collaboration of The Bell Tower Arts Journal, International Day, the Tyler Museum of Art, and the Art, Music, Theater, Speech, Dance, and Visual Communications departments. Back again, the local CBS 19 will be supporting media underwriting.
The Annual Arts Festival germinated from the notion of Dr. Linda Gary (TJC Dean of Humanities, Communications and Fine Arts) a few years ago. Dr. Gary's original thoughts of the festival bloomed from her idea of outstretching the outstanding activities that the multiple departments at the college conduct and coordinate. Why not share the greatness? There are some entertaining, cultural, enlightening events taking place at the upcoming festival. Find the ones you are interested in, check them all out, and reconnect to one of Tyler's trademarks and come celebrate the arts.
2018 April Art Festival events include:
On view all of April – "Sticks and Stones: Works by Helen Altman" and the 14th Annual High School Art Exhibits will be at the Tyler Museum of Art all month. For more info, go to

tylermuseum.org

.

April 2nd-27th – A Visual Communications Exhibition will be displayed in the Pirtle Technology Building, Pirtle Phase 4.

Through April 25th – The Amazing Hancock Brothers will be on exhibit at the TJC Wise Auditorium Art Gallery.

Through April 27th – East Texas CARES Food Pantry is hosting a Food Drive, sponsored by The Art Club. Donations may be dropped off in the Jenkins Hall Art Department Lobby.
---
April 16th (2pm) – "The Bell Tower Arts Journal" Launch Party will be held in the TJC Jenkins Hall Art Department Lobby. The unveiling of the latest edition of "The Bell Tower Arts Journal" includes selected artwork, poetry and prose from students.

April 17th (9am-5pm) – TJC's Annual International Day celebrates diversity and worldwide cultures with an amazing lineup of events and activities in the Apache Rooms of the Rogers Student Center.

April 17th (10am) – Distinguished Lecture Series: Hearing Each Other: Tolerance & Interfaith Dialogue will be held in the Wise Auditorium.

April 17th (7:30pm) – Wind Ensembles and Symphonic Band will be in concert in Wise Auditorium. Come enjoy an evening of great music performed by students in the TJC Percussion Ensembles and Symphonic Band. Free admission.

April 18th (12 noon) – Coffee House: Chamber Singers will perform at Tyler Museum of Art in the lobby.

April 18th (5:30pm) – Forensics (Speech and Debate) Team Showcase will be held in the Jean Browne Theatre.

April 20th (1pm) – Student Recital Series will be held in the TJC Jean Browne Theatre.

April 23rd (3pm) – The Student Film Festival be be held in the TJC Apache Rooms. a

April 23rd (3pm) – "Be An Anchor" will be held in the Newsroom, Potter 203.

April 24th (10am) – Rock the Garden games and activities will be held in the TJC Genecov Garden area.

April 24th (3pm) – Azerbaijani Music Concert & Workshop will be held in the TJC Apache Rooms.

April 24th (7:30pm) – Spring Choral Concert will be presented in the TJC Wise Auditorium.

April 25th (12 noon) – THUNDERDOME Art Competition will take place where there is only one winner – all the other entries will be destroyed by the annihilator. BYOT (Bring your own tears) to Jenkins Courtyard. Special guests will be the Amazing Hancock Brothers!

April 25th (2pm) – Amazing Hancock Brothers Printmaking demonstration will be held in the TJC Jenkins Hall Art Department Lobby.

April 25th (12 noon) – Coffee House: Faculty Recital will be performed in the Tyler Museum of Art Lobby. Concert and museum admission is free.

April 25th-28th (7:30pm) and April 28th (2pm) – "Hamlet" will be presented in the TJC Jean Browne Theatre.

April 25th (7:30pm) – TJC Jazz Ensembles will perform in the Wise Auditorium.

April 27th – The Performance Grant Student Showcase Art Exhibition will on display in the Wise Auditorium Art Gallery.
Most events are free to attend and everyone is welcome. There is something for everyone offered during this month-long festival. Find the events, exhibits and performances you are interested in and come enjoy. It really is the best ticket in town!
Tyler Junior College is located at 1400 E. Fifth St., Tyler. The Tyler Junior College Wise Auditorium Fine Arts Building and TJC's Jean Browne Theatre in the Wise Cultural Arts Building are located near South Mahon Ave. across from the Tyler Museum of Art. More info can be found at tjc.edu/artsfestival or call (903)510-2200.
14th Annual High School Art Exhibit at Tyler Art Museum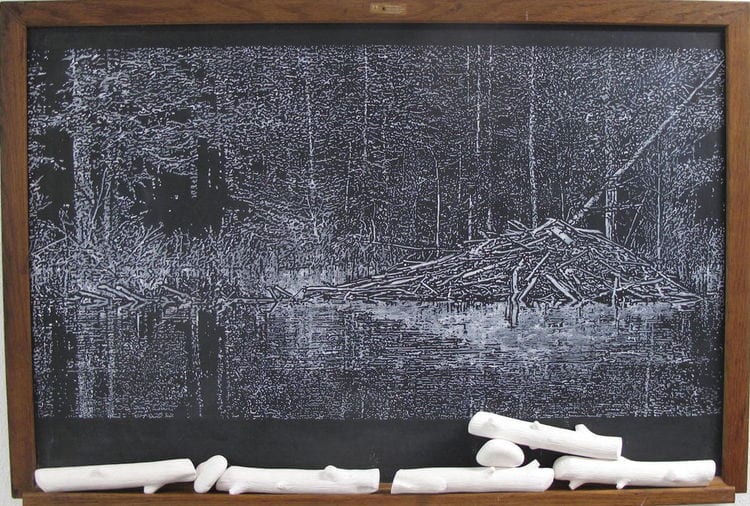 This Month at Tyler Museum of Art:
14th Annual High School Art Exhibition and "Sticks & Stones: Works by Helen Altman" on Exhibit
The Tyler Museum of Art (TMA) is located at 1300 S. Mahon Ave. on the Tyler Junior College main campus. Regular TMA hours are 10am-5pm Tuesday-Saturday, and 1-5pm Sunday. The Museum is closed Mondays and most major holidays. The Museum is supported by its members, Tyler Junior College, and the City of Tyler. For more info call the museum at (903)595-1001, tylermuseum.org, or email info@tylermuseum.org.
TMA's 14th Annual High School Art Exhibition on Exhibit April 8th-May 6th
An unprecedented number of aspiring artists from local schools will have their first opportunity for a full museum exhibition with the Tyler Museum of Art's "14th Annual High School Art Exhibition," opening Sunday, April 8th and continuing through May 6th at the Museum. The museum is located Tyler Junior main Campus is located at 1300 S. Mahon Ave. Admission is free.
What began in 2005 as a small showcase for 23 students from four area high schools has blossomed into a major exhibition and community event. This year's juried competition, tops the previous record of 2016, spotlighting for the first time the work of more than 100 students from a best-ever 14 high-school campuses in Tyler and nearby cities.
Five outstanding works as selected by the jurors will be presented with "Merit of Honor" awards during the Opening Reception and Awards Ceremony from 2:30-4pm, Sunday, April 8th at the Museum.
The community is invited to meet the participating artists, enjoy light refreshments – and cast their votes for the annual Viewers' Choice Award to be presented at the exhibition's conclusion. Ballots are available at the Visitor Services desk in the TMA lobby.
"Merit of Honor" winners will receive gift certificates from Dick Blick Art Materials. All participating artists will receive Certificates of Participation and one-year student memberships to the TMA. To RSVP for the April 8th opening reception, call (903)595-1001.
Participating schools in the "14th Annual High School Art Exhibition" include All-Saints Episcopal School, Bishop T.K. Gorman Regional Catholic School, Cumberland Academy, Grace Community School, John Tyler High School and Robert E. Lee High School, all of Tyler; The Brook Hill School, Brownsboro High School, Bullard High School, Chapel Hill High School, Elkhart High School, Frankston High School, Whitehouse High School and Winona High School.
Support for the exhibition is provided by Collectors' Circle-Platinum Sponsor The Rogers Foundation; and Collectors' Circle-Gold Sponsors Martha and Randy Key, McElfatrick Charitable Foundation and Myrtis D. Smith.
"Sticks and Stones: Works by Helen Altman"
Tyler Museum of Art celebrates the arrival of springtime with a quarter-century survey in the career of one of the most diverse and prolific contemporary Texas artists. "Sticks and Stones: Works by Helen Altman" continues through June 3rd in the museum's Bell Gallery. Admission is free.
The exhibition, organized by the TMA and curated by Caleb Bell, features more than 40 pieces spanning a dynamic body of work by Altman, a Fort Worth-based artist noted for her ability to move between various series across an eclectic array of media.
"Sticks and Stones" focuses on her fascination with flora and fauna, which "have been a much-appreciated constant in my life," the artist said. "They have been a constant source of joy and also a source of coping."
Altman's specific choices of media throughout her career – blankets, wire birds, egg editions, and torch drawings, to name just a few – also reflect a pronounced emphasis on exploring the unique in the everyday.
"Many of my works use commonplace materials and objects. I respond to ready-made objects that are often discards or flawed in some obvious way," she said. "Alterations in these familiar things elevate them and draw parallels to our own human predicament."
Altman received both her bachelor of fine arts and master of arts degrees from the University of Alabama, as well as her master of fine arts from the University of North Texas. Her work has been widely exhibited and is featured in numerous public collections, including the Art Museum of South East Texas, The Grace Museum, and Museum of Contemporary Art in San Diego.
Support for "Sticks and Stones" is provided by Collectors' Circle Platinum Sponsor The Byars Foundation.
Special events in connection with the exhibition include: Free First Friday tours at 11am April 6th, May 4th and June 1st; and Family Days from 2-4pm Saturday, April 14th and May 12th.