Inside the Artist's Studio: The Healing Hands of Art
Inside the Artist's Studio:
The Healing Hands of Art
"Art washes from the soul the dust of everyday life." – Pablo Picasso.
This quote from famed artist, Pablo Picasso, alludes to the intrinsic value of art. Tyler Junior College (TJC) is embracing in the idea, with a new rotating art exhibit,"The Beauty of Art and Medicine." With the belief that art has a direct connection to health, TJC invites guests to enjoy the talents of local East Texas artists, displayed on the Vernon & Amy Faulconer floor of the Robert M. Rogers Nursing & Health Sciences Building on the TJC main campus. From recent studies, art used as medicine can increase positive emotions, reduce anxiety and stress, and improve positive identity and medical outcomes.
"Art is unquestionably one of the purest and highest elements in human happiness. It trains the mind through the eye, and the eye through the mind. As the sun colors flowers, so does art color life." – John Lubbock.
Artworks featured in the exhibition show a variety of approaches and help introduce some local artists to the spotlight. The exhibition is in collaboration with the Tyler Museum of Art, and has been thoughtfully installed by Derek Frazier. Selections in this inaugural exhibit include David Ackerson's colorful blast acrylic painting "Post Tenebrus Lux," Heather Crane's collage titled "Old School," and a mother-daughter collaborative named "Wisdom + Dreams," by Cathy Krafve and Anna Krafve Pierce. The diptych (two panels) acrylic painting depicts the organic, half shapes of a flower and a butterfly resounding the connection between the subjects through the use of positive and negative space. Other works include Gaylon Dingler's spontaneous, visually tactile, paper-mâché and acrylic, relief  sculptures "Moon Water" and "Red Hot." The remaining artists showcased are: Dana W. Adams, Mike Bayham, Don Bristow, Doug Carter, Terry Fowler, Philipp Fürhofer, Kyle Ischy, Brian Stone, Ellie Taylor, Elaine Vorster, David Wallace, and Derrick White.
Pieces in the exhibition are available for purchase through collaboration with Valerosa Designs and Gallery.
Come take a stroll through this beautiful building and enrich your eyes and soul through your experience with the art while it is on display. "The arts empower. The arts help transform communities and, as I often say, the result can be a better child, a better town, a better nation and certainly a better world. Let's champion our arts action heroes, emulate them and make our communities everything we want them to be," states Robert L. Lynch, President, Americans for the Arts.
I believe there are also health benefits to collecting and living with handcrafted, unique art and not with mass produced, machine milled decorations from corporate, big box craft stores. When surrounding oneself with original art, it ultimately improves the quality of life. Owning original art can make you happy and give you positive feelings, as well as satisfaction in having something matchless and singular of which no other duplicate exist anywhere else in the entire world. Art can enhance the space in which it is displayed and make for a more aesthetic environment. The art you collect and display can be a healthy expression of your own individuality. Art reduces stress by increasing relaxation, gratification, and tranquility. I get fulfillment from visiting friends and collectors and seeing my art hanging on their walls and knowing my creations found a good home. Collectors often point out elements in the composition they have discovered, from years of living with the artwork, which I never intended. Art offers opportunities for social interaction reducing isolation and makes community spaces more aesthetic and interactive. Art is a great conversation piece. Buying local art helps the members of your own community.
I know that the art we have in our home is some of the most important objects we have for poignant, sentimental, and artistic reasons. My family and I are surrounded daily by art which feeds creativity, invokes fond memories, and constantly surprises us and there is no other home in the world with the same or even a similar interior look. A few selections of our growing art collection include a Randy Brodnax ceramic pot created in his signature style and beautifully formed and glazed. Brodnax was the community college art professor who changed my life. I found inspiration in his art appreciation class and decided to pursue a career in art. He was the first adult I met who loved what he did for a living and my goal became to mimic his way of life. We have several ceramic vases, mugs, and platters from Jake Allee, a friend, former colleague, and amazingly prolific creator. A colorful and exquisite painting by Barbara Holland complements our living room. I first met Barbara in 1992 when she and I both received awards at an exhibition. She placed second and I got third. Years later, while applying for a teaching position at TJC, I learned they hired Barbara Holland instead of me. Good choice but I thought "who is this short, British woman who keeps beating me at everything?" Things worked out and I landed the job a year later and fortunately had the pleasure of working with Barbara for eight years before she retired. Other artists in our collection are Mason Buchanan, Sean Cagle, Brianna Clark, Amber Draschil, Justin Edwards, Christie Funk, Dave Funk, Charles and John Hancock, Daniel Hays, Paul Jones, Cacy Legnion, Philana Oliphant, Jim Pace, Heather Rey, Chris Stewart, Josh Tamez, Kelsey White, and Gregory Zeorlin with recent acquisitions by Willow Lanchester and Erick Rodriguez. Each and every one of these artists' creations means something significant. Their art enhances our life, makes us think, appreciate and feel a stronger connection to the human condition. Having these art pieces and these people in my life adds to my health, mental wellness and warms my heart. Oh, I almost forgot, we also have the largest collection of original Derrick White paintings in the entire world.
Don't hesitate to stop by the gallery at 108 E. Eighth Street, Tyler, Monday-Friday, 10am-4pm, and Saturdays 10am-3pm.
For more information call Valerosa Gallery at (903)504-5249 or email, neitafran@valerosadesigns.com.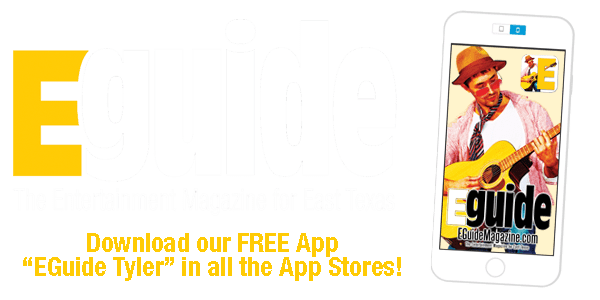 Call for Entries Open for 2018 Art of Peace Tyler Visual Art Exhibit
Entries are now being accepted for the "Sowing Seeds of Peace" Visual Art Exhibit as part of the Art of Peace – Tyler celebration, a citywide commemoration of the United Nations International Day of Peace, September 21st.
"Art of Peace – Tyler is happy to once again to partner with the Tyler Museum of Art to invite regional artists to offer their creative responses to the idea of peace and to our 2018 theme, 'Sowing Seeds of Peace'," said Anne McCrady, co-founder and co-director of the peace event.
The visual art show will be presented as a juried exhibit in the museum's education classroom September 16th-23rd, at the Tyler Museum of Art, 1300 S. Mahon Ave, on the Tyler Junior College main campus. The exhibit will be open to the public and admission is free.
The jury for selection will consist of members of the Art of Peace – Tyler committee and TMA representatives. The jury has the option to select up to two works per artist for inclusion in the show. Past exhibits have included the work of artists from Austin, Dallas, Lubbock and the East Texas area.
"We are privileged that the Art of Peace – Tyler committee once again has asked us to be the host venue for this exhibition," TMA Executive Director Chris Leahy said. "The work we have seen over the past four years of our partnership has grown increasingly more dynamic and accomplished, and we are proud to have the opportunity to participate in such a great community event."  
For more information about Art of Peace – Tyler events, visit tylerpeace.com. For questions about the art exhibition, e-mail artofpeaceart@gmail.com.
Sunday, September 23rd, there will be an Artist reception at 3pm.
"David Bates: Selected Works from Texas Collections" on Exhibit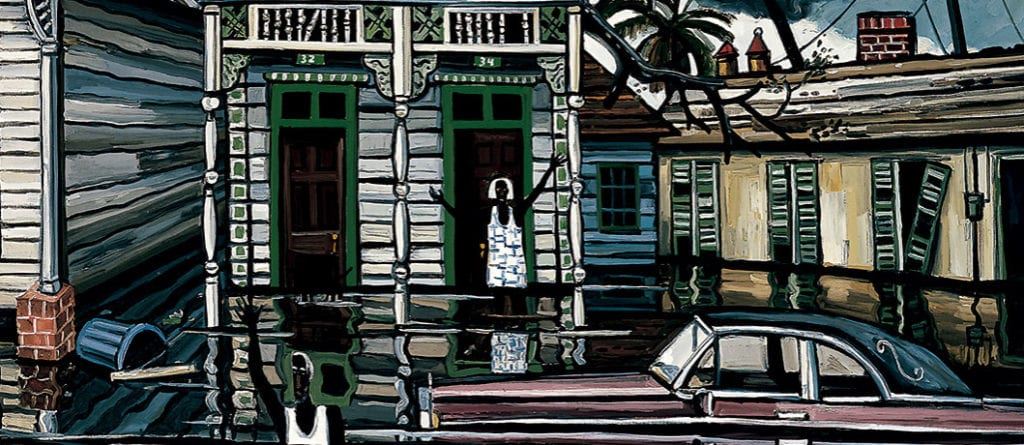 This Month at Tyler Museum of Art:
The Tyler Museum of Art (TMA) is located at 1300 S. Mahon Ave. on the Tyler Junior College main campus. Regular TMA hours are 10am-5pm Tuesday-Saturday, and 1-5pm Sunday. The Museum is closed Mondays and most major holidays. The Museum is supported by its members, Tyler Junior College, and the City of Tyler. For more info call the museum at (903)595-1001, tylermuseum.org, or email info@tylermuseum.org.
David Bates, one of the most acclaimed artists in Dallas, is the focus of Tyler Museum of Art's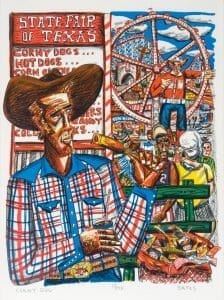 summer exhibition, "David Bates: Selected Works from Texas Collections" on view through September 9th.
Curated by the museum's Caleb Bell, the exhibition features close to 30 works surveying the prolific career of Bates, one of the most versatile and widely collected contemporary Texas artists. Spanning art from 1982 to 2016, works in the show highlight several of Bates' most celebrated series and include a wide array of media: oil painting, lithographs, woodcuts, screenprints and bronze sculpture. The show was assembled from art in public and private collections throughout the state, including the museum's own permanent collection. Bates' work is widely exhibited and included in several museum and corporate art collections.
Admission is $6 for adults and $4 for seniors. Museum members, students, TJC faculty/staff and city of Tyler employees are admitted free. Support for exhibit is provided by The Byars Foundation.
Family Days
Free admission, interactive art projects, light snacks and a festive atmosphere for all ages are on the menu from 2-4pm the second Saturday of each month with the Tyler Museum of Art's Family Day. This popular program focuses on fostering a deeper understanding of the Museum's spotlight exhibitions – and, above all, having fun! To RSVP for groups of 10 or more, please call (903)595-1001 or e-mail info@tylermuseum.org.
First Friday
The first Friday of each month, the TMA offers a full day of free admission plus guided tours of its spotlight exhibitions at 11am. From contemporary Texas art to Hudson River School to Andy Warhol, each tour is unique.
Art Events Warming Up For Summer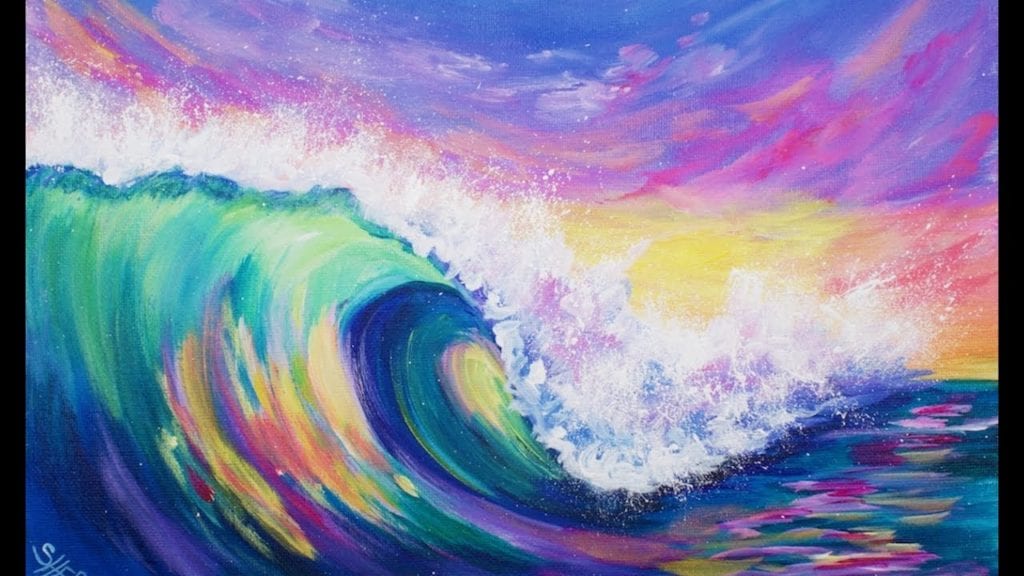 Events & Classes
Every Wednesday (6-8pm) and Sunday (1-3pm) – Acrylic Painting Classes
will be held at Michael's, 5839 S. Broadway, Tyler. Cost is $15. Topics include landscapes, life, and floral. To RSVP go to michaels.com and select the Tyler location. This class features master classic painting techniques while completing an image selected by the Instructor. Supplies are not included.
First Saturday of every Month (10am-2pm) – Eastside Fiber ARTist Meeting – The monthly meeting will be held at the Tyler Public Library, 301 S. College Ave, Downtown Tyler on July 7th. Please join the monthly meetings and participate in a variety of fiber arts from quilting, weaving, embroidery, knitting, crocheting, jewelry making, and mixed media and tons more. Guests and visitors are always welcomed. For more info go to facebook.com/Eastside.Fiber.ARTists. It is free to attend.