Inside the Artist's Studio: The Texas Biennial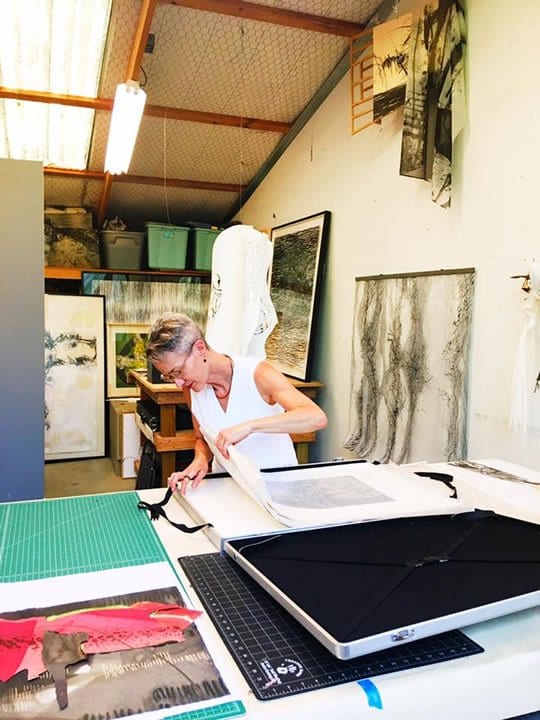 Miles and Miles of Texas
By Derrick White
Over the summer, in the span of seven weeks, curator Leslie Moody Castro visited 25 Texas cities, 200 artist's studios, and traveled 11,033 miles! The Texas Biennial is an exhibition of contemporary art celebrating the many cultures and identities influencing and impacting our daily lives across our state. Of the 1,217 applicants, 33 artists were chosen to exhibit in Austin September 30th–November 11th. One artist is from Tyler: Philana Oliphant Pace, an excellent choice.
Philana is a respected and sincere art professor at Tyler Junior College. She embodies a quiet, incredibly patient, forgiving, and knowledgeable approach to instruction. Her artwork, from large-scale sculpture installations to handcrafted drawings and cut-outs are all completed with precision and persistence.
Philana Oliphant Pace mentions in her artist's statement, "My drawings are remnants of a behavioral form allowing my mind to achieve a meditative state. The results rely on a physiological statement, which is the first principle of communication. The forms are pieces of an infinite puzzle. They are repetitive, connective, and possess a sense of time. Searching for grace, the union of drawing and sculpture manifests what I will pass on while releasing what I will not." Her artwork exemplifies craftsmanship, passion, and diligent patience.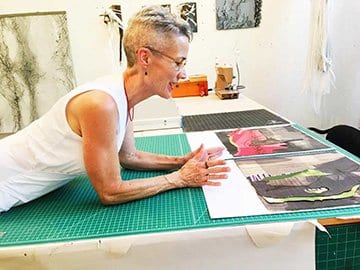 After a period of evaluation and restructuring, the Texas Biennial is returning in its sixth edition with an ambitious program celebrating the heterogeneous voices across Texas. In 2017, efforts are being made to shift the focus onto communities and learn from them through the curatorial process. This year the Texas Biennial welcomed Leslie Moody Castro as an independent curator and artistic director. Castro has a history of making artistic voices and the communities they work within central to her practice. "I am an independent curator and I split my time between living in Mexico City and Austin, Texas. I earned my Master's degree from the University of Texas at Austin in Museum Education and Museum Studies and my Bachelor's degree from DePaul University in Chicago," Castro said.
Castro blogged each part of her trek across the state. East Texas has so much to offer with its visual arts scene as well as other thriving ventures and communities. It is an honor for us to be included in the conversation about Texas contemporary art. I had the pleasure of hosting Leslie Moody Castro on her visit to our city, and I was proud and excited about the introduction I was able to make. "East Texas, you are beautiful, and I am proud of the artwork being made in this area." The following are some edited excerpts from Castor's Texas Biennial Road Trip Blog: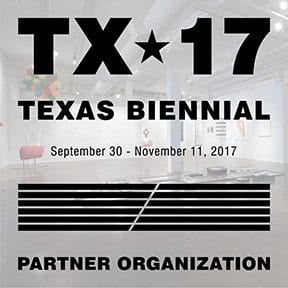 "I had never been to Tyler, and I was eager for what I was about to learn. Tyler Junior College is a partner organization with the Biennial. I had heard Tyler has a burgeoning arts community centered around the junior college and the university. We went to Tyler Junior College. The campus is absolutely stunning, and even though it was summer, the energy on the campus was palpable. The art facilities are better than in some bigger universities I have visited in the past. I learned everyone teaching at the school is a practicing, professional artist and is also expected to show their work. Professors are not just expected to teach medium and technique, but offer insight to professional practices."
"Later that evening we pulled up to the beautiful home of James and Philana Oliphant Pace. There were so much love and respect among everyone in the room, and I felt lucky to be there. They had prepared a small spread of bites, handed me a beer, and we all walked outside to their shared studio to talk about their work. I walked over to Philana's area of the studio, and we began talking about the foundations of drawing. Her work is meticulous, but the concentration and focus of her mark making are completely embedded in the sound the mark is making as she places it on the paper. Philana's marks operate in two time frames, the present, and the immediate past. She listens to the sound of the mark and the sound offers direction for the next mark. It's a micro-moment of noise she has the sensitivity to hear, and after speaking with both Philana and James about their practices, it was clear how they had become such important mentors in the arts community."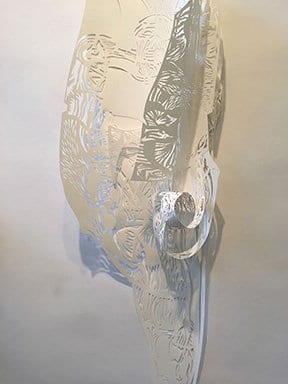 "It was while visiting Philana and James that I really realized I was on a road trip with the entire state of Texas. We talked about the general need for connectivity between places in the state, and how I hoped the road trip could provide some of that. As we all said our goodbyes I walked away feeling like I truly had a community in Tyler, and the Biennial could do a job bigger than just an exhibition. At that moment I also realized the amount of support the project was truly receiving. We began as total strangers in a place I had never been to, and I walked away with the support of a new community."
"Being on the road, and traveling is not glamorous, most of the time it's isolating and lonely, but my time in Tyler was warm, inviting, and friendly. It was during a conversation with Philana I realized this road trip existed in three time zones: the past, immediate present, and future. I was present in the moment of one place, planning for the next place, and writing about the place I had just been in, and the observation was just another moment I realized the empathy that existed in their community of artists, and I was even more grateful to be invited in. As I hopped in the car to head to Huntsville I realized visits like Tyler were exactly the reason this road trip was both necessary and wonderful."
After the close of the Austin exhibition, partner organizations, including TJC, will advocate for Texas contemporary art in a variety of ways such as hosting selected works of the Biennial exhibition, hosting artists' talks, demonstrations, and panel discussions with Biennial and local artists.
Relive the whole road trip by reading Castro's blog at texasbiennial.org/roadtrip.html.
For more info go to texasbiennial.org.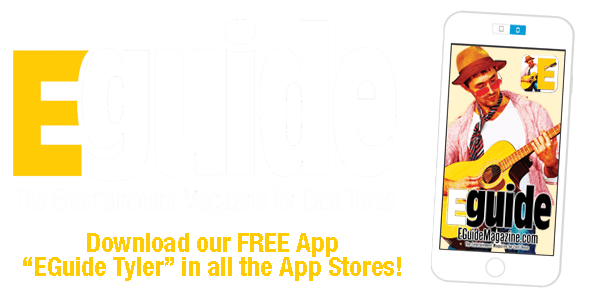 Tyler Museum of Art Creativity Camps Begin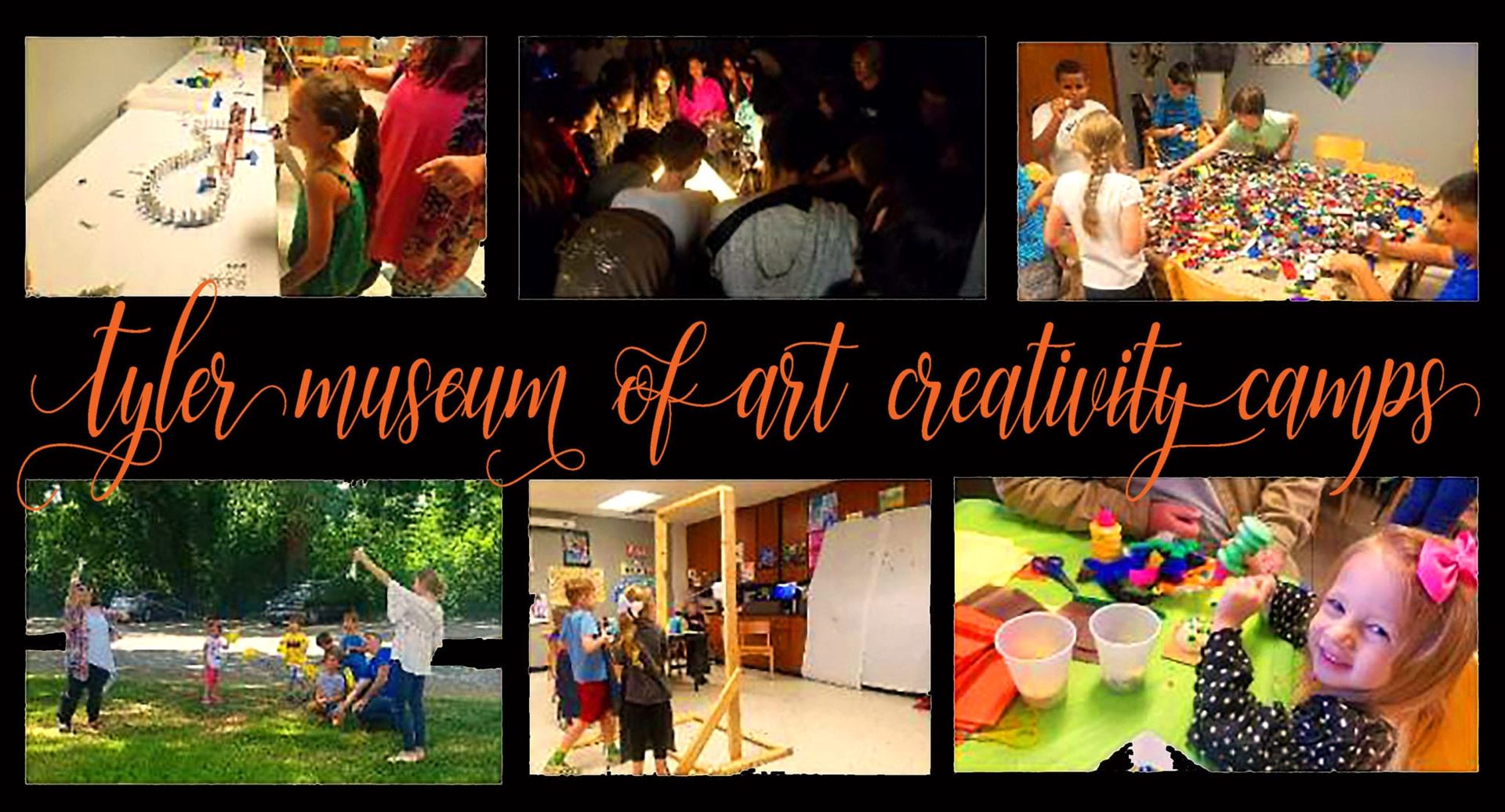 Tyler Museum of Art Creativity Camps 2018
9:00 a.m.-4:00 p.m. M-F * Ages 6-12 * $40 per day/$175 per week
TMA World Tour 2018      June 25-29
We'll expand the visual arts to include music and performance. In addition to our visual art activities, our young artists will make musical instruments, learn a song, and play a mini-concert at the end of the week.
Upside-down and Backward      July 9-13
Everything looks different from a fresh perspective. Drawing underwater, painting with spaghetti, there's no telling what will happen when we change the way we make art. This camp is all about real creativity, and our young artists will help us brainstorm up new, exciting projects all week long.
Beachcombers' Paradise     July 16-20
Love the seashore but hate sunburns and foot-scorching sand? Come explore marine environments through art! Biology, art and fun merge into one great experience as we learn about the weird, wonderful world of sea life and environments, and express our new knowledge through art.
5 Days Away from Rose City   July 23-27
Some of the country's greatest artists call the Lone Star State home. We will explore the geographical regions of Texas and the artists who gain inspiration in them, ending up right here in East Texas.

6×6@110 Continues at Gallery Main Street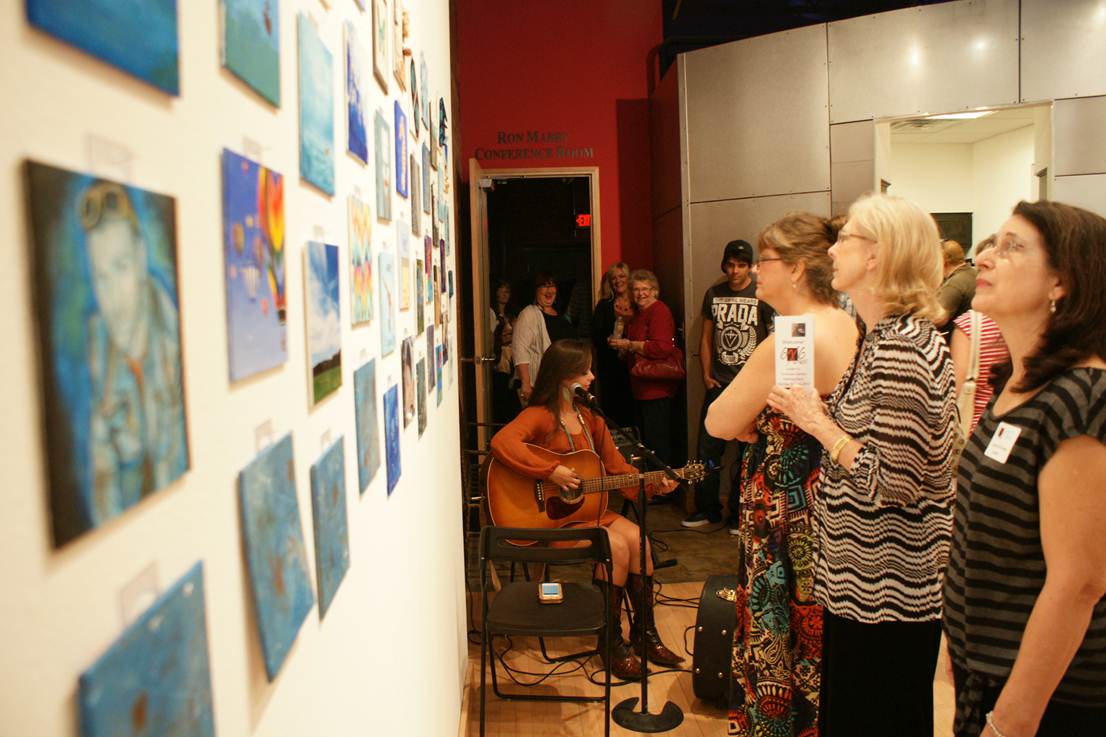 Skip the line, purchase tickets in advance HERE.
Purchase VIP tickets HERE.
The annual 6×6@110 is an art fundraising project to benefit Gallery Main Street in Downtown Tyler, Texas. The gallery is a City of Tyler facility operated with the cooperation of the Downtown Tyler Arts Coalition, an all-volunteer group of artists who schedule and jury fine arts exhibits and organize projects. All of the net proceeds of 6×6@110 will go to support those activities.
The annual 6×6@110 fundraising project will be held June 6th at 6pm. Each piece will be sold for $20, with all proceeds going to help fund the City of Tyler Main Street Department, which operates Gallery Main Street.
The name "6×6@110" reflects the fact that all artwork sold in the show will be 6"x6", and will be shown at Gallery Main Street at 110 W. Erwin, Downtown Tyler.
For more info on this project go to downtowntylerarts.com, call (903)593-6905, or follow the Downtown Tyler Facebook Page.
The 2017 6×6@110 featured over 1000 works by hundreds of participants. The project earned the distinction of receiving the Best Promotional Event award from the Texas Downtown Association.
First Solo Show Opening
Help celebrate the opening of Gallery Main Street's first fine art solo artist exhibit on Saturday, May 12th, 5:30-8pm. This free event will feature the opportunity to meet the artist and be among the first to see and purchase pieces from the exhibit. The exhibit will run through June 4th.
The jury will select the top three groups of submittals and then additional information and show descriptions will be submitted. The jury will review all additional information and will announce the solo artist on April 28th.
Other Upcoming Exhibits
Remaining shows this year are:
Solo Show #1 – Opening May 12th

"6x6x10" – Deadline June 1st, opening June 6th

Solo Show #2 – Deadline June 17th, opening July 14th

"Assemblies" – Deadline July 29th, opening August 11th

"Alternate Perspective" – Deadline September 30th, opening October 13th

Holiday Market – Deadline November 25th, opening December 8th
You can enter your art at DowntownTylerArts.com. For more info call (903)593-6905 or go to DowntownTylerArts.com.
Gallery Main Street features a new exhibit of original art approximately every eight weeks. Each exhibit opens with a Saturday evening reception that features music, an opportunity to meet the artists, refreshments, and more. The Opening Receptions are free and open to the public.
Art Events Warming Up For Summer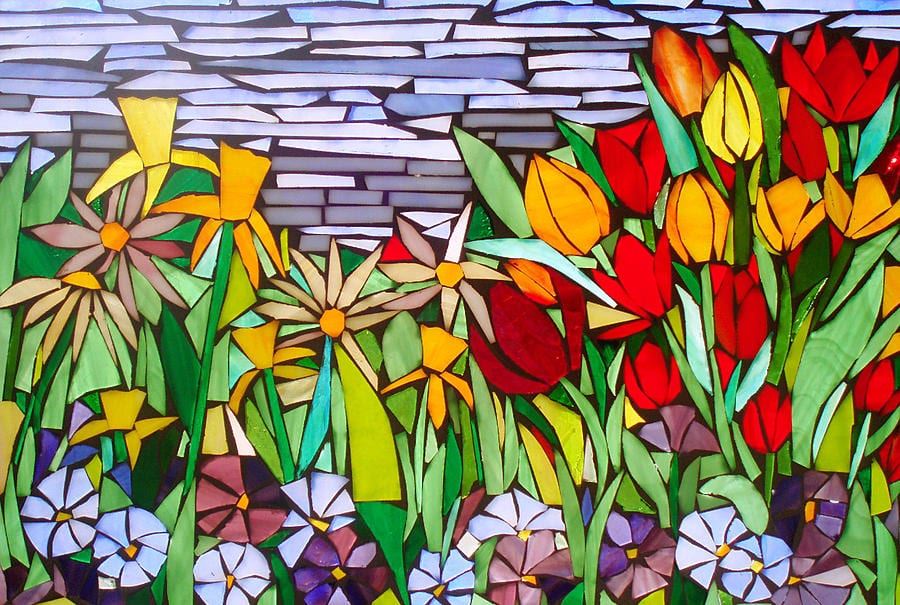 Events & Classes
June 16th (11am-11:30pm) June 17th (11am-4pm) – Junebug Art and Music Festival –
Calling all artists! Junebug is an annual community Art and Music festival with an afternoon farmers market. This event encompasses art in its many forms. There will be teachers of weaving and soap making, along with hands on pottery wheel demonstrations. Attendees' senses will be engulfed by the sights, sound, smell, and feel of all that is to be offered at this very unique art event in a very quaint little artsy community. The show will offer up a stage filled with eclectic musicians, bands, and songwriters. Saturday there will be a community Farmers Market where locals can sell their organic and/or locally sourced products. Vendor and artist applications are available at theforgebenwheeler.com. The family-friendly festival, which is located in the tiny art enclave of Ben Wheeler,TX, highlights the work of artists, musicians, and artisans from the Lone Star state. Headquartered on the three-acre park-like property surrounding the FORGE (a local restaurant, bar, and music venue), the festival will give attendees an opportunity to witness the creative process through "live art" displays as well as the chance to actively join in the process. For more information email
junebugsummerfair@gmail.com
.
June 22nd (7-9pm) – Paperbark Studio Pop Up
will be held at Strada Caffe, 302 E. Front St., Tyler. Come join us for a pop-up art show featuring
Paperbark Studio
as well as craft beer, wine, and small plates, espresso bar and pastry case. Come enjoy a wonderful summer evening of local art!
June 26th (6-8pm) – Kids Canvas Paint Party –
Tyler Parks and Recreation is hosting a Kids Paint Party at the Glass Recreation Center for children ages 7-12 years old. For more information, please visit
TylerParksandRec.com
.