Downtown Liberty Hall: A Theatre's Historic Significance
By Bobby Simmons
Imagine it for a moment. The warm glow of fluorescent neon in manifold colors. An electric hum from the lights emboldened by the electric atmosphere of shuffled feet on concrete, and excited conversation between friends, lovers, and locals of all kinds. People of a different time, a prosperous time, collected together in anticipation of the week's main event at 103 E. Erwin, the first run show at the Liberty Theater in the heart of Tyler's bustling downtown.
This snapshot of 1950's era Liberty Theater is Americana at it's finest, a slice of the American dream in downtown Tyler in the years of prosperity following WW2 and the victory of the "greatest generation." According to one source, the Liberty Theater opened it's doors on June 18th, 1930. It started as a cinema and operated successfully for decades until the 80's as the majority of Tyler's commerce shifted south, to the new developments of shopping centers and department stores. In the last years before closure, the Liberty had various owners with their own plans on how to restore it to glory, all of them unsuccessful.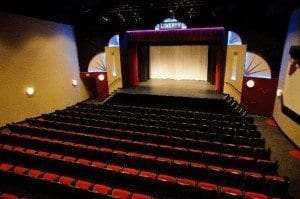 While the community input portion of the Tyler 21 Comprehensive Plan was being carried out in 2008, it became clear that the community had an overwhelming interest in revitalizing Downtown Tyler. Somewhere during this process of Tyler 21 planning, City Manager Mark McDaniel says "all of a sudden, we get a call from Nancy Wren (Executive Director of the East Texas Symphony) and she's interested in talking to us more about this crazy idea about Liberty Hall being opened downtown as a concert hall." The East Texas Symphony's main mission is carried out at the Cowan Center, but they took an interest in Liberty Hall serving as the Anchor Tenant because, according to Wrenn, "we find that meeting the audience on a more intimate level, particularly children, will allow us to identify with the needs of the audience, and they with our mission."
Even though other people had tried to do something with the theater in years past, never before had there been the broad communication and cooperation that was facilitated by the Tyler 21 initiative. With the support of the public, the City went to work on revitalizing the downtown district. Several projects were completed, such as the Heart of Tyler, Gallery Main Street, Tyler Main Street Offices, and now Liberty Hall. After the city finalized the plan and purchased the building, Mayor Barbara Bass, the City Council, and the East Texas Symphony came together for a massive fund-raising effort that would inevitably succeed and provide the dollars needed to make the vision a reality. According to Mark McDaniel, Mayor Barbara Bass was an integral part of the fund raising process and he credits her with raising 75% of the budget for this project.
The City chose to work with Butler Architectural Group for the remodeling design that would transform the old Liberty Theater into the new Liberty Hall. They chose to incorporate mid-century styles and designs within the overall contemporary and modern structure. They specifically designed every aspect of the lines, colors, and ornamentation to reflect the golden era. They wanted an ambiance that would allow visitors to be immersed in a vivid and intimate theater experience, capturing the same electric atmosphere that was here during the 1950's.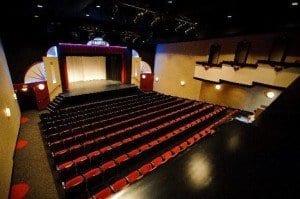 This feat of public and private participation was in itself an overwhelming success from which the city has only just begun to reap dividends. This project has fortified the composure of those who hold a dynamic and inclusive vision for the future of Tyler's business and social networks. The fact that so many local businesses and individuals were willing to freely invest in the local quality of life through this project was an enormous achievement. Over one million dollars of private donations has breathed new wind into the sails of those working to reshape the downtown atmosphere. So the question is, "Did the spark start a fire?" Well, according to Executive Director of Liberty Hall, Anne Payne, the theater has been a huge success.
I was able to have a conversation with Anne about the theater and it's role in the development of the downtown district over the last two years. As they are moving into their third year now, she's excited about the things they've accomplished and the things they're planning for 2014. At her estimation they've seen between ten and fifteen thousand foot-traffic visitors per year on average and she expects this years numbers to march in lock-step. Liberty Hall has also been a crucial component of bringing more people downtown for food and shopping. The business relationships downtown seem to be flourishing and Liberty Hall is a welcome companion as more cooperation and development has new visitors discovering the nightlife oasis of downtown Tyler. A resident of over twenty years, Anne laughs and says that she thought she knew everyone, but in her time at Liberty Hall she has been pleased to see how many new people are coming to be a part of what's happening in downtown.
One Tyler resident remarked that, "It's really like a little Austin right here in Tyler. Where are you going to take someone to show them something special about your city? With all that's developed over the last few years, you now have a downtown with a pulse, a feel, and a rhythm all its own. There are still some misguided misconceptions about parking and safety, but the city is doing great to address those concerns and prove that Tyler is a good nightlife destination."
When people come to Liberty Hall, they can expect to see the best entertainment that East Texas has to offer. The theater has continued in it's original purpose by showing classic films on the big screen. It offers residents a chance to relive their favorites in an atmosphere unlike any other. The charm and intimacy of this venue allows the classic films to touch people with a degree of nostalgia that can't be found in a mega-multiplex. The theater also schedules and plans the movies in accordance with special events, so visitors can expect to see a holiday classic in the coming weeks.
Building on a fantastic tradition of movie-going, the architects redesigned the theater to accommodate live performances as well – a part of the original vision of the East Texas Symphony. Now, this 350 seat venue offers an up-close and personal experience for fans of live music. In many cases the performers will have a "meet and greet" with the audience after the show. Since it's grand opening, Liberty Hall has hosted the East Texas Symphony regularly, as well as great acts like Bob Schneider, Asleep at the Wheel, Ralph Stanley, Gary P. Nunn, and too many others to list.
Last August the Liberty had it's first Battle of the Bands event "Rock Paper Scissors." This was a great opportunity for local talent to perform in a sit down theater as opposed to a club atmosphere. It's also proved to be a great way to gather more local support and bring in a whole new group of people to the theater, especially a younger crowd. There will most likely be a repeat in the summer of 2014.
In addition to these musical experiences, Liberty Hall also showcases outstanding performances of live theater. This year the Liberty is working with a local professional acting group, Apex Entertainment, providing them a home base to perform shows like "39 Steps" and "Rent." Apex also put on an educational summer program for kids last August and plans to do the same in the summer of 2014.
Another important part of the new format has been the introduction of stand up comedy to the mix. The feedback on these performances has been so positive that it has now become a big part of what Liberty Hall is doing every month, booking great family friendly acts like national performer Henry Cho, who performed in November.
The diversity of it's events makes the theater stand out from other venues, but it also presents the challenge of balancing the schedule so that it accommodates the interests of the various demographics in Tyler. "We're always trying new things to excite and entertain the public through the theater. Our rentals are really increasing as well. We are open to the public for event rentals like private social events, weddings, and even fashion events. Event rental is a good part of the revenue that keeps the theater going and even adds to the diversity of our impact. We're planning much more through 2014 and always looking for public input because it's crucial to the future of the theater" said Payne.
"It takes time but we are growing. Social media's impact is incredible. We've only been open for two years and we have over 4,500 people watching the website. It's where we get a lot of feedback on what we are doing. It's been a crucial part of the success that has allowed us to get the word out and do so much more with our budget."
If walls could talk, the walls of Tyler's Liberty Hall would have many stories to tell. Stories of a bygone era, stories of strenuous efforts and eventual triumph, and most importantly, the stories that have yet to unfold.
Liberty Hall 103 E. Erwin St., downtown Tyler (903)595-7274
Upcoming events are on their website, Facebook and Twitter pages.
Tickets are available online at libertytyler.com.
Liberty Hall is a department of the City of Tyler.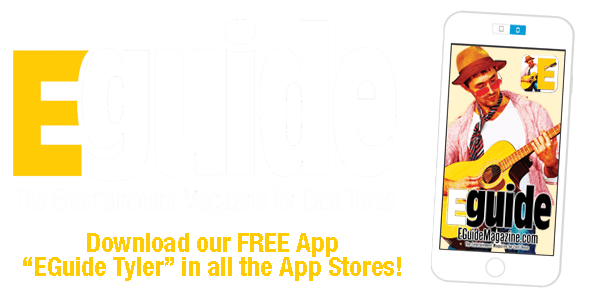 Calling All Poets, April 21st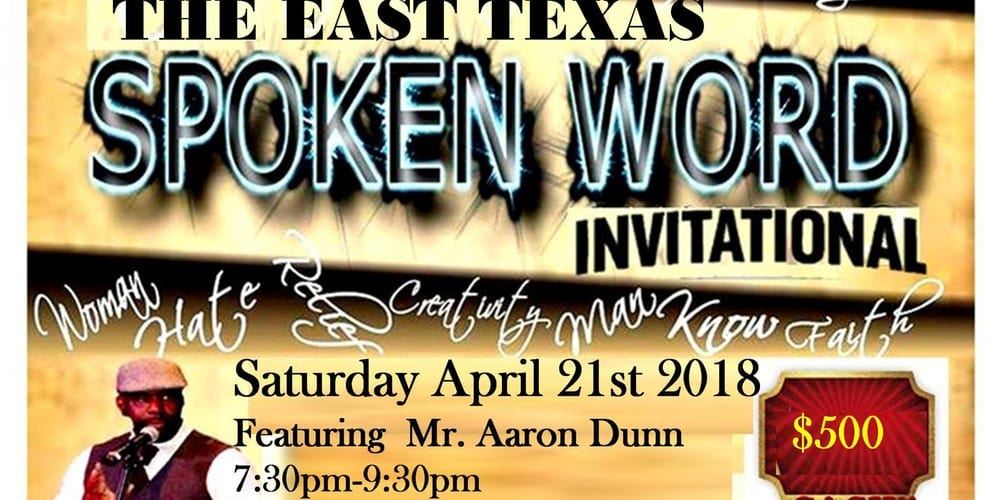 The East Texas Spoken Word Invitational Competition
The East Texas Spoken Word Invitational is an 'East Texas poets only' competition and will be held Saturday, April 21st, 7:30-9:30pm at El Guapo Records, 257 S. Broadway Ave., Downtown Tyler.
On this night, come celebrate International Poetry Month in a family-friendly space. At this collective community gathering, the featured poet will be Aaron Dunn, author of the new collection "Poetry For Your Sake." Aaron will be reciting works which will be available for purchase.
There will be 12 poets selected for his annual spoken word event. Prizes will be awarded. Poets can enter the competition for $10. There is free admission for any audience member.
Tickets are available at eventbrite.com > East Texas Spoken Word Invitational. To participate, you must have an eventbrite ticket.
Seating is limited. For more info call or text (972)704-5001 or go to mikeguinn.biz.
Liberty Hall: Bill Anderson in Concert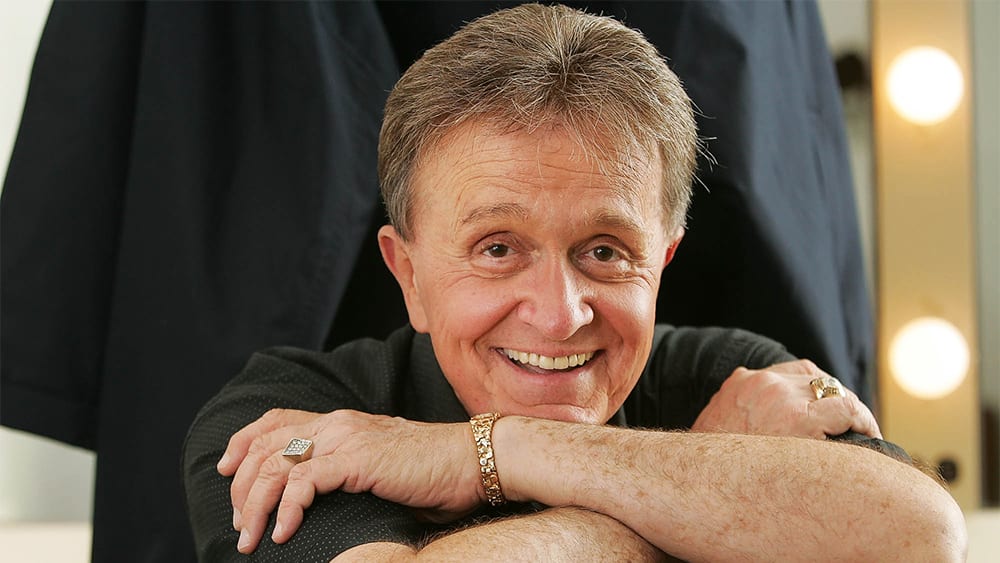 Country Music Hall of Famer Bill Anderson in concert this weekend!
---
Liberty Hall is hosting a variety of upcoming events. Liberty has something for all ages! Liberty Hall is located at 103 E. Erwin St., Tyler. Tickets are available online at libertytyler.com.
April 20th (7pm) – Bill Anderson in Concert – Country Music Hall of Famer, Bill Anderson, has been a member of the Grand Ole Opry sine 1961. One of the most popular, most enduring entertainers of our time, he's known, in fact as "Whispering Bill," a nickname hung on him years ago as a result of his breathy voice and his warm, soft approach to singing a country song. For tickets call (866)710-8942. Tickets start at $40.
April 21st (8pm) – Mouse & The Traps – After more than 50 years together, Mouse & the Traps continue to be one of the best examples of "Texas Rock & Roll." Formed in Tyler, Texas in 1965, Mouse, Nardo, Dave & Larry continue to give the public just what they want – great rock and roll. Whether you remember "Public Execution," "Hit the Bricks," or not, Mouse & The Traps has something for everyone. Tickets are $20-$25.
May 10th (7pm) – Twitty & Lynn: Grandchildren of Conway & Loretta in Concert – Tayla Lynn grew up in the heart of Tennessee and started singing with her grandmother at an early age. Tre Twitty, the grandson of the late Conway Twitty, is a remarkable young talent and will perform as well. For tickets call (866)710-8942. Tickets start at $30.
June 27th (7pm) – Country Music Hall of Famer Connie Smith – In 1964, Connie Smith recorded the Bill Anderson-written "Once a Day." Issued as her first single, it spent eight weeks at #1. She also cut darkly personal songs, including "Ribbon of Darkness" and "The Last Letter." For tickets call (866)710-8942. Tickets start at $40.
July 20th (7pm) – "Sail On: The Beach Boys Tribute" is a show based out of Nashville, TN, that focuses on performing songs by America's Band, The Beach Boys, to sheer perfection. The show includes over 30 well-known hits. Members of Sail On have performed with Brian Wilson's band, The Zombies, Earth Wind and Fire, Cheap Trick, Mark Lindsay. Tickets are $20.
August 11th (8pm) – Sgt. Pepper's Lonely Bluegrass Band will visit Liberty once again! They are a modern bluegrass band that plays and sings the songs of The Beatles. Performing some of the very best music composed by Paul McCartney, John Lennon and George Harrison, beloved songs are presented with instruments you normally wouldn't expect to hear. Tickets are $20.
August 16th (7pm) – The Bellamy Brothers – Best-known for the easy rolling, '70s Southern soft rock classic "Let Your Love Flow," the Bellamy Brothers are the most successful duo in country music history, consistently climbing into the upper reaches of the Billboard country charts during the '80s, including "Redneck Girl," "If I Said You Had A Beautiful Body, Would You Hold It Against Me," '"You Ain't Just Whistlin' Dixie," and "Dancin' Cowboys." For tickets call (866)710-8942. Tickets start at $40.
Horror & Paranormal Conference Held April 20th-21st
Horror & Paranormal Conference & Psychic Fair to be Held April 20th-21st
This year's annual Horror & Paranormal Conference & Psychic Fair is coming to town April 20th-21st, and it promises to be even bigger and better than ever.
Held at Staybridge Inn & Suites, 2759 McDonald Rd., in Tyler, you can experience everything from ghosts, to Bigfoot, to UFO's, to psychic readings – everything can be found at this hugely popular event.
New and returning guest speakers make this an event one to remember. Come satisfy your curiosity or add to your current knowledge. You will have the opportunity to meet the established stars, the up and coming stars, and of course, experience astounding psychic readings and galleries that will be going on.
April 20th kicks it all off with a VIP dinner with the stars. This event will also include some light ghost hunting plus a movie screening. Be sure to  experience the speakers and vendors all day Saturday, the 21st, and a psychic gallery that evening, followed by an all night ghost hunt at multiple locations. VIP ticket holders get early access with free coffee and donuts, front row seating, super stuffed goody bags, a special free tarot or rune reading by special guest Alexis Jones, access to a free movie of your choice Friday night at Hollywood Theaters, free dinner at Athena's Greek Restaurant on Friday night, and free admission to the psychic gallery on Saturday night. These tickets are very limited, so get yours early.
Guests include Scott Gruenwald, Trana Simmons, Marie Davis, Rosa Ramirez, Mike McCaskill, Jeff Hurley, Dr. Heidi Hoke, Ashton Rogers, and more.
Throughout the day there will be tarot readings, astrology readings, angelic guide connection sessions, psychic rune card readings, hypnotherapy demos, medium readings, mind clearing and energy balancing sessions, reiki healing, and photo ops.
The full itinerary as well as tickets are available at toursoftyler.com. Tickets are $15-$60.