In Concert at Liberty Hall in July & August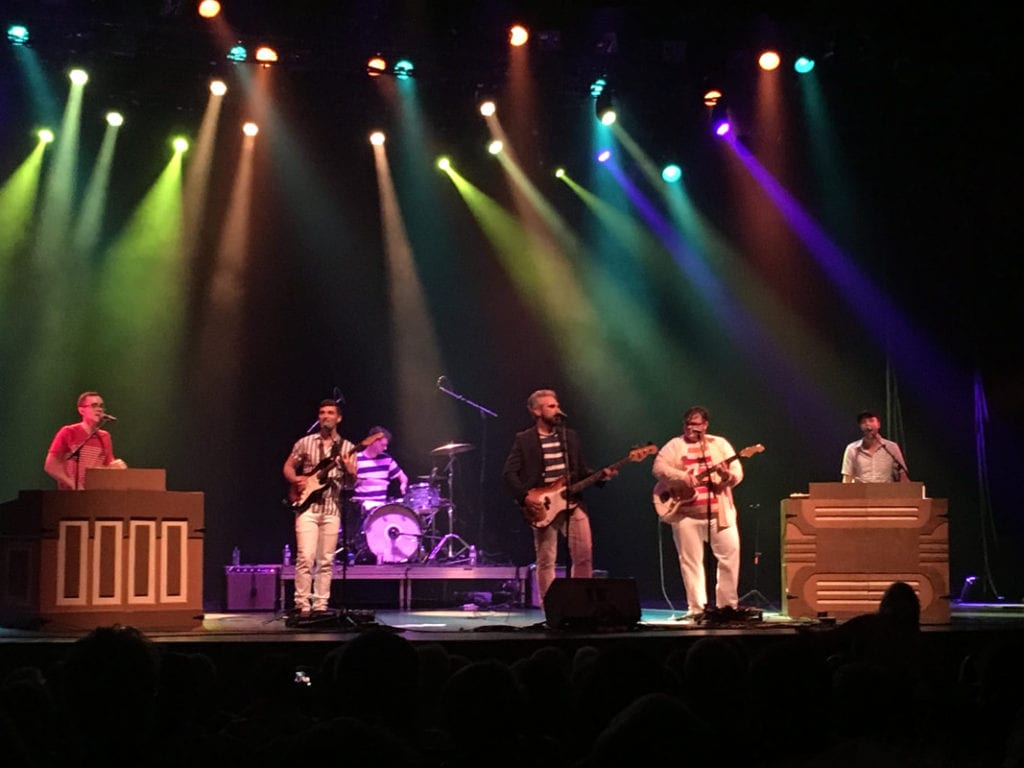 We are ready for spring! Here are whats coming to Liberty Hall.
July 20th (7pm) – "Sail On: The Beach Boys Tribute" is a show based out of Nashville, TN, that focuses on performing songs by America's Band, The Beach Boys, to sheer perfection. The show includes over 30 well-known hits. Members of Sail On have performed with Brian Wilson's band, The Zombies, Earth Wind and Fire, Cheap Trick, Mark Lindsay. Tickets are $20.
August 3rd (7-9pm) – Dailey & Vincent in Concert – Grand Ole Opry Members, five-time Grammy® award winners individually, three-time Grammy® award nominees collectively, four-time DOVE Award winners, and winners of 35 IBMA Awards altogether (including 3-time IBMA Entertainer of the Year Award winners and 3-Time Vocal Group of the Year Award winners), Jamie Dailey and Darrin Vincent, backed by one of the best bands on tour today, are some of the most reputable and elite entertainers in American music; bluegrass, traditional country and gospel music. They are now on Season 3 of their nationally broadcast television series, "The Dailey & Vincent Show." Tickets start at $40.
August 11th (8pm) – Sgt. Pepper's Lonely Bluegrass Band will visit Liberty once again! They are a modern bluegrass band that plays and sings the songs of The Beatles. Performing some of the very best music composed by Paul McCartney, John Lennon and George Harrison, beloved songs are presented with instruments you normally wouldn't expect to hear. Tickets are $20.
August 16th (7pm) – The Bellamy Brothers – Best-known for the easy rolling, '70s Southern soft rock classic "Let Your Love Flow," the Bellamy Brothers are the most successful duo in country music history, consistently climbing into the upper reaches of the Billboard country charts during the '80s, including "Redneck Girl," "If I Said You Had A Beautiful Body, Would You Hold It Against Me," '"You Ain't Just Whistlin' Dixie," and "Dancin' Cowboys." For tickets call (866)710-8942. Tickets start at $40.
September 19th (7-9pm) – Gene Watson in Concert –
The Legendary Gene Watson in Concert! Gene Watson has endured the ups and downs of the music business to become a country music legend. After releasing his very first single in 1962, Watson is still touring constantly in the USA and abroad and remains proud to be known as an icon for "real country." Tickets start at $45.
December 8th (7-9pm) – Deck the Halls with Buddy Holly: A Rockin' Blue Christmas –
Liberty Hall is proud to welcome back Johnny Rogers, aka Buddy Holly, for a holiday show perfect for the whole family. Join Buddy as he rocks and rolls away your holiday blues with a mixture of classic rock n' roll and Christmas time favorites. This is an acclaimed Christmas concert. Make sure to get your tickets early so you don't miss out. Tickets start at $20.
To top it all off, we will host student movie nights every first Thursday of each month. Students get a $2 discount off their ticket price with a valid student I.D. Be sure to visit LibertyTyler.com for more information and tickets and "Like" Liberty Hall on Facebook for daily updates.
Liberty Hall is a department of the City of Tyler and is located on the historic Downtown Tyler Square. The mission of Liberty Hall is to create exciting art and entertainment experience that will integrate the arts into the downtown's social, economic and community fabric by providing diverse opportunities for entertainment, through film, theater, comedy, and music.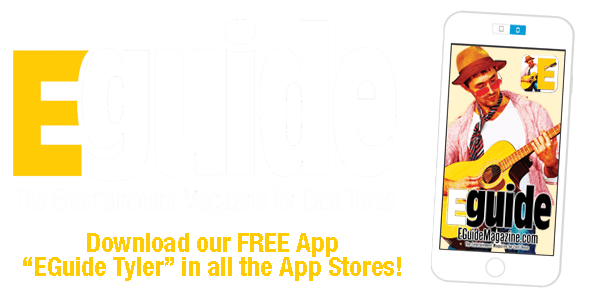 July 27th: SFO, A Journey Tribute Band at Bergfeld Park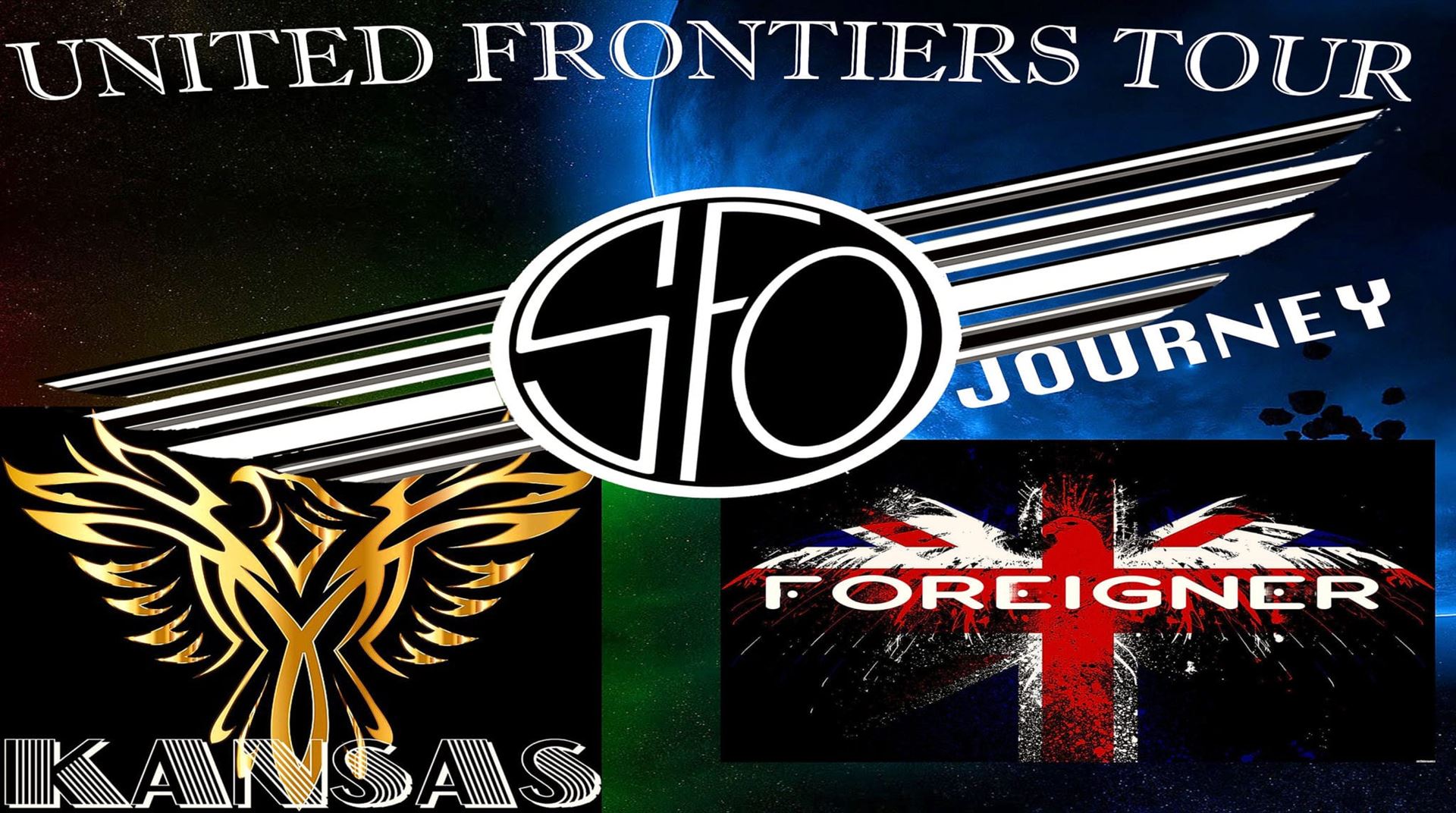 The City of Tyler will host the annual Bergfeld Summer Showcase at Bergfeld Park, located at 1510 S. College Ave., on Friday, July 27. The event kicks off at 6 p.m. with fun and food trucks and live music beginning at 7 p.m.
This year, SFO – A Journey Tribute, a Nashville native band will take the stage. SFO recreates the experience of a 1980's concert, playing all the Journey hits that you know and love with a special salute to Kansas and Foreigner. The band is made up of top-notch musicians from Nashville, Florida, and Minnesota who bring the highest level of musicianship to the audience.
Frontman Gabe Jacobs delivers powerful vocals to his audience by closely emulating the vocals and stage presence of legendary Steve Perry.
"This band will transport you back to the 80's with all the songs you know by heart!" said Adriana Rodriguez, event coordinator.
The local favorite food trucks will be present for quality dining including Say Cheese, Weinerland, Lupita's, Kona Ice and Pokey O's.
For more information, contact Adriana Rodriguez at (903) 595-7248 or at ARodriguez@TylerTexas.com.

2018-2019 ETSO Takes Flight this Fall!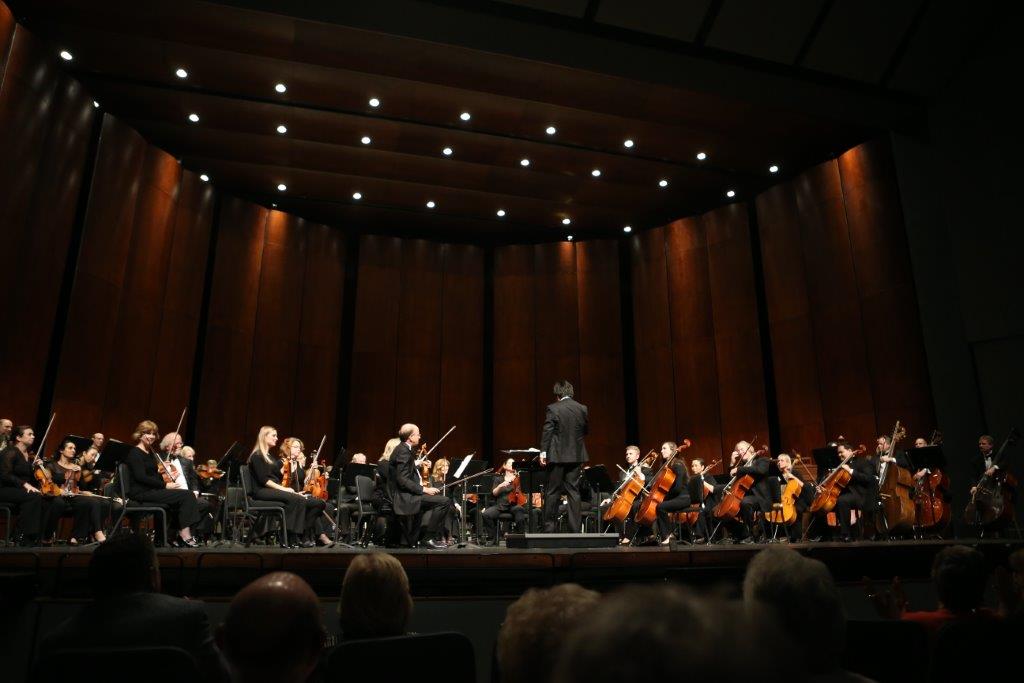 Richard Lee, music director and conductor of the ETSO said, "It is my pleasure to present the ETSO's stellar 2018/2019 season, as well as this equally stellar new logo and visual identity! These are truly exciting times of change and progress for the orchestra. First and foremost, I am so very proud of our musicians, who are playing consistently at a high level, which is the hallmark of a great orchestra."
As for guest artists, the good news is that they always want to come back! This upcoming season, is looking forward to the return of violinist Augustin Hadelich (think flawless technique and thoughtful musicality), The 5 Browns (and their 5 grand pianos!), and Charlie Chaplin (well, not really him, but his film The Gold Rush). The symphony is equally looking forward to introducing the Silver Medalist of the most recent Cliburn Competition, Kenny Broberg. The November concert features the aforementioned musicians of the orchestra, who will perform everything from Vivaldi to Hindemith, both as soloists as well as in smaller ensembles.
As usual, the season includes works representing the American canon of classical music, old (ie. baroque) music and new music. We'll begin new cycles featuring works by Haydn and Schubert, both woefully underperformed here, starting with ETSO premieres of an obscure Haydn overture and Schubert's well-known final symphony, the Great."
All concerts are performed at the University of Texas at Tyler, R. Don Cowan Fine and Performing Arts Center. The concerts begins at 7:30pm. For more info or to purchase tickets, go to etso.org or call (903)566-7424.
September 15th (7:30pm) – Van Cliburn Medalist Kenneth Broberg on piano will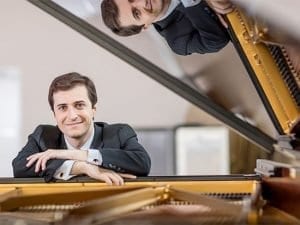 perform under Richard Lee, conductor, Haydn: Overture L'isola disabitata, Mozart: Piano Concerto No. 17, K. 453, Rimsky-Korsakov: Piano Concerto Op. 30, and Beethoven: Symphony No. 2.
At age 23, Kenny Broberg's captivating concerto performance at the 2017 Van Cliburn International Piano Competition won both a prolonged standing ovation and a Silver Medal. Broberg opens the East Texas Symphony Orchestra's 2018/2019 Season with not one, but two works – Mozart's sublime Piano Concerto No. 17 and a rarely heard piano concerto by Rimsky-Korsakov. Mr. Broberg appears by arrangement with The Cliburn. Richard Lee and the ETSO conclude opening night and their Beethoven cycle with the composer's spirited Symphony No. 2.
November 10th (7:30pm) – ETSO Deconstructed – The ETSO is deconstructed for a concert that explores the many configurations of the orchestra. Four of the orchestra's core  violinists, led by concertmaster Mark Miller, are featured in a concerto by Antonio Vivaldi and Principal Oboist Sharon Lacey performs Marcello's Oboe Concerto in C minor. The evening also features Handel's Music for the Royal Fireworks, originally conceived for winds, brass, and percussion, as well as Paul Hindemith's singular Concert Music for Strings and Brass. The evening concludes with the full force of the ETSO performing Tchaikovsky's diabolically challenging Francesca da Rimini.
December 1st (2pm and 7:30pm) – "The Nutcracker" – Celebrating TJC Academy of Dance's 30th anniversary performance of the "Nutcracker," conductor Richard Lee will present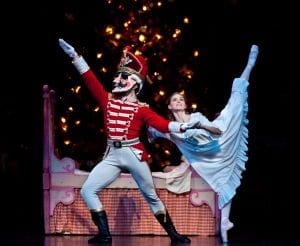 this lovely production. This is a special add-on event and not a part of any subscription package.
It wouldn't be the holidays without Clara, the Sugar Plum Fairy, the Mouse King, the Nutcracker Prince, and many other holiday friends! The East Texas Symphony Orchestra is delighted to partner with the Tyler Junior College Academy of Dance for its 30th anniversary production of Tchaikovsky's The Nutcracker. Relive the experience of this timeless tradition with mesmerizing dance and splendid music, performed with live orchestra, vibrant costumes, and sets.
January 26th (7:30pm) – Charlie Chaplin: "The Gold Rush" – Richard Lee, conductor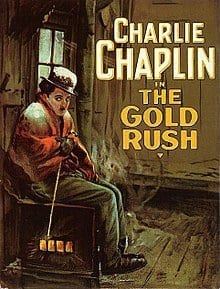 will conduct the ETSO as they underscore the Charlie Chaplin film, "The Gold Rush," as we follow the Tramp as he seeks his fortune in the lawless Klondike.
The "Little Tramp" persona was not at all like the real Sir Charles Chaplin, the polished and accomplished actor, writer, director, composer, star, and producer for most of his movies. During his long career, Chaplin utilized the "slapstick" comedy most readily associated with this character in order to tackle "serious" subject matter. In The Gold Rush, Chaplin's personal favorite, follow the Tramp as he seeks his fortune in the lawless Klondike, with live soundtrack provided by the ETSO.
March 23rd (7:30pm) – The 5 Browns will perform with the ETSO Brahms: Hungarian Dance No. 5 in G minor, Bach: Triple concerto BWV 1064, mvt 1, Debussy: Clair de Lune, Poulenc: Concerto for Two Pianos in D minor, Muhly: The Edge of the World for Five Pianos and orchestra, and Gershwin: Rhapsody in Blue.
The 5 Browns enjoyed their first wave of critical attention in February 2002 when People Magazine dubbed them the "Fab Five" at about the same time they were featured on Oprah and 60 Minutes. The New York Post proclaimed: "One family, five pianos and 50 fingers add up to the biggest classical music sensation in years…" The quintet has garnered extensive coverage from media outlets ranging from The Tonight Show to The New York Times. ETSO welcomes back The 5 Browns to perform solos, duets, trios, and their arrangements for all 5 pianos!
April 27th (7:30pm) – Grammy®-winner Augustin Hadelich will perform on violin with conductor Richard Lee performing Tchaikovsky: Violin Concerto and Schubert: "Great"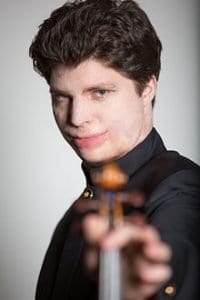 Symphony in C Major.
One of the most acclaimed artists of our time, Augustin Hadelich returns to East Texas to perform perhaps the most famous and demanding violin concerto in the repertory. The Juilliard-trained and Grammy-winning Hadelich describes the Tchaikovsky Violin Concerto as one of the "most exciting concertos…a very emotional piece full of character." Hadelich's goals regarding performance of this work include, "communicating joy and excitement while balancing Mozartian (perhaps Tchaikovsky's favorite composer) elegance with heart-on-your-sleeve Romanticism." The concert and the season conclude with the ETSO premiere of Schubert's final symphony.
More Info
The East Texas Symphony Orchestra encourages lifelong learning through a variety of programs: pre-concert talks, masterclasses, school visits by ETSO musicians and Music Director Richard Lee, and much more.
The 2018/2019 season marks ETSO's seventh year as a partner of the Carnegie Hall Weill Music Institute Link Up program. This highly interactive program starts in the classroom with an extensive, standards-based curriculum designed to engage both students and teachers in exploring music theories through orchestral works. The program culminates in over 3,500 fourth through fifth-grade students attending participatory concerts with the ETSO. Students sing, play instruments and join in coordinated movement activities from their seats, demonstrating the ideas they've been working on throughout the year. Already a staple for Tyler ISD students, the ETSO Link Up program will be expanded this season to include outlying districts, increasing the impact of ETSO's music education offerings and developing a love of classical music in a new generation.
For more information about ETSO and Link Up, please contact the ETSO office at 903.526.3876 or email info@etso.org.
Big Sam's Funky Nation: With Liberty And Funk For All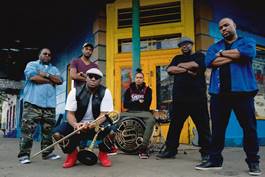 By Johnny Griffith
Some music is written to be listened to.
Now, before I get the "Well, Duh" response, allow me to explain.
Some music is written to be passively consumed in a subdued, structured, vanilla environment, and then there is music that is written to be not so much listened to…but rather actively experienced. Yes, you hear it with your ears…but you feel it in your soul in such a manner that you almost have no choice but to let the music move you, get you out of the chair, and onto the dance floor. That kind of music isn't just written from a place of theory and technical proficiency, but rather its written from a place of being…a place where the music isn't just what you know…it's who you are, it's what's happening around you, it's your North Star, and it's your foundation.
This, my friends, is the foundation upon which Big Sam Williams has built his Funky Nation.
If you've never heard of Big Sam's Funky Nation (BSFN), you are in for a rare treat. One of New Orleans best kept musical secrets, BSFN was the brainchild of Sam "Big Sam" Williams, a Crescent City native, dynamically gifted trombonist, and graduate of the prestigious New Orleans Center for Creative Arts. Big Sam came up through the musical ranks in the Big Easy, gigging non-stop for most of his life in and around the streets and venues shadowing the banks of the Mighty Mississippi. Sam didn't even let Hurricane Katrina keep him from a regular gig…at one point driving 9 hours from San Antonio every weekend for almost two years just to play back home.
Talent, hard work, and persistence will get you on a lot of people's radars, and Big Sam has plenty of all three. After several years of playing an all-star run of gigs with acts like The Dirty Dozen Brass Band, Widespread Panic, the Dave Matthews Band and recording with legends Allen Toussaint and Elvis Costello on their collaboration, Williams was ready to step outside the box and mix it up a bit. Big Sam drew on his extensive experience and put together a phenomenal ensemble to share the stage with and collaborate on this new force of nature that wasn't just another brass band from New Orleans. Big Sam's Funky Nation takes the signature horn sounds of the trombones and trumpet as well as guitar, bass, and keys to weave a tapestry that includes threads of multiple genres and time periods that bring people from all walks of life together in appreciation of not only the music…but the experience.
Big Sam's Funky Nation will make a stop on their current album promo tour in Tyler at Stanley's Famous Pit Bar-B-Q, Thursday, July 12th, for one show only, bringing the funk to the people of East Texas. I recently caught up with Big Sam on the road to get to know him and the Funky Nation a bit better.
Johnny: When did you first develop an interest in music and was the trombone your first choice or did you eventually find your way there?
Big Sam: I developed an interest in music around the age 15. I was in the marching band prior to that, but once I got to high school, I wanted to dig deeper, so I auditioned for New Orleans Center for Creative Arts (NOCCA), and I've been rolling since then.
Johnny: Growing up in a city where music is much a part of the fabric of life, was it always in your mind to find a way to make a living doing this thing you love or did the path find you along the way?
Big Sam: The path found me… I had no idea that I would ever be a musician, especially full-time. When you have a calling, you can't deny it, you better answer!
Johnny: Speaking of the New Orleans Center for Creative Arts, there has obviously been an all-star roster of musicians to walk the halls there before you. How much did following in the steps of musicians like the Marsalis brothers, Harry Connick Jr., and Terence Blanchard inspire you to take your talent and love of the gig to the next level?
Big Sam: BIG TIME! Those are some heavy hitters, so to think that you're in the same building that these cats came up in is enough motivation on its own.
Johnny: So you've had quite the impressive resume before BSFN, helping found the Stooges Brass Band, performing in the Dirty Dozen Brass Band, and sharing the stage with a diverse roster that ranges from James Brown, to Dave Matthews, to Elvis Costello. Do you feel being able to interact with and create with such a large range of personalities and styles helped plant the seeds of the Funky Nation?
Big Sam: Definitely! As a musician, you organically create from your experiences with other gigs and experiences in life. All of those ingredients help you create your own gumbo and Funky Nation is my gumbo.
Johnny: So how and when was the Funky Nation born?
Big Sam: BSFN was born in 2001 but I was touring with Dirty Dozen 300 days a year, so it was impossible to pursue my own thing full-time. After I left Dirty Dozen, I got a call from Allen Toussaint and performed with him whenever he had his big band, including the Elvis Costello tour and album "River in Reverse." I didn't pursue Funky Nation full-time until 2007-2008.
Johnny: You guys aren't just another jazz band coming out of New Orleans; your sound is a mix of old and new that isn't afraid to step outside the box and combine genres with flair, proficiency, and a little extra swagger. How would you describe your music to someone who is about to walk in to their first BSFN show?
Big Sam: Thanks! I would describe it just the way you did! Here's the thing… some people have a preconceived notion of what "New Orleans music" is… especially when you say it's a horn band. They think brass band and/or Trad band… but that's not us. We come to bring the FUNK! Get out of your seat and dance kind of music! If you intend to sit down and drink some wine, this isn't the show for you. You're going to sweat and possibly wake up sore the next morning because you've never danced so hard before in your life.
Johnny: This tour is in support of the band's latest album "Songs In The Key Of Funk." How has the reception to this release been so far?
Big Sam: The reception has been off 'da chain! The show is different than before now, so fans are getting a mix of some of the classic BSFN catalog mixed with the new and a couple covers. Some of the new favorites seem to be "Apple Pie," "PokeChop," "Buzzin,'" and "What's My Name."
Johnny: The new album has a definite throwback feel that takes the listener back to threads of the P-funk and R&B sound of the late 70's and early 80's. What inspired the fusion of sounds?
Big Sam: This is the sound that I've been going for for a minute.. even though "Evolution" was more of a rock album, you can hear where I wanted to go on "Coffee Pot" and "Bad Karma." Even going back to "Funky Donkey." We just took a slight detour, but we're here to stay with the funk! The funk is here to stay. This is a dance album which represents the band perfectly.
Johnny: So for all the first timers who are thinking about making the trip out to Stanley's to catch the show…what can they expect from a Big Sam's Funky Nation experience?
Big Sam: Expect to party and have a good time! This music will definitely get you moving!
Big Sam's Funky Nation is: "Big Sam" Williams (trombone, lead vocals), Drew "Da Phessah" Baham (trumpet, vocals), Jerry "JBlakk" Henderson (bass), Keenan "Butta Cream" McRae (guitar), Alfred "Sgt. Gutta" Jordan (drums), and Kendrick Marshall (keys).
For more information, tour dates, and music check out the Funky Nation on the web: