LOVEGUNNER, a KISS Tribute Band: Laying Down The Bet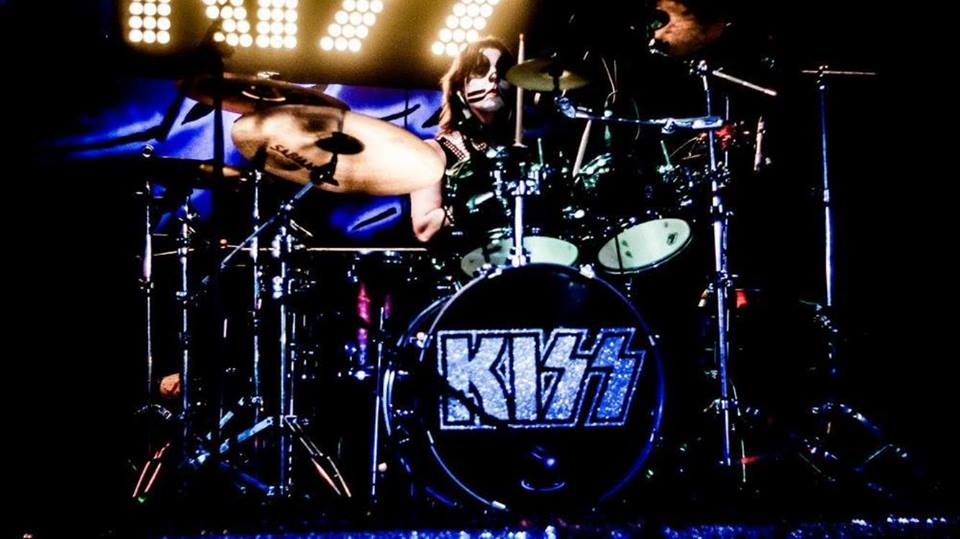 By Johnny Griffith
So I have this video in my head of me being on Jeopardy! that goes a little something like this:
Me: I'll take Music Trivia for $1000, Alex. (Of course it's the Double Jeopardy question, and of course, I wagered way too much money.)
Alex: What band liked to play obnoxiously loud music by night and engage in frivolity by day was started by Stanley Eisen, Chaim Witz, George Peter John Criscuola, and Paul Frehley in 1972?
Me: Who is Bachmann Turner Overdrive? (which would be stupid because no one Alex Trebek just mentioned is named Bachmann or Turner)
Alex: Oh sorry there, Johnny, the correct answer would be the hottest band in the world: KISS!!!
At least that's how it goes in my head when I think of the guys who would eventually become household names as Paul Stanley, Gene Simmons, Peter Criss, and Ace Frehley. KISS would go on to create a marketing empire, making music, merchandise, movies, and embarking on bombastic tours that became their trademark. KISS would see many evolutions over the years, but the one that always comes to mind is the original quartet in full makeup and in character as their alter egos. Not coincidentally, this is also the version you'll get to see when you catch a show by LOVEGUNNER, a KISS tribute band based here in East Texas.
No longer viewed as second-class gigs, tribute bands have turned into well-oiled machines in which 
hours of, not only practicing the original music note for note but additionally, hours of studying mannerisms and the stagecraft necessary to give fans the experience they want. No one knows this better than Marshall Hance, Mark Shepard Hill, Jarod Frank, and Randy McDonald as they have spent the better part of the last two years developing themselves into an exacting replica of KISS when they take the stage. Even more impressively, they've done this while being scattered all over East Texas and being involved in other gigs.
I managed to track everyone down to find out who they are behind the makeup and what exactly goes 
into duplicating such a complex act:
Johnny: So let's start with what character you play and a bit of background.
Marshall: I pay tribute to Paul Stanley, the "Starchild," and I've been playing music since I was 10 years old. My dad and mom introduced me to music at a young age and have encouraged me ever since. I have my own personal group under the title of "Marshall Hance," and we play all original music I have written.
Mark: I play the role of the "SpaceAce," Ace Frehley, in LOVEGUNNER. I grew up in Longview and really got deep into listening to music around 1983 in the early days of MTV. I got serious about guitar around the age of 20 while at SFA in Nacogdoches. As the desire to become a professional grew, I decided to go to a music school and found the commercial music program at South Plains College in Levelland, Texas and attended from '01-'04. Around 2007 I moved to Austin and got a gig playing bass for Gary P. Nunn for a while, then decided to move back to East Texas and played in the Escape Artists, a 60's- 00's cover band with the versatile and talented pair of Wes Odom and Jay Baker. After the Escape Artists became defunct, I began to look around for a new project to get involved in. I scoured Craigslist every evening and eventually saw an ad that read "KISS Tribute seeks ACE," I absolutely had to look into it.
Jarod: I take on the role of Peter Criss who was the "Catman" on stage. I've been in the tribute band scene in Houston for close to 10 years playing in tributes to Ozzy, Foo Fighters, Poison, Mötley Crüe, AC/DC, Def Leppard, Weezer, Bon Jovi, and of course, KISS. KISS is the band that first got me into music, having bought Double Platinum on 8-track when I was 6 years old. I started playing drums when I was 9 and was in original bands from middle school through college. After a break, I joined some original bands around 2005, but after a couple of years, I realized that tribute bands were really starting to take off and could actually be more financially successful than bands doing standard covers or originals.
Randy: During the show, I'm the "Demon," Gene Simmons. I'm from College Station and have been playing several instruments since high school. In addition to LOVEGUNNER, I'm also involved in a blues band and an old-time string band.
Johnny: So whose idea was it to start a KISS tribute band, and how did that get brought up in a conversation?
Randy: Well, we didn't actually start out to be a full-fledged tribute band. While playing at a Blues Jam one night, Marshall and I were talking and discovered that we were both KISS fans and made a comment in passing that it would be fun to get together and jam on some KISS songs. We started thinking about drummers we knew and brought in our friend, Blake. Our first idea was just to pick a few songs to jam on and have fun. We picked about five songs, got together one night, and were surprised at how good it sounded and how much fun it was to play these songs. We continued getting together and enjoying it more and more to the point that we finally decided to start searching for a lead guitarist to try to put together the full tribute show. After a few interviews and auditions, we found our SpaceAce, and after about five months of work eventually did put together our first short show. As we continued to progress, it became apparent to everyone that due to other obligations, our drummer was not going to be able to devote the time required by an ongoing tribute act, so we parted on good terms and located our current drummer, Jarod, who was able to step in as a rock solid KISS drummer and really advance the band quickly.
Johnny: Was this just another project to be in, or did the appreciation for KISS go beyond that?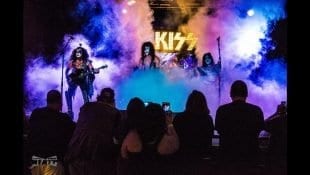 Mark: Everyone in the band is a bona fide, lifelong fan of the group. I think it's essential that everyone in the band be a serious fan of (whatever group) if you are to partake in a tribute band. The level of dedication and diligent study required to get elements correct is incredibly demanding, and if someone doesn't have the conviction, desire, and pride to do the band justice, I just don't feel you're going to get a professional entertainment product.
Johnny: What have been the challenges up to this point of pulling this off and doing it with the execution necessary not to be a caricature of KISS, but rather a genuine tribute band that captures the essence of a KISS show in their prime?
Randy: Two challenges, really. One is that we all live in different towns, so even getting together to rehearse means travel and a commitment of at least a day or two. That's one reason we work hard to make the most of our rehearsal time. The other challenge has been dealing with the complexity of many aspects at once. A lot of people think of KISS as being simplistic, but when you try to replicate it, you quickly begin to realize that it is a very complex act. Just playing the music and singing the harmonies correct is challenging enough. Then, you have to find or make the costume, learn what makeup is used, and how to put it on correctly. Also notable, the stage show is not just a collection of random movements. A lot of it is choreographed to happen at certain times and at a certain location on stage, and that all has to be worked out. Additionally, each signature shake of the head, facial expressions, and the unique way each individual moves around on stage is all studied and done for a purpose. Then, trying to do it all while wearing seven-inch heels and accurately playing your instrument is a whole new ball game. There's a lot to think about at the same time.
Johnny: You guys recently did a big show at Clicks in Tyler that was amazing to watch. What did that show do for the band as far as confidence and exposure?
Marshall: Clicks was a great show! They have an amazing stage, easily one of the largest I've played on and definitely the best light show. Exposure-wise, we got amazing photos and videos to be able to showcase how we look and what we're about.
Mark: That show was, by far, our best up to this point! That was the first venue where we could truly get the audio and visual aspects of a KISS show correct because they have the proper technology and ample stage space to accommodate a true rock show. It boosted our confidence immediately when we glanced back at the footage and saw what it looked like. I'd like to stress how professional and accommodating Tyler Johnson and David Wilson (sound and light techs at Clicks) are. They are true pros and went above and beyond to help us put on a professional show. We cannot thank David, Tyler, and Clicks enough for allowing us the opportunity to perform. They are a class act over there, and we're fortunate to have a venue like Clicks in East Texas.
Johnny: When it comes to KISS the look is as important as the music. Where did you find the costumes, and who is doing your makeup?
Mark: Randy's wife is a very handy seamstress, and she did an excellent job manifesting the outfits for the Demon and Catman. Marshall's costume is an officially licensed costume that KISS made available for purchase. My outfit was acquired from a costume builder out of Ft. Worth, named David McBrayer, who has a business called Metal Mayhem Tribute Gear and can be found on Facebook. David is fanatically passionate about what he does, and his main products are KISS tribute costumes. As far as our makeup, just like the real band, we do it ourselves. A lot of people assume that KISS, being millionaires, just have people sit in front of them and do their makeup, but that's not the case and never has been.
Johnny: With more than 40 albums of material, how did you go about deciding what songs would be on the set list?
Marshall: Currently, the setlist is a combination of what we already knew and what was from KISS Alive 1 and 2. And a few from the 3rd and 4th alive tours. We plan to expand on to deeper cuts once we get the ball rolling with the set we have.
Johnny: What's on the horizon for the rest of 2017 and into next year?
Randy: We've got our sights set on some bigger markets and traveling a bit, but we want venues in East Texas to understand that we really want to come out to the smaller venues too and let people be able to relive that original experience of the people who saw KISS from the front row when they were just starting out. Some venues may think that this show is too big for their venue, but they should give us a call. KISS played in all kinds of venues when they were starting out, and it's fun for us to relive some of that same experience.
LOVEGUNNER on the Web:
LOVEGUNNER.com

facebook.com/lovegunnerKISStribute
*Photos by Travis Tapley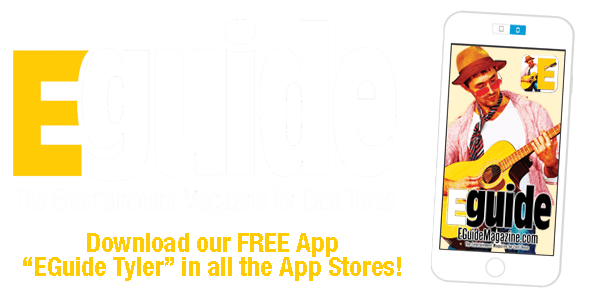 EGuide Magazine's Gig Guide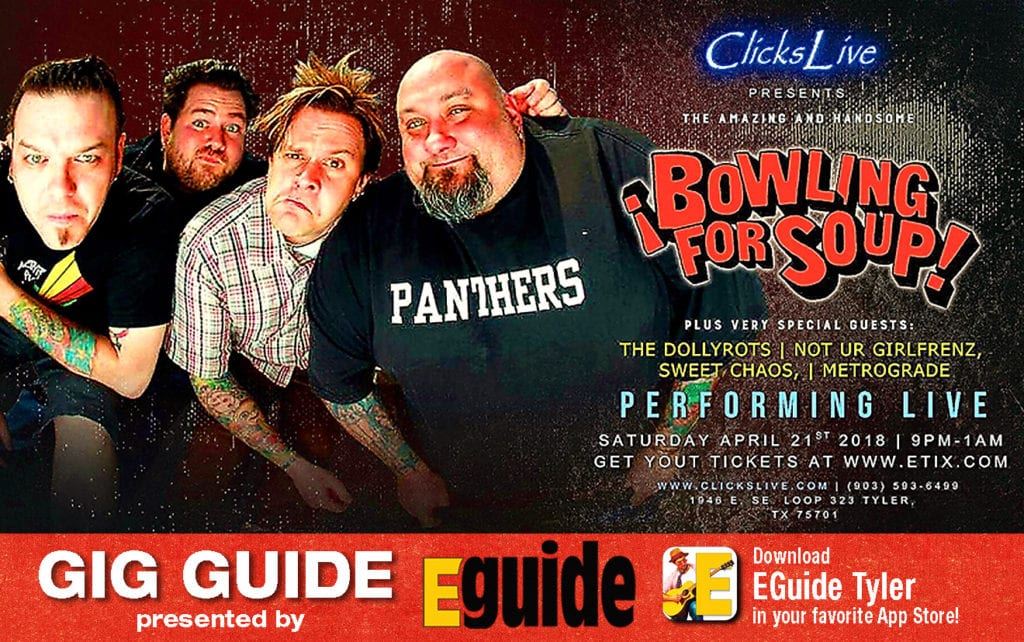 April 21st: Mouse and the Traps and Bowling for Soup
Upcoming Concerts
April 21st (8pm) – Mouse & The Traps – After more than 50 years together, Mouse & the Traps continue to be one of the best examples of "Texas Rock & Roll." Formed in Tyler, Texas in 1965, Mouse, Nardo, Dave & Larry continue to give the public just what they want – great rock and roll. Whether you remember "Public Execution," "Hit the Bricks," or not, Mouse & The Traps has something for everyone. Tickets are $20-$25.
April 21st – Bowling For Soup at Clicks Live (8pm) – American pop-punk band Bowling For Soup emerged in Wichita Falls, Texas in 1994, but have since relocated to Denton Texas. Tickets are on sale at the door for $19, and may be purchased in advance online for $15 at etix.com.
Blind Pursuit: Chasing Dreams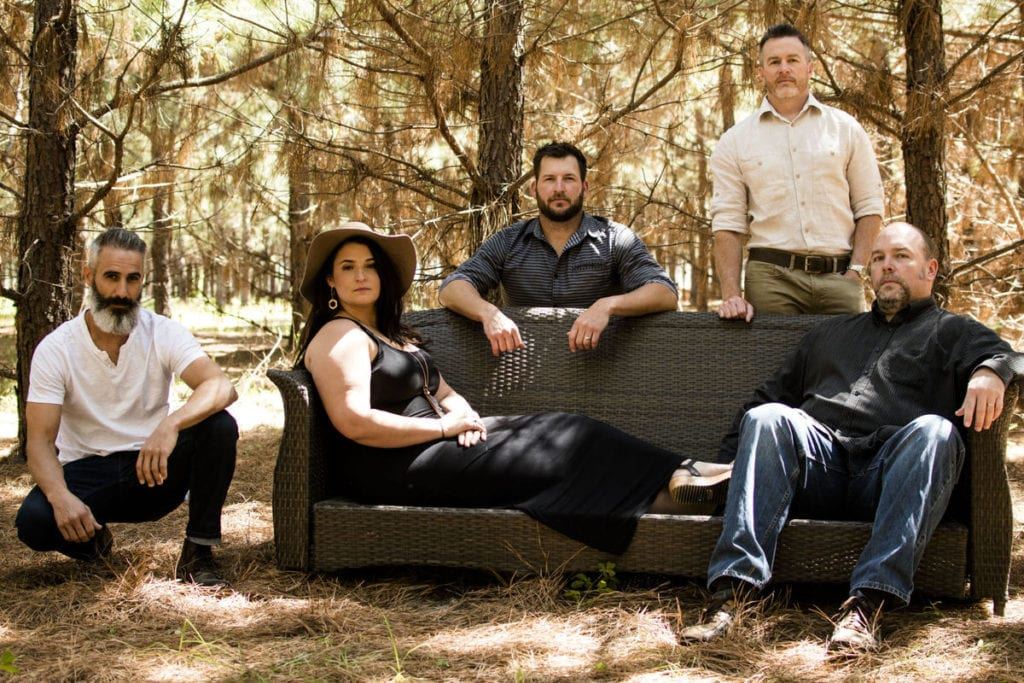 By Johnny Griffith
In science, there is a phenomenon known as the Butterfly Effect which states, that in a complex system, small changes in one place can have a larger effect elsewhere. This is best illustrated in the hypothetical example of a butterfly flapping its wings in Mexico and causing a hurricane in China.
A more practical example of this would be the formation of the band Blind Pursuit, based out of Palestine, Texas. An amalgamation of sound and styles brought to the table by each individual member, Blind Pursuit is the end result of five people from different backgrounds and geographical origins ending up in a small town in East Texas and magic happening.
Hailing from Southeast Louisiana, Maine, Cayuga, and Harmony, the odds of these five people interacting were astronomical, but small changes had large effects and Blind Pursuit has been a staple in the east Texas music scene for three years now. We recently tracked them down to get to know them just a little better.
Johnny: Blind Pursuit has been playing gigs around East Texas since 2015. What was the genesis of the band and what is the current line up?
Blind Pursuit: Our first show was February 28th, 2015 opening for our good friends Blacktop Mojo at Click's Live in Tyler.
Our current lineup includes Marc Mitchell on drums, Craig Jones on bass guitar, John Reed on lead guitar, Katie Reed with lead vocals, and Michael Jones on lead vocals and acoustic guitar.
Craig and Katie hail from Cayuga, Texas. John was raised right down the road in the Harmony Community just outside of Palestine. Marc migrated from the great state of Maine; and Mike spent most of his time about 45 minutes southwest of New Orleans, Louisiana. He has been in Texas since 1998 and spends his time filling in behind the bar at Pint & Barrel Drafthouse in Palestine, and working construction. He met John and Katie again in 2013. John and Katie own Reed Construction where John builds custom homes and Katie does interior design. Craig owns Oak Floor Supply in Tyler, Texas and Marc is in marketing and communications and sometimes moonlights at the Appleton Coffee House.
Johnny: How about the name – there's a lot to be said in that name. What does it mean to the band and where did the idea come from?
Blind Pursuit: The name Blind Pursuit stems from the belief that we are all pursuing something, whether it be chasing dreams, running after love, or following your passions; at some point, it takes a blind leap of faith to achieve something truly great. In all actuality, we started with the word 'Pursuit' and since we had no idea of how or where we were going or how to get there, 'Blind' seemed like the obvious choice.
Johnny: Blind Pursuit has a pretty eclectic mix of sounds in your catalog but how would you describe 'your' sound?
Blind Pursuit: Wow! That's a great question, one that we've been asking for quite some time. We play what we love. We are a varied group of musicians with different musical backgrounds and tastes, and we play what we would like to hear if we were sitting in the audience. Our own sound stems from songwriting, which is mainly done by our lead singer Michael, and so it definitely has a soulful, emotional style to it, and has a layered Indie rock feel. You can hear a little bit of our southern influences layered in as well as the obvious differences of having two lead vocalists. So if you wanted to pigeonhole us into a specific genre, I would say we fall into the Indie Rock genre, just because it encompasses such a wide variety of sounds and musical stylings.
Johnny: How much of your show is covers versus originals these days?
Blind Pursuit: After the release of our debut album "Offramp," we do about ¾ covers and the rest originals. New material is constantly being added and we hope to shift the number of originals to a larger segment of the show.
Johnny: About how many shows does the band try to play a month?
Blind Pursuit: We're currently averaging five shows a month but we are always looking to add to that.
Johnny: Are most of the gigs in the east Texas area or do you travel out of the area?
Blind Pursuit: The majority of our shows are in East Texas. We do travel to north and central Texas on occasion and we are hoping to broaden our travel radius this year.
Johnny: What are you most proud of as a band?
Blind Pursuit: Our album, without a doubt. We feel like it is such an outpouring of who we are and our evolution over the past couple years. It's like we have given birth to our own child. So much love, nurturing and hard work has gone into this project. Our resources and time have been singularly focused towards this and we could not be prouder of how it has turned out. We worked with so many great musicians and our Producer, Phillip Moseley was a great asset. They have been invaluable in helping us birth this album.
Johnny: What has been your favorite moment, on stage or off, as a group so far?
Blind Pursuit: I think it has been a thousand small moments of connection with our fans. We've heard stories where our songs touched someone going through a divorce, or something we sang really resonated with someone going through a tough time, and you just stop for a second after the mad rush and adrenaline goes away, and you think about how you're affecting people and the connections you're making. When we see people singing along with our songs, grabbing their person and dancing, when you see an emotional reaction – that's the good stuff, the reason we do what we do.
Johnny: What is in the works for the year?
Blind Pursuit: We've got another handful of songs and hopefully, that will translate into a new project as well. Whether the next step is an EP or a full-length album is yet to be determined.
Johnny: What's in the water down in Palestine, between Blind Pursuit, Blacktop Mojo, Kolby Cooper, and others… seems like Palestine has become a serious music town. What's your take on it?
Blind Pursuit: Every once in awhile, "magic" happens in the most unlikely of places. If you've seen the documentary on Muscle Shoals and the music that came out of that small studio in Alabama, then you kind of have insight into the madness behind the magic.
All these acts from Palestine are backed by the most awesome community of people who rally behind us and get the word out, grassroots style. The people here truly love music and they believe in us, or we wouldn't be able to do what we love. We have a connection, not only through the town we're from but through our producer and the studio we've all recorded at, Audioworx.
Johnny: What experience do you hope first timers will have at a Blind Pursuit show?
Blind Pursuit: Someone recently left a review on our Facebook page that sums it up perfectly: "Bet you will leave their concert feeling like your soul is a little more free than when you walked in." We hope that everyone will leave feeling a little lighter and a little more connected to their fellow man. In a world where we are bombarded with distractions, we hope people can come and reconnect and feel more human than when they came in. We hope the love and passion that we have for life and music can be felt and translates well to concert goers.
Blind Pursuit can be found at facebook.com/Blindpursuit and blindpursuit.com.