Lulu & The Black Sheep: Sometimes Simpler Is Better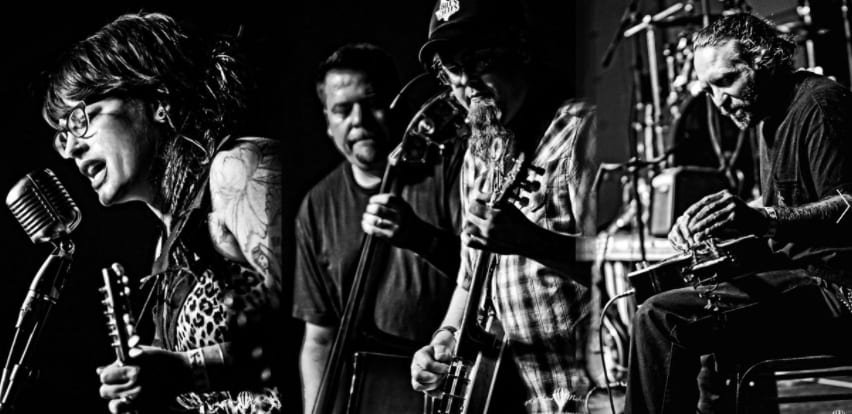 By Johnny Griffith
The world we live in is becoming more complex by the day it seems. With technology advancing at breakneck speed, the things that surround us are more capable of automating every aspect of our lives and are, by necessity in most cases, seldom simple. Yet, when it comes to music, even in a landscape dominated by electronic effects, some of the best music being made is a throwback to a much simpler style. These stripped down styles are remnants of what you might have heard 70 or 80 years ago. One of the more talented, and certainly more interesting, of the musical projects in this area is "Lulu and The Black Sheep."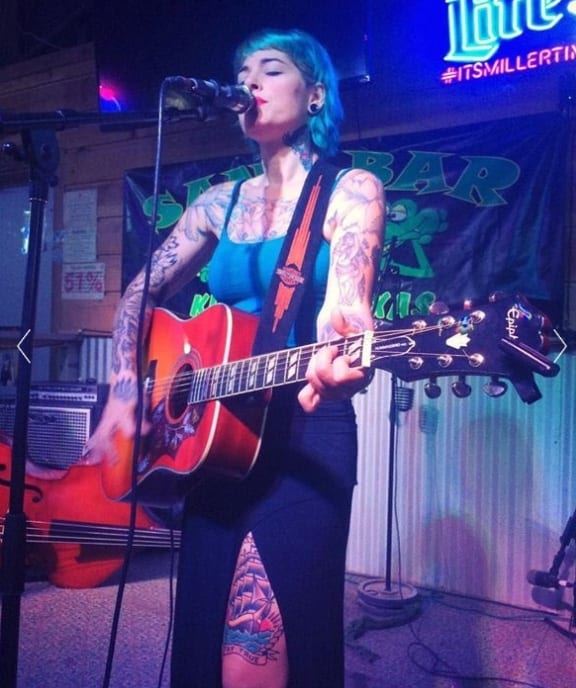 The Black Sheep is fronted by local artist, Lauren Nichols, who takes the stage name Lulu VanTuckett, Lulu's husband, Allen Wayne Nichols, and upright bassist Dave Stopani. Lulu was born in Longview, graduating from the Trinity School of Texas with a Bachelors of Fine Arts degree with a focus on communication design and illustration. After college, she undertook a tattoo apprenticeship and has been tattooing in East Texas for 8 years now. A veteran of previous musical projects, The Black Sheep was a return to music after a brief hiatus; the return has been a successful one with old and new fans alike flocking to Lulu's unique and raw delivery of musical message.
We recently tracked Lulu and The Black Sheep down on the road during a trip to Nashville and were able to get some more info on the talented songstress:
Johnny: You've got a lot of irons in the fire these days with work, music, touring, family…what's a day in the life of Lulu like?
Lulu: My days consist of tattooing, design work, playing shows, and spending time with my husband Allen and our one-eyed chiweenie Rooster Clem Eastwood The First.
Johnny: When did you individually first get into music?
Lulu: I've loved music since I was a kid. Growing up my family listened to the Beatles, but I remember as a young teen the first two CD's I owned were Acid Bath and Beethoven. My taste in music is still pretty diverse. I've always loved to sing. When I was young, I'd run around the yard in a tutu and sing about the things I saw around me like I was in some kind of cartoon musical. When I got to college, I taught myself how to play basic guitar to accompany my singing. Not much has changed since then.
Johnny: You're not new to the music scene in this area, how were the "Black Sheep" born?
Lulu: I wanted something a little more simple with "The Black Sheep" and right now it's perfect. "The Black Sheep" can be singular or plural, so it can be just my husband Allen accompanying me, or David "Dog House" Stopani on upright bass, or anyone else for that matter. It's really great for traveling when you can interchange pieces.
Johnny: You've got a unique sound that could be described as one part bluegrass, one part outlaw country, one part folk music. In your own words, what are you trying to construct with your sound?
Lulu: Our sound is an organic representation of the music that moves me. My inspiration comes from a wide variety of genres and I simply try to channel the feelings they invoke in me. A lot of the songs I perform are old honky-tonk songs from the 30's and 40's. I try to portray what it is that moves me in the song and tell the stories as if they were my own.
Johnny: Are there any unique challenges that come along with playing with your significant other in the same band?
Lulu: Oh yeah, not very often, but occasionally personal emotions find their way on stage with us or in practice. We're very fortunate that we make such a great team. It's taken a lot of learning how to reflect and understand our own individual nature to keep from taking things so personally with one another.
Johnny: Who are some of your influences musically?
Lulu: I like 30's-50's blues; Ray Charles, Bo Diddley, Fats Domino. I just recently visited Memphis Minnie's burial site in Walls, Mississippi on one of our tours. It was a very enriching experience. Jake LaBotz is a modern inspiration. I was moved by his music long before meeting him and then he gave me great advice on working with my imperfections and insecurities as a musician. He is a great guy and fantastic musician. Then I have my honky-tonk heroes. Hank III was my introduction to country music I actually liked, which opened me up to Hank Sr and eventually Hank Jr, Waylon Jennings, and Merle Haggard. I also like the old train songs of Jimmie Rodgers and I went through a Cab Calloway phase for a couple of years. Like I said earlier, I have a pretty diverse tastes in music.
Johnny: What has been your best musical memory to this point?
Lulu: This past summer we went to Muddy Roots in Cookeville, Tennessee. We didn't perform on stage but we camped with several Texas musicians we'd played shows with in the past. We got to meet other musicians and like-minded people from all over the United States as well as other continents. It was definitely a life changing experience for me.
Johnny: How was 2017 for LuLu and The Black Sheep?
Lulu: 2017 has almost been a rebirth for Lulu and The Black Sheep. I took about a 6 month break from music in general to focus on some health issues. In dealing with these issues my mindset has drastically changed and I've become more spiritual and enlightened to my place in this universe and what really matters in life. I think before it was as if there was a veil draped over my eyes and I was being held back by my insecurities. Now that it's been lifted, I feel like I'm able to express myself better and I feel more comfortable getting out and sharing what I have to offer.
Johnny: What's in store for 2018?
Lulu: Lots of touring for 2018. I'm working on a tour out West for the Spring, then East to Florida in March, and New Mexico in May. I'd be really pleased if we at least have something in the works for Europe by the end of 2018.
You can find LuLu and The Black Sheep at: reverbnation.com/luluvantuckett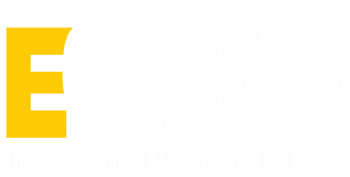 "Shape and Form" on Exhibit at Gallery Main Street

Featuring Work by Jessica Sanders and Cierra McGuckie
An art show featuring two emerging local artists, Cierra McGuckie and Jessica Sanders, will open February 10th in Downtown Tyler and be on view until May 31st, at the Martin Walker Law Firm, 121 N. Spring St., Downtown Tyler. They will host the exhibit in its award-winning facility, which historically served as the Arcadia Theater but now serves as the law firm headquarters.
Pieces to be displayed at the show will include paintings by Cierra McGuckie and sculptures by Jessica Sanders. Cierra's work comprises large-scale oil on canvas psychological portraits which depict fictional women from the mid century era. The paintings are reminiscent of the mood and color palette of that time. Cierra will be showing a new body of work within her series. Jessica's sculptures and her practice are based on an assemblage of small handmade fired and glazed porcelain tiles using wire. The labor-intensive work generates fluid, fabric-like irregular shapes which are mounted on the wall creating abstract compositions.
The show is curated by Dace Lucia Kidd, who has recently produced second edition of the annual international juried Arcadia Art Show (AASH). The event has been sponsored and couldn't be possible without the generous support of Martin Walker P.C.
For more info find it on Facebook or call (903)258-7274.
This Month at Gallery Main Street – "Elephant in the Room" Entries Due
Gallery Main Street features a new exhibit of original art approximately every eight weeks. Each exhibit opens with a Saturday evening reception that features music, an opportunity to meet the artists, refreshments, and more. The Opening Receptions are free and open to the public.
Currently on Exhibit:
"Origins" is currently up. It is described as, "That in which something has its beginning, source, root cause. That which is around us, our ethnicity, environment, ecology, nature, mood, influences and driving force for accomplishments."
Other Upcoming Exhibits
Gallery Main Street Gallery is offering several opportunities this year. You can have a chance to fill the Gallery and showcase your work. To be considered for selection for a Solo Show, please submit three pieces that demonstrate your show and provide a description and total number of pieces. Also, several themed exhibits are planned.
"Elephant in the Room" – Deadline February 25th, opening March 10th

Solo Show #1 -Deadline April 22nd, opening May 5th

"6x6x10" – Deadline June 1st, opening June 6th

Solo Show #2 – Deadline June 17th, opening June 30th

"Assemblies" – Deadline July 25th, opening August 11th

"Alternate Perspective" – Deadline September 30th, opening October 13th

Holiday Market – Deadline November 25th, opening December 8th
You can enter your art in any of the upcoming exhibits. To enter, visit DowntownTylerArts.com, select "Gallery Exhibits" from the left-side menu and then select the "Gallery Exhibit Information for Artists" tab. For more info call (903)593-6905 or go to DowntownTylerArts.com to register.
Paula McDermott, Ignite the Light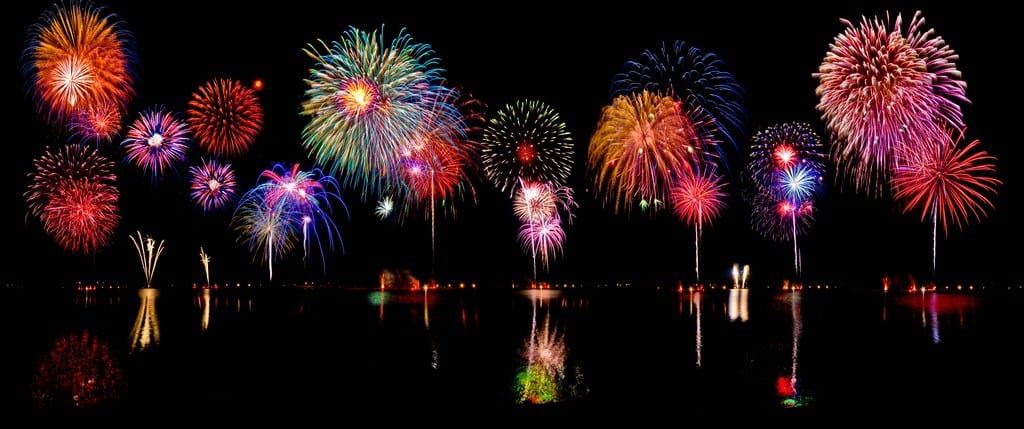 Inside the Artist's Studio: Paula McDermott
By Derrick White
"Art has given me an outlet to express myself. Art has the ability to really help you work through your issues and ideas both good and bad. Teaching art at TJC has been amazing. The TJC art department is so vibrant and supportive, it breeds creativity. I love teaching. We have such a diverse student body, they are like a breath of fresh air, I learn something new from them every day and I hope they learn from me."
A positive energy or vibe is one the most important assets in the art department at Tyler Junior College and our newest full-time professor is a firework! Artist Paula McDermott joins the faculty teaching drawing and art appreciation bringing her amazing passion and excitement for art, life, microbiology, and the creative process. Paula earned both her Bachelor of Fine Arts degree and Master of Fine Arts degree from the University of Texas at Tyler. She had also attended Stephen F. Austin State University and Sam Houston State University where she says she had great experiences which were very influential. Paula is a lively, spirited, and engaged professor taking a personal interest in the lives of her students and teaching as well as mentoring beyond the classroom. McDermott involves her students in outdoor collaborative projects and demonstrations to students how to look and appreciate past the ordinary to the aesthetics of the natural world and the often overlooked beauty in all of the small things surrounding us everywhere every day. On a beautiful spring day you will find her with her group of students somewhere on the incredible campus of TJC designing Andy Goldsworthy (environmental sculptor) outdoor nature mandalas (circles in geometric patterns symbolically representing the order of the universe). These brief, temporary art pieces will be created with natural materials like leaves, flowers, salt, rocks, and sticks and become nice unexpected surprises for those visitors lucky enough to stumble upon one of the creations. They diminish, fade, and change over time so it is a transient experience, fleeting.   
"I work with whatever materials I can find. I am currently working with fibers. I am using different types of found objects and fabrics. I am dying, sewing, stuffing, tying, and binding individual pieces for components of wearable, wall pieces and installations. I am also creating mixed media collage pieces," states the artist. Paula continues, "I really got interested in art as a young child.  My Grandmother was a painter and my mother incorporated a lot of art in her science classroom and at home. She got me interested in sea life and microscopic organisms we would see through the microscope, this still interests and influences me today. I think a lot about the unseen or things hard to see, things really controlling our bodies and our world, things we as humans do not often acknowledge like the microscopic world around us, like plankton, phytoplankton, bacteria and some fungi. We don't often think about it but different types of phytoplankton really help sustain all life on earth, they produce 50% of earth's oxygen supply. Even our internal organs and cells are not often seen but we could not live without all of them working together."
Paula McDermott's artwork looks natural, organic, and like something inspired by the microscopic. Big soft forms mimic an altered and blown up scale of a cellular world we do not see and often take for granted. "I am really into the way things can naturally grow, change, transform, cover and disguise. Like dividing cells, colonies of coral, or the harmful, symbiotic relationships barnacles have with whales or a remora with sharks or manta rays, these relationships can be both harmful and beneficial," says Paula, adding, "This is where my wearable work has come in. The wearable sculpture can serve as a soft barrier or shield for the wearer, they offer a personal space but in a soft way. They can disguise and take away identity; they can give protection from unwanted attention for the introvert. They both attract and repel the viewer. Most of my work can be either worn or hung." 
Although soft sculpture is largely underrepresented in mainstream art markets and exhibitions, Paula has many influences in the art world. (Writer's note: please take the time to look up some of these people. You will be glad you did.) Some of Paula McDermott's inspirations and favorite artists are Nick Cave (American fabric sculptor, dancer, and performance artist), Tara Donavan (New York artist known for site-specific installation art utilizing everyday materials), Alexander Calder (American sculptor of delicately balanced or suspended shapes that move in response to touch or air currents), Susie MacMurray (British artist whose work includes drawing, sculpture and site-generated installations), Ernesto Neto (influential, contemporary Brazilian artist creating large-scale, sensuous environments evoking bodily experiences), Sally Hewett (British stitching artist making works characteristics of human bodies), Yayoi Kusama (Japanese, contemporary artist primarily working in sculpture and installation), Anthony Howe (American sculptor who creates wind-driven sculptures resembling pulsing, alien creatures), Jason decaires Taylor (British sculptor and creator of the world's first underwater sculpture park), Andy Goldsworthy (British sculptor and environmentalist creating site-specific sculpture and land art), Eva Hesse (Jewish German-born American sculptor, known for pioneering work in materials such as latex, fiberglass, and plastics), and Eugenia Loli (Greek filmmaker, illustrator, and modern vintage collage artist). Paula responds to this list of artist because they all have dedicated themselves, their work and lives and created something igniting a light inside Paula McDermott and we are the beneficiaries. "They all produce artwork that is interactive and in many cases kinetic (movable). Most of their work is somehow related to the human body, whether it is work representing different aspects of the human body, is directly interactive, or work involving performance," states the artist. Remember you are human. You are organic. You are made up of microbes and whatnot. You're original, cannot be replaced. And baby…you're a firework!