Lulu & The Black Sheep: Sometimes Simpler Is Better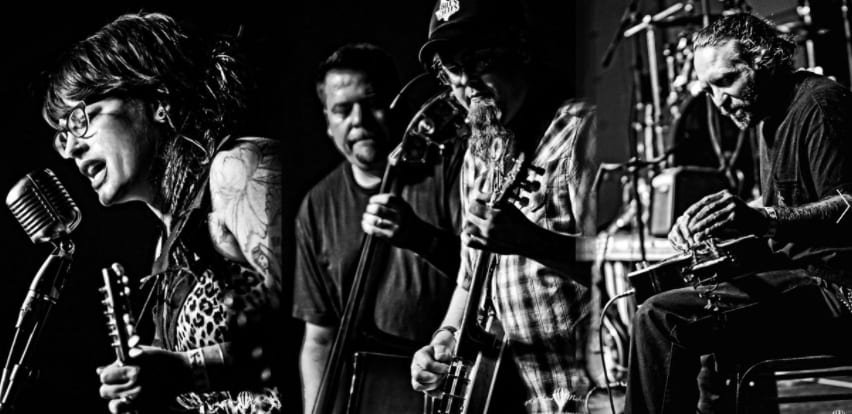 By Johnny Griffith
The world we live in is becoming more complex by the day it seems. With technology advancing at breakneck speed, the things that surround us are more capable of automating every aspect of our lives and are, by necessity in most cases, seldom simple. Yet, when it comes to music, even in a landscape dominated by electronic effects, some of the best music being made is a throwback to a much simpler style. These stripped down styles are remnants of what you might have heard 70 or 80 years ago. One of the more talented, and certainly more interesting, of the musical projects in this area is "Lulu and The Black Sheep."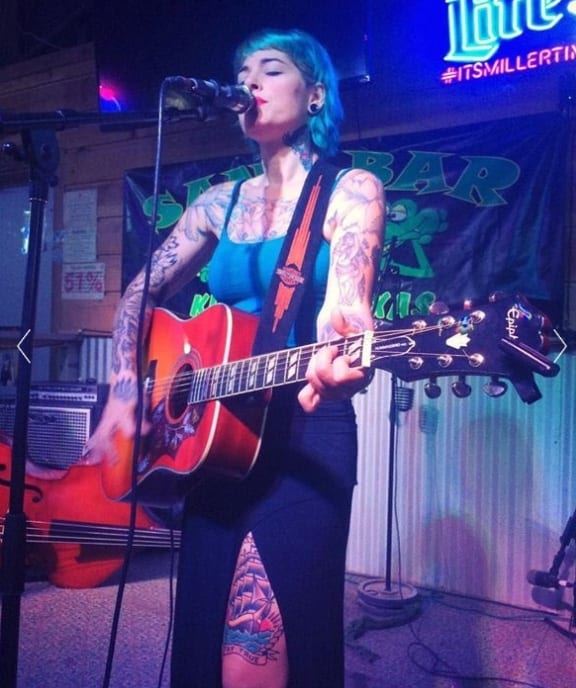 The Black Sheep is fronted by local artist, Lauren Nichols, who takes the stage name Lulu VanTuckett, Lulu's husband, Allen Wayne Nichols, and upright bassist Dave Stopani. Lulu was born in Longview, graduating from the Trinity School of Texas with a Bachelors of Fine Arts degree with a focus on communication design and illustration. After college, she undertook a tattoo apprenticeship and has been tattooing in East Texas for 8 years now. A veteran of previous musical projects, The Black Sheep was a return to music after a brief hiatus; the return has been a successful one with old and new fans alike flocking to Lulu's unique and raw delivery of musical message.
We recently tracked Lulu and The Black Sheep down on the road during a trip to Nashville and were able to get some more info on the talented songstress:
Johnny: You've got a lot of irons in the fire these days with work, music, touring, family…what's a day in the life of Lulu like?
Lulu: My days consist of tattooing, design work, playing shows, and spending time with my husband Allen and our one-eyed chiweenie Rooster Clem Eastwood The First.
Johnny: When did you individually first get into music?
Lulu: I've loved music since I was a kid. Growing up my family listened to the Beatles, but I remember as a young teen the first two CD's I owned were Acid Bath and Beethoven. My taste in music is still pretty diverse. I've always loved to sing. When I was young, I'd run around the yard in a tutu and sing about the things I saw around me like I was in some kind of cartoon musical. When I got to college, I taught myself how to play basic guitar to accompany my singing. Not much has changed since then.
Johnny: You're not new to the music scene in this area, how were the "Black Sheep" born?
Lulu: I wanted something a little more simple with "The Black Sheep" and right now it's perfect. "The Black Sheep" can be singular or plural, so it can be just my husband Allen accompanying me, or David "Dog House" Stopani on upright bass, or anyone else for that matter. It's really great for traveling when you can interchange pieces.
Johnny: You've got a unique sound that could be described as one part bluegrass, one part outlaw country, one part folk music. In your own words, what are you trying to construct with your sound?
Lulu: Our sound is an organic representation of the music that moves me. My inspiration comes from a wide variety of genres and I simply try to channel the feelings they invoke in me. A lot of the songs I perform are old honky-tonk songs from the 30's and 40's. I try to portray what it is that moves me in the song and tell the stories as if they were my own.
Johnny: Are there any unique challenges that come along with playing with your significant other in the same band?
Lulu: Oh yeah, not very often, but occasionally personal emotions find their way on stage with us or in practice. We're very fortunate that we make such a great team. It's taken a lot of learning how to reflect and understand our own individual nature to keep from taking things so personally with one another.
Johnny: Who are some of your influences musically?
Lulu: I like 30's-50's blues; Ray Charles, Bo Diddley, Fats Domino. I just recently visited Memphis Minnie's burial site in Walls, Mississippi on one of our tours. It was a very enriching experience. Jake LaBotz is a modern inspiration. I was moved by his music long before meeting him and then he gave me great advice on working with my imperfections and insecurities as a musician. He is a great guy and fantastic musician. Then I have my honky-tonk heroes. Hank III was my introduction to country music I actually liked, which opened me up to Hank Sr and eventually Hank Jr, Waylon Jennings, and Merle Haggard. I also like the old train songs of Jimmie Rodgers and I went through a Cab Calloway phase for a couple of years. Like I said earlier, I have a pretty diverse tastes in music.
Johnny: What has been your best musical memory to this point?
Lulu: This past summer we went to Muddy Roots in Cookeville, Tennessee. We didn't perform on stage but we camped with several Texas musicians we'd played shows with in the past. We got to meet other musicians and like-minded people from all over the United States as well as other continents. It was definitely a life changing experience for me.
Johnny: How was 2017 for LuLu and The Black Sheep?
Lulu: 2017 has almost been a rebirth for Lulu and The Black Sheep. I took about a 6 month break from music in general to focus on some health issues. In dealing with these issues my mindset has drastically changed and I've become more spiritual and enlightened to my place in this universe and what really matters in life. I think before it was as if there was a veil draped over my eyes and I was being held back by my insecurities. Now that it's been lifted, I feel like I'm able to express myself better and I feel more comfortable getting out and sharing what I have to offer.
Johnny: What's in store for 2018?
Lulu: Lots of touring for 2018. I'm working on a tour out West for the Spring, then East to Florida in March, and New Mexico in May. I'd be really pleased if we at least have something in the works for Europe by the end of 2018.
You can find LuLu and The Black Sheep at: reverbnation.com/luluvantuckett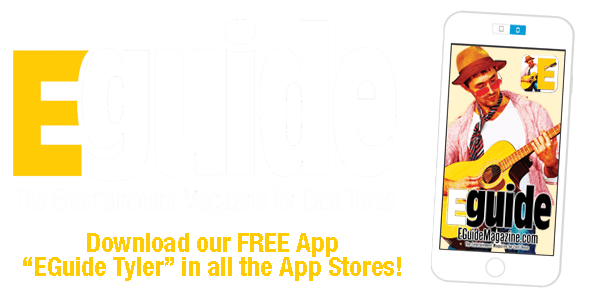 Art in the Garden April 28th at the Rose Garden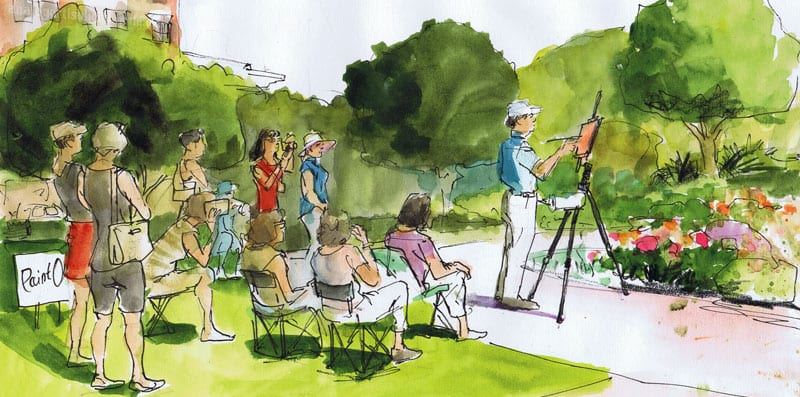 April 28th (11am-2pm) – 12th Annual Art in the Garde
n
The Tyler Parks and Recreation Department invites you to come paint or draw with us in the Tyler Rose Garden, 420 Rose Park Dr., Tyler.
Join local artists of all ages to paint. Bring your paints, any medium (paper or canvas) and an easel and create a masterpiece. Non-painters are welcome to view the garden and the artists at work.
A display of artwork will be shown in the exhibit area.
This is free to the public. Light refreshments will be served in the Rose Garden Center.
Art instructors are welcome to bring their students of any age.
For more info call (903)531-1214.
14th Annual High School Art Exhibit at Tyler Art Museum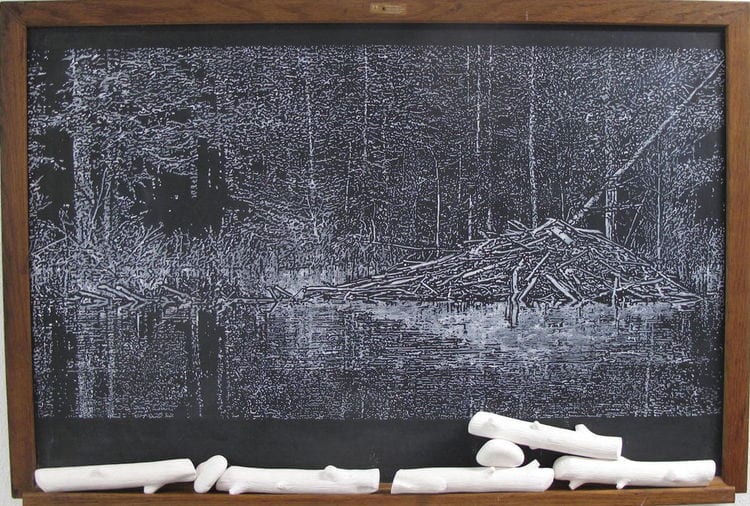 This Month at Tyler Museum of Art:
14th Annual High School Art Exhibition and "Sticks & Stones: Works by Helen Altman" on Exhibit
The Tyler Museum of Art (TMA) is located at 1300 S. Mahon Ave. on the Tyler Junior College main campus. Regular TMA hours are 10am-5pm Tuesday-Saturday, and 1-5pm Sunday. The Museum is closed Mondays and most major holidays. The Museum is supported by its members, Tyler Junior College, and the City of Tyler. For more info call the museum at (903)595-1001, tylermuseum.org, or email info@tylermuseum.org.
TMA's 14th Annual High School Art Exhibition on Exhibit April 8th-May 6th
An unprecedented number of aspiring artists from local schools will have their first opportunity for a full museum exhibition with the Tyler Museum of Art's "14th Annual High School Art Exhibition," opening Sunday, April 8th and continuing through May 6th at the Museum. The museum is located Tyler Junior main Campus is located at 1300 S. Mahon Ave. Admission is free.
What began in 2005 as a small showcase for 23 students from four area high schools has blossomed into a major exhibition and community event. This year's juried competition, tops the previous record of 2016, spotlighting for the first time the work of more than 100 students from a best-ever 14 high-school campuses in Tyler and nearby cities.
Five outstanding works as selected by the jurors will be presented with "Merit of Honor" awards during the Opening Reception and Awards Ceremony from 2:30-4pm, Sunday, April 8th at the Museum.
The community is invited to meet the participating artists, enjoy light refreshments – and cast their votes for the annual Viewers' Choice Award to be presented at the exhibition's conclusion. Ballots are available at the Visitor Services desk in the TMA lobby.
"Merit of Honor" winners will receive gift certificates from Dick Blick Art Materials. All participating artists will receive Certificates of Participation and one-year student memberships to the TMA. To RSVP for the April 8th opening reception, call (903)595-1001.
Participating schools in the "14th Annual High School Art Exhibition" include All-Saints Episcopal School, Bishop T.K. Gorman Regional Catholic School, Cumberland Academy, Grace Community School, John Tyler High School and Robert E. Lee High School, all of Tyler; The Brook Hill School, Brownsboro High School, Bullard High School, Chapel Hill High School, Elkhart High School, Frankston High School, Whitehouse High School and Winona High School.
Support for the exhibition is provided by Collectors' Circle-Platinum Sponsor The Rogers Foundation; and Collectors' Circle-Gold Sponsors Martha and Randy Key, McElfatrick Charitable Foundation and Myrtis D. Smith.
"Sticks and Stones: Works by Helen Altman"
Tyler Museum of Art celebrates the arrival of springtime with a quarter-century survey in the career of one of the most diverse and prolific contemporary Texas artists. "Sticks and Stones: Works by Helen Altman" continues through June 3rd in the museum's Bell Gallery. Admission is free.
The exhibition, organized by the TMA and curated by Caleb Bell, features more than 40 pieces spanning a dynamic body of work by Altman, a Fort Worth-based artist noted for her ability to move between various series across an eclectic array of media.
"Sticks and Stones" focuses on her fascination with flora and fauna, which "have been a much-appreciated constant in my life," the artist said. "They have been a constant source of joy and also a source of coping."
Altman's specific choices of media throughout her career – blankets, wire birds, egg editions, and torch drawings, to name just a few – also reflect a pronounced emphasis on exploring the unique in the everyday.
"Many of my works use commonplace materials and objects. I respond to ready-made objects that are often discards or flawed in some obvious way," she said. "Alterations in these familiar things elevate them and draw parallels to our own human predicament."
Altman received both her bachelor of fine arts and master of arts degrees from the University of Alabama, as well as her master of fine arts from the University of North Texas. Her work has been widely exhibited and is featured in numerous public collections, including the Art Museum of South East Texas, The Grace Museum, and Museum of Contemporary Art in San Diego.
Support for "Sticks and Stones" is provided by Collectors' Circle Platinum Sponsor The Byars Foundation.
Special events in connection with the exhibition include: Free First Friday tours at 11am April 6th, May 4th and June 1st; and Family Days from 2-4pm Saturday, April 14th and May 12th.
Inside the Artist's Studio: GMS exhibits "Elephant in the Room"
Inside the Artist's Studio:
Gallery Main Street – 
Elephant in the Room
By Derrick White
The city of Tyler's Gallery Main Street, serves as a cornerstone of the Downtown Arts and Culture District and opened in August 2009 as a fine art gallery. The gallery shares space with the City of Tyler Main Street Department and Heart of Tyler, Inc., as well as the administrative offices of Liberty Hall. Located in the beautifully renovated building at 110 W. Erwin St., Downtown on the square, the gallery offers visitors the opportunity to view fine art created by area artists.
Exhibits at the gallery rotate on a continuous schedule, so there is always something new and interesting to see. The current juried exhibition on display is a group, idiom inspired, show titled "Elephant in the Room." Participating artists were asked to creatively interpret and create artwork defining an issue everyone is aware of, but nobody wants to talk about – an "elephant in the room" if you must. The exhibition is on view through the month of April, finishing up May 1st.
The show has a lot of diversity ranging from literal theme interpretations to very esoteric creations. There is a variety of small and large-scale works. Most of the pieces are two-dimensional and hang on the wall (paintings, drawing, and photographs) but a few pieces contain three-dimensional visual elements including sculptures.
"Elephant in the Room" features the artwork of over twenty artists including: Dana Cargile, Rita A. Fryer, Amanda Hatfield, Dace Lucia Kidd, Nancy Kimbrough, Maegan Kirschner, Teri Liptak, Dana Lynch, Shawna Lynch, Jennie Price Lyra, Jimmy Morrison, Joel Nichols, Mary Alice Orito, Nancy Patterson, Anthony Piekarski, Mary Ann Post, Chelsea Purgahn, Cory Rhodes, Jamin Shepherd, Harold Vincent, and John York. I am impressed with the show overall. I feel it is important for artists to share their work with an audience so I congratulate all of the artists willing to put their work out there for consideration. Cheers to everyone who entered the exhibit and compliments to everyone selected.
One of the exhibits that caught my attention was Amanda Hatfield's "Who's the Real Monster?," an exquisite mixed media sculpture of a woman with antlers. This stark naturalistic form has amazing attention to detail and incredible proportional aspect. It is powerful and emotional allowing the viewer to contemplate the narrative of the woman's blindfold, hair braid, dripping antlers, and arrow penetrating her throat. The artist mentions in a printed statement, "It took me a while to really figure out this piece; for a long time it sat unfinished in my house, unpainted and incomplete. After adding the gold, she became this figure of nature, blinded and pierced by the arrow of man, corrupted by the gold dripping from her antlers."
Amanda has two other selections in the exhibit, each one masterfully executed and commanding in its similar subject matter of the female form. A watercolor of a dripping eyed woman being impaled by arrows is haunting, disturbing, and captivating. Again the artist states, "I tend to paint women a lot and I think that has something to do with how they can evoke a connection to nature. No matter how badly you hurt her, she's still growing. I like to think the world is the same way."
Hatfield's watercolor painting titled "War Ate a Girl and Spat Out a Woman" shows a strikingly beautiful woman in a dead stare with the viewer while ignoring the groping negative space shapes of hands vying for her body. This is a formidable declaration and certainly fits the show's theme with all of today's headlines of people refusing to ignore the elephant in the room any longer when it comes to sexual assault, abuse, and inappropriate behavior.
A more literal stand out in the exhibit was a small collage by Mary Alice Orito called "Elephant in the Room." The composition has an image of an elephant sitting circus style and wearing a crown of sorts (a performer). Text in the design include 'complicity,' 'bully,' 'lies,' and 'racism.' The piece is asymmetrically balanced and has a sharp red line tearing horizontally through the configuration. Orito's statement concludes the image and words in the collage "represent the harshness of the current political environment." Mary Alice Orito had two other artworks included in the exhibit both equally strong.

My eye was continually called over to a painting titled "Horizontal" by Mary Post with its striking gold-leaf negative space and odd subject of a full-bodied employee flat on a bed or gurney. The artist mentions, "My painting delves into stability and change in the life of this working woman. I strive to honor her by positioning her in a horizontal orientation and surrounding her with an atmosphere of shimmering gold."
"This Ordinary World" is a fun and mesmerizing painting by John York. In a composition where Red Grooms (an American artist best known for his colorful pop art depicting frenetic scenes of modern life) meets DC comics and Where's Waldo, York, "sought to entertain viewers and myself by making my friends and neighbors into elephants."
A dark unambiguous and commanding piece also on exhibit is "LIKE" by Dace Lucia Kidd. The painting is a large-scale, black on black, minimalist composition. Its content resonated with me about society's insatiable thirst for attention. The execution of the piece is precise and avoids any evidence of an expressive mark or the artist's hand.
I also very much enjoyed "Food Choice" by Jennie Lyra for its colorful layers and competing visual directions of text and images.
Take some time to go visit this exhibition yourself and see what stands out the most to you. Don't forget to vote for the People's Choice Award by writing the corresponding number for your favorite artwork on a ballot and leaving it in the voting box.
Enter now for possible selection in the gallery's new upcoming solo show. Gallery Main Street is offering one artist an opportunity to fill the gallery and showcase their work. To be considered for selection, artists should submit three pieces exemplifying their work and provide a description (artist's statement) and total number of pieces. Entries are due by April 22nd. This is a juried exhibit and results will be announced on April 28th.
Gallery Main Street is also home to many arts activities including workshops. Check the calendar of events for more information. Gallery Main Street is located at 110 W. Erwin St., Downtown Tyler. For more info call (903)593-6905 or email GalleryMainStreet@TylerTexas.com.