Mike Harper: Riding The Waves & Smiling the Whole Way Through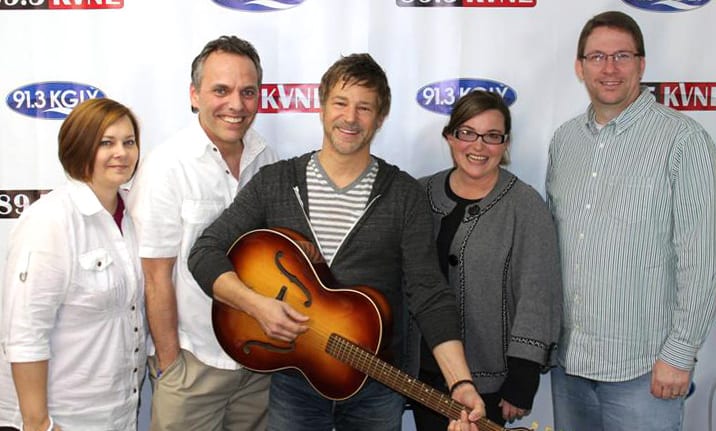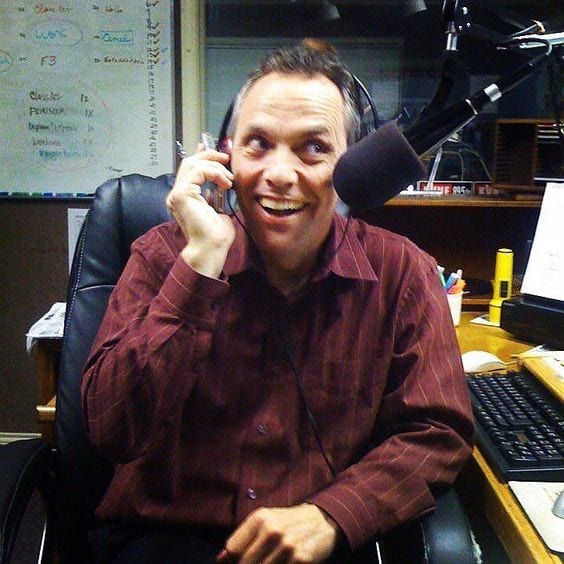 By Johnny Griffith
Chances are that at some point over the last 25(ish) years or so your radio dial has ended up on 89.5 KVNE, either by accident or by design, and if so, then you heard this really, really positive morning show guy over there named Mike Harper.
You might have wondered, as I often have, how could a person be that positive in the mornings, but upon getting to actually know the man, you realize that this condition doesn't just affect him in the mornings; Mike Harper is this positive a vast majority of his waking hours.
Perhaps it's born of a realization of the blessings in his life and appreciation of the fact he gets to enjoy mild Texas winters instead of being stuck in the deep freeze of his original hometown Cincinnati. Or perhaps it's truly a by-product of doing what you love and loving what you do. Either way, we decided to sit down with the "Voice of Encouragement" and get a better picture of the man behind the mic.
Johnny: I read somewhere that you did a stint in the marching band. What instrument did you play?
Mike: I played the bass drum because it was the loudest. Seriously. I only knew one volume. Deafening.
Johnny: Being from Cincinnati, who are you more interested in trying to get an autograph from: Pete Rose, Boomer Esiason, Peter Frampton, or Venus Flytrap?
Mike: Pete is my sports hero, and I already have a couple of his autographs. I love Frampton, so he'd be next. I can relate to Venus, so he's a close third. No offense, Boomer.
Johnny: I've read bits and pieces of your bio on the web. What prompted you to leave what had to be at the time, a decent, if predictable, career for something that was the opposite of predictable?
Mike: I'm thankful for my 13 years with General Motors, but I'm not sure I would've survived another 13. It appears I'm missing the "large, heavy, industrial-equipment" gene. My injuries were mounting, not only to my flesh and bone, but to my central nervous system as well. I think I did everyone a favor by getting out of there. Others may have also gotten hurt if I didn't exit soon. (I notice, however, that the company has never been the same since my departure in 1990.) I also realized my heart was in more creative and musical endeavors, so when the opportunity came to jump into Christian radio, and my lovely wife and life partner Lois said, "Go for it," I ran to Tyler like Rocky did after Adrian said, "WIN!"
Johnny: When did the idea first hit you that you could "do" radio?
Mike: When I was a toddler listening to 1360 AM WSAI in Cincinnati in the early 1960's, I applied for the job, but they had a rule that all employees must be potty trained.
Johnny: When and where was your first radio gig?
Mike: WNSD, 1976, senior year at Colerain High in Cincinnati, doing the lunch hour. I had no idea what I was doing, but it was so cool. I'm sure some FCC laws were broken.
Johnny: How did your journey detour to Tyler from Cincinnati? What has kept you here this long?
Mike: I love Tyler! This has been a dream come true. Huge vats of God's favor has been dumped on me with a loving family, a fantastic place to work, and more friends than I deserve. We actually bought a home in Forney to be closer to our kids and grandkids, but I still spend most of my waking hours in the Rose Capital. And we have Stanley's BBQ here! So I'm here to stay.
Johnny: What brought you to the Christian radio market?
Mike: A Blue Geo Metro (badump bump). Seriously though, living in Shreveport at the time, I was a new Christian and always loved radio. When I heard about KVNE, I drove to Tyler to inquire about volunteering. I offered to do whatever was needed, but of course I hoped to land an on-air gig. There happened to be a Saturday afternoon shift available, and within a few weeks I was on as a part time DJ. I knew very little about Christian music, but I was a new believer, and doggone it, it was RADIO! I would have done it for free. I kept that part to myself; I think that was wise.
Johnny: So you've been on air with KVNE since the late 80's and have certainly seen much evolution in the Christian music scene, who were your favorite artists, by decade since you've been in the business?
Mike: Well in the 80's it was Petra; 90's: DeGarmo and Key; 00's: Third Day; 10's Tobymac; with an Honorable Mention: Rich Mullins, Sara Groves, Steve Taylor, Amy Grant, Jars of Clay, MercyMe, and Picasso. (Just seeing if you're paying attention.)
Johnny: Are there any local artists that have come along during your tenure who really stick out?
Mike: Dallas Holm, Paul Baloche, and The Tuxedo Cats.
Johnny: Every organization has its individual strengths and weaknesses, where do you feel KVNE hits it out of the park as far as accomplishing its mission?
Mike: A definite home run in recent years has been in community outreach. We have been very present in East Texas through billboards, hosting mini concerts, partnering with other ministries to collect food, supplies, clothes, and even Valentines.

We help promote local events and show up with our station van to encourage and pray with attendees. We've been able to put our tent in front of local businesses for our "Prayer Stops," the purpose of which is to simply be there to pray for anyone who needs it. And, really, who doesn't need it.
Johnny: What have been some of the challenges along the way with focusing on family, focusing on the job, the always awkward work hours, and managing to maintain a semblance of the positivity you are famous for?
Mike: As our four kids grew up, one by one they started to move away: three to the Dallas/Fort Worth area, one to the Houston area. (Was it something I said?) Two of our sons who live near the metroplex have since given us a total of three grandchildren. We knew then that we had to be closer, so we moved to Forney.
This has been such a life changer. I now commute 170-miles round trip about 15 times a month. I won't pretend it's easy, but I get a chance to see my grands much more often, and I wouldn't have it any other way. As Tobymac said, "I wanna be a daddy who's in the mix." They can't get rid of me!
Johnny: Speaking of family, when is the next generation of Harper's going to be hitting the airwaves?
Mike: You can hear the "Owen and Pops Show" coming soon to a radio near you. (He's 4 years old. How did he get an agent so soon? Especially one who finagled his way to top billing?)
Johnny: As you sign off daily from your time on the air, what do you hope you've at least managed to accomplish?
Mike: I hope we've encouraged someone with word of hope or a laugh. And if I can get through a morning show without spilling anything, that's always a victory.
Mike can be heard at 89.5 FM (kvne.com/mike) on the radio or online weekday mornings along with co-host Carrie Parsons from 6-10am.
No puns were harmed in the making of this article.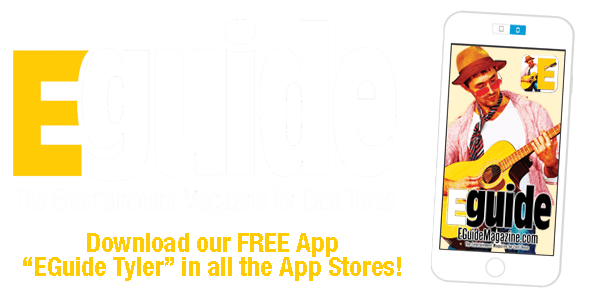 October 13th, Award-Winning Band MercyMe in Concert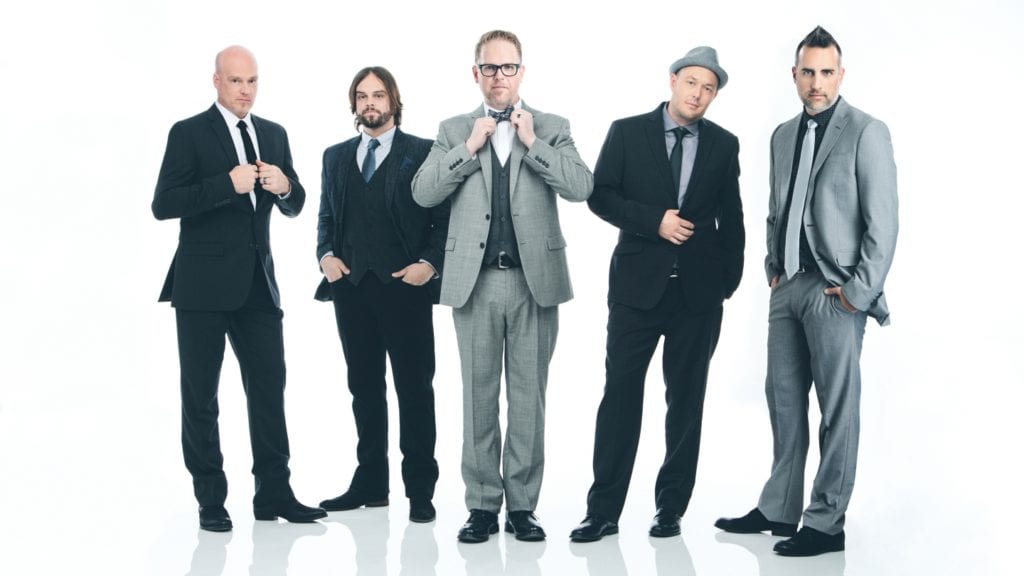 October 13th, Award-Winning Band MercyMe in Concert
MercyMe will be in concert at The Oil Palace is October and is guaranteed to sell-out!
Since their debut in 2001, Grammy®-nominated, multiple American Music Award and Dove Award winners, MercyMe has sold more than 8.5 million units in CD, single and DVD sales, garnered 27 No. 1 multi-format Christian radio singles and four consecutive mainstream radio hits with 'I Can Only Imagine,' (No. 4 AC/Top 25 on Top 40/Hot AC), 'Here With Me' (No. 4 AC), 'Homesick' (Top 10 AC), and 'So Long Self.'
Their radio success has continued with recent singles 'Flawless' (No. 1 for 15 weeks) and 'Greater' (No. 1 for 16 weeks)​, landing them the Top Christian Airplay Artist spot on Billboard's 2015 Year End charts.
MercyMe made history in 2014 as 'I Can Only Imagine' surpassed 2 million digital downloads, making it the first song in Christian music to go platinum and double-platinum in the digital domain. In 2009, Billboard named MercyMe's 'Word Of God Speak' the No. 1 Song of The Decade and the group the No. 1 Artist of the Decade in both the Christian Songs and Christian AC Songs categories, recognizing them as one of the industry's most notable talents.
They have sold out venues throughout the US and Canada, including Radio City Music Hall, and have appeared on The Today Show, CBS This Morning, The Tonight Show with Jay Leno, Fox New Channel's Fox & Friends, CNN, ABC News, and in the pages of Entertainment Weekly, The New York Times, USA Today and more.
Their most recent project "MercyMe, It's Christmas!" debuted atop the Billboard Top Holiday Albums chart and became an instant classic. Their eighth studio release, "Welcome To The New," garnered Billboard Music Award nominations in all three Christian categories and two Grammy® nods; the album is available in stores now.
Tickets start at $19 and are available at oilpalace.com. The Oil Palace is located at 10408 State Highway 64 East, Tyler, (903)566-2122.
EGuide Magazine's Gig Guide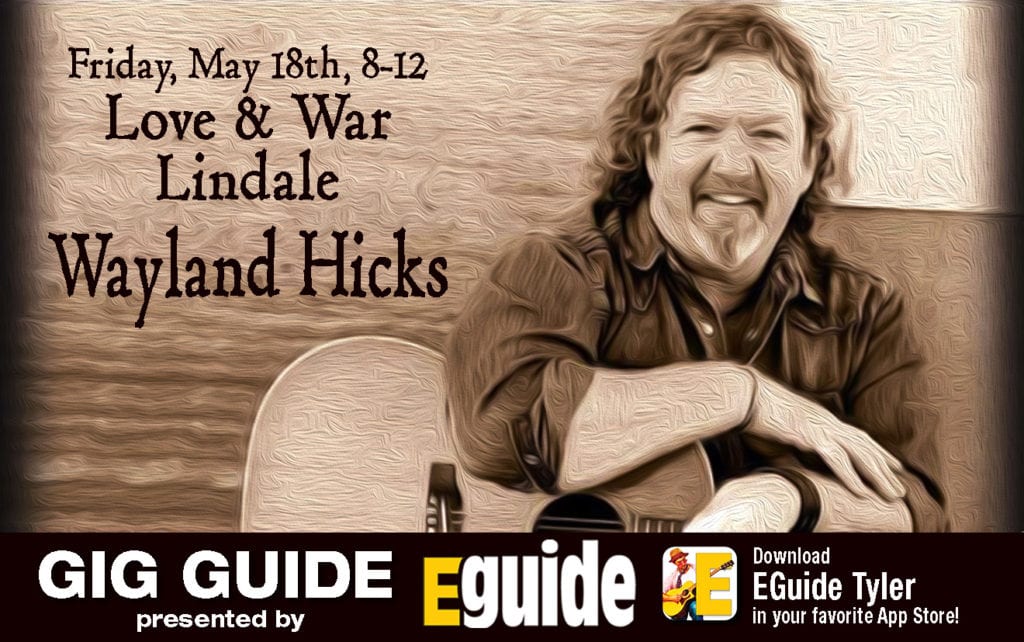 Blacktop Mojo: Burning Up The Roads To Success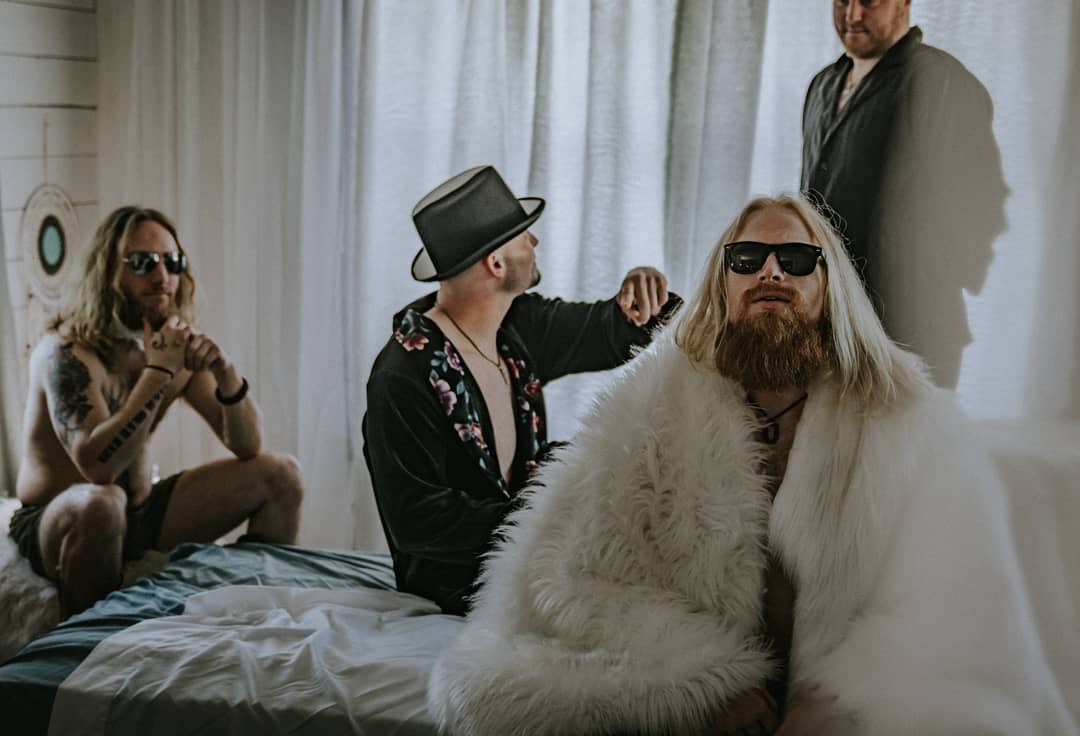 By Johnny Griffith
About a year and a half ago I sat down to interview Blacktop Mojo, a Jacksonville based hard rock band riding a wave of momentum after several successful years together and an upcoming album release. The end of that interview finished with this:
"Blacktop Mojo can still be heard around East Texas on a regular basis, but I would definitely suggest checking out their website for more information and a sample of their music if you haven't heard them. If it's in your wheelhouse, get out and support a great local band that won't be local for much longer at the rate their Mojo is working."
As it turns out, I was a little more prescient that I anticipated as Blacktop Mojo's stock has only risen in the ensuing months. With a successful album release, ever increasingly distant tour stops, and mounting accolades from industry critics and magazines, local BTM shows are becoming harder to come by.
In case you might not have heard of Blacktop Mojo, their sound can be described as "modern rock that got dragged through a puddle of southern rock and then dipped in a little bit of grunge". The band was originally formed in 2012 and the current lineup includes Matt James on vocals, Nathan Gillis on drums, Chuck Wepfer on rhythm guitar, Ryan Keifer on lead guitar, and Matt Curtis on bass.  
With a huge sound and chest shaking vocals, Blacktop Mojo brings a high energy rock show that leaves fans wanting more everywhere they go. While in the midst of rehearsals last month for their most recent tour that kicked off in San Antonio on April 20th, we caught up with them to see what had been going on for the past year and a half and what was on the radar for the rest of the year.
Johnny: So it's been about a year and a half since our last interview with you guys and the last time we talked there was an album in the works. When did "Burn The Ships" release and how was the process different from the first time around when you recorded "I am"?
BTM: "Burn The Ships" released in March of 2017. The biggest difference between this record and our first record, "I Am", was the amount of time we took for pre-production. On "I Am", we spent about two weeks getting ready and arranging the songs before we went in to record it, where on "Burn The Ships", we spent about eight months demoing and playing around with different ideas.
Johnny: How has the reception been to the album so far and do you guys have your own personal favorite song from it?
BTM: The reception to the album has been incredible this far. We've had countless positive reviews and feedback from publications all over the world. Also, our first single off of the album entitled "Where The Wind Blows" reached number 27 on the Billboard Active Rock chart last summer.
Johnny: You guys got to open for Bon Jovi last year in a sold-out stadium. Tell us about that about how you guys got that honor and a little about the experience?
BTM: We actually won that honor in a contest the band was putting on. We submitted some of our original music and were picked by Live Nation and the band's management to open up the show. The experience was beyond amazing and the crowd was very receptive to us. We cannot thank the Bon Jovi camp enough for the opportunity and for treating us so incredibly.
Johnny: Obviously that put you in front of a lot of potential new fans but what would you say the biggest takeaway from that event was?
BTM: Our biggest takeaway from that night was that whether you're playing in front of 20 or 20,000 people, you should treat it the same way. Make everyone feel like you're playing in a stadium even if it's an empty room.
Johnny: Blacktop Mojo has been trending steadily upward the past couple of years with several accolades from industry publications, over 40 thousand likes on Facebook, a new album, and you guys seem to play everywhere and anywhere. What kind of effect has the increased exposure and success had on the daily routine and what kind of new challenges have came along?
BTM: Our daily routine hasn't changed much when we're home. We still write and rehearse on a regular basis and go about business as usual. The increased exposure has made touring opportunities more readily available for us and has increased the number of people we can reach with our music, which is super exciting for us.
Johnny: You have a pretty extensive tour coming up that you'll already be on the road for when this goes to print. Is this the biggest tour BTM has embarked on and what goes into planning a 2-month long road trip that covers, as best I could count, 32 states, both sides of the country, Canada, and 43 shows?
BTM: This is our most extensive tour to date. A lot of planning, routing, and generally putting the puzzle pieces together has gone on over the past few months by us and our team to make this happen. We couldn't be more excited to get back out on the road and see our friends across the country.
Johnny: I'd say it would be time for a break after that sort of trip, but you guys are right back at it, playing Rock Fest 2018 up in Wisconsin with some huge names, do you guys ever have to step back, take a breath, and say to yourself "this is our reality"?
BTM: We are very blessed to be able to wake up and do what we love every single day. They say "you never work a day in your life if you do what you love", so I don't think we've ever really thought about taking a break.
Johnny: Were you able to see yourself at this point back when you played your first show at the Neches Fall Festival or the first "official" show as BTM at the Shelton Gin back in 2012?
BTM: It would have been hard to imagine getting to do what we do now back then. We've always just been happy to be able to play music for people.
Johnny: With what's on your plate for the first half of this year, I almost hate to ask, but what's on the radar for the second half of 2018 that you can share with us?
BTM: We have plans to keep touring throughout the rest of the year and are currently writing music for our third record.
Johnny: What has been the best memory from the ride so far?
BTM: It's hard to pick just one from all of it. One of my favorites so far was riding back into town off of our first tour last Summer/Fall. We'd been out on the road for over 60 days straight with 7 of us basically living out of our van. We were tired, beat up, and hungry, but everyone was smiling and joking with each other. It really felt like we had accomplished something.
For more information on Blacktop Mojo and when they'll be back at a location near you, check them out on the web:
www.facebook.com/BlacktopMojo.