October 5th-7th: Brookshire's 2017 Firefighter National Combat Challenge to Feature #88 NASCAR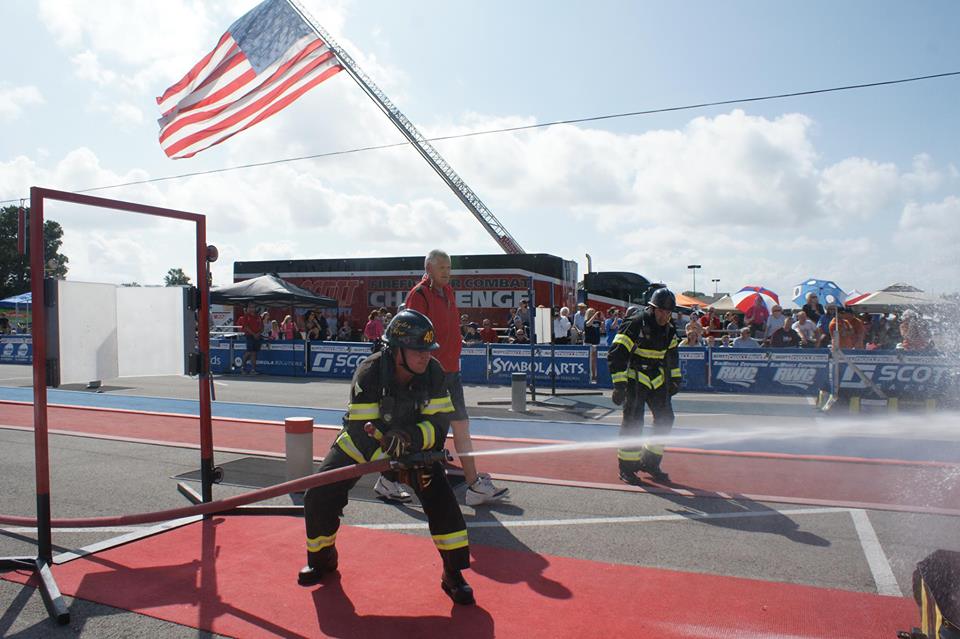 This year Tyler will once again host the Brookshire's Scott's 2017 Firefighter National Combat Challenge, a competition that pits firefighters against one another racing a course designed to simulate some of the day-to-day obstacles firefighters face.
The event is free to spectators and will take place October, 5-7, 2017. All activities will be located in the parking lot of Broadway Square Mall, 4601 S. Broadway Avenue near Sears.
For the first time, the event will feature the No. 88 Nationwide Chevrolet SS show car, a replica of Dale Earnhardt,  Jr's car. The car will be on display
during Saturday's competition only on October 7.
Attendees will be able to take a photo with the car as well as ride in the race simulator. Nationwide will also be giving away a signed Dale Jr. Helmet. Registration for the helmet can only be made at the event.
"We are celebrating our 40th Anniversary of helping the people and businesses of East Texas," Criss Sudduth, President of Ark Assurance Group said. "So when we had the opportunity to get Nationwide to send the #88 Chevrolet Show Car to Tyler, we jumped on it! It's our way of saying 'thank you' to the community for supporting us."
This is the 11th year Tyler has hosted the Brookshire's Firefighter Combat Challenge, and it's expected to bring in an estimated 300 competitors and even more spectators.
"The Combat Challenge is a unique competition between firefighters from all over the state," Tyler Fire Chief David Coble said. "They compete against each other doing the things they do in their job, skills that are the craft of our profession. At the end of the day, the fastest time wins."
Be part of the action as a volunteer! Each shift is two hours, and there are several shifts to choose from. Interested volunteers can easily sign up here: http://signup.com/go/njCeFWL.
The schedule for each day is:
Thursday, October 5th
Noon – Competitor Check-in
2pm – Opening Ceremonies followed by Individual and Team Competition
Friday, October 6th
Noon – Competitor Check-in
2pm – Opening Ceremonies followed by Individual and Team Competition
Saturday, October 7th
10am – Opening Ceremonies followed by Relay Elimination
The Challenge has its roots in a university-based research study funded by the U.S. Fire Administration. When Dr. Davis was a faculty member at the University of Maryland, he and his colleagues were approached by members of the fire service with a mandate to design a test that could be used to identify potential applicants.
It took a year of research and analysis to design a criterion task test; ultimately, that physical ability test evolved to become "the engine" of the Challenge. The resulting five tasks that comprise the Challenge are highly reminiscent of actual fire-scene activities. They are the high-rise hose drag, the hose hoist, the forcible entry, the hose advance, and victim rescue.
Top sponsors for this event include Brookshire Grocery Company, ETMC, Ark Assurance Group, CBS 19, Delek Refining, Ltd., and The Waterpark at the Villages.
Those interested in signing up a corporate team, sponsoring the event, or volunteering can contact Cindy Smoak at csmoak@tylertexas.com.
For more info about the Brookshire's Firefighter Combat Challenge find the event on Facebook.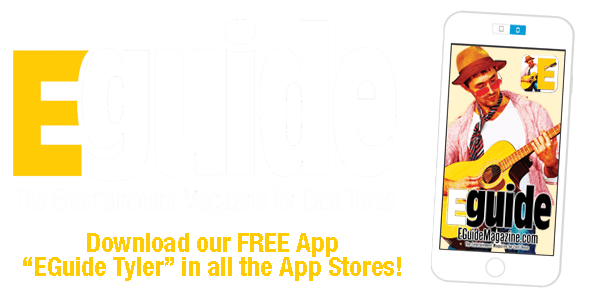 March 24th: Save the Mayfair Fundraiser, Dinner & Live Music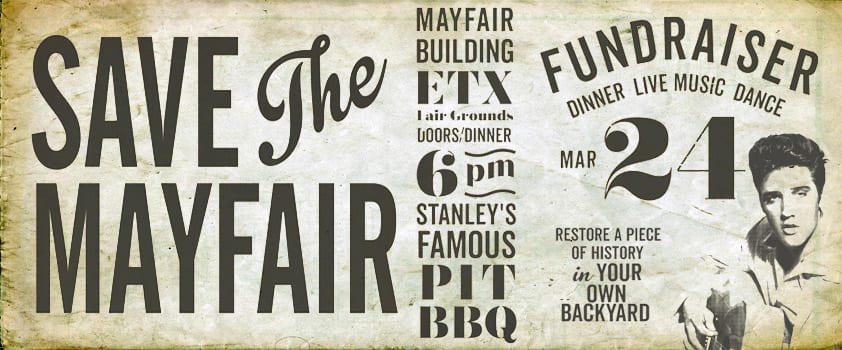 Join the fun at the Historic Mayfair Building for an evening of Music, BBQ, & Dancing.
Saturday, March 24, 2018 at 6 pm
411 Fair Park Dr. Tyler, TX 75702
Sponsored by Friends of the Mayfair & Stanley's Famous Pit BBQ
Entertainment provided by The Magills & Co. & Tyler All Star Band
Tickets available savethemayfair.org. 
WHAT'S THE MAYFAIR?
The historic Mayfair Building in Tyler, Tx was built in the late 1920s by the local Sam R. Hill Construction Company. The Mayfair has been home to many national musical acts such as Elvis, Dolly Parton, Johnny Cash, Hank Williams & so many more.
With the threat of destruction to make way for new buildings at the Tyler Fair Grounds, a group of friends banded together determined to preserve the iconic venue & bring live music back to Tyler.
The Friends of the Mayfair (501c3), along with support from the community, can bring life back into this beautiful piece of history for all of East Texas to enjoy!
This will be no small feat however, the Friends need to raise approximately $1,300,000 to complete the project. Will you join our efforts to Save The Mayfair?
"My mother saw Elvis at The Mayfair when she was in her late 20s. As far back as I can remember, I remember going to see concerts & shows at The Mayfair. The building is unique in design, there is not another like it in the world. The Mayfair is worth preserving for it's unique acoustics & interior layout."   — MARK THACKER, HISTORICAL ARCHITECT
"Playhouses on the Plaza" Downtown Tyler Through March 22nd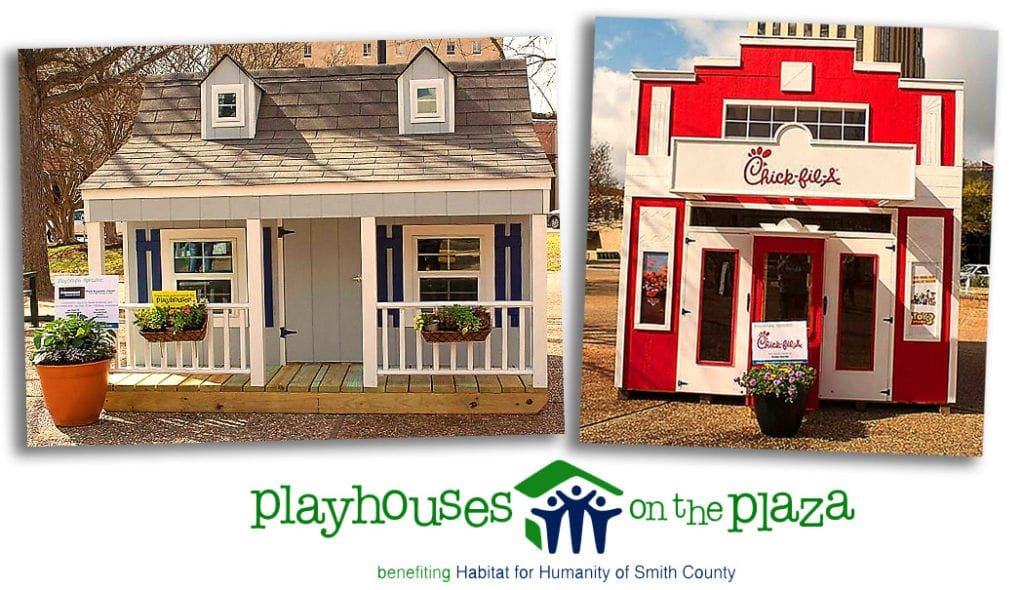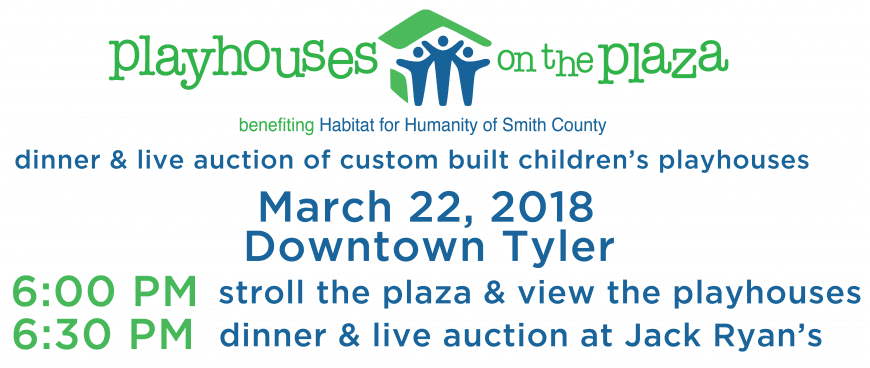 March 16th-22nd (7am-11pm daily) – Preview of the Playhouses — Thursday,
March 22nd (6pm) – Dinner and Live Auction at Jack Ryan's Steak and Chophouse
T.B. Butler Fountain Plaza will become a magical mini-community with up to eight life-sized custom playhouses – promising hours of imaginative playing –  displayed on the T.B. Butler Fountain Plaza in Downtown Tyler and features an online auction.
The display is open to public viewing at no charge.
The event will culminate in a ticketed dinner and live auction at Jack Ryan's Steak and Chophouse, 102 N. College Ave., Downtown Tyler March 22nd.
All proceeds benefit Smith County Habitat for Humanity. This is sponsored by Invest In Tyler & Strada Caffe.
Smith County Habitat's mission is to build and repair houses for people in need of decent, affordable housing. For more info call Habitat for Humanity of Smith County at (903)595-6630 or go to SmithCountyHabitat.org.
ONLINE auction begins March 31st! 
DATE CHANGES!! April 2nd: Glass Rec. Center, Summer Camp Registration Open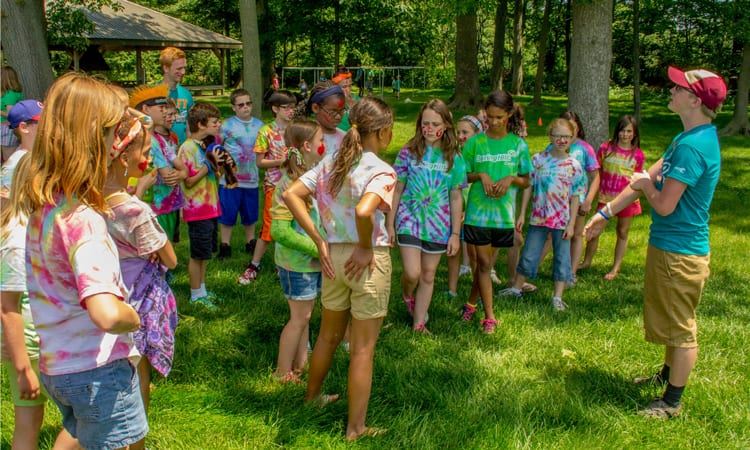 Glass Recreation Center Summer Camp Registration to Open April 2nd 
Summer time is almost here and some may need a place for their children to spend the day. Those should look no further!! The Glass Recreation Center (GRC) Summer Camp is the ideal day camp for children looking for a variety of things to do on any given summer day. GRC fun-filled summer events will include sports, games, swimming, arts and crafts, education enrichment program, special events, field trips and much more for children ages 6 to 10.
Registration opens on April 2 and camp will start Tuesday, June 5th through August 3rd; Mondays through Fridays from 9am to 3pm.
A mandatory meet and greet for parents will be held Monday, June 4th at 6pm at Glass Recreation Center, 501 W. 32nd St. This meeting will outline behavior guidelines, introduce camp leaders and pass out the camp activity calendar. Parents will be able to pay the remaining balance.
Breakfast and lunch will be provided by the East Texas Food Bank Summer Food Program.
The cost to participate is $100 per child for the entire summer. Field trip fees are additional if child attends. A partial payment is due to register child. (There will be no refunds after payment has been made and all fees must be paid before June 6.) Space limited to 100 kids.
For more information, please contact the Glass Recreation Center at (903)595–7271.