Old Chicago Pizza and Tap Room: Pepperoni Rolls

Looking for something good to eat, along with something fun to do?  You just can't beat Old Chicago Pizza on a Tuesday night with friends – well, actually any night is excellent, but we love Tuesday Trivia!  This has become our gang's go-to lately on Tuesdays, and one of the best things on the menu, as far as I'm concerned, is their Sicilian Pepperoni Rolls.  Not your usual pepperoni rolls, these babies are served piping hot with a side of pizza sauce for dipping.  Nothing tops these yummy rolls of specialty dough that are loaded up with pepperoni, melty cheese, and fresh onions, unless it's an ice cold glass of your choice of one of their specialty beers available every night.
Don't know where to start with all of their choices of beers?  Put together a flight to find where your particular palette is the happiest, after all they have 110 different choices and one of them is bound to fit the bill!  Get on board for their World Tour of Beer to win points and prizes.  It one be long until you are a bona fide Cicerone of beer – what a sommelier is to wine.
With a widely varied menu that includes everything from Buffalo Wings, Soups and Sandwiches, Pizzas, Salads, Calzones, and more, there's something for everyone at Old Chicago.  My favorite dessert is the Brownie Bites – warm little squares of fudgy goodness drizzled with caramel that are just begging to be dunked in the hot fudge sauce served on the side.
Then, add to all that good food and drink, a fun time playing trivia with your friends and you'll find yourself right in the middle of a great Tuesday evening at Old Chicago Pizza and Tap Room located at the corner of Old Bullard Road and Loop 323 in Tyler.  To view their menu and for more information, visit https://oldchicago.com/locations/tyler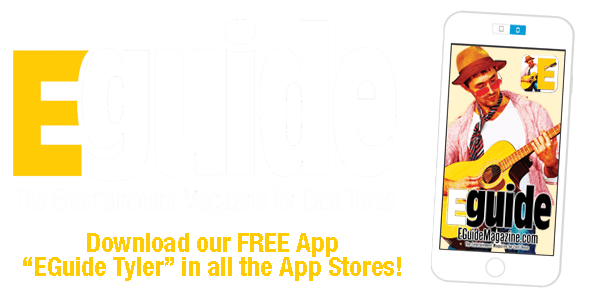 Foodie Events: March 31st, Let's Make Bread Together & Easter Brunch
Roost Chicken Salad & Deli will open a location in Southside Bank at S. Beckham across from ETMC Hospital.
March 31st-April 1st (all day) – Bread Class & Easter Brunch – Have you always wanted to bake like a Master Chef? The key is simple ingredients, proper instruction, and the right location. Join Chef for a fun weekend experience in the kitchen of Côte at High Hill Farm. You'll learn the techniques, recipes, and process to baking homemade breads. Cap off your day with a stroll in the vineyard, wine sampling and overnight stay in one of our relaxing bungalows. After a perfect night's sleep, join us for a special Easter brunch featuring beautiful farm fresh brunch including items from the garden, local food items, and fresh juices.  Mimosa's and Bloody Mary's also available for your enjoyment. High Hill Farm, 12626 CR 217, Arp. Go to highhillfarm.com to make reservations.
Crawdaddy's Boil-N-Go is now open at 14801 State Hwy 110 S. in Whitehouse. Featuring crawfish, shrimp, crab legs, corn, potatoes with all the fixing, Crawdaddy's is open Thursday-Friday 5-10pm, Saturday 12 noon-10pm, and Sunday 12 noon-6pm.
April 7th (8am-12 noon) – The Rose City Farmers Market will open soon at it's new location at 236 S. Broadway Ave., just a half block north of Front St. in the parking lot of Bill's Unclaimed Furniture. The market is open from April to November. This is across from "Moss, Where Flowers are Fair" and ETX Brewing Co. The new location will be near the free parking in the Fair Plaza Parking Garage. The Rose City Farmers Market is a family- and dog-friendly community gathering place, providing locally-grown produce, herbs, wood oven breads, pastries and granola, jams, pickles, locally roasted coffee, cheese, artists and artisans, live music, and sometimes even yoga. They are open every Saturday April-November 8am-12 noon. For more info on the market or to apply to be a vendor, contact (903)539-2875, info@foodcoalition.org, or foodcoalition.org.
Quick Dawgs of Texas Opens! You know that building with a cowboy-shaped roof? It now serves hot dogs made with love and care by David Lovelady. "This particular building here is set up to handle hot dogs," he said. "I'd been looking at different buns, wieners, different chilis, for many months before we started this thing." The new business features an array of hot dogs, mostly priced between $2-$5, with nachos and meals priced a few dollars higher. The menu — which is still developing — includes all beef, bun-length hot dogs; brisket sausage links; Earl Campbell Hot Links; Frito pie and more. Lovelady said the chili cheese dogs and hot links have been some of the most popular selections. Picnic tables will be added outside the drive-thru soon. Quick Dawgs is located at at 220 SSW Loop 323 in Tyler, and serves all beef, bun-length hot dogs, brisket sausage links, Earl Campbell Hot Links, Frito pie and more.
Texas de Brazil: Bringing Authentic Churrasco to Tyler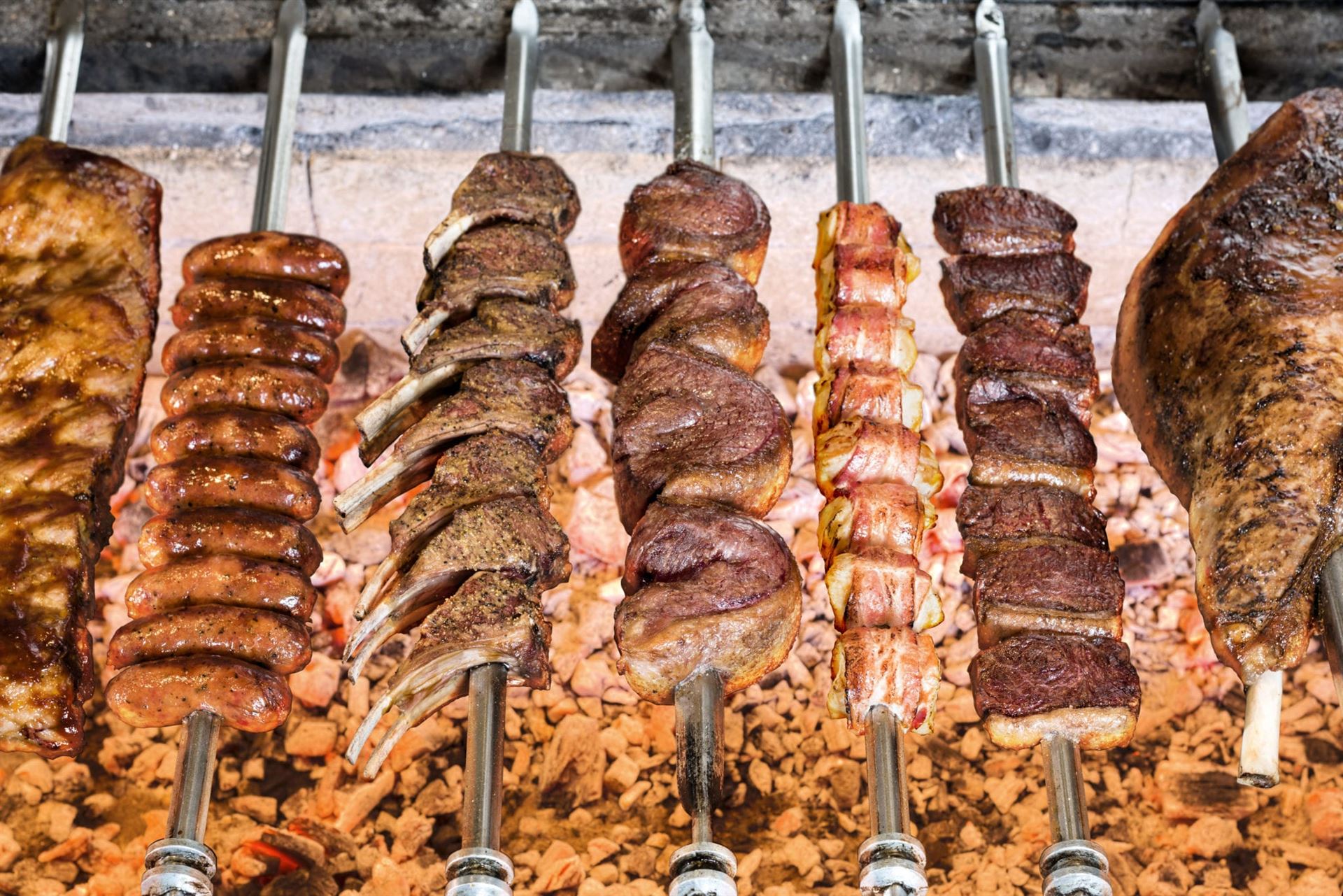 By Holli Fourniquet
It seems like there is a new restaurant opening every week in Tyler. While each location offers its own unique flair, most of the new restaurants are similar to other restaurants here in town.
Not so with the newest restaurant to open in the area, Texas de Brazil, a Brazilian-American steakhouse. There is nothing else like Texas de Brazil in Tyler or the surrounding area. The nearest location to find a Brazilian-American steakhouse is Dallas, and let's face it, who wants to fight the Dallas traffic?
This continuous dining restaurant embraces the time-honored tradition of churrasco-style grilling and combines this with generous southern hospitality, superior service, and an inviting atmosphere. This restaurant is just as much about the experience as it is about the delicious food.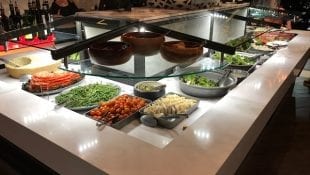 The menu offers 50-60 items on the seasonal salad area that includes appetizers, gourmet vegetables, charcuterie, imported cheeses, soups, salads, and more. Each person at the table is given a card; one side is green and the other red. After you have gotten your salad, turn your card to green and be greeted by a troop of carvers who will generously serve you various cuts of seasoned beef, lamb, pork, chicken, and Brazilian sausage accompanied with traditional side items and house-baked Brazilian cheese bread. My favorite cut of meat was the flank steak. It was juicy and cooked to perfection.
And, like I said before, this is a "continuous dining" restaurant. Dine endlessly on the best cuts of meat around, and when you're full, or need a break; just turn your card back to red. Repeat until you've had your fill. Do you like your meat cooked a certain way? No problem! You can request certain cuts of meat as well as have the meat cooked to your liking.
In-house wine connoisseurs will help you select the perfect pairing for your meal, or you can sip on Texas de Brazil's freshly-made signature cocktail, the Caipirinha.
There are two pricing options; dinner is $42.99 per person, and the salad area only is $24.99 per person. Children 2 and under are complimentary, $5 for 3-5 years, and 50% off of the regular dinner price for children 6-12 years. Texas de Brazil also offers happy hour specials starting as low as $3, Monday-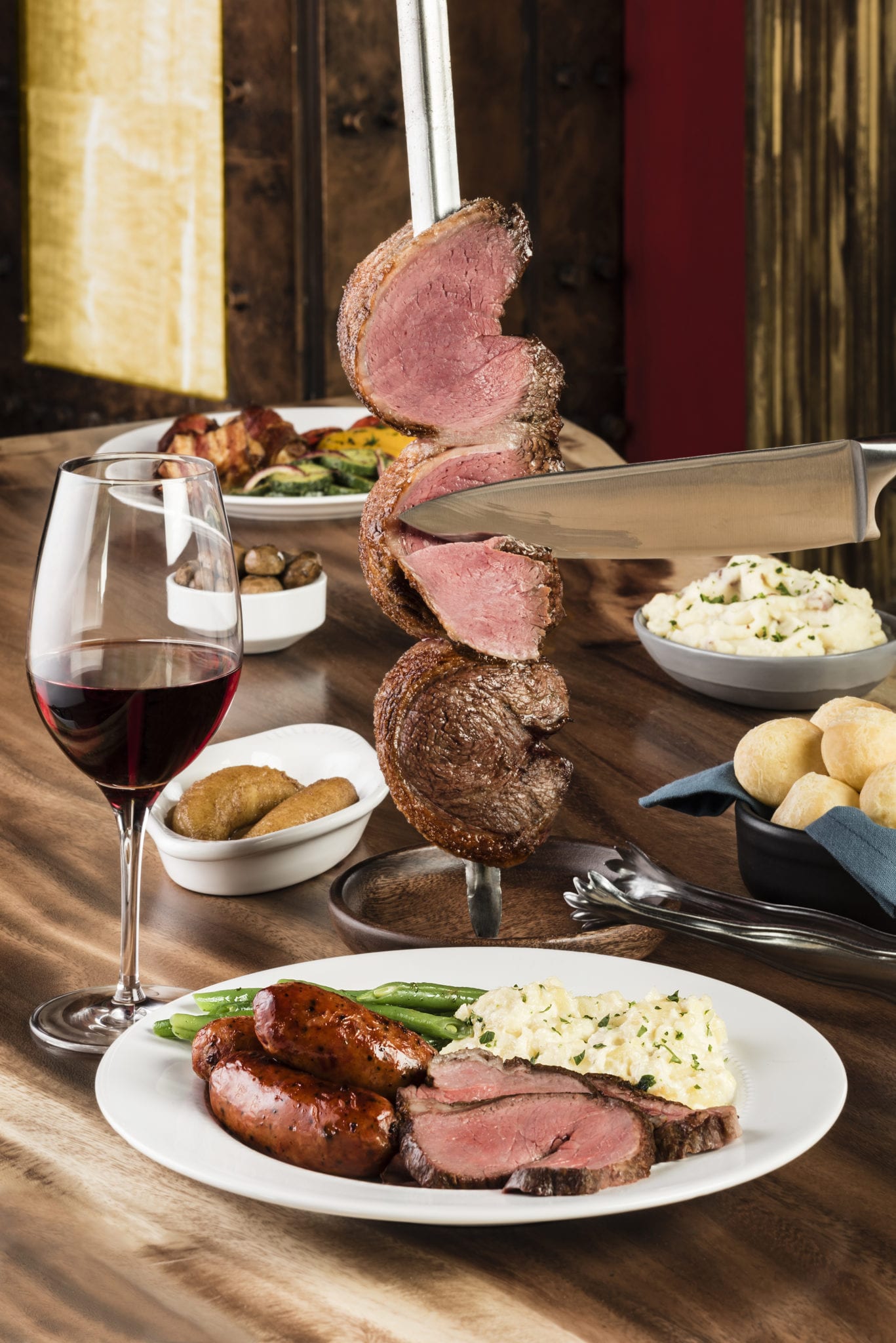 Friday, 4:30-7pm.
I recently visited the restaurant on my anniversary, and I have to say, this is a perfect date night spot. The whole experience is fun and different. This isn't a fast food joint, so there is plenty of time to relax, eat, and catch up with your significant other. Plus, if your date is anything like me, she won't have to choose what she wants for dinner; she can have a little bit of everything.
End your meal with dessert. Texas de Brazil offers a great selection of delectable desserts. Desserts are an a la carte item and include Brazilian Cheesecake, Brazilian Flan, Key Lime Pie, Pecan Pie, Chocolate Mousse Cake, Bananas Foster Pie, Brazilian Papaya Cream, Coconut Chess Pie, among several others. We tried the Coconut Chess Pie and the Key Lime Pie and were definitely pleased with these selections. The Key Lime Pie was tart, but not too tart, just like I like it, and the Coconut Chess Pie has a generous serving of coconut baked on top. It was the perfect ending to a wonderful meal.
Texas de Brazil is located at 2376 Dueling Oaks Dr., Ste. 100, Tyler. Their hours are Monday-Thursday, 5-9:30pm; Friday, 5-10pm; Saturday, 4-10pm; and Sunday, 4-9pm. For more information and to make reservations go to texasdebrazil.com.
Food News: Mercados, Roost, The Foundry & More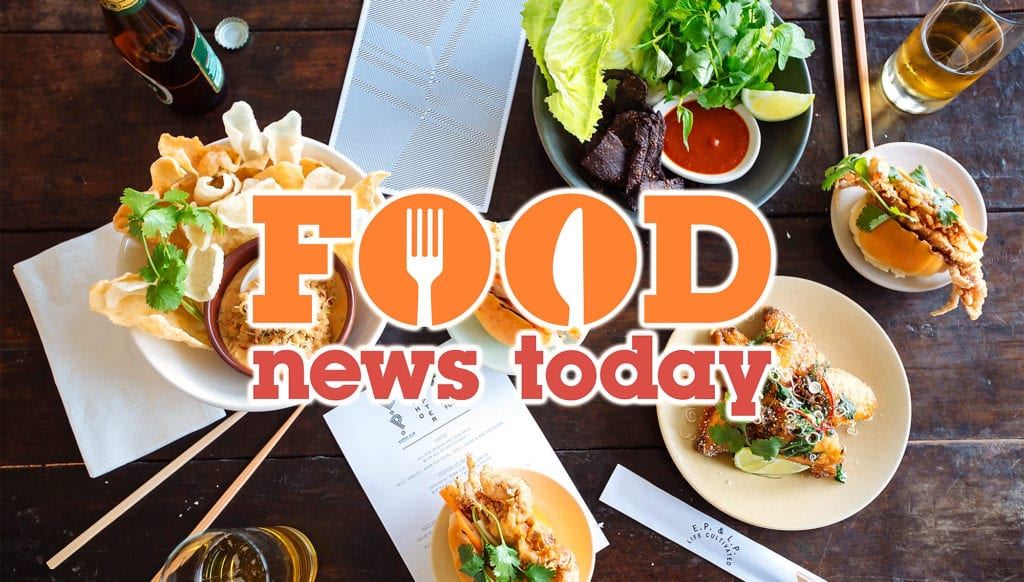 Food News
Mercado's celebrates 30 years in business!
Owner Andy Gugar has been in the restaurant business for over 40 years, first opening Hickory Fare Bar-B-Que in the early 1970s. He also built the Papacitas concept and sold it within three years in the early 1980s. In 1987, Gugar opened Mercado's and, since that time, the business has grown from the original location to 15 Posados and one Happy's Fish House. "It's one of the few restaurants you will see families taking pictures outside because it is a destination not just a dining experience," said chief operating officer John Corley. "The atmosphere is very special. With all the market intrusion and different companies, to be around for 30 years is quite a feat." Since the opening of the restaurant, the single Mercado's location has produced 28.5 million tortillas and 9.5 million enchiladas! Mercado's is located at 2214 WSW Loop 323, Tyler.
The Foundry is now selling food!
They are partnering with Whole Health Foods to provide local, farm fresh, organic lunch and dinner option to Downtown Tyler. The Foundry is a coffee shop that focuses on serious coffee excellence, atmosphere, art, music, and conversation, located at 202 S. Broadway, Downtown Tyler. They are open Monday-Wednesday 7am-9pm, Thursday-Saturday 7am-11pm, and Sunday 7am-7pm.
Popcorn Junction
has moved. It is now at 4744 S. Broadway, close to the new Christus Trinity Mother Francis Hospital.  Popcorn Junction is owned by two friends with a passion for popcorn. Popcorn Junction offers more than 60 unique mouth-watering flavors to popcorn lovers both in-store and online via popcornjunctiontx.com. They sell bags, boxes, popcorn tins, and gifts for any occasion. Ask for a free sample in the store!
Donuts and Tacos
– Fuddruckers has not opened yet but a new place has emerged next door called Donuts and Tacos. Its obvious what they sell; we can't wait to try them out. It's located in the new shopping center under development on University Blvd. across from the UT Tyler campus.
Roost
is now serving breakfast – big Texas breakfasts! Their menu includes yummy stuff like brisket omelet, Nutella and banana stuffed french toast, breakfast burritos, pineapple upside down pancakes, and more. They serve breakfast Monday-Friday 7-11am, Saturday-Sunday 7am-2pm. Oh, and by the way, they deliver now through "WaitrApp" to your home or office.
Shell Shack
is coming to Tyler! Shell Shack, a Carrollton-based seafood restaurant that focuses on king crab, snow crab, shrimp, and even crawfish in season, is expected to open in January 2018 at 7918 S. Broadway Ave., just north of Cumberland Rd. "Shell Shack is a one-of-a-kind seafood restaurant experience in the casual dining segment specializing in proprietary infused seasoned crab and seafood of all shapes and sizes," the company's website says. The restaurant will be open for lunch and will have a happy hour.