Old Omen: Something Bluesy This Way Comes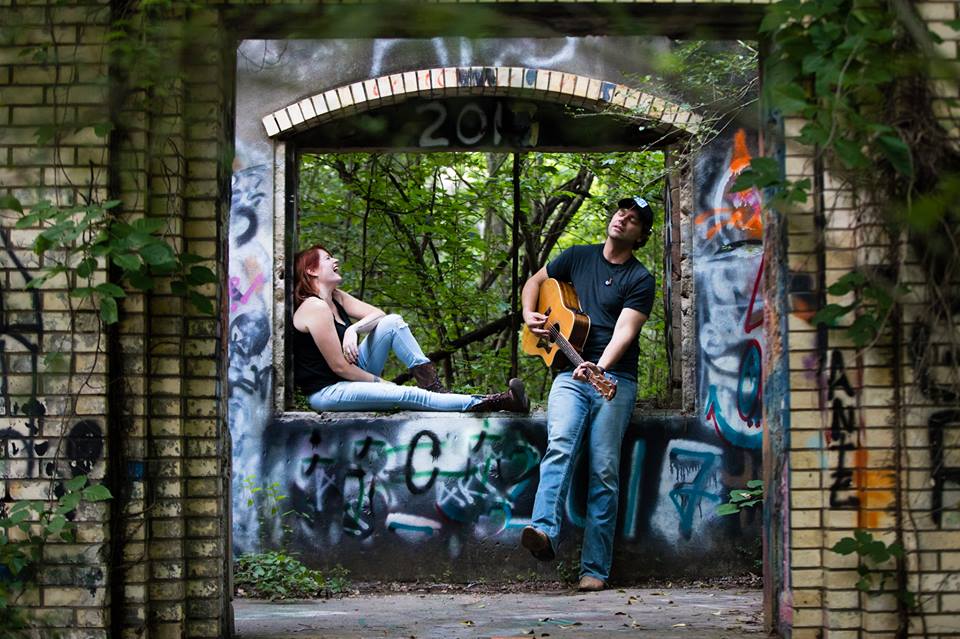 By Johnny Griffith
Tyler is a city with an impressive amount of homegrown talent that spans an eclectic mix of styles. However, it is a fair observation to say that Country and Rock take up a vast majority of the real estate on local stages though recently, acts from other genres, such as Blues, Jazz, and Pop, are making their own place in the musical soul of the city. One of these projects, Lindsay Boone and Grady Axton Davis, the duo known as Old Omen, has brought their love of some of these divergent styles together to create a spooky good blend of gritty, soulful vocals and powerful, bluesy guitar. Together, they've been on an upward trajectory as they broaden the auditory palates of local music patrons.
We sat down with the dynamic duo recently to get better acquainted:
Johnny: So let's start with the name of the project: "Old Omen." What's the significance of the name?
Grady: I always thought it was a creepy sounding road in Tyler, and it's always made me laugh. It came up when we were trying to think of a band name. We wanted something with significance to East Texas.
Lindsay: Something that somehow captured our sound too. I love that there could be a great character behind the name. I picture an old guy smoking on his front porch, listening to blues, and I imagine he'd like our songs.
Johnny: Your bio says you met each other at a Beatles tribute show where you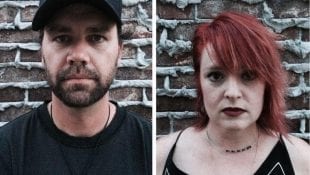 subsequently ended up performing a couple of shows together. When and where was this, and how were you two put together at that show?
Lindsay: We both played in these tribute shows that Matt Magill puts together at The Foundry, and became friends through that. We really bonded at the Beatles show because we're both crazy fans of their music, and ended up talking for hours about 1960's music and how much we loved it. I'd seen him play; he'd heard me sing, and shortly afterward I sent him what ended up being a pretty important text: "Hey, want to be in a blues band together?" Ha!
Johnny: When did you individually first get into music?
Grady: My uncle always played, so I grew up watching him. I was transfixed, watching his fingers, hearing the sounds; I just thought it was awesome. I got a guitar in fifth grade but never played it, and a few years later asked for a telescope for Christmas. My dad reminded me of the guitar I hadn't played, and I wanted to prove I deserved the telescope, so I started playing that guitar. Then I became absolutely hooked. That Christmas I also used a CD my dad got as a gift to test out my new Discman, and it was the "Best of Cream." I remember pressing play and hearing this psychedelic Eric Clapton, this nutso guitar, and I knew what I wanted to do in life.
Lindsay: My parents aren''t musical at all, but thankfully insisted I start piano lessons at eight years old. I devoured every practice book, every piece of sheet music, everything my teacher gave me, and within two years was so tired of playing other people's stuff that I wanted to write my own. I picked up other instruments along the way, and after hearing jazz vocalists from the 1940's in college, realized I could use my voice as an instrument, and thankfully, it came easiest to me.
Johnny: Who were your early musical influences?
Grady: Tom Petty, Eric Clapton, Jimi Hendrix.
Lindsay: Fiona Apple, Ella Fitzgerald, Paul McCartney.
Johnny: Obviously you two traveled different stylistic paths to get to where you are to the point where the bio on your website says, "he showed her Led Zeppelin, she showed him Otis Redding." How do you think those disparate perspectives have helped you craft this unique sound?
Grady: I think your questions answers the question. I bring mashed potatoes, she brings gravy.
Lindsay: He's M&M's, and I'm Skittles. Our differences make us so musically strong and create a different sort of blend. You have the super bluesy, raw, rock-based acoustic guitar with strong jazzy female vocal; it's just a cool sound.
Johnny: Speaking of that sound, it's been described as "bluesy, swampy, folk-rock." So break that down for us a bit more. I've heard your music, and it seems to me to be like someone took a little bit of Robert Johnson, Stevie Ray, Bonnie Raitt, Brittany Howard, Rolling Stones, tossed them together and sprinkled a bit of Mellencamp over the top for good measure. How would YOU clarify it to someone who hadn't heard you before?
Grady: That sounds good to me!
Lindsay: I'd throw in some Civil Wars and Etta James in there, but that sounds like a major compliment. Any comparison to Brittany Howard is pretty damn flattering.
Johnny: When and where was your first show as "Old Omen?"
Lindsay: We unveiled the name at the next tribute show, a Dolly Parton show, where we did a killer version of "I Will Always Love You," in a minor key. It was very haunting, totally unlike the original.
Johnny: Are you primarily a duo, or do you gig with a full band sometimes? If you use a band at times, who fills out the stage?
Lindsay: At its heart, Old Omen is a duo, but we do enjoy occasionally playing with a full band. We often ask jazz bassist Chris Pitts to join us, and even do a more classic-rock quartet with drummer Jeff Shelton and bassist Bill Scott.
Johnny: What has been the most memorable moment for you, on or off stage, since you've been performing together as Old Omen?
Grady: Lola's (one of our first gigs) was such a good initial place to play, just honing what we do at a sandwich shop, and having kids come and dance. Also, we're pretty proud that we're 100% for country clubs not asking us back.
Lindsay: The first weekend we had three gigs in 24 hours, just living on music and driving around. It was pretty amazing. It showed me how much I wanted my life to be this way.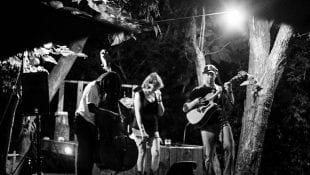 Johnny: How has the response to this project been so far?
Grady: We hope it's something very different in the Tyler music scene. I think the genres we're tapping into don't get on display very often in Tyler, or even outside of Tyler. You don't get just a ton of bluesy soul original music, and I hope people think, "That's a lot of sound for just two people to be producing."
Johnny: What's on the horizon for you guys the rest of 2017 and beyond?
Lindsay: We're so pumped for our first album (self-titled), which will be released on July 22nd and available on iTunes, Spotify, etc. We're having a big block party outside El Guapo Records and ETX Brewing Co. to promote and celebrate its release. We hope to go on a North Texas tour in August as well, and continue to gig heavily in East Texas.
Johnny: What would you tell someone about to sit down and listen to an Old Omen show to expect?
Lindsay: Something different, something vibrant and original and full of passion. We play with our souls on our sleeves, and I want everyone who hears us to know it. You're just not going to see a guitarist like Grady every day; he plays with such fire and such love for blues and rock, and I'm hoping I can overpower you enough with my voice to feel it in your chest.
Upcoming Old Omen Shows:
July 15th: Athens Brewing Company-Athens

July 22nd: Lola's- Tyler

July 22nd: El Guapo Records-Tyler, Tx (Album Release Date)

July 28th: ETX Brewing Company-Tyler
Old Omen on the Web:
oldomen.com

facebook.com/oldomenband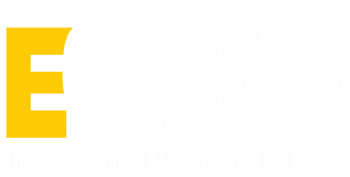 Feb. 24th: For a Good "Soulful" Cause, Edwin Holt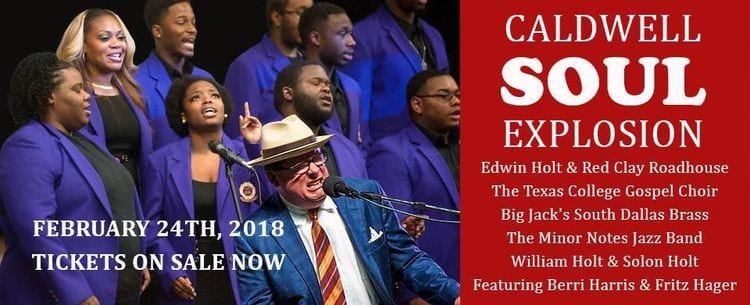 For a Good "Soulful" Cause:
Edwin Holt, Red Clay Roadhouse, and Texas College Choir Join Forces
By Edwin Holt
Some of you already know the backstory of my musical life, what you may not know is the soulful bond that developed between myself and a culture that I have come to define as my second family.
Like most people that stay in their comfort zone of their own culture, I found myself in a different realm. For several years in the south Dallas area and beyond, I found myself, a twenty year old male, performing in an all black blues band, in all black juke joints. The music was and will always be a great reward of my dues paid. The family of musicians I inherited, was a reward I never saw coming. Having the opportunity to perform, travel, and join them at their dinner tables with their families, has changed me into someone else.
Growing up in the small town of New London, Texas, I was sheltered to what lied ahead in the real world. A world that opened my young eyes to the reality of a culture riddled with struggles that continue to plague our society and most importantly, the very body of Christ.
People talk about how we are divided as a culture. They say that leadership does nothing to aid within this division but at the same time we fail to notice the blame within ourselves. We think we are helpless to make any kind of change in the world due to who we are or where were from – I believe differently. My focus in life, is to make a continued difference using love as a means of change.
So it should be no surprise that when the Texas College Choir reached out and asked me to help them get to New York in their own efforts to share the Gospel of music, I was all in. And with that, I'm hoping you are all in as well.
Presented by the Holt family, this will be an evening full of soul that will take place on February 24th at 8pm. Doors open at 7pm. The performance is being held at the Caldwell Auditorium, 300 S. College Ave., Tyler.
Please help me help others with music. It is a wonderful gift from God that brings people of all cultures together.
For more information and to purchase tickets, visit rosepickermusic.com.
Flatland Cavalry, Parker McCollum in Concert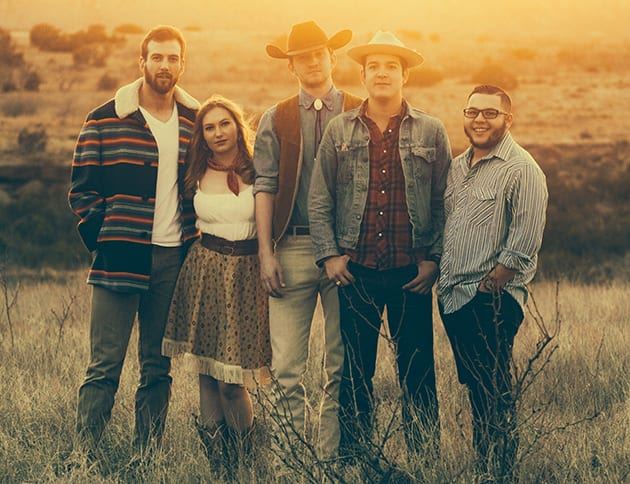 Upcoming Concerts
February 23rd (8pm) – Flatland Cavalry will be at Coach's. Tickets are available at wildtexastickets.com.
February 24th (8pm) – Monte Montgomery in Concert – One of East Texas favorite artists, Liberty is thrilled to have back Monte Montgomery in concert. He has recently released his new album "Dragonfly" and is currently touring. Tickets start at $15. Liberty Hall is located at 103 E. Erwin St., Tyler. Tickets are available at libertytyler.com.
March 3rd (8pm) – Broken Valor w/ Panik Device, Victims Of Sanity will be in concert at Click's Live. Tickets are available at the door with proper ID.
March 10th (8pm) – Shooter Jennings – Shooter Jennings is an American singer-songwriter active mainly in the outlaw country music and Southern rock genres. He is the son of country music legend Waylon Jennings. Tickets range from $35 -$45. Liberty Hall is located at 103 E. Erwin St., Tyler. Tickets are available at libertytyler.com.
March 16th (8pm) – Parker McCollum will be at Coach's & Cowboys. Tickets are available at wildtexastickets.com.
March 24th (8pm) – Bibeau Record Release Party & Concert – will be held at Click's Live. Tickets are available at the door with proper ID.
April 21st – Bowling For Soup at Clicks Live (8pm) – American pop-punk band Bowling For Soup emerged in Wichita Falls, Texas in 1994, but have since relocated to Denton Texas. Tickets are on sale at the door for $19, and may be purchased in advanced online for $15 at etix.com.
EGuide Magazine's Gig Guide
Check out who is playing live in Tyler, Ben Wheeler, Gladewater, and more!
---
Monday, February 19th
Love & War, Lindale – Karaoke, 8-12

Stanley's BBQ – Ramoth Gilead & His Affiliad, 6:30-9:30
Tuesday, February 20th
11

th

Frame Club – Lynn Groom, 8:30-11

The Back Porch, Kilgore – Brandon Nichols, 7-10

Coach's & Cowboy's – Karaoke, 8-12

F D's Grillhouse – Eric Mosley, 6-9

Garage Bar – Karaoke, 8-12

Love & War, Lindale – Songwriters Anonymous, 8-12

Summerfield's Bar & Grille – Karaoke, 7-11

Stanley's BBQ – Dustin Becker & Chris Oliver, 6:30-9:30

UTTyler Cowan Center – Jazz Ensemble Concert, 7:30

Where's Rufus – DJ, 8-12
Wednesday, February 21st
The Back Porch, Kilgore – 2nd Childhood, 7-10

Click's Live – Karaoke, 8-12

Dakota's – Darrin Morris, 7-10

The Forge, Ben Wheeler – Craig Wallace & T.D. Wilt, 6-10

Leon's, Longview – Blues Jam with Johnny & The Nightcrawlers, 8-11

Stanley's BBQ – Big Funky Cloud, 6:30-9:30

Yamato – Open Mic, 8-12
Thursday, February 22nd
11

th

Frame Club – Lynn Groom, 8:30-11

The Back Porch, Kilgore – David Allen, 8-12

Breakers – Tne Last Marc, Ian, and Douglas Serenade, 9-12

Clicks Live – DJ Cicero, 8-12

The Forge, Ben Wheeler – Cody Noman, 7-10

Garage Bar – DJ Juice, 

8-12

Liberty Hall – From Hollywood with Love, 7-9

Republic Icehouse – Karaoke, 8-12
Friday, February 23rd
11

th

Frame Club – Karaoke, 8-12

The Back Porch, Kilgore – Cody Wayne, 8-12

Breakers -Lucas Kelm, 7-10

Circle M Crawfish – Karaoke, 7-11

Coach's & Cowboy's – Flatland Cavalry, 8-12

Dakotas Chop House – Jason Misenheimer, 7-10

ETX Brewery – Shay Bailiff, 7-10

The Forge, Ben Wheeler – Finding Shade, 7-10

The Foundry – Josh White at Mockingbird Conference, 7:30
Fusion – DJ Polo, 9-12

Garage Bar – DJ Panda, 8-12

Kawa's – Quentin Moore, 7-10

Liberty Hall – Johnny Lee "The Original Cowboy," 8pm

Love & War, Lindale – Lee Mathis, 8-12

Mario's – Live Jazz, 6-10

Moore's Store, Ben Wheeler – Mariah Keltner, 9-12

Paradise Harbor, Hawkins – Karaoke, 8-12

Republic Ice House – Johnny & The Njghtcrawlers and King Richard, 8-12

Rick's – MoJiles, 8-12

Shoguns – DJ, 8-12

Stanley's BBQ – New Breed Brass Band, 9-12

Stone Country, Lindale – Karaoke, 8-12

Taste of Italy On the Lake, Hawkins – Marcus Casburn, 6-9

Where's Rufus – Karaoke, 8-12

Yamato – DJ Cash, 9-12

Saturday, February 24th
The Back Porch, Kilgore – Ryan Matthews, 9-1

Caldwell Auditorium – Edwin Holt & The Texas College Choir, 8-12

The Central Station, Gladewater – Heather Harper, 7-10

Club 155 – David Allen, 9-1

Dakotas Chop House – Larry Hooper Duo, 7-10

ETX Brewery – The Jazz Connection, 8-10

The Forge, Ben Wheeler – Craig Wallace, 3-5, Trey Rosenthal, 7-10

Fuzion – Latin DJ Night, 8

Garage Bar – Chase McClannahan, 9-1

Kawa's – Dan Rocha, 7-10

Lago del Pino -Blind Pursuit, 8-12

Liberty Hall – Monte Montgomery, 8pm

M6 Winery, Bullard – Withrow Cooley, 3:30-6:30

Mario's – Live Jazz, 6-9

Moore's Store, Ben Wheeler – Tyler & The Tribe, 9-12

Republic Ice House – Bluez Boys, 8-11

Rick's – Live Music, 9-1

Stanley's BBQ – Open Mic, 6:30-9:30

Strada Caffe – Jordyn Lackey, 8-10pm

Taste of Italy On the Lake, Hawkins – Marcus Casburn, 6-9

Where's Rufus – DJ, 9-1

XLN – Grant Cook & Friends, 9-1
Sunday, February 25th
Click's Live – Acoustic Chaos, 9-12

The Forge, Ben Wheeler – Tommy & The Acoustics, 7-10

The Grove – Chris Oliver, 11-2
Monday, February 26th
CBS19 Music Monday's – The Kirby's, 10pm 

Love & War, Lindale – Karaoke, 8-12

Stanley's BBQ – Ramoth Gilead & His Affiliad, 6:30-9:30
Tuesday, February 27th
11

th

Frame Club – Lynn Groom, 8:30-11

Back Porch – ReULion Charity Jam, 6:30

Coach's & Cowboy's – Karaoke, 8-12

Dakotas Chop House – Gary Patrick, 7-10

F D's Grillhouse – Eric Mosley, 6-9

Garage Bar – Karaoke, 8-12

Love & War, Lindale – Songwriters Anonymous, 8-12

Republic I've House – Todd Rinlee, 8

Summerfield's Bar & Grille – Karaoke, 7-11

Stanley's BBQ – Dustin Becker & Chris Oliver, 6:30-9:30

Where's Rufus – DJ, 8-12
Wednesday, February 28th
The Back Porch, Kilgore – Adam Brown, 7-10

Click's Live – Karaoke, 8-12

Dakotas Chop House – Gary Patrick, 7-10

The Forge, Ben Wheeler – Craig Wallace & T.D. Wilt, 6-10

Leon's, Longview – Blues Jam with Johnny & The Nightcrawlers, 8-11

Stanley's BBQ – Big Funky Cloud, 6:30-9:30

Yamato – Open Mic, 8-12