PATH: 30 Years of Service to the Community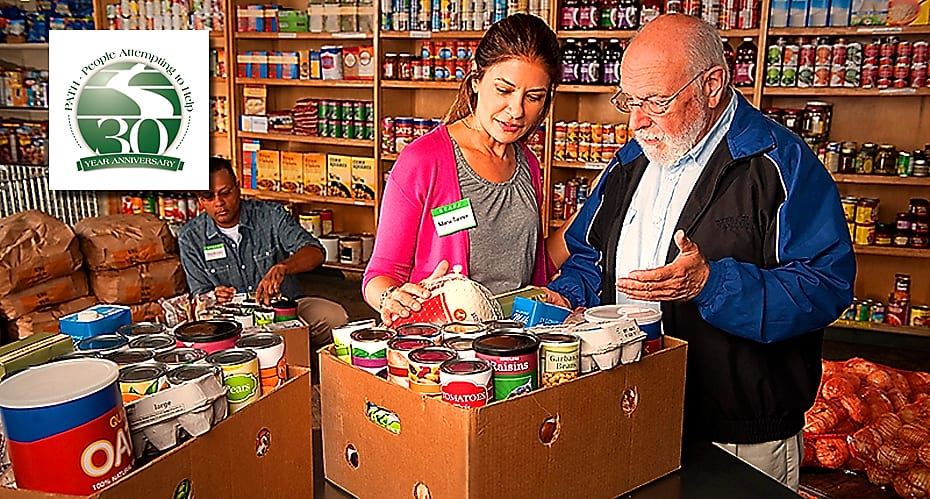 By Kelly Griffith-Fields
PATH, People Attempting To Help, has been on a mission for 30 years now to serve the economically disadvantaged people of Smith County. With both emergency assistance and programs, PATH encourages and empowers them to become self-sufficient.
Gertrude Windsor recognized a need in Smith County and began feeding the homeless and hungry herself from her back door. In 1984, at the age of 90, Mrs. Windsor dreamed of helping more of the disadvantage throughout the community; to reach those further beyond her back door.
She began gathering together church and civic leaders to create an organization that would be a safe place for people in need of assistance. As a result of her vision in 1985, PATH began serving families in need.
"Thirty years is an outstanding achievement of continuous service," Development Director Mila Hightower said. What began 30 years ago as a community collaboration, continues today in much the same way. "Path is supported by 87 congregations throughout Smith County and is very volunteer driven," Hightower said.
For one week every September, PATH focuses on raising community awareness. September 7th-11th has been devoted to spotlighting PATH and its services that assist community members facing poverty, homelessness, or hunger to self-sufficiency.
"This year we're concentrating our efforts into one big event to do something to honor the 30 years of continued service," Hightower said.
Thursday, September 10th at 11:30am, a community celebration and luncheon will be held at Green Acres Baptist Church CrossWalk Conference Center. Larry James, CEO of CitySquare in Dallas, will be the keynote speaker for the event. Dallas' CitySquare is a faith-based community development corporation. Through service, advocacy, and friendship, they help the community battle the causes and effects of poverty.
James served as executive director of CitySquare for ten years before becoming CEO in September of 2004. James was confident that he was needed in the streets of Dallas' inner-city community. He and his wife, Brenda, have made their home there since 1999. Through his service and advocacy, James has become well-known in the communities throughout Dallas as a social entrepreneur and committed servant to the disadvantaged of east and south Dallas.
At the celebration, the Very Reverend Martin Luther (M.L.) Agnew Jr. will be honored with the Gertrude Windsor award. The award is presented to an individual who epitomizes the mission of PATH through both their words and deeds.
The CrossWalk Conference Center is located on the Green Acres Baptist Church campus at 1607 Troup Highway in Tyler. Tickets for the celebration are $35. Tables and other sponsorships are also available. To purchase tickets or become a sponsor call (903)617-2825 or visit www.tylerpath.org.
Statistics show that every three and a half minutes one of our neighbors walks through PATH's doors needing assistance. Last year PATH provided assistance to 22,834 individuals. "We have neighbors throughout Smith County that need help and assistance in some way," Hightower said. "PATH offers that assistance with kindness, dignity, and respect."
Each individual or family that turns to PATH for assistance is assigned a caseworker. Caseworkers help to determine their specific needs and provide long-term guidance and support to meet those needs. The end goal of this guidance and support is to establish self-sufficiency and enhance the quality of life for the family or individuals. Caseworkers are able to assess and address issues that include living situations, financial trouble, physical and emotional health, addiction, parent/child resources, education, employment, and more.
PATH offers a Transitional Housing Program that is designed to help low- to moderate-income families provide safe and affordable housing. At the same time, individuals participate in programs that lead to self-sufficiency. The housing program is designed to help families move into home ownership in 18-24 months.
Their basic medical care offers dental appointments, eye exams, glasses, and help to afford prescriptions.
PATH's food pantry is one of the only food pantries serving the community Monday-Thursday, 8am-6pm. Its hours of operation make it one of the most convenient food pantries in the county. "About 140 people come through the food pantry a day," Hightower said.
Shelves are continually stocked with nutritious, nonperishable food items. Freezers and refrigerators offer changing selections of meat, fruit, and more depending on the donations received. Hightower explained that formula, diapers, and toilet paper are all items the pantry is in constant need of. "While it's not glamorous, they're often an overlooked necessity," she said.
Shoppers make their way through the aisles of the pantry to make their selections. They are then assisted with their bags of groceries by volunteers much like they would be when shopping at a local grocery store.
PATH also works in conjunction with other local organizations to best meet the needs of the people. By reviewing their case, the caseworker may decide if another organization, such as the East Texas Crisis Center, Habitat For Humanity, Andrew's Center, or others are better suited to help.
PATH's next specific charity drive will be Coats For Kids. It runs October 1st-31st to provide coats for Smith County children in preparation for the winter months. Last year 3,000 coats were donated and provided to children in need. New and gently used coats may be dropped off to area dry cleaners or directly at the PATH office.
PATH is located at 402 W. Front Street in Tyler. To find more about ways to help support PATH, or for more information, call (903)597-7284 or visit www.tylerpath.org.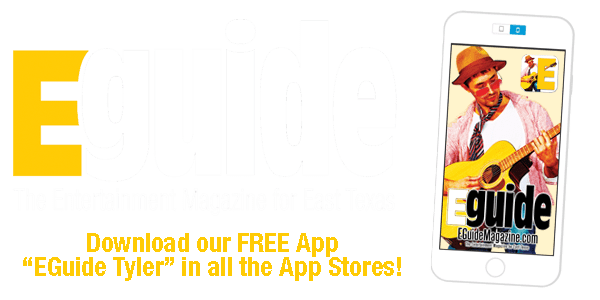 East Texas State Fair Returns Sept. 21st-30th!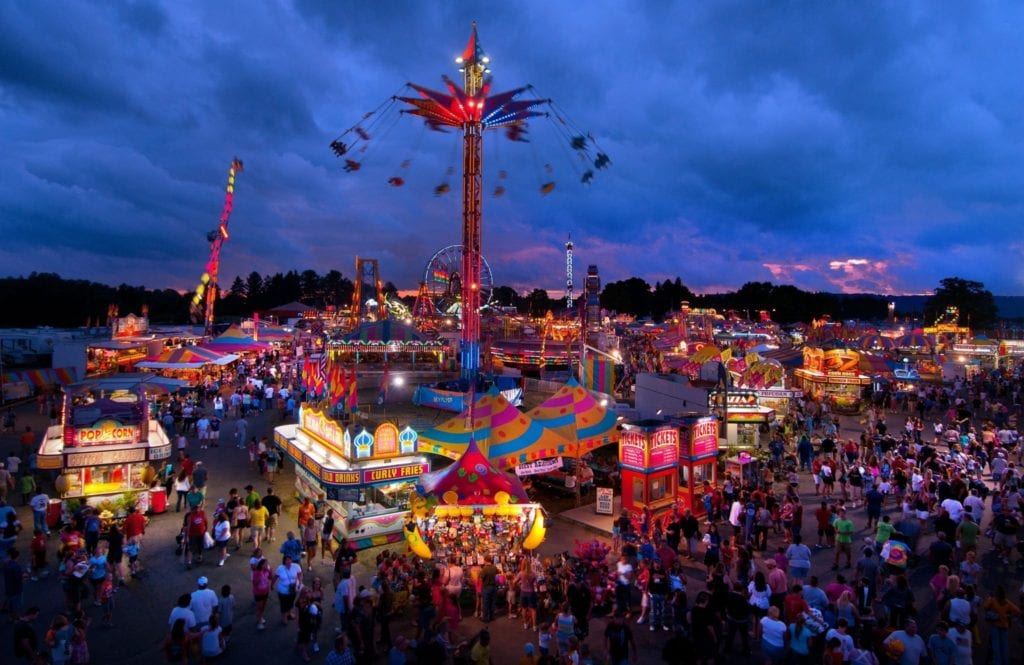 East Texas State Fair to Bring Lots of Festivities!
The 2018 East Texas State Fair takes place September 21st-30th in Tyler.
The annual East Texas State Fair is set to host an estimated 250,000 visitors during the ten-day event to enjoy concerts, shows, rides, food, exhibits, and much more. Here's a look at just some of the festivities to come:
Sheldon Casavant, Magician: World-renowned magician Sheldon Casavant takes the stage in the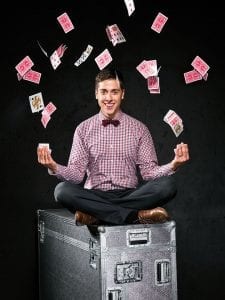 historic Mayfair building for an amazing show full of laughter, thrills, and impressive illusions. The show is featured each night during the fair at 8pm. The show is set to be as impressive as the 100-year-old building it's hosted in. The historic Mayfair building was built in the late 1920's and has seen musicians such as Elvis Presley, Dolly Parton, Johnny Cash, Hank Williams and so many more. While the building hasn't been used in many years, fair organizers are opening it up once again for this spectacular show. Every Day.
The Craft Beer Tour: New to the fair this year the craft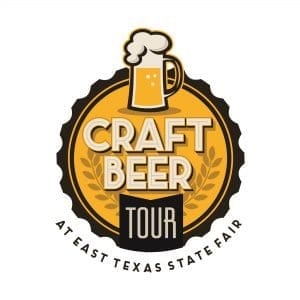 beer tour is an event you don't want to miss. Craft breweries from all over Texas will gather in the upscale venue to present their beers to the public. For just $15 you can purchase a passport to sample up to 24 different beers from all over the State of Texas. So gather your friends and embark on a craft beer adventure. Fridays, Saturdays, and Sundays during the Fair.
The Summit: The ultimate party in the heart of the Fair! The Summit is an all-new venue for live music, beer, margaritas, and a great place to hang out with friends and family. The Summit stage will feature live local music from artist such as Ray Johnston Band, Billie Jo Sewell, Holly Tucker, Sabrina Toole, and many more. Every Day.
Chili Cook-Off: Come enjoy samples of chili from over 30 different teams as they compete for the prize of "Grand Champion." It's going to be a great place to hang out with live music, cold beer, and plenty of delicious chili. Interested in having a team of your own? Gather your friends, family, co-workers, etc. and register to compete. Sunday, September 23rd beginning at 9am.
Sea Lion Splash: Sea Lion Splash is a unique show that will have crowds cheering and laughing. It's an educational show with a "splash." The sea lions will amaze the crowd as they balance balls, shoot hoops, dance, perform stunts, and show their pretty smiles. This is the only show in the U.S. to feature both California and South American sea lions.
Timberworks: You'll love this fast-paced thrilling show as two authentic lumberjacks go head-to-head in a variety of competitions. These include log rolling, cross-cut sawing, hot sawing, axe throwing, chainsaw carving, chopping, and speed pole climbing. Timberwork's Lumberjack Show offers spectators a unique blend of logging history, world class competition, and plenty of hilarious comedy. Every Day.
The Sound Exchange: The Sound Exchange is a five member a cappella group bringing dazzling harmonies, and wise-cracking audience interaction together in a whirlwind a cappella experience that is not to be missed. Whether you love soulful ballads, blistering rock anthems, jazz standards, or chart-topping singles…. or, perhaps you just love to laugh and have fun. Then, you're in for a treat with the hijinks & harmonies of The Sound Exchange. Every Day
That's not all! The Fair will be full of a variety of exhibits, attractions, rides, games, and more. From fair favorites like the petting zoo, pony rides, and the legendary food row to a variety of exhibits like AgriWorld, Creative Arts, and The Marketplace there's sure to be something for everyone to enjoy.
This impressive lineup of all things new to do at the Fair will not disappoint- there's truly something for everyone. And let's not forget all the favorite returning attractions:
The Great American Petting Zoo: This petting zoo is unlike any other- held within a 1,200 square foot enclosure, each animal runs freely with the public once inside. A favorite among kiddos, these friendly animals- all hand raised here in Texas- make for a ton of fun in this barrier-free petting zoo. The space is kept immaculately clean, and trained petting zoo staff are always available for any questions. Open every single day of the Fair, find more info here: etstatefair.com/events/2018/great-american-petting-zoo(17)/
The Pony Rides: Your kid will thank you for this one! Come let them experience a real live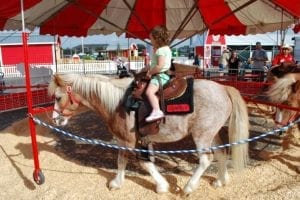 pony ride, carousel style. For $5, these beautiful, purebred Welsh ponies will take your kiddos for a ride they won't soon forget. Presented by Pony Express of Texas, these local ponies are safe, clean, and a whole lotta fun. Happening everyday of the fair, find more info here: etstatefair.com/events/2018/pony-rides/
Carnival Rides and Games: As always, the Fair won't leave you hanging if you're in need of some thrill or friendly competition. You'll find tons of exciting rides like The Freak Out, The Tornado, and The Ring of Fire, along with plenty of gaming fun this year at the Fair. For detailed schedule and pricing info, head here: etstatefair.com/p/entertainment-/carnival-rides
Legendary Food Row: Mac & Cheese Fries, Chocolate Covered Fried Bacon, Chili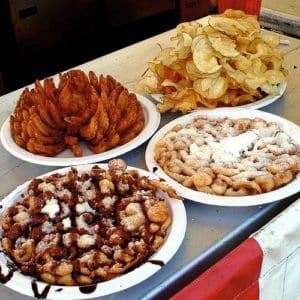 Dogs, Turkey Legs, 4 Meat Baked Potato, Fried Cheesecake…need we say more? The options available at Food Row are endless- wear your comfy pants and your maybe belt a tad loose, because everyone knows there's no such thing as a diet during the Fair. This is the real deal, folks- find a list of all the different vendors and food offerings here (it's crazy long!): etstatefair.com/p/entertainment-/food-row
A Ride Share: a special new drop-off lane for coming and going to the fair, made for guests who use a Rideshare service for transportation instead of driving themselves. That's right folks: this is the year that Fair parking woes and hassles will finally come to an end, leaving you with more important things to worry about (like whether to order a smoked turkey leg or funnel cake..or both.)
"Our goal is to take some of the strain off of our parking lots and make it easier for visitors to come and go safely. The lane will literally drop you off right at the North gate. You'll step out of your car and walk right in!" -Cody Rosenbalm, Director of Marketing at Park of East Texas.
The drop-off lane is located at the intersection of Front St. (Hwy 31) and Fair Park Dr. The lane is only accessible when traveling eastbound on Front St. (Hwy 31) from the Loop towards downtown.
It's hard to believe how much there is to offer at this year's Fair- the organizers have gone above and beyond to ensure an unforgettable experience for each and every guest.
And don't forget- there's still SO much more to see and do at the Fair in addition to this incredible curation of attractions. Whether it be the Photography Contest, the Livestock Show, Senior Day Bingo, or the countless exhibits in The Marketplace, this is only the tip of the iceberg. Gear up, everybody- The East Texas State Fair plans to blow it out of the water for 2018. See you there!
For more information or to get tickets go to etstatefair.com.
Announcing…Dogtoberfest 2018
Dogtoberfest 2018:
Craft Beer and Cute Puppies Join For a Great Cause
Join the fun with your four-legged best friend October 27th (11am-7pm) at Dogtoberfest 2018!
Held at Juls Event Center, 7212 Old Jacksonville Hwy., Tyler, Dogtoberfest is the culmination of adoptable pets from local animal rescue groups, pet-related vendors, local live bands, restaurants and food trucks and craft breweries.
The Craft Beer tasting will take place indoors in the newly remodeled Juls Event Center!
The ultimate goal of the day is finding forever homes for as many homeless pets as possible.
They are currently seeking vendors, breweries, and more; applications are available online. For more info go to spcaeasttx.com/events/dogtoberfest-2018. If you have questions about the event, contact: marketing@spcaeasttx.com.
7th Annual Butterfly Hope Luncheon, November 1st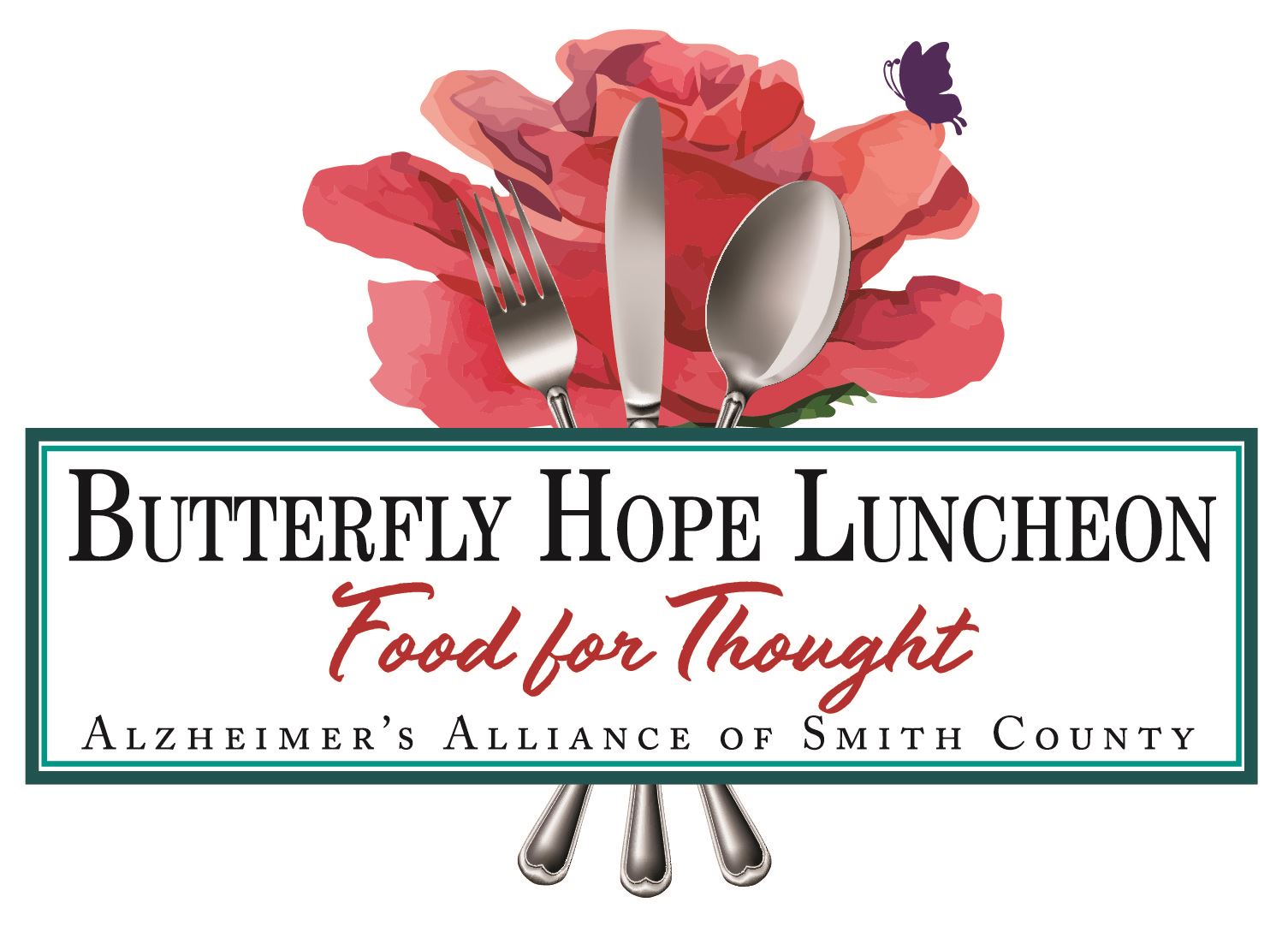 7th Annual Butterfly Hope Luncheon features Madison Cowan, First Winner of the Food Network Series "Chopped"
Thursday, November 1st  at 11:30 am at the Rose Garden Center (420 Rose Park Drive, Tyler), the Alzheimer's Alliance of Smith County will hold it's 7th annual Butterfly Hope Luncheon featuring Madison Cowan, an Alzheimer's Advocate and first winner of the Food Network series Chopped. This annual event benefits the Alzheimer's Alliance of Smith County.
Tickets for the 7th annual Butterfly Hope Luncheon go on sale September 10th for $75 per person. For more info call (903)509-8323 to reserve a seat or visit alzalliance.org.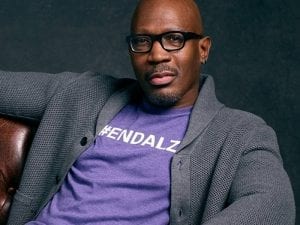 Madison is a hands-on family man, cook, producer and storyteller with roots in London, Jamaica and Detroit. In 2004, after being awarded a four-star rating from The Times as executive chef of Ashbells in London's West End, he established Madison Cowan LLC, a global culinary production company that oversees operations in licensing and consulting, television production and private dining that has reached throughout Africa, Europe, Japan and South America.
Madison has catered to jazz legend Lionel Hampton, singer and human rights activist Odetta, actors Halle Berry, Scarlett Johansson and Anthony Anderson, rapper and poet Mos Def, fashion icon Donna Karan, playwright Lanford Wilson, former NYC Mayor David Dinkins and former President Bill Clinton.
He credits his mother's influence as the springboard to his culinary experience: "She made certain I knew my way round the kitchen and would never depend on anyone for a meal. Sage advice I now impart to my own child."
In 2010 Food Network selected him as a contestant for their hit Primetime series Chopped where he competed and won three consecutive episodes to become the first ever Grand Champion. Following appearances on NBC's Today Show and CBS This Morning, in April of 2012 he was victorious on Iron Chef America's epic Battle Kale and co-starred in BBC America's exciting travel series No Kitchen Required. Madison returned to television in late 2013 as a recurring judge in Food Network's delectable series of chance, Kitchen Casino and currently features on multiple series such as Beat Bobby Flay, Guilty Pleasures, Worst Cooks in America, Chopped Junior and Guy's Grocery Games.
Most notably, Madison's charitable endeavors include advocating on behalf of both the Alzheimer's Association and Alzheimer's NYC in its quest to cure the dementia related disease, serving as culinary council member for Food Bank For New York City, a leader in the movement to end hunger and poverty and signing on with First Lady Michelle Obama's Chefs Move To Schools initiative, which creates partnerships for professional chefs and public schools nationwide with the goal of solving childhood obesity within their communities by collaboratively educating children about food and healthy eating.
At the luncheon, Bishop Strickland will be honored with the Butterfly Hope Award for his steadfast leadership within the Alzheimer's Alliance of Smith County for many years and his passion and commitment to the Alliance. Bishop Strickland has served on the Alliance Board and is now on the Alliance Advisory Council.
Sponsorships are available, please contact the Alliance office for more information. For more information regarding Alzheimer's disease, Alliance programs & services or for volunteer opportunities please visit alzalliance.org.
About the Alzheimer's Alliance of Smith County
Founded in 1982, the Alzheimer's Alliance of Smith County is a local nonprofit organization committed to walking alongside all of those affected by Alzheimer's disease and related dementias. Our services include personal consultations, education and awareness, caregiver support and resources, and brain health advocacy in Smith County.