Paula McDermott, Ignite the Light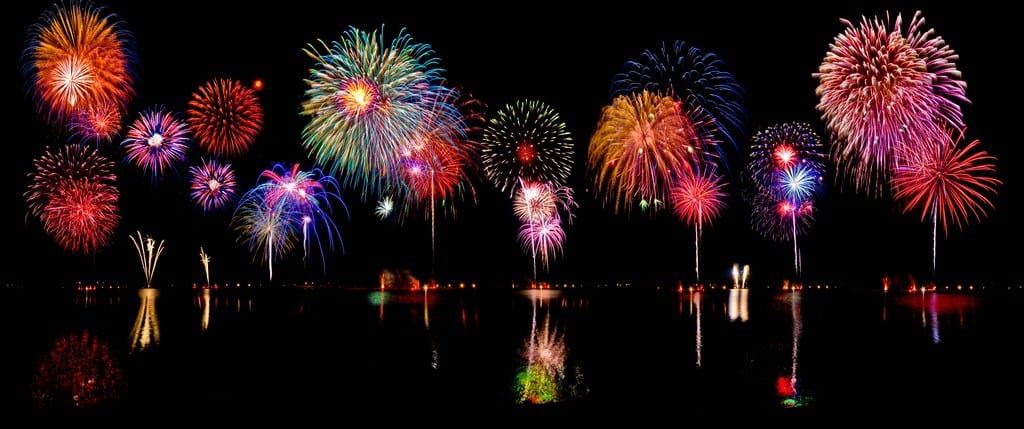 Inside the Artist's Studio: Paula McDermott
By Derrick White
"Art has given me an outlet to express myself. Art has the ability to really help you work through your issues and ideas both good and bad. Teaching art at TJC has been amazing. The TJC art department is so vibrant and supportive, it breeds creativity. I love teaching. We have such a diverse student body, they are like a breath of fresh air, I learn something new from them every day and I hope they learn from me."
A positive energy or vibe is one the most important assets in the art department at Tyler Junior College and our newest full-time professor is a firework! Artist Paula McDermott joins the faculty teaching drawing and art appreciation bringing her amazing passion and excitement for art, life, microbiology, and the creative process. Paula earned both her Bachelor of Fine Arts degree and Master of Fine Arts degree from the University of Texas at Tyler. She had also attended Stephen F. Austin State University and Sam Houston State University where she says she had great experiences which were very influential. Paula is a lively, spirited, and engaged professor taking a personal interest in the lives of her students and teaching as well as mentoring beyond the classroom. McDermott involves her students in outdoor collaborative projects and demonstrations to students how to look and appreciate past the ordinary to the aesthetics of the natural world and the often overlooked beauty in all of the small things surrounding us everywhere every day. On a beautiful spring day you will find her with her group of students somewhere on the incredible campus of TJC designing Andy Goldsworthy (environmental sculptor) outdoor nature mandalas (circles in geometric patterns symbolically representing the order of the universe). These brief, temporary art pieces will be created with natural materials like leaves, flowers, salt, rocks, and sticks and become nice unexpected surprises for those visitors lucky enough to stumble upon one of the creations. They diminish, fade, and change over time so it is a transient experience, fleeting.   
"I work with whatever materials I can find. I am currently working with fibers. I am using different types of found objects and fabrics. I am dying, sewing, stuffing, tying, and binding individual pieces for components of wearable, wall pieces and installations. I am also creating mixed media collage pieces," states the artist. Paula continues, "I really got interested in art as a young child.  My Grandmother was a painter and my mother incorporated a lot of art in her science classroom and at home. She got me interested in sea life and microscopic organisms we would see through the microscope, this still interests and influences me today. I think a lot about the unseen or things hard to see, things really controlling our bodies and our world, things we as humans do not often acknowledge like the microscopic world around us, like plankton, phytoplankton, bacteria and some fungi. We don't often think about it but different types of phytoplankton really help sustain all life on earth, they produce 50% of earth's oxygen supply. Even our internal organs and cells are not often seen but we could not live without all of them working together."
Paula McDermott's artwork looks natural, organic, and like something inspired by the microscopic. Big soft forms mimic an altered and blown up scale of a cellular world we do not see and often take for granted. "I am really into the way things can naturally grow, change, transform, cover and disguise. Like dividing cells, colonies of coral, or the harmful, symbiotic relationships barnacles have with whales or a remora with sharks or manta rays, these relationships can be both harmful and beneficial," says Paula, adding, "This is where my wearable work has come in. The wearable sculpture can serve as a soft barrier or shield for the wearer, they offer a personal space but in a soft way. They can disguise and take away identity; they can give protection from unwanted attention for the introvert. They both attract and repel the viewer. Most of my work can be either worn or hung." 
Although soft sculpture is largely underrepresented in mainstream art markets and exhibitions, Paula has many influences in the art world. (Writer's note: please take the time to look up some of these people. You will be glad you did.) Some of Paula McDermott's inspirations and favorite artists are Nick Cave (American fabric sculptor, dancer, and performance artist), Tara Donavan (New York artist known for site-specific installation art utilizing everyday materials), Alexander Calder (American sculptor of delicately balanced or suspended shapes that move in response to touch or air currents), Susie MacMurray (British artist whose work includes drawing, sculpture and site-generated installations), Ernesto Neto (influential, contemporary Brazilian artist creating large-scale, sensuous environments evoking bodily experiences), Sally Hewett (British stitching artist making works characteristics of human bodies), Yayoi Kusama (Japanese, contemporary artist primarily working in sculpture and installation), Anthony Howe (American sculptor who creates wind-driven sculptures resembling pulsing, alien creatures), Jason decaires Taylor (British sculptor and creator of the world's first underwater sculpture park), Andy Goldsworthy (British sculptor and environmentalist creating site-specific sculpture and land art), Eva Hesse (Jewish German-born American sculptor, known for pioneering work in materials such as latex, fiberglass, and plastics), and Eugenia Loli (Greek filmmaker, illustrator, and modern vintage collage artist). Paula responds to this list of artist because they all have dedicated themselves, their work and lives and created something igniting a light inside Paula McDermott and we are the beneficiaries. "They all produce artwork that is interactive and in many cases kinetic (movable). Most of their work is somehow related to the human body, whether it is work representing different aspects of the human body, is directly interactive, or work involving performance," states the artist. Remember you are human. You are organic. You are made up of microbes and whatnot. You're original, cannot be replaced. And baby…you're a firework!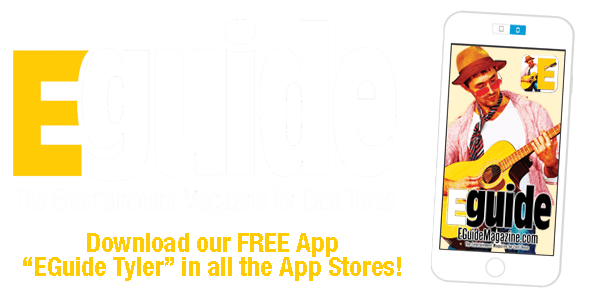 Tyler Museum of Art Creativity Camps Begin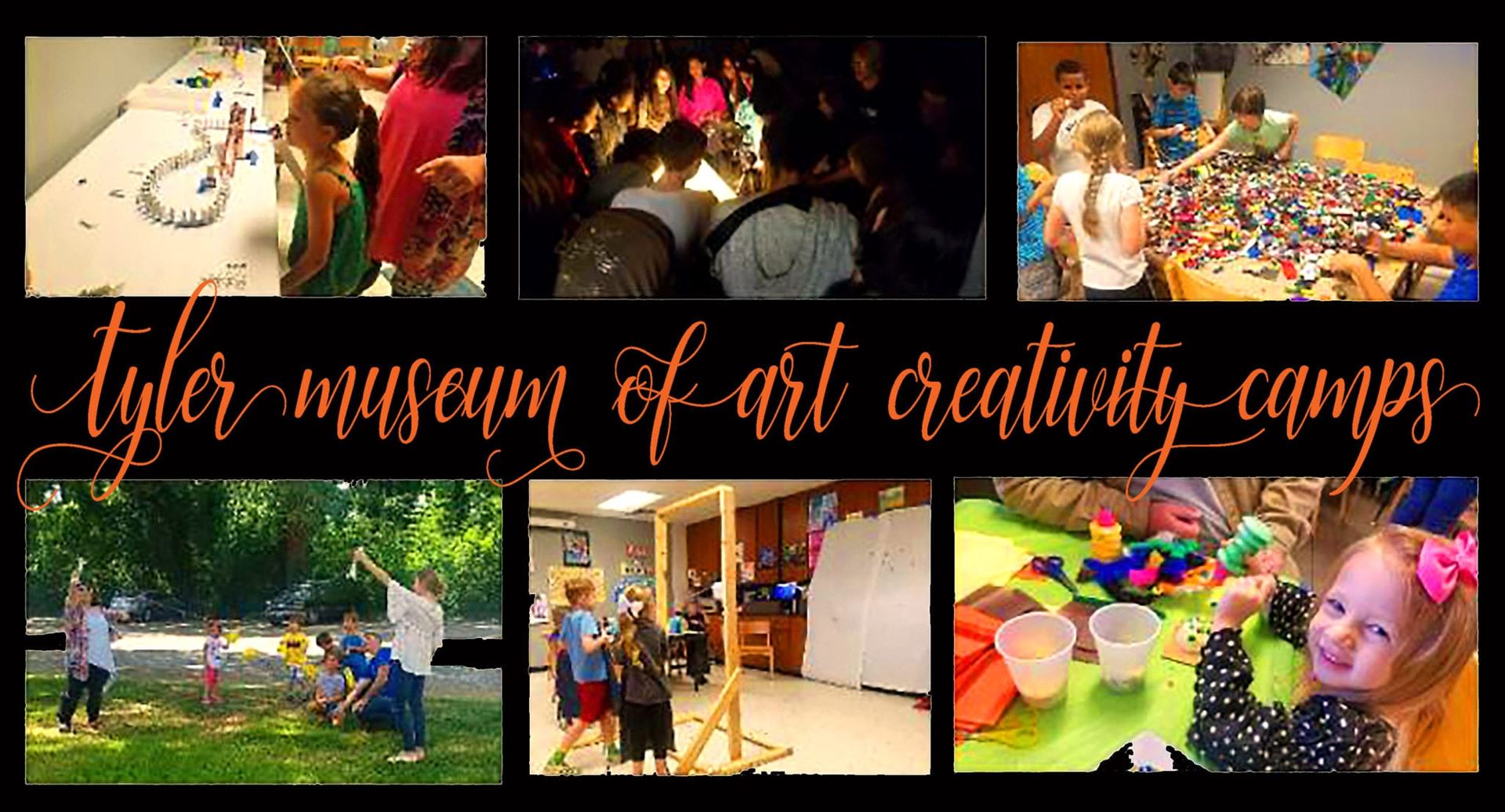 Tyler Museum of Art Creativity Camps 2018
9:00 a.m.-4:00 p.m. M-F * Ages 6-12 * $40 per day/$175 per week
TMA World Tour 2018      June 25-29
We'll expand the visual arts to include music and performance. In addition to our visual art activities, our young artists will make musical instruments, learn a song, and play a mini-concert at the end of the week.
Upside-down and Backward      July 9-13
Everything looks different from a fresh perspective. Drawing underwater, painting with spaghetti, there's no telling what will happen when we change the way we make art. This camp is all about real creativity, and our young artists will help us brainstorm up new, exciting projects all week long.
Beachcombers' Paradise     July 16-20
Love the seashore but hate sunburns and foot-scorching sand? Come explore marine environments through art! Biology, art and fun merge into one great experience as we learn about the weird, wonderful world of sea life and environments, and express our new knowledge through art.
5 Days Away from Rose City   July 23-27
Some of the country's greatest artists call the Lone Star State home. We will explore the geographical regions of Texas and the artists who gain inspiration in them, ending up right here in East Texas.

6×6@110 Continues at Gallery Main Street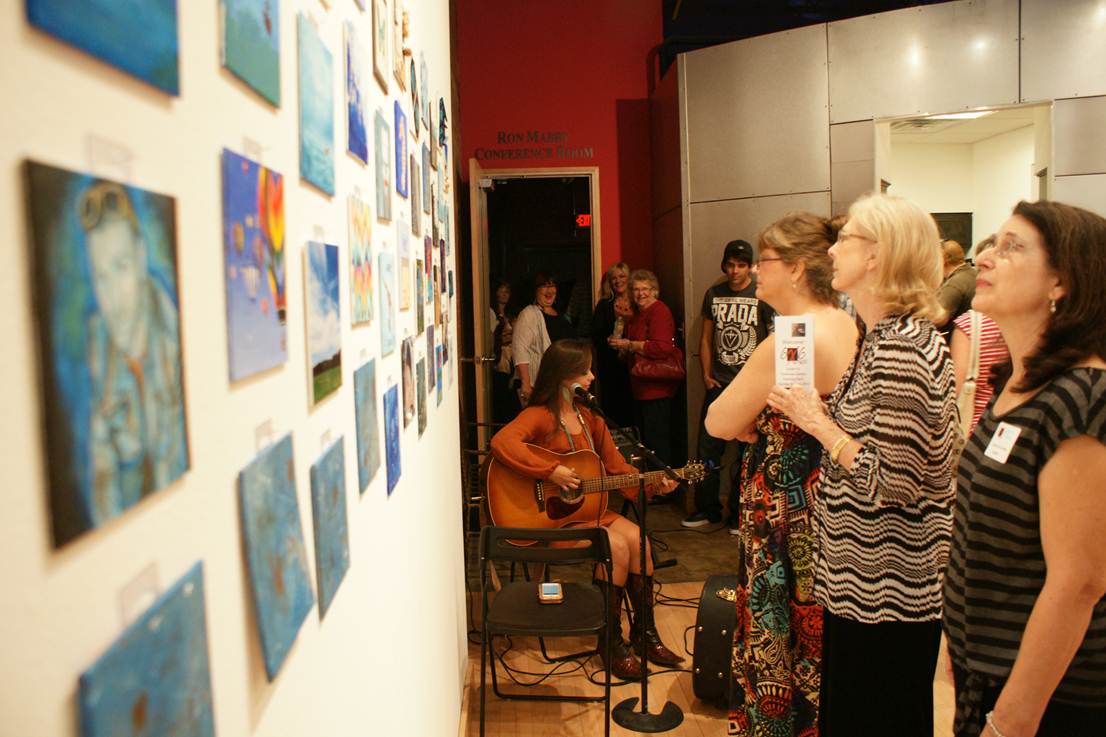 Skip the line, purchase tickets in advance HERE.
Purchase VIP tickets HERE.
The annual 6×6@110 is an art fundraising project to benefit Gallery Main Street in Downtown Tyler, Texas. The gallery is a City of Tyler facility operated with the cooperation of the Downtown Tyler Arts Coalition, an all-volunteer group of artists who schedule and jury fine arts exhibits and organize projects. All of the net proceeds of 6×6@110 will go to support those activities.
The annual 6×6@110 fundraising project will be held June 6th at 6pm. Each piece will be sold for $20, with all proceeds going to help fund the City of Tyler Main Street Department, which operates Gallery Main Street.
The name "6×6@110" reflects the fact that all artwork sold in the show will be 6"x6", and will be shown at Gallery Main Street at 110 W. Erwin, Downtown Tyler.
For more info on this project go to downtowntylerarts.com, call (903)593-6905, or follow the Downtown Tyler Facebook Page.
The 2017 6×6@110 featured over 1000 works by hundreds of participants. The project earned the distinction of receiving the Best Promotional Event award from the Texas Downtown Association.
First Solo Show Opening
Help celebrate the opening of Gallery Main Street's first fine art solo artist exhibit on Saturday, May 12th, 5:30-8pm. This free event will feature the opportunity to meet the artist and be among the first to see and purchase pieces from the exhibit. The exhibit will run through June 4th.
The jury will select the top three groups of submittals and then additional information and show descriptions will be submitted. The jury will review all additional information and will announce the solo artist on April 28th.
Other Upcoming Exhibits
Remaining shows this year are:
Solo Show #1 – Opening May 12th

"6x6x10" – Deadline June 1st, opening June 6th

Solo Show #2 – Deadline June 17th, opening July 14th

"Assemblies" – Deadline July 29th, opening August 11th

"Alternate Perspective" – Deadline September 30th, opening October 13th

Holiday Market – Deadline November 25th, opening December 8th
You can enter your art at DowntownTylerArts.com. For more info call (903)593-6905 or go to DowntownTylerArts.com.
Gallery Main Street features a new exhibit of original art approximately every eight weeks. Each exhibit opens with a Saturday evening reception that features music, an opportunity to meet the artists, refreshments, and more. The Opening Receptions are free and open to the public.
Art Events Warming Up For Summer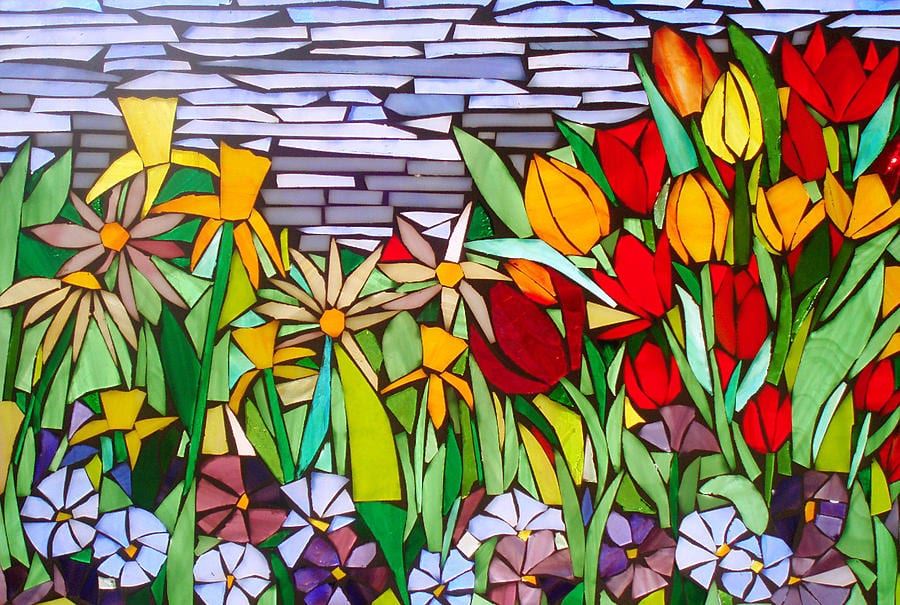 Events & Classes
June 16th (11am-11:30pm) June 17th (11am-4pm) – Junebug Art and Music Festival –
Calling all artists! Junebug is an annual community Art and Music festival with an afternoon farmers market. This event encompasses art in its many forms. There will be teachers of weaving and soap making, along with hands on pottery wheel demonstrations. Attendees' senses will be engulfed by the sights, sound, smell, and feel of all that is to be offered at this very unique art event in a very quaint little artsy community. The show will offer up a stage filled with eclectic musicians, bands, and songwriters. Saturday there will be a community Farmers Market where locals can sell their organic and/or locally sourced products. Vendor and artist applications are available at theforgebenwheeler.com. The family-friendly festival, which is located in the tiny art enclave of Ben Wheeler,TX, highlights the work of artists, musicians, and artisans from the Lone Star state. Headquartered on the three-acre park-like property surrounding the FORGE (a local restaurant, bar, and music venue), the festival will give attendees an opportunity to witness the creative process through "live art" displays as well as the chance to actively join in the process. For more information email
junebugsummerfair@gmail.com
.
June 22nd (7-9pm) – Paperbark Studio Pop Up
will be held at Strada Caffe, 302 E. Front St., Tyler. Come join us for a pop-up art show featuring
Paperbark Studio
as well as craft beer, wine, and small plates, espresso bar and pastry case. Come enjoy a wonderful summer evening of local art!
June 26th (6-8pm) – Kids Canvas Paint Party –
Tyler Parks and Recreation is hosting a Kids Paint Party at the Glass Recreation Center for children ages 7-12 years old. For more information, please visit
TylerParksandRec.com
.