Paula McDermott, Ignite the Light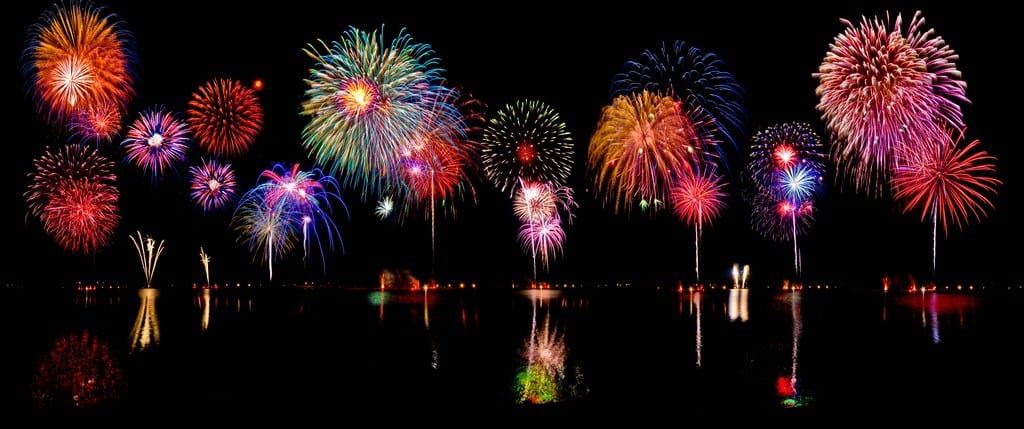 Inside the Artist's Studio: Paula McDermott
By Derrick White
"Art has given me an outlet to express myself. Art has the ability to really help you work through your issues and ideas both good and bad. Teaching art at TJC has been amazing. The TJC art department is so vibrant and supportive, it breeds creativity. I love teaching. We have such a diverse student body, they are like a breath of fresh air, I learn something new from them every day and I hope they learn from me."
A positive energy or vibe is one the most important assets in the art department at Tyler Junior College and our newest full-time professor is a firework! Artist Paula McDermott joins the faculty teaching drawing and art appreciation bringing her amazing passion and excitement for art, life, microbiology, and the creative process. Paula earned both her Bachelor of Fine Arts degree and Master of Fine Arts degree from the University of Texas at Tyler. She had also attended Stephen F. Austin State University and Sam Houston State University where she says she had great experiences which were very influential. Paula is a lively, spirited, and engaged professor taking a personal interest in the lives of her students and teaching as well as mentoring beyond the classroom. McDermott involves her students in outdoor collaborative projects and demonstrations to students how to look and appreciate past the ordinary to the aesthetics of the natural world and the often overlooked beauty in all of the small things surrounding us everywhere every day. On a beautiful spring day you will find her with her group of students somewhere on the incredible campus of TJC designing Andy Goldsworthy (environmental sculptor) outdoor nature mandalas (circles in geometric patterns symbolically representing the order of the universe). These brief, temporary art pieces will be created with natural materials like leaves, flowers, salt, rocks, and sticks and become nice unexpected surprises for those visitors lucky enough to stumble upon one of the creations. They diminish, fade, and change over time so it is a transient experience, fleeting.   
"I work with whatever materials I can find. I am currently working with fibers. I am using different types of found objects and fabrics. I am dying, sewing, stuffing, tying, and binding individual pieces for components of wearable, wall pieces and installations. I am also creating mixed media collage pieces," states the artist. Paula continues, "I really got interested in art as a young child.  My Grandmother was a painter and my mother incorporated a lot of art in her science classroom and at home. She got me interested in sea life and microscopic organisms we would see through the microscope, this still interests and influences me today. I think a lot about the unseen or things hard to see, things really controlling our bodies and our world, things we as humans do not often acknowledge like the microscopic world around us, like plankton, phytoplankton, bacteria and some fungi. We don't often think about it but different types of phytoplankton really help sustain all life on earth, they produce 50% of earth's oxygen supply. Even our internal organs and cells are not often seen but we could not live without all of them working together."
Paula McDermott's artwork looks natural, organic, and like something inspired by the microscopic. Big soft forms mimic an altered and blown up scale of a cellular world we do not see and often take for granted. "I am really into the way things can naturally grow, change, transform, cover and disguise. Like dividing cells, colonies of coral, or the harmful, symbiotic relationships barnacles have with whales or a remora with sharks or manta rays, these relationships can be both harmful and beneficial," says Paula, adding, "This is where my wearable work has come in. The wearable sculpture can serve as a soft barrier or shield for the wearer, they offer a personal space but in a soft way. They can disguise and take away identity; they can give protection from unwanted attention for the introvert. They both attract and repel the viewer. Most of my work can be either worn or hung." 
Although soft sculpture is largely underrepresented in mainstream art markets and exhibitions, Paula has many influences in the art world. (Writer's note: please take the time to look up some of these people. You will be glad you did.) Some of Paula McDermott's inspirations and favorite artists are Nick Cave (American fabric sculptor, dancer, and performance artist), Tara Donavan (New York artist known for site-specific installation art utilizing everyday materials), Alexander Calder (American sculptor of delicately balanced or suspended shapes that move in response to touch or air currents), Susie MacMurray (British artist whose work includes drawing, sculpture and site-generated installations), Ernesto Neto (influential, contemporary Brazilian artist creating large-scale, sensuous environments evoking bodily experiences), Sally Hewett (British stitching artist making works characteristics of human bodies), Yayoi Kusama (Japanese, contemporary artist primarily working in sculpture and installation), Anthony Howe (American sculptor who creates wind-driven sculptures resembling pulsing, alien creatures), Jason decaires Taylor (British sculptor and creator of the world's first underwater sculpture park), Andy Goldsworthy (British sculptor and environmentalist creating site-specific sculpture and land art), Eva Hesse (Jewish German-born American sculptor, known for pioneering work in materials such as latex, fiberglass, and plastics), and Eugenia Loli (Greek filmmaker, illustrator, and modern vintage collage artist). Paula responds to this list of artist because they all have dedicated themselves, their work and lives and created something igniting a light inside Paula McDermott and we are the beneficiaries. "They all produce artwork that is interactive and in many cases kinetic (movable). Most of their work is somehow related to the human body, whether it is work representing different aspects of the human body, is directly interactive, or work involving performance," states the artist. Remember you are human. You are organic. You are made up of microbes and whatnot. You're original, cannot be replaced. And baby…you're a firework!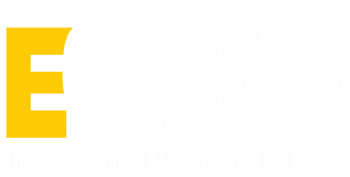 Call for submittals for the "Elephant in the Room" exhibit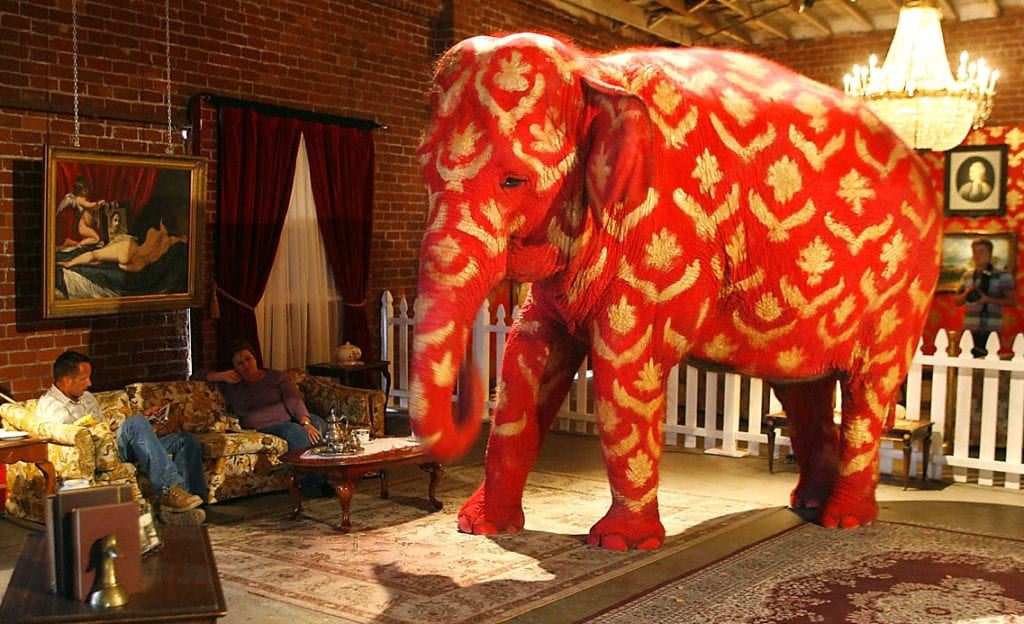 Artists are invited to submit their work for the jurying phase of Gallery Main Street's "Elephant in the Room" fine art exhibit. The deadline for entry is midnight on Sunday, Feb. 25.
"The Gallery Committee wanted to offer a theme that sparked some free thinking and a little risk," said Amber Rojas of the City of Tyler Main Street Department. "The theme 'Elephant in the Room' allows artists to let their creativity run free and interpret the theme in their own style."
Artists should visit www.DowntownTylerArts.com and click on "Gallery Exhibits" and then "Gallery Exhibit Information for Artists" in the left-hand column of the page. That link will lead artists to a page that provides all of the information they need, as well as links to the actual entry service site.
The description for "Elephant in the Room" offers the following: "Be inspired to create artwork that defines a very large issue that everyone is acutely aware of, but nobody wants to talk about. Perhaps a sore spot, perhaps politically incorrect, or perhaps a political hot potato, it's something that no one wants to touch with a ten foot pole."
Gallery Main Street is a project of the City of Tyler Main Street Department in cooperation with the volunteers of the Downtown Tyler Arts Coalition. The Gallery opens a new juried exhibit approximately every eight weeks.
Information on Gallery Main Street hours and rules for entering the exhibit jury process can be found at www.DowntownTylerArts.com or by calling (903) 593-6905.
Feb. 14th: Heart Bombing Downtown Tyler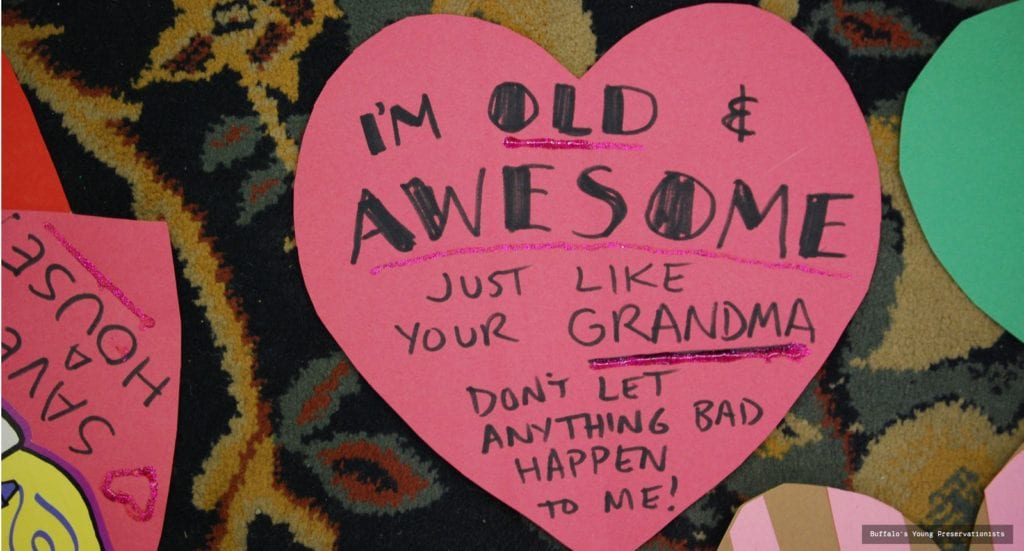 City of Tyler to Host Second Annual Heart Bombing in Downtown
What are Heart Bombs? They are love letters to historic places that appear at historic sites nationwide, on local landmarks, and around places both safe and threatened. Unfamiliar with the concept? It's simple, really. Heart bombing is the act of showering an older or historic place with tangible expressions of affection and devotion. The Heart Bomb initiative is part of the "This Place Matters" program, through the National Trust for Historic Preservation.
Event Details
The community is invited to help advocate the revitalization of historic Downtown Tyler through the creations of paper hearts to place on the outside of the historic Downtown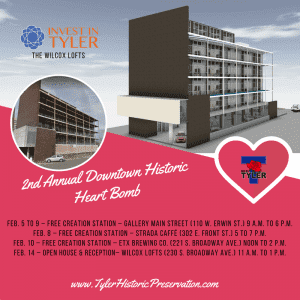 Cooperative Savings and Loan Building. The historic building is the future home of the Wilcox Lofts developed by Invest in Tyler. Free public creation stations will be available the week prior to the event. Those who are unable to attend the creation stations are encouraged to still design hearts and bring them to Gallery Main Street. The size and design of the hearts are only limited by your imagination.
The morning of February 14th, the outside of the building will be covered in all the hearts created over the week. A public open house from 11am-1pm. will be held at the future site of the Wilcox Lofts, allowing the public to get a glance of the inside. Invest in Tyler representatives will be present to share their vision for the property. After you had a chance to check out the building make sure you check out the pop-up green space where you can enjoy a celebration reception with light refreshment from Strada Caffé.
February 5th-9th (9am-6pm) – Free Creation Station – Gallery Main Street (110 W. Erwin St.)
February 8th (5-7pm) – Free Creation Station – Strada Caffé (302 E. Front St.)
February 10th (12noon-2pm) – Free Creation Station – ETX Brewing Co. (221 S. Broadway Ave.)
February 14th (11am-1pm) – Open House & Reception– Wilcox Lofts (230 S. Broadway Ave.)
Visit www.TylerHistoricPreservation.com for more details on this event and information the "This Place Matters" program.
"Shape and Form" on Exhibit at Gallery Main Street

Featuring Work by Jessica Sanders and Cierra McGuckie
An art show featuring two emerging local artists, Cierra McGuckie and Jessica Sanders, will open February 10th in Downtown Tyler and be on view until May 31st, at the Martin Walker Law Firm, 121 N. Spring St., Downtown Tyler. They will host the exhibit in its award-winning facility, which historically served as the Arcadia Theater but now serves as the law firm headquarters.
Pieces to be displayed at the show will include paintings by Cierra McGuckie and sculptures by Jessica Sanders. Cierra's work comprises large-scale oil on canvas psychological portraits which depict fictional women from the mid century era. The paintings are reminiscent of the mood and color palette of that time. Cierra will be showing a new body of work within her series. Jessica's sculptures and her practice are based on an assemblage of small handmade fired and glazed porcelain tiles using wire. The labor-intensive work generates fluid, fabric-like irregular shapes which are mounted on the wall creating abstract compositions.
The show is curated by Dace Lucia Kidd, who has recently produced second edition of the annual international juried Arcadia Art Show (AASH). The event has been sponsored and couldn't be possible without the generous support of Martin Walker P.C.
For more info find it on Facebook or call (903)258-7274.