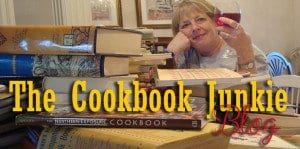 The subject of this week's blog might come as a bit of a shock to a lot of you, seeing as how I spoke of shade so recently.  Living in Texas, yes, I would love to find some shade today, but the shade I'm referring to is part of the title of a parody cookbook.  Those of you that have read any or all of the 50 Shades books or seen the movie, please raise your hands now.  Oh, come on, no one can see you admitting to it!  In my never-ending search for different and unique cookbooks, I came across this one that was definitely a stretch by its author, F L Fowler in, what I believe, is mostly an attempt to cash in on the success of E L James' trilogy that deals with 50 Shades of Sexual content.
With 150 pages of, sometimes devoted to, chicken recipes that are interspersed with "the initiation of a young free-range chicken at the hands of a mysterious, domineering cook," and some beautiful photography, this cookbook was published in 2012 by Clarkson Potter.  Although pretty much tongue in check, the actual recipes sound amazingly delicious, and if you can get by some of the raunchy names, would make a great addition to your collection of great ways to prepare chicken.  Additionally, there are several side-notes with helpful hints and variations for a lot of the recipes included.
The book is broken down into three major sections, "The Novice Bird," "Falling to Pieces," and "Birds Gone Wild," with most of the recipes actually featuring variations on healthy-to-eat roasted chicken.  A few of the more printable recipe names (at least by me) are "Plain Vanilla Chicken," "Basted Bird," "Roasted Chicken with Tangerine and Sage," "Roasted Chicken Legs with Mole Sauce," and the all time favorite "Crispy Fried Chicken."  Some of the least suggestive recipes are "Come Hither Chicken," "Coquettish Croquettes," and "Sexy Sliders," and I'll let your imagination run wild on a lot of the other names!  I would have loved to have been a fly on the wall the night that our author (and I bet a bevy of friends) came up with the original concept for this book.  I can only imagine the amount of alcohol, rolling-on-the floor laughter, and hysterical snorts involved as one after another idea popped out of his/their creative of mind(s)!
If I were to leave you with one of the recipes from this book, especially considering the heat of the day where I live (and will undoubtedly die from one day!), I would imagine it would be the one for Chicken Salad with Green Goddess Dressing. No, it's not for dinner tonight – last week's blog entry is up for eats tonight, but perhaps next week it will be the candidate of choice! (the heat makes me run incredibly slow!) What makes this Chicken Salad extraordinary would be the dressing.  Of course, you could always pick up a (shut your mouth!) bottle of the commercial variety, but if you would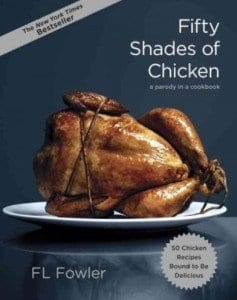 like YOUR salad to create a dinner-time sensation, you might want to follow these directions:
In a blender, combine 1/2 cup sour cream, 1/4 cup tightly packed watercress leaves, 3 tablespoons mayonnaise (you want to really impress? Make your own mayo!), 2 roughly chopped garlic cloves, 1 anchovy fillet, 1 tablespoon chopped fresh chives, 1 tablespoon chopped fresh flat-leaf parsley, 1 tablespoon chopped fresh basil, 1 1/2 teaspoons freshly squeezed lemon juice, 1/2 teaspoon coarse kosher salt, and 1/4 teaspoon freshly ground black pepper.  Blend all of this until smooth.  Now, toss 3 cups of shredded, cooked chicken meat with this amazing dressing and serve on a bed of greens that have been drizzled with some of the dressing and sprinkle with sliced, toasted almonds.  Talk about some good eating!  Why, I think this could hold its own in whatever shade you decide to serve it!