Porch Culture Coffee: Not Just Another Pretty Cup Of Coffee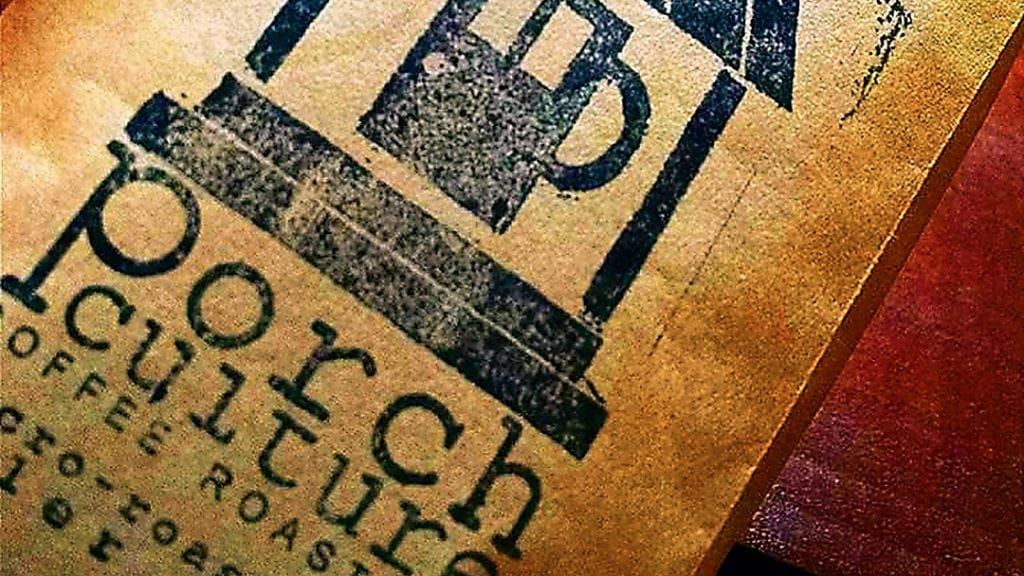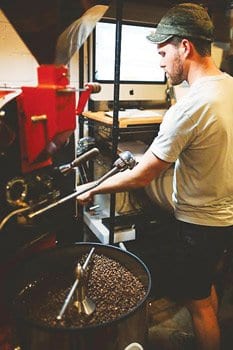 By Johnny Griffith
"I have measured out my life with coffee spoons." -T.S. Elliot
"What goes best with a cup of coffee? Another cup." -Henry Rollins
To say that coffee has become an integral part of our culture would, for some people, be akin to saying that air is integral to breathing. While that might be a bit superfluous in its metaphor, it might not be that much of a stretch as I'm sitting here with a gargantuan cup of coffee within arm's reach while I type. In an increasingly fast-paced world, coffee has become the latest trend with its own language and culture, which isn't necessarily reflective of all that's good and right about the mysterious dark brew. But tucked away just west of downtown Tyler, there is a local company that is trying to encourage people to stop and smell the coffee.
Porch Culture Coffee is a small, craft roasting coffee company owned and operated by Jonathan and Shelly Ramm. Since 2012, Porch Culture has been offering slow roasted coffee sourced from the world's best coffee regions, in some cases direct from the growers based on relationships cultivated, much like the coffee bean itself, with patience, hard work, and a good environment. With emphasis on quality, Porch Culture believes that coffee should be more than just a quick-start in the mornings, but should be reflective of moments and stories that have happened over a cup or three for as long as the bean has been harvested.
Recently, I had the chance to talk with Shelly Ramm to get more of their unique story and how Porch Culture is working to be a part of the craft community in East Texas: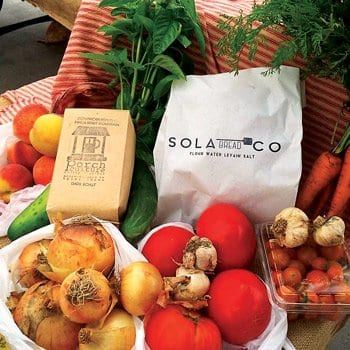 Johnny: Give us a little of the backstory of how you and Jonathan met.
Shelly: Jonathan grew up in Tyler, and I grew up in the Marietta, Georgia. We met while both working in the development office at the Doulos Discovery School in the Dominican Republic in 2008. We were married in the fall of 2009 and continued in our work for the school through the spring of 2011.
Johnny: How did that journey expose you to the coffee industry and the idea to change paths and start a new narrative as a coffee roasting family?
Shelly: When we made the decision to move back to the States, we sat down and brainstormed about what we would like to do, what could keep us connected to the school in some way, and what Tyler, Texas 'needed.' Our work with the school had introduced us to coffee cultivation through its connection with a nearby coffee farm, Finca Spirit Mountain. The farm acts as a learning extension for the school, where students learn the connections of the outdoors and our everyday life: not just coffee, but ecosystems, trees, birds, leadership training, spiritual retreat, water quality, and on and on. Jonathan and I were often chaperones on those trips, as well as our own recreational camping trips to the farm, each visit connected more and more to the place and the people.
Johnny: What's the significance of the name "Porch Culture?"
Shelly: Porch Culture comes from our experience with Dominican hospitality. It's pretty common to see Dominicans out on their porches sipping coffee with their family and friends. We were often invited to join in on the typical afternoon cafecito. It's also a slower way of doing life that we appreciated in our Dominican friends. There is always time to be with people.
Johnny: Describe a little of the process between moving to Tyler and the Porch Culture startup.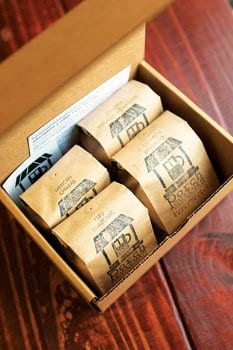 Shelly: We moved to Tyler in the fall of 2012, after having spent a year in Akron, Ohio, in a roasting apprenticeship. We had already established Porch Culture as an LLC, we had a website, and a couple hundred pounds of Spirit Mountain green coffee that had been carried back in suitcases from a recent trip our friends had taken. We started out small in Jonathan's parents garage on a grill roaster as a side gig, but over time our traction grew. Six months in, we were able to rent a small production space (the building we are in now) and through the generosity of family, we were able to upgrade to a commercial roaster. The beginning of 2015 is when we made the jump to full-time coffee roasting.
Johnny: It seems as if you guys try to work as closely to the growers as possible and place a big emphasis on sustainable practices. What is the philosophical difference between a bag of Porch Culture and a bag of Starbuck's Breakfast Blend?
Shelly: It's not just flavor, but 'big picture differences,' as well. We definitely concern ourselves with the story of each of our coffees. The story we are closest to, and our only direct trade relationship, is Spirit Mountain in the Dominican Republic. We have 'direct trade,' meaning we have visited the farm and communicate directly with the owner for pricing. The other coffees we carry are what we call 'relational trade.' This means that we depend on the trusted relationship with our green buyer and the work he does to source coffees that pay a fair wage to workers, use farming practices that protect the land and the surrounding community, and ultimately tastes awesome in the cup.
Johnny: What's the difference between a craft roaster such as yourselves and a volume roaster?
Shelly: The biggest difference is scale. It's a much different business model and a much different product when roasting over a million pounds of coffee a year versus 12,000. As a small scale craft roaster, we are able to source coffee from smaller, specific regions which translates to a higher quality crop, and more complexity in the cup. With a smaller roasting operation, we are able to hone in on the quality of the roasted product. Freshness makes a HUGE difference, and with our roast-to-order policy, our coffee is super fresh. Nothing goes in the roaster unless an order is placed. Most volume roasters have a "best by" date somewhere on the bag, which is typically 3-6 months after it was roasted and sometimes even up to a year. Our bags are stamped with a "roasted on" date, and we recommend drinking it within 2-3 weeks, ideally.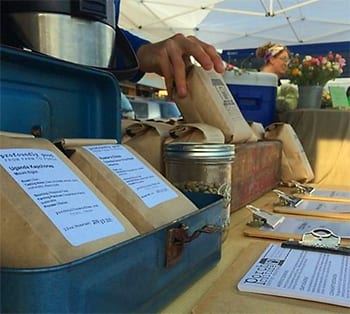 Johnny: On your website, you make a specific point about the coffee you roast being 'Shade Grown.' Can you explain that, and why it should matter to coffee drinkers?
Shelly: Coffee is naturally a shade plant. Unfortunately, most commodity coffee is grown in full sun. For a coffee plant to produce fruit (which contain the beans) in full sun requires the extensive use of chemical fertilizers and pesticides. This in turn depletes the soil life and creates chemical runoff into local water sources. Coffee grown in the shade works in a symbiotic way with its surroundings. The shade canopy gives the coffee plants the proper light exposure, and that same canopy creates leaf litter that enriches the soil. To go further with it, shade trees create homes for birds, which are a great help to coffee plants by keeping certain insects at bay. I will clarify and say that not all shade grown coffee is necessarily organic; however, coffee grown in its natural shaded environment needs less chemical intervention. Shade grown is the only way coffee can be grown organically. Shade grown matters to us because it directly affects coffee workers and surrounding communities.
Johnny: Speaking of community, Porch Culture collaborated with another local craft business, True Vine Brewing on one of their creations. Give us a quick story on how that came about.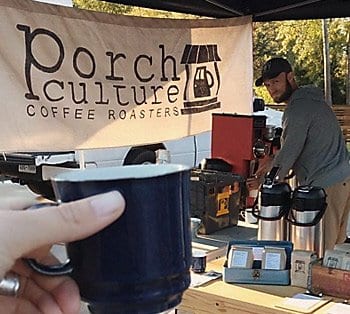 Shelly: We found Ryan through an internet search when we first arrived to Tyler and were seeking out other like-minded craft businesses. True Vine was a garage project at the time, just like us. When we stumbled upon the warehouse space it was too big for just us, and we thought of True Vine. We've been neighbors ever since. It was a natural collaboration as the two craft beverage makers in town.
Johnny: What is the ideal story for a bag of Porch Culture coffee after it leaves your business?
Shelly: Quite simply, we want it to be enjoyed. On a more profound level, coffee is so much more than fuel, and we hope that even on the busiest of mornings something delicious at the breakfast table or on the way to work would allow for a moment (or more) of inspiration.
Johnny: Thanks for your time and input, I just have one more question for you: 'What is your favorite way to enjoy a cup of coffee?'
Shelly: Slowly, preferably on a porch.
Porch Culture offers subscription services to have coffee delivered to your home or office, and offers local delivery for certain areas. Porch Culture Coffee can be found locally in several stores and restaurants as well as at the Rose City Farmers Market every Saturday morning.
Check out Porch Culture Coffee on the World Wide Web for more information: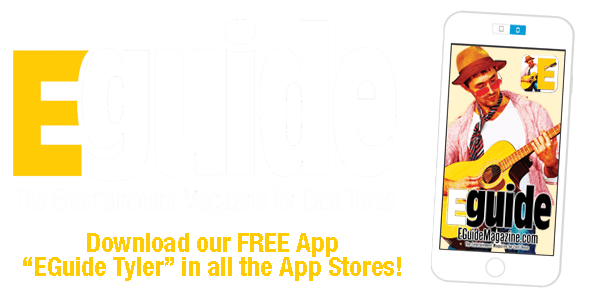 The Skinny on Cooking at Home: The Cookbook Junkie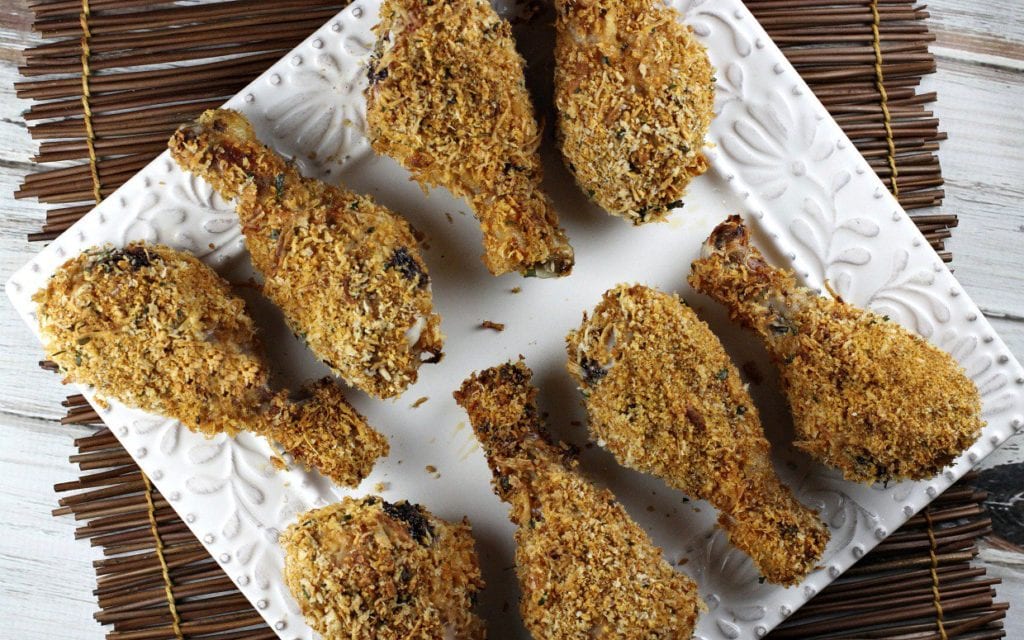 By Guest Blogger Tena Jerger filling in for Gini Rainey, the original Cookbook Junkie
I was not raised in a household that did a lot of cooking at home. We ate out, went through drive-thrus, had sandwiches, or made a meal on chips and dips more times than I care to think about. My mom simply had no interest in cooking. Don't get me wrong, she cooked 'some' – for special occasions or if my dad or grandmothers guilted her into it, or when she got a new toy like a Frydaddy. We ate corn dogs and French fries until we all begged to go back to Weinerland's drive-thru.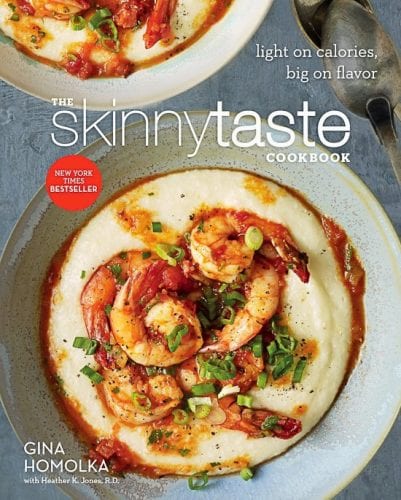 And even though my mom never really cooked, I have always enjoyed cooking a lot. I've had my share of disasters but I prefer to eat at home, preparing our food ourselves.
My favorite cookbooks are pretty much any in the Skinnytaste line of books. Author Gina Homolka has a cult-like following for her blog and has several NYT best selling books under her (skinny) belt.
I've been making Gina Homolka's recipes for years. I find them both easy to follow and very flavorful. I have always found the ingredients easily – there is never some obscure expensive ingredient that the recipe must have. All of her recipes are made with real food that are "skinny on calories but not on flavor."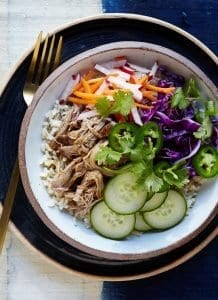 That being said, I should add that she has recipes for all kinds of eating styles including vegetarian, Weight Watchers, gluten-free, Paleo, Keto, Whole 30, and more. Beside each recipe, there is a color and letter coding like V for vegetarian, GF for gluten-free, kid-friendly, freezer-friendly, crockpot etc. And, for those of us who count calories and want to know nutrients or carbs, she also has all of that included.
I was recently given a gift card for Barnes & Noble so I purchased two of her hard copy books, "Skinnytaste Fast and Slow: Knockout Quick-Fix and Slow Cooker Recipes" and "The Skinnytaste Cookbook: Light on Calories, Big on Flavor."
From the "Light on Calories," one of my favorite recipes is Buttermilk Oven-Fried Chicken. I've made this over and over, and still to this day have not changed the recipe in any way except that I use a cut-up fryer instead of just legs. Soaking your chicken at least overnight keeps it moist and juicy. The recipe is at skinnytaste.com/oven-fried-chicken
I'm sure you are wondering "why do I need to have the book if all the recipes are on the blog?" Well, they aren't. In fact, there are quite a lot more in print. One of my favorites is the So-addicted Chicken Enchiladas. These enchiladas are easy to prepare and taste excellent too. This recipe is only available in the book so for copyright reasons, we can not post the recipe.
From the "Fast and Slow" book I love the Banh Mi Rice Bowl. I make up the pork tenderloin and freeze in small batches for a quick lunch. The recipe is at skinnytaste.com/slow-cooker-banh-mi-rice-bowls.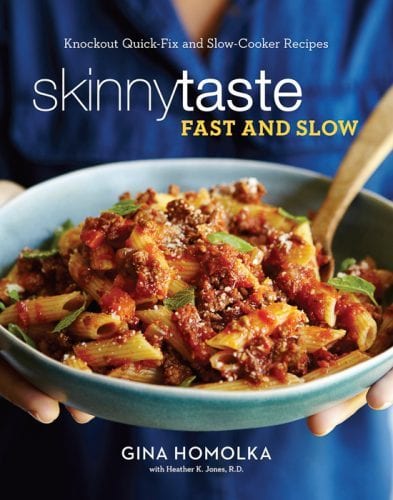 All of the photos in these two cookbooks are professional and abundant throughout. The recipes
are well put together, easy to follow, and not just the same tired ones redone with diet ingredients. They are original and loaded with flavor and are good enough to serve at dinner parties and more importantly – to make you feel like you are not dieting. All of her recipes are quick to make if you follow her tips for prep and shopping.
From her bio, "Each month millions of readers visit [her blog] Skinnytaste and learn how easy it is to cook healthy recipes for the whole family. Her work has been featured in Fitness Magazine, Better Homes and Gardens, FineCooking.com, Glamour.com, Oprah.com, among other media outlets."
Her books are available digitally, in hardcover and on her blog website.

Foodie Events: March 17th, Grand Opening of The Porch at ETX Brewing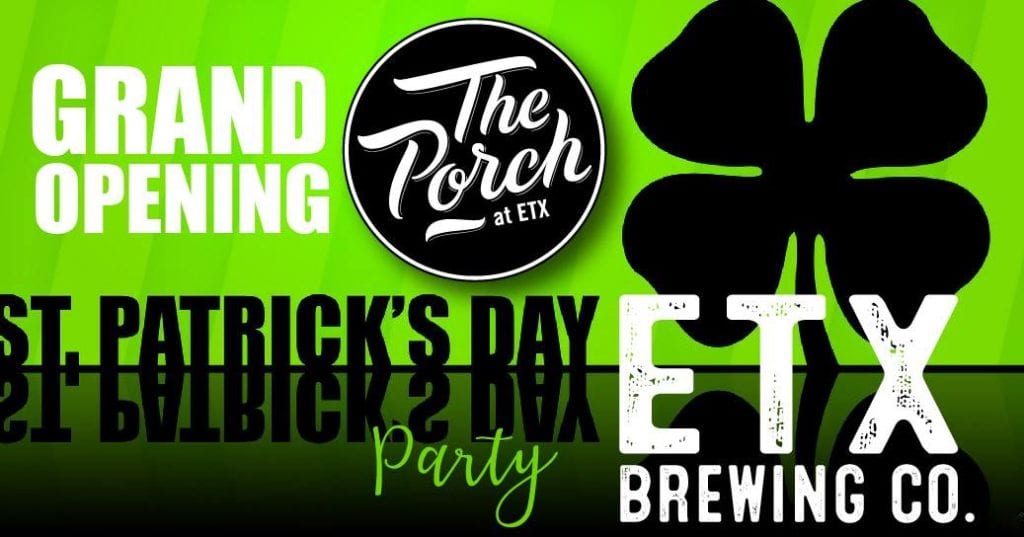 News & Events
Quick Dawgs of Texas Opens! You know that building with a cowboy-shaped roof? It now serves hot dogs made with love and care by David Lovelady. "This particular building here is set up to handle hot dogs," he said. "I'd been looking at different buns, wieners, different chilis, for many months before we started this thing." The new business features an array of hot dogs, mostly priced between $2-$5, with nachos and meals priced a few dollars higher. The menu — which is still developing — includes all beef, bun-length hot dogs; brisket sausage links; Earl Campbell Hot Links; Frito pie and more. Lovelady said the chili cheese dogs and hot links have been some of the most popular selections. Picnic tables will be added outside the drive-thru soon. Quick Dawgs is located at at 220 SSW Loop 323 in Tyler, and serves all beef, bun-length hot dogs, brisket sausage links, Earl Campbell Hot Links, Frito pie and more.
March 15th (6:30-9:30pm) – "Wine and Cheeeeessssy Dinner" will be held at Cork, Food & Drink, 109 E. Grande Blvd., Tyler. Tickets are $70. The menu will include fondue, gruyere and chorizo, mac and cheese with lobster, ribeye toast with blue cheese, and roasted fig with ricotta along with accompanying paired wines. Reservations can be made by calling (903)363-9197 or at CorkTyler.com.
March 17th (5pm-12 midnight) – St. Patrick's Day Party & Grand Opening of The Porch at ETX Brewing – Love the beer at ETX Brewery? Then you have got to try The Porch, ETX Brewing's new restaurant. Join the fun in celebrating their expansion with green beer, great food,  and live music with Old Omen, Metrograde and Eli Tidmore. ETX Brewing and The Porch are located at 221 S. Broadway, Downtown Tyler.
March 21st (7-9pm) – Spring Vintner's Dinner – Kiepersol is kicking off the 2018 Vintner's Dinner Program with a Spring-inspired menu. Don't miss this fresh and vibrant dinner paired with our delicious wines. The menu is seared scallop with almond mandarin salad, asparagus chicken and rice soup, lemon and rosemary lamb, and lemon and spring fruit curd. Tickets are $100 per person not including tax and gratuity. For reservations, call (903)894-3300 or go to kiepersol.com/vintners-dinner. Future dinners are June 20th, July 25th, September 26th, and November 28th.
Roost Chicken Salad & Deli will open a location in Southside Bank at S. Beckham across from ETMC Hospital.
March 23rd (6:30pm) – Beef & Bourbon with Cut Beef and Rebecca Creek – Join this terrific pairing of Cut Beef and Rebecca Creek Bourbon. Upon arrival at High Hill Farm, you will be greeted with an assortment of custom made cocktails and perfectly paired hors d'oeuvres. Relax, dine and enjoy as our Chef and Rebecca Creek Distillery fulfill you with their perfect creations made from the freshest local beef and perfectly aged bourbon. High Hill Farm, 12626 CR 217, Arp. Go to highhillfarm.com to make reservations.
March 31st-April 1st (all day) – Bread Class & Easter Brunch – Have you always wanted to bake like a master Chef? The key is simple ingredients, proper instruction and the right location. Join Chef for a fun weekend experience in the kitchen of Côte at High Hill Farm. You'll learn the techniques, recipes and process to baking homemade breads. Cap off your day with a stroll in the vineyard, wine sampling and overnight stay in one of our relaxing bungalows. After a perfect night's sleep, join us for a special Easter brunch featuring beautiful farm fresh brunch including items from the garden, local food items and fresh juices.  Mimosa's and bloody Mary's also available for your enjoyment. High Hill Farm, 12626 CR 217, Arp. Go to highhillfarm.com to make reservations.
Crawdaddy's Boil-N-Go is now open at 14801 State Hwy 110 S. in Whitehouse. Featuring crawfish, shrimp, crab legs, corn, potatoes with all the fixing, Crawdaddy's is open Thursday-Friday 5-10pm, Saturday 12 noon-10pm, and Sunday 12 noon-6pm.
April 7th (8am-12 noon) – The Rose City Farmers Market will open soon at it's new location at 236 S. Broadway Ave., just a half block north of Front St. in the parking lot of Bill's Unclaimed Furniture. The market is open from April to November. This is across from "Moss, Where Flowers are Fair" and ETX Brewing Co. The new location will be near the free parking in the Fair Plaza Parking Garage. The Rose City Farmers Market is a family- and dog-friendly community gathering place, providing locally-grown produce, herbs, wood oven breads, pastries and granola, jams, pickles, locally roasted coffee, cheese, artists and artisans, live music, and sometimes even yoga. They are open every Saturday April-November 8am-12 noon. For more info on the market or to apply to be a vendor, contact (903)539-2875, info@foodcoalition.org, or foodcoalition.org.

SportsZone Bar and Grill: A Cornucopia Culture of Downtown

The SportsZone Bar and Grill:
A Cornucopia Culture of Downtown
By Barbara Greenbauer
The SportsZone Bar and Grill on the Square in Downtown Tyler is now a go-to spot to eat, hangout and get your fill of sports- themed fun and entertainment.
Josh Collins, local owner and operator, wants everyone to know that "Downtown has a new lunch spot" and it's a great local bar and grill that is all about community with a "Cheers-type mentality, where everyone is welcome."
The place is light, bright, and filled with sports memorabilia, with a great-looking bar and high tabletops galore. With a brand new revamped menu, the SportsZone is ready to bring you great food in a space with a different vibe than your regular sports scene. It's never a loud, in-your face crowd, there's plenty of parking Downtown, and plenty to do inside.
While you try your hand at the pool or foosball tables, you can chow down on a great burger with a side of waffle fries. You will really get your fill of sports, as the restaurant is lined with 10 big screen TV's. The view from any seat in the house is stellar. There is always a Texas team on the screen somewhere in the restaurant. There's even TV's in the restrooms because they don't want you to miss a second!
Dart aficionados can try their luck at the dart boards or try your hand at a game of beer pong.
"We really support the Downtown culture," says Collins. "We can be the spot to go to before or after a show at Liberty Theater. I don't think folks in Tyler realize how many people live and work Downtown and the community continues to grow."
The Bar and Grill supports local events like Red Dirt BBQ and Music Festival, Hit the Bricks 2nd Saturdays, and the Rose City Farmer's Market, "to support and spread the word about the great things happening Downtown," said Collins.
Step inside the bar and grill and you will want to hang out, use the free Wi-Fi, watch some TV, and taste what the kitchen has to offer.
The edible options at the SportsZone are fast and healthy too. Lunch variables include an out of this world chipotle black bean veggie burger, seared tuna salad, and a grilled chicken salad. Lunch is served Monday-Friday 11am-2pm.
The bar and grill, open 7 days a week, features a great mixture of fare, from "Beginners" like onion rings, pickle fries, frito chili pie, chili cheese waffle fries, "Not your Mamas's Churros," humus and naan bread, and battered corn bites.
For more hearty appetites, try the ultimate BLT, fried chicken sandwich, chicken fingers, or their spectacular wings. Their wings are uniquely double-baked with choice of BBQ, lemon pepper, flaming hot or special Zone sauce. The new chickenless wings are so good that you won't even realize that they are vegetarian! They can also handle to-go orders, but guarantee fast and efficient service during the peak lunch hours. "We want to be known as the new Tyler lunch destination," said Collins.
The "Out of the Oven" pizzas include margarita, Hawaiian, or the much requested, "Build your own" with toppings including pepperoni, sausage, hamburger, Canadian bacon, black olives, mushrooms, jalapenos, and roasted tomatoes. You can get a super lunch special with a slice of pizza, side salad and a drink for just $8.
The bar is a fully-stocked cornucopia of Texas liquors and beers and the bartenders are super friendly and accommodating. From Lone Star, Shiner, Deep Ellum and ET Brewery, and True Vine – you'll find it at SportsZone. Every Tuesday, if it's made in Texas, it's on special. And if you are looking for something more exotic, the bar can handle almost any drink imaginable, all you have to do is ask!
There are always specials and giveaways going on – from Happy Hours to buckets of beer. Check their website and Facebook regularly to see what's happening. "A lot of our patrons are regular customers, but by word of mouth and social media, we've begun attracting a new group of folks who love being Downtown and taking advantage of all we have to offer," said Collins.
Come grab a drink, see a game and have a great meal at The SportsZone Bar and Grill, located at 115 E. Erwin, Downtown Tyler on the Square. Like them on Facebook at SportsZoneTyler, or Sportzonetyler.com. You can contact them at (903)266-9132. They are open Sundays 12pm-12am, Monday-Friday 11am-12am, Saturday 12pm-1am.