Portofino's Italian Restaurant: A Slice of Italy
---
By Barbara King
Get ready for an outstanding dining experience with a mixture of old-world family recipes, great atmosphere and service. Portofino's Italian restaurant, open since September, is a family owned and operated taste of Italy. Owners Benny and Julie Sechi are part of a family that has been sharing their love of food and all things Italia since 1974.
The totally remodeled restaurant and bar has now become a beautiful backdrop for excellent cuisine with rich warm colors, comfortable seating and stained concrete floors. Along with an extensive menu, the relaxing upscale environment has already won over many patrons.
"All our dishes are made from scratch, nothing is pre-made and we take great pride in the flavor of every entrée," explains Benny. Benny and Julie are hands-on owners, doing everything from greeting guests to managing the kitchen and tending bar. "We want our customers to relax and enjoy the dining experience," explains Julie. "Our chef may be preparing up to 40 different entrées at a time, so as you wait, we always serve warm garlic rolls while you look at the menu." Benny is originally from Italy and along with his family, opened the successful Fino's restaurant in Plano five years ago.
It will take some time to peruse Portofino's menu beginning with the appetizers and continuing all the way through the tantalizing desserts. Appetizers include bruschetta, caprese (sliced fresh mozzarella, tomato, basil, and freshly roasted peppers drizzled with olive oil), and shrimp limone (sauteed shrimp with a white wine lemon sauce).
Guests can either order a side specialty salad like Insulate del Bosco (mixed greens, gorgonzola, pears and almonds, tossed with a port wine vinaigrette) or a larger entrée salad, choosing from chicken Caesar, Greek salad with chicken or an Italian Cobb salad. That's only the beginning of an array of delicacies, from chicken and veal, seafood and pasta and Portofino's own hand-tossed pizzas and hot sandwiches.
The restaurant is a crowded scene during the lunch hours, serving specials for $7.99 such as classic pasta dishes including spaghetti, linguine, angel hair, fettuccine, ziti, rigatoni and orcchietta. Home-baked pasta lunch selections include lasagna, manicotti, cannelloni, eggplant parmigiana, and baked cheese ravioli. You can always order half-sized portions for the little ones in your group.
Dinner is another story in itself, with tempting entrées including more chicken and veal options than you can remember or pronounce; chicken piccata, chicken sorrentina, chicken saltimbocca and good old chicken parmigiana and marsala. Veal lovers will be in heaven with options like veal parmigiana, piccata, cacciatore, Bolognese, sorrentina and Genovese.
Let's not stop there, Portofino's has seafood too. Owner Julie's personal favorite is Frutti di Mare which is clams, shrimp and calamari served on a bed of linguini marinara. Tilapia Francese is sweet white fish dipped in egg batter, sauteed with wine sauce. Lobster ravioli might suit your fancy – pasta that is stuffed with lobster and crabmeat, served in a champagne cream sauce. All are hand-made, all excellent!
Benny is always handy to help you out with the menu, and will probably advise you to try a hand-tossed pizza, either a Supreme, Margherita, Veggie Lover's or Pizza Alfredo. In the mood for a sandwich…try a Stromboli, Calzone, Philly Cheese Steak or Meatball Parmigiana.
You have to save room for the mouthwatering desserts, and maybe order a few for your group to share. The Portofino favorites include Tiramisu, Cheesecake, Chocolate Mousse Cake, Cannelloni and Crème Brule.
The restaurant is perfect for private parties, with a closed off dining room at the back of the restaurant for up to 75 guests. Portofino's also caters with a special menu for larger parties.
The large renovated bar at the front of the restaurant serves an extensive offering of beers and wines by the bottle or glass to complement any menu offering or a quiet place to enjoy a drink and socialize. "We are constantly changing the wine selections according to the season or specials," explains Julie. "We have a great selection; there's something perfect for every wine drinkers taste."
Marti and Steve Reistetter were enjoying their third visit to the restaurant. "We love the ambiance and atmosphere," said Marti. The couple, originally from New York, now living in Tyler for the past 8 ½ years, appreciate the good portions, prices and service. "I am part Italian," said Steve, "and Portofino's food reminds me of what my mother used to make."
The Italian music that permeates the restaurant helps set the tone for an experience the Sechis hope will inspire loyal customers. "We are so excited to be part of the Tyler community and to be able to present a new dining opportunity to the area," said Julie. "We have developed a friendship with the newly renovated Magnuson Hotel, so we recommend guests to try it and they do the same for us."
Stan and Sharon Sobotka from Bullard have dined at Portofino's several times since the opening and rave about the customer service and attentive staff. "Prices are right on the mark and the quality of food is excellent," said Sharon. "We were always welcomed and visited by the owner. We love the atmosphere, it's like enjoying a little piece of Italy here."
Portofino's Italian Restaurant
3320 Troup Highway, Tyler, (903)533-1150
www.portofinositalianrestaurant.com
Closed Mondays, Tuesday-Thursday 10:30am-10pm,
Friday and Saturday 10:30am-11pm, Sunday 10:30am-9pm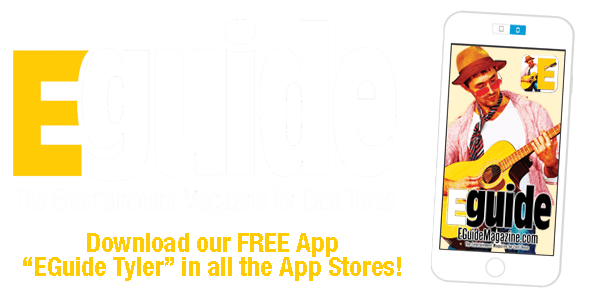 EGuide's Happy Hour Guide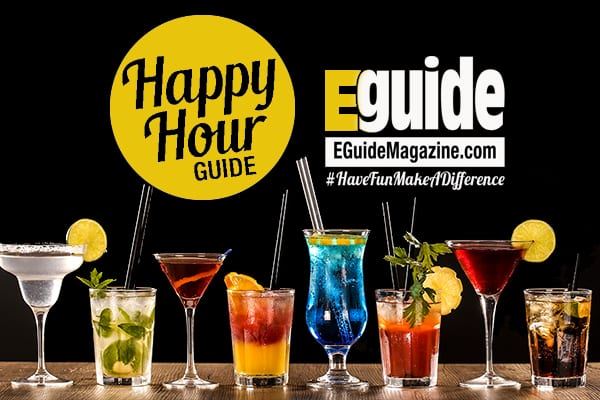 Rose City Farmers Market Downtown This Weekend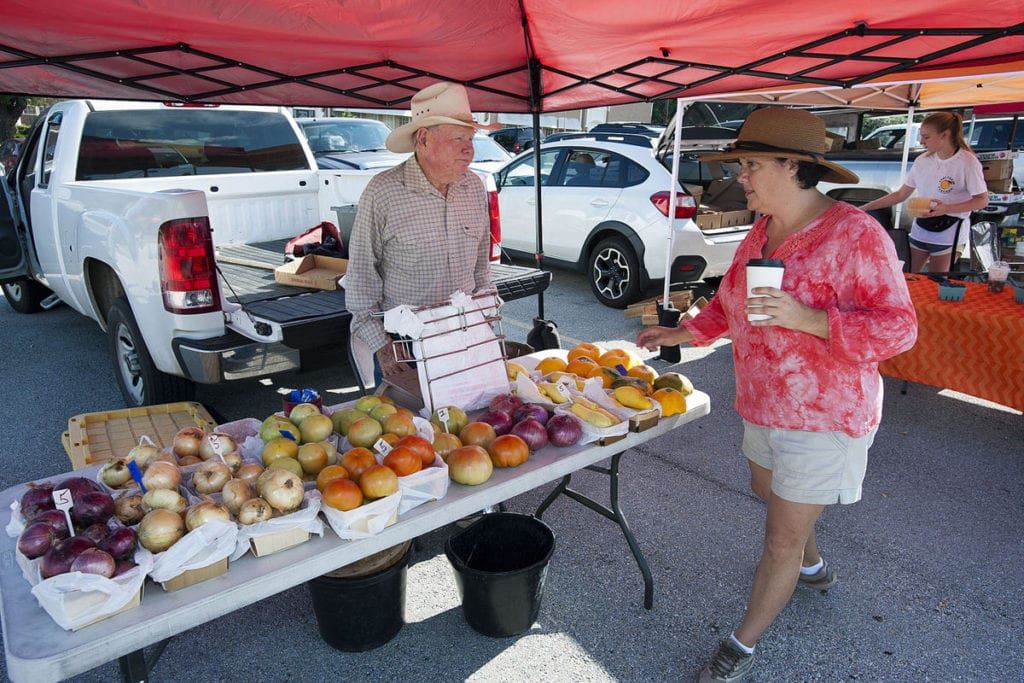 By Barbara Greenbauer
Everything is blooming, growing, and flourishing in East Texas and it's time to head back to the market!
Your Saturday mornings can be stupendous with by stopping downtown at the new Rose City Farmers Market location. Opening April 7th and running through the first weekend in November, the market is a neat, unique experience for the whole family.
Located just a block from the Square – in the Unclaimed Furniture parking lot in Tyler (236 S. Broadway),  the market is the place to be bright and early Saturday mornings from 8am-12 noon. Your senses will go wild with the atmosphere of the Rose City Farmers Market.
As part of the Food and Farm Coalition, their goal is to work toward a sustainable food system that meets the needs of both producers and consumers.
The market brings all that's fresh straight to you: fruits, vegetables, and herbs all grown within 75 miles of Tyler. That includes pasture-raised beef, lamb, pork, chicken, and turkey, free-range/non GMO eggs, and goat cheeses.
Jessica Bullock, Director of the Farmers Market, says "We are excited about the opportunity to connect people with locally grown food in a great community gathering place Downtown."
The move to downtown makes the market "easily accessible to everyone, which is extremely important to our mission," explained Jessica. All items sold at market are 100% produced or grown by the vendors. "Everything you'll see at the market has been grown, baked, or made by the vendors themselves, which may be a surprise to some," said Jessica.
Eating seasonally is what the market is all about, and when you eat food grown locally, it's is always harvested at the peak of its season. Local food is also not stored in shipping containers, so it doesn't spoil or lose health benefits on its way.
Buying food at its peak season also benefits our local farmers because it costs less for producers to harvest and transport and those savings get passed down to you…it's a huge win/win for everybody!
With the Market opening in April 7th and running through November 17th, every week will be a brand new adventure as the seasons change and different produce are featured. In April, a trip to the market will fill your senses with treasures from East Texas fields like arugula, carrots, kohlrabi, radishes, beets, turnips, strawberries, new potatoes, mustard greens, kale, lettuce, cilantro, onions, swiss chard and parsley.
The market is all about community, so you'll find something for everyone from fresh bread to flowers, coffee, jams and jellies, and baked goods. Vendors also showcase Texas olive oil, handcrafted art, and Texas fruit wines.
And that's not all you'll get to see at the Market. Local musicians will be showcased every Saturday, plus a new exciting addition of rotating food trucks. "We are proud to serve as a venue to some of Tyler's most talented musicians," said Jessica. Bring a lawn chair and enjoy the perfect blend of food and music and great weather.
Vendors or members must meet certain goals including being located within 75 miles of the market, providing safe and fair working conditions for all farm workers, organic or natural methods, humanely raised animal products, beef and other grass-eating animals are grass fed, and dairy is rGHB-free. Find out more about becoming a member/vendor at foodcoalition.org.
The market depends on volunteers to set up and break down, help with displays, banners, and lots of behind the scenes work. What a great way to give back to the community! People interested in helping can contact rosecityfarmersmarket@gmail.com.
"We are thrilled to be part of the Downtown scene and to be able to partner with the great small businesses that are part of this growing culture," said Jessica. "The new location is a perfect fit for the Market and the thriving downtown community." "We would like to thank Bill & Cecilia Bush of Unclaimed Furniture for the space and the support."
Bring the family and spend Saturday mornings at the Rose City Farmers Market, located at 302 S. Broadway in Downtown Tyler.
Visit them on Facebook at rosecityfamersmarket.com and foodcoalition.org.
Warm Weather and a Full Stomach…What's Better? Fav Patios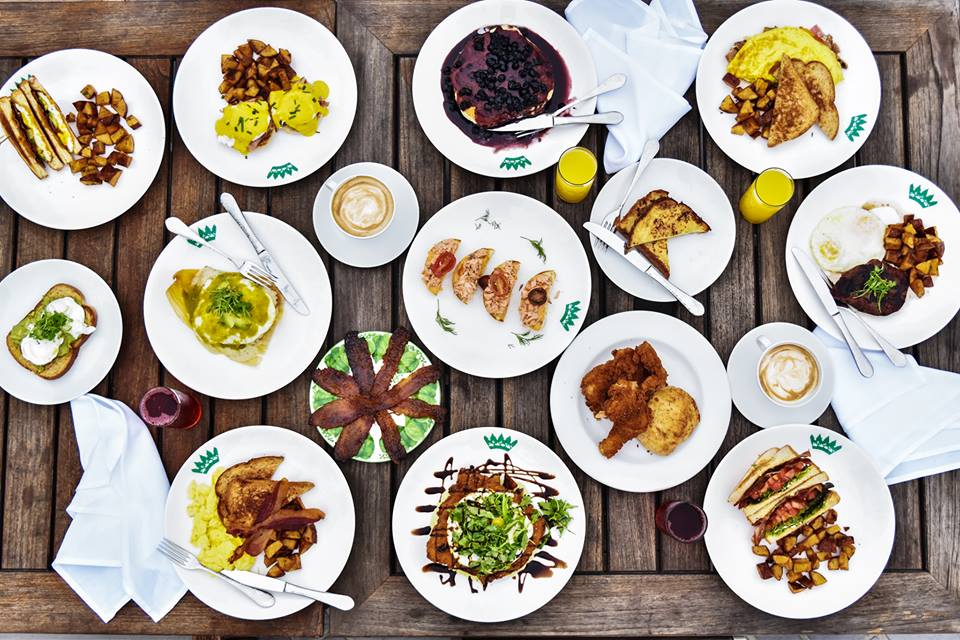 Spring and Outdoor
Patios Go Hand in Hand:
Where to Eat & Drink Al Fresco This Spring
It's that time of year – time to celebrate patio season by sitting outside and enjoying a patio. From garden atmospheres to cocktail bars and restaurants with expansive outdoor spaces, these establishments offer al fresco drinking and dining along with the opportunity to soak up some vitamin D.
Whether you are about grabbing a drink or just enjoying a meal and the cool spring atmosphere, Tyler has something for your tastes.
If you are seeking breakfast, brunch, afternoon cocktails, or a nice relaxing dinner, a local patio is a great place to spend the cooler springtime. Before it gets too hot, check out some of our reader's favorite fun patios in Tyler.
Chuy's Mexican Eatery (5935 S. Broadway, Tyler (903)509-2489) – Serving "big as yo' face" burritos and other Tex-Mex dishes, Chuy's is a great place to unwind after work. The Elvis Green Chile Fried Chicken is to die for. Happy hour specials include drinks and food as well as a free chip bar inside in the bar area. The patio is covered by a palapa and has wind windows and fans which makes it nice year round. Also, large groups can easily sit outside on the patio. Inside is a fun, kitschy, Elvis-heavy setting.
The Catch (1714 S. Beckham, Tyler, (903)596-8226) – The cajun-inspired menu at The Catch brings locals and tourist in by droves and the outdoor patio is a great place to stretch out and enjoy a huge pan of boiled crawfish. This no frills, laid-back seafood restaurant's covered patio has picnic style tables, ceiling fans and will protect you from the wind and sun. The Admiral's Platter is great to share family-style at the table. All of the dishes come with huge portions with the plates are piled high. The shrimp po'boy rivals New Orleans with large fresh fried shrimp and remoulade sauce all combo'd to make a great sandwich.
Dakota's Chophouse (4803 Old Bullard Rd., Tyler, (903)581-6700) – Dakota's offers choice steaks, seafood and global wines served in sophisticated but never stuffy setting inside, but if you are wanting something more casual, we suggest sitting outside on the lovely patio. Live music makes for an overall enjoyable experience. It doesn't get better than relaxing at Dakota's on the patio on a Saturday night. Oysters Rockefeller are some of the best we had.
ETX Brewing Co. & The Porch (221 S. Broadway, Downtown Tyler, (903)630-7720) – ETX Brewery has been open for a while offering craft beers, tables inside, picnic tables outside, and a wonderful atmosphere reminiscent of the Austin vibe. When it's warm outside, they will open the garage doors to combo the two spaces, making it expansive and open. Now, The Porch, located next door to ETX Brewery is open serving food with a unique menu to accompany ETX's Brewing's locally-made craft beers. The menu has classics like build-your-own burgers as well as original creations like the Mac 'n Cheese Fries (add bacon), Fried Cheese Curds, and The Kitchen Sink: a sandwich on a hoagie with a choice of three meats, two cheeses and sides. The on-site brews are often seasonal so try them all with a "Flight." We love the Brickstreet Blonde (a classic American blonde ale that is light, crisp, and lightly hopped with a mild maltiness), the Downtown Cherry Brown (a brown ale bearing notes of tart cherry), Hitching Post (a mellow amber ale with a faint caramel influence), and the rich Coffee City Stout (a dark beer made with a little locally roasted coffee and Belgian chocolate).
FRESH by Brookshire's (6991 Old Jacksonville Hwy., Tyler, freshbybrookshires.com) – FRESH is so much more than an excellent grocery store. Offering a huge patio, live music, an amazing view of the east Texas skyline, plus The FRESH Grill + Patio, FRESH has something for everyone. Live music is every Friday and Saturday starting at 6pm. With the food, drinks, live music, and a great atmosphere, it has become a hangout for foodies and music lovers. It's a great place to meet friends or bring the family for a relaxing evening. Menu items include gourmet salads, fish tacos, burgers, fries and a kids menu for little Freshies. We love the J'Ville Burger and the Asian Shrimp Tacos. Beer and wine are available for the adults.
The Grove Kitchen & Gardens (3500 Old Jacksonville Hwy., Tyler, (903)939-0209) – "Where all ages can come to play outdoors!" You can dine outside, in the main dining area, or try their barbeque in its own building, The Smoke Shack. Upon entering, you'll see a large fire pit, lots of trees, and tables of all sizes located all around – some in the shade, some under umbrellas and even some in the sun. There's comfortable cushioned couch-style seating as well. Most nights there are musicians performing. All of this creates a nice isolated outdoors feeling even though you are still in town. There is also a gated roomy, kid-friendly lawn area for your kids to run off some of that energy.
Stanley's Famous Pit BBQ (525 S. Beckham, Tyler, (903)593-0311) – Where all the cool kids go! This unpretentious barbecue joint and bar offers open outdoor seating, excellent barbecue, live music, and happy hour Monday-Friday and all day on Wednesdays. The menu has beef brisket, ribs, chicken, turkey and sausage, as well as stuffed potatoes and Frito pie. The famous Mother Clucker (smoked chicken thigh meat with spicy mayo, cheddar and fried egg on jalapeno cheese sourdough) as well as the morning specialty, the Breakfast Brother-in-Law (a grilled hot link with cheese and scrambled eggs on a bun) are good choices. There's live music six days a week, a list of delicious cocktails, and it is best enjoyed at a picnic table outside in the sun. Stanley's patio is covered with sunshades to help keep things cool.
Strada Caffe – (302 E. Front St., Tyler, (903)944-7744) – This coffee shop has expanded to evening hours and with that, they are now offering small plates, wine, and craft beers. In the mornings, an Espresso plus a breakfast taquito and the outside patio equal a great combo. In the afternoons, the patio is quite roomy and a good place to unwind after a long day of work. Strada offers breakfast, lunch and small plates at dinnertime, live music sometimes, Sunday brunches, and local art in the caffe. Extra parking is available across the street.
Republic Icehouse (3807 University Blvd., Tyler, (903)504-5860) – This bar and restaurant has a large patio which accommodates both small and large groups with picnic tables and quaint small cafe-style tables. Most nights they have live music inside. There are TV's everywhere if you are wanting to catch a game. Outside is more quiet and intimate. Republic's pizzas are great, their burgers are on point, and the beer is always cold.
Rick's on the Square (104 W. Erwin St., Downtown Tyler, (903)531-2415) – Rick's features southern seafood and steaks in a vintage, brick-walled space with a patio and live music on weekends. Happy hour daily.
Roast Social Kitchen (1125 E. 5th St., Tyler (903)202-0295) – The eclectic atmosphere and the yummy brick-oven pizzas, chef-inspired specials, small plates, and a full bar is always a great time. Inside the atmosphere is industrial-chic with a touch of cool. Happy hour drinks and food are offered. Roast has a brick oven that produces exceptional pizza, the super-thin variety made from handcrafted dough and fresh ingredients roasted on-site. Outside, the sidewalk cafe-style patio atmosphere is a nice place to sit after dark. This is a great way to spend a spring evening with a cocktail in hand. Our favorite pizza, along with thousands of other's, is the Bee's Knees, topped with roasted garlic, a variety of cheeses, sopressata, Italian sausage, local spicy honey and fresh thyme. In the bar, find wine, beer and cocktails on tap, including a favorite, Rose's Night Out, vodka with rose syrup and lemon for a light effect.
Villa Montez (3324 Old Henderson Hwy., Tyler, (903)592-9696) – The Latin-inspired menu offers seafood and meat dishes, plus comfort classics, all presented in the swanky old-world charm atmosphere of a hilltop mansion. The huge deck is a great place to have a casual meal outside among the treetops. You will not have a care in the world when you leave this expansive balcony style outdoor area. The Chimichurri Steak, sea bass, and margarita shrimp are delicious.
Zoe's Kitchen – (8926 S. Broadway, Tyler, (903)939-0925) – The great Mediterranean salads, shrimp or beef kabobs, chicken salad sandwiches, lentil soup, Mediterranean chicken plate, and the chocolate cake are always perfect at Zoe's and sitting outside on the patio is quite lovely this time of year. Be sure to try the fried potato salad, too. The food is always freshly prepared. This hip little place has a cool atmosphere and reasonable prices for delicious healthy food. They have a vegan and vegetarian menu.