M6 Winery:
Celebrating Life & Good Things
Written and Photographed by Barbara Greenbauer
Take some time to wind down, breathe, and enjoy a superb glass of wine at M6 Winery & Tasting Room and Gift Shop in downtown Bullard. Owners Joe and Anne Moody set the pace as the charming and affable owners who greet you at the door and welcome you inside.
The atmosphere is palatable the minute you arrive, inside the front door is a Texas trove of
hand-made one of a kind wood pieces that can either house your own wine collection or accent it. Move along into the inner room and you will feel right at home as you order wine, food, and listen to live music.
Joe Moody is in his element and passionate about his foray into the wine business. Relying on his business background and his interest in the wine-making industry, he has developed an inventory of his own, a grand selection of whites and reds that will be taste bud treats to either the wine connoisseur or novice.
"Wine is about celebrating life and the good things," explains Moody. "Anne and I have traveled from California to Italy and experienced multitudes of vineyards and tasting rooms.  We were ready to bring all of our experiences to East Texas." M6 derives its name from the Moody's family of six, including the four grown children who were a piece of the business from its infancy. M6 Winery & Tasting Room is nestled on a corner of downtown Bullard, a piece of property Joe Moody has owned for over 20 years that has served as his office for both an oil/gas and real estate business over the years.
"Creating a good wine is an act of love and patience," explains Moody. "Grapes cannot be rushed and in the process, you have to be aware of what you are looking for in a flavor profile. It takes a lot of planning and preparation; blending is like art with different aromas, colors, and flavors."
The tasting room is an experience in itself, from the beautiful front and center bar fashioned from the ribs of wine barrels to the tin roof and rough cedar ceiling accents. Choose your wine and sit back while local musicians entertain.
There's another great space outside that the Moody's affectionately call The Vinery, a vine-covered patio with plenty of room and great furniture to sit on while you  enjoy the Texas weather.
Your palette will applaud you when you sample an M6 original wine. White wines include the Blue Norther, an aromatic semi-sweet Riesling with hints of apples and stone fruit. The Bluebonnet is an off-dry white blend, perfect for poultry, fish, and pasta dishes. Or try the Sweet TexAnne, named for Mrs. Moody, with sweet honeysuckle and strawberry overtones. This wine is perfect for summer salads and cheeses and is sweet enough to serve as a light dessert wine.
The Texas Viognier is an unoaked, medium to full-bodied dry wine, with notes of pears, honeysuckle, and tangerine. It pairs well with roasted poultry, orange chicken, seafood, apricots, fennel, capers, or pumpkin.
M6's Rosé wines include the Blushing Texan, a semi-sweet Rosé wine blend with a light pink color. The appropriately monikered Tyler Rosé is a dry blend with a touch of High Plains Zinfandel. This blend was created especially for our local Tyler market and its famous association with roses.
If red is more your thing, there are lots to choose from. Friendship Red is made with the hearty Ruby Cabernet grape. It is a great compliment to all things pasta, as it goes great with all sauces, from marinara to Alfredo.
The Moodys very first Signature Blend is Vintner's Touch, a bold red blend that pairs well with roasted meats. This blend is made from grapes grown both in Texas and California.
Red Texana is great with Texas BBQ or Tex-Mex dishes. It is full-bodied and made from the Ruby Cabernet grape. It has a spicy finish.
Feel free to pair your wine with meat, cheese, or combo plates, olive oil with bread and spices, or a slider plate. Paired flights include a chocolate or cheese, and of course, you can do a Tasting Flight of five different wines and keep the signature M6 tasting glass. M6 wines range from an affordable $18 to $28 a bottle.
Be part of the family and join the M6 Wine Club to experience the best of their offerings with
five special wine shipments annually. When it's time to get your selections, M6 offers a complimentary glass of wine and hors d'oeuvres to members at pickup parties.
M6 can host your private party and create personalized wine labels to commemorate any event from birthdays to anniversaries.
Joe has nothing but compliments for the wine-growing community in East Texas, saying "We are all very supportive of each other and share resources and information."
Mark your calendars for the Piney Woods Wine Festival, running May 11th-12th and join M6 and the other 18 wineries on the trail for a spectacular weekend of music, art, and of course, lots of wine to taste.
Lauren and Bobby Grounds from Tyler wanted a new destination and searched the internet for wine and live music and found M6. "We love this venue," said Lauren. "It's very different and
fun, and the wine is fantastic." They were trying the Blue Norther and the Blushing Texan with a cheese plate and Billy said "We will definitely be back. We like the atmosphere here.  It's very welcoming."
Joe is thrilled that M6 wines are featured at favorite Tyler restaurants, including Rotolo's, Dakotas, and the Grove. "Mention that you would like to try an M6 wine and you won't be disappointed," he said.
The Moodys welcome you to experience M6 Winery & Tasting Room. "We want everyone who visits us to feel like they are our honored guest," said Joe Moody.
M6 is open Saturdays from 1-6:30pm and is located at 201 W. Main St., Bullard. They can be reached at (903)360-0369, by email at info@m6winery.com, or on Facebook at M6Winery.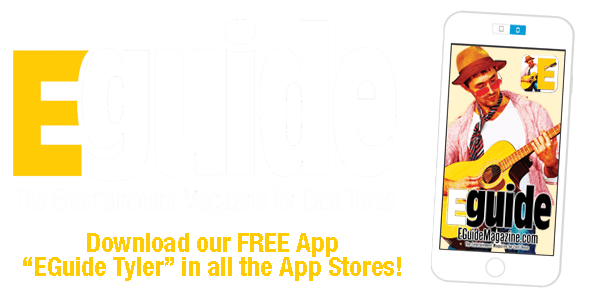 July 26th: Daddy Daughter Date Night returns to the Rose Garden Center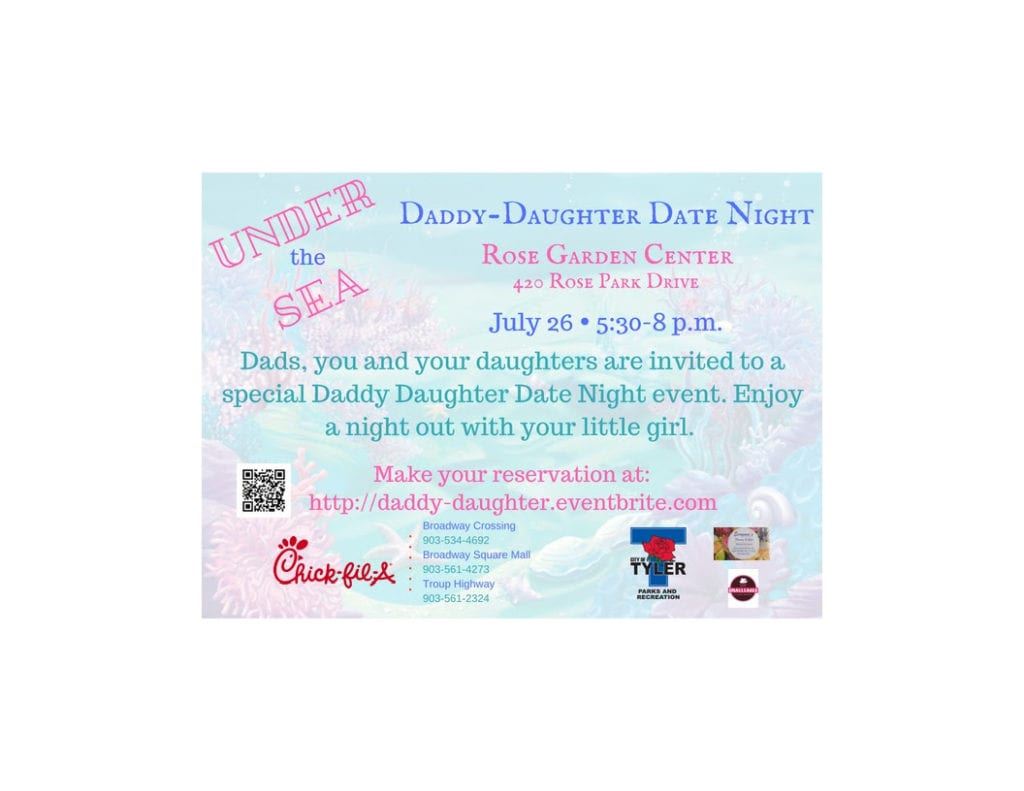 Tickets are now on sale for the Daddy Daughter Date Night sponsored by the Tyler Parks and Recreation Department and Chick-Fil-A. The special event is on Thursday, July 26 from 5:30 to 8 p.m. at the Rose Garden Center, 420 Rose Park Drive. Tickets can be purchased at http://daddy-daughter:eventbrite.com for only $20 per dad and daughter. Several seating times are available to choose from on Eventbrite.
Each dad and daughter will enjoy an evening "Under The Sea" with a meal provided by Chick-Fil-A and Smallcakes. There will be photo opportunities, which are included in the ticket price. Live entertainment and a craft project for dads and daughters to work on together are lined up and surprises to take home.
"It will be a great night for dads to treat their daughters like a princess, hang out with the Chick-fil-A cows and have great one-on-one conversation throughout the evening," said Debbie Isham, special events/recreation manager.
This event is sponsored by the Tyler Parks and Recreation Department, Chick-Fil-A, Smallcakes, Evoynne's Florist, Flowers and Gifts and All American Tent and Party Rental.
For more information, please call Debbie Isham, special events/recreation manager at (903) 531-1214.
Make a Splash This Summer at The Waterpark at The Villages Resort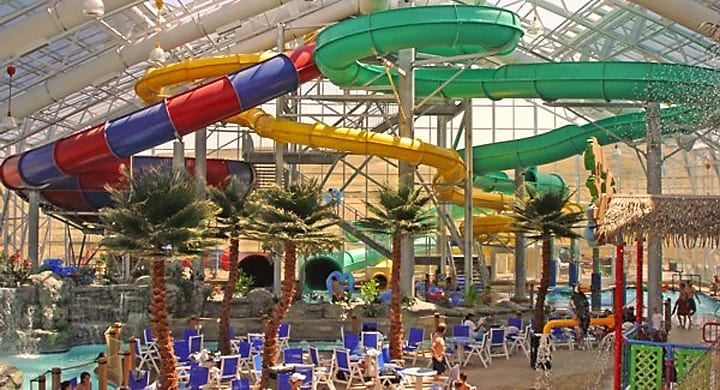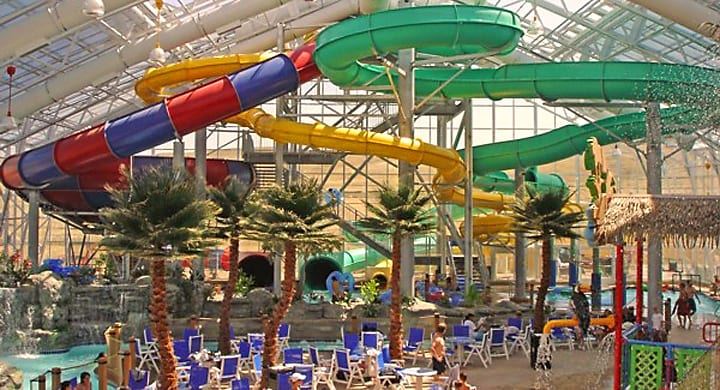 Did you know there's an indoor waterpark in Flint that features a lazy river, waterslides, a wave pool and many other attractions? The Waterpark at The Villages Resort offers 25,000 square feet of fun for the entire family, making it one of the largest in Texas. The 19,000-square-foot, glass-enclosed recreational area is climate-controlled for year-round fun, with a retractable roof that allows for open-air excitement in the summer.
Splash, float, slide or just relax at The Waterpark at The Villages Resort – this is an amusement park for the whole family. The waterpark features a lazy river with a whirlpool for tubers as well as four exciting three-story waterslides. Meanwhile, a forest ranger children's playscape offers a giant 10,000-gallon bucket dump, three kid-sized body slides and life-size figures of bears and moose.
For guests who just want to relax and watch the fun, there are plenty of lounge chairs and seating areas with tables surrounding the pool areas. Casual dining is also available, including Subway® and pizza.
There are men's and women's changing areas complete with lockers, restrooms, and showers. The Splash Store provides guests with any last-minute essentials needed for an exciting day of family fun.
The waterpark is a great venue for your next family reunion, work party, birthday party, or other gathering. The Party Room is ideal for a party up to 12 guests, while the entire waterpark can be reserved for up to 1,200 guests.
The waterpark, which first opened its doors in January 2008, is located on the grounds of Holiday Inn Club Vacations® Villages Resort. This family playground is a prime Texas vacation destination, featuring spacious villas and fun-filled amenities and spanning nearly 3,000 acres among the woods along Lake Palestine.
The Waterpark is open daily 10am-9pm. Tickets are $10 for observers, $21.95 for under 48" tall, $24.95 for others. Twilight Passes are $18.95 for under 48" tall, and $21.95 for others 4-9pm.
The Waterpark at the Villages Resort is located at 18270 Singing Wood Ln., Flint. For more info call (903)534-8400 or go to waterparkatthevillages.com
The 70th Season Begins at Tyler Civic Theatre Kicks-Off July 26th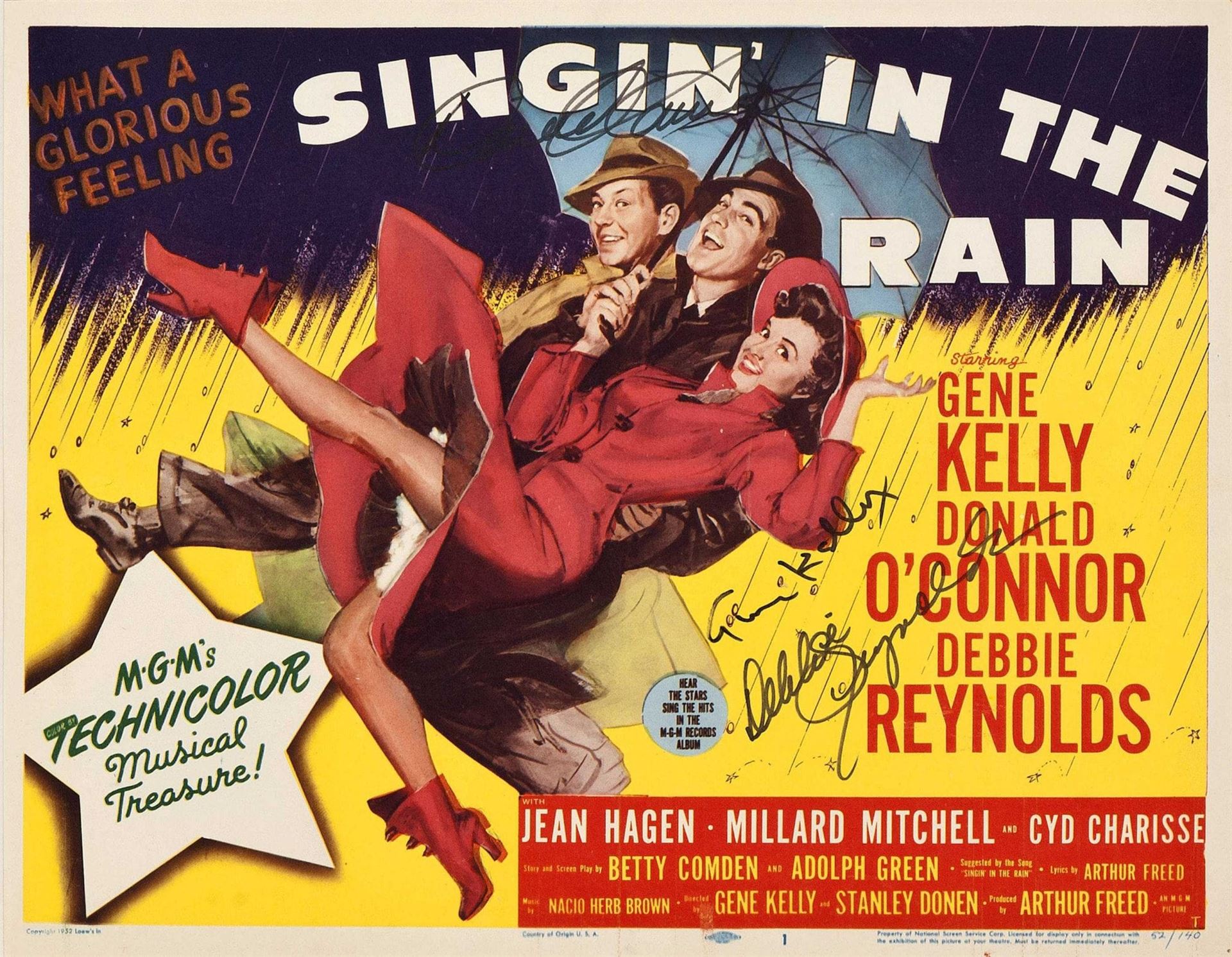 The 2018-2019 season begins with a lot of fun!
Single show tickets are available for $18 for adults and $15 for students. FLEX Pass are available for multiple performances. Tyler Civic Theatre is located at 400 Rose Park Dr., Tyler, next to the Tyler Rose Garden Center. For more info or tickets call (903)592-0561 or go to tylercivictheatre.com. The 2018-2019 productions are:
July 26th-August 12th (Thursday-Saturday at 7:30pm, Sunday at 2:30pm): "Singin' in the Rain" – The "Greatest Movie Musical of All Time" is faithfully and lovingly adapted by Broadway legends, Betty Comden and Adolph Green, from their original award-winning screenplay in "Singin' in the Rain." Each unforgettable scene, song, and dance is accounted for, including the show-stopping title number, complete with an onstage rainstorm! Hilarious situations, snappy dialogue and a hit-parade score of Hollywood standards make "Singin' in the Rain" the perfect entertainment for any fan of the golden age of movie musicals.
September 6th-9th (Thursday-Saturday at 7:30pm, Sunday at 2:30pm): "The Touch" by Mike Hargrove – "The Touch" tells the story of a grandmother with a healing touch – a secret "gift" her own grandmother helped her to discover and understand. An accident on the family farm brings opportunity for restoration of body and soul that spans four generations. Hope is found in a family secret buried beneath decades of doubt and skepticism. Playwright, Mike Hargrove made his final edits to the script only five days before his untimely death in January 2017. DeAnna Hargrove is honored to present her husband's story for the first time in the theatre he fervently supported alongside her.
October 5th-14th (Thursday-Saturday at 7:30pm, Sunday at 2:30pm): "Dial M for Murder" – Tony Wendice has married his wife, Margot, for her money and now plans to murder her for the same reason. He arranges the perfect murder. He blackmails a scoundrel he used to know into strangling her for a fee of one thousand pounds, and arranges a brilliant alibi for himself. Unfortunately…the murderer gets murdered and the victim survives. But this doesn't baffle the husband: He sees his hireling's death as an opportunity to have his wife convicted for the murder of the man who tried to murder her, and that is what almost happens. Luckily, the police inspector from Scotland Yard and a young man who is in love with the wife discover the truth, and in a scene of almost unbearable suspense they trap the husband into revealing his guilt, thus freeing Margot.
November 6th-7th (school shows) and November 8th-11th (Thursday-Saturday at 7:30pm, Sunday at 2:30pm): "Snow White & the Seven Dwarfs" – The classic children's tale of Snow White, seven dwarfs, a magic mirror and an evil queen comes to Tyler Civic! Supposedly disposed of by the wicked queen, Snow White finds her way to a happy glen and the home of seven friendly dwarfs. A deadly apple casts her into a deep sleep, from which she is revived in time by her devoted prince.
January 13th-14th (school shows) and January 15th-20th (Thursday-Saturday at 7:30pm, Sunday at 2:30pm): "The Taming of the Shrew (Condensed)" – This season TCT performs a hilarious, but seriously abridged version of Shakespeare's classic "The Taming of the Shrew." The 45-minute play preserved the original language along with all the major plot turns, but condensed it down to a one-act play and is a perfect introduction to the Bard for participant and audience member alike.
February 8th-17th (Thursday-Saturday at 7:30pm, Sunday at 2:30pm): "On Golden Pond" – This is the love story of Ethel and Norman Thayer, who are returning to their summer home on Golden Pond for the 48th year. He is a retired professor, nearing 80, with heart palpitations and a failing memory but still as tart-tongued, observant, and eager for life as ever. Ethel, ten years younger, and the perfect foil for Norman, delights in all the small things that have enriched and continue to enrich their long life together. They are visited by their divorced, middle-aged daughter and her dentist fiancé, who then go off to Europe, leaving his teenage son behind for the summer. The boy quickly becomes the "grandchild" the elderly couple have longed for, and as Norman revels in taking his ward fishing and thrusting good books at him, he also learns some lessons about modern teenage awareness – and slang – in return. Date Night for Valentine's Day will be February 14th with a Dessert Theatre. Tickets are $24 for adults, $20 for students.
March 8th-17th (Thursday-Saturday at 7:30pm, Sunday at 2:30pm): "Bus Stop" – In the middle of a howling snowstorm, a bus out of Kansas City pulls up at a cheerful roadside diner. All roads are blocked, and four or five weary travelers are going to have to hole up until morning. Cherie, a nightclub chanteuse in a sparkling gown and a seedy fur-trimmed jacket, is the passenger with most to worry about. She's been pursued, made love to and finally kidnapped by a twenty-one-year-old cowboy with a ranch of his own and the romantic methods of an unusually headstrong bull. The belligerent cowhand is right behind her, ready to sling her over his shoulder and carry her, alive and kicking, all the way to Montana. Even as she's ducking out from under his clumsy but confident embraces, and screeching at him fiercely to shut him up, she pauses to furrow her forehead and muse, "Somehow deep inside of me I got a funny feeling I'm gonna end up in Montana …" As a counterpoint to the main romance, the proprietor of the cafe and the bus driver at last find time to develop a friendship of their own; a middle-age scholar comes to terms with himself; and a young girl who works in the cafe also gets her first taste of romance.
April 11th-14th (Thursday-Saturday at 7:30pm, Sunday at 2:30pm): "The Complete Works of Shakespeare – Abridged" – Come see all 37 Shakespeare plays performed in 97 minutes! Three madcap men in tights weave their wicked way through all of Shakespeare's comedies, histories, and tragedies in one wild ride that will leave you breathless and helpless with laughter. An irreverent, fast-paced romp through the Bard's plays, "The Complete Works of Shakespeare – Abridged" was London's longest-running comedy.
May 10th-19th (Thursday-Saturday at 7:30pm, Sunday at 2:30pm): "Groucho Marx, A Life in Revue" is a stage play written by Groucho Marx's son Arthur Marx and Robert Fisher with musical direction by Jim Grady. It is a look at the life and career of the famous entertainer Groucho Marx of the Marx Brothers and "You Bet Your Life" fame. It opened off-Broadway at the Lucille Lortel Theatre on October 8, 1986 and played 254 performances closing on May 3, 1987. This inspired bio musical about "The One and Only" begins with Groucho as an old man doing his famous Carnegie Hall show. It then goes back to the beginnings of the Marx Brothers and their struggles to make it in vaudeville, their rise to stardom and their eventual break up. All classic Groucho songs are included. One actor plays Groucho, another plays Chico and Harpo, and one actress plays all the wives, girlfriends and Margaret Dumont. A hit in New York, across the U.S. and in London, this show will delight Marx Brothers fans and the as yet uninitiated. The performance on Sunday, May 12th (Mother's Day) has an optional pre-show brunch. Tickets are $34 for adults, $30 for students. Also, a dinner-theatre opportunity will be available for Thursday May 16th performance.