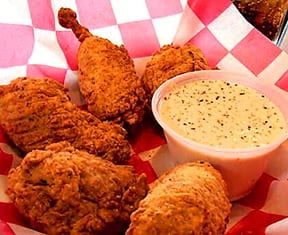 This fall Razoo's, located at 7011 S. Broadway in Tyler is now hosting a variety of fun starting in September.
And let's be honest, who doesn't love Razzoo's Rat Toes! These little bites of heaven are crab stuffed jalapenos battered and fried and served wit ha ranch-style dipping sauce. They are addictive and when pair with a special Pint Night beer, you have found heaven! The Firehouse Wings are fantastic too but be forewarned, they are quite spicy and you will definitely need a cold one to cool your mouth down. The menu states that the wings are marinated in "death sauce," then fried.
$3 pint night is held every Tuesday!  "We select one craft beer each Tuesday and offer it for $3 all day long. It is  typically a Texas brewery and semi-local brewed.  Last week we did True Vine's Promised Land, and this week we are doing True Vine's Rose City Pale Ale.  Next Tuesday will be St.  Arnold's Fancy Lawnmower," said manager Casey Stout. This month these beers will be featured:
9/6         Rahr & Sons – Pride of Texas Ale
9/13       Real Ale – Devil's Backbone
9/20       Lakewood – Lakewood Lager
9/27       Goliad – Golden Ale
Also, Live Music will be held every Wednesday starting at 7pm on the patio.
9/8         Kopastetic
9/15       Chance Anderson
9/22       The Kid Icarus Project
9/29       The Haggertys
If you are hungry for a full meal, the Chicky Dipper Basket is a good choice and I love the Seafood Combo Platter which has fried shrimp, catfish and crawfish plus fries, corn on the cob and hushpuppies. Razzoo's  Cajun Combo Skillet is great too and gives you a bit of everything with authentic cajun andouille sausage, zesty shrimp creole, crawfish etouffee, red beans and rice, corn and french bread.
Don't fill up before you try the Bread Pudding!