Review: I'm Not Rappaport


By John Baggett
The year has just begun, and Tyler Civic Theatre is continuing their hot streak with a production of the Tony Award winning classic, "I'm Not Rappaport."
Set in the fall of 1982, the story centers around two elderly gentlemen who spend their time sitting on the bench in the lower income section of Central Park. There is Nat (Allison Cambre), an aging Communist with a penchant for tall tales and a disdain of capitalism and being "a nobody." His frequent, unwilling audience is Midge (William Igbokwe), a superintendent whose eyesight is almost as absent as his patience for Nat. The taller the tale Nat tells, the more Midge falls for it, only to come to his senses as the story becomes grander.
Both men are hiding in plain sight – Nat from his daughter, Clara (DeAnna Hargrove) and Midge from Danforth (Michael McLeod), the head of the tenants' association who intends to rid the building of Midge's services and residency, as the building is being turned into a co-op. Clara wants Nat to come stay with her or move into a retirement home, as the neighborhood has become too dangerous. This is something Midge can attest to, as he pays one of the local muggers, Gilley (Asa Johnson), to walk him home, as well as protection from other thieves.
Observing them all is a quiet young art student, Laurie (Tara Hoover), whose connection to a mysterious man only known as Cowboy (Jake Gillard) will inevitably draw Midge and Nat into her problems, causing them to get into even more trouble than they were already in, thanks to Nat's mouth.
The play was written by the great Herb Gardner, who is also known for "A Thousand Clowns" and "The Good People." Along with "Rappaport," he also adapted these works into feature films. This production was directed by Tilly McLeod, who previous directed productions of "A Christmas Story" and "Harvey." McLeod took on this award winning classic and delivered the production is deserves, assembling a cast of wonderful talent, several of whom learned their parts in just a handful of rehearsals due to illness and weather. Even with all of the obstacles they faced, they pulled off a fantastic show.
Cambre is great as Nat, adding an air of sweetness to the role, and getting big laughs the more his character boasts with each wild yarn he spins. Igbokwe, in his first play ever, takes on a role beyond his years and holds his own against stage veterans. He often steals the show, is incredibly talented, and hopefully returns to the Civic Theatre stage very soon.
Hargrove is fantastic as Clara, mixing New York sassiness with heartfelt emotion as a daughter trying to protect her father. Hoover is great in her handful of scenes. Her character may not say much, but her physical performance is wonderfully natural and you can tell her joy of watching Nat and Midge is genuine. As Danforth, Mr. McLeod is hysterical, and you almost feel bad for him when he becomes the target of Nat's shenanigans. Finally, our two villains, Cowboy (Gillard) and Gilley (Johnson), in a show filled with laughs, do an excellent job of reminding us of the looming threats around the rest of the cast. They both deliver performances that are as menacing as everyone else is charming.
"I'm Not Rappaport" is a delightful, frequently funny show that despite being set in the early 80s feels pretty timeless. Honestly, if they didn't tell you it was set in the 80s, save for one costume, this story could be from 30 years or 3 days ago. It's another great show at Tyler Civic Theatre and one that I truly believe you will enjoy.
"I'm Not Rappaport" opens on Friday, February 2nd and runs through Sunday, February 11th.  Tyler Civic Theatre is located at 400 Rose Park Drive.  For more information and to purchase tickets go to http://tylercivictheatre.com/production/2017-2018/im-not-rappaport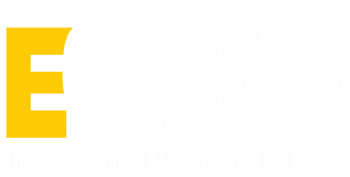 Feb. 16th-18th: East Texas Auto & Cycle Show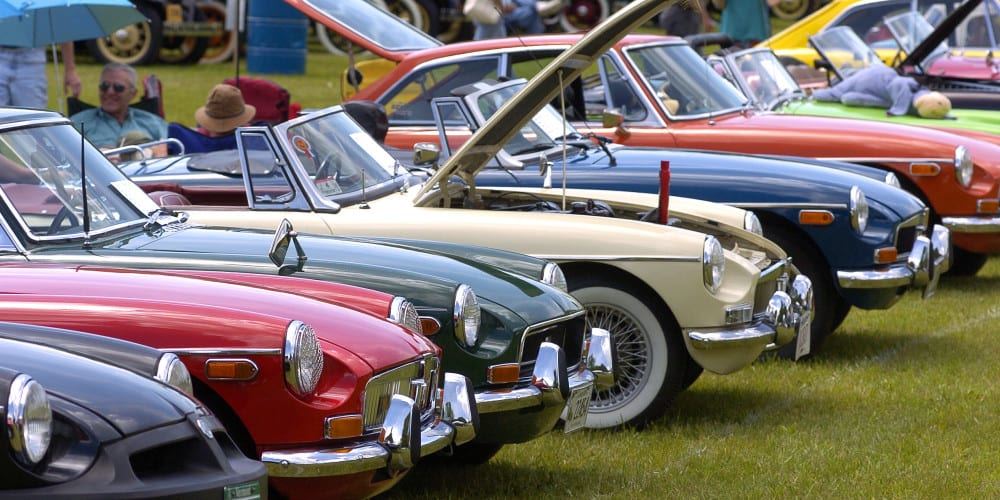 ---
February 16th-18th at Harvey Convention Center
The 2018 East Texas Auto & Cycle Show, benefiting the East Texas Crisis Center. will host its 28th Annual show at The Harvey Convention Center in Tyler on February 16th-18th.
This year's show theme is 'Fabulous 50's' featuring a collection of classic and antique 50's model cars. The show will also provide a collection of vintage, classic, and special interest cars, trucks, and motorcycles from every decade.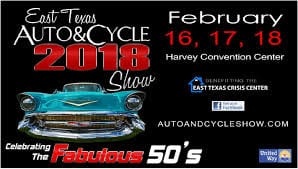 Guests will enjoy live entertainment Saturday, 12:30-4pm and Sunday, 1-4pm, with performances by The Magills and the Tyler All-Star Band.
This year's raffle car is a 1964 1/2 Mustang Convertible donated to the East Texas
Crisis Center by Tyler Ford. This is the 15th consecutive and most valuable raffle car donated by Tyler Ford in order to raise funds to provide services for victims and survivors of violent crimes.
Raffle tickets are $10 and can be purchased in advance at Tyler Ford, Traditions Restaurant, Quick Lane Tire & Auto, ABC Auto Parts in Tyler and Whitehouse or online at autoandcycleshow.com. The winning raffle ticket will be drawn at the close of the show on Sunday at 4pm.
Show hours are Friday, February 16th, 4-9pm; Saturday, February 17th, 9am-7pm; and Sunday, February 18th, 9am-4pm.
For more info go to autoandcycleshow.com and facebook.com/etautoshow.
Feb. 27th: "Complexions: Bach to Bowie" at Cowan Center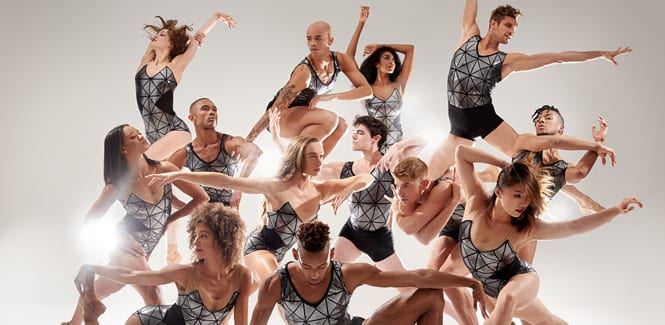 On Stage This Month:
The Cowan Center is located at 3900 University Blvd. on the UT Tyler campus. Tickets are available at the box office, by calling (903)566-7424, or go to cowancenter.org. Upcoming productions are:
February 27th (7:30pm) – "Complexions: Bach to Bowie" will be presented at The Cowan Center. Combining the best of athleticism, lyricism, technical training, and experience, "Complexions" awakens audiences to a new, exciting genre with their singular approach of reinventing dance through a groundbreaking mix of methods, styles, and cultures. The Bowie part of the evening is entitled "Star Dust" and will feature daredevil dancing, a hip soundtrack, glam rock costumes, and innovative stagecraft. Tickets are $37-$62.
March 6th (7:30pm) – "Motown The Musical" will be presented at The Cowan Center. "Motown The Musical" is the true American Dream story of Motown founder Berry Gordy's journey from featherweight boxer to the heavyweight music mogul who launched the careers of Diana Ross, Michael Jackson, Smokey Robinson, and many more. Sales begin February 5th. Tickets are $37-$67.
March 9th (12:30pm and 2:30pm) – "Alice In Wonderland" will be presented at The Cowan Center! This all-new production finds a precocious girl, Alice, falling into a fantastic world of extravagant characters where little makes sense. To find her way, Alice charts a topsy-turvy course where every turn means a new adventure. This is ideal for Grades 2-6. All tickets are $4.
March 24th (7:30pm) – Time for Three will be presented at the Cowan Center. This trio is at home in Carnegie Hall, in famous night clubs, with symphony orchestras, at NFL games, on highly acclaimed albums, or in collaborations with artists from practically every genre of music. They are known for performances of Bach, Vivaldi and Mozart, mash-ups of hits by the Beatles, Justin Timberlake and more, plus a one-of-a-kind Orange Blossom Special.
April 3rd (7:30pm) – Kimberly Guilfoyle will be presented at the Cowan Center. Kimberly Guilfoyle joined FOX News Channel as a legal analyst in 2006, hosting the one-hour crime-based program, "The Lineup." She currently co-hosts Fox's primetime show "The Five." Guilfoyle also appears as a legal and political analyst on "Hannity," and is part of a rotating panel on "Outnumbered." A Dinner and Post-Lecture Reception will be held, sponsored by Austin Bank. Tickets are $17-$37.
April 21st (7:30pm) – "The Wizard of Oz" will be presented at the Cowan Center. There truly is no place like home! The entire family will be captivated as they travel down the Yellow Brick Road and beyond with Dorothy, Toto, and their friends the Cowardly Lion, the Tin Man, and the Scarecrow in this lavish production, featuring breathtaking special effects, dazzling choreography, and classic songs. Tickets are $37-$72.
April 28th (7:30pm) – Beethoven: Symphony No. 9 will be presented at the Cowan Center. The East Texas Symphony will close their season with Beethoven's monumental Symphony No. 9.  The Orchestra will be joined by ETSO Chorus, UT Tyler Concert Chorale, and Patriot Singers, and a quartet of soloists.  The concert also features the ETSO premieres of Handel's Zadok the Priest and Brahms' Nanie.  It's a grand evening of choral music ending the season on a high note.
May 10th (7:30pm) – The Celtic Women will be presented at the Cowan Center. This global phenomenon started on a winter Dublin night in 2004. The idea was conceived to create a musical ensemble featuring a selection of exceptional classically and traditionally trained Irish female musicians. Tickets are $42-$77.
Lucille O'Neal, February 28th

Keynote Speaker at 2018 Transforming Lives
The Inaugural Transforming Lives Luncheon, benefiting East Texas Cornerstone Assistance Network, will feature keynote speaker Lucille O'Neal, who will lead a message of "Walk Like You Have Somewhere To Go: Reclaiming Courage & Direction in Life."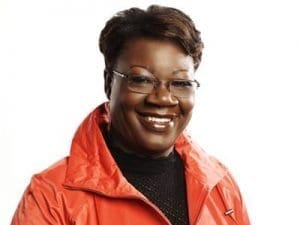 The event starts at 11:30am and will conclude after the luncheon at 1pm. Lucille is the mother of Shaquille O'Neal. She may be the mother of one of the greatest athletes of all time but Lucille O'Neal is much more than just "Shaquille O'Neal's mom." Acquainted early in life with turmoil, O'Neal's circumstances shaped her perspective, strengthening her to overcome the challenges she would later encounter. She has endured poverty, rejection, abuse, addiction, and the illness of a child, yet today her faith and compassion for others is stronger than ever.
Proceeds benefit Cornerstone Assistance Network, which  partners, in Christian love, with churches, businesses, and non-profits to assist people in poverty with life transformation.
Tickets are $35 and can be purchased at classy.org/tyler/events/transforming-lives-luncheon/e147226, or by emailing megan@etcornerstone.org. This will be held at Green Acres Crosswalk Center, 1607 Troup Hwy., Tyler.