Review: "It's A Wonderful Life" on Stage at Tyler Civic Theatre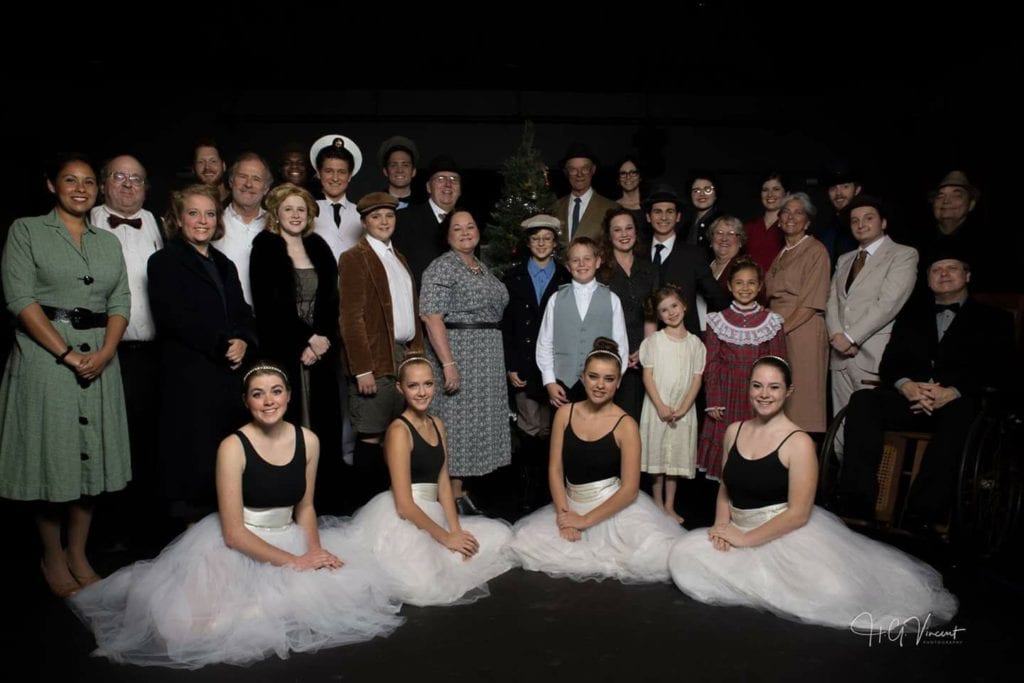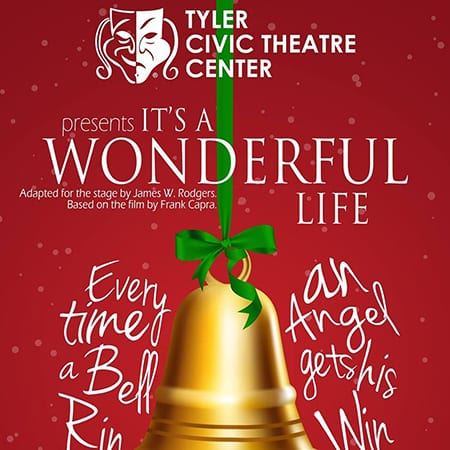 By John Baggett
"It's a Wonderful Life" opened on December 2nd and will run through December 11th at Tyler Civic Theater, located at 400 Rose Park Drive in Tyler.  
It's the holiday season. There is a lot going on around the city to get you in the spirit, from parades to open houses at museums, holiday concerts celebrating Christmas and Chanukah, and, of course, live theatre. Tyler Civic Theatre is continuing their current season and celebrating the holidays with their production of "It's a Wonderful Life."
"It's a Wonderful Life" is the story of George Bailey (Jon Dickson), a man we meet contemplating jumping off a bridge after finding himself in a desperate situation on Christmas Eve. Before he can jump, he is greeted by Clarence Odbody (Richard York), an angel, second class, who is also George's guardian angel. Clarence believes that if he is able to help George, he might finally earn his wings and no longer be "second class." Clarence came to find George after not just hearing his prayer, but the prayers of his friends and family.
In an effort to show George that his life has meaning, he shows him basically a highlight reel of his life. Among his memories are the time he as a young boy (Aiden Pettypool) prevented pharmacist Mr. Gower (Allison Cambre) from accidentally poisoning a young boy with the wrong medication, how he took over his late father's Savings and Loan business and helped his Uncle Billy (Bill Burgdoff) from losing it, and how the love of his life, Mary Hatch (Caitlin Pierson), went from girl he used to know to his wife. He even has recent cause for celebration, because his younger brother Harry (Grayson Lackey) has been declared a war hero, receiving the Medal of Honor from the President himself. Unfortunately, none of that is enough to convince George he has a great life. George is more preoccupied with a missing $8,000 that could sink his business, send him to prison, and wreck the life that he thinks is worth more if he were dead. Clarence grants George's wish that he'd never been born in order to show him once and for all what impact the life of one man can have on the world.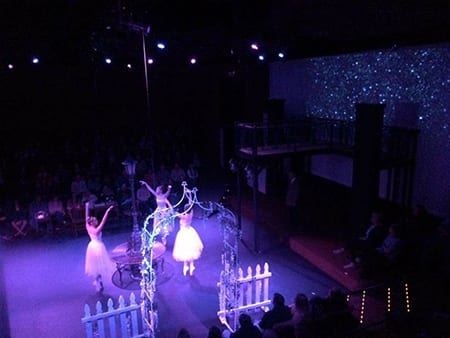 "It's a Wonderful Life" is an adaptation of the 1946 film of the same name from director Frank Capra, which itself was an adaptation of the short story, "The Greatest Gift" by Phillip Van Doren Stern. The stage production was written by James W. Rodgers, also known for penning "A Winnie the Pooh Christmas Tail." The production at TCT is directed by Marlene Dickson, bringing this show to the stage for a third time, and produced by Chris Brantley, who was last seen on stage as Sebastian in this summer's "The Little Mermaid."
"It's a Wonderful Life" is the ultimate feel good story, something Dickson clearly understands, and manages to make a story that has been a part of pop culture for seven decades still have an impact, or as the kids might say, "hit you right in the feels." This is a story that has been told in various forms for years now, and yet this production still manages to make as much as an impact as it would the first time you saw the original film.
Much of this emotional impact absolutely comes from the cast. Dickson, and I mean Jon this time, who just finished playing the titular "The Great Gatsby," very much channeling Jimmy Stewart here, is excellent as George Bailey. He has down Stewart's mannerisms and cadence so much, if anyone ever decides to do a biopic about the actor's life, they seriously need to cast him. He has fantastic chemistry with everyone on stage, particularly York, who has incredible comic timing, and if I could meet my guardian angel in person, I'd want it to be just like him.
As our antagonist, Mr. Potter, Sean Holliday is amazing. Holliday is an actor that has recently come onto my radar after his performance in "Random Access" earlier this year, and he is as loathsome (in a good way) here as he was heartbreaking in that show. Pierson is delightful as Mary, and, I'll be honest, for a few hours after hearing her performance of the song "Buffalo Girls," it was stuck in my head. Not a complaint. I hope to see her in more productions, because she is a very talented young actress that hopefully has a great career ahead of her. The entire cast is wonderful, and I want to name each and every single one of them in this review, but that would make this review go on forever, so, kudos to all of you, because you all did a great job.
I've been reviewing the shows at Tyler Civic Theatre since January 2016, and while I've enjoyed them all, this one is absolutely one of the best shows I've seen this year. I urge you to see this show. It's a truly great show and is a great way to get you in the Christmas spirit.
For more information visit tylercivictheatre.com and to purchase tickets, go to buy.ticketstothecity.com/purchase.php?event_id=4460.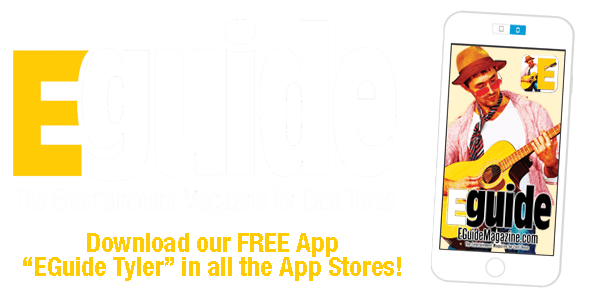 June 22nd-23rd: 10th Annual Tyler Coin Show
For more events and to add your events for free, go to EGuideMagazine.com/calendar.
June 22nd-23rd – 10th Annual Tyler Coin Show
will be held at Harvey Convention Center, 2000 W. Front St., Tyler. Friday, June 22nd the show will be 12 noon-5pm and Saturday, June 23rd 9am-5pm. There will be coins, currency, tokens, gold and silver on over 50 tables. They will do verbal appraisals and there will be door prizes, educational displays, and more. For more info call (903)570-3136 or email
ucce@hotmail.com
.
July 4th (8am-11pm) – Smith County Freedom Ride and Festival 2018 – This free event will feature fireworks, hotdogs, drinks, watermelons, kids, pets, hot-rods and motorcycles, and there is no better way to celebrate the 4th of July on a Wednesday! Come out, celebrate our freedom, and honor all those who serve at this Independence Day festival and ride. Downtown businesses will be open to the public. Public will vote on "Smith County Most Patriotic Ride" and "Smith County Most Patriotic Hotrod" from 12 noon-4pm. The Independence Day Ride will begin at 5pm to the clubhouse to the free firework show at dark. Everyone in the community is welcome to join in on the fun. For more info go to facebook.com/events/129556567877651.
July 29th (12:30-4:30pm) – Bridal Expo with East Texas Bride
focuses exhibitors, bridal fashion presentations, grand prizes, and fabulous fun. This is sponsored by All American Party & Tent Rentals, Complete Weddings & Events East Texas, and Fantasy & Fairytale Floral Designs. There will be grand prize giveaways that include The Landing at Joshua Farms offering a fabulous Saturday Package valued at $4500; Bella Sera Ranch offering a Friday DIY package for 150 guests valued at $2695 (excludes December); Old Omen Guest House "Event Day Free" for 150 guests; Eagle's Bluff $1800 venue package; Venue 31 Events $1,000 in event rentals; Fantasy & Fairytale Floral Designs offering Floral Package valued at $1,000; Complete East Texas Weddings & Events offering DJ, Video, and Photography Packages; Lisa Gallant Photography Package valued at $1,200; Simply Beautiful Flowers & More a $500 Floral Package; Nichole Beth Photography $500 Bridal Session; The Barn at the Silver Spur Cabin overnight stay. Don't miss this wonderful summer bridal event. Register for reduced tickets for $8 online and secure your bride bag and your Symbolize It gift card. Tickets at the door are $10. This will be held at Harvey COnvention Center, 2000 W. Front St., Tyler.
Ongoing Events
Hit the Bricks: 2nd Saturday Downtown Tyler (Second Saturday of each month, 12 noon-10pm) –
Get out and about on and off the square where Downtown businesses will be offering fun events all day long. There is free parking in the Fair parking garage. Rain or shine, Downtown Tyler will be the place to be every second Saturday. For more info and a full list of events go to
visittyler.com/secondsaturday
or find Hit the Bricks on Facebook. Dates are: May 12th, June 9th, July 14th, August 11th, September 8th, October 13th, November 10th, and December 8th.
Canton First Monday Trade Days Market
is held Thursday-Sundays. What started more than a century ago as a flea market has become home to some of the most exciting, cutting-edge home furnishings, antiques, and collectibles that can be found anywhere. For more info call (903)567-6556 or go to
firstmondaycanton.com
. Dates are: May 3rd-6th, May 31st-June 3rd, June 28th-July 1st, August 2nd-5th, August 30th-September 2nd, September 27th-30th, November 1st-4th, November 29th-December 2nd.
Free Yoga Saturday
(9am-12:30pm) – Every 3rd Saturday of the month, beFree offers a free day of yoga. You don't have to sign up ahead of time but you can if you'd like to, and there are no catches – just free yoga with the beFree instructors in their beautiful and healing studio space. Check the schedule to choose any class on that day that you will most enjoy at befreeyogatyler.com. beFree Yoga is located at 212 Old Grande Blvd., Tyler, (903)630-6142,
befreeyogatyler.com
.
Every 4th Thursday, April 26th, May 24th, June 28th (6-10pm) – Geek World Paint Night –
With all the excitement around games requiring models, Geek World has had a few of the communities best painters offer to lead a free painting night the 4th Thursday of every month. Bring your painting projects and get your questions answered plus learn some new tricks and techniques. This is free to attend and all painting supplies will be 10% off during the event and 20% off special orders. Geek World is located at 410 WSW Loop 323, Tyler, (903)363-9751,
geekworldconsignment@gmail.com
. Geek World also offers nightly tournaments, game nights, all day Commander games, Friday night magic, and many pre-release sneak peek events.
Dory's Garden: Inspiration Awaits Beyond the Lavender Gate…Literally!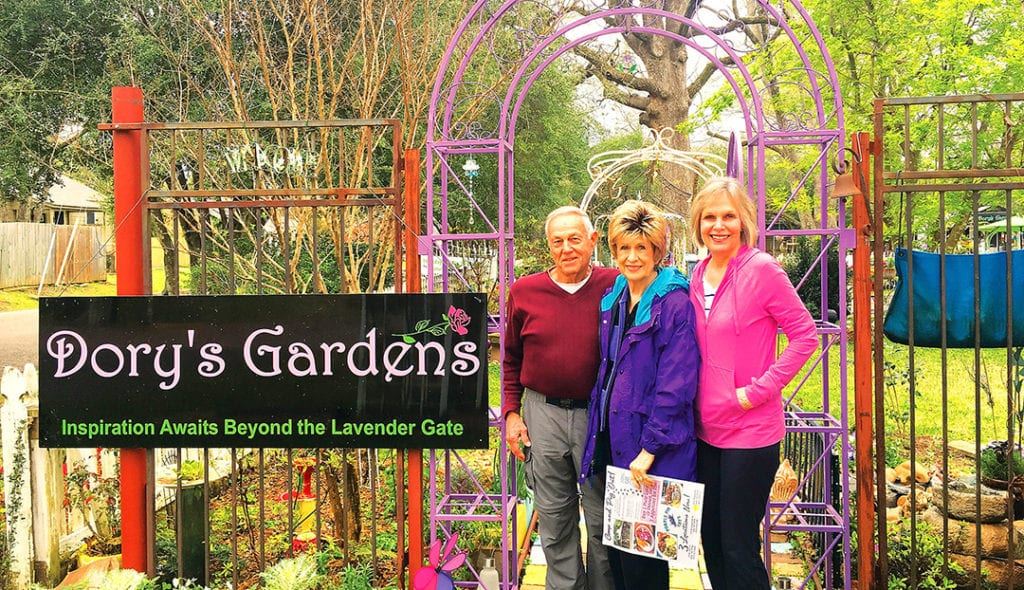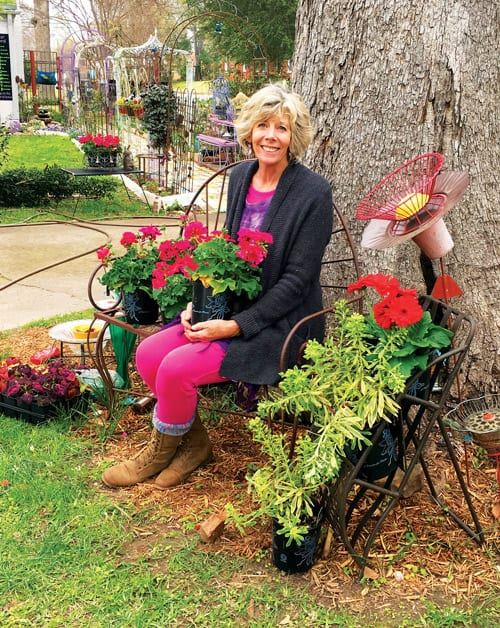 By Barbara King
It's literally a cornucopia for the gardener's imagination, and it's right off the Brick Streets of Tyler.
What was originally a hobby for landscape architect, Dory Hersey, has bloomed into a flourishing "backyard oasis," meant specifically for stop and smell the flowers moments.
Garden artist Dory is celebrating the one year move from the Brick Streets to her current home and garden location and loving every minute of sharing and inspiring others to visit and enjoy the park-like setting. Driving up to the corner of Augusta and Rusk Streets, guests are immediately made welcome by the outside porch entrance to the "Garden Fancy" boutique shop, which is literally in Dory's front parlor. Here you will find everything garden from colorful clothing and Seattle spiced tea to candles to succulents. It's a warm, inviting cozy space where you will want to wander and discover scents and images. Dory has also created her own unique cards and calendars featuring her striking floral photos.
Dory's passion for people and plants as living art is apparent around every corner in the outdoor space. Your entrance to the "secret garden" begins by entering under the lavender gate as Dory's personal mantra becomes apparent: "Inspiration Awaits Beyond the Lavender Gate." Following the gate is a colorful Morse code walkway leading to a ½ acre visual plethora of pots, plants, and garden paraphernalia. Signs throughout the garden tell the story, "Smell the Roses," "Perennial Picks," and "Under the Sea-dum."
It's a peaceful, lush space designed for sitting, walking, and gazing, complete with tables and chairs, where guests are encouraged to "bring their lunch and coffee and stay and enjoy the outdoors," said Dory. The garden is the perfect tactile experience, as Dory says, "I wants my guests to touch and feel the flowers, pots, and plants and imagine how they would look in their own home."
Dory's Gardens was created for the exchange of ideas and inspirations, and Dory is the conduit for your gardening dream to become a reality. Dory's personality looms large in the garden, and visitors are greeted with warmth as the conversation turns into a one-on-one tour of the garden. Dory inspires networking and sharing, so once a month she hosts a "stalk exchange" on the second Saturday of the month, and the garden transforms into a plant swap meet. Refreshments are served while you roam around to find new flowers, and gardeners are encouraged to bring extra starts and bulbs to trade.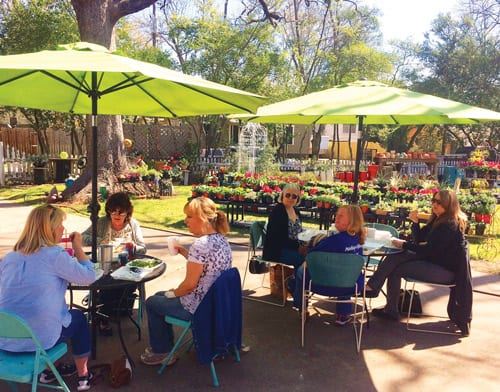 Mother and daughter duo Morgan Chaney and Karen Nelson, who live in the neighborhood, love the "peaceful spirit" of the garden and Dory's knowledge of "what works and what doesn't in a garage apartment space," said Morgan. They have also taken advantage of Dory's unique workshops, held on the fourth Saturday of the month, recently finishing a colorful terrarium, utilizing different varieties of plants that look great in the apartment, according to Karen. The classes change monthly, usually ranging from $15-$20 with all material supplied, and you walk away with a floral treasure for your home. Private classes are also available with a minimum of four guests.
Bring your own container or buy a pot at the garden, and Dory will help pick out the perfect arrangement of plants suited to your lifestyle. The first Friday of every month, Dory picks featured flowers in their prime, so choice is great for new blooms to add to your beds.
The garden is the perfect destination for a family outing too, with hands-on play areas including a maze for kids and the very kid-friendly pond with the opportunity to feed the goldfish in the fountain. The garden has tons of seating areas to relax, but it's not too spread out that you can't keep an eye on the kids.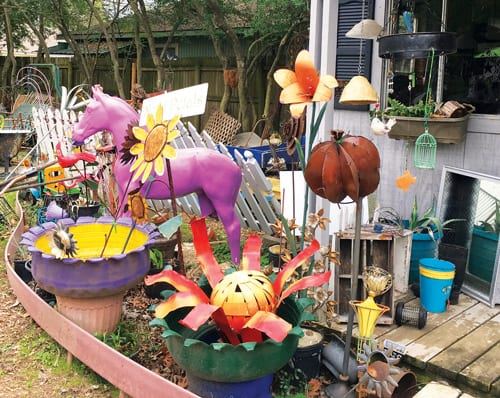 Dory promotes her love of the community by featuring ceramics, jewelry, birdhouses, and other items by local artisans. The garden is chock full of unique plants, herbs, shrubs, garden décor, outdoor furniture, tools, pots, and vibrant color as far as the eye can see.
Troy and Hillary McFarland, who were touring Tyler on a day trip from Dallas, did a Google search on "flowers" and found Dory. They brought their coffee and took a leisurely stroll around the garden, even though Hillary said, "We kill all of our plants and definitely don't have green thumbs." The couple said they were "amazed that this garden existed in an established neighborhood like this; what a great surprise! We were so thrilled that Dory spent the time to visit with us and explain the gardens," said Hillary. The Dallas couple left happy with succulents and church window art for their home.
You can plan a private party in the garden or a dress-up birthday tea party with crumpets for kids with Dory's guidance and creativity for a memory that will never be forgotten.
"Guests who visit become my new friends, and most come back and will sit and read, knit, enjoy a hot drink, or sit under the trees to feed birds and squirrels," Dory said.
Visit Dory's Gardens, and let your imagination soar! Dory's Gardens is located at 600 W. Rusk St. (at Augusta). Dory's Gardens is open Thursday-Saturday, 9am-5pm. For more info call (903)330-4663, dorysgardens.com, or look for Dory's Gardens on Facebook.

2018 Updated Festival Guide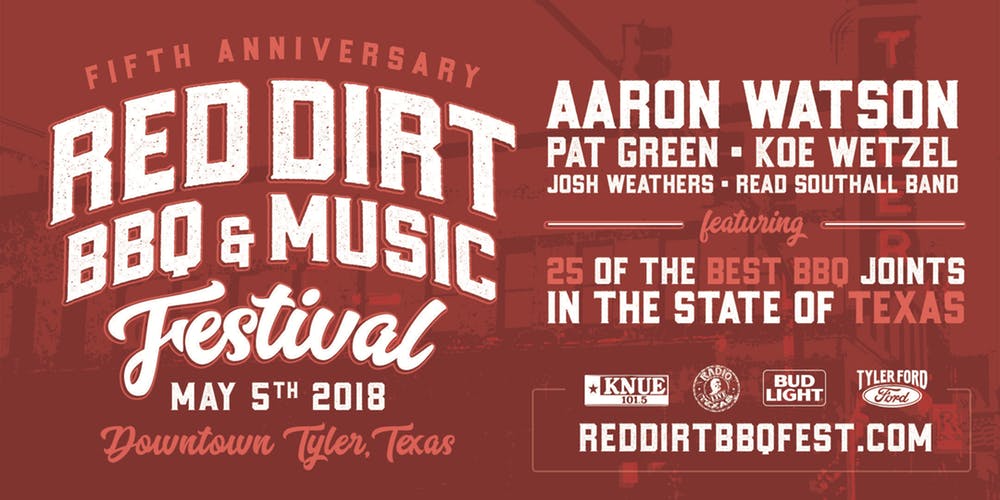 2018 Festival Go-Getters Guide
East Texas is a great place for all kinds of festivals – from family fun to wine festivals, rodeos and food specialties. Plan now for these future festivals.
May 5th – Red Dirt BBQ & Music Festival, Downtown Tyler

May 17th-19th – Tops in Texas Rodeo, Jacksonville

May 11th-12th – Piney Woods Wine Trail Festival, Lindale

May 11th-12th – Porch Fest, Kilgore

May 19th-19th – Tailwind Regional Balloon Fest, Canton

June 6th-9th – Roundup Rodeo, Gladewater

June 6th-9th – Texas Blueberry Festival, Nacogdoches

June 8th-9th – Tomato Fest, Jacksonville

June 9th – Black History Month Music Fest

July 27th-29th – Great Texas Balloon Race, Longview

September TBD – Art of Peace Festival, Tyler

September TBD – Big Texas Fest, Lindale

September 21st-30th – East Texas State Fair, Tyler

October 13th – Lindale 2018 Countryfest & Harvest Hustle 5K, Lindale

October TBD – Dogtoberfest Craft Beer Festival and Animal Adoption Event, Tyler

October 11th – 14th  – Downtown Tyler Film Festival, Downtown Tyler

October 18th-21st – Texas Rose Festival, Tyler

October TBD – Hoptoberfest at True Vine Brewing Company, Tyler

October TBD – East Texas Rose Comic Con, Tyler

October 27th – Fall Feral Hog Festival, Ben Wheeler

November-December – Rose City Christmas, Tyler

November 3rd – Red, White & Blue Festival, Bullard

November TBD – 4th Annual Caring for Kids Benefit Festival, Tyler

November 10th – Heritage Syrup Festival, Henderson

November 15th-17th – Mistletoe & Magic, Tyler

November 15th-17th – Reel East Texas Film Festival, Kilgore

December 8th – Blue Santa Pub Crawl, Downtown Tyler
Coming 2019!!
January 2019 – B2B Expo, Tyler

March 2019  – Texas Coffee Festival

March 2019 – Azalea & Spring Flower Festival, Tyler

March 2019 – ATV Mud Nationals, Jacksonville

March 2019 – Annual Dogwood Trails Celebration, Palestine

March 2019 – 37th Annual Tyler Quilt Show, Tyler

April 2019 – Praise Fest, Downtown Tyler

April 2019- April in Edom, Edom

April 2019- East Texas Gusher Days, Gladewater