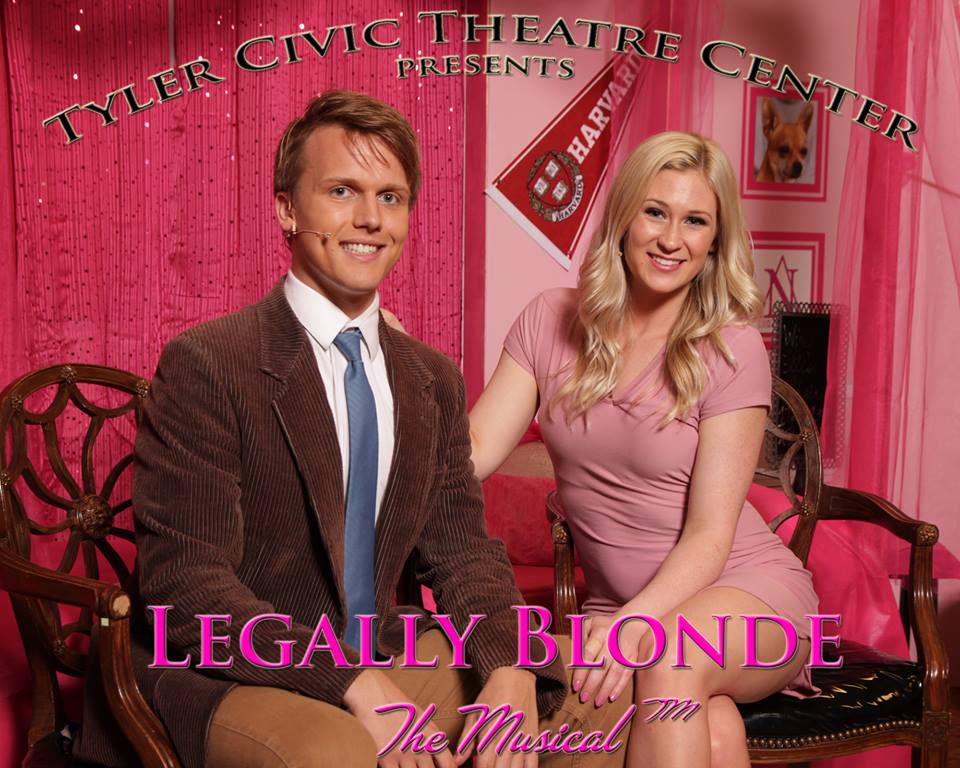 By John Baggett
After a very successful run of special summer shows, including a one week run of "Rock of Ages" at Liberty Hall and a one week run of "Peter Pan Jr.," Tyler Civic Theatre is kicking off its 69th season in style. As always, each season begins with a big summer musical, and this year TCT has gone blonde. "Legally Blonde," that is.
Based on the 2001 film of the same name, which was based on the novel by Amanda Brown, the heroine of our story is Elle Woods (Sarah Smith), current President of the Delta Nu sorority, a fashion major with a 4.0, and bride to be. Or at least she hopes to be. She and her sisters anticipate that her longtime boyfriend, Warner Huntington III (Bryce Neal), is going to propose before heading off to law school. When he breaks up with her instead, stating that he needs someone more "serious," Elle decides she too will get into Harvard Law School. By studying hard instead of partying, she finds herself accepted into the school, but not accepted by her classmates.
Harvard doesn't really matter to Elle, as she is there for love. Warner is naturally shocked that Elle has followed him to Harvard, and even more shocked that she got in. However, the biggest shock comes to Elle when she meets Warner's new girlfriend, Vivienne (Amanda Spangler), who manages to get our love sick heroine kicked out of Professor Callahan's class for not being prepared. After some more humiliation, Elle seeks comfort at the salon. There she meets Paulette (Kim Hodges), another unlucky in love woman stuck in the college town, making her first friend. Her second friend comes in the form of Emmett (Cameron Davis), Callahan's assistant who believes Elle could succeed if she would just apply herself.
Elle begins to take her studies seriously, impressing Callahan. Things gets shaken up and Callahan is hired by successful fitness guru, Brooke Wyndham (Tessa Anderson), as her defense after being arrested for her husband's murder. It is announced that Callahan will pick the four best students to help on the case, assuring them a job at the end of the trial if they win. To everyone's surprise, Elle is picked along with Vivienne, Warner, and activist turned law student Enid (Nicki Dempsey). Elle gains Brooke's trust, as they are both Delta Nu members, and Brooke gives Elle her alibi, but makes her promise not to reveal it to anybody. To the annoyance of her team, Elle makes them search for other ways to prove Brooke's innocence. However, winning the case will be no easy feat, making Elle have to prove she is worthy of being a Harvard Law Student and one of Callahan's associates.
"Legally Blonde" is directed by Kathleen Hemness, her first directorial job with Civic Theatre. With assistance from choreographer Shelby Moy, music director May Wright, and a talented production crew, they bring this show to life. Armed with a cast of TCT veterans and some actors making their debuts on the Civic Theatre stage, this show will no doubt please anyone that sees it. It's, for lack of a more appropriate word, cute, but that's not demeaning. This show is supposed to be cute. It's also really funny, and if you don't have at least one of the songs stuck in your head on the drive home, then you weren't paying attention.
The cast for this show is huge, so I don't quite have the space to name every single person on stage, which annoys me, but it's clear every member of this cast worked hard to nail their roles. Smith, as our lead, shines. She is a delight to watch, making the character her own and not just copying what was done in the movie. Neal is great as Warner, along with a second character that I will not spoil for you,  truly is hilarious.
Davis is fantastic as Emmett, becoming the character I almost ended up rooting for more over Elle. Spangler, a veteran of many TCT shows, is wonderful, truly outshining her movie counterpart as well, going from a character you hate (in a good way) to being one of the most important people on our heroine's journey. Rainwater as the tough and oh so scummy Callahan is great. Watching him, it was obvious he was having a blast playing a creep. Hodges, making her first stage appearance in years, is another standout, stealing every scene she is in, and in her fist Civic Theatre role, Anderson nails it as Wyndham.
Some other scene stealers come from our ensemble cast, including Walker Delk, Chris Fisher, and in the coveted role of the UPS delivery man, Jack Ragland. If none of these three make you laugh, then you need to check your pulse. The rest of the cast (Kelsey McFall, Kennedy Box, Michaela Ellis, Nicole Moore, Rachael Cilliers, Emilie Casper, Ryan Jackson, Cassandra Smith, Amanda Kattengell, Savannah Williams, Anna Cox, DeAnna Hargrove, and Allison Cambre) were all great and I wish I could pay each and every one of them an individual compliment, but this review would go on forever. I do, however, have to give Coby Archa a shout out, for his a brief cameo during "Bend and Snap," and it's great to see him on stage outside of "The Rocky Horror Picture Show."
"Legally Blonde" is a fun, truly hilarious show that makes for a great date night, girls night, or just regular night out at the theater.
"Legally Blonde" opened Thursday, July 20 and runs through Sunday, August 6.  For information, visit www.tylercivictheatre.com/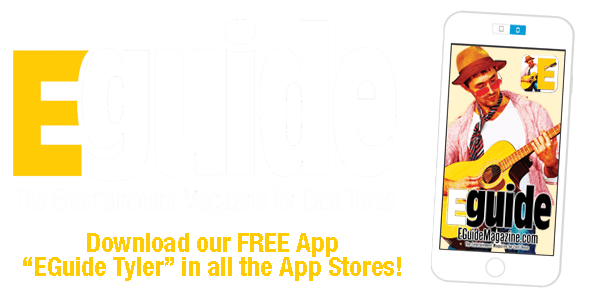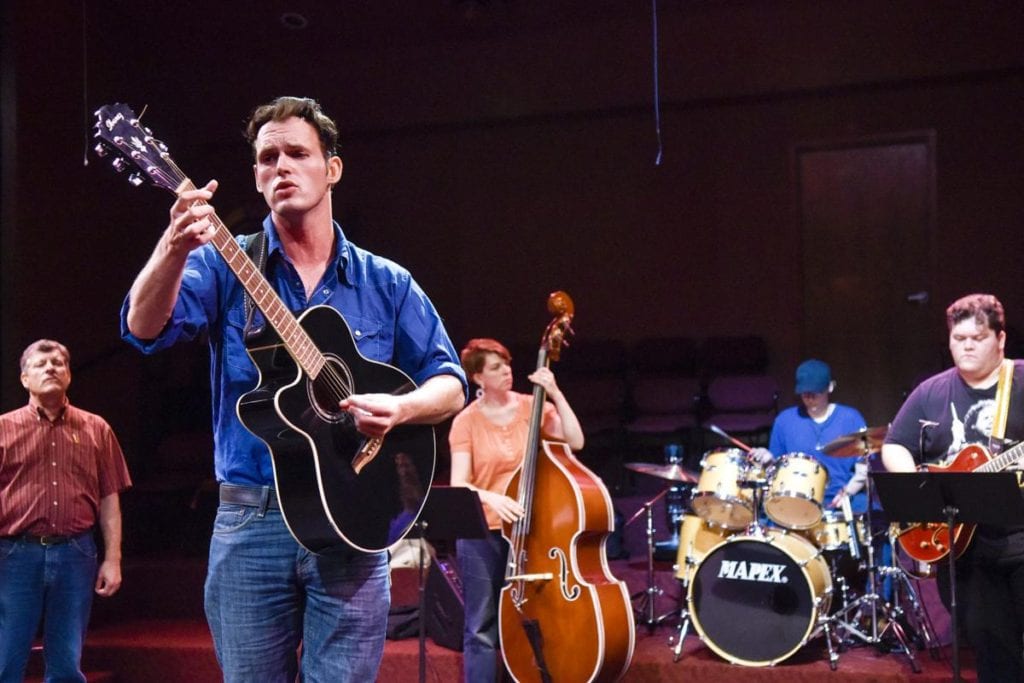 By John Baggett
It's summer! (Well…close enough, that is) So, what better way to spend these (incredibly) warm summer evenings than a show at Tyler Civic Theatre. Summer musical season has begun, with the first of three huge shows, "Ring Of Fire: The Music of Johnny Cash."
"Ring Of Fire" is a jukebox musical that uses the music of Johnny Cash (Ray Carter) to tell his life story. The show portrays some of the highlights of Cash's story from his childhood, to his first meeting with Sun Records founder Sam Phillips (Zach Woods), playing the Grand Ole Opry, meeting and falling in love with June Carter (Libby Davis), his addiction problems, his legendary San Quentin performance, and his faith. The performance also features Brad Echols as Ray Cash, Johnny's father, Regina Money as Carrie, his mom, and Tres Taylor as Young Johnny.
"Ring of Fire" was created by Richard Maltby Jr., best known as a lyricist for "Miss Saigon" and director of "Fosse." The Civic Theatre production was directed by Helen Strotman, hot off her previous directorial effort, "Screwtape," with musical direction by Rafael Espinoza, leader of the band Rafael Espinoza and the Rockabilly Railroad. This duo has assembled a fantastic ensemble of actors and musicians to bring this show to life.
As Johnny, Ray Carter is unbelievably good. He has the voice that is true to Cash without ever being an imitation. He treats the songs with the respect they deserve and if he wasn't already a musician in his own right, I'd be suggesting he become one. Equally impressive is Davis, who has an incredible voice, and every time she is able to add a little of June's spunk to her performance, she nails it.
Echols, who was last seen in "The Lucky O'Leary's" does a phenomenal job. He is always a delight to watch, especially in musicals. As Carrie, Mooney is wonderful. She has Southern charm coming out of her every moment she is on stage. Making a return to TCT, Woods does a great job. I hope he returns for more shows. As Young Johnny, Tres Taylor is adorable and I hope he too continues to perform.
As good as this cast is, the backing musicians are equally fantastic. Espinoza shreds the guitar, along with his wife Emmylou Espinoza on bass, Daniel Armstrong on keyboard, and Grace Ensley on drums. They play their hearts out and bring the energy to this show that keeps the audience and the cast on their toes.
While the show, by design, focuses more on the music and only hits the highlights of Cash's overall story, it's not so much a biography of Cash, but a show about his music with biography thrown in. That's not a negative. Honestly the cast and musicians are so talented, they could drop the story and just take the music on the road.
"Ring of Fire" is a fantastic show filled with great music that will have even the biggest cynic tapping his toes and clapping along. I highly recommend this show. Get your tickets NOW!
"Ring of Fire" opens at Tyler Civic Theatre on Thursday, June 7th and runs through Sunday, June 17th.  Tyler Civic Theatre is located at 400 Rose Park Drive. For more information and to purchase tickets call (903)592-0561 or go to http://tylercivictheatre.com/

Theatre Guide: Opening June 7th, "Ring of Fire" at Tyler Civic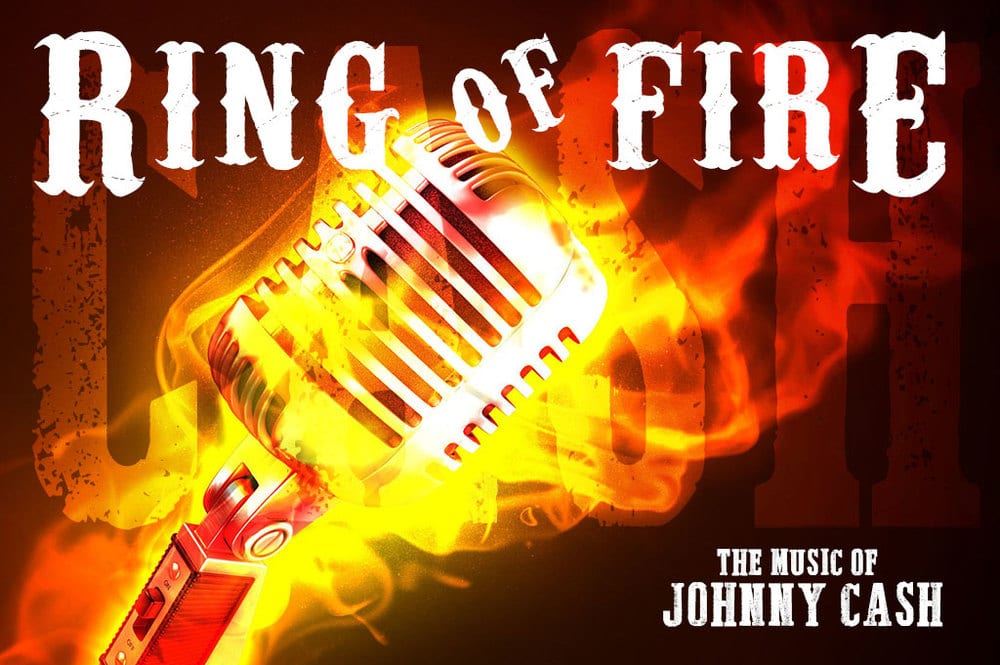 Upcoming Events, Concerts & Plays
June 7th-17th  (Thursday-Saturday at 7:30pm, Sunday at 2:30) – "Ring of Fire" – From the iconic songbook of Johnny Cash comes this unique musical about love and faith, struggle and success, rowdiness and redemption, and home and family. More than two dozen classic hits—including "I Walk The Line," "A Boy Named Sue," "Folsom Prison Blues," and the title tune—performed by a multi-talented cast – paint a musical portrait of The Man in Black that promises to be a foot-stompin', crowd-pleasin' salute to a unique musical legend! Though he is never impersonated, Johnny Cash's remarkable life story is told through his music, climaxing in a concert that will both move and exhilarate! Tyler Civic Theatre is located at 400 Rose Park Dr., Tyler, next to the Tyler Rose Garden Center. For more info call (903)592-0561 or go to

tylercivictheatre.com
.
June 29th-30th, July 1st (Friday-Saturday at 7:30pm, Sunday at 2:30pm) – Disney's Alice in Wonderland Jr. –
Lewis Carroll's famous heroine comes to life in a delightful adaptation of the classic Disney film. Travel down the rabbit hole and join Alice, one of literature's most beloved heroines, in her madcap adventures.  Featuring updated songs from Disney's thrilling animated motion picture, Disney's Alice in Wonderland JR. is a fast-paced take on the classic tale. The ever-curious Alice's journey begins innocently enough as she chases the White Rabbit.  Her adventures become increasingly more strange as she races the Dodo Bird, gets tied up with Tweedle Dee and Tweedle Dum, raps with a bubble-blowing Caterpillar and beats the Queen of Hearts at her own game! Tyler Civic Theatre is located at 400 Rose Park Dr., Tyler, next to the Tyler Rose Garden Center. For more info call (903)592-0561 or go to
tylercivictheatre.com
.
July 4th (4pm) – "Annual Independence Day Concert"
will be presented by Tyler Civic Chorale at First Presbyterian Church, 230 W. Rusk St., Tyler. For more info go to
tylercivicchorale.org
or
facebook.com/tylercivicchorale
. Tickets are available through TCC members and at the door.
July 13th-15th, 20th-22nd (Nightly at 7:30pm, Sunday at 2:30) – "Charlotte's Web" will be on stage at Henderson Civic Theater. All the enchanting characters from the book are here: Wilbur, the irresistible young pig who desperately wants to avoid the butcher; Fern, a girl who understands what animals say to each other; Templeton, the gluttonous rat who can occasionally be talked into a good deed; the Zuckerman family; the Arables; and, most of all, the extraordinary spider, Charlotte, who proves to be "a true friend and a good writer." Henderson Civic Theater is located at 122 E. Main, Henderson. For more info call (903)657-2968 or go to

hendersoncivictheatre.org
.
July 26th-August 12th  (Friday-Saturday at 7:30pm, Sunday at 2:30pm) – "Singing in the Rain – The "Greatest Movie Musical of All Time" is faithfully and lovingly adapted by Broadway legends, Betty Comden and Adolph Green, from their original award-winning screenplay in "Singin' in the Rain." Each unforgettable scene, song and dance is accounted for, including the show-stopping title number, complete with an onstage rainstorm! Hilarious situations, snappy dialogue and a hit-parade score of Hollywood standards make "Singin' in the Rain" the perfect entertainment for any fan of the golden age of movie musicals. "Singin' in the Rain" has all the makings of a Tinseltown tabloid headline – the starlet, the leading man and a love affair that could change lives and make or break careers! In silent movies, Don Lockwood and Lina Lamont are a hot item but, behind the scenes, things aren't always as they appear on the big screen! Meanwhile, Lina's squeaky voice might be the end of her career in "talking pictures" without the help of a talented young actress to do the talking and singing for her. Filled with every memorable moment from the film and a downpour of unforgettable songs, Singin' in the Rain is a guaranteed hit. Tyler Civic Theatre is located at 400 Rose Park Dr., Tyler, next to the Tyler Rose Garden Center. For more info call (903)592-0561 or go to

tylercivictheatre.com
.
September 20th-September 29th (Friday-Saturday at 7:30pm) – "The Odd Couple"
will be on the stage at Henderson County Performance Center.  
This Tony Award winning play never grows old.  Oscar and Felix become the ultimate roommates when their wives leave them.  Felix's fastidious, depressed, tense, clean freakiness drives Oscar nuts as he is the exact opposite.  Don't miss this hilarious show!
Henderson County Performance Center is located at 400 Gibson Rd, Athens, TX.  For more info call (903)675-3908 or go to hcpac.org.
November 29th-December 8th (Thursday-Saturday at 7:30pm, Sunday at 2:00pm) – "A Christmas Carol" will be on stage at Henderson County Performance Center – Charles Dickins' timeless story never fails to enthrall audiences.  When old Ebenezer Scrooge, a miserly old man, receives a Christmas Eve visit from the ghosts of Christmas Past, Present and Future, he becomes a changed man, joins the festivities, and treats everyone better.  Henderson County Performance Center is located at 400 Gibson Rd, Athens, TX. For more info call (903)675-3908 or go to hcpac.org.
Review: "The Odd Couple (female version)"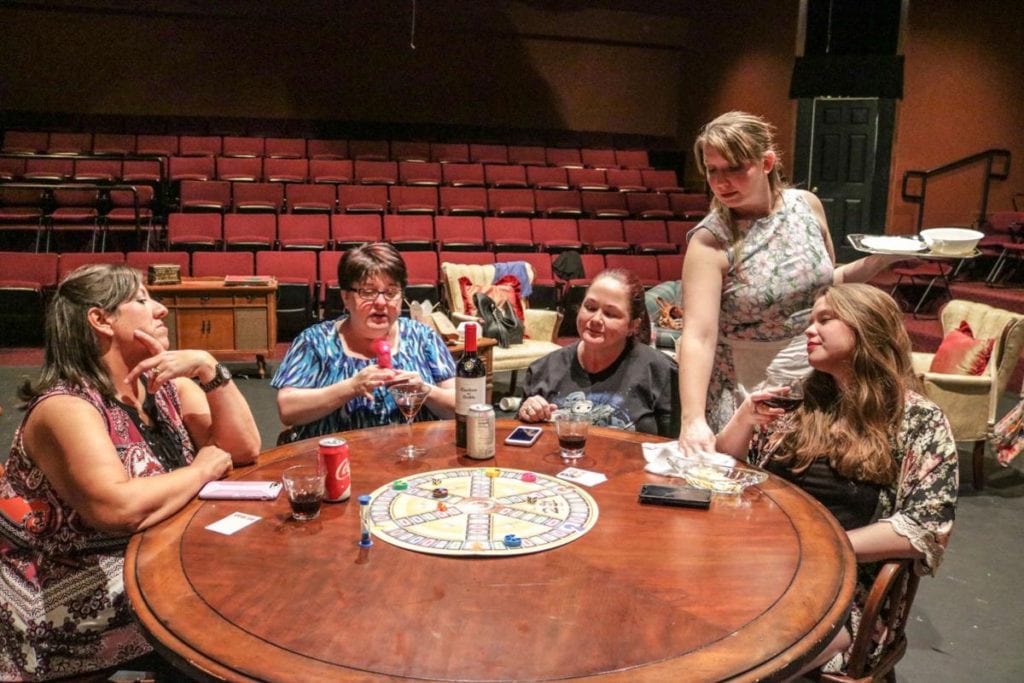 By John Baggett
The men had their turn. Now, it's time for the ladies to shine, as Tyler Civic Theatre brings a close to their "The Odd Couple Times Two" extravaganza with the highly anticipated female version of "The Odd Couple." In 1985, playwright Neil Simon took his original play and revised it by reversing the genders of all the characters. (Fun fact: Tony Shaloub of "Monk" and "Wings" fame made his Broadway debut in the original run of the play.)
In this version, slobby Oscar is now Olive (Jennifer Lane) and neurotic neat freak Felix is now Florence (Jes Byboth). The story opens with Olive, a recently divorced woman still hung up on and sending money to her ex-husband. Despite this, she is holding her weekly Trivial Pursuit game (a change from poker in the other version). Her regular fellow players are Mickey (Sandy Junek), Sylvie (Nadine Booth), Vera (Traci Smith), and Renee (Melanie Brumit). Missing from the game is Florence, which makes the rest of the players wonder where she might be. They become even more concerned when her husband calls to say they are getting a divorce.
Florence finally arrives, only to have a breakdown over her collapsing marriage. Olive asks Florence to move in with her, hoping that she can assist her friend with moving on with her life. Instead, she slowly becomes a cooking, cleaning, crying nightmare who slowly begins to drive Olive crazy. Florence is still wound up tight and pining for her ex. Finally, Olive breaks down and tells her that they need to break their routine and go on a date. Olive's idea is to set her and her roommate up with their Spanish neighbors, Manolo (Nyc Moy) and Jesus (Jack Ragland). However, date night does not go as planned, leading Olive to her ultimate breaking point.
The female production for TCT is directed by Judy Griffin-Deal, a veteran of shows on and off stage. Her previous directorial effort was "Red, White, & Tuna," part of the beloved "Tuna" series. Deal has assembled a cast of six daring women who were fearless in their approach to the material given to them, along with two male cast members just as equally unafraid to go big in their performances.
As our leads, Lane and Bysboth, both making their debuts on the TCT stage, are wonderful. The changes to the Oscar and Felix types serve bo th well, and they are both clearly talented. Lane has the tendency to go big at times, with the comic timing and swagger of a stand up comic who knows the joke she just dropped killed. Bysboth's Florence is more on the quiet and timid side, but the contrast serves the character well, and she is the perfect counterpart to Lane.
As the Odd Couple's friends, TCT veterans Junek, Smith, Booth, and, in her acting debut, Brumit, are great. The chemistry they share is quite simply natural, and at times feels more like we are watching a real life group of friends instead of actresses performing roles. This leads me to Moy and Ragland as the lovely Spanish gentlemen who Olive is desperately trying to woo. To be honest, these two very nearly steal the show every time they are on stage. I almost want a spin off show just about them.
Like the male version last week, "The Odd Couple (Female Version)" is at times a very different experience than its male counterpart, but also very familiar. It's even edgier than the previous version in terms of its humor. If you missed last week's performance, or if you didn't, you'd be doing yourself a disservice to miss this version. I know I referred to it as a "Battle of the Sexes" in my last review, but there's no battle here. No one version was better than the other. Over the course of two plays, I have seen 13 actors (Ragland was in both versions) deliver two unique, incredibly funny shows that are well worth your time. Go see this version. You only have a handful of performances left. Don't miss out.
"The Odd Couple (Female Version)" opened on Thursday, May 10th and runs through Sunday, May 13th at Tyler Civic Theatre located at 400 Rose Park Drive.  For more information and to purchase tickets call 903-592-0651 or go to http://tylercivictheatre.com/production/2017-2018/the-odd-couple