Review: "Little Shop of Horrors" at Tyler Civic Theatre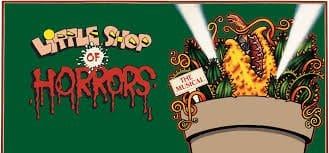 It's spooky season and Tyler Civic Theatre is ready to deliver you a night of thrills, suspense, romance, and one giant, man-eating plant. Welcome to the Little Shop of Horrors.
Based on the 1960 film from Roger Corman, and later adapted into the 1986 movie musical, this is the tale of a boy, a girl, and a giant man-eating plant. Set in the 1960s, the story follows the employees of Mushnik's Skid Row Flower Shop on…well…Skid Row. Here we have grumpy owner Mushnik (Regi Fowler), sweet but troubled Audrey (Holly Tarkon), and geeky Seymour (Stephen Rainwater), an orphan that Mushnik informally adopted and put to work in his flower shop. Unfortunately for all of them, the business of late has been terrible.
In an effort to drum up business, Audrey suggests that they try selling one of the unusual plants Seymour has been tooling around within Mushnik's basement. The plant he chooses was one Seymour picked up immediately following a solar eclipse. They stick it in the shop window and it begins to attract not only customers but the media. When asked what he calls the plant, he names it Audrey II.
While the shop is having success, it hasn't made the personal lives of Audrey and Seymour any easier. Audrey is trapped in an abusive relationship with Orin (Matt Magill), a sadistic dentist hooked on laughing gas. As long as Audrey is stuck with Orin, it means that Seymour can't be with her, despite his very clear affection for her. Even though everyone from Mushnik to people on the street to even Audrey herself think she should be with Seymour.
Also added to Seymour's woes is the fact that Audrey II is sick. None of his efforts to feed the plant fail until one night when he pricks his finger on a rose bush and it cries out for his blood. The blood nourishes Audrey II but as it grows in size, so does its appetite. Audrey II, who can speak, tells Seymour that if he feeds it, it can help make his wishes come true. Seymour, however, must decide if his dreams are worth the life of an innocent…or a not so innocent.
"Little Shop of Horrors" was written by Alan Menken and Howard Ashman, who also collaborated on the Disney films "The Little Mermaid" and "Beauty and the Beast." The TCT production was directed by Megan Magill, making her TCT directorial debut. Magill assembled a wonderful collection of actors, musicians, and tech crew to bring this production to life. I hope she continues to be as prolific at the Civic Theatre as she and her husband, Matt, are in the East Texas music scene.
I have been a huge fan of the shows a TCT since I started reviewing them over a year ago. It's been an absolute joy seeing all of the amazing talents we have in the East Texas area. I don't like to play favorites but of all the productions I've seen there, this one is easily one of my favorites.
Let's talk about the cast. I have to give the first shout out and praise to Sherry Berry, Brittany Crowe, and Cedtrese Williams, the trio that plays the street urchins, the Greek chorus that is the heart and soul, emphasis on soul, of this show. They provide three powerhouse voices that, quite honestly, gave me goosebumps in their opening number.
I also want to give praise to Justin Forward, Kendall Phillips, and Sarah Smith who may be credited as "dancers," but they do far more than that, providing back up to the urchins and as part of the ensemble. This trio was part of "Rock of Ages" (Forward and Phillips) and "Legally Blonde" (Smith) this summer, and are as great here as they were in their previous shows. Speaking of ensemble, Cameron Davis, Alexis Leyva, Helaina Wilkerson, Trisha Wise, and Alan Zamaron all bring their A game and hold as much attention as the lead characters.
This cast also has some wonderful scene-stealing performances. Matt Magill is insanely good as Orin, the dentist. The energy he brings to the role creates a character that is a third Jack Nicholson, a third Steve Martin (from the 1986 movie), and a third Elvis Presley. I already was well aware of Magill's skills as a singer but he is has a manic comic energy that makes me want him to do more theatrical performances. Same with Regi Fowler, who is absolutely wonderful as Mushnik. He is incredibly funny and has an almost operatic voice at times.
Audrey II is a great villain and this man-eating plant is brought to life by David Barthiaume, who provides the motion, and Michael Barnhart, who provides the voice. This pair does an amazing job both on and off stage, one that makes the character transcend beyond mere puppet.
Which brings me to Tarkon and Rainwater, the leads of this show. Tarkon, making her TCT debut as Audrey, is truly great. Her performance is Audrey is as funny as it is heartbreaking at times. I hope to see her in more shows because she has immense talent. And as Seymour, Rainwater steps into the role he was absolutely born to play, providing, at least from my perspective, a career-best performance.
I also have to give Randall Powell, Giant Boykin, Corey McCurry, and Dan Spivey a special thumbs up for providing the music to the show. Everyone who worked on this show, on and off stage, truly put their blood, sweat, and tears into making this one killer show.
"Little Shop" is a gem of a show, one that has stood the test of time, be it the film or the stage version. It's great that Tyler Civic Theatre made this show part of their season. In fact, this could very well be the best production of the current season. If ever there was a show to kick off Halloween weekend, this is it.
"Little Shop of Horrors" opens on Friday, October 27 and runs through Sunday, November 5. Tickets are available at the www.tylercivictheatre.com or call the box office at 903-592-0561.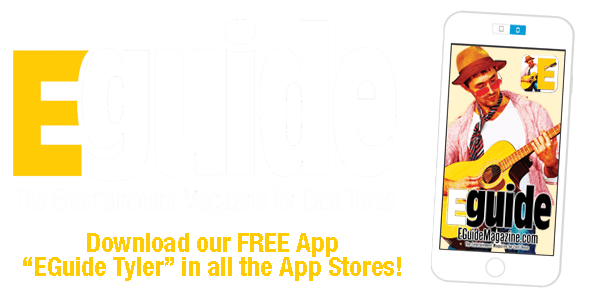 Review: "The Odd Couple (female version)"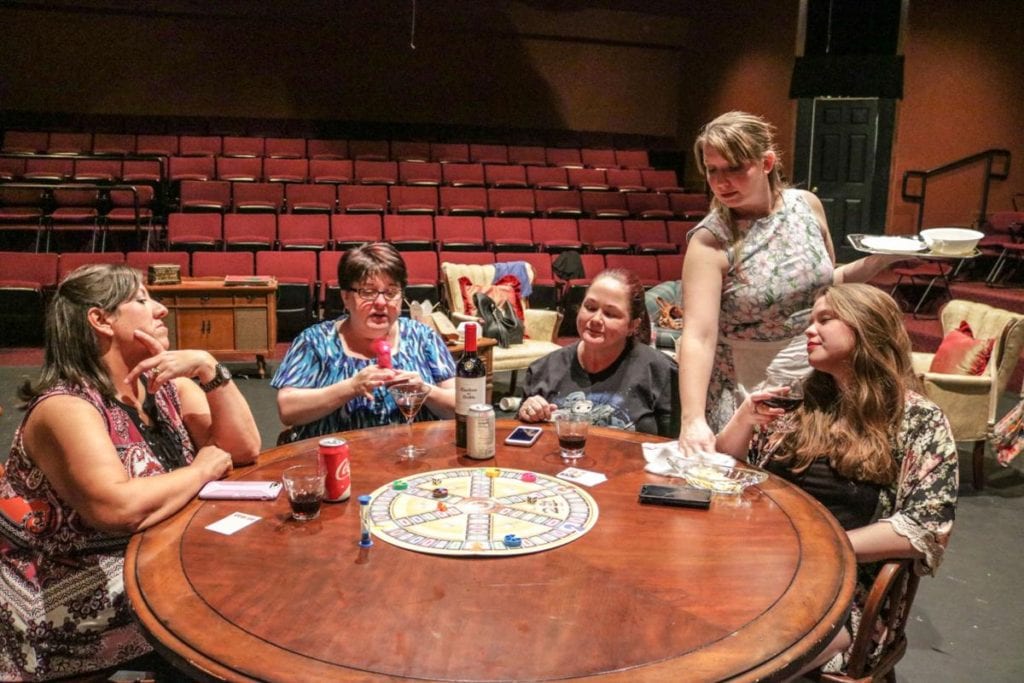 By John Baggett
The men had their turn. Now, it's time for the ladies to shine, as Tyler Civic Theatre brings a close to their "The Odd Couple Times Two" extravaganza with the highly anticipated female version of "The Odd Couple." In 1985, playwright Neil Simon took his original play and revised it by reversing the genders of all the characters. (Fun fact: Tony Shaloub of "Monk" and "Wings" fame made his Broadway debut in the original run of the play.)
In this version, slobby Oscar is now Olive (Jennifer Lane) and neurotic neat freak Felix is now Florence (Jes Byboth). The story opens with Olive, a recently divorced woman still hung up on and sending money to her ex-husband. Despite this, she is holding her weekly Trivial Pursuit game (a change from poker in the other version). Her regular fellow players are Mickey (Sandy Junek), Sylvie (Nadine Booth), Vera (Traci Smith), and Renee (Melanie Brumit). Missing from the game is Florence, which makes the rest of the players wonder where she might be. They become even more concerned when her husband calls to say they are getting a divorce.
Florence finally arrives, only to have a breakdown over her collapsing marriage. Olive asks Florence to move in with her, hoping that she can assist her friend with moving on with her life. Instead, she slowly becomes a cooking, cleaning, crying nightmare who slowly begins to drive Olive crazy. Florence is still wound up tight and pining for her ex. Finally, Olive breaks down and tells her that they need to break their routine and go on a date. Olive's idea is to set her and her roommate up with their Spanish neighbors, Manolo (Nyc Moy) and Jesus (Jack Ragland). However, date night does not go as planned, leading Olive to her ultimate breaking point.
The female production for TCT is directed by Judy Griffin-Deal, a veteran of shows on and off stage. Her previous directorial effort was "Red, White, & Tuna," part of the beloved "Tuna" series. Deal has assembled a cast of six daring women who were fearless in their approach to the material given to them, along with two male cast members just as equally unafraid to go big in their performances.
As our leads, Lane and Bysboth, both making their debuts on the TCT stage, are wonderful. The changes to the Oscar and Felix types serve bo th well, and they are both clearly talented. Lane has the tendency to go big at times, with the comic timing and swagger of a stand up comic who knows the joke she just dropped killed. Bysboth's Florence is more on the quiet and timid side, but the contrast serves the character well, and she is the perfect counterpart to Lane.
As the Odd Couple's friends, TCT veterans Junek, Smith, Booth, and, in her acting debut, Brumit, are great. The chemistry they share is quite simply natural, and at times feels more like we are watching a real life group of friends instead of actresses performing roles. This leads me to Moy and Ragland as the lovely Spanish gentlemen who Olive is desperately trying to woo. To be honest, these two very nearly steal the show every time they are on stage. I almost want a spin off show just about them.
Like the male version last week, "The Odd Couple (Female Version)" is at times a very different experience than its male counterpart, but also very familiar. It's even edgier than the previous version in terms of its humor. If you missed last week's performance, or if you didn't, you'd be doing yourself a disservice to miss this version. I know I referred to it as a "Battle of the Sexes" in my last review, but there's no battle here. No one version was better than the other. Over the course of two plays, I have seen 13 actors (Ragland was in both versions) deliver two unique, incredibly funny shows that are well worth your time. Go see this version. You only have a handful of performances left. Don't miss out.
"The Odd Couple (Female Version)" opened on Thursday, May 10th and runs through Sunday, May 13th at Tyler Civic Theatre located at 400 Rose Park Drive.  For more information and to purchase tickets call 903-592-0651 or go to http://tylercivictheatre.com/production/2017-2018/the-odd-couple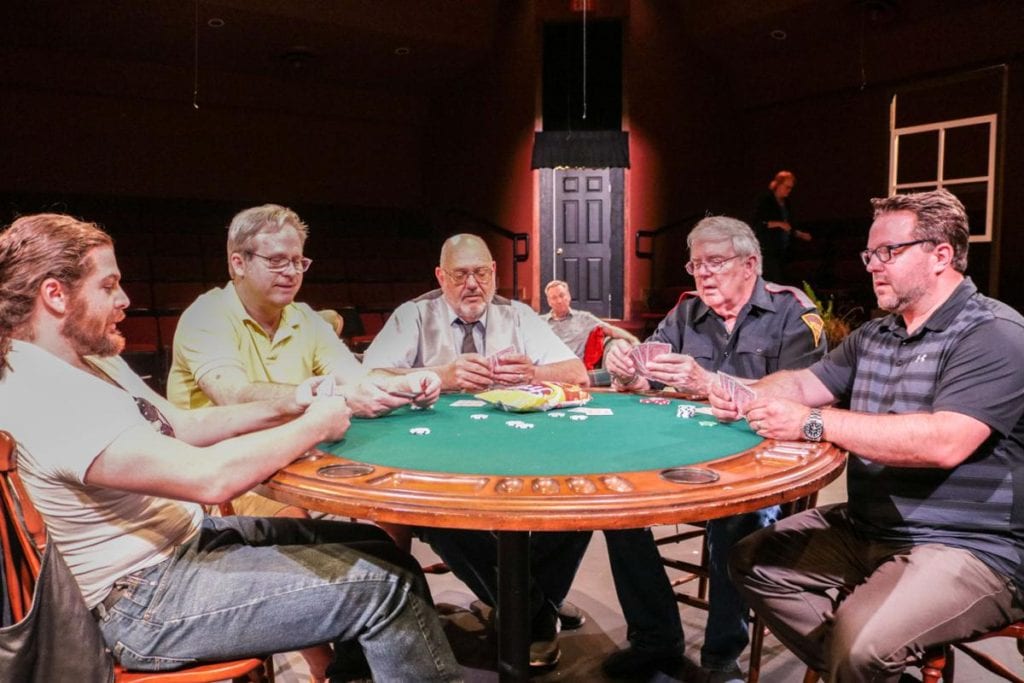 By John Baggett
For over 50 years, audiences have been entertained by the story of loveable slob Oscar and neurotic neat freak Felix, be it on stage, on the big screen, or on television. As the 69th season for Tyler Civic Theatre draws to a close, they are not just bringing these characters back to the stage, they're doing it twice. It's a battle of the sexes as TCT presents the male and female versions of Neil Simon's classic, "The Odd Couple."
The story centers around Oscar (Sean Holliday) and Felix (Regi Fowler). Oscar is a recently divorced, somewhat slobby sportswriter who lives alone in his New York apartment. There he holds frequent poker games with his friends Murray the Cop (Dan Trent), gruff Speedy (Jack Ragland), accountant Roy (Jim Tindall), and time conscientious Vinny (Ryan Anderson). Missing from the group is Oscar's oldest, dearest friend, the neurotic, neat freak, and hypochondriac, Felix.
During the game, Felix's wife calls to tell them that he is missing, the group worries but Oscar tries to focus on the game. But when Oscar lets it slip that she has thrown Felix out and that he sent a "suicide telegram," they panic until finally Felix shows up at the game and breaks down.
Oscar extends to Felix a spare bedroom and an offer to move in. Felix accepts and takes to cooking and cleaning every day. Slowly, the gestures begin to drive Oscar and everyone else, crazy. Oscar hopes he can get Felix to snap out of it and become a changed man. Even going so far as to talking him into a double date with fellow tenants, the Pigeon sisters, Cecile (Brenda Korichh and Gwendolyn (Tricia Thorn-Leeson). But when hints don't go to Oscar's planning, he begins to see why Felix might be getting a divorce.
"The Odd Couple" was written by Neil Simon, one of the best known comedic playwrights of the 20th Century. His works have been performed all over the world and adapted for the big screen and the small screen. This show may be his most widely known. The Male Version for Tyler Civic Theatre is directed by Ray Dark, a TCT veteran making his directorial debut. Dark assembled a wonderful cast that really does justice to this classic material.
As our leads, Fowler and Holliday are absolutely hysterical. Both of these men make these time honored characters and make them their own, while bringing out what has always made them loveable since Neil Simon committed their names to paper. Both give performances that will leave your face sore and warm from laughter.
The rest of the cast is just as wonderful. Trent, Ragland, Anderson, and Tindall are equally fantastic, each getting laughs on their own and coming off as a real group of guys that would get together to play cards. As the only two women in the cast, Thorn-Leeson and Korch are great and hold their own with our Oscar and Felix. If their scenes together don't leave you in stitches, you might need to check you pulse.
"The Odd Couple (Male Version)" is a delightfully hysterical play that definitely sets the bar high for the female version next week. While I do encourage you to attend both versions of this show, I will definitely say if you only see this version you're going to have a good time. With only a short run for the male version, you shouldn't wait. I think the men did a fantastic job, and I am just as excited to see what the ladies do when their version opens up next week.
"The Odd Couple (Male Version" opens Friday, May 4 and runs through Sunday, May 6. "The Odd Couple (Female Version)" will open on Thursday, May 10 and run through Sunday, May 13 at Tyler Civic Theatre located at 400 Rose Park Drive. For more information and to purchase tickets, call (903) 592-0561 or go to http://tylercivictheatre.com/production/2017-2018/the-odd-couple

Theatre Guide: "The Odd Couple" Performing Mother's Day!


Upcoming Events, Concerts & Plays
May 4th-6th, 10th-13th (Thursday-Saturday at 7:30pm, Sunday at 2:30 for a Mother's Day Brunch) – "The Odd Couple" – This classic comedy opens as a group of the guys assemble for cards in the apartment of divorced Oscar Madison. And if the mess is any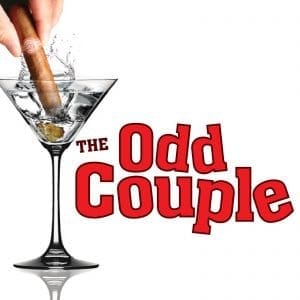 indication, it's no wonder that his wife left him. Late to arrive is Felix Unger, who has just been separated from his wife. Fastidious, depressed, and none too tense, Felix seems suicidal, but as the action unfolds, Oscar becomes the one with murder on his mind when the clean freak and the slob ultimately decide to room together with hilarious results as "The Odd Couple" is born. The May 13th, Mother's Day show offers an optional brunch. Tyler Civic Theatre is located at 400 Rose Park Dr., Tyler, next to the Tyler Rose Garden Center. For more info call (903)592-0561 or go to tylercivictheatre.com.
Double Your Fun with the 2-Weekend Odd Couple Package for only $30! See the MALE version on the first weekend and the FEMALE version on the second weekend. Two different casts. Two different directors. Different scripts.  Same set.
May 4th-6th, 11th-13th (Nightly at 7:30pm, Sunday at 2:30) – "The Miracle Worker"
will be on stage at Henderson Civic Theater. "The Miracle Worker" is a three-act play by William Gibson adapted from his 1957 Playhouse 90 teleplay of the same name. It is based on Helen Keller's autobiography, "The Story of My Life." Henderson Civic Theater is located at 122 E. Main, Henderson. For more info call (903)657-2968 or go to
hendersoncivictheatre.org
.
May 19th (6pm) – "50th Anniversary Gala"
will be presented by Tyler Civic Chorale. For more info go to tylercivicchorale.org or facebook.com/tylercivicchorale. Tickets are available through TCC members and at the door.
June 7th-17th  (Thursday-Saturday at 7:30pm, Sunday at 2:30) – "Ring of Fire" – From the iconic songbook of Johnny Cash comes this unique musical about love and faith, struggle and success, rowdiness and redemption, and home and family. More than two dozen classic hits—including "I Walk The Line," "A Boy Named Sue," "Folsom Prison Blues," and the title tune—performed by a multi-talented cast – paint a musical portrait of The Man in Black that promises to be a foot-stompin', crowd-pleasin' salute to a unique musical legend! Though he is never impersonated, Johnny Cash's remarkable life story is told through his music, climaxing in a concert that will both move and exhilarate! Tyler Civic Theatre is located at 400 Rose Park Dr., Tyler, next to the Tyler Rose Garden Center. For more info call (903)592-0561 or go to

tylercivictheatre.com
.
June 29th-30th, July 1st (Friday-Saturday at 7:30pm, Sunday at 2:30pm) – Disney's Alice in Wonderland Jr. –
Lewis Carroll's famous heroine comes to life in a delightful adaptation of the classic Disney film. Travel down the rabbit hole and join Alice, one of literature's most beloved heroines, in her madcap adventures.  Featuring updated songs from Disney's thrilling animated motion picture, Disney's Alice in Wonderland JR. is a fast-paced take on the classic tale. The ever-curious Alice's journey begins innocently enough as she chases the White Rabbit.  Her adventures become increasingly more strange as she races the Dodo Bird, gets tied up with Tweedle Dee and Tweedle Dum, raps with a bubble-blowing Caterpillar and beats the Queen of Hearts at her own game! Tyler Civic Theatre is located at 400 Rose Park Dr., Tyler, next to the Tyler Rose Garden Center. For more info call (903)592-0561 or go to
tylercivictheatre.com
.
July 4th (4pm) – "Annual Independence Day Concert"
will be presented by Tyler Civic Chorale at First Presbyterian Church, 230 W. Rusk St., Tyler. For more info go to
tylercivicchorale.org
or
facebook.com/tylercivicchorale
. Tickets are available through TCC members and at the door.
July 13th-15th, 20th-22nd (Nightly at 7:30pm, Sunday at 2:30) – "Charlotte's Web" will be on stage at Henderson Civic Theater. All the enchanting characters from the book are here: Wilbur, the irresistible young pig who desperately wants to avoid the butcher; Fern, a girl who understands what animals say to each other; Templeton, the gluttonous rat who can occasionally be talked into a good deed; the Zuckerman family; the Arables; and, most of all, the extraordinary spider, Charlotte, who proves to be "a true friend and a good writer." Henderson Civic Theater is located at 122 E. Main, Henderson. For more info call (903)657-2968 or go to

hendersoncivictheatre.org
.
July 26th-August 12th  (Friday-Saturday at 7:30pm, Sunday at 2:30pm) – "Singing in the Rain – The "Greatest Movie Musical of All Time" is faithfully and lovingly adapted by Broadway legends, Betty Comden and Adolph Green, from their original award-winning screenplay in "Singin' in the Rain." Each unforgettable scene, song and dance is accounted for, including the show-stopping title number, complete with an onstage rainstorm! Hilarious situations, snappy dialogue and a hit-parade score of Hollywood standards make "Singin' in the Rain" the perfect entertainment for any fan of the golden age of movie musicals. "Singin' in the Rain" has all the makings of a Tinseltown tabloid headline – the starlet, the leading man and a love affair that could change lives and make or break careers! In silent movies, Don Lockwood and Lina Lamont are a hot item but, behind the scenes, things aren't always as they appear on the big screen! Meanwhile, Lina's squeaky voice might be the end of her career in "talking pictures" without the help of a talented young actress to do the talking and singing for her. Filled with every memorable moment from the film and a downpour of unforgettable songs, Singin' in the Rain is a guaranteed hit. Tyler Civic Theatre is located at 400 Rose Park Dr., Tyler, next to the Tyler Rose Garden Center. For more info call (903)592-0561 or go to

tylercivictheatre.com
.