Review: "The Second Time Around" at Tyler Civic Theatre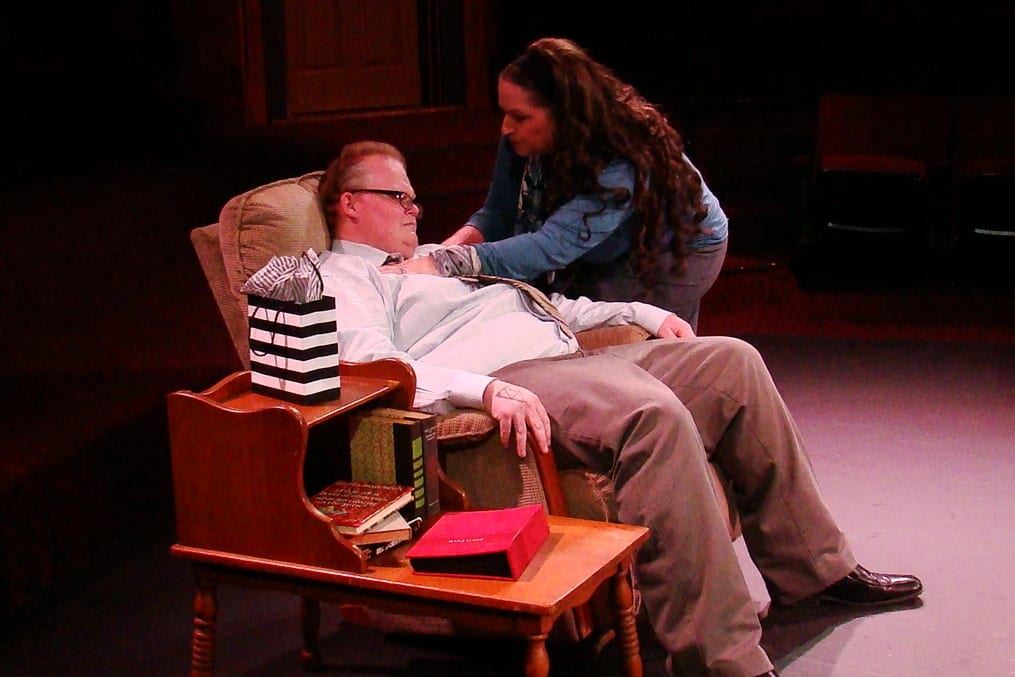 By John Baggett
Tyler Civic Theatre is ending its 68th season, which in my opinion has been really great, and they're capping it off in style with their latest comedy, "The Second Time Around."
Set in the 1970's, the play follows Samuel (Ray Deal) and Laura (Judy Griffin-Deal), a widow and widower that have begun a relationship after meeting in the doctor's office. The pair have decided to tell their adult children, his neurotic daughter, Cynthia (Monica Kelley), and her son, Mike (Stan), whose stomach becomes upset when his stress level arises. Cynthia and Mike meet first before their parents can tell them the big news, but they jump to conclusions pretty quickly. Cynthia is against the relationship since it has only been ten months since her mother passed away, but Mike is generally supportive. Well, that is, until they announce that they have decided to "shack up."
Mike and Cynthia immediately become worried about what people will think about their parents deciding to live together, but not as man and wife. Part of this decision stems from laws and stipulations saying if they get married they'd lose inheritance and social security money. Cynthia decides to get her (not very good) analyst husband (and her own former analyst) Arthur (Nick Buntin) to try to break the relationship up. Mike tries to get his lawyer involved by looking into legal reasons why they'd have to get married instead of just moving in together.
Samuel and Laura seem unfazed by all of the protest, they just want to be happy. However, their children have their own unhappy marriages as Arthur seemed to have only married Cynthia after he couldn't "fix" her. Mike is trapped by his wife, Eleanor (Traci Smith), who makes him read marital aid books and refuses to serve any food to him and their kids that might have caused cancer in a lab rat. Despite all of the drama, Samuel and Laura still intend to spend the rest of their lives together, no matter what their kids say.
"The Second Time Around" is directed by Sheila O'Heaney, who previously directed productions of "Arsenic and Old Lace" and "Moon Over Buffalo." The play was written by Henry Denker, a former lawyer who left the legal profession after The Great Depression. He went on to be a writer, working on radio dramas, early television, novels, plays, and film scripts. He helped write the "first television series ever produced" for NBC, titled "False Witness."
The cast of production consists of many TCT veterans, including Deal and Griffin-Deal, both of whom have graced the stage in many shows, but this one is their first as man and wife, in real life. The two actually got hitched during production! The pair has great chemistry, and the youthful defiance of their characters is hilarious, both getting more than a few one-liners. Kelley, who previously appeared on the Civic Theatre stage in "The Drunkard," is wonderful and an absolute natural. I'm hoping to see her in more roles here.
King was in "A Little Theatre" earlier this year and is just as funny as he was in his previous role. Buntin, learned his entire part in about a week, filling in for a cast member who had to drop out, and nailed his performance. It's sad to know Buntin will be leaving our area, so it might be a while before we see him on the stage around here. He will be missed as he is a truly gifted actor. Smith is delightful as Eleanor, playing a character you love to hate. Also appearing in the show is Joshua Alexander, who is great as Samuel's grandson, Bruce.  Morgan Robbins is great as Bruce's girlfriend Angela. Robbins is in a small role here, but it is nice to see her back on stage after her performance in "45 Seconds from Broadway."
"The Second Time Around" is a very cute, frequently funny show that may be looking at love and relationships from an older point of view, but is still enjoyable to watch. Samuel and Laura are a couple that you can't help but root for. They meet adversity with wit and charm. The rest of the cast helps get big laughs that make for a fun night at the theatre. This is a great show to end the current season on, and it's one you need absolutely need to check out.
"Second Time Around' opened on May 5 and runs through May 14 at Tyler Civic Theatre located at 400 Rose Park Drive in Tyler.  For more information and to purchase tickets, go to http://tylercivictheatre.com/production/2016-2017/the-second-time-around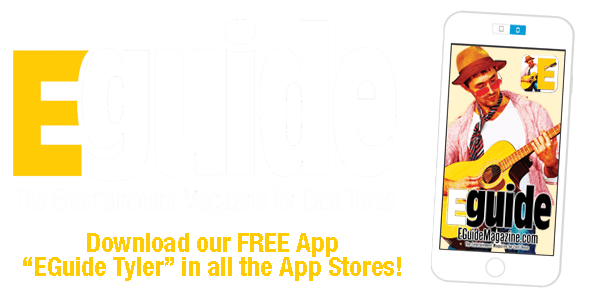 The 70th Season Begins at Tyler Civic Theatre Kicks-Off July 26th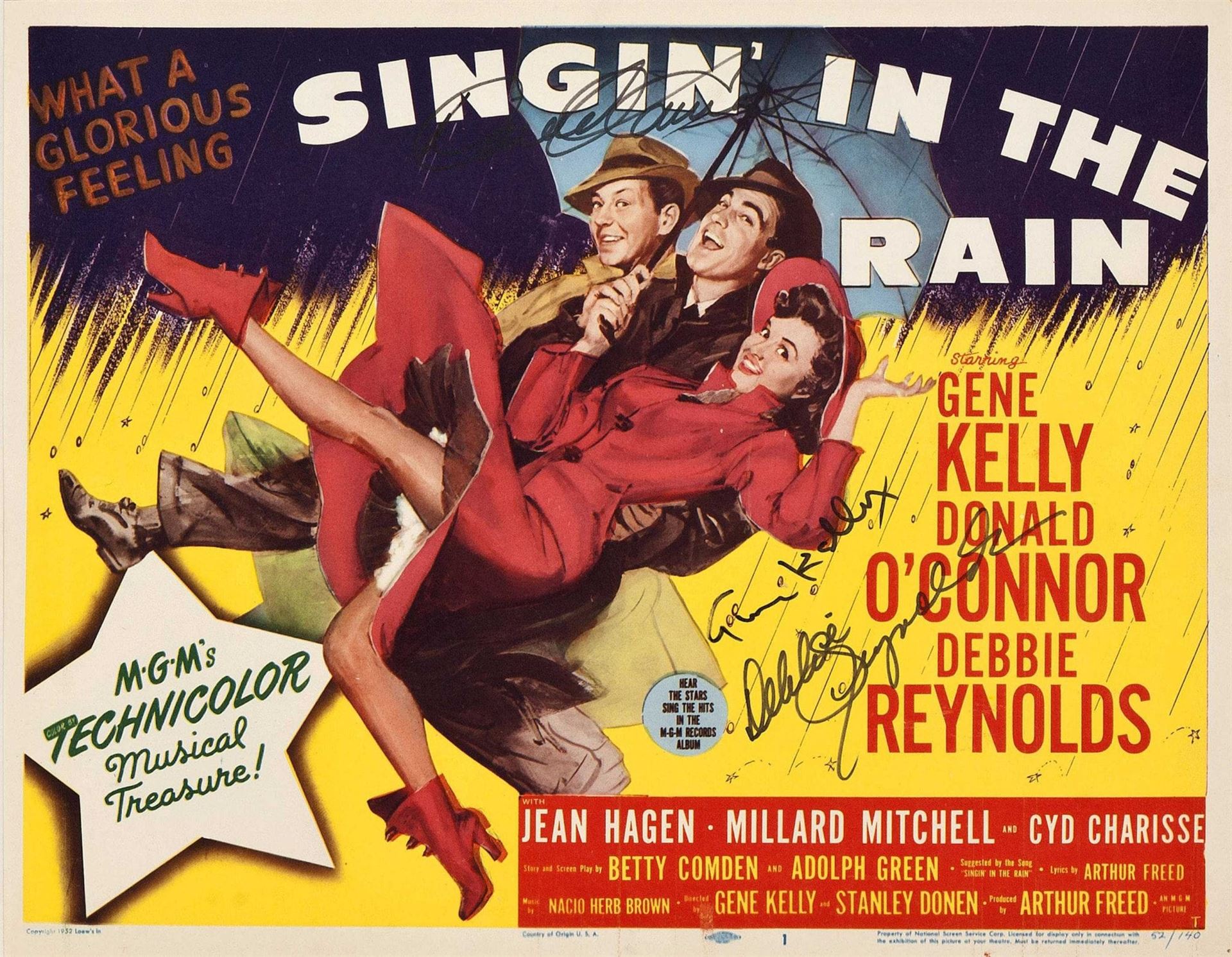 The 2018-2019 season begins with a lot of fun!
Single show tickets are available for $18 for adults and $15 for students. FLEX Pass are available for multiple performances. Tyler Civic Theatre is located at 400 Rose Park Dr., Tyler, next to the Tyler Rose Garden Center. For more info or tickets call (903)592-0561 or go to tylercivictheatre.com. The 2018-2019 productions are:
July 26th-August 12th (Thursday-Saturday at 7:30pm, Sunday at 2:30pm): "Singin' in the Rain" – The "Greatest Movie Musical of All Time" is faithfully and lovingly adapted by Broadway legends, Betty Comden and Adolph Green, from their original award-winning screenplay in "Singin' in the Rain." Each unforgettable scene, song, and dance is accounted for, including the show-stopping title number, complete with an onstage rainstorm! Hilarious situations, snappy dialogue and a hit-parade score of Hollywood standards make "Singin' in the Rain" the perfect entertainment for any fan of the golden age of movie musicals.
September 6th-9th (Thursday-Saturday at 7:30pm, Sunday at 2:30pm): "The Touch" by Mike Hargrove – "The Touch" tells the story of a grandmother with a healing touch – a secret "gift" her own grandmother helped her to discover and understand. An accident on the family farm brings opportunity for restoration of body and soul that spans four generations. Hope is found in a family secret buried beneath decades of doubt and skepticism. Playwright, Mike Hargrove made his final edits to the script only five days before his untimely death in January 2017. DeAnna Hargrove is honored to present her husband's story for the first time in the theatre he fervently supported alongside her.
October 5th-14th (Thursday-Saturday at 7:30pm, Sunday at 2:30pm): "Dial M for Murder" – Tony Wendice has married his wife, Margot, for her money and now plans to murder her for the same reason. He arranges the perfect murder. He blackmails a scoundrel he used to know into strangling her for a fee of one thousand pounds, and arranges a brilliant alibi for himself. Unfortunately…the murderer gets murdered and the victim survives. But this doesn't baffle the husband: He sees his hireling's death as an opportunity to have his wife convicted for the murder of the man who tried to murder her, and that is what almost happens. Luckily, the police inspector from Scotland Yard and a young man who is in love with the wife discover the truth, and in a scene of almost unbearable suspense they trap the husband into revealing his guilt, thus freeing Margot.
November 6th-7th (school shows) and November 8th-11th (Thursday-Saturday at 7:30pm, Sunday at 2:30pm): "Snow White & the Seven Dwarfs" – The classic children's tale of Snow White, seven dwarfs, a magic mirror and an evil queen comes to Tyler Civic! Supposedly disposed of by the wicked queen, Snow White finds her way to a happy glen and the home of seven friendly dwarfs. A deadly apple casts her into a deep sleep, from which she is revived in time by her devoted prince.
January 13th-14th (school shows) and January 15th-20th (Thursday-Saturday at 7:30pm, Sunday at 2:30pm): "The Taming of the Shrew (Condensed)" – This season TCT performs a hilarious, but seriously abridged version of Shakespeare's classic "The Taming of the Shrew." The 45-minute play preserved the original language along with all the major plot turns, but condensed it down to a one-act play and is a perfect introduction to the Bard for participant and audience member alike.
February 8th-17th (Thursday-Saturday at 7:30pm, Sunday at 2:30pm): "On Golden Pond" – This is the love story of Ethel and Norman Thayer, who are returning to their summer home on Golden Pond for the 48th year. He is a retired professor, nearing 80, with heart palpitations and a failing memory but still as tart-tongued, observant, and eager for life as ever. Ethel, ten years younger, and the perfect foil for Norman, delights in all the small things that have enriched and continue to enrich their long life together. They are visited by their divorced, middle-aged daughter and her dentist fiancé, who then go off to Europe, leaving his teenage son behind for the summer. The boy quickly becomes the "grandchild" the elderly couple have longed for, and as Norman revels in taking his ward fishing and thrusting good books at him, he also learns some lessons about modern teenage awareness – and slang – in return. Date Night for Valentine's Day will be February 14th with a Dessert Theatre. Tickets are $24 for adults, $20 for students.
March 8th-17th (Thursday-Saturday at 7:30pm, Sunday at 2:30pm): "Bus Stop" – In the middle of a howling snowstorm, a bus out of Kansas City pulls up at a cheerful roadside diner. All roads are blocked, and four or five weary travelers are going to have to hole up until morning. Cherie, a nightclub chanteuse in a sparkling gown and a seedy fur-trimmed jacket, is the passenger with most to worry about. She's been pursued, made love to and finally kidnapped by a twenty-one-year-old cowboy with a ranch of his own and the romantic methods of an unusually headstrong bull. The belligerent cowhand is right behind her, ready to sling her over his shoulder and carry her, alive and kicking, all the way to Montana. Even as she's ducking out from under his clumsy but confident embraces, and screeching at him fiercely to shut him up, she pauses to furrow her forehead and muse, "Somehow deep inside of me I got a funny feeling I'm gonna end up in Montana …" As a counterpoint to the main romance, the proprietor of the cafe and the bus driver at last find time to develop a friendship of their own; a middle-age scholar comes to terms with himself; and a young girl who works in the cafe also gets her first taste of romance.
April 11th-14th (Thursday-Saturday at 7:30pm, Sunday at 2:30pm): "The Complete Works of Shakespeare – Abridged" – Come see all 37 Shakespeare plays performed in 97 minutes! Three madcap men in tights weave their wicked way through all of Shakespeare's comedies, histories, and tragedies in one wild ride that will leave you breathless and helpless with laughter. An irreverent, fast-paced romp through the Bard's plays, "The Complete Works of Shakespeare – Abridged" was London's longest-running comedy.
May 10th-19th (Thursday-Saturday at 7:30pm, Sunday at 2:30pm): "Groucho Marx, A Life in Revue" is a stage play written by Groucho Marx's son Arthur Marx and Robert Fisher with musical direction by Jim Grady. It is a look at the life and career of the famous entertainer Groucho Marx of the Marx Brothers and "You Bet Your Life" fame. It opened off-Broadway at the Lucille Lortel Theatre on October 8, 1986 and played 254 performances closing on May 3, 1987. This inspired bio musical about "The One and Only" begins with Groucho as an old man doing his famous Carnegie Hall show. It then goes back to the beginnings of the Marx Brothers and their struggles to make it in vaudeville, their rise to stardom and their eventual break up. All classic Groucho songs are included. One actor plays Groucho, another plays Chico and Harpo, and one actress plays all the wives, girlfriends and Margaret Dumont. A hit in New York, across the U.S. and in London, this show will delight Marx Brothers fans and the as yet uninitiated. The performance on Sunday, May 12th (Mother's Day) has an optional pre-show brunch. Tickets are $34 for adults, $30 for students. Also, a dinner-theatre opportunity will be available for Thursday May 16th performance.
Texas Shakespeare Festival Continues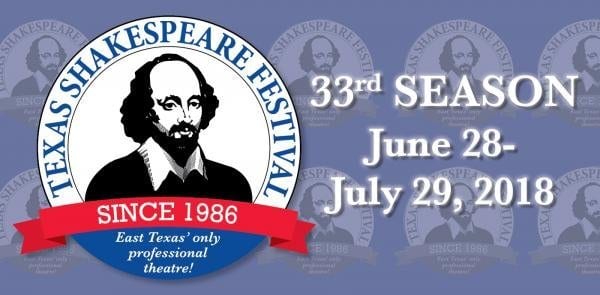 The Texas Shakespeare Festival returned to Kilgore College on June 28th for a season that continues through July. Performances take place in Van Cliburn Auditorium located in Kilgore College's Anne Dean Turk Fine Arts Center. Ticket prices vary depending on the show and seat location. Tickets can be bought at texasshakespeare.com or (903)983-8601.
The Shows
"King John," one of Shakespeare's historical dramas, deals with the topics of social and political unrest, the consequences of decisions, human shortcomings, and royal infighting.
"Love's Labour's Lost" is a comedy by Shakespeare about men who vow to give up women for fasting and studying. This version is set in the 1920's and includes music from the period.
"Tartuffe" is a comedy by Molière that tells what happens when a French aristocrat foolishly lets Tartuffe, a pretentious religious zealot, into his home.
"110 in the Shade" was adapted from Richard Nash's play "The Rainmaker" into a musical by Meaghan Simpson, associate artistic director. It tells what happens when a traveling con man shows up in a drought-stricken western town.
"The Lovely Stepsister," a children's show written by company member Grace Abele, tells the story of one of Cinderella's stepsisters who discovers the true meaning of beauty, thanks to other fairy tale characters.
The festival also will include performances of the "The Belle of Amherst," a one-woman show on the life of poet Emily Dickinson as played by Jennifer Burke. These shows will be in the smaller upstairs theater at the center.
The Schedule
July 1st: (7:30pm) "110 in the Shade"

July 5th: (2pm) "110 in the Shade" and (7:30pm) "Love's Labour's Lost"

July 6th: (2pm) "Tartuffe" and (7:30pm) "King John"

July 7th: (2pm) "110 in the Shade," (2pm) "The Belle of Amherst," and (7:30pm) "Love's Labour's Lost"

July 8th: (2pm) "Tartuffe" and (7:30pm) "King John"

July 11th: (2pm) "The Belle of Amherst"

July 12th: (2pm) "King John," (7:30pm) "110 in the Shade," and (7:30pm) "The Belle of Amherst"

July 13th: (2pm) "Love's Labour's Lost" and (7:30pm) "Tartuffe"

July 14th: (2pm) "King John," (7:30pm) "110 in the Shade," and (7:30pm) "The Belle of Amherst"

July 15th: (2pm) "Love's Labour Lost" and (7:30pm) "Tartuffe"

July 18th: (10am) "The Lovely Stepsister"

July 19th: (10am) "The Lovely Stepsister," (2pm) "Tartuffe" and (7:30pm) "King John"

July 20th: (10am) "The Lovely Stepsister," (2pm) "110 in the Shade," and (7:30pm) Love's Labour's Lost"

July 21st: (10am) "The Lovely Stepsister," (2pm) "Tartuffe," and (7:30pm) "King John"

July 22nd: (2pm) "110 in the Shade" and (7:30pm) "Love's Labour's Lost"

July 24th: (7:30pm) Talent Showcase – At this Chinese Theater Night, performers from Chongqing and Shanghai, China present an original show created for the Texas Shakespeare Festival. The Talent Showcase features members showing their singing, dancing and comedy skills in a show.

July 25th: (2pm and 7:30pm) Talent Showcase

July 26th: (10am) "The Lovely Stepsister," (2pm) "Love's Labour's Lost," and (7:30pm) "Tartuffe"

July 27th: (10am) "The Lovely Stepsister," (2pm) "King John," and (7:30pm) "110 in the Shade"

July 28th: (10am) "The Lovely Stepsister," (2pm) "Love's Labour's Lost," and (7:30pm) "Tartuffe"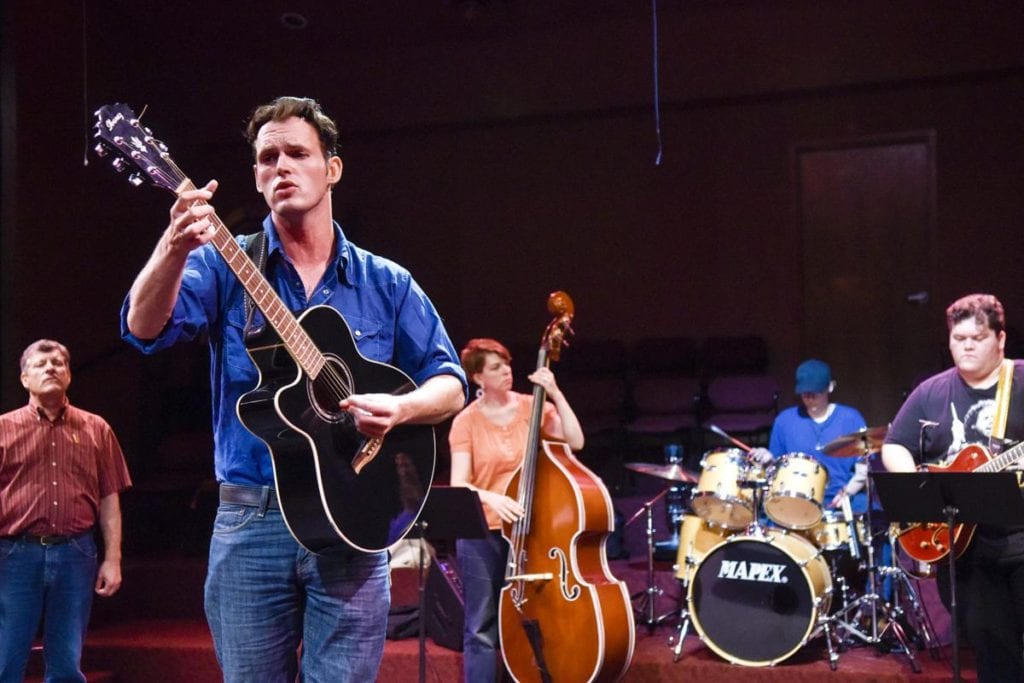 By John Baggett
It's summer! (Well…close enough, that is) So, what better way to spend these (incredibly) warm summer evenings than a show at Tyler Civic Theatre. Summer musical season has begun, with the first of three huge shows, "Ring Of Fire: The Music of Johnny Cash."
"Ring Of Fire" is a jukebox musical that uses the music of Johnny Cash (Ray Carter) to tell his life story. The show portrays some of the highlights of Cash's story from his childhood, to his first meeting with Sun Records founder Sam Phillips (Zach Woods), playing the Grand Ole Opry, meeting and falling in love with June Carter (Libby Davis), his addiction problems, his legendary San Quentin performance, and his faith. The performance also features Brad Echols as Ray Cash, Johnny's father, Regina Money as Carrie, his mom, and Tres Taylor as Young Johnny.
"Ring of Fire" was created by Richard Maltby Jr., best known as a lyricist for "Miss Saigon" and director of "Fosse." The Civic Theatre production was directed by Helen Strotman, hot off her previous directorial effort, "Screwtape," with musical direction by Rafael Espinoza, leader of the band Rafael Espinoza and the Rockabilly Railroad. This duo has assembled a fantastic ensemble of actors and musicians to bring this show to life.
As Johnny, Ray Carter is unbelievably good. He has the voice that is true to Cash without ever being an imitation. He treats the songs with the respect they deserve and if he wasn't already a musician in his own right, I'd be suggesting he become one. Equally impressive is Davis, who has an incredible voice, and every time she is able to add a little of June's spunk to her performance, she nails it.
Echols, who was last seen in "The Lucky O'Leary's" does a phenomenal job. He is always a delight to watch, especially in musicals. As Carrie, Mooney is wonderful. She has Southern charm coming out of her every moment she is on stage. Making a return to TCT, Woods does a great job. I hope he returns for more shows. As Young Johnny, Tres Taylor is adorable and I hope he too continues to perform.
As good as this cast is, the backing musicians are equally fantastic. Espinoza shreds the guitar, along with his wife Emmylou Espinoza on bass, Daniel Armstrong on keyboard, and Grace Ensley on drums. They play their hearts out and bring the energy to this show that keeps the audience and the cast on their toes.
While the show, by design, focuses more on the music and only hits the highlights of Cash's overall story, it's not so much a biography of Cash, but a show about his music with biography thrown in. That's not a negative. Honestly the cast and musicians are so talented, they could drop the story and just take the music on the road.
"Ring of Fire" is a fantastic show filled with great music that will have even the biggest cynic tapping his toes and clapping along. I highly recommend this show. Get your tickets NOW!
"Ring of Fire" opens at Tyler Civic Theatre on Thursday, June 7th and runs through Sunday, June 17th.  Tyler Civic Theatre is located at 400 Rose Park Drive. For more information and to purchase tickets call (903)592-0561 or go to http://tylercivictheatre.com/