Reviews: The Last of the Summer Reads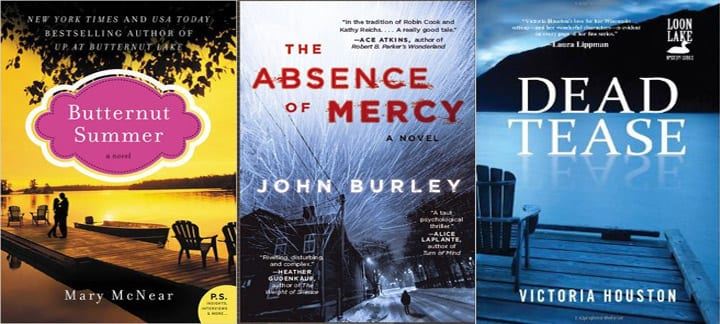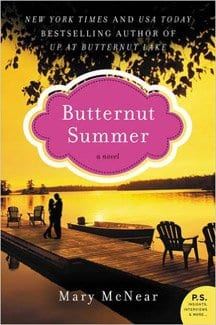 By Gini Rainey
"Butternut Summer: A Novel" (The Butternut Lake Trilogy) by Mary McNear
I was just a little disappointed in the second of McNear's trilogy, but it was definitely personal and not because of McNear's writing. The first book of the series took me back to a place in time when I was growing up in Minnesota and spent a great deal of time at my family's cabin in northern Minnesota – where the fictitious Butternut Lake is located. The plots of this book didn't take me to the shores of the lake nearly enough.
However, that being said, you can read this book without having read the first in the series and enjoy the central themes, such as forgiveness, trust, and the age old question which ponders whether people can truly change. This novel also features a dual storyline with both Caroline Keegan and her daughter Daisy finding love over the course of a summer. Also, somewhere in the middle of all of that, Jessica and Frankie fall in love over the griddle at the diner, but no one saw it coming, so not too much attention is paid to that story line. Future fodder for another book? Perhaps.
To give you a general idea about this novel, let me fill you in. Butternut Summer tells the story of Caroline Keegan and her daughter, Daisy. Caroline lives in the small Minnesota town where she grew up, Butternut Lake. She runs a small diner called Pearl's. It has been in her family for years, and she takes pride in her work and the community she lives in. Daisy is home from college for the summer. Unbeknownst to Caroline, Daisy has been in contact with her father, Jack. Jack Keegan is a handsome charmer who disappeared from the lives of Caroline and Daisy while Daisy was still a toddler. When Jack moves back to Butternut Lake and attempts to reconnect with Caroline, things are set in motion.
I hesitate to say this – mostly because my niece, who is a published author, pretty much doesn't like to have a book labeled as a 'good beach read,' but this really is a great, summertime read, and is suitable for poolside, beach front, and patio hammock reading. When Mary McNear returned to Butternut Lake in this unassuming novel, she truly created a great summer read; readers know exactly what they're getting here. Rest assured that you can pick up this book with a pretty good idea that everything will end on a relatively happy note and that won't stop you from enjoying every page. This is a great examination of relationships, both between lovers and parents/children. This isn't the deepest story I've ever read, but it is definitely enjoyable.
Rating: 5 of 5 / Copyright 2014 – William Morrow Paperbacks
"The Absence of Mercy" by John Burley
This is the first novel and a great introduction for an author with a bright future. The story is a psychological study of murder in a small town, and the impact a serial killer has on the town and families faced with crimes not normally seen in the area they live in. Dr. Ben Stevenson is the town medical examiner and lives happily with plenty of free time for his wife, two children, and dog. His normal work routine involves nothing more traumatic than traffic deaths, and deaths due to natural causes. His routine is shattered when the body of a young man is found in the woods, horribly mangled, beaten, bitten, and abused beyond any semblance to anything normal. The police jump on the case understanding that nothing less than a fiend is loose.
Before too long, a young girl on the way home from a party, is also attacked in a wooded area. She somehow survives, but with the same wounds and bite marks as the first victim. Ben is involved in attempting to help the police, and then, because kidnapping is involved, the FBI begins to develop a profile of the murderer from the method and results of the crimes.
This psychological thriller is a page-turner from the first page, with Dr. Burley's writing style being very readable and enjoyable. As he weaves this bone chilling whodunit, he develops believable characters that the reader can relate to. I particularly enjoyed the descriptions of each setting throughout the novel. The author describes locations, lighting, weather conditions, and moods in such a way that the reader enters the plot as a fascinated and sometimes horrified onlooker.
The solution to the identity of the killer is presented before the ending, and the impact of who it is becomes a fascinating study into human normal and abnormal psychology. The fact that it appears prior to the ending is a well thought out sequence and brings Burley's novel to a level more than a little beyond a murder mystery. I look forward to more novels by John Burley in the near future and am sure that his readers will feel the same way.
Rating: 4 of 5
Copyright 2013 – William Morrow Paperbacks
"Dead Tease" (Loon Lake Mystery Book 12) by Victoria Houston
In the 12th book of Houston's series, Jen Williams, a young, attractive nurse, has plans for her life and career. Not incidentally, her affair with Jim McNeil, the CEO of the medical clinic that employs her, sort of fits in nicely with those plans. Unfortunately, Jen is brutally stabbed and is found dead outside her condo. Now, it's up to Lew Ferris, the police chief in Loon Lake, Wisconsin, and her friend "Doc" Osborne, a forensic dentist, to find out who is responsible for this vicious crime.
When I first began this book, I wasn't aware that it was part of a series so I felt a little like a newcomer to a real-life small town. I was confused by all the characters and couldn't keep track of who everyone was and how they were connected to each other. Fortunately, though, once I got the important characters and their backgrounds straightened out, I began to enjoy the story.
Lew and Doc make a formidable team. They are partners in every way – friends, fishing partners, investigative partners, and romantic partners. They are a good match and show each other affection and respect, which makes them characters to root for. Although it's a short book, all of the characters have depth, and by the end of the book, I felt I had gotten to know the main characters, as well as the various supporting characters in the book.
The outdoor scenes and fishing trips will help you to get to know the characters better and will give you a glimpse at life in this small mid-west town.
The mystery was interesting and there are several people in the town with a motive to kill Jen. This young woman made quite a few enemies in her short life, but there are a few neat little twists and turns that keep you guessing until the very end of the book.
Even though I was unfamiliar with this author before I read this book, and didn't realize it is part of a long-running series, I found that it reads like a stand-alone novel and is well-written and engrossing.
I recommend this book and will be checking out some of the earlier books in the series to see what I've been missing!
Rating: 4 of 5
Copyright 2012 – Tyrus Books