By Johnny Griffith
Each year when winter has thrown its last temper tantrum of the season and finally gives way to spring's promise of new life, mild afternoons, and more pollen than any one person should have to endure, vendors, musicians, and patrons begin to gather in the parking lot at Juls Restaurant on Old Jacksonville Hwy for one of the best farmers markets in this neck of the woods. The Rose City Farmers Market kicks off this year's season on April 1st and promises to be bigger and better than ever as they strive to fulfill their mission to connect people with sources of locally grown food and work towards a sustainable local food system that serves both producers and consumers.
We sat down with Carmen Sosa, founder of The Farm and Food Coalition, Market Director of the Rose City Farmers Market, and "knotter of loose ends" to see what she's excited about this year and what we can look forward to in the new season.
Johnny: What do you feel was your biggest success from last year that you can build on for this coming year?
Carmen: Strengthening our community partnerships and our relationships with local growers and food producers. I have always said "it takes a village" when it comes to change-making and building community, and our village was incredibly supportive as always. We added several new vendors to our market family and a couple of vendors outgrew the market, which is awesome for them, but a little sad for us.
Johnny: The last time we spoke, finding another permanent home for the market was at the top of the wish list. Has there been any progress on that goal since we last spoke?
Carmen: We came close to making a commitment to move, but in the end decided, for right now, it was best to keep the locations the same for this season. In every decision we make, we want to make sure that we are able to best serve the underserved of the community. Tyler has a few areas that have access barriers to fresh, nutritious food. Our market seeks to help bridge those gaps by providing a variety of healthy fruits and veggies. We also work with nutrition assistance programs such as accepting SNAP (formerly known as food stamps), and we give $30 in free produce to eligible WIC participants. Evaluating everything about the market, including its location, each year will help us grow and reach the goal of getting nutritious foods into the homes of every sector of our community.
Johnny: Are there any new ideas the Coalition has been working on in the offseason to prepare for this year's Market?
Carmen: We have a beautiful new website: foodcoalition.org. The focus of the website is, of course, Rose City Farmers Market. We want to showcase all of the beautiful things the market offers: locally grown and produced food, local musicians and artisans, and what coming together as a community looks like. We've made it super easy to apply to become a member of the market, volunteer with us, play music for us, and donate to our Matching Dollars program. We launched the site only a few weeks ago, so we will be fine-tuning its content for a while. We envision our website becoming a go-to resource to learn about eating seasonally, local food deserts, and ways to get involved in the efforts of the Farm & Food Coalition.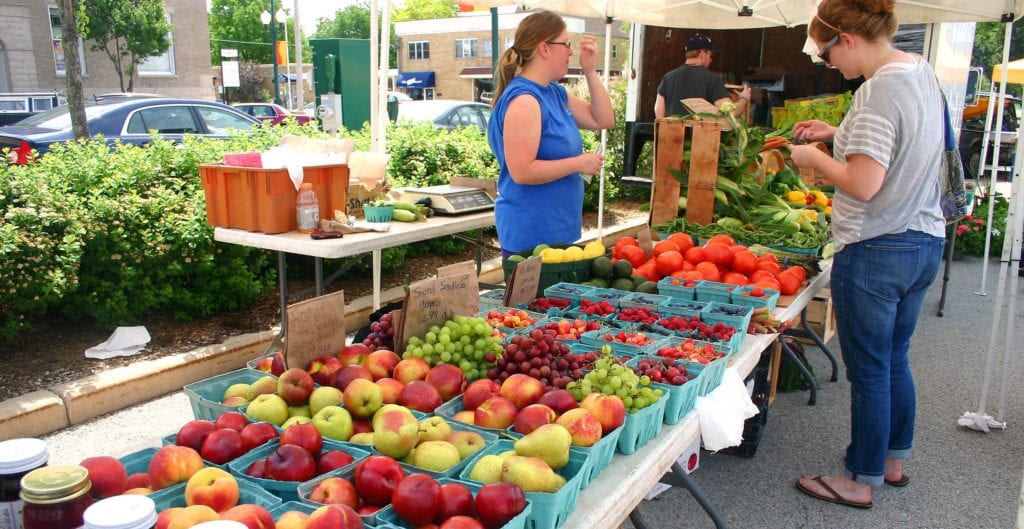 We have been working hard to develop a farmers market Matching Dollars program, called Fresh Bucks. For many of our low-income neighbors, SNAP and WIC are vital to putting food on the table. We want to extend their shopping dollars and encourage them to buy fruits and veggies so we will be matching their nutrition assistance dollars at our markets. For example, for every $10 in SNAP dollars you spend at the market we will give you an additional $5 in Fresh Bucks to purchase additional produce. Adopting best practices of other farmers markets, we anticipate this being a well-received and sustainable project for our community, and we see it as a win-win-win: our low-income neighbors' buying power is increased and they are able to make healthier food choices, our local farmers' sales increase, and our local economy is boosted from the use of SNAP and Matching Dollars.
Johnny: Tell us about the second location Downtown you're adding this season. How did that materialize?
Carmen: The mission of the Farm & Food Coalition is to help create better access to locally-grown, nutritious food. In order to begin fulfilling our mission, we had to begin to understand the enormous gaps in food access within Tyler. We are working to bridge the gaps by bringing a farmers market directly to the neighborhood in which they exist. In years past, we have located our north side mid-week market at The Salvation Army and at New Days Community Church at N. Broadway Ave. and Gentry Pkwy. Both locations were successful, so this year we are building on that foundation and will be located at 815 N. Broadway at W. Valentine St., along the brick streets. We are partnering with Northeast Texas Public Health District (NetHealth) and our local WIC offices to host a "block party" theme every Thursday from 8am to 12 noon.
Throughout the season, which runs from May 4th through the summer, we will have cooking demonstrations, health and wellness activities, community partner booths where visitors can meet and learn about local nonprofit organizations meeting the needs of their community, and local music. Most exciting is that WIC participants can go right inside the WIC office, get their coupons for $30 in free produce, and spend those dollars right there at our market. As the number of visitors to our Downtown market grow, so will the number of vendors and the variety of food offerings. Our hope is to grow large enough to support our local meat ranchers, bakers, and other food artisans that trade at our Saturday market. You know what they say, it takes a village! We are super excited Coffee Outside will be at our Thursday market opening April 4th, serving up Porch Culture Coffee Roasters' locally roasted coffee for donations.
Johnny: Do you feel there are more local producers seeking the Market out this year in order to be a part of what you all are doing?
Carmen: Indeed. We currently have a waiting list for pastured chicken, lamb, and turkey, baked goods, jams, and jellies, and handcrafted bath and body products. We are always looking for quality produce farmers.
Johnny: What vendors do you have lined up?
Carmen: 4eFarms, Billy Raibon Farm, Crawford Farms, Cutler's Texas Creations, D&C Soap Co., Delightful Baking Co., Dodson Farm, Foy Magee Farm, Hailey Potter Prints, Happy Monkey Farms, Katie's Caramels, Little Hati, Lonesome Lady Ranch, Maydelle Country Wines, McCurry Produce, Neverland Garden, Physiologie Apparel, Rae Marie Livsey and Usborne Books (Rose City Readers), Red Moon Farm, Rose Family Farms Goat Cheese, Sam Fontenot, Sanchez Produce, Sola Bread Co., Sugar Boogah Confections, Sugar Creek Honey, Texas Hill Country Olive Oil Co., The Danielson Homestead, The Farmer's Daughter, Traci's Treats, Winona Orchards, and Zillmer Farms. We are currently processing 12 applications, so we will likely be adding a few more to the lineup.
Johnny: The experience, the music, and the sense of community are some of the additional things that sets the RCFM apart from other markets in the region. What are some of the activities and musicians you have scheduled to play this spring?
Carmen: The Yoga Spot is returning to host yoga on the patio this season. Each Saturday from 8:30-9:30am visitors can enjoy a gentle yoga practice overlooking the little lake. They are encouraged to bring a towel and water bottle. Donations are accepted for the free classes.
This season we are launching Rose City Farmers Market Kid's Club. We will have kid's crafting days, scavenger hunts for produce, gardening workshops, and other fun ways for kids to enjoy the market. As part of Kid's Club, we are partnering with Rae Marie Livsey and Usborne Books to bring Rose City Readers, a kid's reading club, to the market. Kids will have an opportunity to read books about farming, agriculture, ecology, diversity, and the environment and earn points towards market tokens and toys.
In addition, our April music lineup for the Saturday market is Old Omen, Withrow Cooley, Out of the Question, Stephen Giles and Michael Jesch, and Loretta Callens. Future artists include Eric Moseley Duo, Keith Rea, Mia Tallant, and David Allen.
Johnny: I know part of the mission of the RCFM and the Food Coalition in general is not only to organize a place to bring these local producers together, but to also educate and advocate to realize a "more sustainable local food system." What are some of the examples of advocacy and education that are currently ongoing in the organization?
Carmen: It is important to know each of us has the ability to change our community for the better, even if it's in very small ways. When you buy a single tomato at our farmer's market you are supporting a local farmer's family, stimulating your local economy, helping preserve East Texas farmlands, increasing your community's access to fresh food, and becoming a part of your community. Each of us is incredibly powerful!
Johnny: What are you most excited about for this upcoming season?
Carmen: Both of our market locations growing and helping strengthen our community. We are grateful for our many supporters that push us forward and encourage us along the way.
Details:
Southside location:
7212 Old Jacksonville Hwy., Tyler
Opens April 1st and continues every Saturday through November 18th, 8am-12 noon
Downtown location:
815 Broadway Ave., Tyler
Opens May 4th and continues every Thursday through summer, 8am-12 noon
For more info go to foodcoalition.org or find Rose City Farmers Market on Facebook.