Sam Fontenot: Inside the Artist's Studio

Takin' A Ride On Heavy Metal – Artist's Bliss
By Derrick White
"Is the blacksmith a big, jolly guy who only gets mad when somebody burns down his barn?" This is a line from the film "Rustlers' Rhapsody," a 1985 western parody written and directed by Hugh Wilson and a highly underrated comedy. In a poke at 1960's Spaghetti Westerns' predictability – all horse opera towns are the same. Good guy Rex O'Herlihan ("The Singing Cowboy") converses, "This town's no different. The sheriff is stereotypical and so is the saloon owner with his mustache. Do you have a very pretty, but somehow asexual, new schoolmarm? Is the newspaper run by an idealistic young journalist who's hocked everything to buy his first press?" The formulaic town drunk replies, "Oh, wait! I know one thing this town has the others don't! None of the other towns have…" "The railroad coming through?" says another patron. The stunned drunk gasps, "All western towns have the railroad coming through."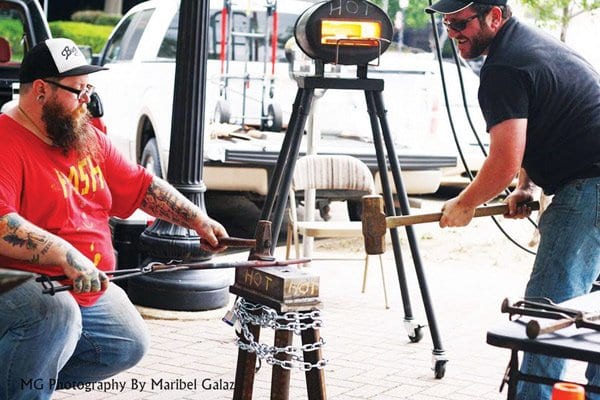 If you look around our East Texas area, it seems like every town these days has a downtown revitalization project underway. One prevalent strategy is to focus on the arts and locally-owned businesses. Local Tyler artist and modern day blacksmith Sam Fontenot is a strong participant and advocate for both. Sam is a big, bearded, jolly guy and so full of passion, optimism, and collaboration, I don't think he ever gets mad.
"I have always studied art, whether painting or building. I became a tattoo artist through a traditional one-year apprenticeship, and I was a practicing professional tattoo artist for almost nine years. While tattooing, I began blacksmithing metal as a D.I.Y. sideline. A few years ago, I got the opportunity to spend some time with a master blacksmith and learned a great deal about handcrafting tools. Slowly but surely I gained the knowledge and confidence to step out and become a full time metalsmith," states the artist.
Sam works primarily in steel and copper. He will often use wood and glass in projects, especially in furniture pieces. Sam also paints and does printmaking, sometimes adding linoleum print images (a relief printmaking process similar to woodcuts) to his works. In our digital, disposable, insatiable consumption world, Sam is carrying on a dwindling but enduring tradition and vital skill set.
A blacksmith is a metalsmith forming or altering objects from steel, copper, or iron by shaping the metal, using tools striking, bending, and cutting. Blacksmiths produce objects such as gates, railings, fixtures, furniture, sculpture, tools, weapons, and decorative and symbolic items. Generally, blacksmiths have knowledge of how to make and repair metal objects both large and small.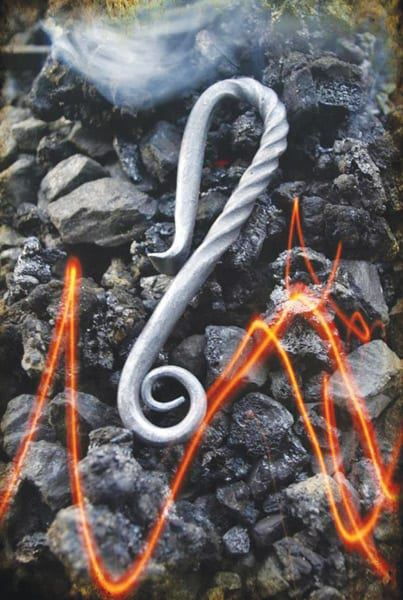 "I have always been interested in the artisan crafts; my grandfather was a woodworker and tinkerer," Sam said. "He taught me the value of working with my hands and being creative. I love to work with vintage tools to do modern work. A lot of the processes in metalsmithing have not changed much in hundreds of years. My shop is full of tools close to or possibly older than a hundred years; the rest are reproductions made by myself or other tool makers who carry on the craft." Sam continues, "I take a great sense of pride in creating a piece of artwork with my own two hands that has the potential to last for generations after I am gone. Also, I have been lucky enough to earn my living as an artist for the better part of my adult life." Artist bliss.
One of the hardest parts about being a full-time artist, or for any imaginative professional, is staying creative and fresh and, of course, financial income.
"My day to day is filled with making smaller items, which helps me pay the bills, things like bottle openers, fireplace tools, and barbecue sets. I try to find new styles for these items to make them uniquely my own creations," Sam said. "I also have my passion projects. I am currently getting into lock making. I hope to be proficient in forging and designing locks during the coming year."
Sam is inspired by a range of artists and original individuals. He says, "My favorite artists aren't the classics by any means. I love the makers, innovators, and practical artists."
One of his early heroes was Ed (Big Daddy) Roth (key 50's – 60's California artist, cartoonist, illustrator, custom car designer, and builder who created the hot rod cartoon icon Rat Fink). Sam found his automobile creations fascinating. Another major influence is the blacksmith Sam learned his craft from, Brian Brezeal (Mississippi blacksmith who began forging as a Farrier – a specialist in horseshoeing).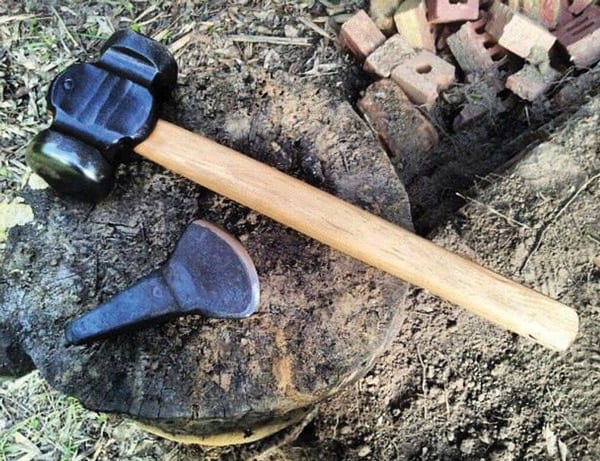 "Brian Brezeal is one of the best tool makers of our time. His 'forge to finish' methods are the ones I use daily," states this protégé.
Lastly, Sam mentions Adam Savage (American designer and special effects fabricator, and educator from "MythBusters").
"Talk about a craftsman and multi-talented builder; Adam Savage's creations inspire me to learn and overcome obstacles," Sam said. "Adam is also a huge driving force for the makers' movement."
Sam is currently in the midst of remodeling a shop/studio with his business partner Brad Brown. They will operate a cooperative space with a studio workshop where they will both be building and designing daily. The space will also maintain a retail side for sales. They are hoping to house other local talent in the shop as well as their own creations. The shop "Wood and Metal Works" will be a unique local experience where one can actually come by, check out the show room, and watch these talented artists work on projects and see the unique and hypnotic processes in action. Sam adds, "I hope to be able to offer workshops on basic blacksmithing by summer for anyone interested."
For more info or to get in touch with artist and contemporary blacksmith Sam Fontenot, find him on Facebook or go to 26forgeworks.weebly.com.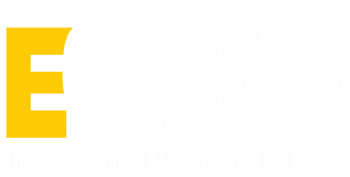 Call for submittals for the "Elephant in the Room" exhibit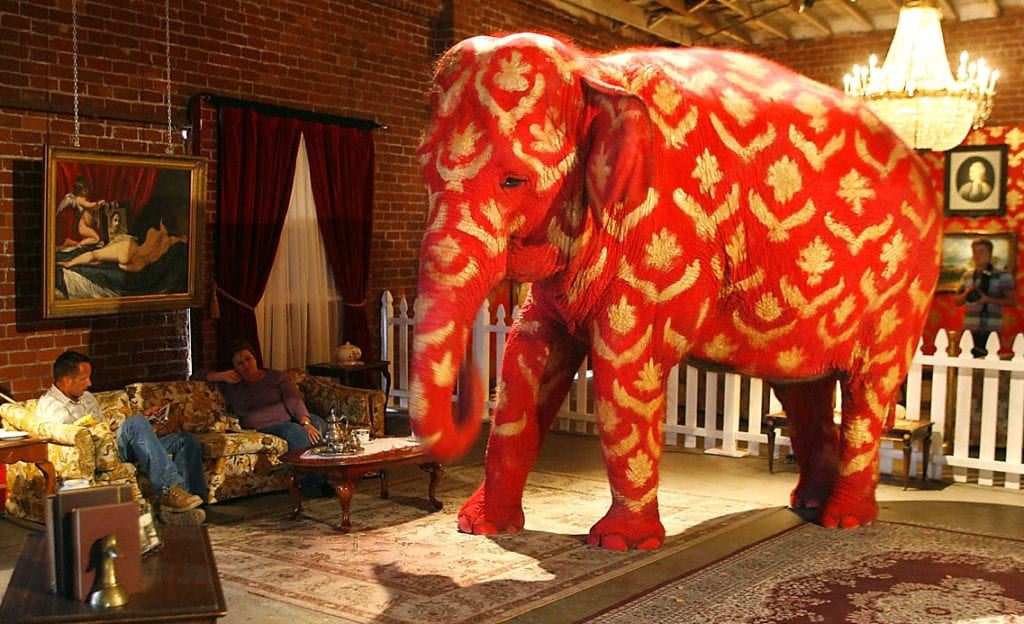 Artists are invited to submit their work for the jurying phase of Gallery Main Street's "Elephant in the Room" fine art exhibit. The deadline for entry is midnight on Sunday, Feb. 25.
"The Gallery Committee wanted to offer a theme that sparked some free thinking and a little risk," said Amber Rojas of the City of Tyler Main Street Department. "The theme 'Elephant in the Room' allows artists to let their creativity run free and interpret the theme in their own style."
Artists should visit www.DowntownTylerArts.com and click on "Gallery Exhibits" and then "Gallery Exhibit Information for Artists" in the left-hand column of the page. That link will lead artists to a page that provides all of the information they need, as well as links to the actual entry service site.
The description for "Elephant in the Room" offers the following: "Be inspired to create artwork that defines a very large issue that everyone is acutely aware of, but nobody wants to talk about. Perhaps a sore spot, perhaps politically incorrect, or perhaps a political hot potato, it's something that no one wants to touch with a ten foot pole."
Gallery Main Street is a project of the City of Tyler Main Street Department in cooperation with the volunteers of the Downtown Tyler Arts Coalition. The Gallery opens a new juried exhibit approximately every eight weeks.
Information on Gallery Main Street hours and rules for entering the exhibit jury process can be found at www.DowntownTylerArts.com or by calling (903) 593-6905.
"Shape and Form" on Exhibit at Gallery Main Street

Featuring Work by Jessica Sanders and Cierra McGuckie
An art show featuring two emerging local artists, Cierra McGuckie and Jessica Sanders, will open February 10th in Downtown Tyler and be on view until May 31st, at the Martin Walker Law Firm, 121 N. Spring St., Downtown Tyler. They will host the exhibit in its award-winning facility, which historically served as the Arcadia Theater but now serves as the law firm headquarters.
Pieces to be displayed at the show will include paintings by Cierra McGuckie and sculptures by Jessica Sanders. Cierra's work comprises large-scale oil on canvas psychological portraits which depict fictional women from the mid century era. The paintings are reminiscent of the mood and color palette of that time. Cierra will be showing a new body of work within her series. Jessica's sculptures and her practice are based on an assemblage of small handmade fired and glazed porcelain tiles using wire. The labor-intensive work generates fluid, fabric-like irregular shapes which are mounted on the wall creating abstract compositions.
The show is curated by Dace Lucia Kidd, who has recently produced second edition of the annual international juried Arcadia Art Show (AASH). The event has been sponsored and couldn't be possible without the generous support of Martin Walker P.C.
For more info find it on Facebook or call (903)258-7274.
Moss: "Where Flowers are Fair"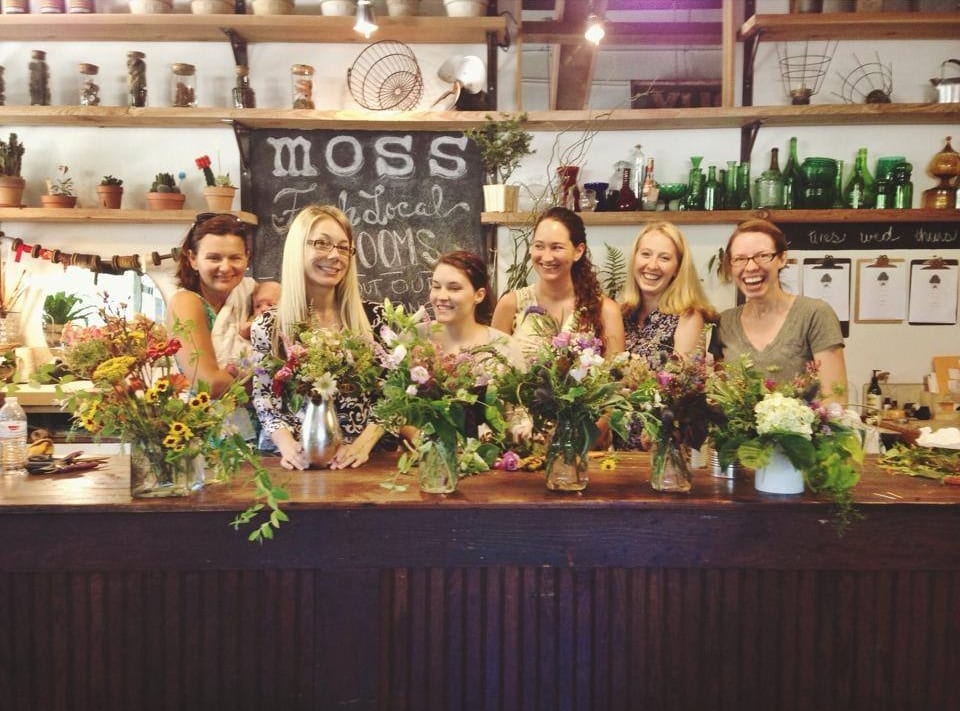 Moss-"Where Flowers are Fair."
By Barbara Greenbauer
Imagine a business that creates floral works of art, that combines the heart and thoughtful mission of fair trade flowers.
In the heart of Tyler, two women are creating unique and earthy arrangements that are works of art within themselves. The mother-daughter team of Paige McGuffey and Meagan Lissner are owners who work in tandem, relying on each other's strengths to provide East Texas with a new kind of florist.
Recently expanding from a 1,300 square foot space to their new current location – encompassing 4,000 square feet, located on Broadway Downtown – Meagan says, "We now have the space to really showcase all we can do and offer more classes and hands-on plant experiences." The shop is indeed a family-run business. Front and center is Meagan's great-great grandfather's countertop from his grocery business, where the magic is created. "The front counter is almost like our own bar," explained Meagan. The client can place an order, talk and watch and give input while we mix up our elements into a bright and beautiful concoction."
There are lots of philosophies and visions woven into this flower business. When asked about the distinctive name, "Moss: Where Flowers are Fair," Meagan responded "I just adore everything about the moss plant itself; it is so lush and gorgeous. But over and above that, the literal meaning for the word 'moss' is charity and is also the symbol for maternal love."
Owning and operating a small business involves not only hard work and long hours, but for Moss, everyone is involved. From Meagan's grandmother, to her husband and three kids (aged 5, 7, and 9), the whole gang is involved in this one-of-a-kind business. "You really have to be passionate and love people," said Meagan. "It is worth all the time and investment to be able to do what we love. It can be a balancing act, but we all pitch in and make it work."
Most folks won't be familiar with the term fair trade flowers, but it is at the heart and soul of everything they do. 80% of the world's flowers sold in the U.S. are grown in Latin America, South America, and Africa where female workers are often exploited to keep costs low, leading to severe abuse and mistreatment.
Fair trade creates a sustainable business model that guarantees social justice for the workers, and certified fair trade flower farms ensure the safety and good conditions for workers, which are typically vulnerable young women."It can be difficult to find sources and farms that are certified, but we do our research, and our mission is to support something greater than ourselves," explained Meagan. "We want to educate others to the plight of the workers and how we can make a difference."
The arrangements that are created and designed at Moss are unique and no two are ever the same. The team hunts for seasonal and unusual flowers to create masterpieces that will hav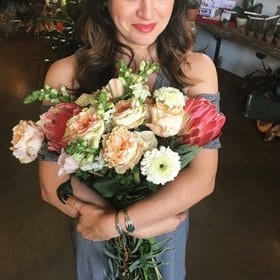 e everyone in awe. "We want to create a piece that reflects you and in that way is totally unique in itself," Meagan explained.
Client Amy Harbottle Carter said,"Their creative, organic, and vintage vibe is my favorite. Not only does Moss have gorgeous fair-trade florals, I can't get enough of the shop's collection of house plants, décor, gifts, and locally-made products. It's reassuring as a consumer to know that shopping there is also an investment in an ethical and meaningful mission."
You can play a huge part in the process at Moss. Come in with your dream and they can help make it happen. Bring in your favorite vase, pot, or container, and they can help you create a beautiful floral takeaway for your home, right then and there. Moss is known for their unique gift boxes, filled with coffee, treats, and succulents that will wow the lucky recipient.
Moss will work with you with blooms for your big wedding day, baby shower, corporate event, anniversary, or just a special gift to say thank you. Moss also has classes on all kinds of hands-on projects listed on their website at welovemoss.com. Grab a friend and come play with flowers!
Wandering through the shop is a feast for the eyes, with everything from fig trees, cacti, succulents and local pottery to geodes for terrariums and air plants.
Moss delivers locally, and gathers, forages, and hunts for local seasonal flowers that will really make your arrangements spectacular. They are truly excited about new ideas and visions, and will work with you through a consultation to pin down styles and colors, incorporating your favorite florals as well.
Frequent client, Traci Dixon sums up Moss,"I love the people and the heart behind this wonderful business. They are fabulously talented in handcrafting the perfect floral and greenery pieces with depth and character for everyone that walks through the door."
They truly do design arrangements the way nature intended them to be. When you choose to shop at Moss, you will always get a thoughtful creation that is anything but typical.
For more information, call (903)787-8822 or go to their website at welovemoss.com. You can also find them on find them on Facebook at mosswhereflowersarefair.
"Moss: Where Flowers are Fair," is located at 237 S. Broadway in Tyler. They are open Monday-Friday 10am-5:30pm, Saturday 10am-3pm, and closed Sundays.