Theatre TJC continues 2018 Season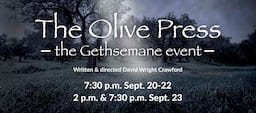 Tickets are $10 for adults, $5 for seniors and students, and free with a valid TJC ID. The TJC Box Office opens Wednesday, Sept. 13. Box office hours are from noon to 6 p.m. weekdays through the run of the show. For reservations, call 903-510-2212.
Rounding out TJC's 2017-18 main stage season:
• "The Legend of Sleepy Hollow," Oct. 25-28 and 31, in Jean Browne Theatre
• "Circle Mirror Transformation," Nov. 15-18, in Jean Browne Theatre
• "In the Heights," (spring musical) Feb. 21-24, in Wise Auditorium
• "Hamlet," April 25-28, in Jean Browne Theatre
For more on TJC cultural arts events, go to www.tjc.edu/PerformingArts.